About a month ago, I decided to try out the Bissell SpinWave Robot Vacuum + Mop – I already had a robot vacuum that I loved, but the idea of having a robot mop appealed to me too much to pass up!
Now that we've been using it a while and have a good idea of how it works, I thought I'd share a little review of our experience with it so far. Because, honestly, who doesn't want to know more about a device that will both vacuum and mop your home for you?!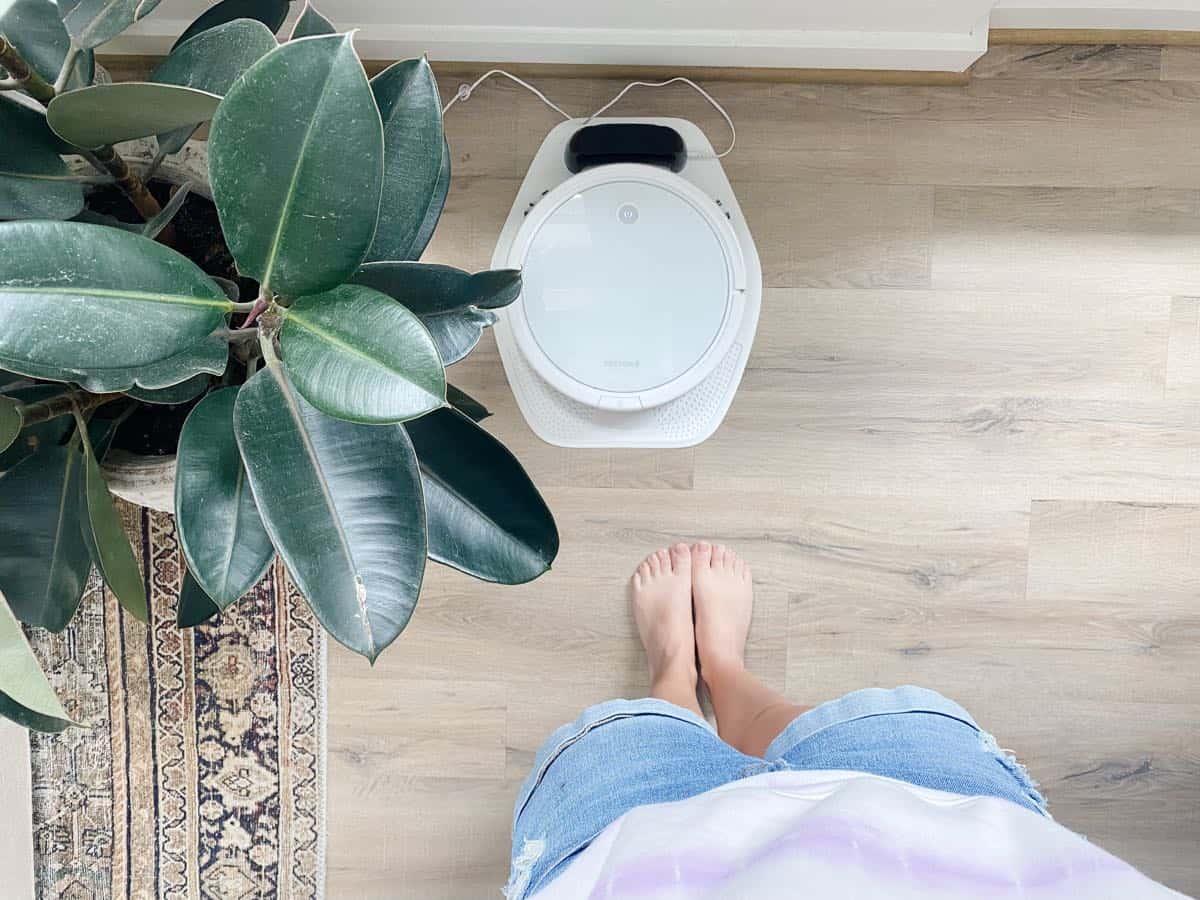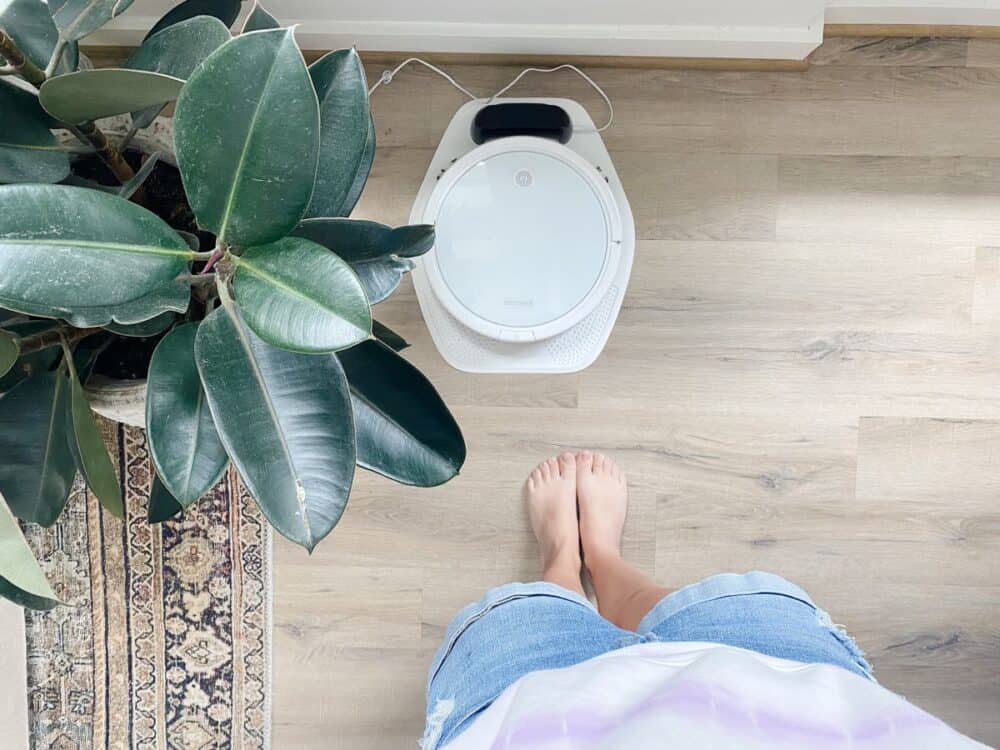 my bissell spinwave robot review
how does the bissell spinwave robot work?
First off, let's talk about how this thing functions. Like other robot vacuums, it has a container in it that holds everything it vacuums up. I've found it usually can handle 3-4 days of cleaning the house before I need to empty it.
If you want it to mop instead, you simply switch the container over to the mopping attachment, and the SpinWave will automatically mop for you. It does some vacuuming while it mops as well, so don't feel like you have to do both separately!
It comes with a couple of sets of washable mopping pads, and some cleaning solution as well. It's the same cleaning solution I already use for my manual Bissell SpinWave (which I also LOVE), so it makes life easy.
how do you control it?
You can simply push the button on the top of the SpinWave robot to turn it on, but you can also use the app to set up automatic cleanings. I have mine set to run every night at midnight, and it's quiet enough that it doesn't wake us up (although, my whole family uses sound machines at night so that helps!). It will just vacuum if you have the vacuum attachment on, but once or twice a week I swap it out for the mop attachment so it will vacuum and mop while we sleep.
And then, just like magic, when we wake up we have a clean house!
but does it actually do a good job?
So far, we're happy!
In terms of the vacuuming function, it does a really fantastic job. I've been making an effort to pick up everything off the floor before I go to bed each night, so it almost never gets caught on anything. It transitions just fine from carpet to hardwood (and we have a 3/4″ rug pad in our living room!), and it generally is able to get the entire space without missing anything.
The mop function is also great, but it's not quite as thorough or deep of a cleaning job as it would be if I did it myself. When the mop attachment is on, the vacuum will automatically avoid any carpet. It's a really thoughtful feature, but it can create some problems if you've got any narrow walkways.
For example, the space between our kitchen runner and the cabinets is juuuuust the right size for the vacuum to go in and get stuck when the runner is in place. When it's vacuuming, it's not a problem because it goes right over the carpet. But when the mop attachment is on, that area can be tricky. I've taken to just picking up the runner on the nights that I'm having it mop, and it works just fine. Just something to keep in mind – if you have a large rug that you can't move with a narrow walkway around it, you might want to block that off on mopping days!
The first time I used the mop function, it took a few passes across the house before both of the mop pads were saturated and actually cleaning. On subsequent uses, though, I didn't seem to have that issue so it may have just been a glitch!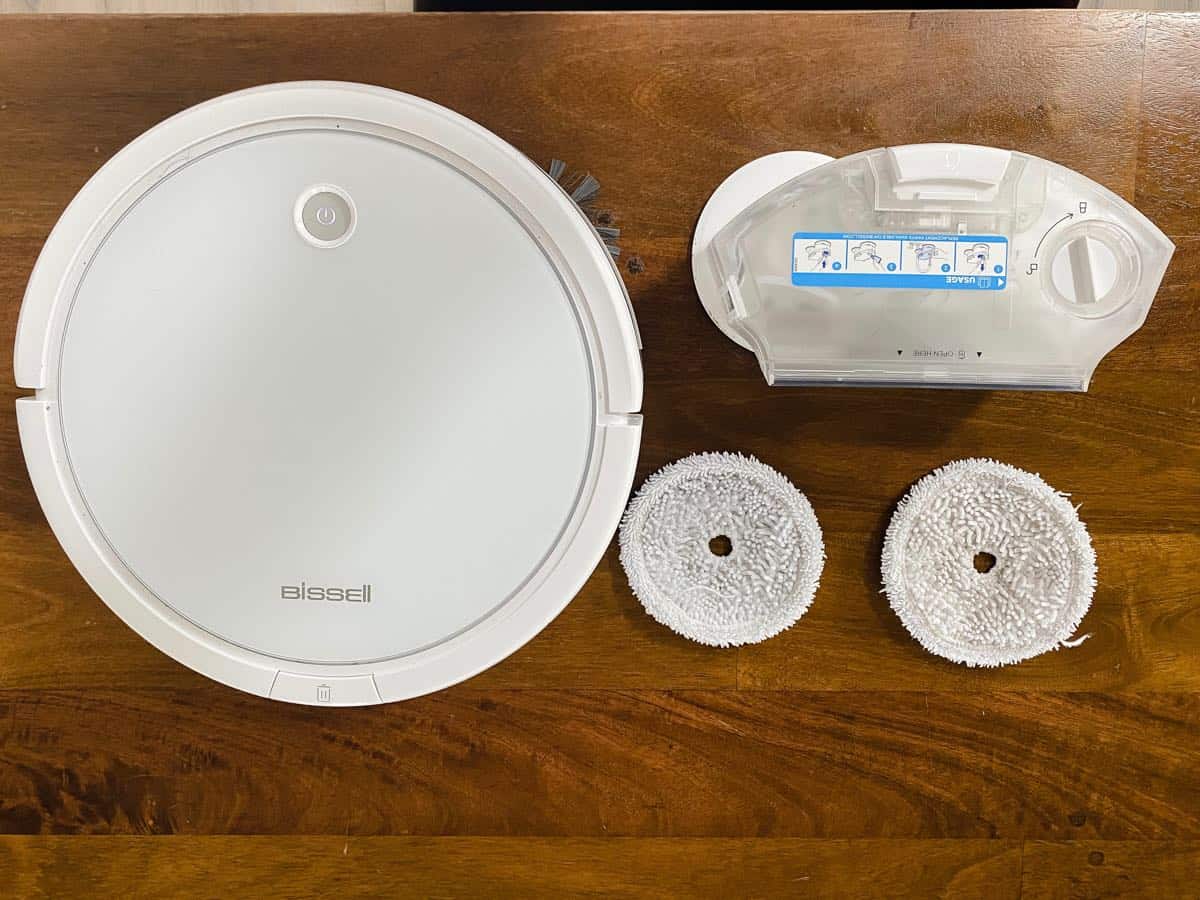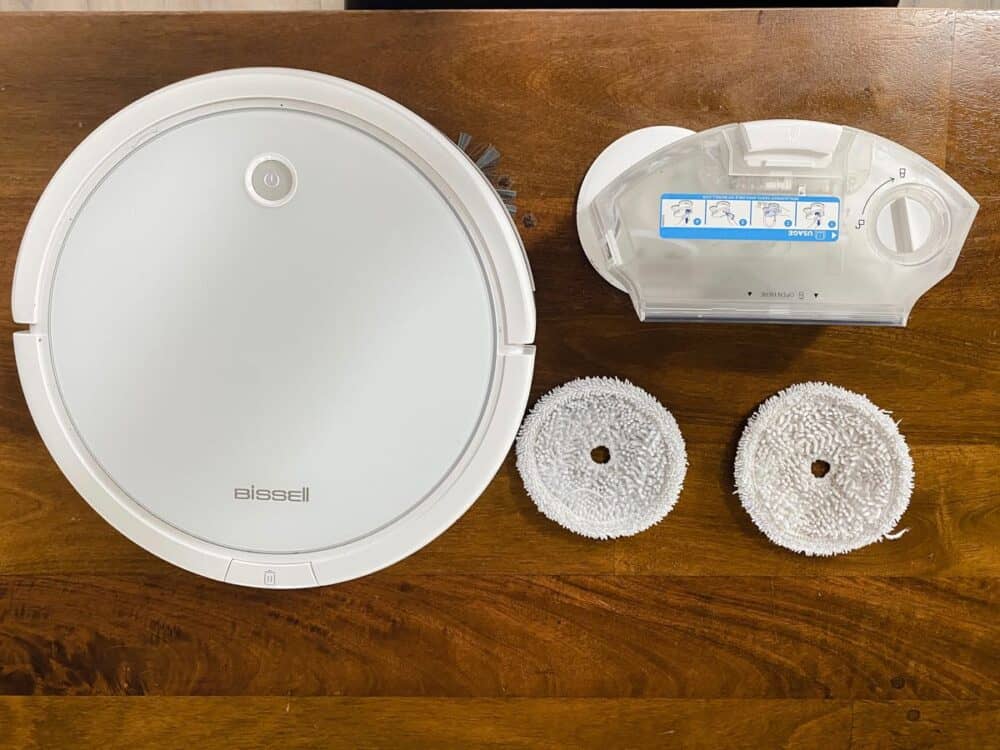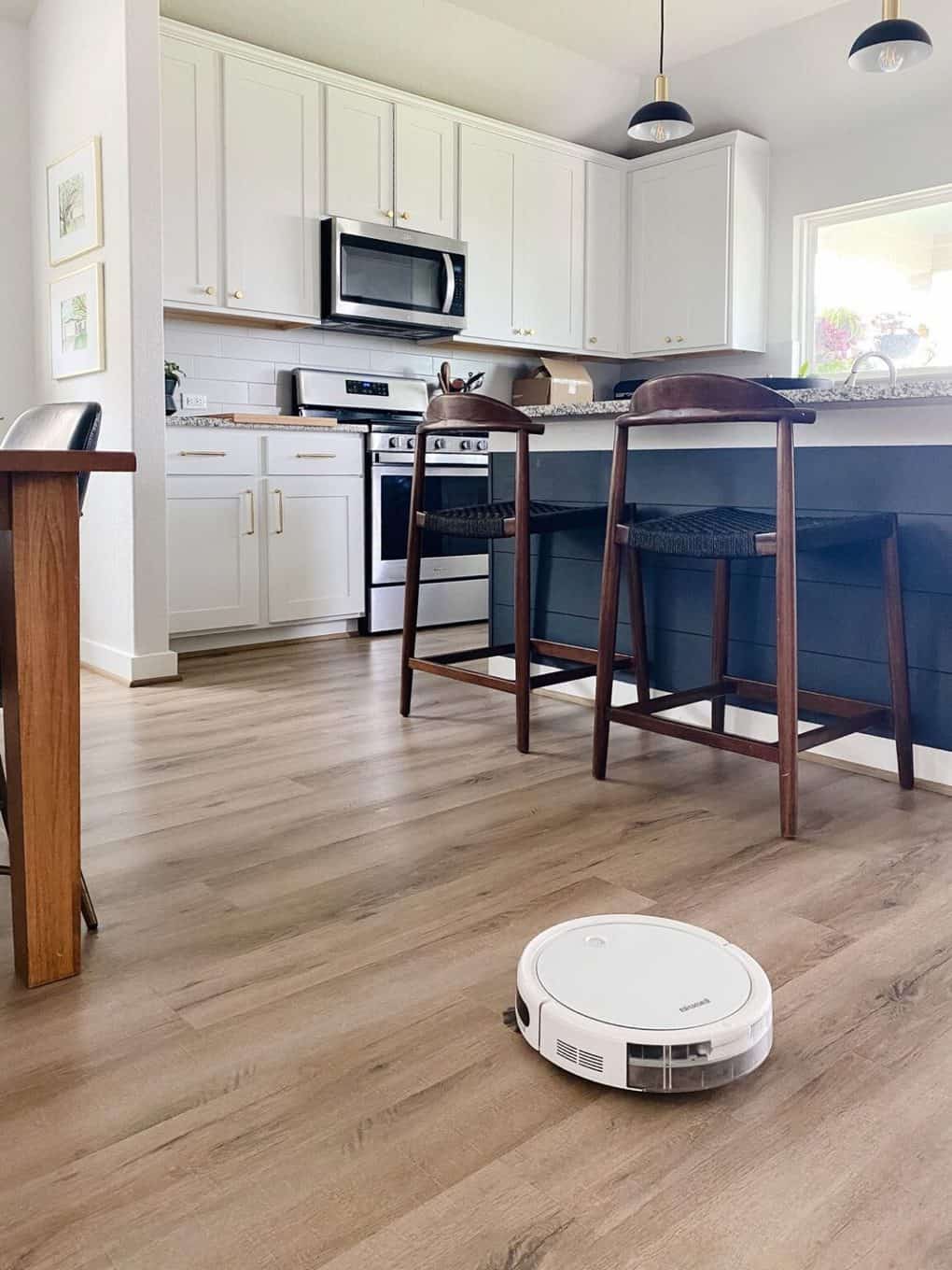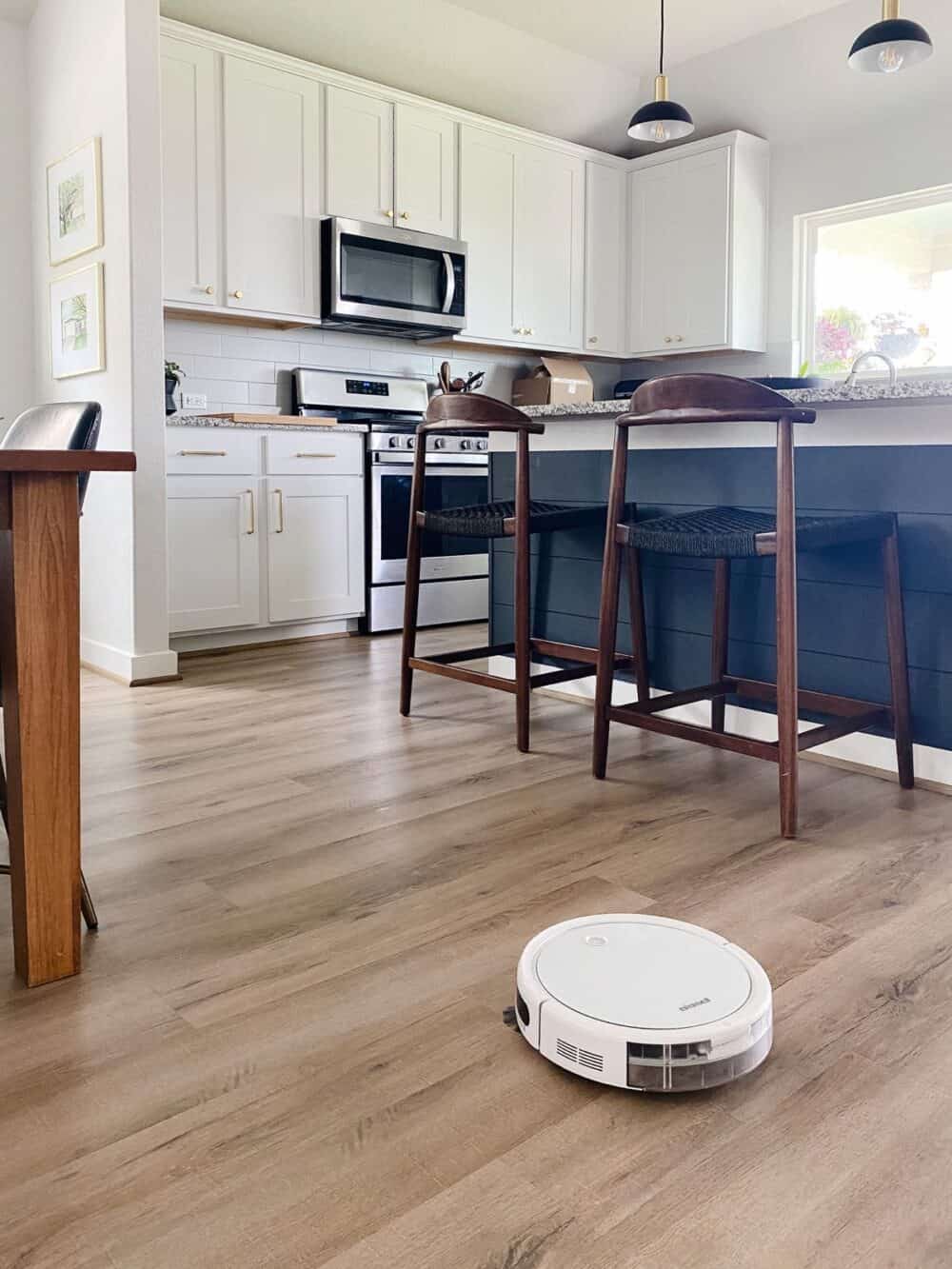 Would you buy it again?
Yes, yes, yes!
I don't find that the Bissell SpinWave robot completely replaces the need to vacuum or mop by hand, but I think that's true of any robot vacuum or mop.
Overall, I find it to be such a time-saver to have a robot vacuum and mop combo. Instead of busting out my manual vacuum every day, I now just do one deep cleaning a week with the manual vacuum and mop. And, honestly, it's the best feeling to wake up in the morning to a freshly mopped house and know I didn't have to do it myself!
And that's it! Everything you need to know about the Bissell SpinWave Robot vacuum and mop combo. If you're looking for something that will fully take over cleaning for you, this may not be the best fit. But, if you just want something that will make your life a bit easier and reduce your need to vacuum on the daily, this little guy will be your best friend.
Looking for some other floor cleaning tools? Here's everything I use!