Bonus Room Makeover REVEAL!
We've been doing a quick "phase one" makeover of our game room over the last month or so, and it's finally finished! See the big reveal here! This post is sponsored by The Home Depot.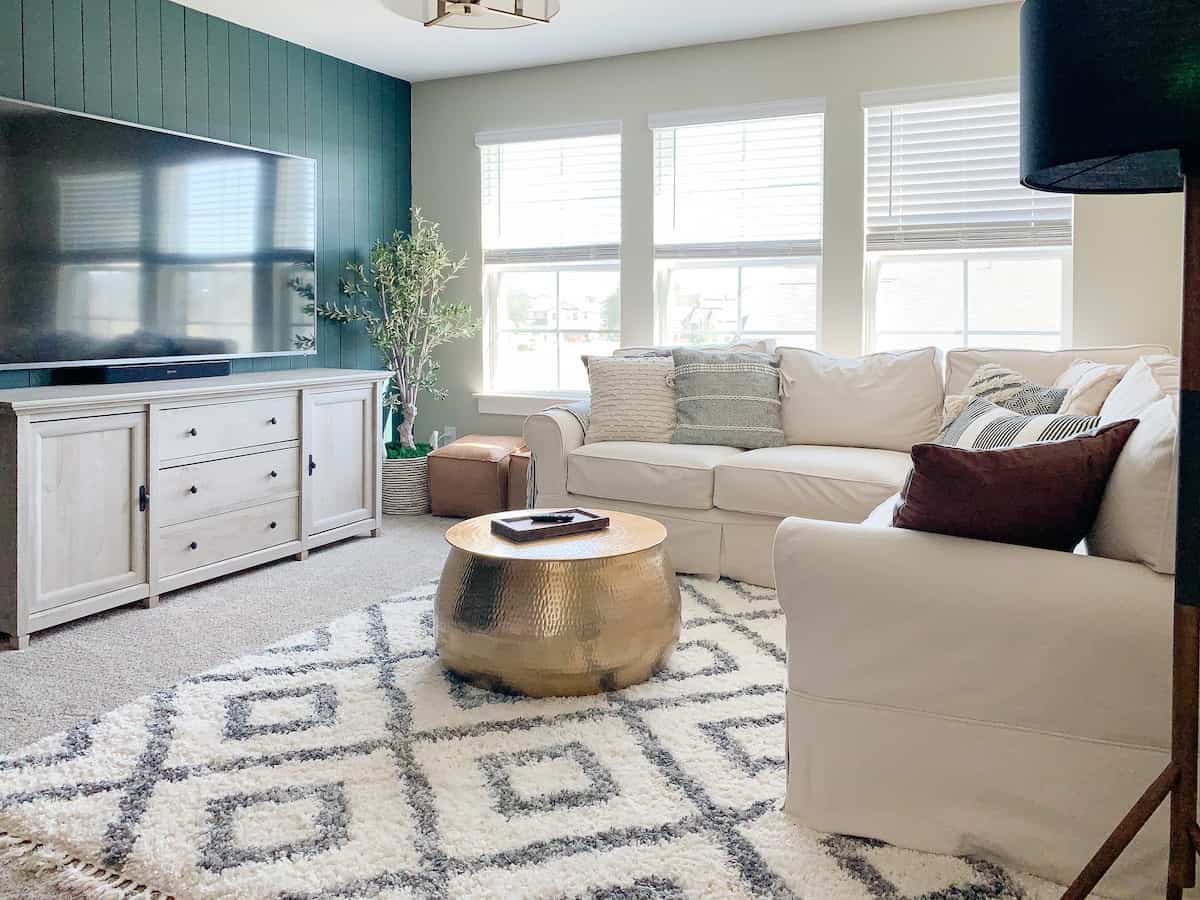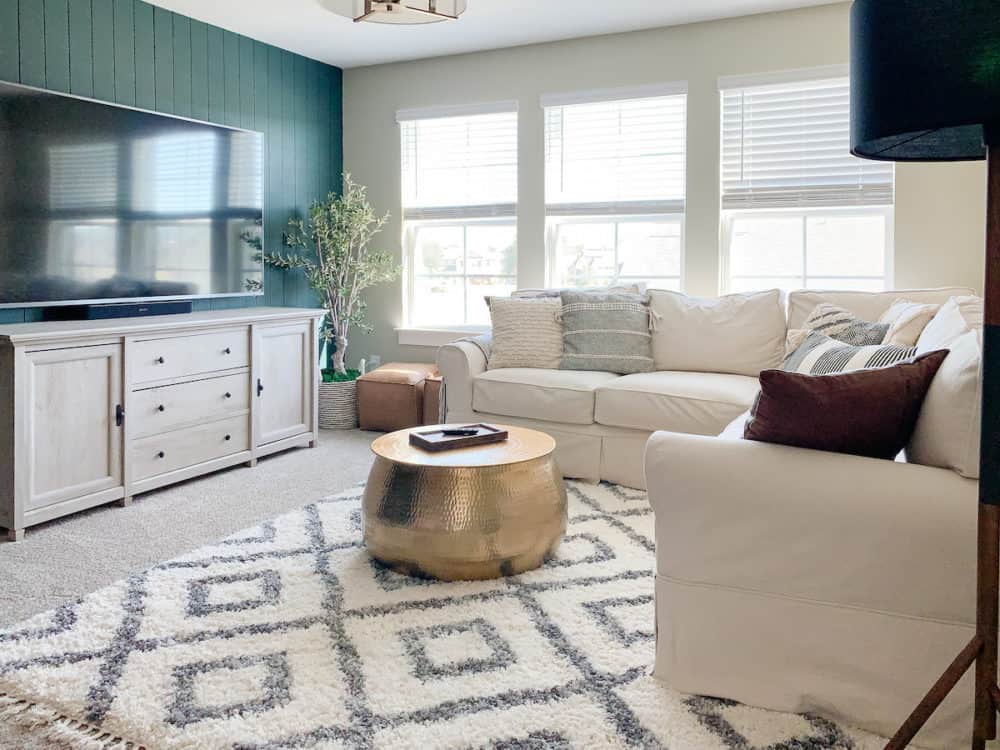 It's here! It's here! The big reveal of our phase one makeover of the game room with Home Depot is finally finished and I'm so excited to be sharing it with you today.
If you're new around here, let me catch you up – this year, I've partnered with my friends at The Home Depot to show you some of the beautiful furniture, accessories, and decor they have available at homedepot.com/decor. They're adding new options all the time, and I am consistently blown away by how much they have! Every piece of furniture in this room (plus the rug and plant!) is from homedepot.com/decor (and I'll link it all at the bottom of the post for you!) and I for one am completely in love with how it turned out!
Now, let me introduce you to the game room…
Last year, when we first started house hunting, the number one non-negotiable on our "must have" list was a secondary living space. We briefly had a media room set up in our first home and it was one of the most-used spaces in our house…and now with two kids, tons of toys, and a lot more chaos in our house we knew it would be even more important to have a bonus space so we could all spread out a bit more.
The bonus room in this house (which we all seem to have dubbed "the game room" for no real reason, but it has stuck) is a good size – about 13×15 – but up until now it hasn't been very functional for us. It was full of leftover and temporary furniture, had no real organization, and was a ginormous mess 100% of the time.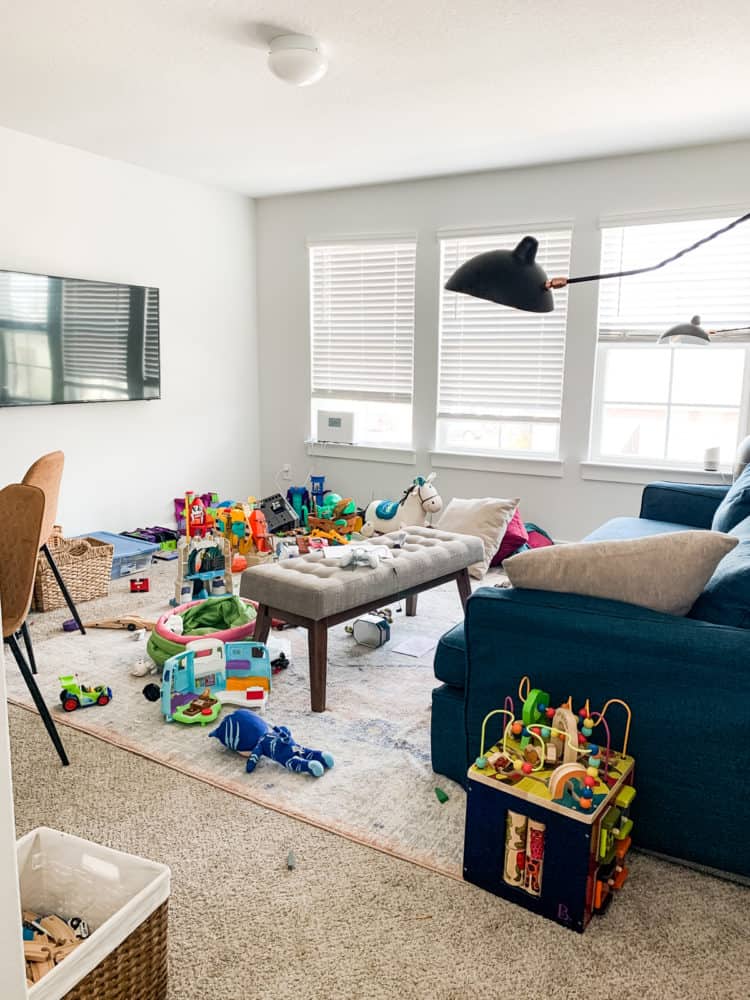 We have long-term plans in here that include a full wall of built-in cabinetry and a long desk that will seat both boys, but for the next few years all we really needed was a better way to organize the toys and a cozier feel to the room so we'd all be more likely to use it.
I don't know about you, but I hate spending time in spaces that are totally chaotic – before we did this makeover I was always really reluctant to spend any time up in the game room with the boys because it was just stressful for me. Now? I'm the first to suggest they play up there while I work on the couch, or that we all snuggle up for a family movie night.
We kicked off our phase one makeover with one-and-a-half walls of vertical shiplap (you can read more about that here), and it set the tone for aaaall of the gorgeous Home Depot products that we brought in next!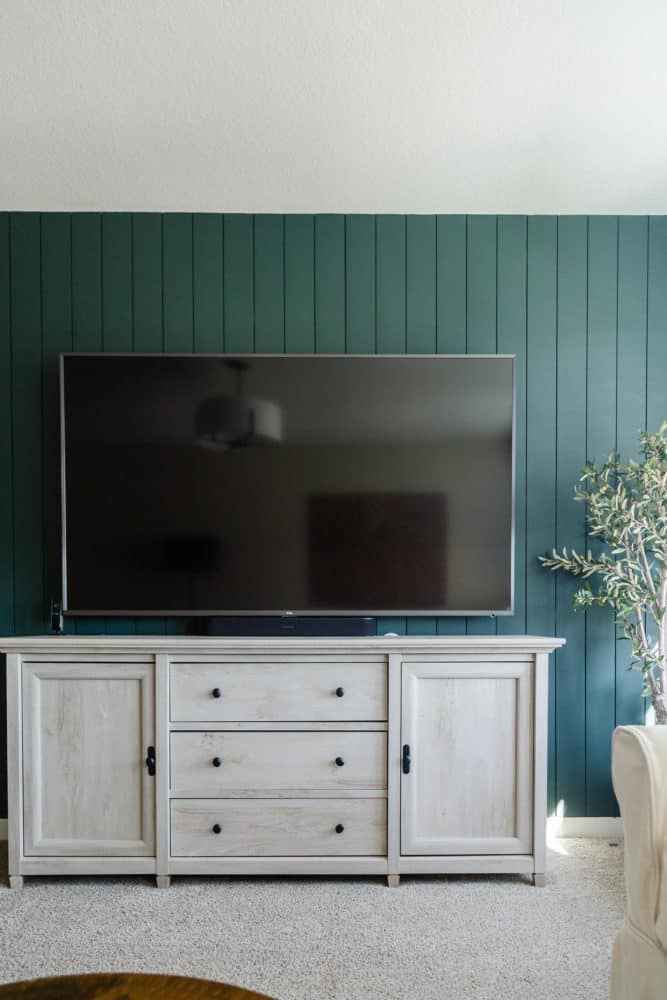 We got all of the furniture in this room from Home Depot's amazing selection at homedepot.com/decor. Every time I tell anyone this, I get a totally surprised reaction – but Home Depot has so much more than just tools and DIY supplies! At homedepot.com/decor, there's a vast selection of furniture, rugs, lighting, decor, and more. As I was sharing peeks of the room I kept getting asked "is that from Home Depot too?!" and the answer was always a big yes.
You can watch this room come together over on my Instagram story highlights if you want to see the progress from start to finish. But, the beauty of this phase one makeover is that once we got the bones of the room finished (the shiplap, paint, and desk), it was just a matter of bringing in the furniture that would round everything out.
We spent a lot of time debating on how to achieve the perfect layout in here, and I think we totally nailed it. This room serves multiple different purposes, so we really needed to accomplish a lot in here – it's the place where the boys store 95% of their toys (and do much of their playing), it's where we always send the kids to play during parties or when we have friends over, it's where Corey and Jackson play video games, and we wanted to also make it the place where we'd do family movie nights!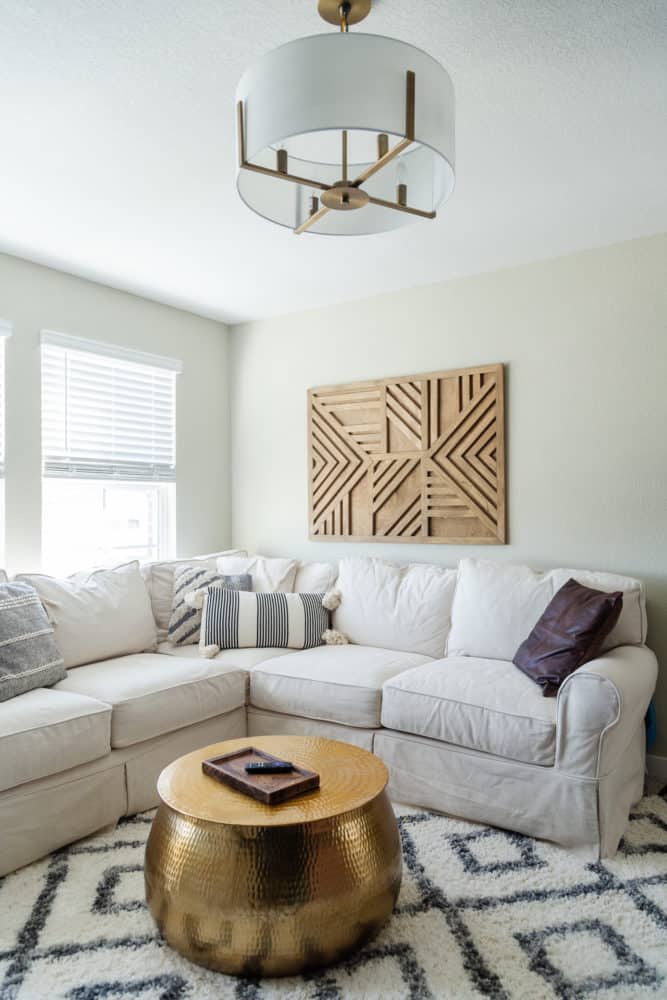 We started off with the Mayfair sectional from Home Decorators Collection. It's slipcovered which makes it perfect for this kid-focused space, and it's legitimately one of the plushest, coziest couches I've ever sat on. I had some slight reservations about the slipcovered look before it arrived (I didn't want the room to lean too farmhouse or traditional!), but it's a perfect contrast to the more modern touches in the room and in the end I couldn't possibly love it more.
I hung my DIY wood wall art above the couch (here's a really similar piece from Home Depot), and we added a super cozy rug and the Home Decorator's Collection Calluna Round Metal Coffee Table (that doubles as hidden storage for blankets and extra pillows!) to finish off the seating area. We also grabbed a couple of these cute leather poufs, which already are turning out to be some of the hardest-working pieces in the room. They get used as footrests, seating for the kids, or an extra surface for them to play on. They're constantly getting moved around the room and get used way more than I even anticipated!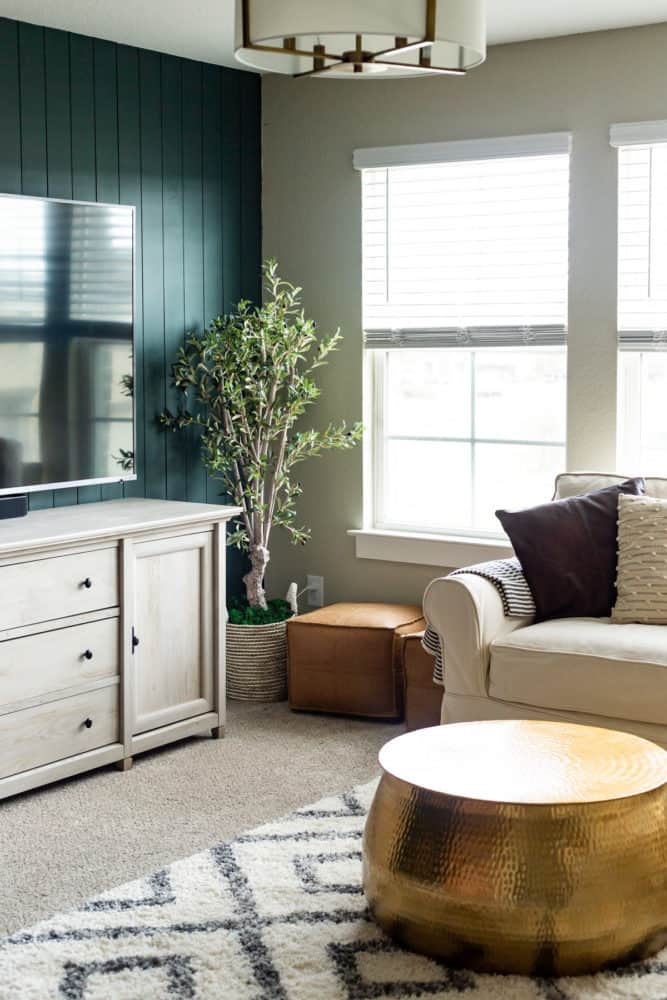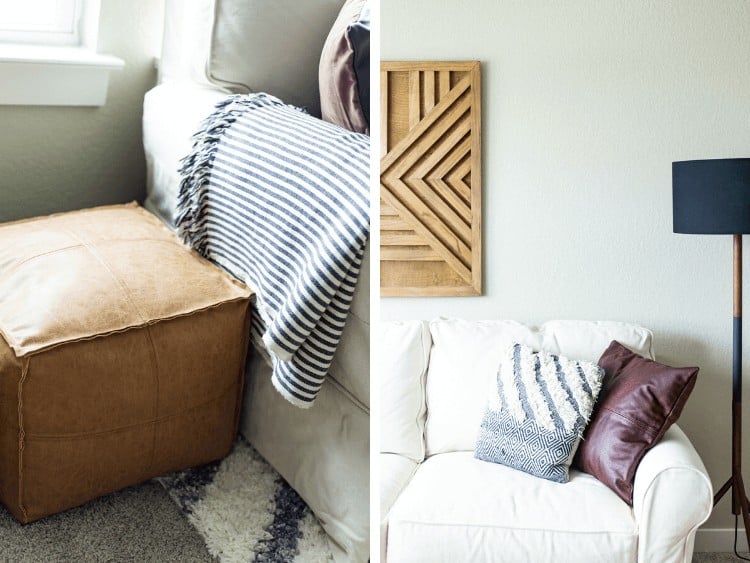 One of our biggest needs in here was a closed media console to store video games, DVDs, and all of the other stuff that goes along with having a "media room". This beautiful console turned out to be perfect for us. It's large and has tons of storage (it's not even halfway full!), and the light color contrasts perfectly with the dark shiplap. I pulled off the hardware and spray painted it black so that it would match a little better with the hardware on the bookcase on the other side of the room – since we have a few different finishes happening in here already, it felt important that the furniture hardware matched to help bring it all together.
Speaking of the bookcase….y'all.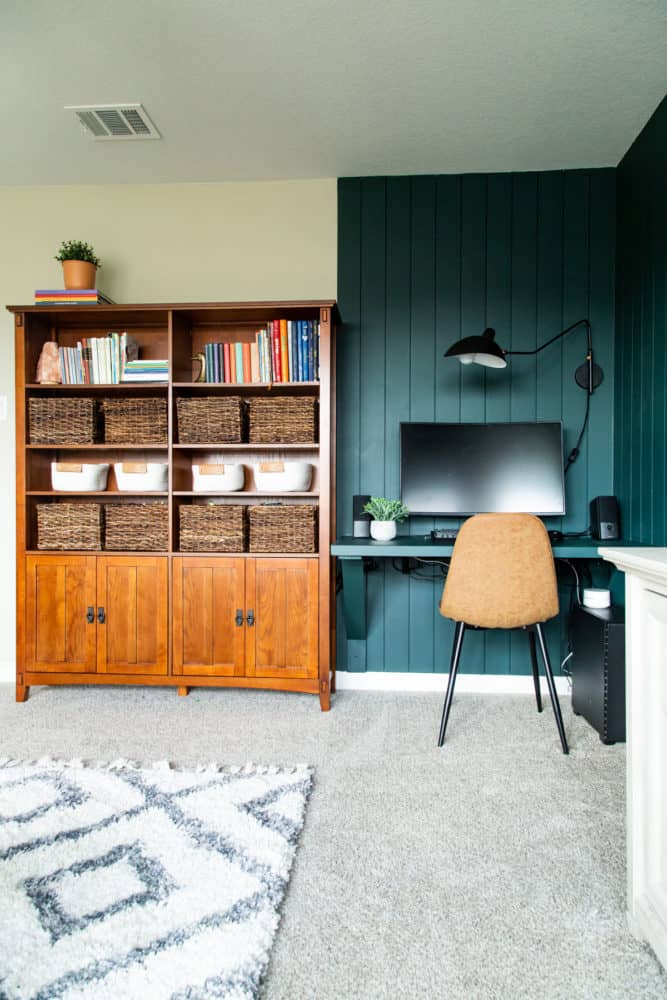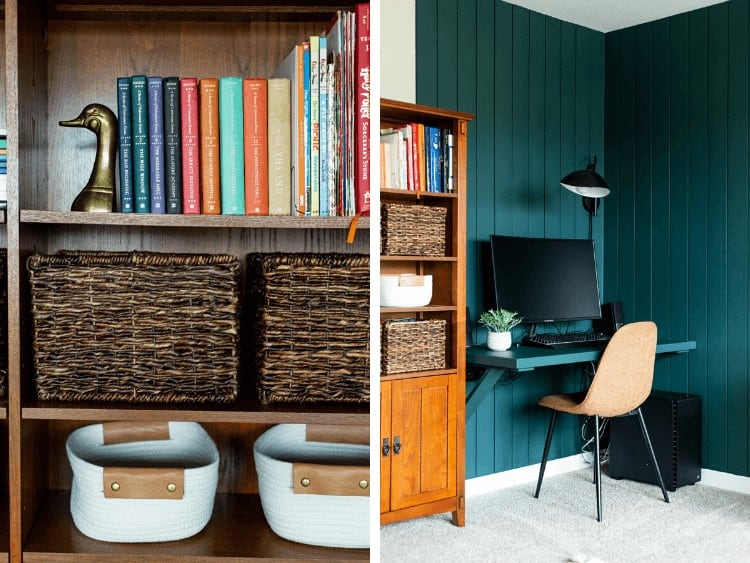 This Home Decorator's Collection bookcase is huge and exactly what we needed to corral all of the boys toys. Would you believe that we have almost all of their toys stored in this thing plus plenty of room for more?! I'm sharing a detailed tour of how we've got everything stored in here over on my Instagram story highlight for the game room, so be sure to check that out if you want a closer look!
I added tons of baskets to the open shelving so the boys have easy access to their stuff but it isn't an eyesore. The bigger toys go in the bottom, and several of those baskets are actually empty which gives me so much joy (I love knowing we have room to grow a little when holidays roll around and I won't have to stress about where to store things!).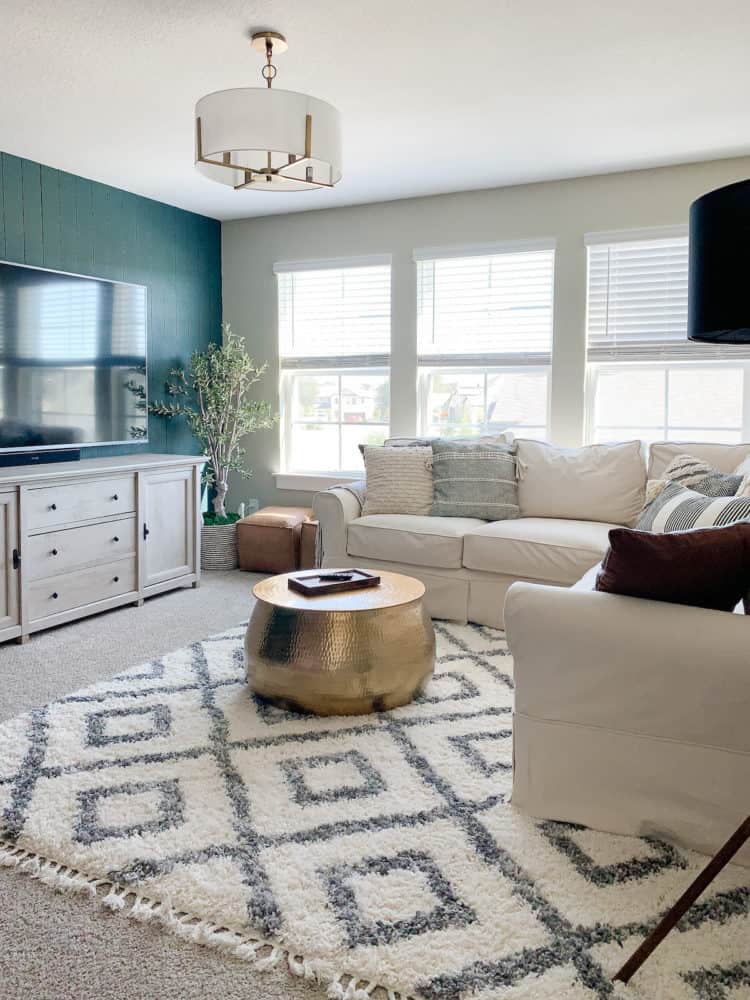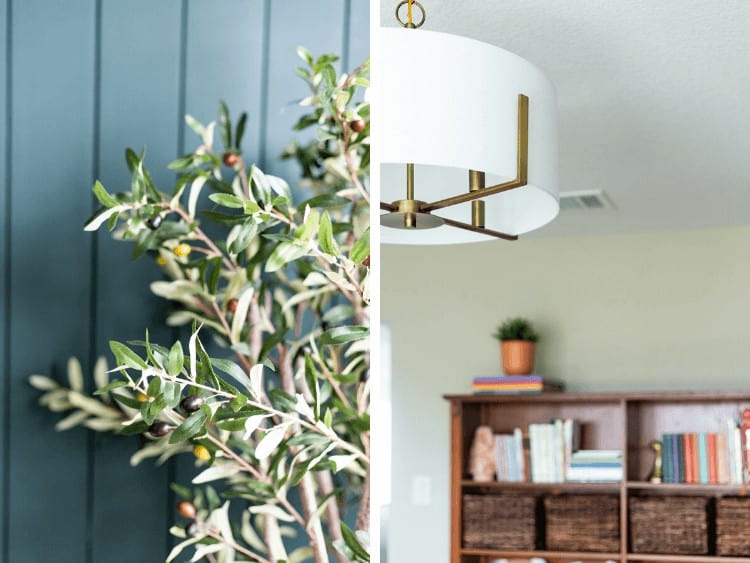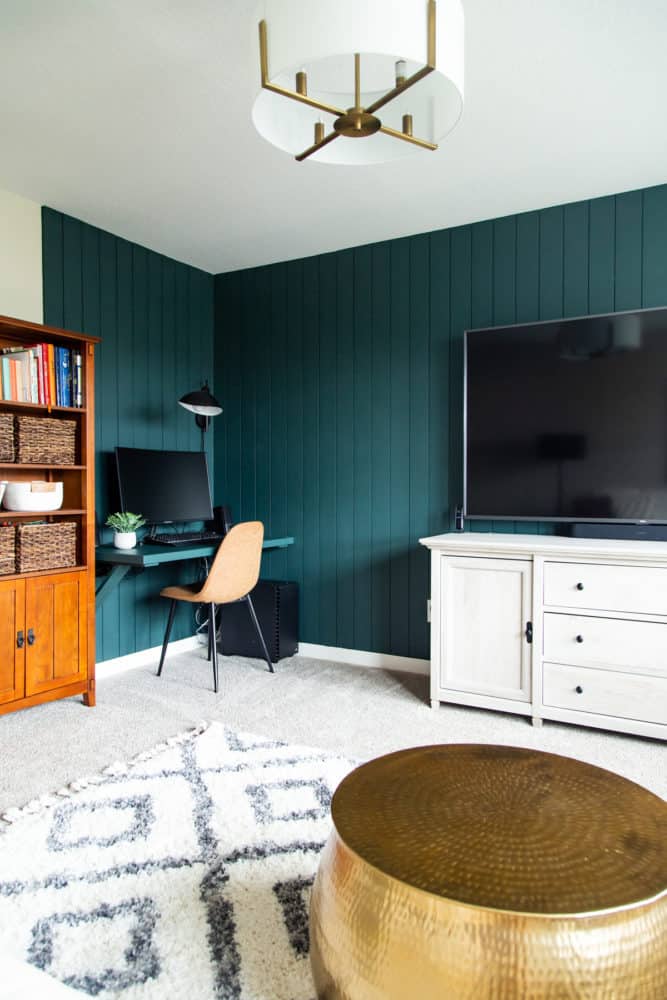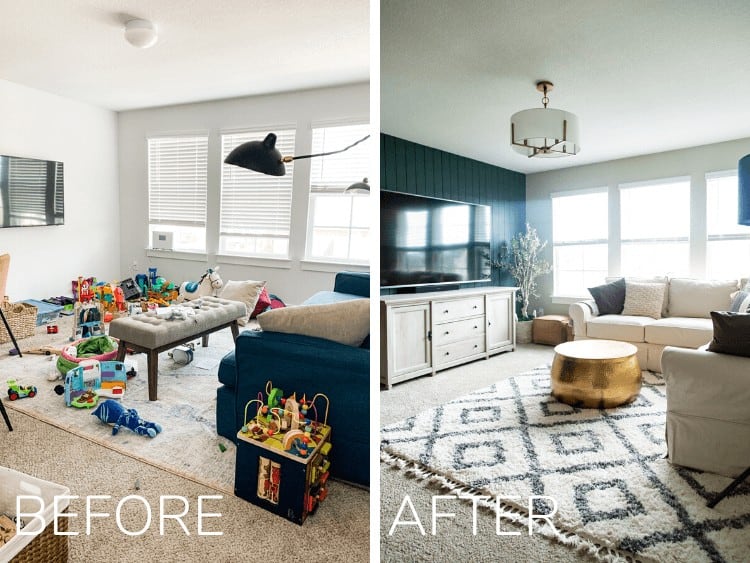 When we first started this phase one makeover, we honestly weren't sure if it would be a 1-2 year thing before we decided to add the built-ins and do the rest of the room or if it would be longer. Now that we've got this room done I genuinely can't imagine us needing to change it up for a nice, long time! For this phase of life with tons of toys, ever-changing needs, and tiny children this is the perfect, versatile setup.
I'm so glad we decided to go ahead and tackle this space sooner rather than later – it used to be a space I side-eyed every single time I walked past it, but now it makes me smile every single day, and I actually love spending time in here.
If you haven't ever browsed around on homedepot.com/decor, I highly encourage you to go check it out! Home Depot has become one of the very first places I look when I need new furniture or decor for my home, and every time I head over there I'm pleasantly surprised by the selection and value!
All of the sources for everything in this space are linked below! Stay tuned next week for more on the floating desk, and be sure to visit my Instagram stories for a closer tour of the room!
Game room sources