Geometric DIY Wood Wall Art
We all have those spaces in our home that are just totally impossible to decorate, right? I know I'm not alone on this because some of my most popular posts are all about how to decorate those hard-to-fill spaces (like that weird corner you don't know what to do about, and the space above your bed). Well, I have one of those spaces in my bedroom – it's the area above my dresser. It's been awkward since the day we moved in – we tossed a mirror up and called it a day, but it was never the right size, it didn't bring any personality to the space, and it just wasn't right. I've wanted to do something fun to this space like some large scale art, some DIY wood wall art, or hang a gallery wall for a while now but I just couldn't decide what to do.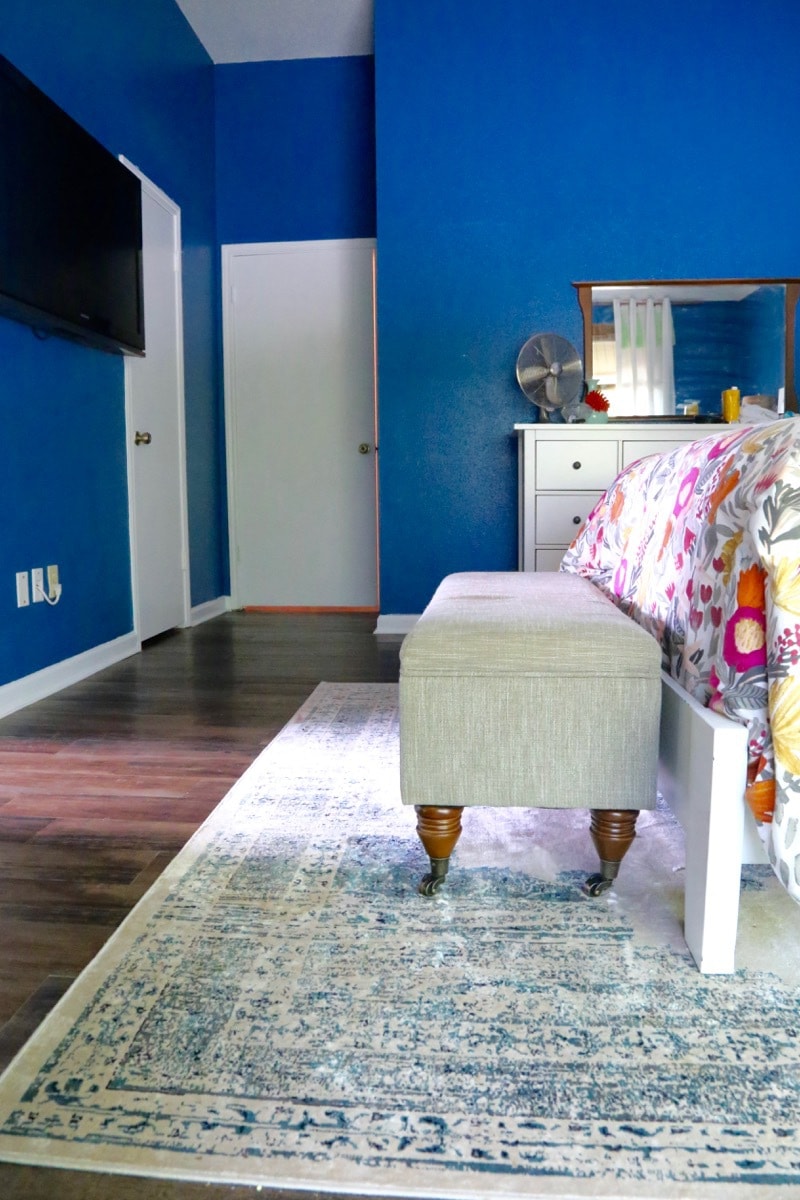 But I didn't know what else to do.
So, for the last 6 years, I just ignored it.
But! I've been itchy to make our room a more enjoyable place lately, so I've been doing a lot of brainstorming. And, when my blogger friend Bre from Brepurposed tackled her laundry room last fall for the One Room Challenge, she ended up creating some DIY wood wall art for one of my very favorite spaces in all of blog-land…and helping me come up with the inspiration I needed for my room. I knew that some DIY wood wall art was exactly what I needed to make this space shine.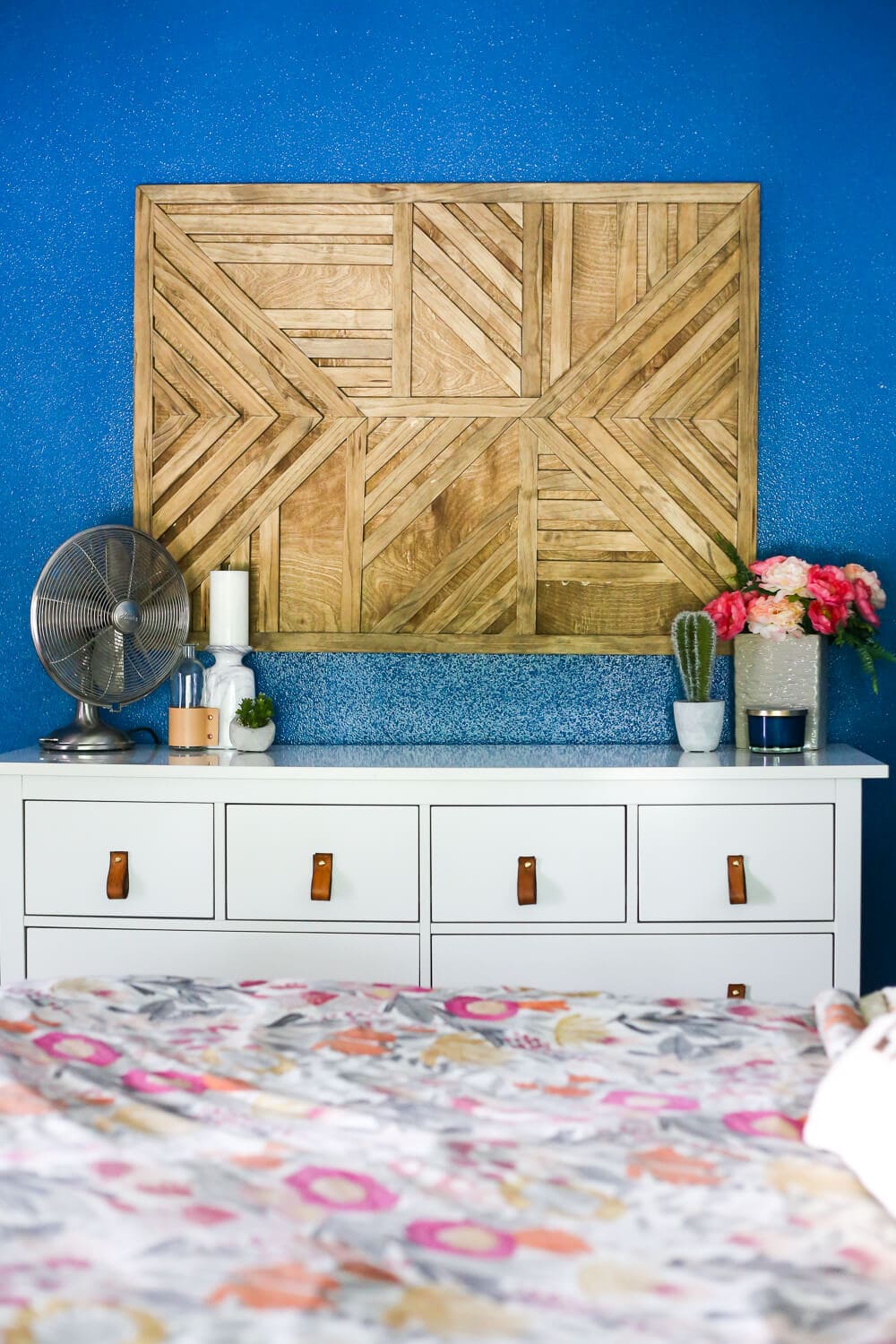 This post contains affiliate links. Click here to see my full disclosure policy.
Are you drooling yet? Because I am.
It's okay. Don't be embarrassed. Wipe it off and grab a cup of coffee (or a glass of wine, depending on when you're reading this), and let's chat about how I did it. Because you know you want to make one too (psst – you can also see Bre's full project and tutorial here – I referenced it more than a few times while I was making mine!)  
Supplies Needed for Geometric DIY Wood Wall Art
1/2″ plywood, cut down to the size you want for your space
1×2″ pine boards (I needed 11)
Stain (I used this one)
Foam brush for stain
I started off by staining my plywood – this isn't a totally necessary step (you can stain it later when you stain everything else), but it made things a little bit easier.
Next up, I created the frame on the art. If you're unfamiliar with how to do this or how to even use a miter saw, I've got a tutorial coming up in the next couple of weeks that will totally lay it all out for you. I promise it's so easy. To measure the pieces, I just held them up to the board and marked where they needed to be cut, then I cut them on a 45-degree angle and laid them out on the board to make sure they fit. Easy peasy.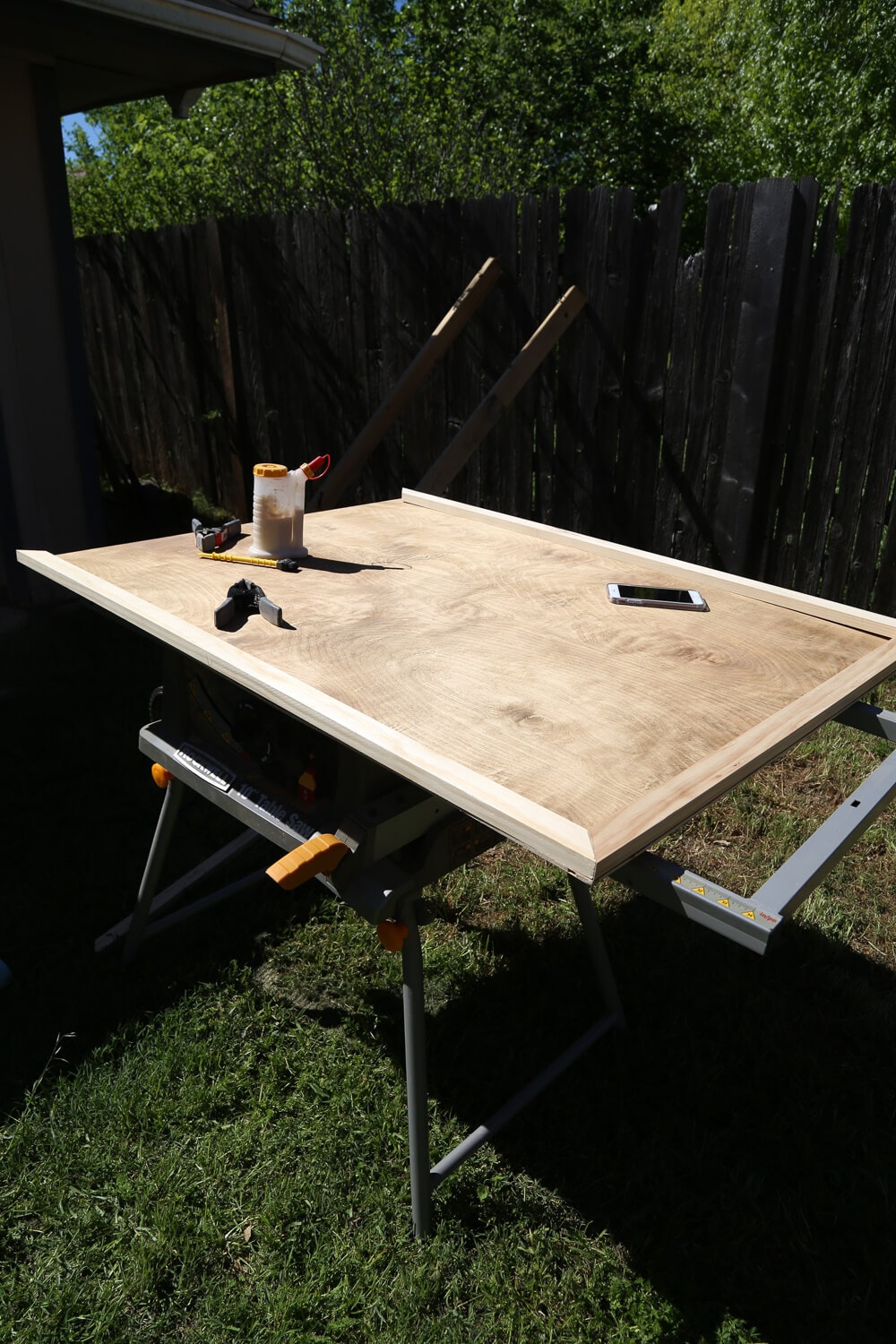 To attach the wood, all I did was use a bit of wood glue and a few clamps. Seriously – no nails, no screws, nothing complicated. Just some plain old glue. I used this until I ran out of it, then I just used plain wood glue – nothing fancy.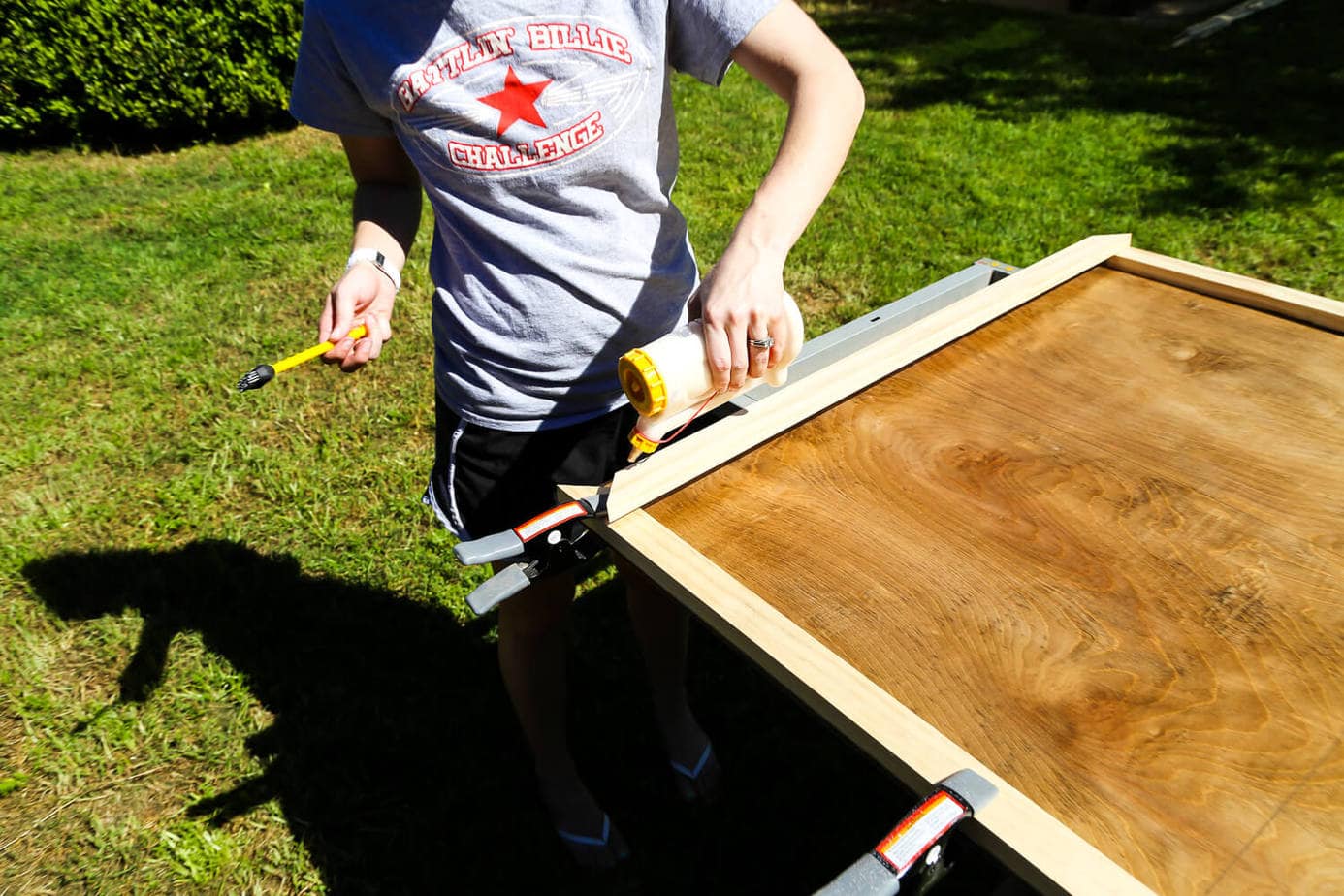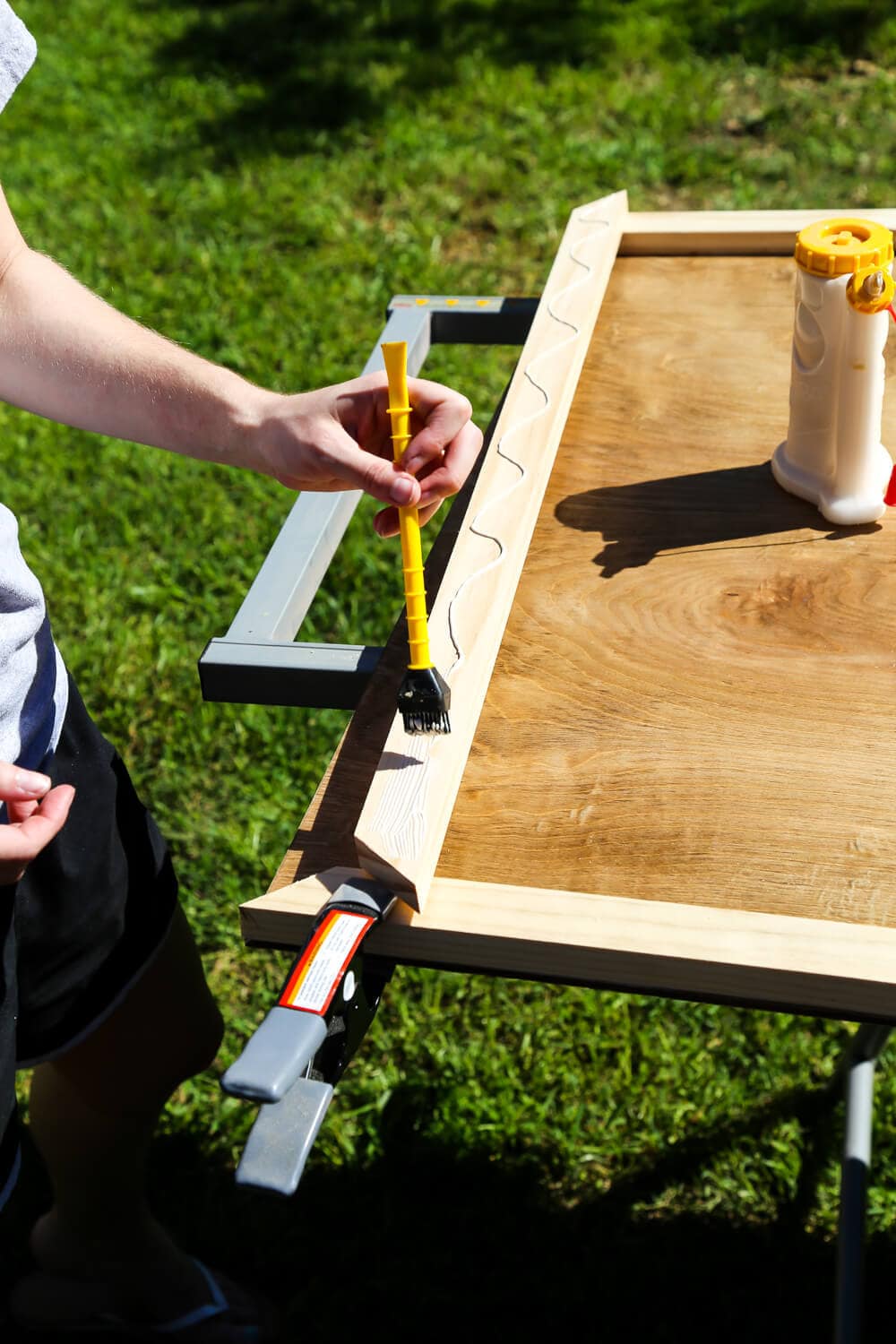 I used a little brush to spread the glue nice and evenly, but it's totally not a requirement. I would recommend using some clamps, at least on the outside, to make sure nothing moves around while it's drying.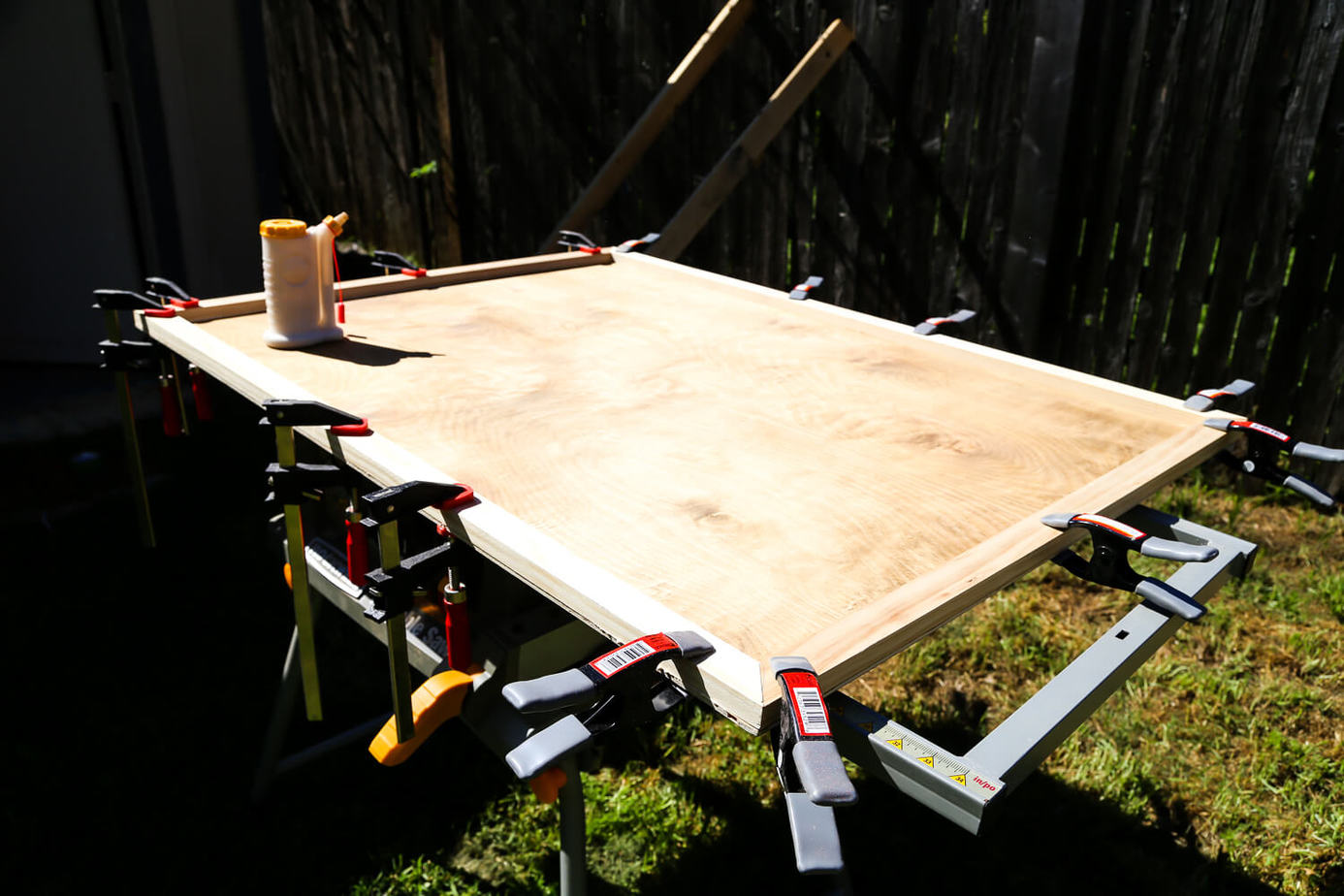 Then, it was time to start the design. I created something on Canva to loosely follow – I just played around with it a little until I landed on something I liked. I didn't do any measuring or follow any specific guidelines – I just messed around with the angles and designs until I thought it looked complete. I didn't worry too much about how perfect it was, because I knew I wouldn't follow it exactly – it's just a jumping-off point. And, spoiler-alert, I did end up straying pretty far from the original design as I was working, but it was really good to have this to reference, at least as I was getting started.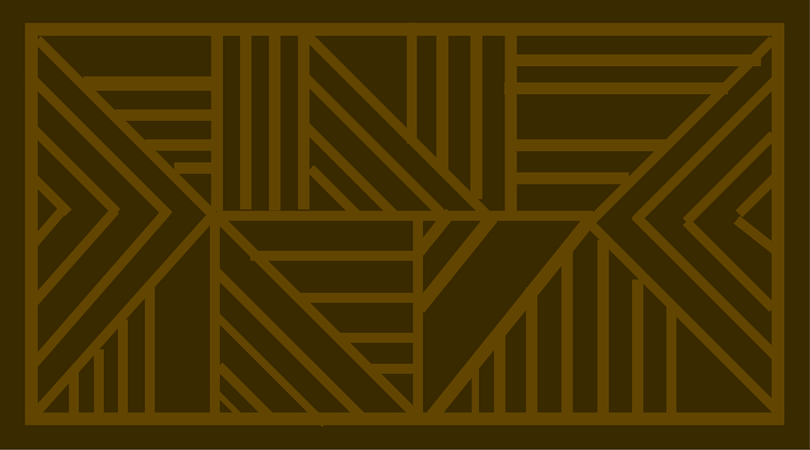 Once my frame pieces were dry, I started to fill it in. I began with the large triangles on the side and the middle piece, since that kind of anchors everything.
An important note – I didn't glue anything at this point other than the frame. I just laid all of the pieces in there until it was full, then I went back in to glue it down. I didn't want to end up stuck with something that wasn't going to work, and it was really easy to glue it all on once all was said and done.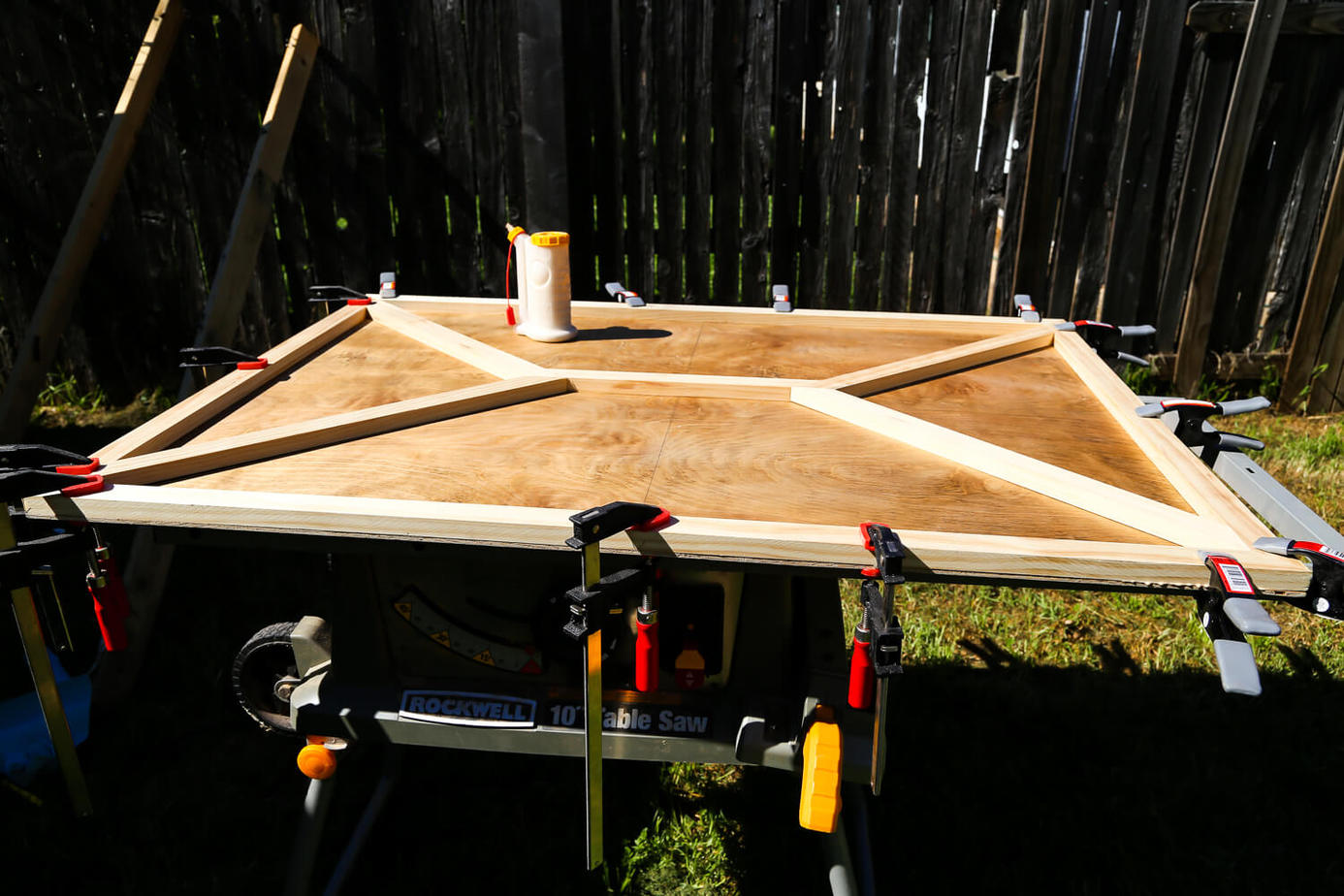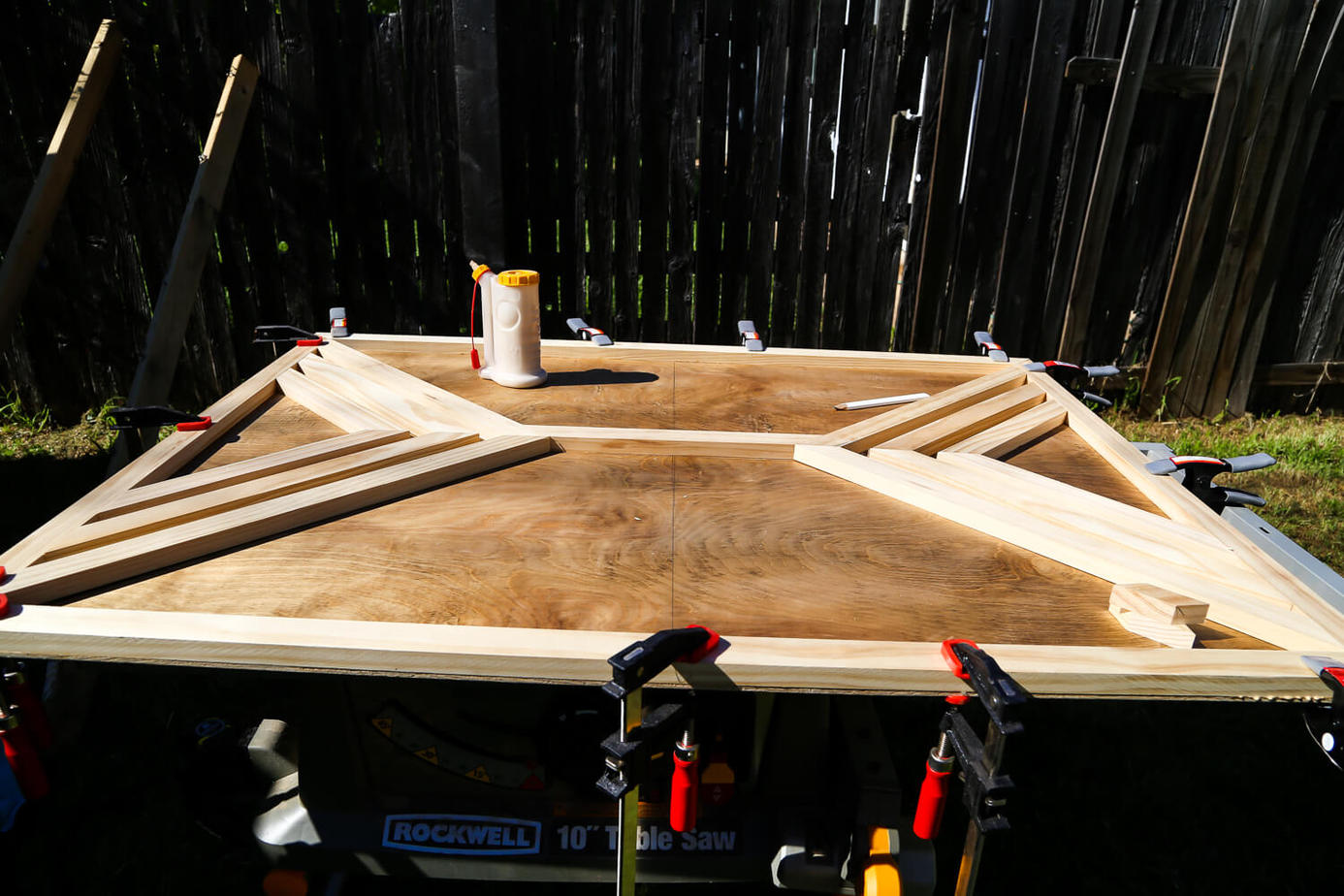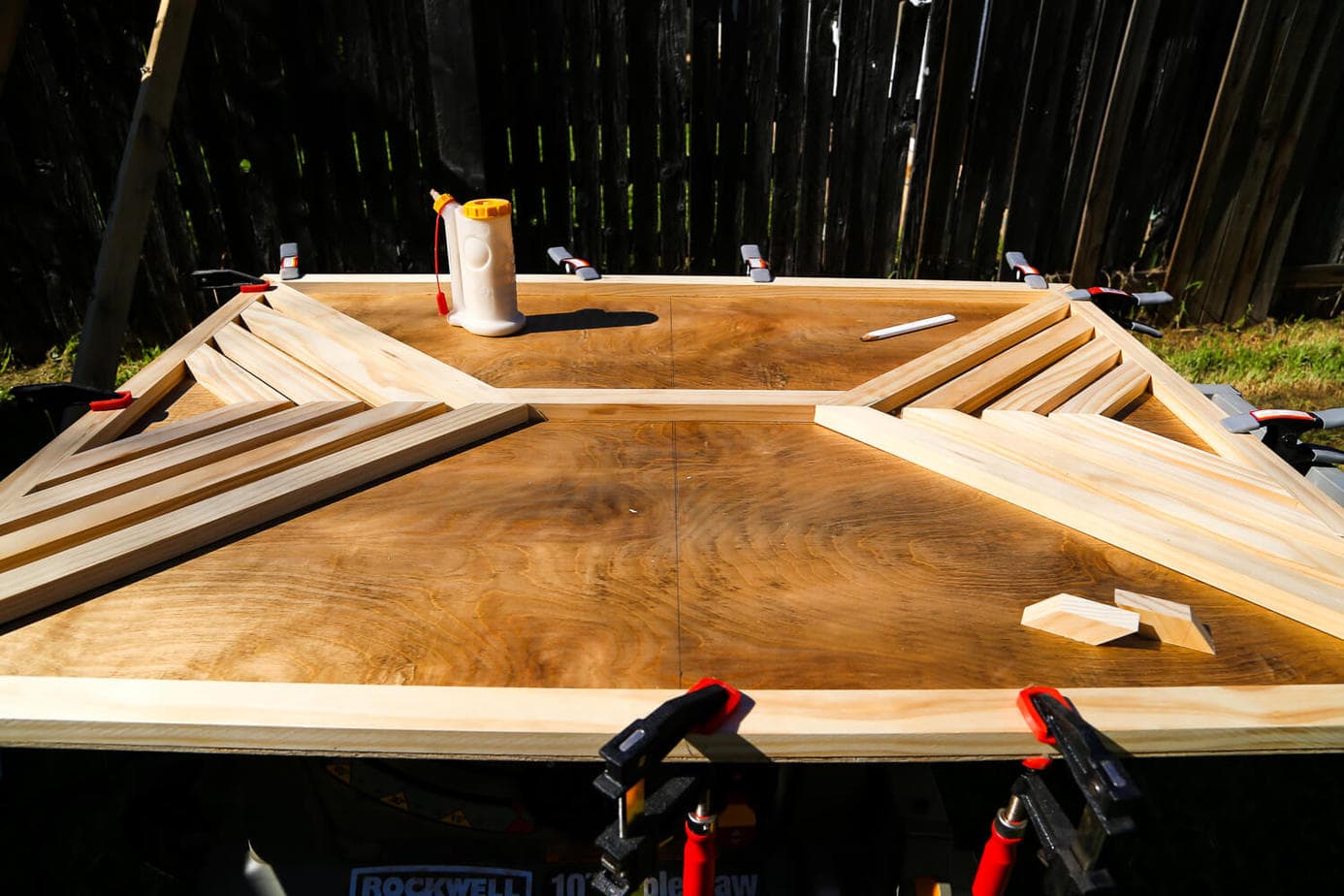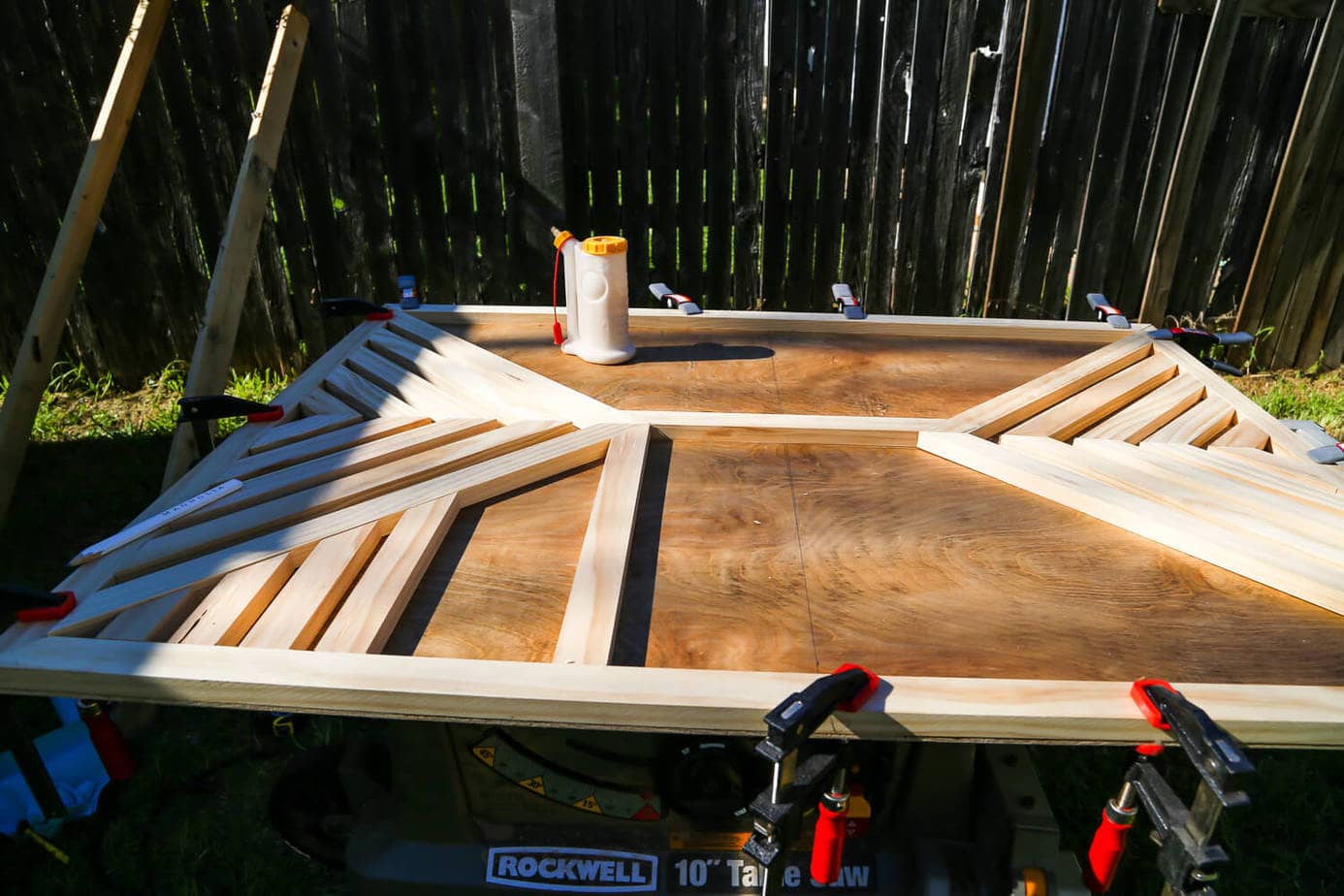 As I was working, I used a scrap piece of wood as a spacer – I stood it up on its side in-between each piece. Again, I didn't stress too terribly much about keeping everything perfect, but it was a great way to keep things looking mostly uniform.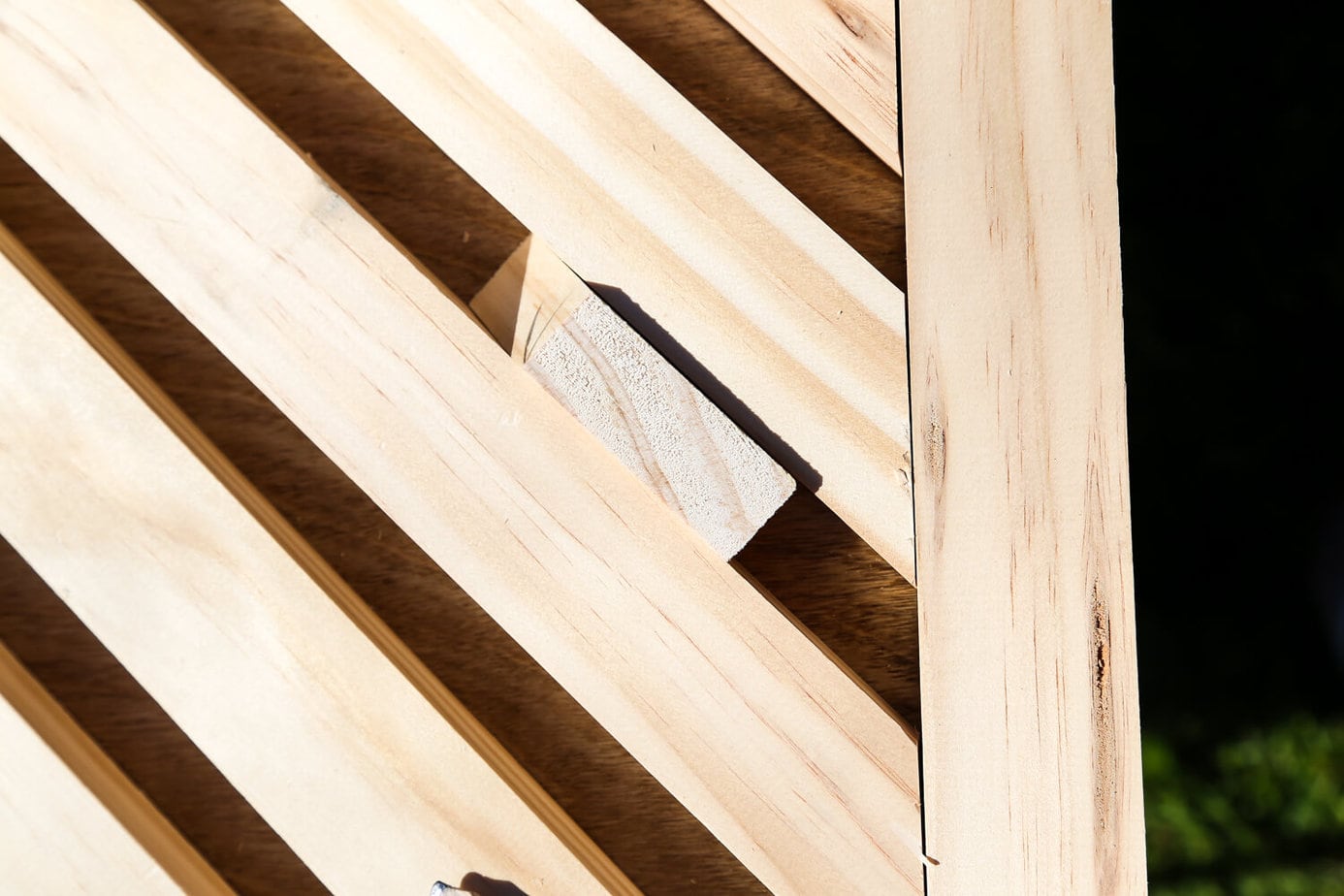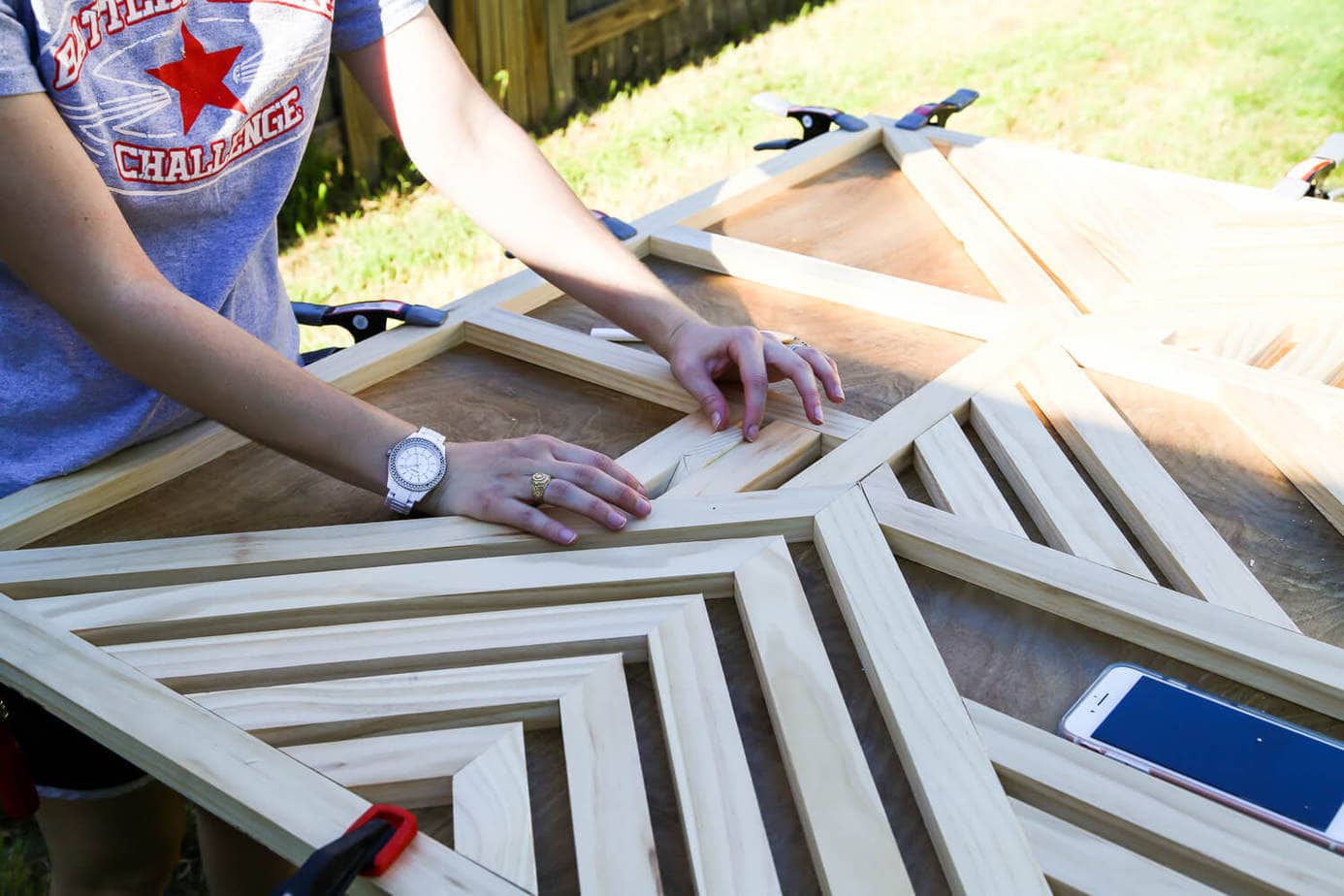 As far as measuring the pieces, all I did was bring each piece over to my art, lay it roughly where I wanted it, and used a pencil to mark where I needed to cut, and the angle I needed to cut at (it helped to draw a quick line reminding me which direction the angle needed to go, so I didn't accidentally cut in the wrong direction). Then, I cut my wood and laid the piece where it belonged. Super simple. I swear.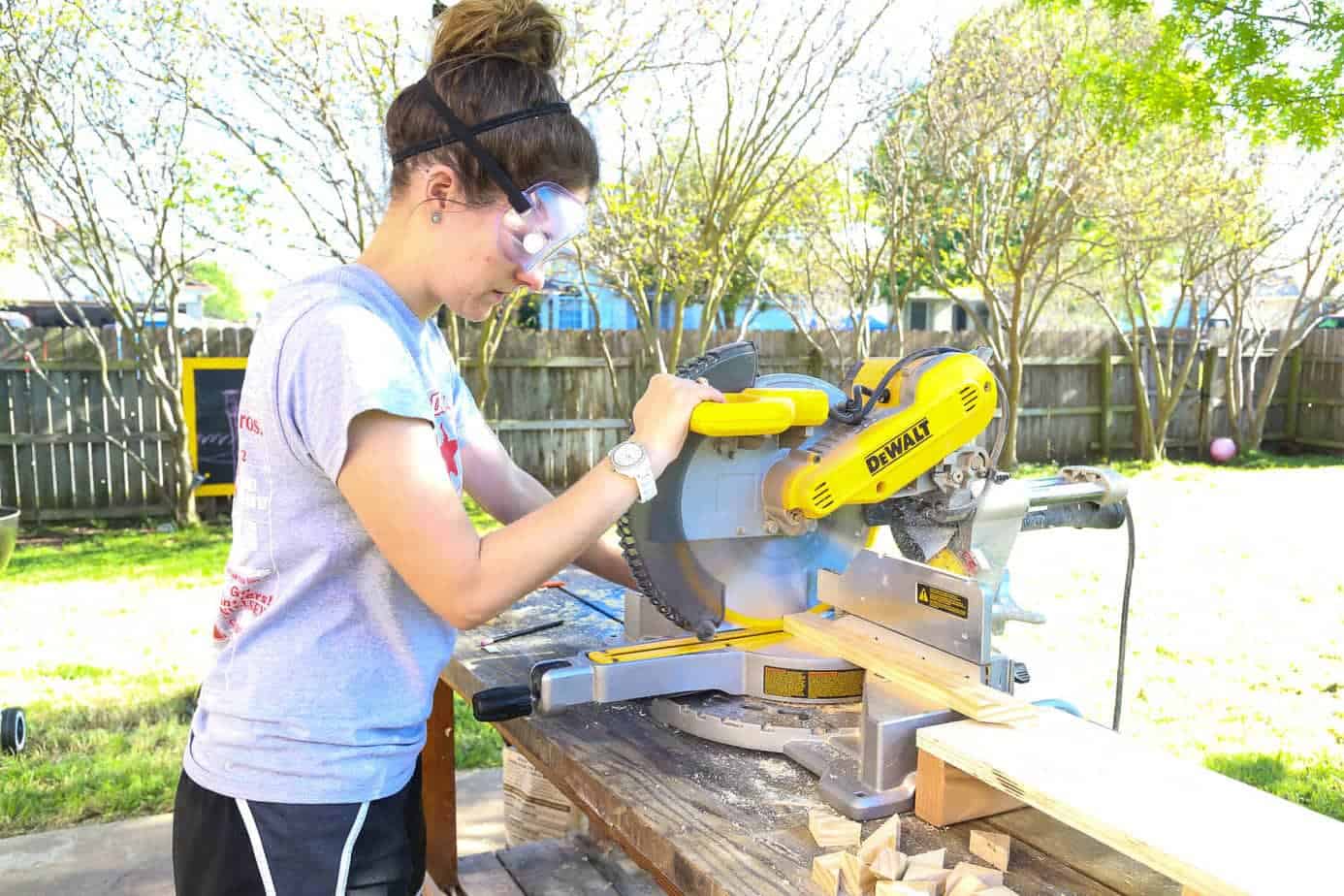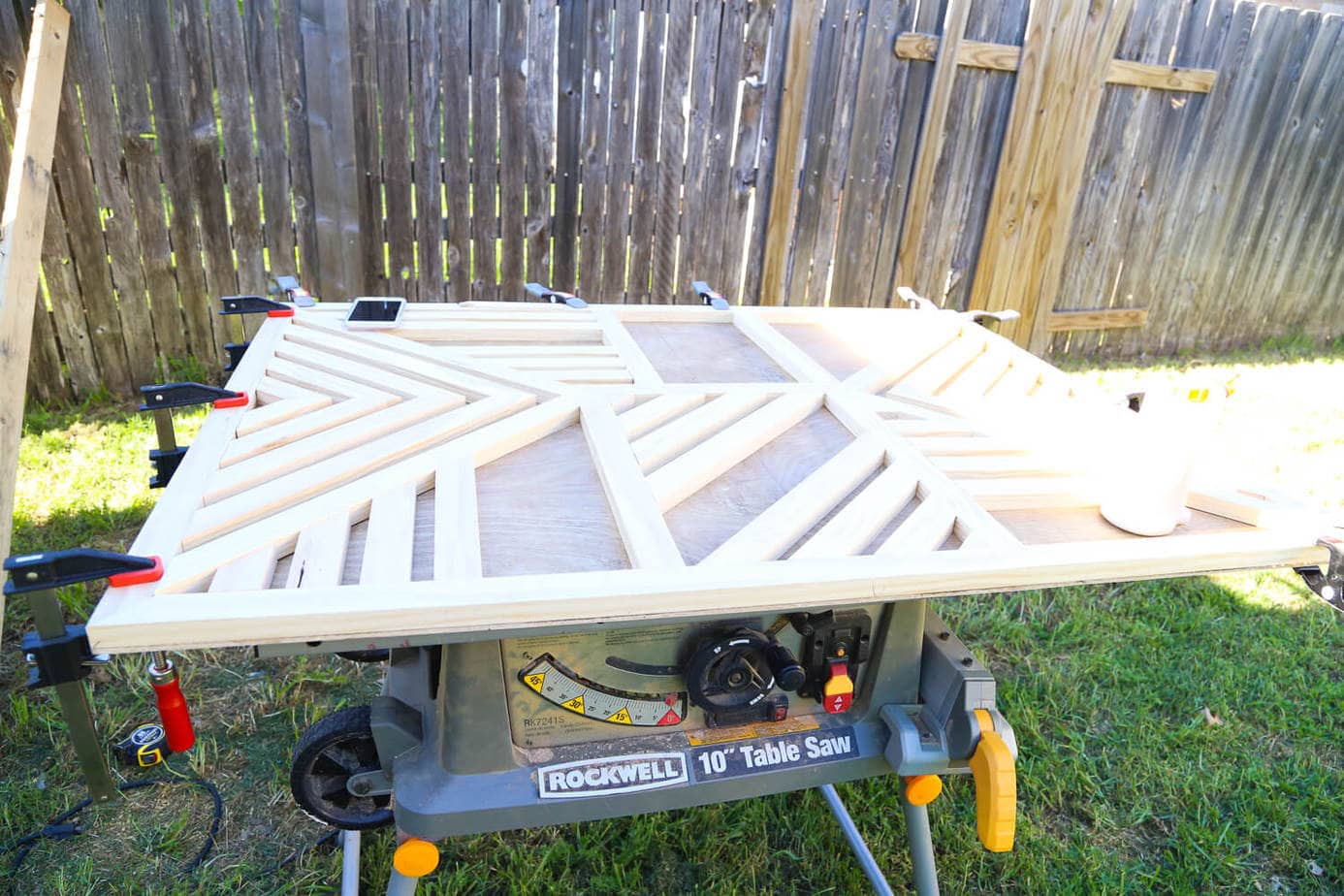 Once I had all of the wood in place, I used the wood glue to attach it, then I grabbed a bunch of heavy items to help hold it down. I left it like this for about 12 hours, to make sure it was all completely dry…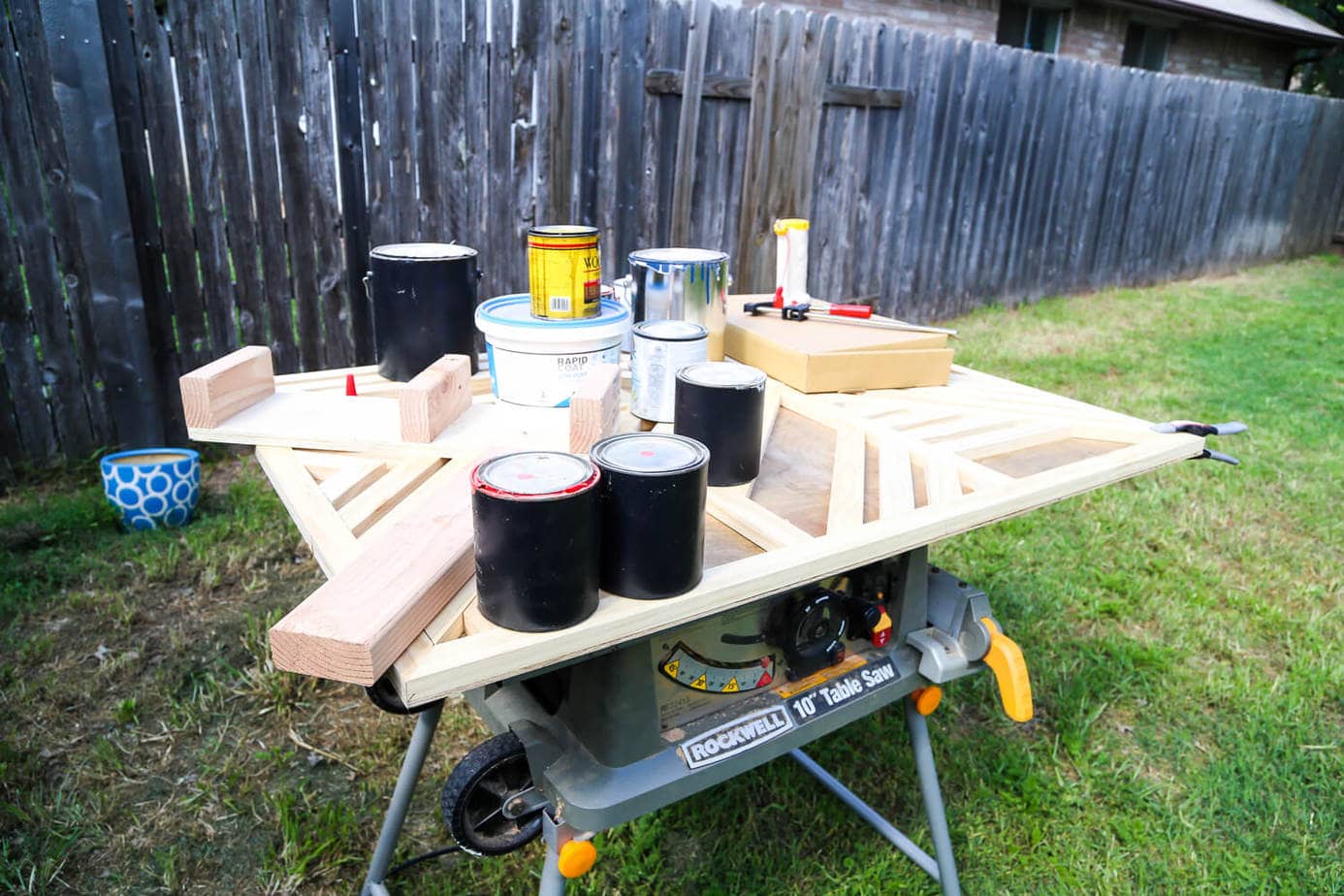 Once the glue was set, I used a foam brush to apply two coats of stain. You could apply a coat of polycrylic if you want it to look a little more polished, but I wanted mine to look a little on the rustic side, so I decided to skip the poly. I may go back down the line and add it if I feel like it needs it, but we never put any on our photo wall in the dining room and I still love how it looks.
I don't have any photos of the staining process because I worked on it at night, but once it was all dry I attached a metal french cleat to the back and hung it up on the wall. And the finished product?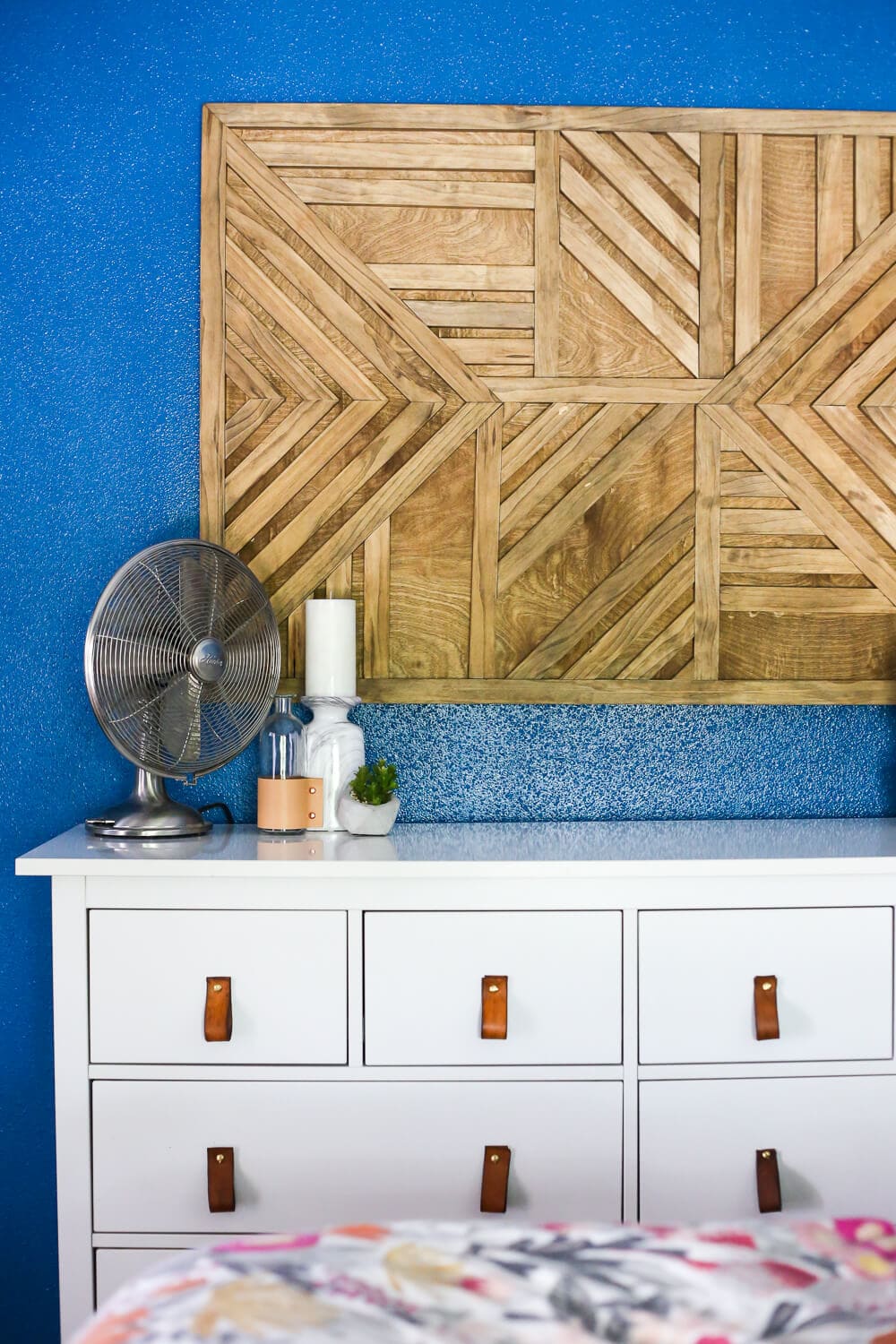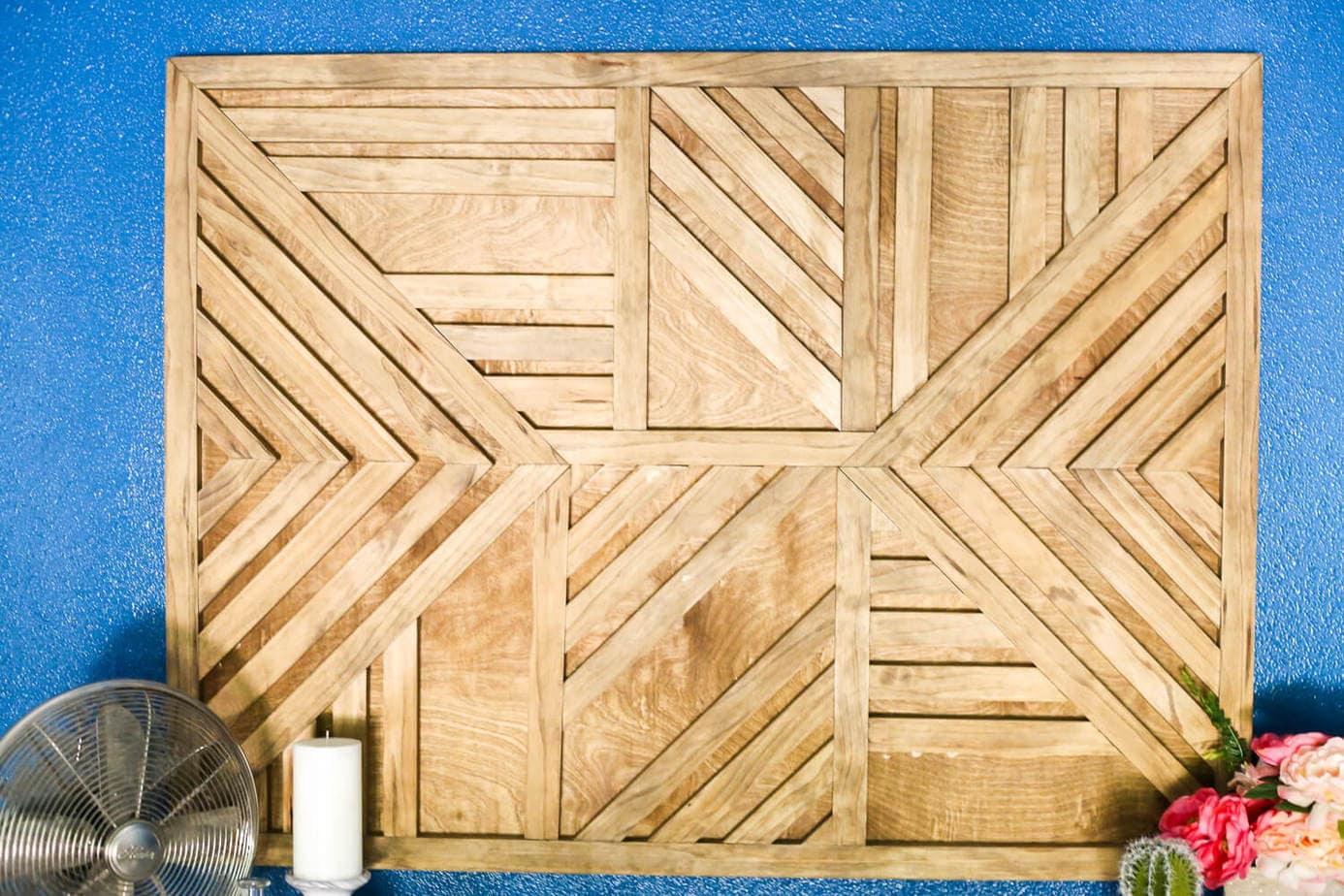 PERFECTION.
I'm so in love with how this turned out, and I'm so glad this is the direction I decided to go with this space. I've can't imagine anything more perfect than this, and I get all heart-eyed every time I look at it. I've been wanting to create some DIY wood wall art for my house for a long time, and this piece is the perfect way to fulfill that desire!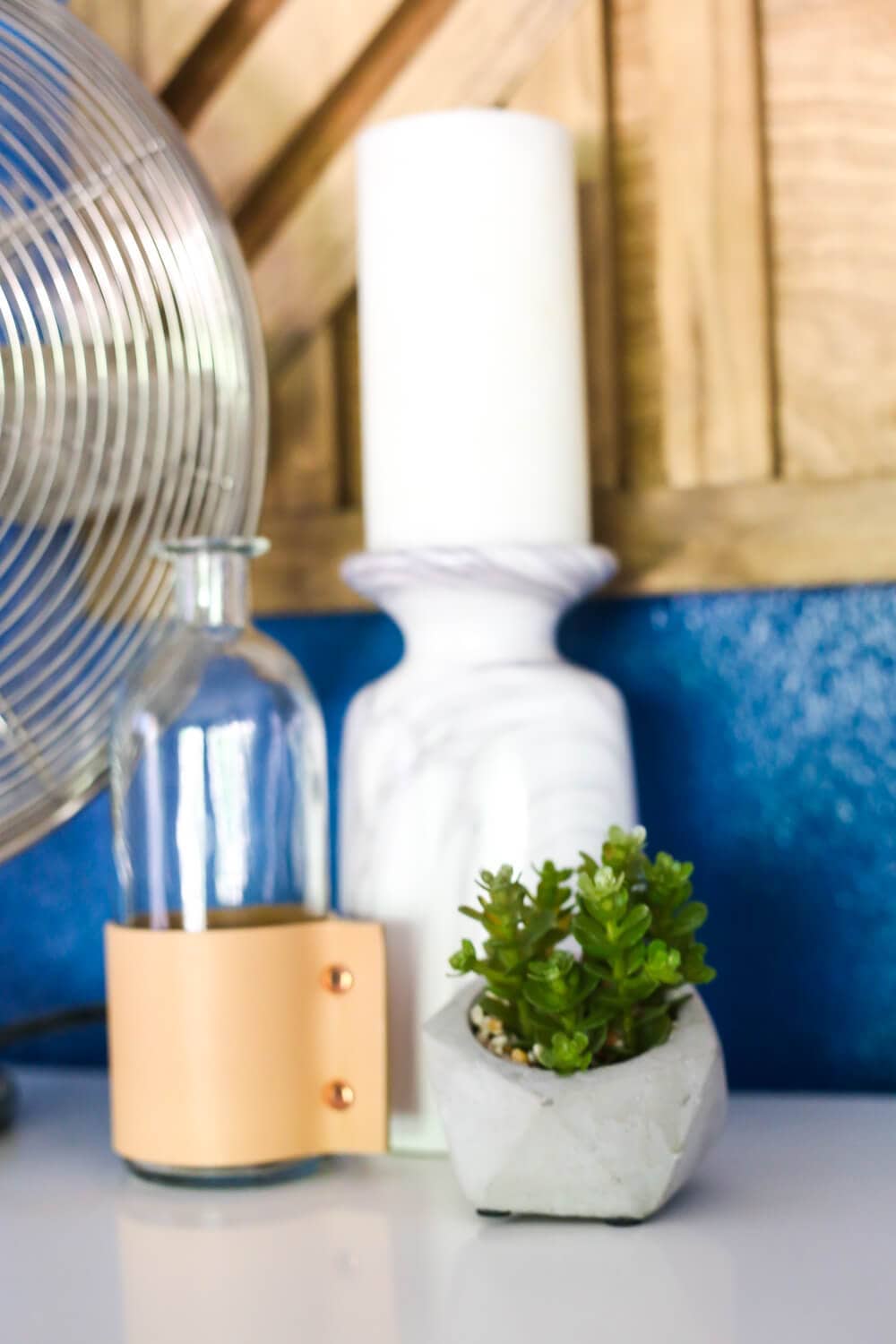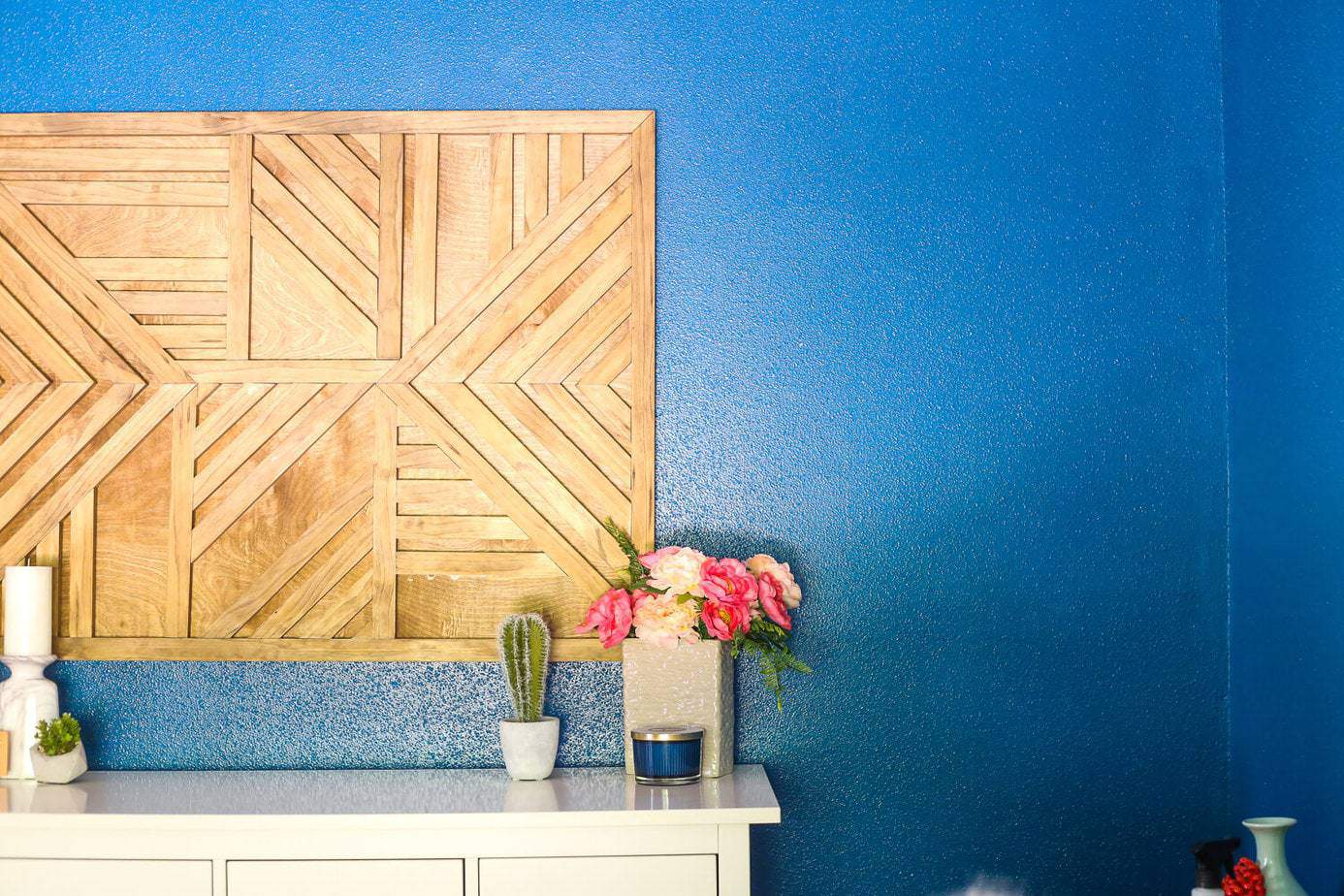 It also feels good to finally have the top of this dresser styled. For so long, we've just plopped things down on top of it without any actual thought, and I forgot how much of a difference it makes to actually put some effort into this little spaces.
I mean, adding some pink flowers, a cactus, and some candles instantly makes any room feel better, amiright?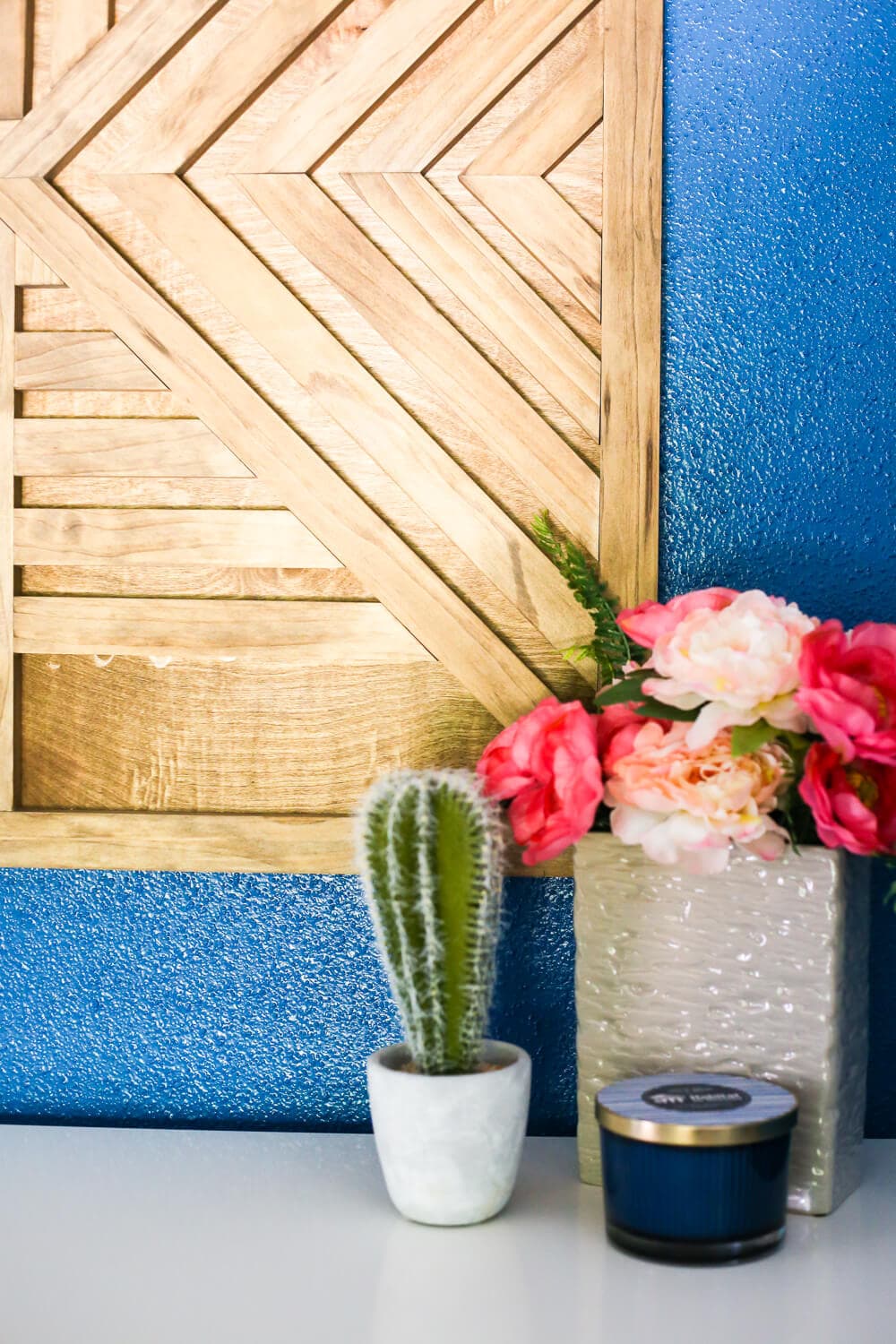 This room still has a long way to go, but I'm kind of shocked at how big of a difference this little DIY wood wall art project made. You may have also noticed that there are new drawer pulls on our old IKEA dresser – I promise I'll spill all the details on those next week. They're a super simple DIY project that elevated this plain dresser into something I'm totally obsessed with now.
I think the next step in this room will be to re-paint it. (Cue the collective gasp from everyone who tells me how much they love this color). I know. I love it too. But there are lots of places where it needs to be touched up and we can't seem to get it color-matched exactly, so now it's all splotchy and weird and it's just time to start fresh. Boo. But, I promise we'll all love the new color just as much. Trust me.
Have you ever made any DIY wood wall art for your home?