We've officially started our Phase 1 makeover of the game room, and step one was installing some vertical shiplap on a couple of the walls. Here's a full tutorial on how we got this shiplap accent wall done!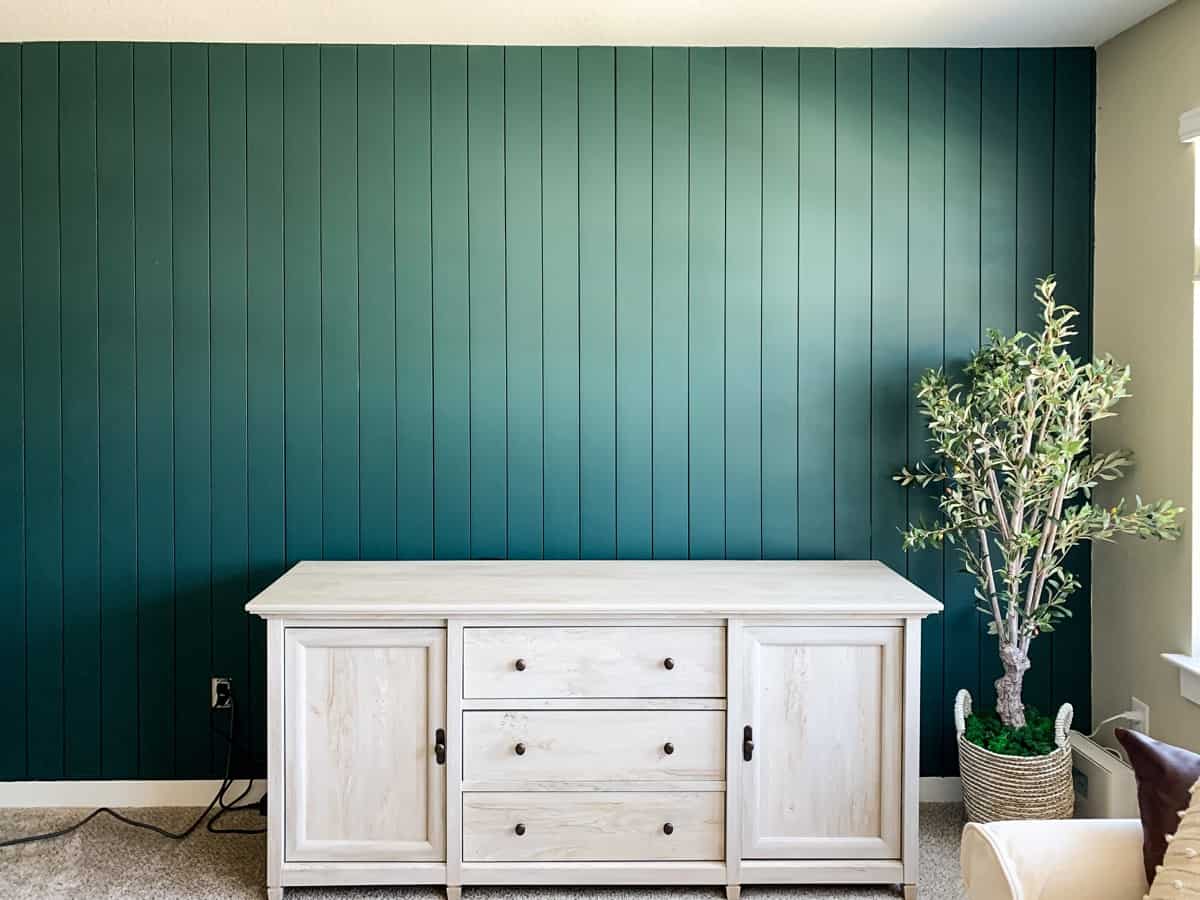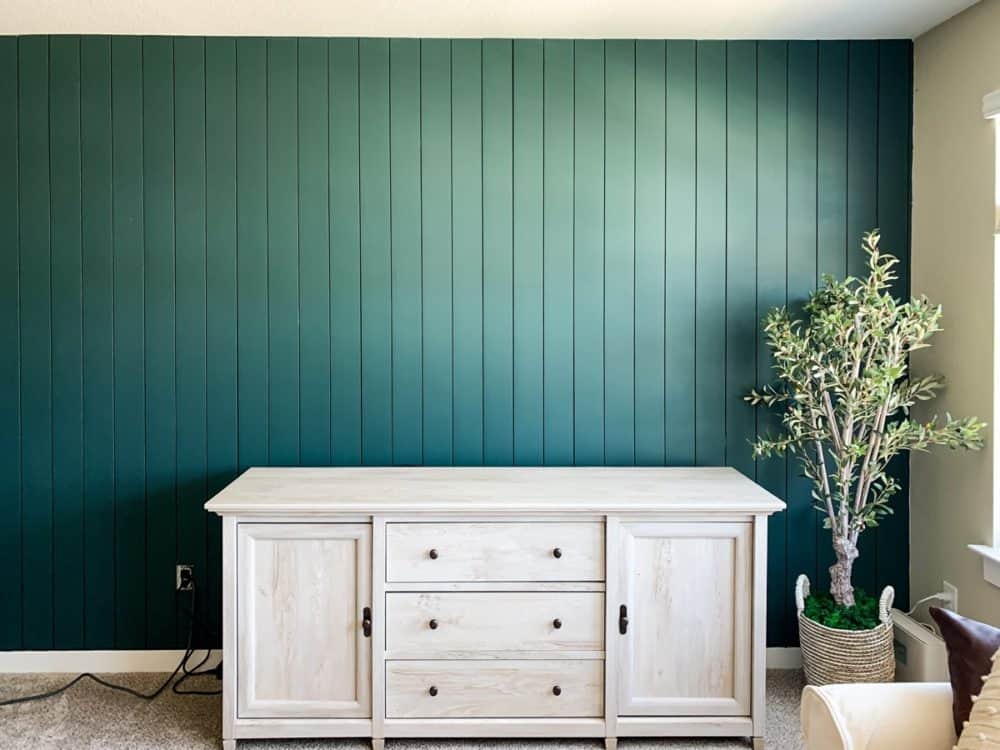 When we decided to take on a "phase one" makeover of our game room, Corey and I spent a lot of time debating what exactly it would consist of. Our long-term plans for this space include an entire wall of built-ins, a cozy library feel, and tons (TONS!) of storage for toys, games, and more.
But, since we've only lived here for 6 months we didn't feel completely ready to dive into such a massive undertaking. Enter the Phase One makeover!
We decided that instead of tackling the built-ins now, we'd go ahead and do some vertical shiplap in the space where the built-ins will eventually be. The vertical shiplap accent wall can stay and become a backdrop for the shelving eventually, and it gives us a good idea of how the color will look in the room (spoiler: it's AMAZING).
This is a pretty simple project, and I've tackled shiplap on the blog a few times before. But, this was my first time doing vertical shiplap so I figured it deserved its own tutorial. This DIY shiplap accent wall created so much texture in this space, and added so much life. I can't get over how much I love it, and I may end up shiplapping the entire room someday!
The before
I had to dig deep for some before photos of this space – apparently I really avoided photographing this space because I had a hard time finding any! But, here's what I've got: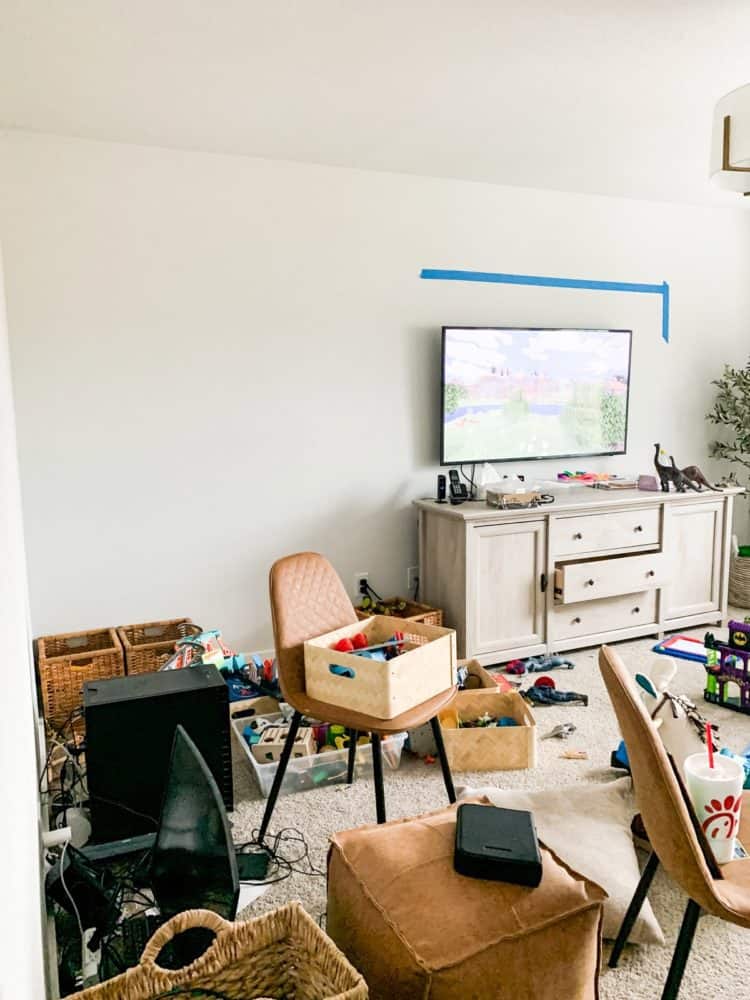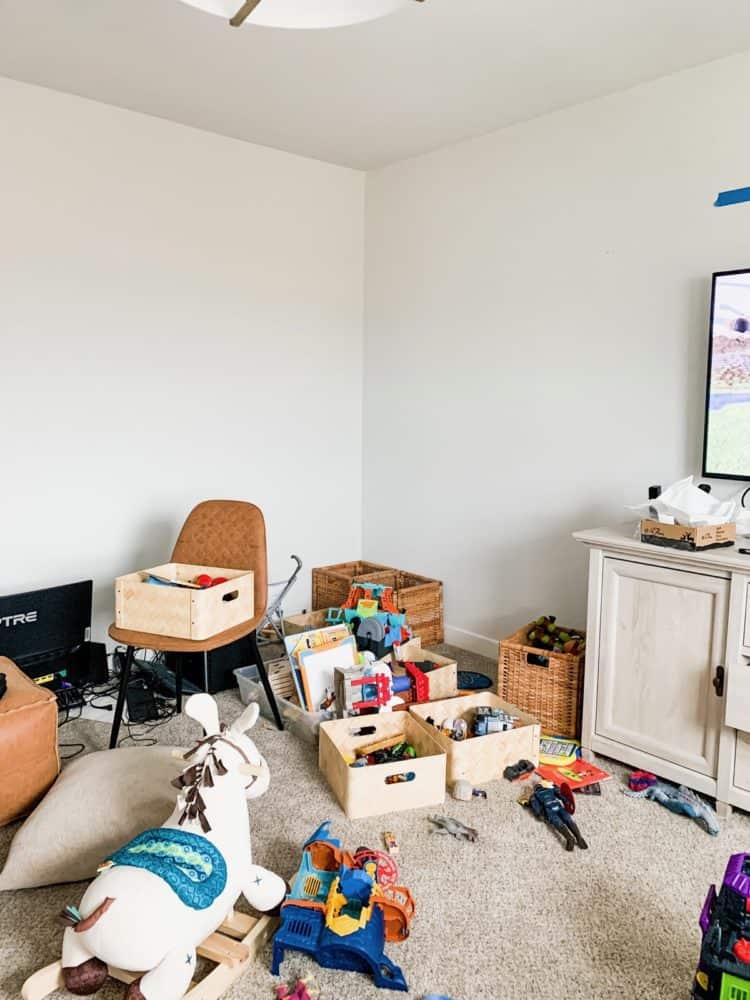 You get the general idea – basically a total blank slate, white box of a room!
Let's add some shiplap, shall we?
How to create a vertical shiplap wall
Tools & Materials:
Prep work + Choosing shiplap
The first thing I'll note is that this project is gonna be a lot easier for you if you pre-paint your shiplap!
I didn't this time around, but if I was doing this again, I'd 100% pre-paint using my Wagner spray gun. You could just paint with a brush and roller, making sure to paint the front and sides of the shiplap slats. Just trust me when I say you'll save hours of your life (and prevent a hand cramp or two) if you get it painted before you get it up on the wall.
If you're working with real shiplap, which are tongue and groove boards that have spacing built in, you won't need primer. They come pre-primed, so you can go straight to painting.
You also have the option of creating your own faux shiplap. This is done by ripping a plywood sheet down, then using nickels as spacers to create the "nickel gap" look of shiplap. This is a more time-intensive option, but it is more affordable! If you go this route, I highly recommend priming before painting!
Another prep work step that you can choose to do is measure the entire wall to figure out if you should start on a full board or a partial board. I didn't do this, so I can't speak to exactly how well it would work, but we ended up with a tiny sliver of a board over on the end of our wall. If I had measured the entire wall and divided that by the width of my boards, I would have seen that there was a tiny fraction of a board at the end. Then, I would have ripped my first board in half before installing it so that the end fraction was a little bigger.
Do as I say, not as I do, my friends!
A note on baseboards:
Generally speaking, it's recommended to go ahead and remove your baseboards prior to installing a shiplap wall. If you don't, the edges of the boards may hang over the baseboards and create a weird look.
However, our baseboards are just plain 1×4 boards, so for us it worked well to leave them on.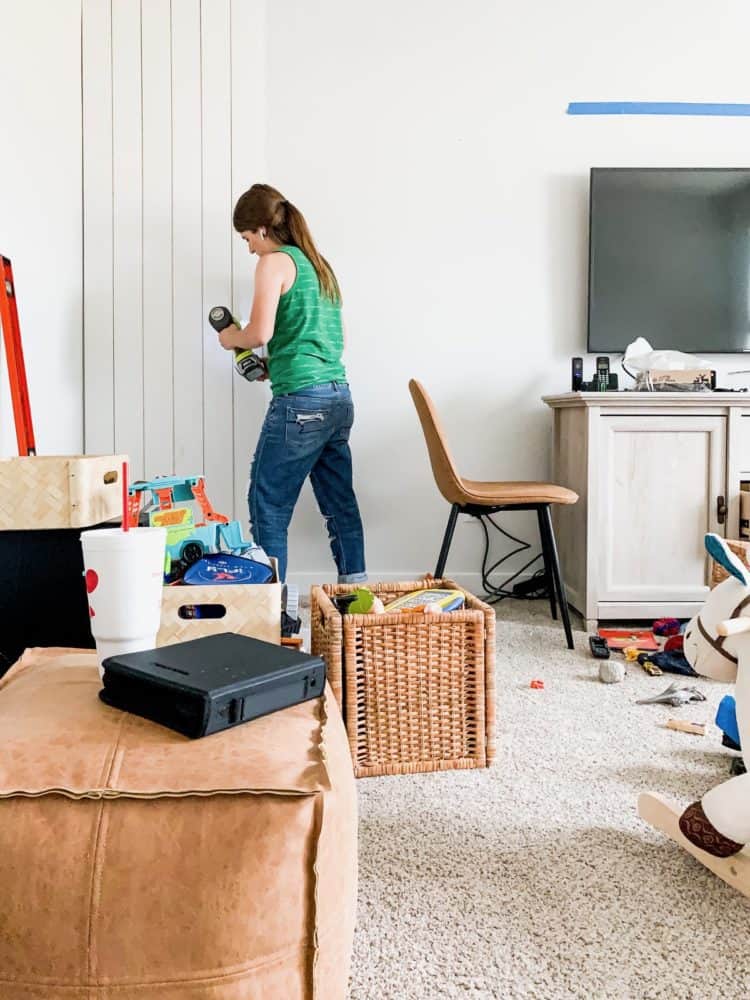 installing vertical shiplap boards
Once you've got everything prepped, it's time to install the boards! Installing shiplap wainscoting is really simple and straightforward, so don't be intimidated here.
1. Measure + Cut Boards
Your first step is to measure the height of your wall for the first board. You may be tempted to take one measurement and cut all of your boards to that length (after all, the ceiling is the same height all the way around, right?), but don't do that! Your ceiling (and likely your flooring) isn't perfectly straight or level and there will be variations.
I don't recommend cutting more than about 3 boards from a measurement. After that, take a fresh measurement before cutting any more. I found that mine had about a 1/4″ variance throughout the wall – and my house is literally brand new! So, I promise just about every house is going to have some waviness to the ceiling.
2. Install Shiplap Boards
Once you have your board cut, you can install the first vertical board. When you're installing horizontal shiplap, it's easy to ensure pretty much every board hits a stud. But vertical shiplap is tricky since most of the boards won't! One way to combat this is to use Liquid Nails or some other construction adhesive to glue the boards to the wall before nailing them in. But, I chose not to use it for this! I don't like that adhesive will destroy the drywall if removed, so I tend to avoid it when I can.
Instead of using Liquid Nails, when I was nailing the boards in place I angled one nail downwards and placed another nail underneath it angled up. These nails should criss-cross behind the drywall and help hold the board in place. I also took the time to angle some of the other nails at varying degrees so they are less likely to pull out of the wall. Between that and every third or fourth board naturally going into studs, I feel really good about this staying in place for the long haul.
You can see a photo of what I'm talking about below, or you can click here and watch my Instagram highlight with a closer look at how I installed all of this!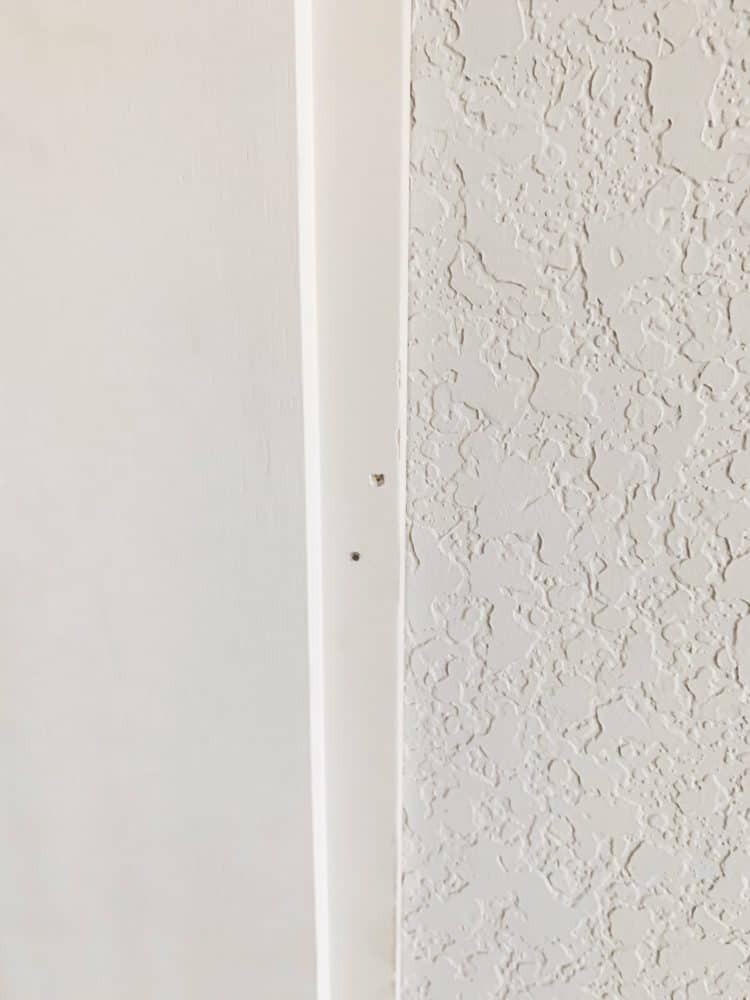 When I'm nailing shiplap into place, I put the majority of my nails in the lip of the board so that they're hidden when the next board slides on top. But if you only put nails there, the back part of the board will pop right up! So I always put a few nails along the other side of the board and just fill them in later.
3. Dealing With Corners
When it comes to corners, you can just add trim (that's what I've done in the past), but this time around I decided to see if I could skip it. And, I'm so glad I did! For the pieces that meet in the corner, I simply butted them up next to each other and caulked the cap so it's basically seamless.
In the corner where the shiplap ends, we just cut a small sliver to meet the wall, then caulked between the board and the wall. I think it's a really clean and more modern look, which is exactly what I was shooting for. I would definitely be comfortable doing vertical shiplap in an entire room without corner trim using this method!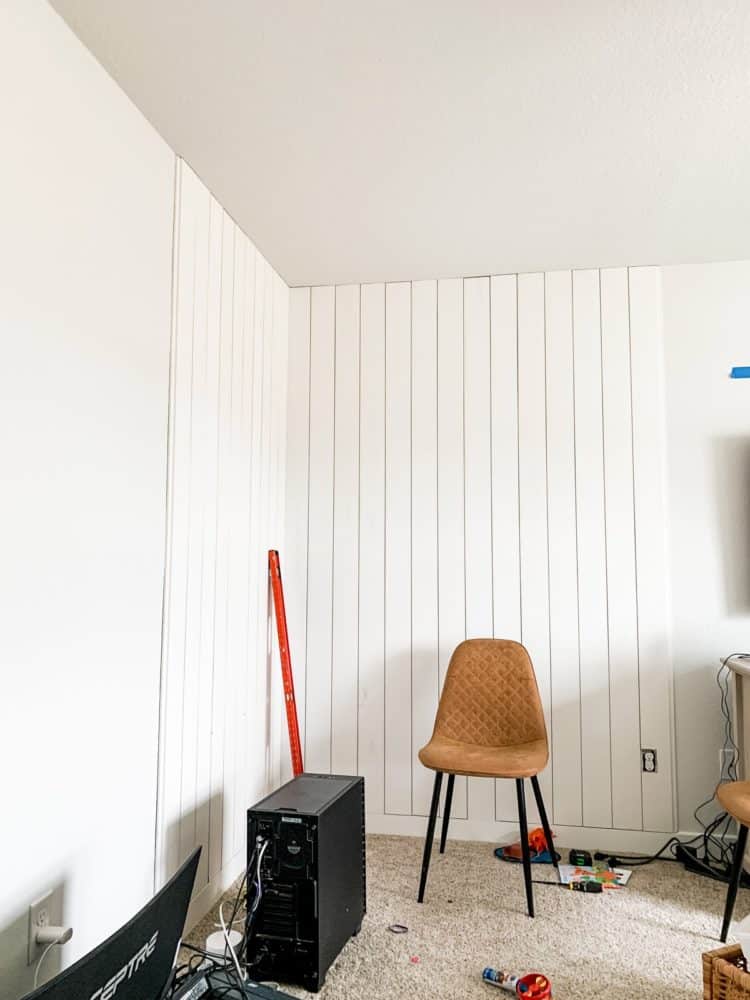 4. Working Around Light Switches and Outlets
Chances are, you're going to have some sort of light switch, outlet, or other obstruction to work around.
When you come up against this, simply measure the location and mark it on the back of the board. Then, use either a jig saw or a Dremel-type multi-tool to cut out the hole for it! Take your time, and you'll be surprised at how simple it is.
Also, remember that outlet covers hide a world of mistakes, wink wink.
Pro tip? I like this paintable outlet covers, which blend right into the wall!
5. Re-Install Baseboard and/or Crown Moldings
After you've finished installing your shiplap accent wall, it's time to re-install the baseboards you removed. Click here for my tips for installing baseboards!
If you have crown molding in the room, now is also the time to deal with that.
Finishing work
After you've installed your shiplap, it's time for the finishing work. This part is the most tedious (and honestly boring) part of the process, but it's also the most important part for a really seamless and professional-looking finished product!
I used a putty knife to apply wood filler to fill all of the nail holes in the shiplap. Be sure to overfill the hole a bit so that when you sand it down it's perfectly smooth! If you don't overfill it, there will be a little divot where the nail is and you may as well have not filled it at all. Click here for everything you need to know about wood filler.
I also caulked all along the top and bottom of the boards, and in the corners. Caulking vertical shiplap is a little annoying because of the gaps. I just kept a flathead screwdriver nearby and caulked each board one at a time. If any caulk got into the gaps, I gently pulled it out with the screwdriver. It was slow-going but not as bad as you might expect. Click here for all of my tips on using caulk!
After you've caulked and filled the holes and everything is dry, it's time to sand! This is key in making your nail holes totally disappear. You can do this by hand with a sanding sponge, but if you have an orbital sander, that will make it a lot faster. I attached my sander to our shop vac to help reduce the dust, and it left virtually zero mess!
Sand aaaaaaaaall of your wood putty spots until they're smooth, then wipe down the shiplap with a damp rag and let it dry fully before painting it.
Painting vertical shiplap
Once everything is dry it's finally time to paint! Because I skipped the step of pre-painting, I had to use a paintbrush to paint inside each individual gap in the shiplap. It was not fun and it took me hours and hours to paint it all. But, of course, it was worth all of the effort in the end!
I found the best method for me was to do one section at a time (so it didn't get too tedious and I felt like I was actually making progress), and I would paint inside all of the gaps, then go back with a roller and paint the face of the boards. You'll need two full coats to help cover any brush strokes (the second coat can just be done with a roller!), and then…
Well, I think the finished product speaks for itself, don't you?!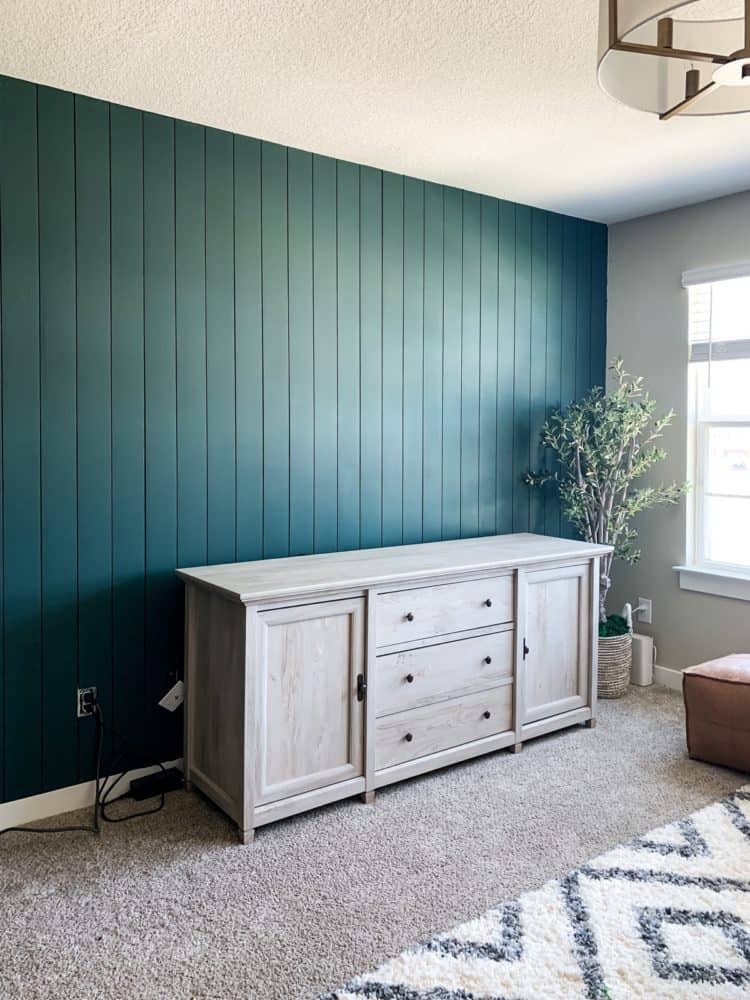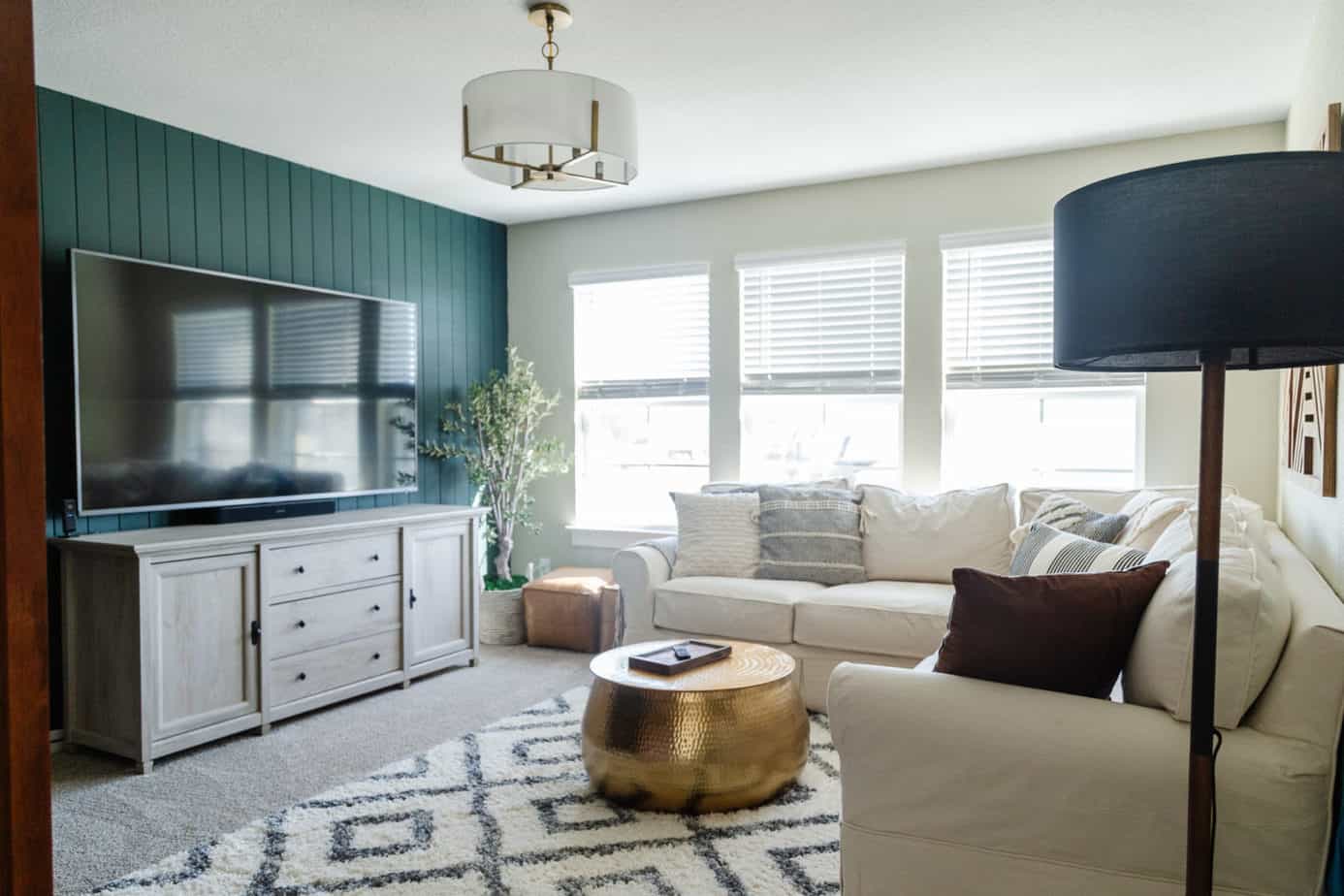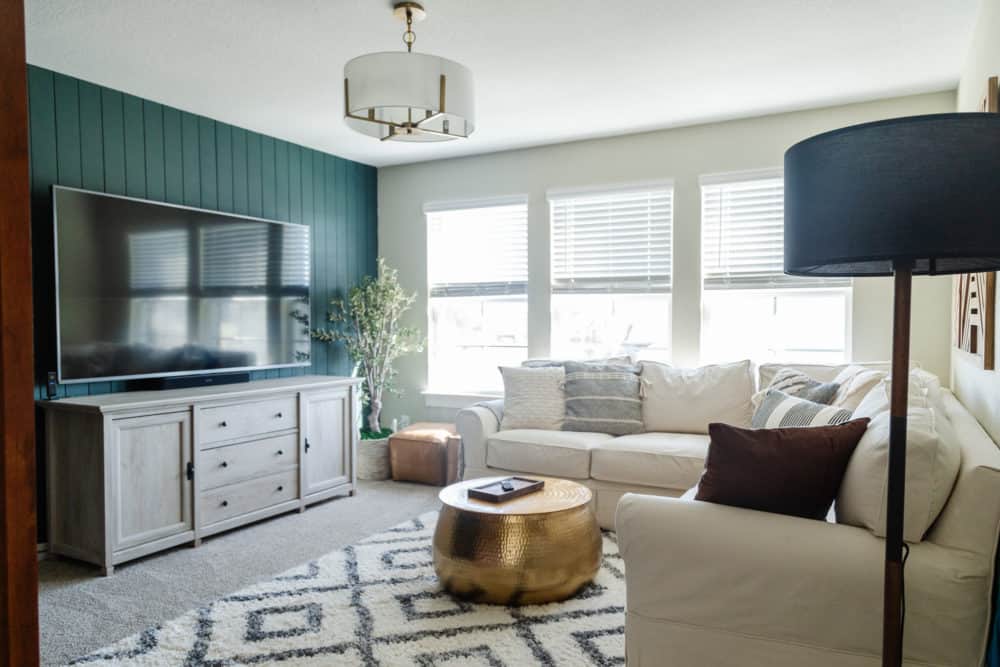 I'm so incredibly in love with how it turned out and I (half) jokingly told Corey that I want to paint everything in our house this color. It's SO! GOOD!
This trim treatment would be such a great think to try out anywhere in your home. It would look great in a living room, the laundry room, bathrooms, or a bedroom! Shiplap adds so much character to any space, and it's one of my favorite ways to really transform a room.
Other Accent Wall Ideas