The 25+ Best Cheap Bar Stools Out There
Are you looking for bar stools for your dining room but finding that they're too expensive for your taste? I'm rounding up the best cheap bar stools – all under $100 – for every need! Whether you want a backless bar stool, an upholstered bar stool, or a wood bar stool, I've got you covered!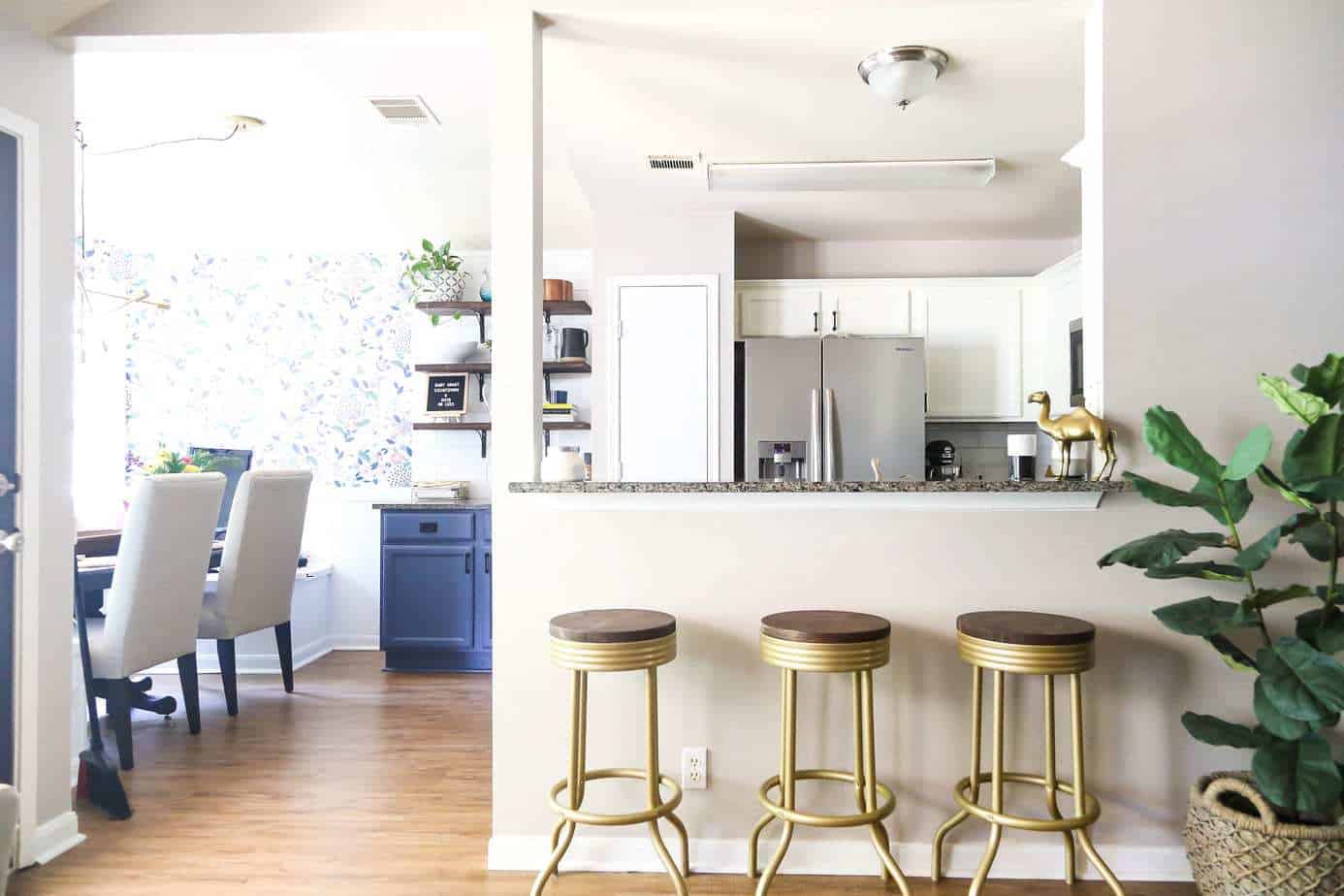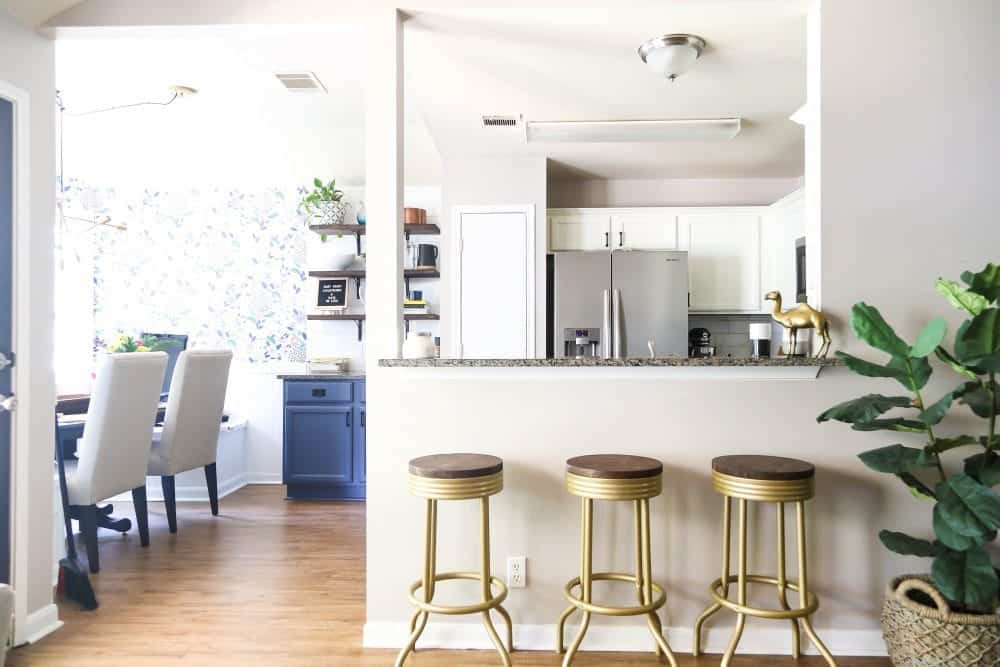 If you have a space in your home that is fitting for bar stools, you've likely realized at some point that they're not cheap. A good, affordable barstool is like a unicorn – it's pretty and you hope it exists out there somewhere but it sure is rare.
Unicorns are real, right?!
I searched high and low for the perfect bar stool for the pass-through to our kitchen for what felt like forever. I wanted something cheap in cost but not cheaply made. I wanted something non-intrusive and minimal but also gorgeous and impactful. I wanted it to be lightweight visually (no back, no upholstery) but also incredibly comfortable.
That's not too much to ask no?
In all of the research I did, I learned that it's basically impossible to find the perfect "one size fits all" solution for cheap bar stools – everyone will have different needs in terms of counter height, how much space they have, and the exact design they want. But, there are beautiful, inexpensive bar stools out there that should work for just about anyone. We actually ended up DIY-ing ours by making over some rusty metal bar stools we found at our local Goodwill (for just $10 a pop!), but I had all of these gorgeous cheap bar stools floating around in my head so I figured I'd help you out by sharing them!
So, here are a few cheap bar stools I'm loving lately – not all of them work for our specific needs, but they're all ones I would buy in a heartbeat if they worked for me, and at least someone should benefit from all of this research I've been doing!
We all know price point is key, so I've broken down the bar stools below by price – there are a few that are under $150, and then a ton more under $100, and a few more under $75! Some bar stools are listed with two stools, so even though the total price may be over the category limit, I've categorized them by the price of the individual bar stool. I've also included the seat height next to each stool, since that's an important factor.
You're welcome. And happy shopping!
25+ Gorgeous and Cheap Bar Stools
Bar Stools under $150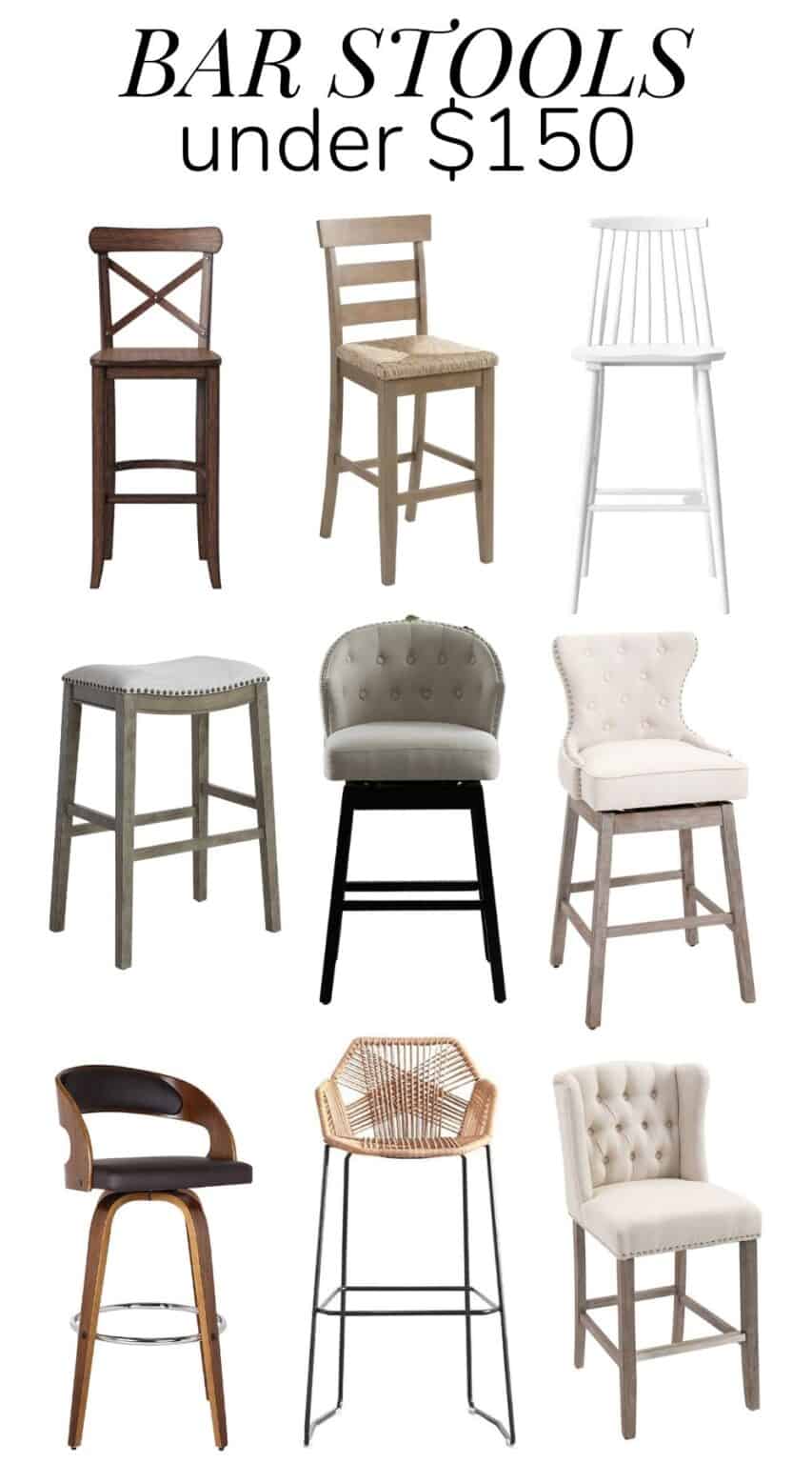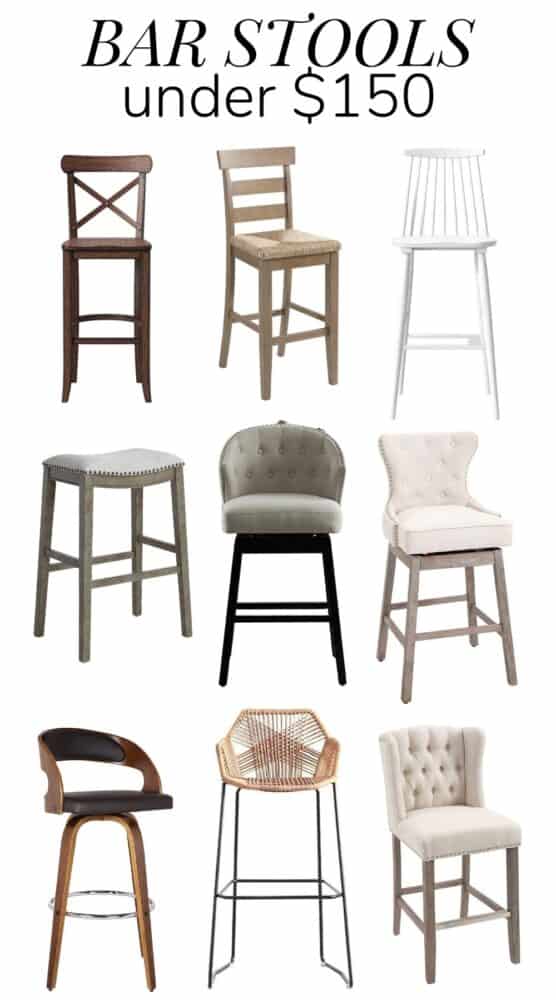 Bar Stools under $100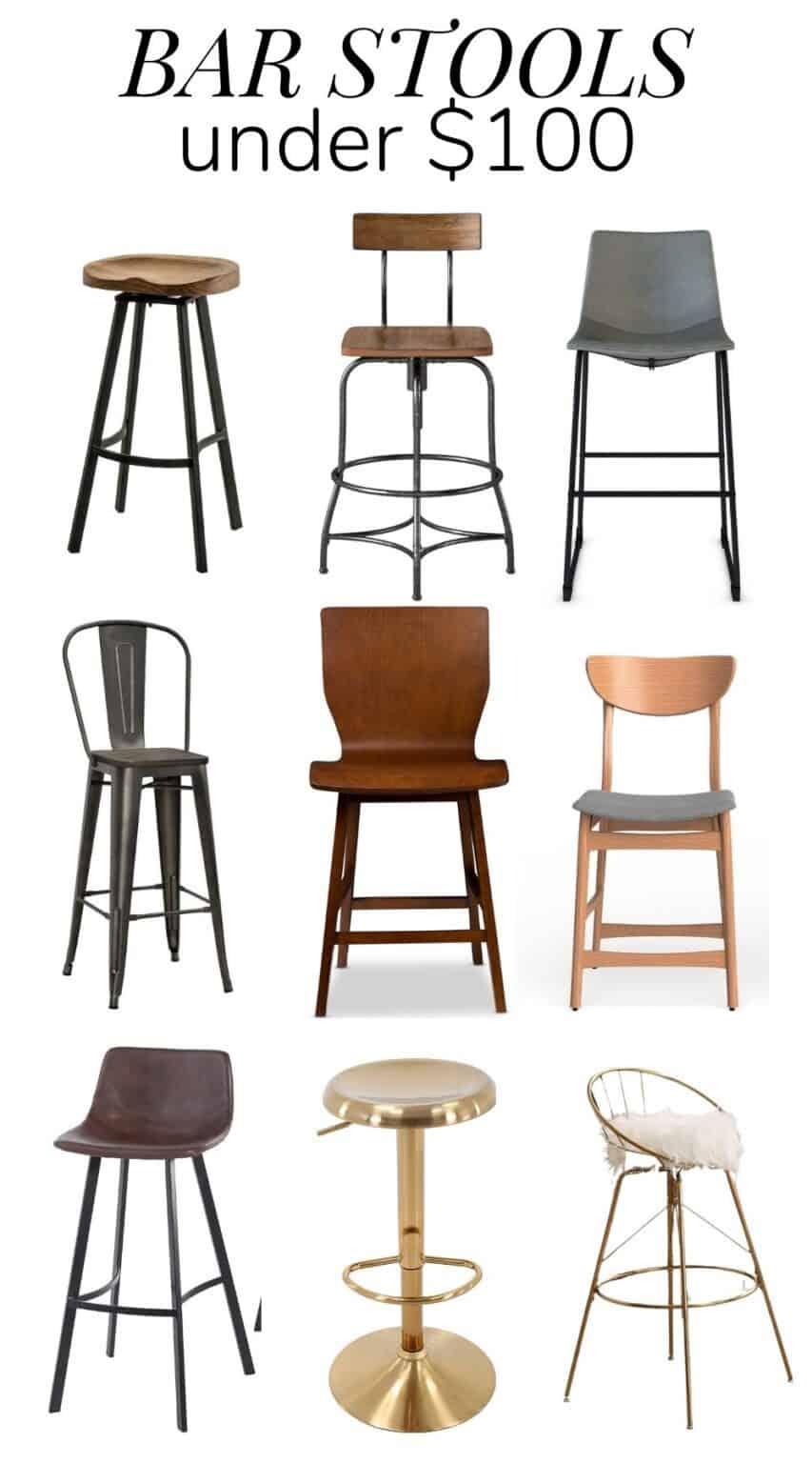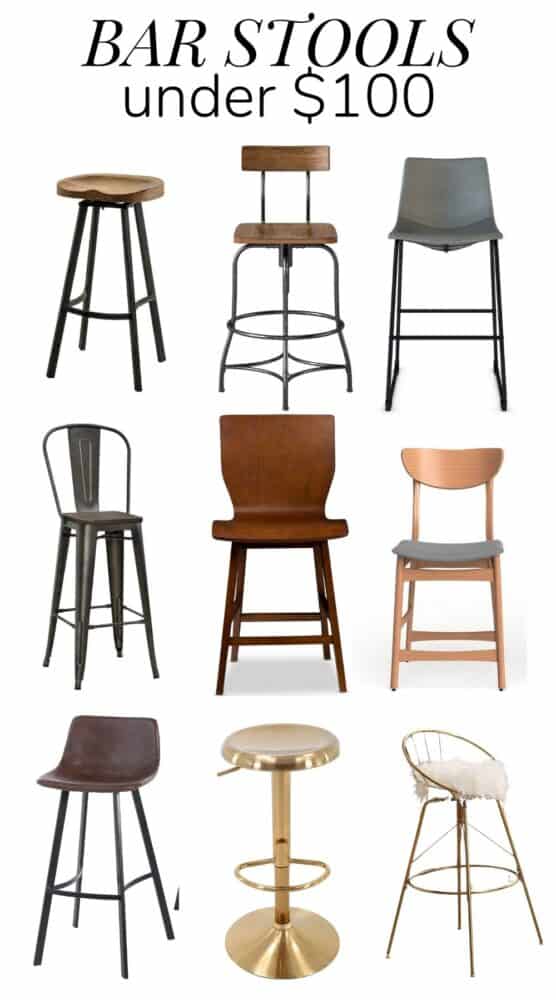 Bar Stools under $75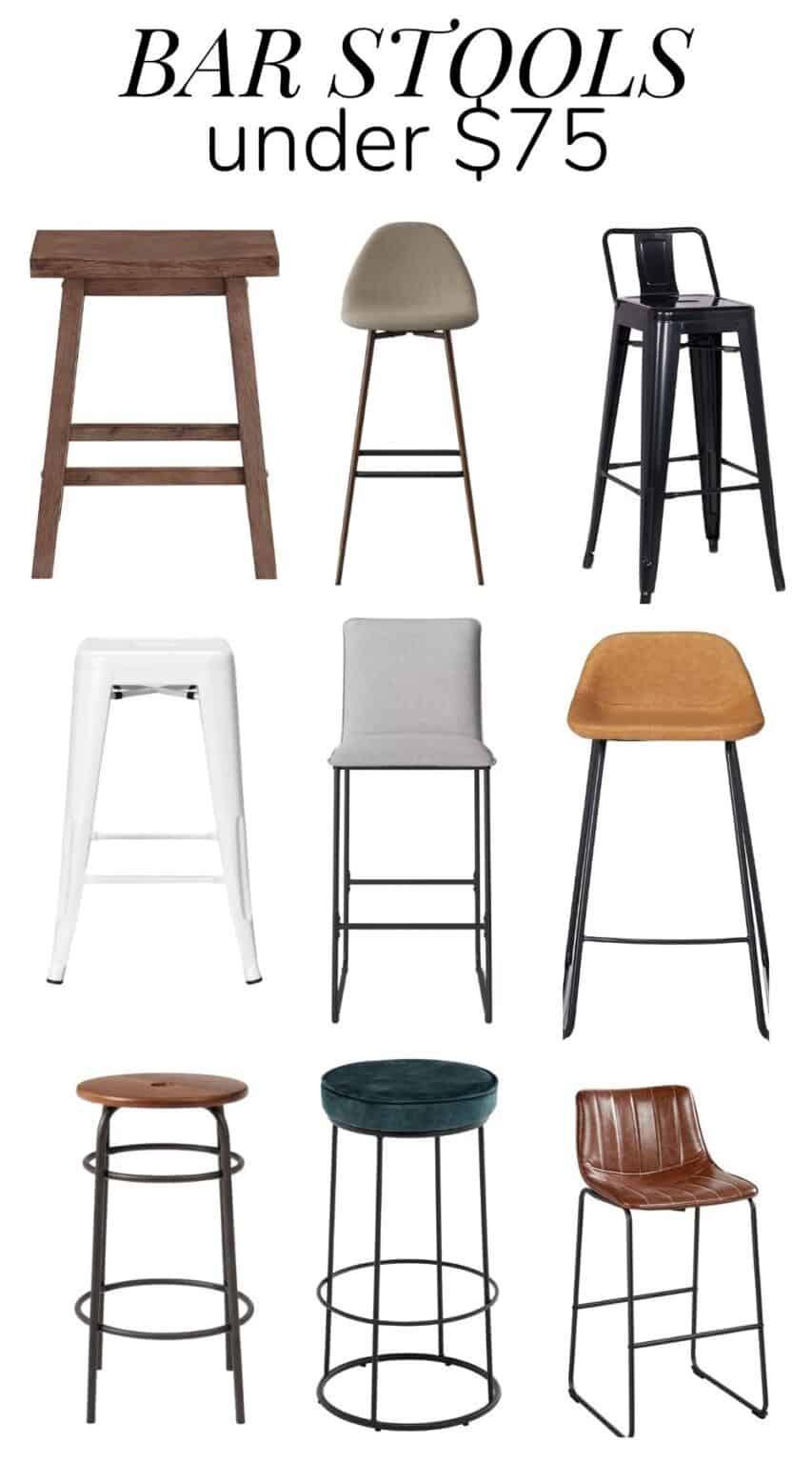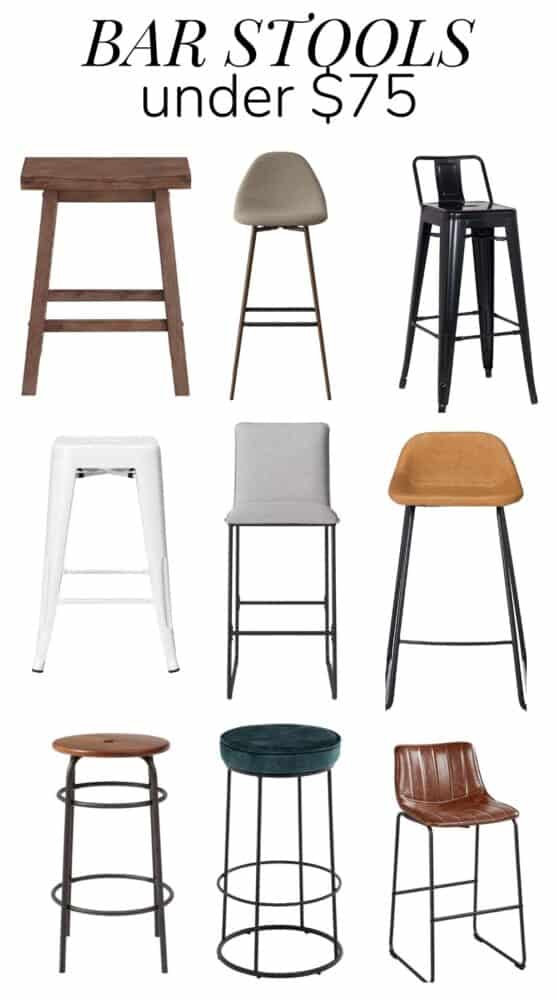 Sonoma Counter Height Bar Stool – Amazon (24″)
Copley Upholstered Bar Stool – Target (39″)
Belleze Low Back Bar Stool – Walmart (24″)
Carlisle Metal Counter Stool – Target (24″)
Upholstered Barstool with Metal Frame – Target (29″)
Ava Counter Stool – Amazon (25″)
Luna Counter Stool – West Elm (26″)
Duhome Bar Stool – Amazon (28″)
SmileMart Faux Leather Bar Stool – Walmart