I have had vinyl plank flooring in every home we've ever had. It's my favorite flooring, and we've tried it all! In our first house, we had peel and stick vinyl plank flooring. In our second house, we had glue down vinyl plank flooring. And, in our third house, we have floating vinyl plank flooring!
I feel like I can basically call myself an expert at this point. I've written a lot of blog posts over the years waxing poetic about my love for vinyl plank floors and how easy they are to clean and maintain.
if you want the Cliff's Notes version, click here for a rundown of the various floors we've tried and the pros and cons of each. If you want a deep dive, wait for the end of this post. I'll link all of the posts I've ever written on our vinyl plank floors!
I recently realized, though, that I've never really done a rundown of how to clean vinyl plank flooring. Every time I share a cleaning time lapse over on Instagram stories, I get asked about our mop and our vacuum. And, I'm constantly getting questions about how we keep our floors looking clean. So, it's clearly a topic of interest!
This post is going to be the definitive guide to how to clean vinyl plank flooring. I'll share everything you need to know about how to keep them clean. I'll also share my favorite tools for cleaning our vinyl plank floors.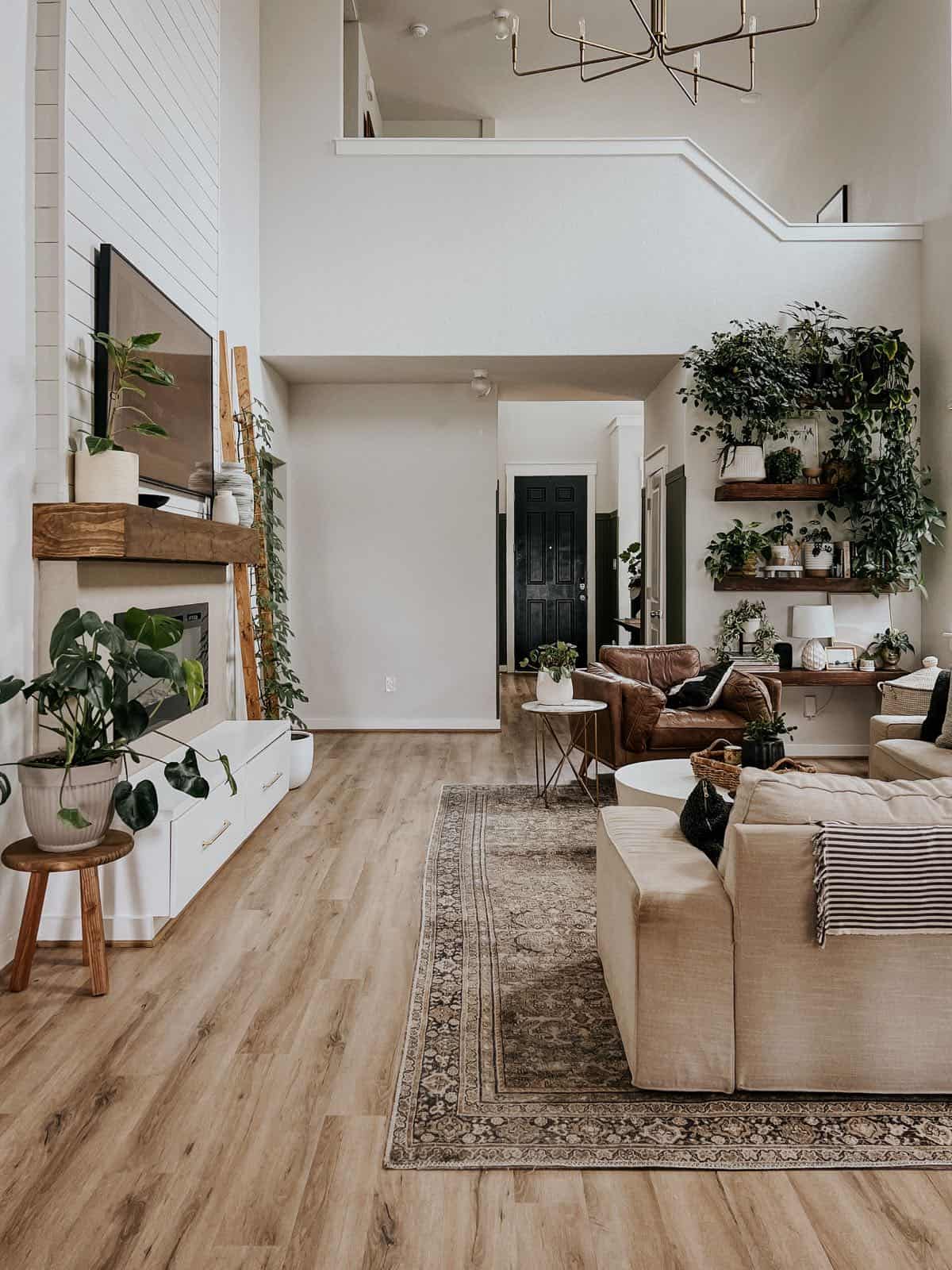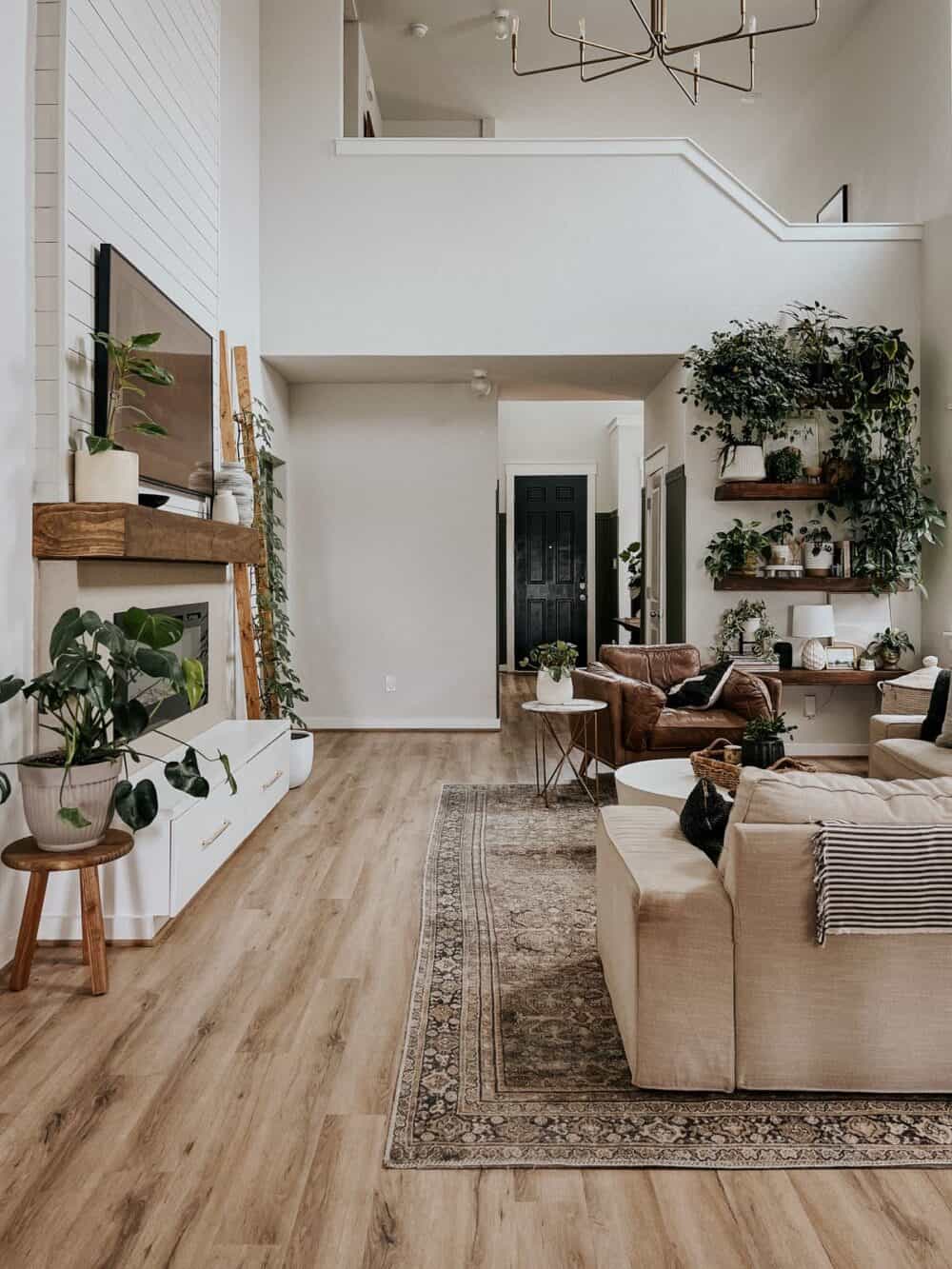 how to clean vinyl plank flooring: the complete guide
First of all, I'll note that how you clean your vinyl plank floors will depend slightly on what kind of flooring you have. Our floors are from Armstrong – the exact ones aren't available anymore, but this one is really similar. They're incredible durable and easy to care for, but because they're a floating floor, they're a tad bit more finicky to clean than our previous vinyl plank flooring.
So, before you start making a plan for keeping your vinyl plank floors clean, make sure you know what type of floor you have and what's safe to use on it! Vinyl plank flooring is generally incredibly easy to clean and not terribly picky about what you use. But, there are some restrictions that I'll touch on in this post that you want to be aware of.
The Best Vacuum for Vinyl Plank Floors
Obviously, vinyl plank floornig doesn't require any sort of special vacuum – any vacuum that you use on your carpets or on any other flooring ini your house wlil also work just fine on your vinyl plank floors.
I've tried a lot of vacuums over the years, but since we moved into this house I have been using a Shark Rocket cordless vacuum. I really truly love it – it holds a great charge, it works really well, and it's nice and lightweight.
My one and only complaint about this vacuum is it doesn't have a charging station. it doesn't matter too terribly much for me because I don't have an outlet in the space I keep it in anyways. But, someday when we add an outlet or two to our laundry room, I might want to upgrade to a vacuum with a charging station.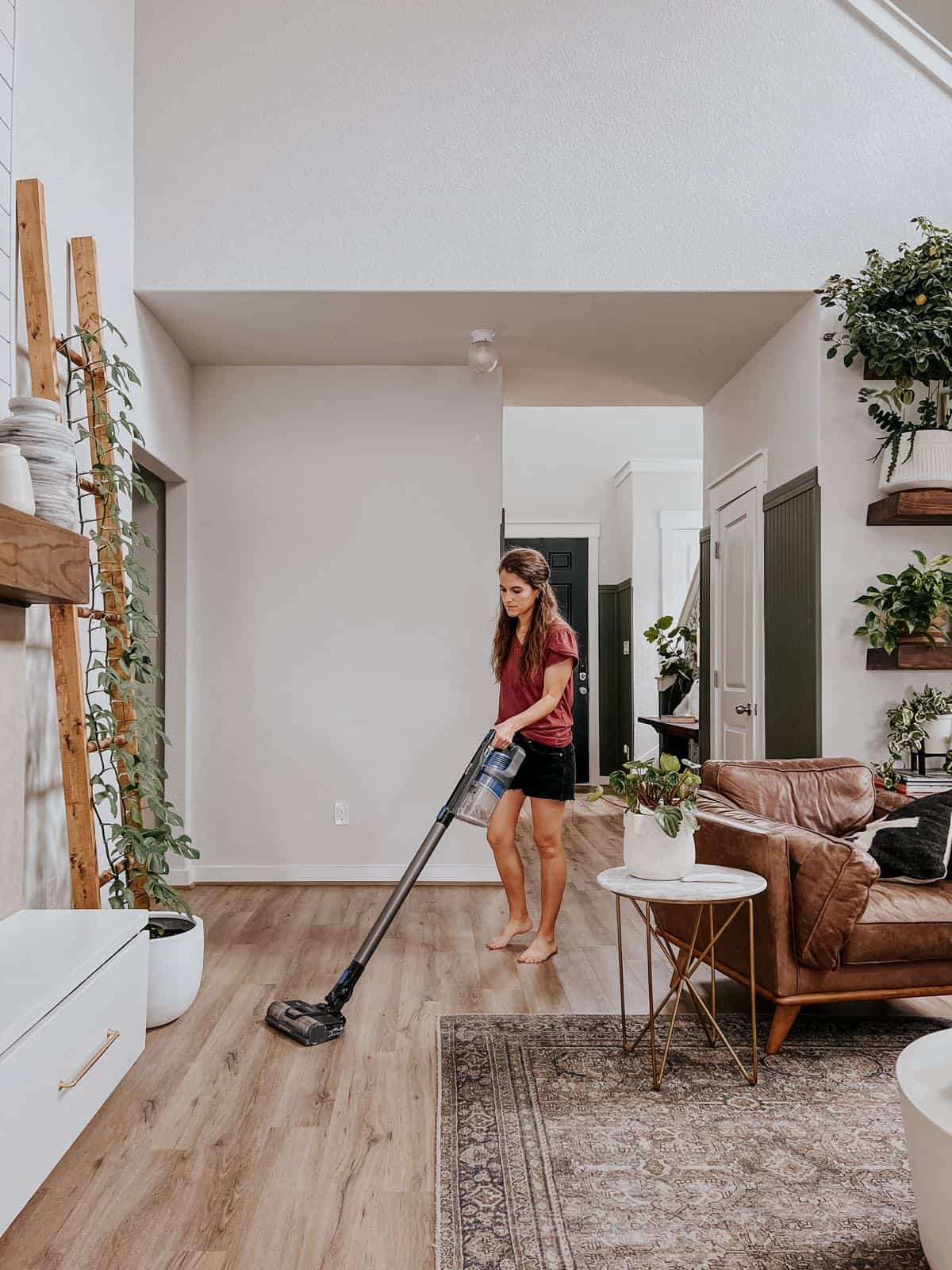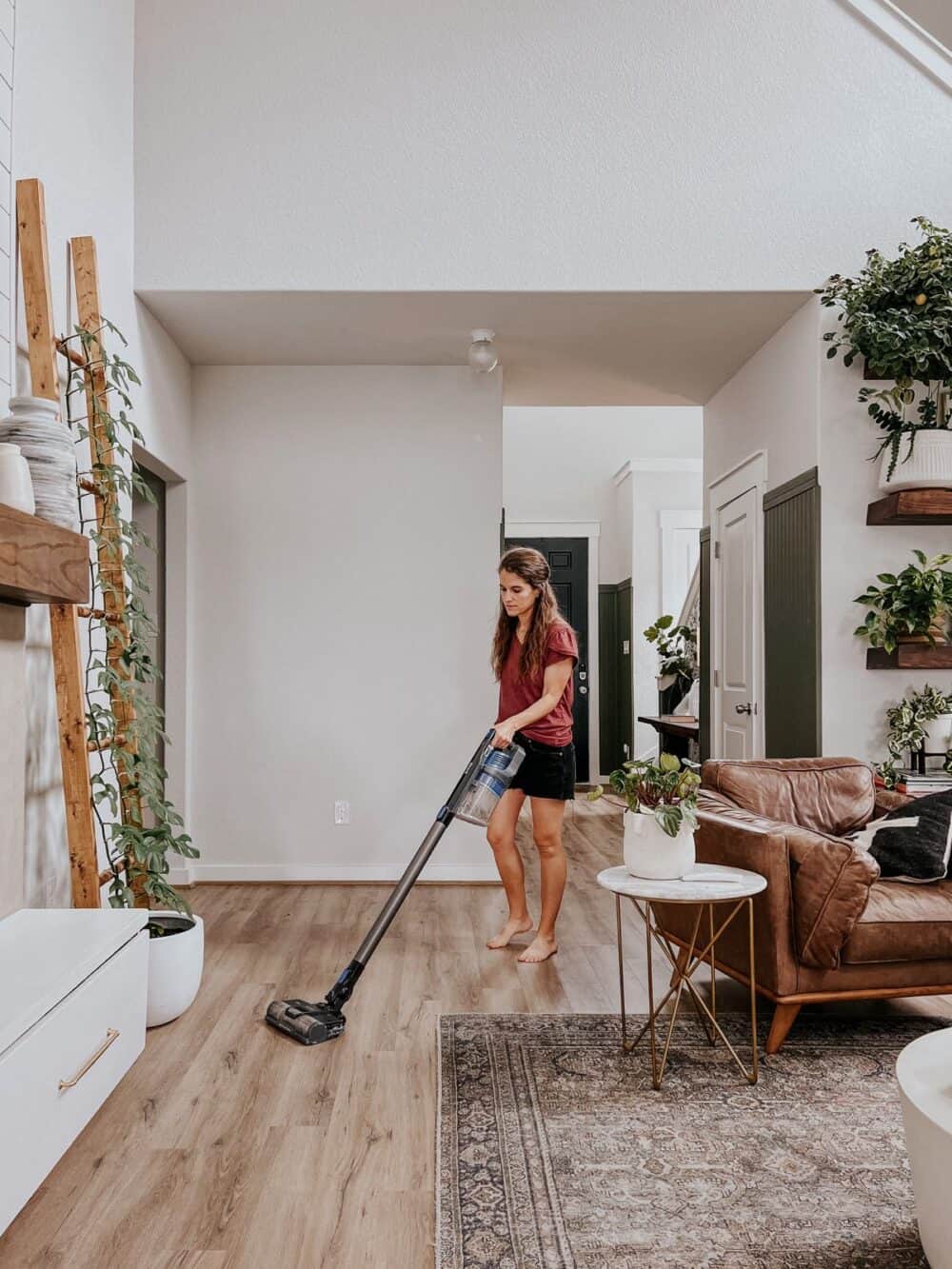 Other than that, I genuinely have nothing bad to say about this vacuum. I'm able to vacuum my entire house super thoroughly (both upstairs and downstairs), plus the entire downstairs one more time on a single charge. I keep the charging cord in our junk drawer, and I just set it on the island for a few hours when it needs to charge.
This vacuum also separates to become a handheld vacuum, which is a feature I love. I don't use it all that often because I managed to lose almost all of the attachments for it – and my vacuum is an old model so I haven't been able to find replacements yet. So, I tend to use my old, terrible-battery-life Dyson handheld when I need one. I'm looking to replace it, but heard from many of you on Instagram that I can just replace the battery for cheap, so we might try that instead. I'll keep you posted!
The best mop for vinyl plank floors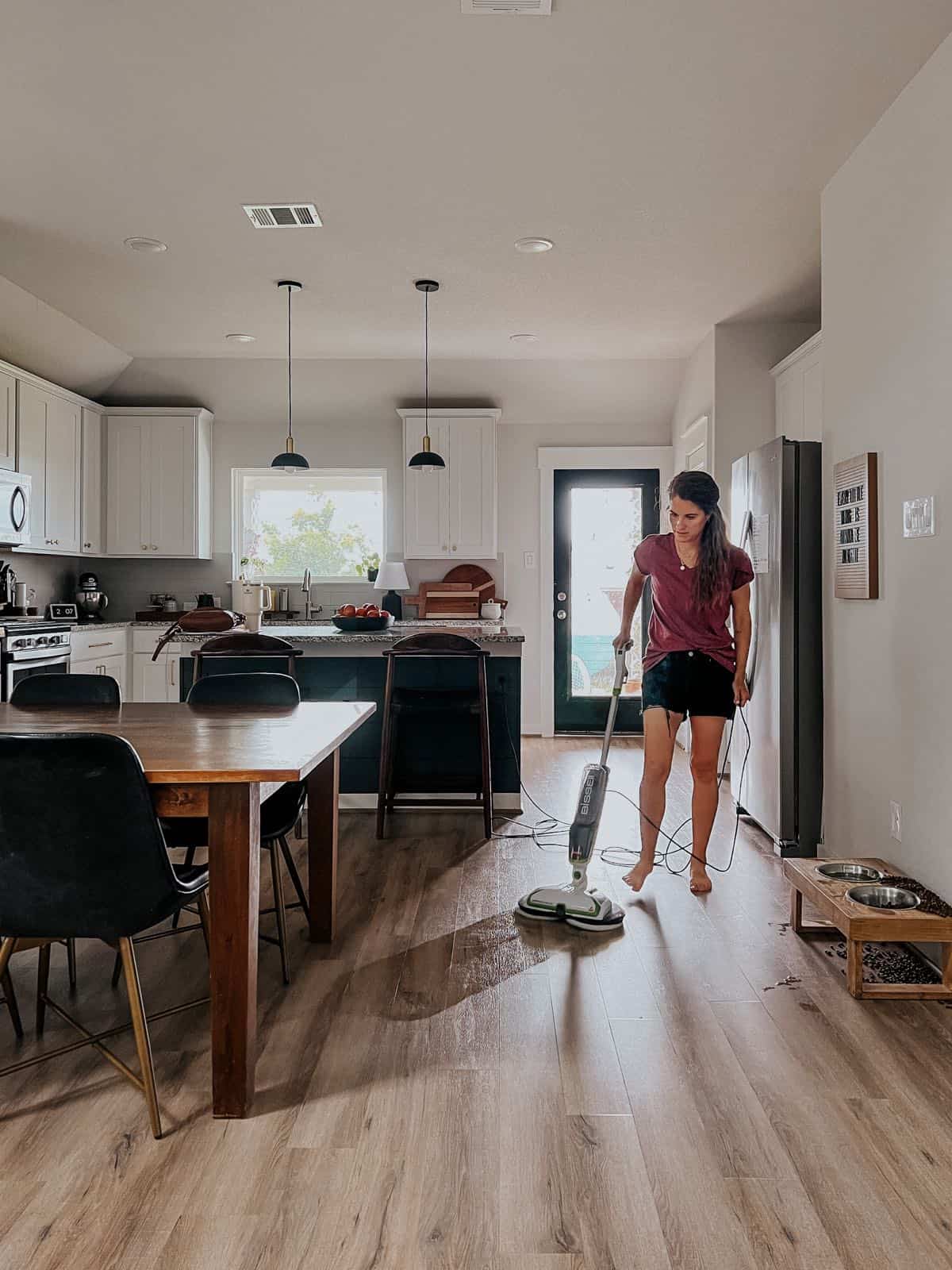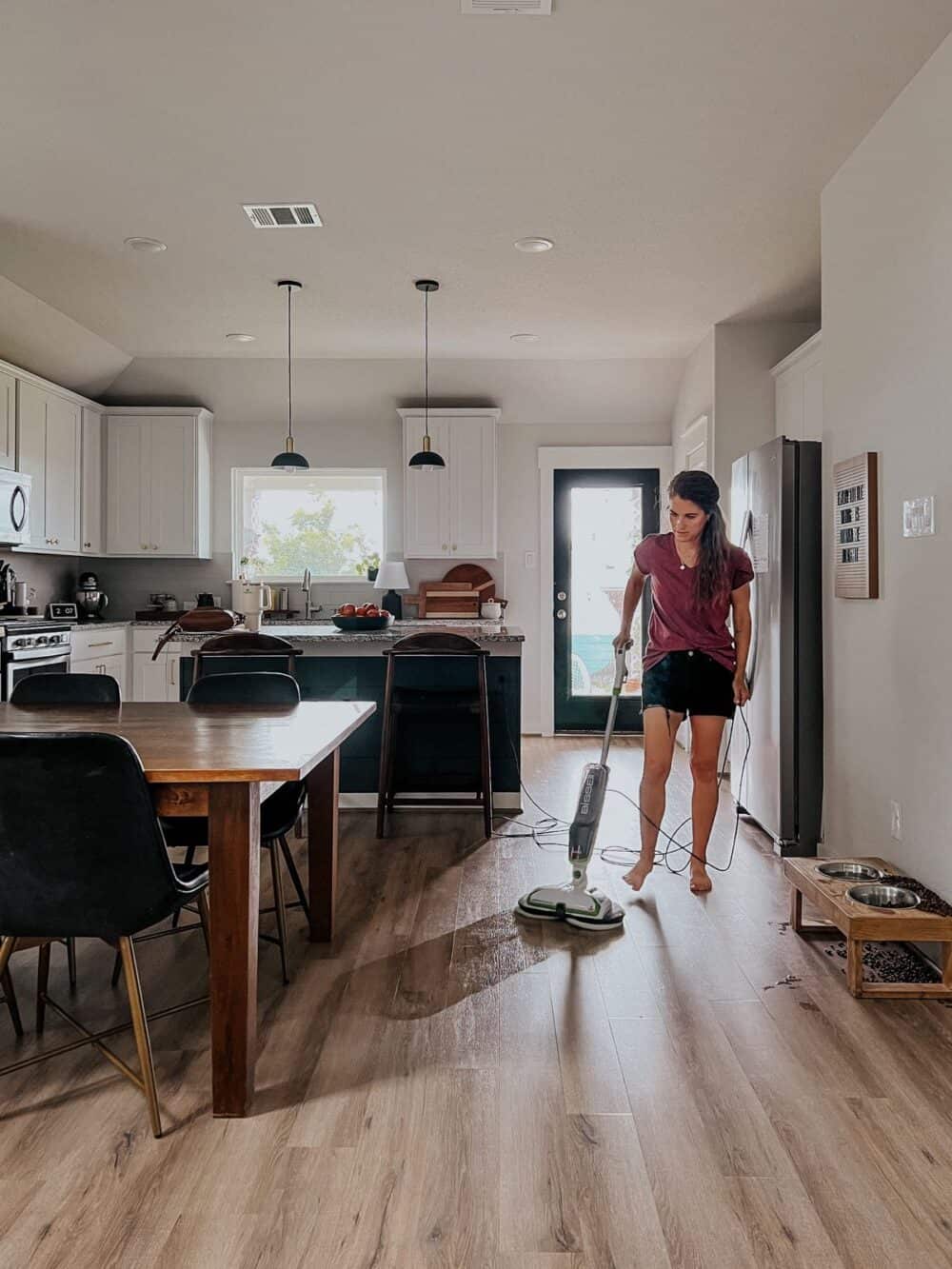 Here's where I'm gonna get really passionate about cleaning vinyl plank floors. Y'all, I have opinions on mops. Strong ones.
You see, I can't stand Swiffers. Or really, any manual mop. I've tried several different ones, and it all comes down to the same thing: I don't feel like I can get my floors fully clean without some sort of motor power from the mop!
In my first two houses, I used this Bissell steam mop, and when I tell you I loved this thing… I can't emphasize it enough. It got my floors so dang clean without any extra chemicals or cleaners, and I had a relationship with it that bordered on inappropriate. I used to talk about it all the dang time to anyone who would listen, because it was basically my best friend.
But then, we moved into this house and one of the first things we learned was that our floating vinyl plank floors can't handle a steam mop. BOOOOOO!!!! I legitimately considered using it anyways because I'm a rebel, but I loved my floors too much to risk ruining them. So, I did some research and landed on the Bissell Spinwave. It's a spinning mop that can spray cleaner as you work, and it's done a really nice job of replacing the steam mop as my favorite cleaning tool!
This guy gets my floors cleaner than anything else I've tried so far (other than my beloved steam mop), and I don't see myself ever needing to replace it with anything else.
Here's the cleaning solution that I pair with my mop!
II will note that Bissell also has a Crosswave power mop, which is the same thing but has the added function of a little vacuum power to suck up anything you missed while vacuuming. I love the idea of a mop that does double duty and have considered upgrading for a while now, but I'm really happy with my current system so I haven't done it yet. I may grab a Crosswave someday when my Spinwave kicks the bucket, but if you don't have either and are looking to buy, you might want to splurge on the fancier one!
what about automatic cleaning tools?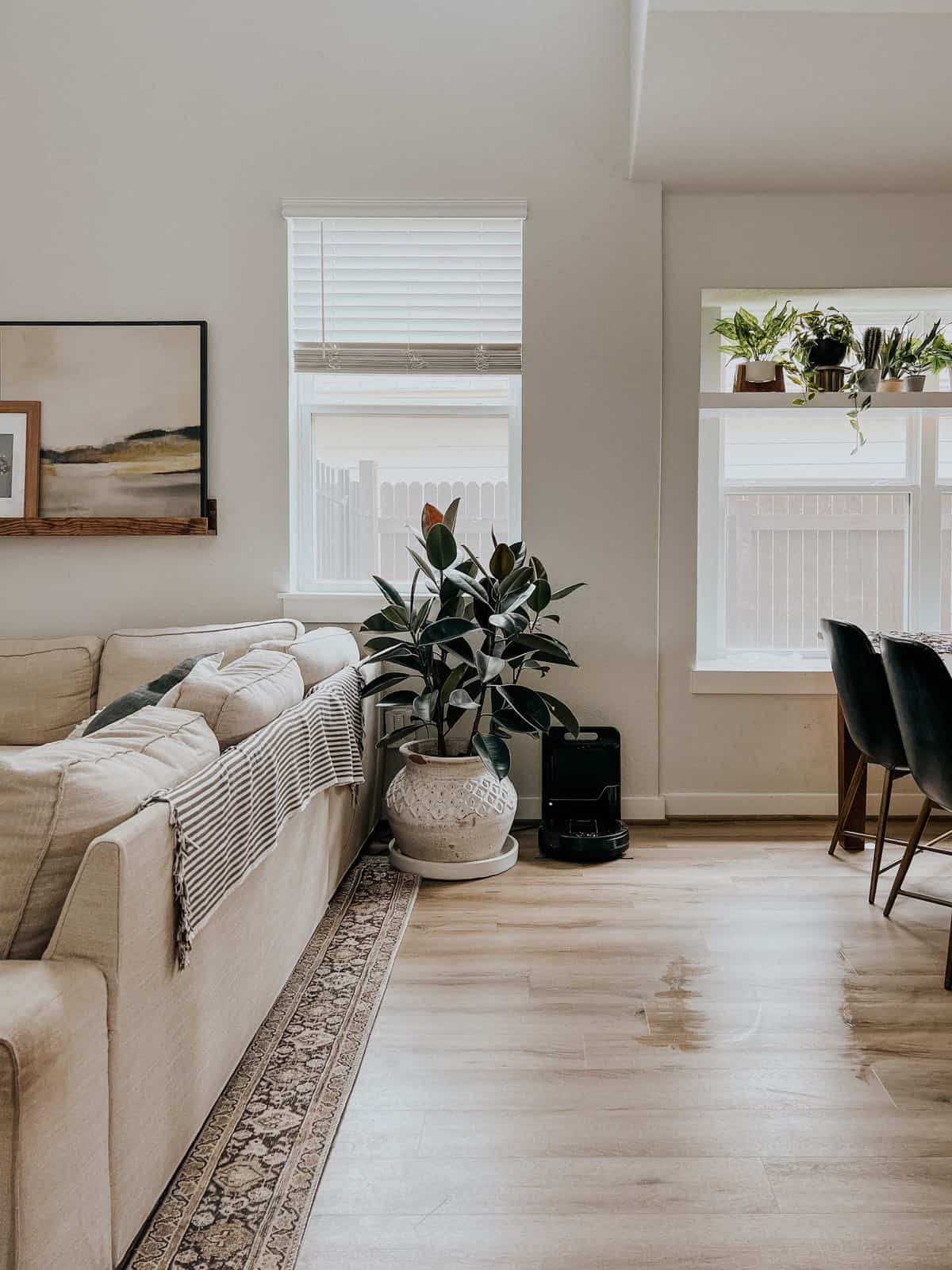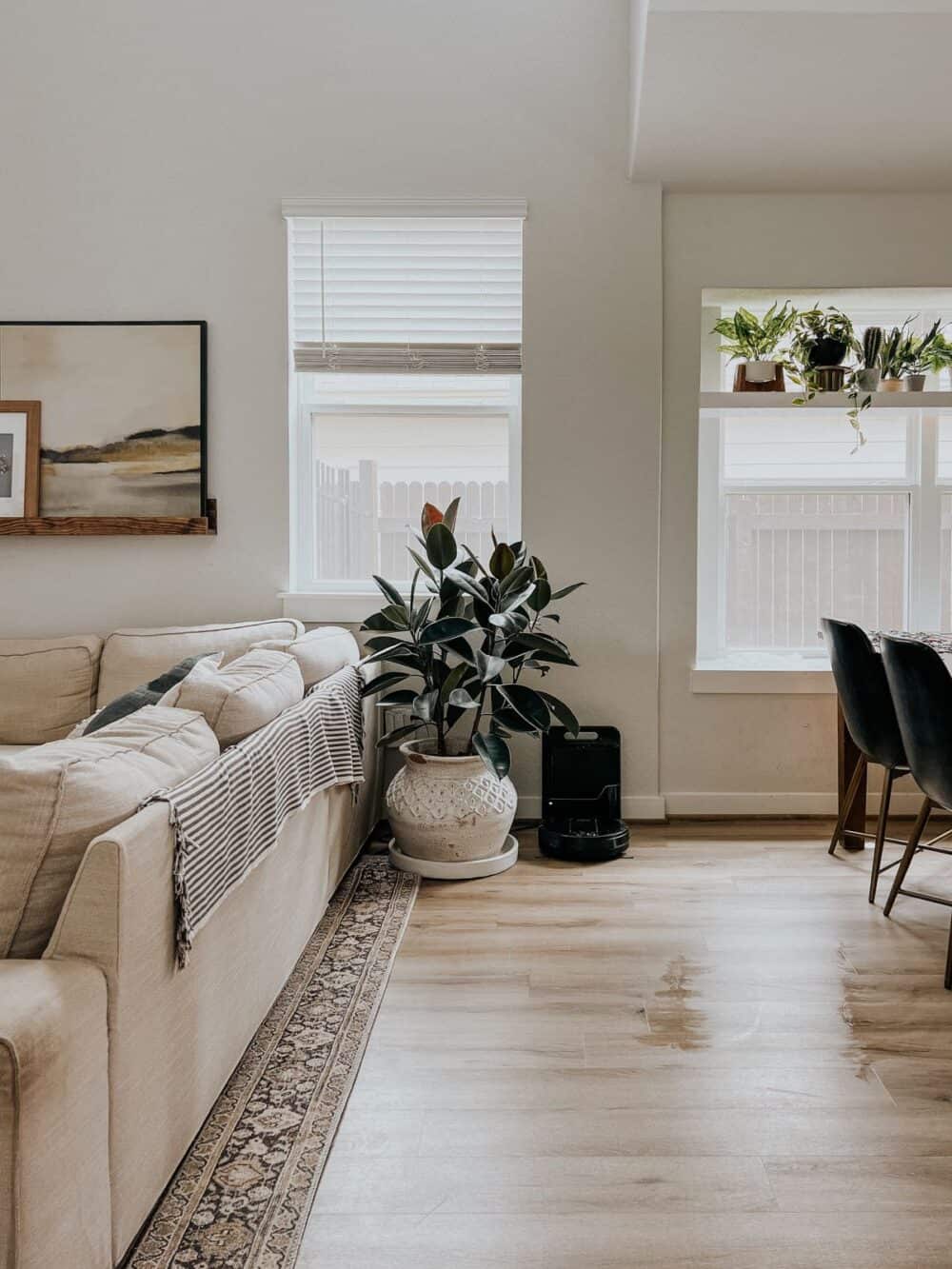 I am also a huge fan of automated cleaning tools. Because, who isn't?! So, in addition to my mop and vacuum, let's talk about the robot friends I have that help me out.
When it comes to vacuuming, I also have a Shark Self-Emptying Robot Vacuum that I'm passionately in love with. It's a little more expensive than most robot vacuums, because of the self-empty feature. And honestly? That's the feature I love most. I'm bad about remembering to empty the canister out. So, having it head to the dock each night and empty itself out is huge. I only have to empty the large canister on the dock once every two weeks or so, which is so much more manageable for me.
I have our Shark robot vacuum set to run every evening at 8:00 PM. It's always staggering how much it's able to pick up. I love how clean my floors feel when I wake up and it has run! With this running, I'm able to only manually vacuum once per week. Before? I was vacuuming almost every day because I hate dirty floors.
In addition to that, I have a Bissell Mop & Vacuum Robot. I haven't used it in a while because it started glitching on me and not running. I swapped it back out for the Shark, and quickly discovered the problem. We were having it run at midnight, and it was too dark in the house for it to see! So, for now, this guy is just sitting in my laundry room waiting to be deployed again. I love my self-emptying Shark too much to switch it back. But, my eventual plan is to set this guy up with a plug in the laundry room. I'd like to have it on a schedule of mopping once a week once the Shark has run. Because I LOVE the idea of having a mid-week mopping done with no extra effort!
so, what's your schedule?
Here's what my cleaning routine generally looks like for my floors:
Every day, the Shark robot runs at 8:00 PM. We have the kids pick up all of their stuff downstairs before bed, so the floors are clear. It only cleans the living room, dining room, kitchen, and entry. We've got a baby gate in front of our bedroom door, so it can't get in there.
On Fridays, I have a deep cleaning day. This is when I clean the floors manually! I vacuum everywhere (including our bedroom) with my Shark Rocket. Afterwards, I mop with the Spinwave!
Eventually, I'd love to set up my Bissell Mop Robot to mop mid-week, maybe on Tuesdays. That would be a really nice addition to the routine, and help things feel great in-between deep cleans.
And that's how I keep my vinyl plank flooring clean! It's honestly a really simple system, and it works really well for us.
Looking for more info on vinyl plank flooring? Here's a roundup of all the posts I've ever written on the topic!
Vinyl Plank Flooring Posts