Vinyl plank flooring is an affordable, easy, and durable flooring option for your home. We love using it and get tons of questions about it. We recently installed Mohawk Vinyl Plank Flooring in our house and wanted to give a review and answer some of the most frequently asked questions about our floors.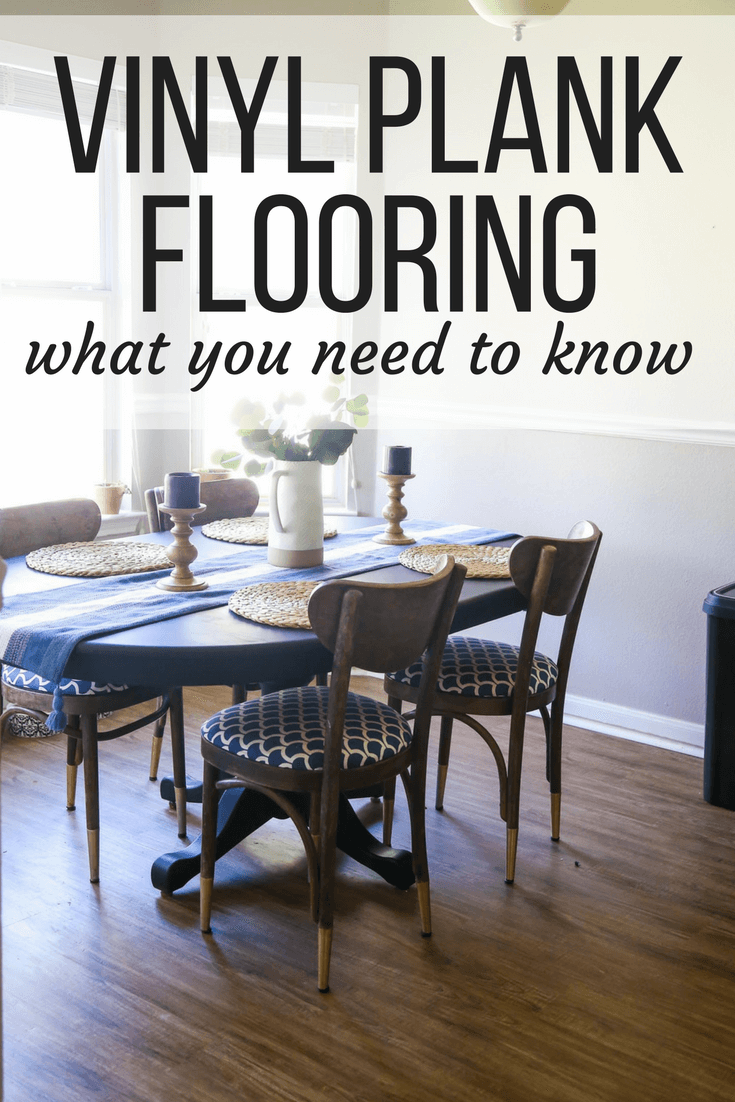 When Corey and I moved into this new house, the very first thing that we did was to replace pretty much all of the flooring throughout the house (everywhere except for the bathrooms).
I've had a lot of questions about what we chose, why we chose it, and how we're feeling about it, so I wanted to do a full update for y'all with all of the info on our new Mohawk vinyl plank floors – including a comparison of how we like these compared to what was in our old house!
So, buckle up and settle in because this post will be packed full of juicy info, Q&A-style – including exactly how much it cost to have all of these floors installed for us!
Vinyl Plank Flooring FAQ's
Wait, what kind of flooring is this?
The new flooring in our house is called luxury vinyl plank flooring. If you've been reading here for a while, you'll know that we also installed luxury vinyl plank flooring in our old house, and we loved it there. Basically, vinyl plank flooring is a vinyl floor that's designed to resemble hardwood. Instead of the big rolls that you might picture when you think of vinyl flooring, this comes in long strips just like a wood plank. It can be peel & stick, or glue-down and can often even be installed over your old flooring. It's basically waterproof, easy to replace if a piece gets messed up, and way more affordable than most other options.
What brand of vinyl plank flooring did you use?
In our old house, we used Style Selections flooring from Lowe's in Antique Woodland Oak. It was peel & stick flooring and we installed it ourselves (more on that in a minute). In this house, we went with Mohawk vinyl plank flooring – it's glue-down and we had it professionally installed. Our installer didn't mention the exact name of the product, but I've done some research and I'm pretty positive it's the Harvest Teak color.
What's the difference between this flooring and the stuff in the old house?
Other than brand, the biggest difference between the two is that this vinyl plank flooring is installed with glue, whereas the flooring in the old house was peel & stick (you can see a video on how I installed it right here).
Another difference I've noticed is the texture – the flooring in the old house had a hand-scraped texture to it that created a feeling that imitated real wood. It didn't actually feel like wood, but it felt less like vinyl than you might expect, thanks to the texture on the top of the boards. The Mohawk flooring is almost completely smooth to the touch, which means it feels much more like you might expect a vinyl plank flooring to feel. You also can't see the seams where the boards meet nearly as clearly on this flooring, which detracts a bit from the realism (with real hardwood flooring, you can easily see the seams).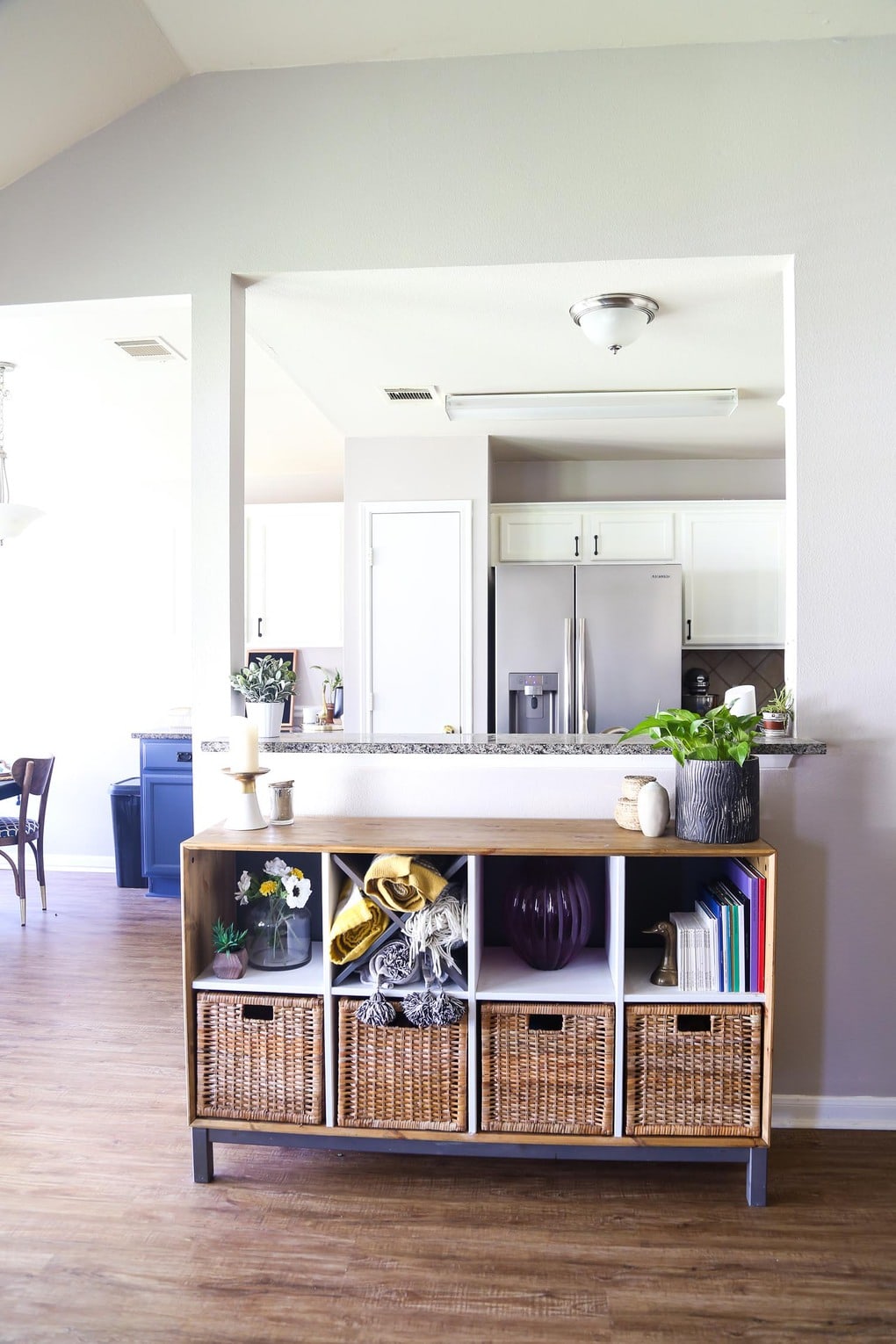 Why didn't you install the Mohawk flooring yourself?
In the old house, I singlehandedly installed the flooring on just about every inch of the house. It was incredibly easy to install by myself (promise!), but I did it over several years – which meant we lived with flooring we didn't love for quite a while in the old house before we got around to replacing it.
In this house, we really wanted to avoid that. The carpet was in very rough shape when we moved in, and we're used to not having carpet anymore, which meant it drove us pretty crazy. We knew we'd have to make new flooring a priority (there were stains and holes in the carpet, and the smell wasn't super pleasant), but we also knew that if I did it myself it would mean several weeks – or months – of living in chaos before all was said and done.
A friend of mine is in real estate development, and she gave me the number of her flooring installer – she said he gave them a really great deal, and that I might be surprised at how affordable it was. When we contacted him and got the quote, we knew it was too good to pass up. Rather than living with the chaos of renovations for a month or longer, the entire project was done in 3 days from start to finish. Worth it.
How much did it cost to install vinyl plank flooring?
The flooring itself cost slightly more than the stuff we chose for the old house (the peel & stick vinyl is $0.98 per square foot, this was $1.25 per square foot).
As far as the total cost, we paid just under $4,000 to have the old carpet and tile demolished, the floors leveled out (they did a skim coat on the concrete subfloor throughout the house to ensure the flooring was level, which I would not have done myself), the new floor installed, and quarter round added on the baseboards throughout the house. That's the total price, including the flooring itself. For reference, we had about 270 square feet of tile demoed (the rest was carpet), and had about 950 square feet of vinyl plank installed.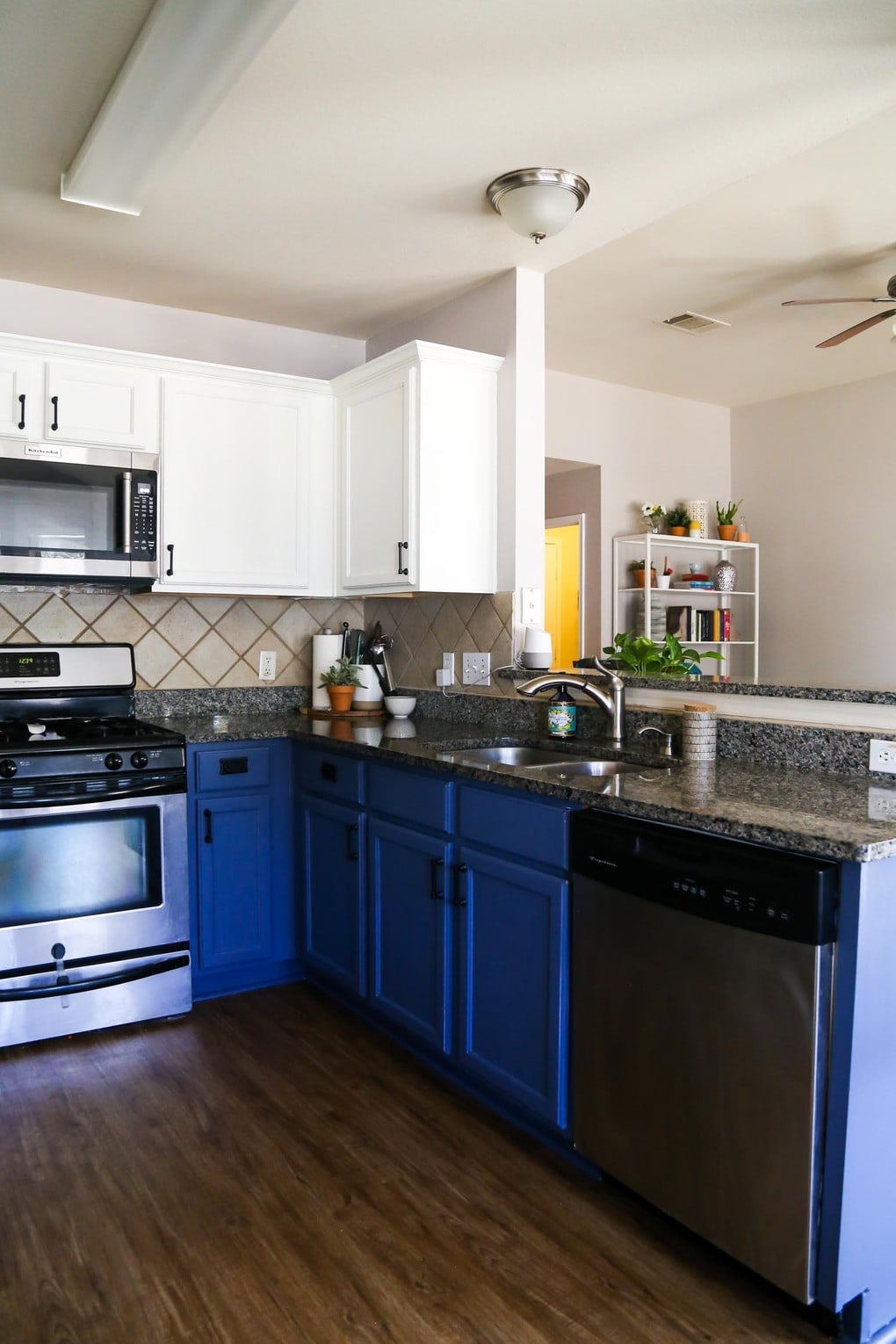 Was it worth it to have it done professionally?
YES. I'm a big DIY-er, and I will almost always choose to do something myself if it means that I can save some money or learn a new skill. And, honestly, had the flooring in this house been in better shape I probably would have chosen to tackle this installation myself.
However, since we needed it to happen in a hurry and we really wanted to do it all at once (rather than in stages like we did last time), it was more than worth it to have the flooring professionally installed. Our installer and his team knocked out the entire project in just three days, which is what it probably would have taken me to do just the living room.
The other major benefit of having the flooring installed professionally is that they were able to salvage the baseboards throughout the house – when we did the flooring in our old house we replaced all of the baseboards as we worked. We ended up living without baseboards on the first floor of our house for over two years, so it's amazing to have new flooring and not have to stress about tackling the baseboards. I do still need to paint the baseboards throughout the house, but it's a huge help to only need to paint them and not install, caulk, and paint.
And, the other thing to take into consideration is that the flooring in our old house was, understandably, slightly imperfect. I'm no pro and I was learning what I was doing as I worked. There are mistakes, there are boards slightly peeling up, and there was one area in the hallway that I just kept covered with a rug because the subfloor was so bad and I didn't level it prior to laying the new floor. Here? The flooring is perfectly installed, with no imperfections and no mistakes.
But what if I want to install the vinyl plank flooring myself?
You should! It really is a simple project that I think even a beginner DIY-er could tackle. If you're interested in installing vinyl plank flooring on your own, here are a few posts that might help you out:
Wait, why didn't you do the flooring in your bathrooms?
The two bathrooms in this house are the only rooms in the entire house where we chose to skip the new flooring. They're both still tiled with the flooring that was here when we moved in. This flooring would work just fine in a bathroom (it's more or less waterproof, so there's no reason you couldn't install it in a bathroom), but I wanted to leave our options open for designing our bathrooms with tile. I like the look and feel of tile for a bathroom, and I'm not a big fan of the look of wood flooring in a bathroom. So, it really just boils down to a personal preference based on the look we want for our bathrooms when we get around to renovating them.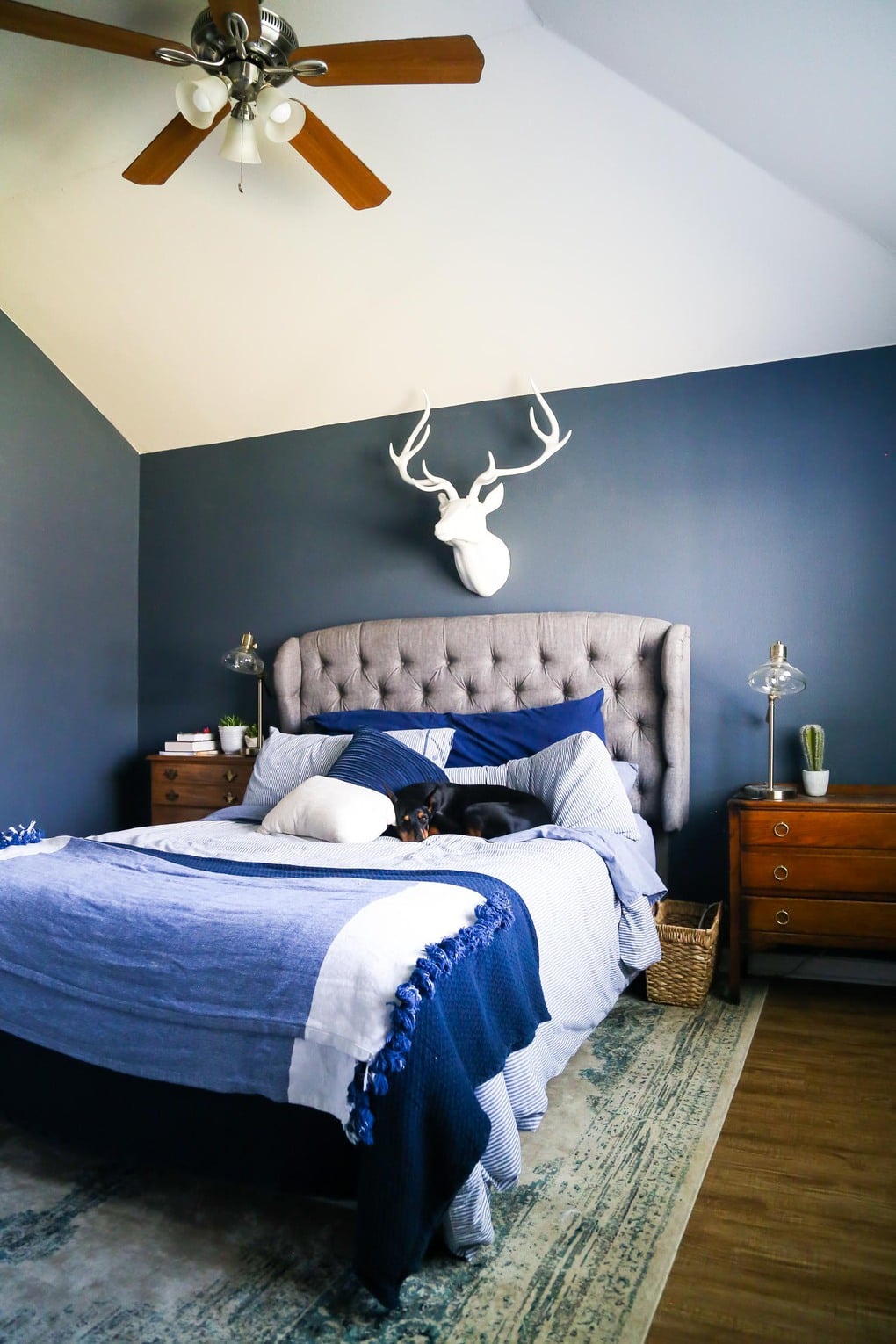 Is there anything else I should know before I choose vinyl plank flooring for my home?
Here are a few of my final, random, thoughts about using vinyl plank flooring:
I think that both glue-down and peel & stick options are perfectly good choices. We've now used both, and I would use either one again. However, I feel like the glue-down option seems to be a little more durable and less likely to have issues with peeling. I can't speak to the ease of installing a glue-down flooring yourself, but my guess is that it wouldn't be much more difficult than the peel & stick option.
If you want a more realistic wood look, pay close attention to the texture. It doesn't bother us that our floors feel less realistic in this home, but if that's something that might bother you, I think the key to a more-realistic looking floor is the texture on your vinyl plank flooring. The more hand-scraped, textured flooring feels and looks more like real wood than the smoother flooring does.
Darker wood floors are gorgeous, but they show more dirt than a lighter floor. I'm sure you're smart and you already know this, but it wasn't really something we thought about before we installed dark wood flooring throughout our entire first house. We loved the tone and color of the flooring in the old house, but it showed dirt and footprints like crazy. This medium-tone floor is much better at hiding those things, and easier to keep clean-looking.
I wholeheartedly, 100% recommend using vinyl plank flooring in your home if you're looking for an affordable, durable alternative to wood flooring. Vinyl plank is much cheaper than any other wood alternative, and it's one of the most durable flooring types you could possibly choose.
If you have any questions that I missed, please let me know! I love hearing from those of you who have chosen to install vinyl plank in your home based on our recommendation, and I'm so glad so many of you are loving it!
Now, uh, anyone want to come over and help me paint my baseboards?!
Here are a few links to some other blog posts about vinyl plank flooring: