This post has been a few months in the making, and I'm so excited to share our review of our new Comfort Works slipcover for our Crate & Barrel Lounge II Sofa!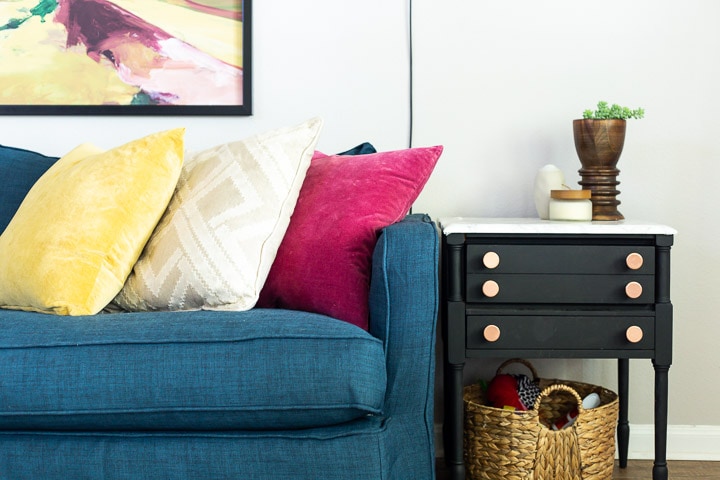 Oh boy, I'm really excited to share today's post with you! I have so much to say about couches today (riveting topic, I know), and I'm also sharing the reveal of a little living room refresh we've been working on over the last few weeks!
You may not know this, but one of the most popular topics ever here on the blog is couches. Hundreds of people find me each month through my review of our IKEA KARLSTAD sofa along with my review of our current Crate & Barrel Lounge II Petite sofa. I totally get it – a new sofa can be a big investment, and I personally always try to find a blogger who has reviewed furniture before I click that "order" button.
So, I feel like it's only right that when there's an update, I give it to you – unfiltered and honest.
An Update on our Crate & Barrel sofa
We got our Crate & Barrel Lounge II Petite sofa in the "Taft" fabric (the color is Steel) about 18 months ago. We absolutely love the lines and the style, it's incredibly comfortable, and it looks beautiful in our living room. I wrote a quick post about the sofa right after we received it, and I gave it rave reviews.
We still truly do love our sofa. BUT.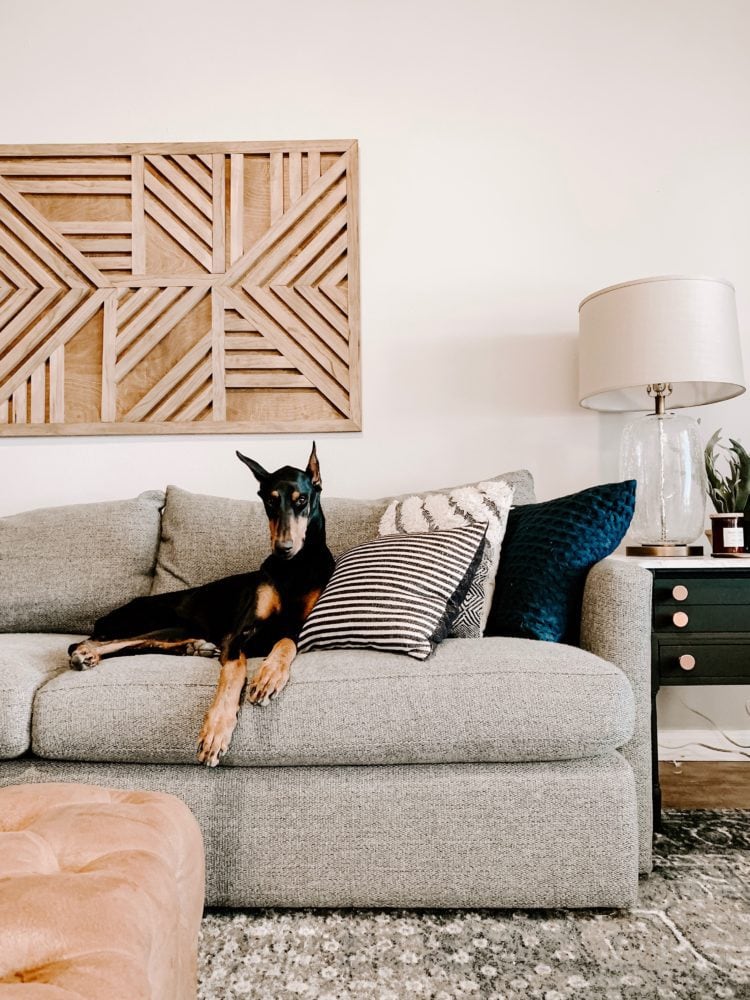 We also have a bit of a unique situation because we have a lovable but incredibly strange Doberman who lives approximately 70% of her life ON OUR SOFA.
I could probably write an entire book on this one strange little animal alone, but the gist of it is that she's got some personality, ahem, quirks that lead her to be afraid to enter about half of our (already tiny) house. She only ever goes into the living room, our bedroom, and outside. She sleeps on our sofa all night long, and spends a good chunk of the day hanging out on it as well.
So, any sofa we purchase has to be able to handle a lot.
The fabric we got for our Crate & Barrel sofa isn't really one of their more pet-friendly fabrics. We just went with the standard option, and we learned after a few months that when a giant dog spends hours upon hours sleeping on it every day it's going to start looking pretty rough pretty quick.
It looked fine from far off. And even up close, it wasn't bad. But, the fabric had started to noticeably pill, and because of the thick weave it really held on to the dog smell quite a bit. I washed the covers regularly, but every evening when I fell into the sofa after the kids went to bed I was often hit with a big ol' whiff of dog.
Not. Pleasant.
I was feeling really frustrated and worried that this sofa just wasn't going to work out for us, and then Comfort Works reached out. If you haven't heard of them, they're kind of famous for making gorgeous slipcovers for IKEA sofas. They've been around for years (and I actually almost purchased on a few years back for our KARLSTAD!), and they've recently started branching out into making slipcovers for other brands – like Crate & Barrel. They wanted to send us a slipcover to try out and we, of course, immediately jumped on the opportunity.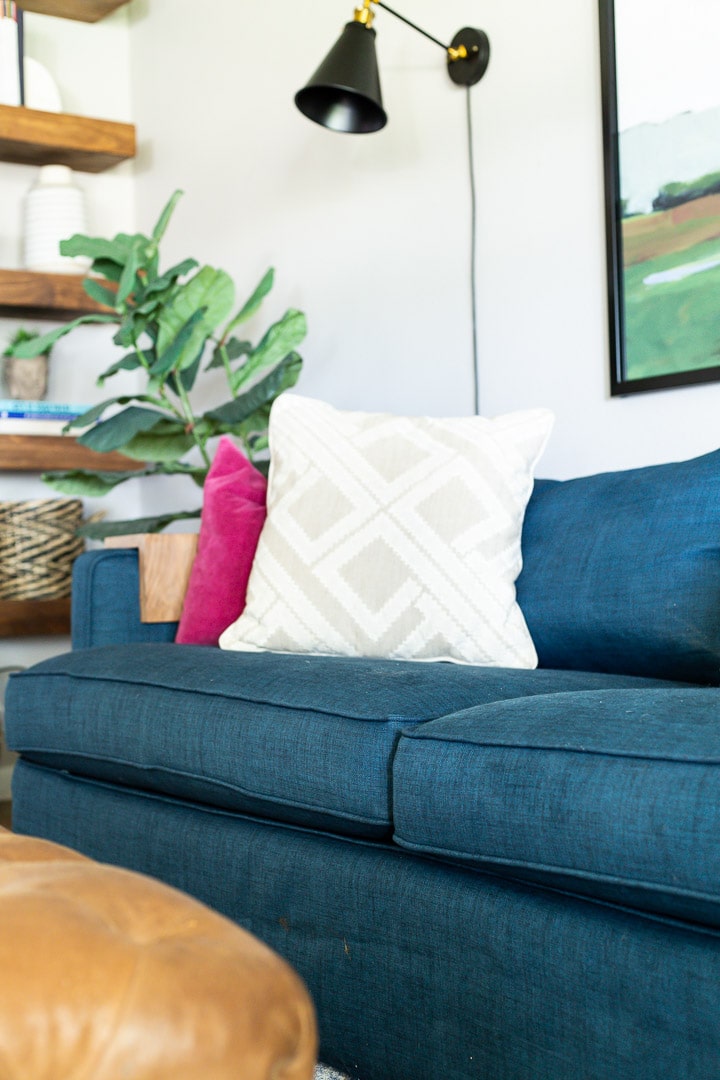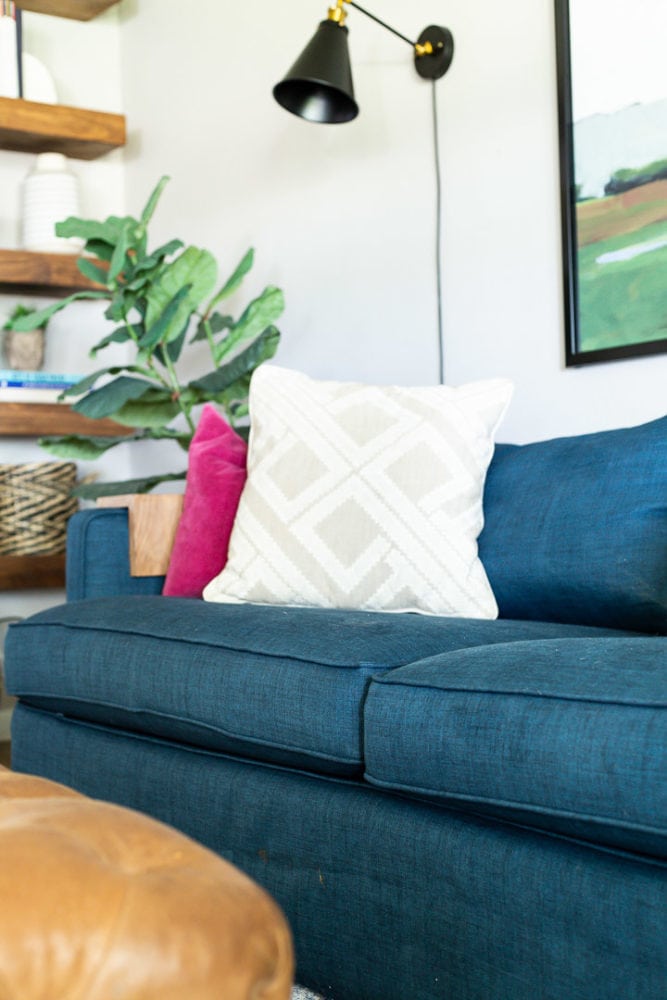 Comfort works slipcover review
So, let's chat about the process of getting a Comfort Works slipcover, and then I'll tell you my thoughts after living with it for a couple of months.
The first step in getting your new slipcover is to send over some photos of your sofa and choose your fabric. Then, Comfort Works will guide you through getting the measurements for your sofa. They have templates already made for all of the different sofas they offer and know the measurements it should be, but since they want to ensure a perfect fit they have you measure as well. It's a really easy process and is detailed and clear. Once you've measured your sofa and they've triple-checked everything, they'll get to making it and you should receive it in just a couple of weeks. You can see more about the process (and the Crate & Barrel sofa slipcovers they offer) right here.
Once the slipcover arrived, it was incredibly easy to put on our sofa. I did it by myself in less than an hour! You just have to add some velcro strips (that they send along!) to the bottom of the sofa for the new slipcover to cling to, and it just slips right over the existing fabric.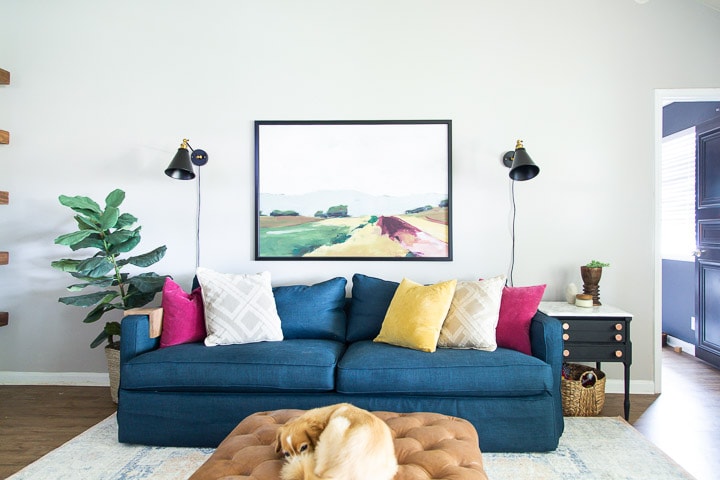 We went with the Kino fabric in Navy, and I'm so, so in love with it. It's one of their most durable fabrics, and while it's actually rated pretty low on their "comfort" scale, we find it really soft and comfortable to sit on. It seems a lot less likely to pill than our old fabric, and it's been on our sofa for a couple of months now and still looks brand new.
The best part? It doesn't seem to hold on to smells at all, and I haven't had to spray it down with air freshener or wash it at all in the couple of months we've had it. I just vacuum it every couple of days to get rid of the dirt and crumbs, and we're good to go. Of course, I'll eventually have to wash the covers, but that's the best part – most of their fabrics are machine washable! You may remember me saying that I washed my Crate & Barrel couch covers, but I technically wasn't supposed to. They held up just fine but I always feel better about washing covers that actually say they're machine-washable. And, since there's a slipcover on the frame of the sofa and not just the cushions, I can also pull that off and toss it in the washer if I need to – that's impossible with most sofas!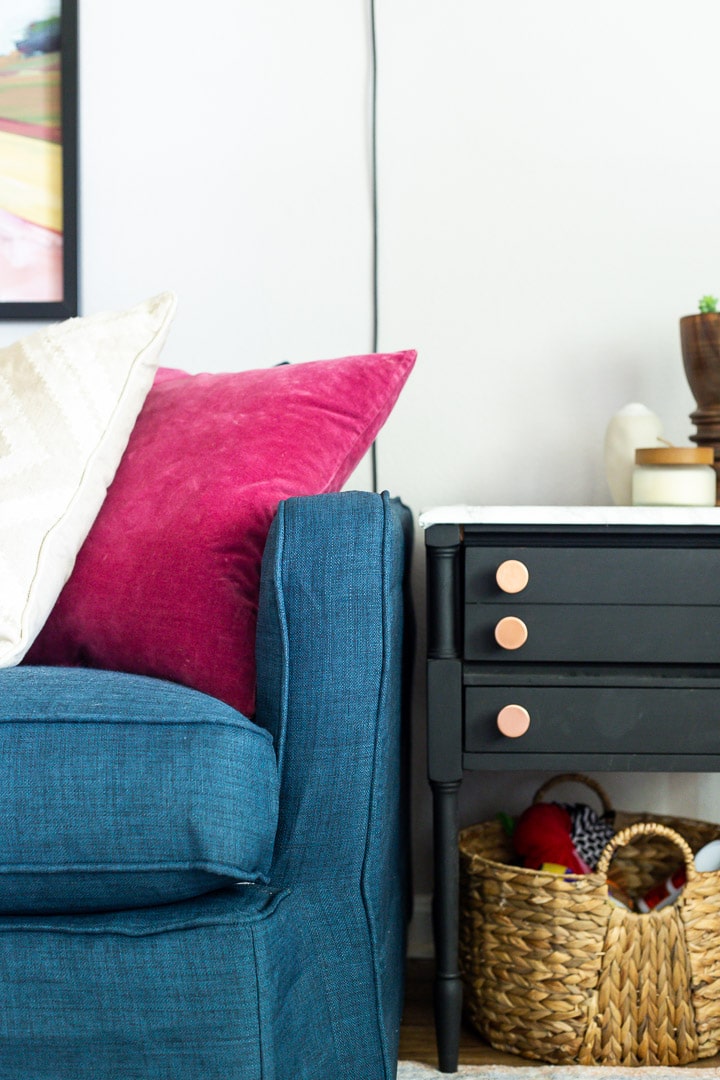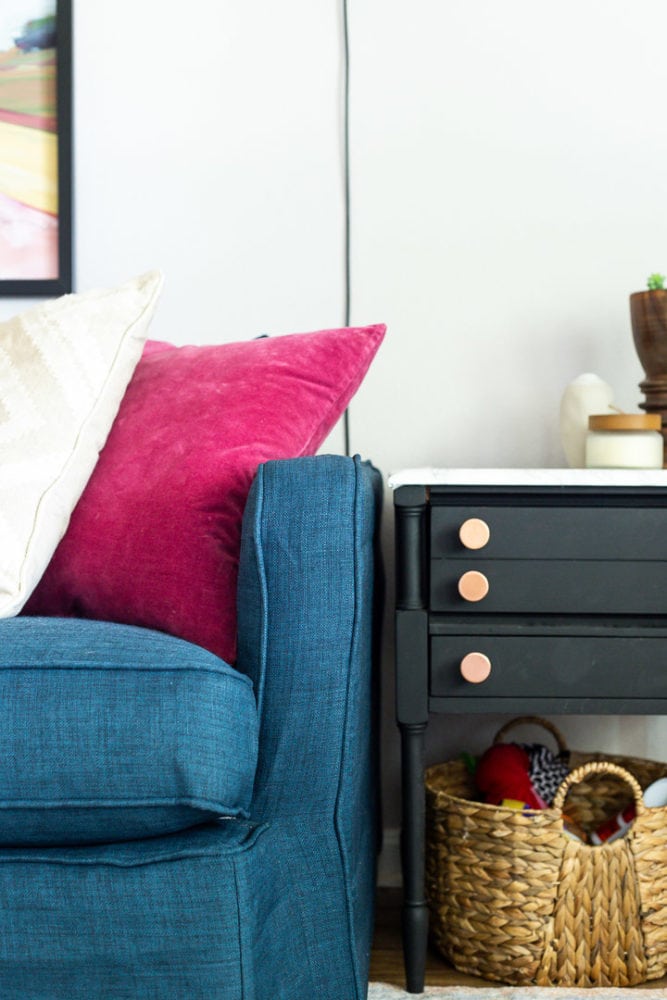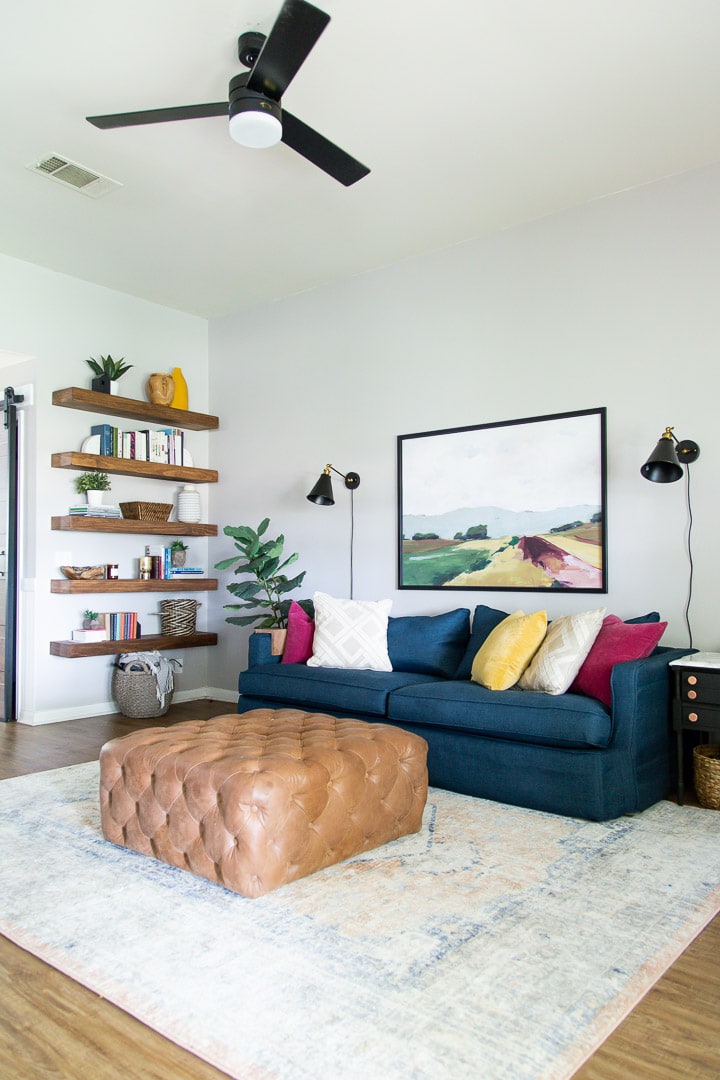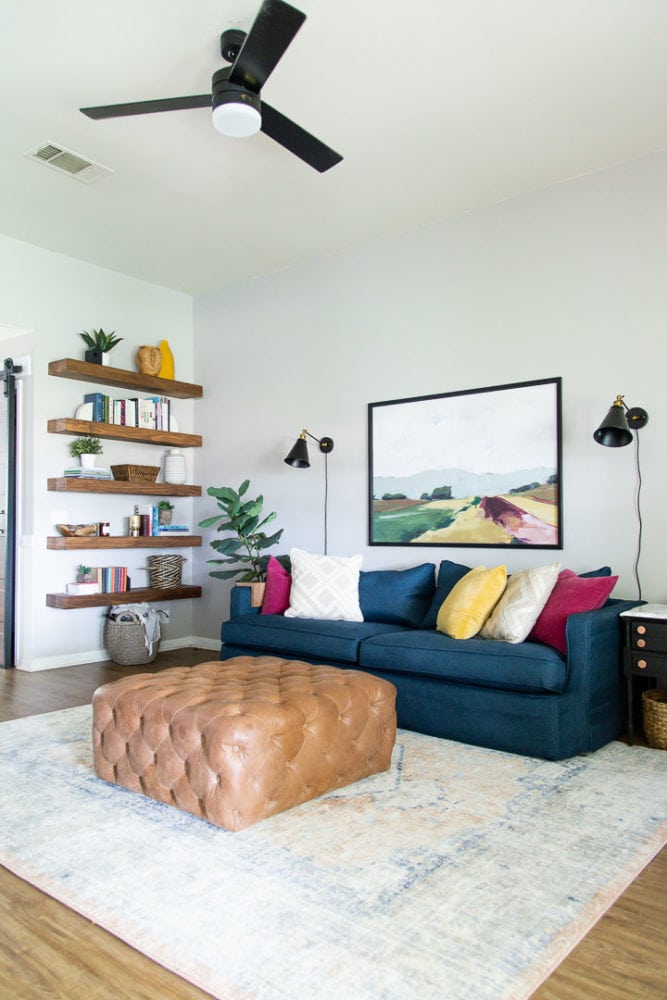 Beyond the durability, it really is just absolutely beautiful. I love the rich color, and it (of course) prompted a little refresh throughout the living room. We grabbed a new rug, hung some new art, and did some re-accessorizing. Oh, and we hung those adorable (under $50!) sconces above the couch, which don't really give off a ton of light but make me smile every time I see them.
You win some, you lose some.
I still have a few changes I want to make in here, but this room is finally starting to feel much more us. It feel brighter and a little cheerier, and it feels CLEAN, which really, is all I ever want.
After living with the slipcover on our sofa for a couple of months now, I can officially say that I highly recommend you check out Comfort Works if you've got a sofa that could use a new look. They're making slipcovers for several different retailers now (including West Elm, Pottery Barn, and Crate & Barrel!) and the process is really simple. It's so nice to get a totally new look without shelling out the cash for a whole new sofa!
SOURCES: