Y'all, I don't know if I can adequately express to you how amazing it is to have a big, comfy couch in my living room after living for nearly three weeks without one. I mean, I realize this is definitely a first world problem, but holy cow I missed having a sofa!
If you haven't been following this saga, let me catch you up. Corey and I just moved into a new home, and when we moved here we had to sell the sofa that was in our old house because our old IKEA sofa was far too large for the living room in the new house. We ordered a Crate & Barrel Lounge II sofa for the new house, and there was an error with the order (completely my fault), which meant that instead of getting it just a few days after moving in we had to wait two and a half weeks before the sofa would arrive.
Two and a half weeks doesn't sound like a terribly long time until you're living with a pallet on your living room floor and have to sit there every time you want to watch television. Let me tell you, my back has not enjoyed that situation.
Our couch finally arrived last week and I'm here to tell you it's totally revolutionizing our lives! I was live-texting Corey as it was getting delivered and as soon as the delivery guys left, I plopped my butt on that sofa and didn't move until I had to go get Jackson from school – and we put on a movie and snuggled up when I brought him home!
UPDATE: Be sure to read this post I wrote about 18 months into owning the sofa for a full picture of what to expect – and the big change we made to it!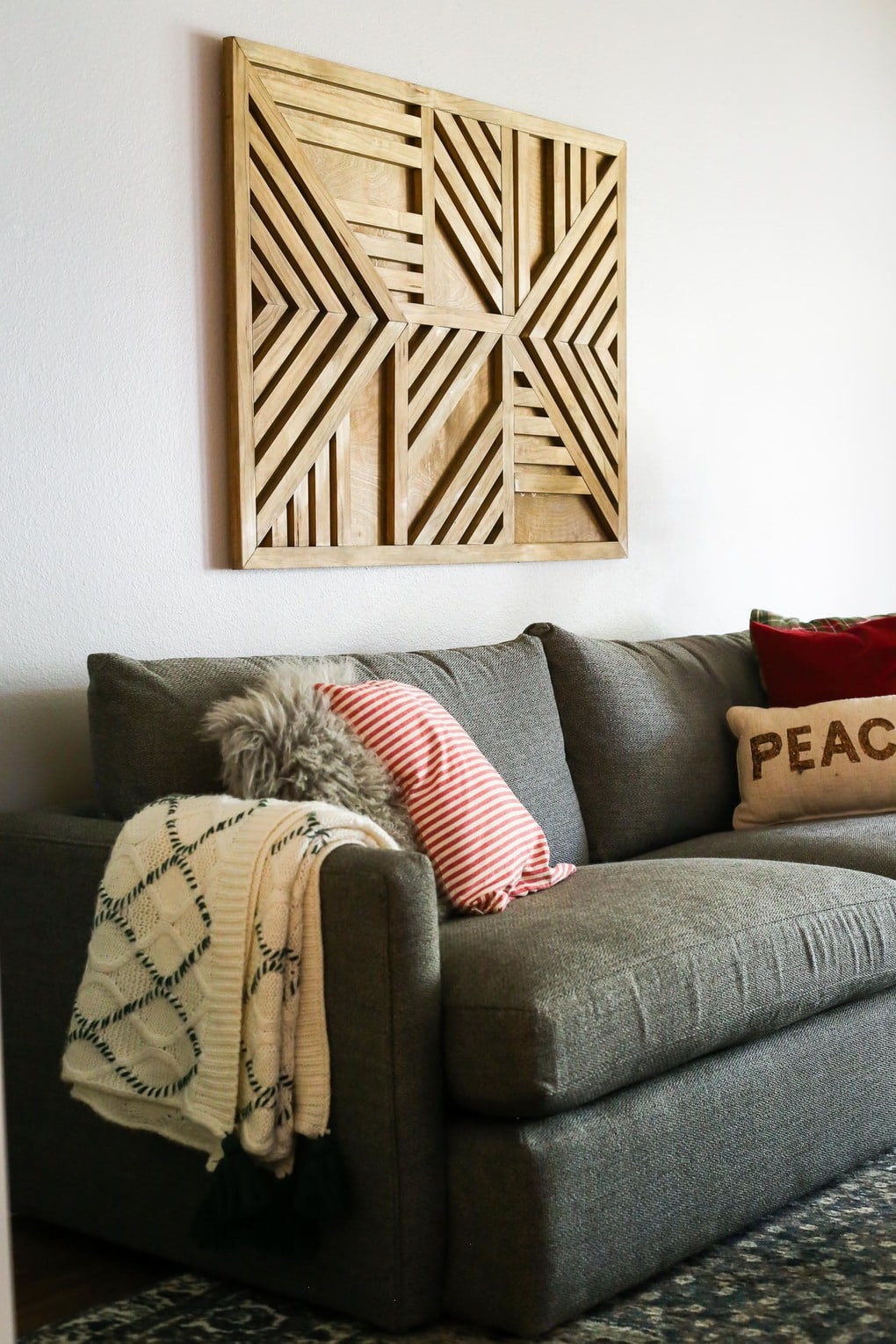 This post contains affiliate links. Click here to read my full disclosure policy. 
I wanted to share a review of our new Crate & Barrel sofa because I looked all over for information about it when we were making our decision and couldn't find much (I don't know about you, but I always like to find reviews from bloggers rather than just reviews on the store's website – I love to see photos of the products in someone's home and read a more personal review than you usually find on a store's site). At the end of the post, I'll also share a couple of links to other bloggers who have written about this sofa (there are a couple I managed to find, including one big one who got the sofa around the same time we did).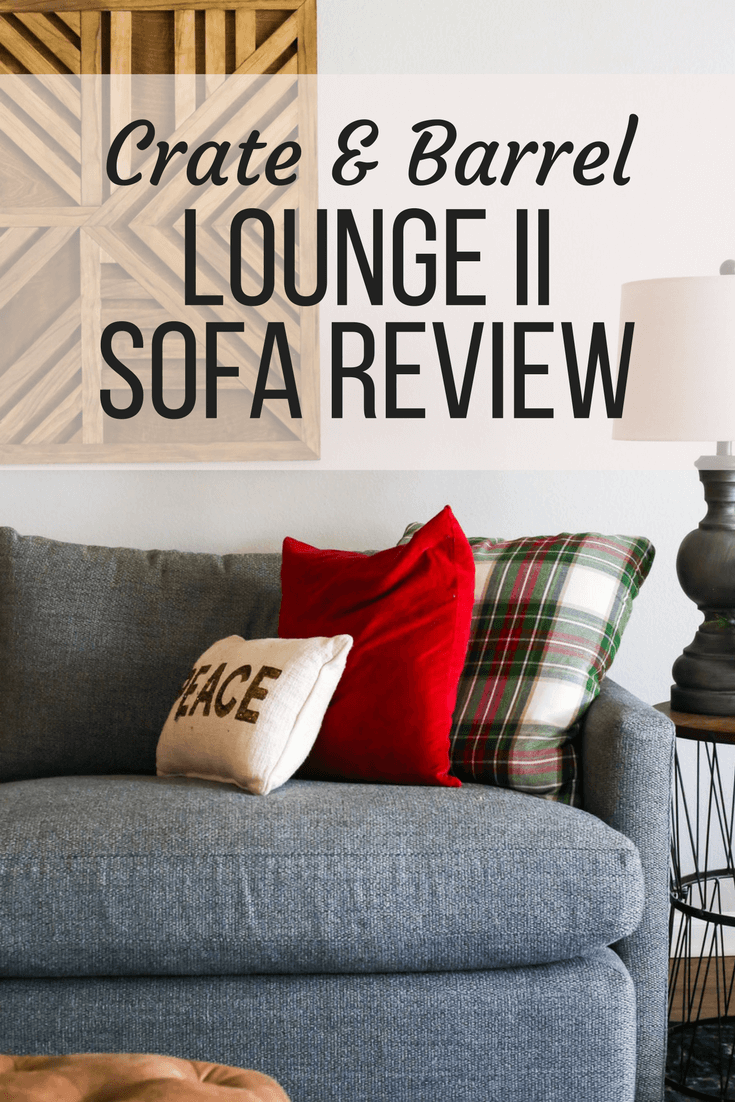 Crate & Barrel Lounge II Sofa Review
First of all, let's chat about why we ended up buying a sofa from Crate & Barrel. After all, it was just a few months ago that we were raving about our cheap-o IKEA sofa – what gives?
A few things, actually. We had every intention of purchasing a sofa from IKEA when it came time to move into this house, but when we began to look around we quickly realized that there weren't any that were really calling to us. We had a KIVIK in our garage in the old house, and my original plan was to buy another one for this house, but the more we began planning the more we found wrong with it – we weren't thrilled with most of the color options, and we didn't like how low it sat – the ceilings in our living room are vaulted, so a sofa that was so squatty was really just going to look silly. There weren't any other sofas at IKEA that we liked, so we started to expand our search a bit.
We were both adamantly against buying a sofa online. I know you can find some great, super affordable options, but we agreed that we have to be able to sit on a couch before we make a decision to buy it – my butt is too picky for just any old sofa. I need a big, comfy couch that's good for the whole family to curl up on.
And finally, we were very particular about the size of our sofa. We were downgrading from a very large sectional and knew that it would be an adjustment for us to lose so much seating space. We really wanted to maximize the space we have and get a sofa that was as long as we could feasibly fit – it's hard to find extra-long sofas (most are around 80-84 inches long), but our Crate & Barrel sofa is 93″, which is the largest sofa we could fit in the room without it completely taking over.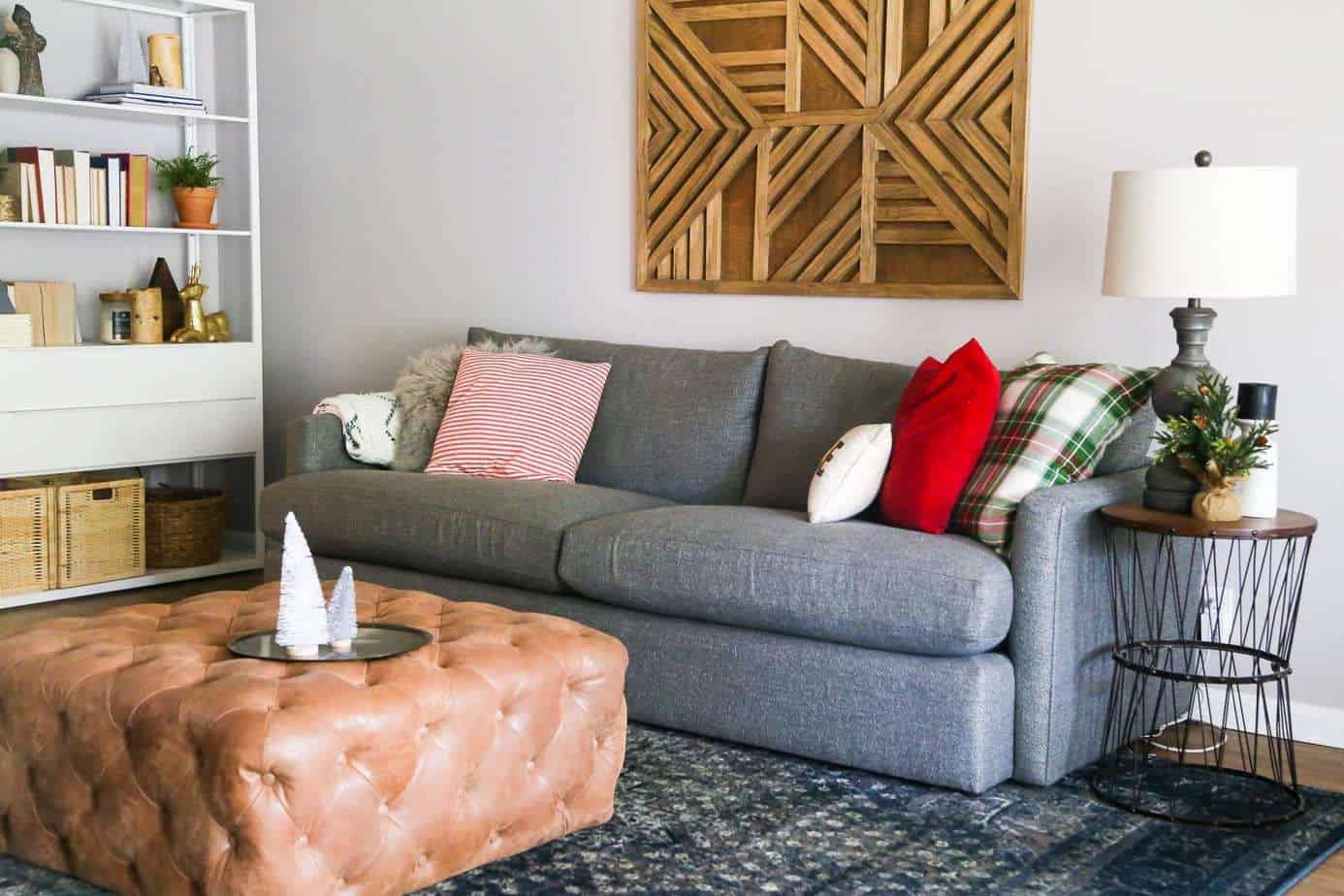 We visited a few different stores and walked around sitting in various sofas, and we just kept coming back to the Lounge II from Crate & Barrel. We loved the quality of the fabric (it's a super thick weave that feels really luxurious compared to the fabric on our old sofa), and it was just so dang comfortable. It was a pretty significant investment (especially compared to buying at IKEA!), but after talking with a lot of people over on Instagram and in real life, we realized that a sofa is just one of those things that's worth investing in – this sofa could last us 10-15 years or so if we take care of it, whereas the slipcovers IKEA sofa were starting to show some wear after just 6 years. Again, this isn't to say anything negative about a good ol' IKEA sofa – we still love them just as much as we did before and think they're a great option. But, we're trying to buy some longer-lasting pieces for our home and being thoughtful about investing in things that will stand the test of time – and we're hoping this sofa is one of those pieces!
Now, let's look at the difference between the regular Lounge II and the Lounge II Petite – because this is something that threw me off when I was ordering (and is the reason our sofa ended up being so late). Both sofas look almost identical, but one is significantly deeper than the other (the seat depth on the regular version is 29″, and the seat depth on the petite version is 24″). Corey and I were able to sit on both of the sofas when we were shopping in-store, and when we sat on the regular Lounge II we quickly discovered that neither of us could actually just sit on the sofa – we had to "lounge" in order to be comfortable. The sofa is so deep that if you sit with your back against the back rest there's basically no way your feet will be anywhere near the ground unless you have legs that are 10-feet long (slight exaggeration, but not much). The petite version, however, is super comfortable and lounge-able, but shallow enough that you can actually sit in it regularly without feeling like a child.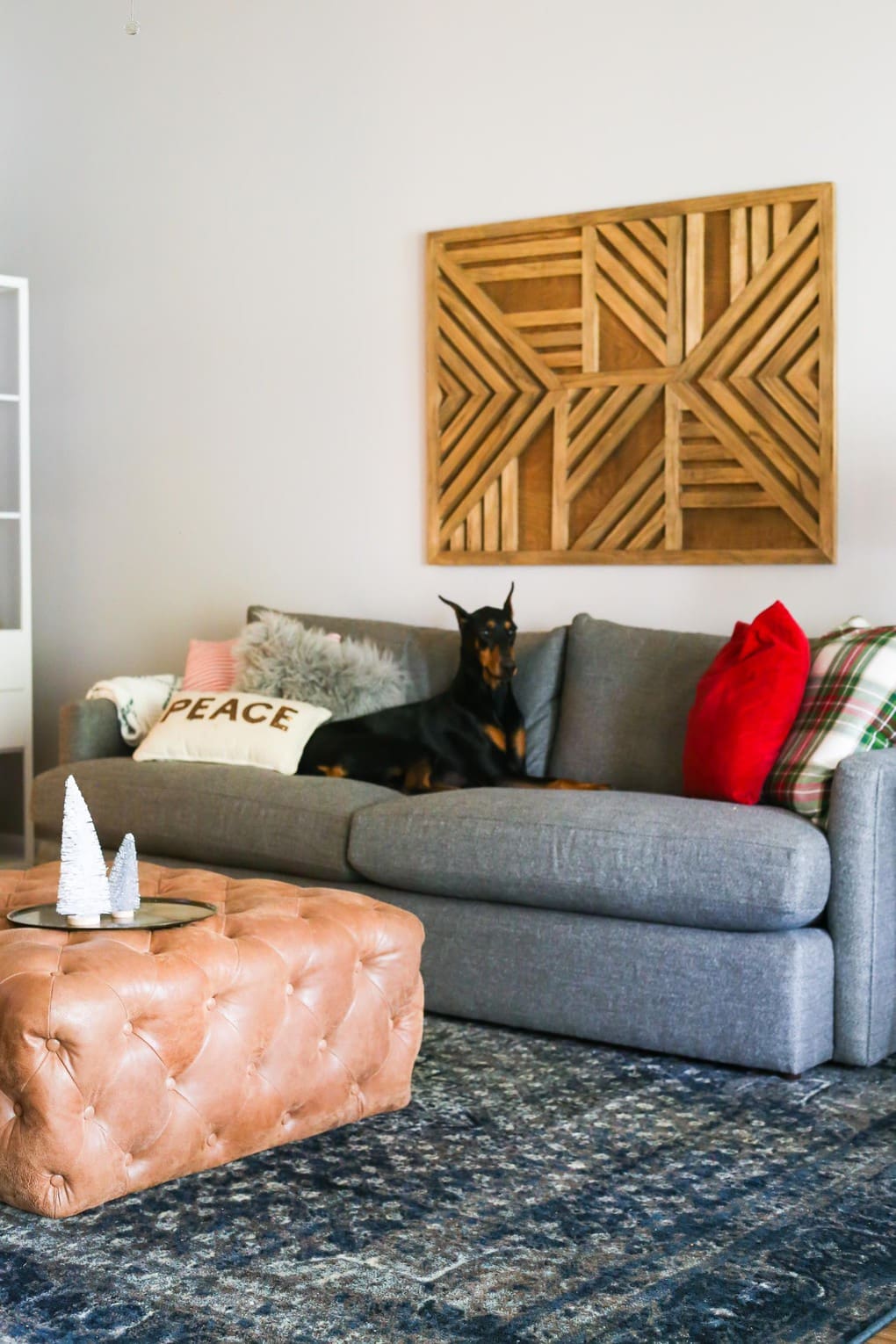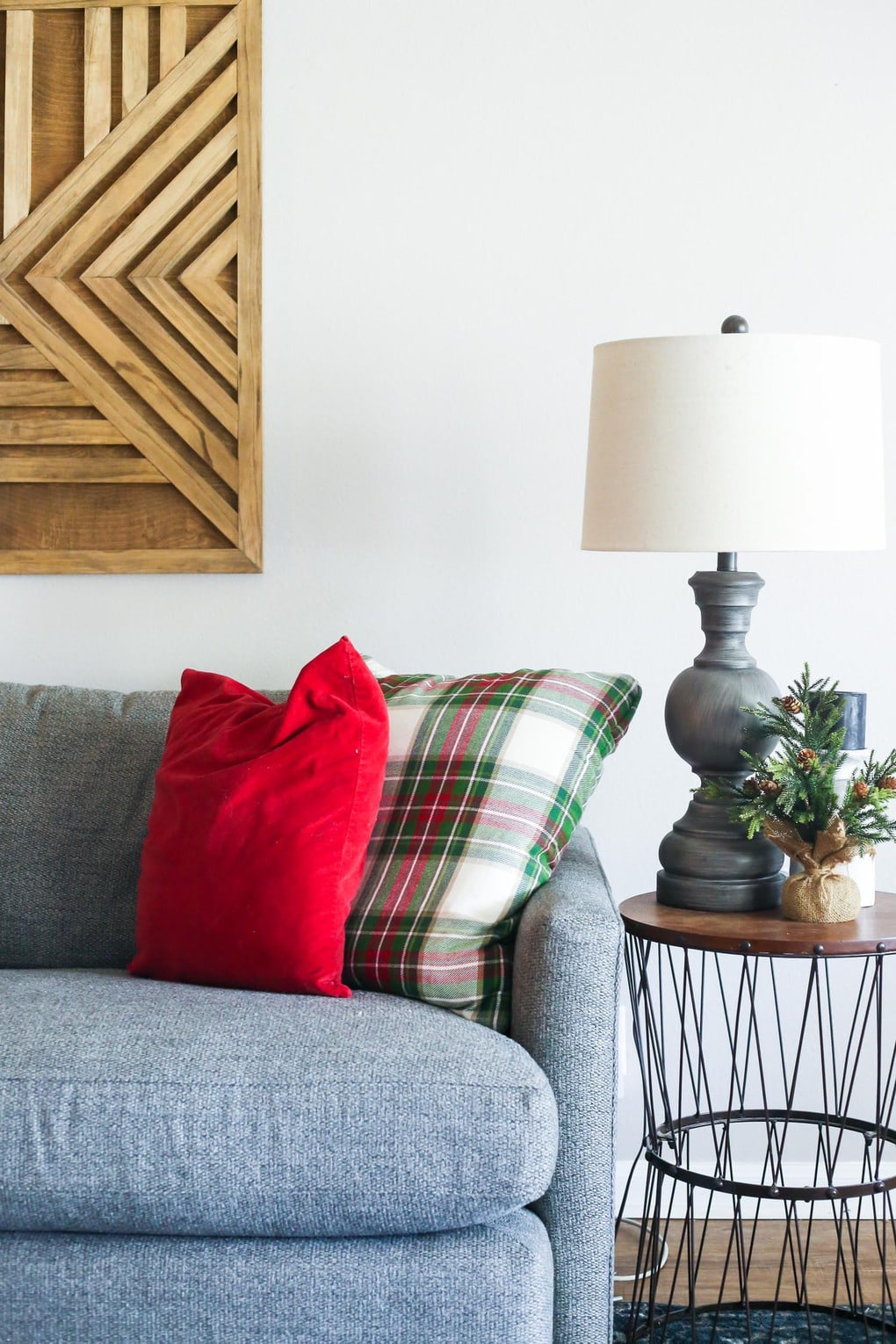 The color that we chose for our sofa is called "Steel" – it's a medium-tone gray and I think it's the perfect neutral color to layer into just about any room. It's significantly lighter than the dark blue of our old sofa, and I like that it doesn't feel too heavy in the room. There are about a zillion different options with the fabrics and colors for this sofa, but many of them are special order and add quite a bit of time (and money) to your purchase. We really loved how beautiful some of the fancier fabrics looked, but the "Taft" fabric (which is what comes standard) is really nice, thick, and sturdy feeling. I'm hoping it's as durable as it looks because goodness knows our dogs and Jackson will put it to the test.
We still have quite a few things to add or tweak in the living room. We're currently shopping around for a new side table, and we're hoping to add a recliner (or maybe two) in the room. We're also planning to eventually replace the bookshelf next to the sofa with something custom-made that will provide some covered storage and fit the space a little better. But, despite all of the changes that still need to be made, I'm really pleased with how things are coming together. This living room feels so small compared to the old house, but I actually love the coziness and am really excited to come up with some creative solutions for space-saving storage in here.
Of course, my infatuation with the cozy factor may fade when we're all tired of being so close together. Ask me again in a year or so.
Looking for some other opinions on this sofa? I promised a couple of links, and I was definitely inspired by this blogger and this blogger, who both purchased the couch and love it!
Love this post? Here are a few other posts you may like.