Crate & Barrel Lounge II Sofa Review
We recently upgrade to the Crate & Barrel Lounge II sofa, and today I'm sharing all of the details on it. I'll include our initial impressions, plus how it held up over time!
Finding the right couch can be tricky. You want a big, comfy couch that is cozy and welcoming, but you also want something that will hold up over time. If you have kids, it gets even more layered – you need something that can stand up to messes and chaos!
In our years as homeowners, we've mostly stuck to IKEA couches. They're sturdy and reliable, they're comfy, and they're washable. It's a major win for a family with dogs and young kids. But, in our second home we really wanted to give a Crate & Barrel sofa a try, so we decided to purchase the Lounge II Petite sofa. We had this sofa for about three years before selling it, and today I'm sharing all of our thoughts, how it was to clean, and why we ended up getting rid of it.
Crate & Barrel Lounge II Sofa ReView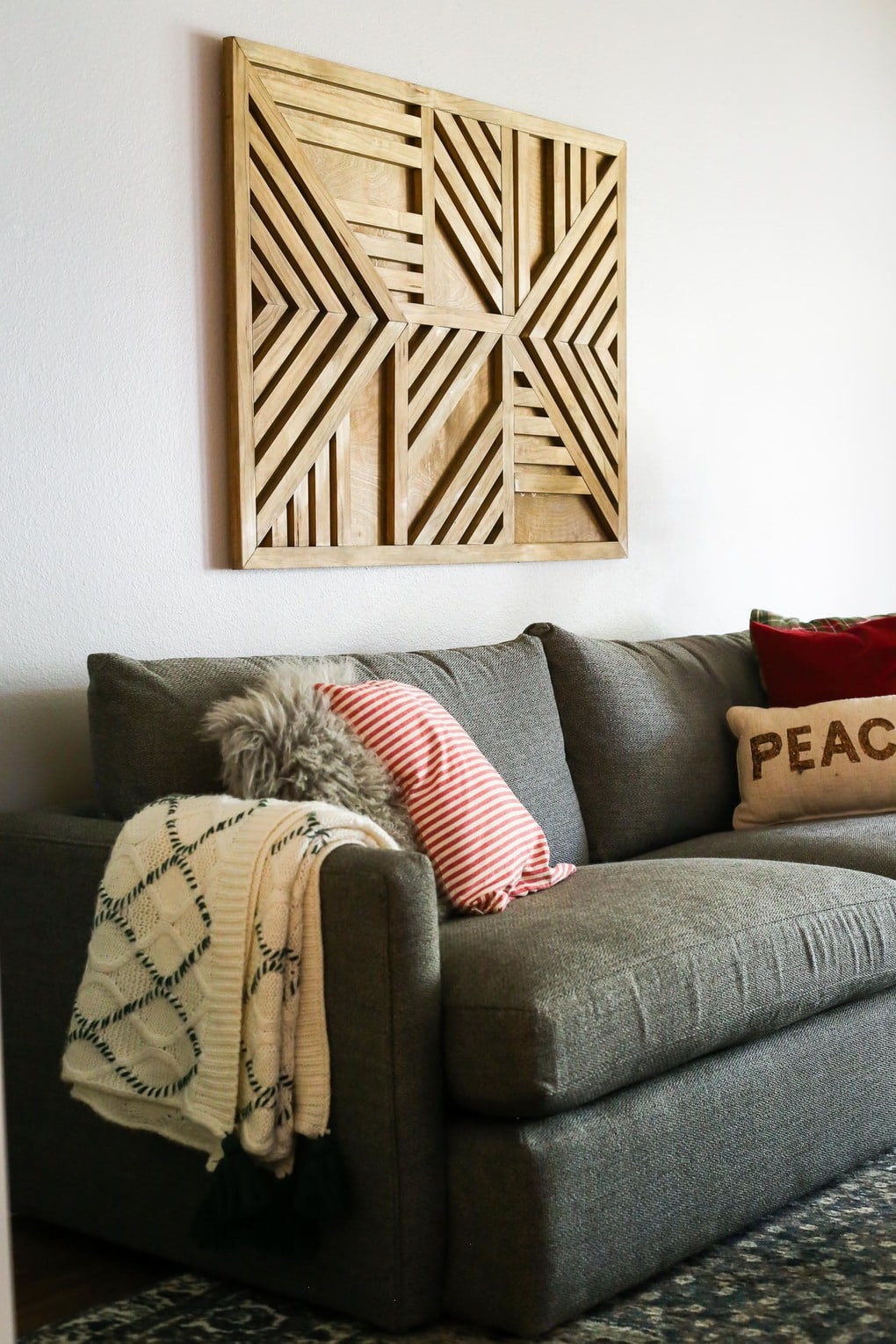 First of all, let's chat about why we ended up buying a sofa from Crate & Barrel. After all, we rave about our cheap-o IKEA sofa – what gives?
A few things, actually. We had every intention of purchasing a sofa from IKEA when it came time to move into this house, but when we began to look around we quickly realized that there weren't any that were really calling to us.
We were both adamantly against buying a sofa online. I know you can find some great, super affordable options, but we agreed that we have to be able to sit on a couch before we make a decision to buy it – my butt is too picky for just any old sofa. I need a big, comfy couch that's good for the whole family to curl up on.
And finally, we were very particular about the size of our sofa. We were downgrading from a very large sectional and knew that it would be an adjustment for us to lose so much seating space. We really wanted to maximize the space we have and get a sofa that was as long as we could feasibly fit. It's hard to find extra-long sofas (most are around 80-84 inches long), but our Crate & Barrel sofa is 93″. This is the largest sofa we could fit in the room without it completely taking over.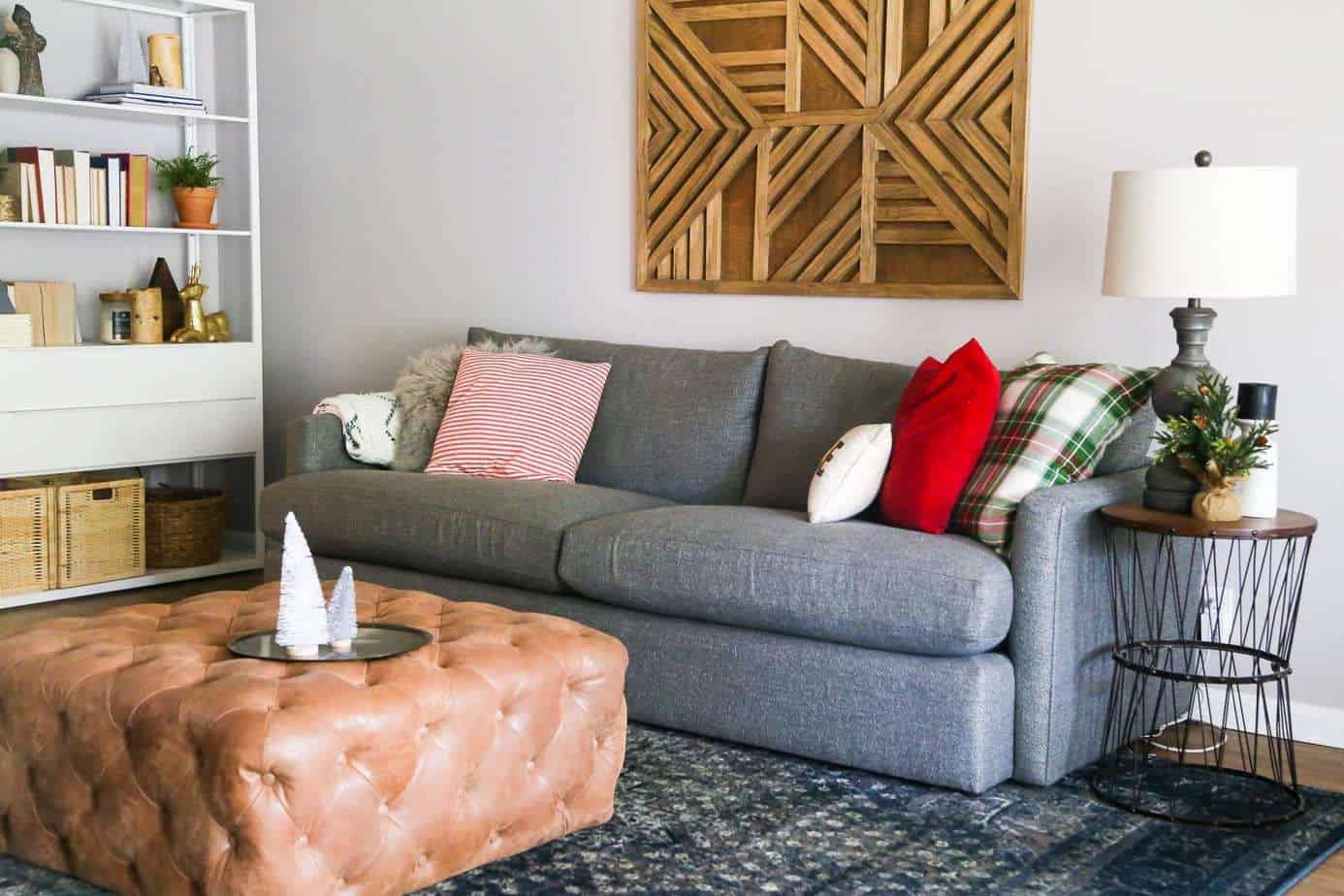 We visited a few different stores and walked around sitting in various sofas, and we just kept coming back to the Lounge II from Crate & Barrel. We loved the quality of the fabric (it's a super thick weave that feels really luxurious compared to the fabric on our old sofa), and it was just so dang comfortable. It was a pretty significant investment (especially compared to buying at IKEA!). But, a sofa is just one of those things that's worth investing in.
Lounge II depth options
Let's talk about the difference in depths. Back when we purchased this sofa, they had the Lounge, and the Lounge Petite. The petite was shallower than the regular version, but was otherwise the same size.
They've changed how they label things a bit to make it more clear. When you look at the page for the Lounge II sofa, all of the customization options are right there on one page. Before, they were considered two separate couches, so it got a little confusing. The first thing to consider is depth – how deep do you want your seat cushion to be?
The. current options are:
Lounge Sofa: This sofa is 41″ deep.
Lounge Deep: This option is 46″ deep!
We had the shallower option when we owned this sofa. It's still much deeper and cozier than a standard sofa. For example, our current sofa's seat depth is about 23.5″.
We preferred the regular depth sofa, because it was easier to just sit on it. With the deep one, even my husband's feet can't touch the ground when he's sitting! The shallower version allows you to easily lounge if you want to, but you can also sit up in it without feeling like a little kid.
other size options
Within these two depths they have a lot of customization options when it comes to width. You can get your sofa to be anywhere from 73″ to 105″, and the regular sofas can be a two-seat or a three-seat. You also have the option of getting a bench cushion. With those, the back cushion will still be split into two or three separate cushions, but the bottom one is just one long bench seat.
The 73″ bench sofa is called their "Apartment Bench" sofa, because it's a great size for small spaces, and would be the perfect cozy sofa for any apartment! The longer sofas would be great for a larger family room. Basically, you can choose the perfect size based on your home. But, no matter how small your space is you'll still get the cozy deep seats that make the Lounge so special!
Of course, you can also get a sectional sofa! Just like with the other Crate & Barrel sofas, there are a lot of customization options. They have a page where you can build the perfect sectional for your home, including adding in a chaise lounge, rearranging the pieces, and choosing your fabric.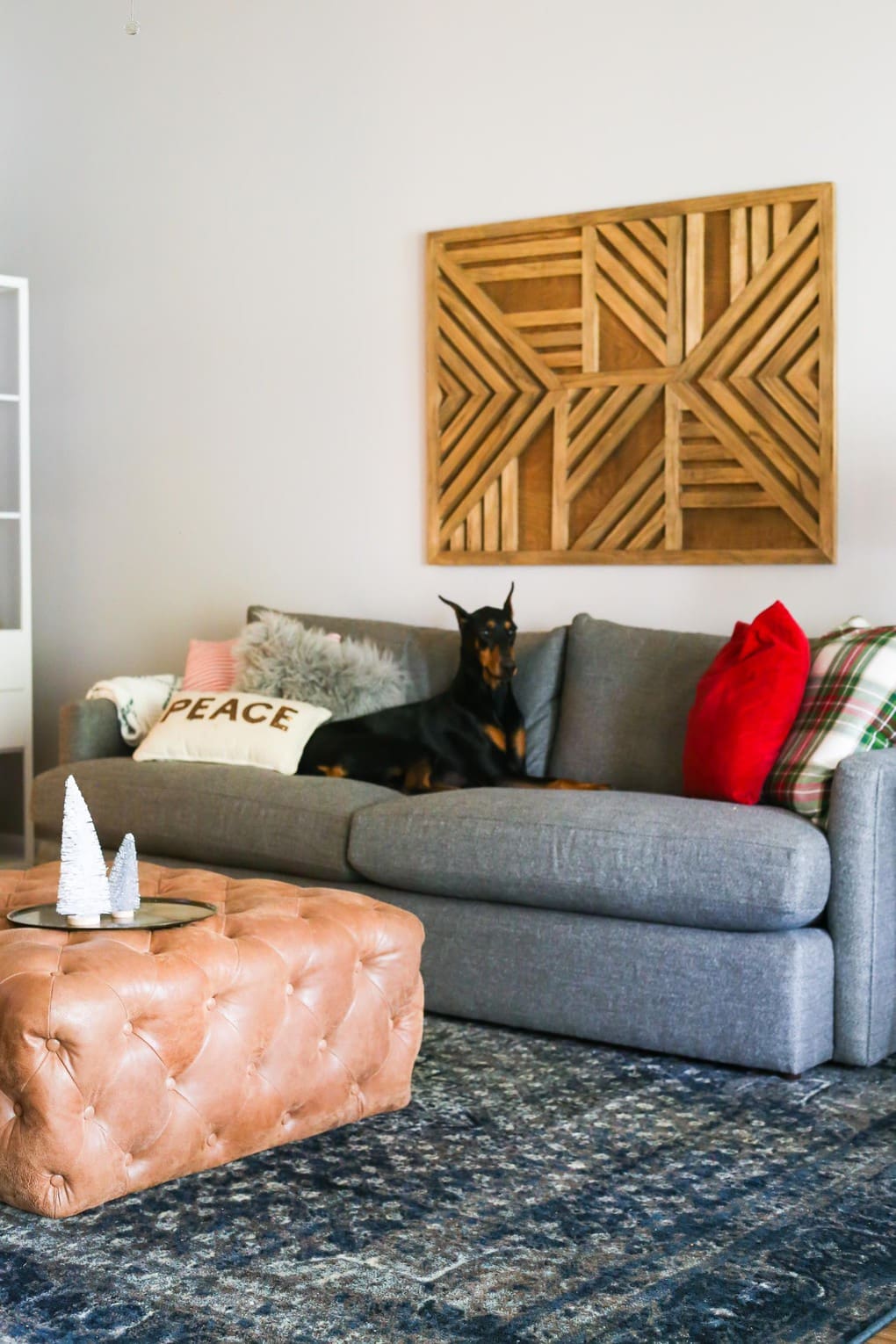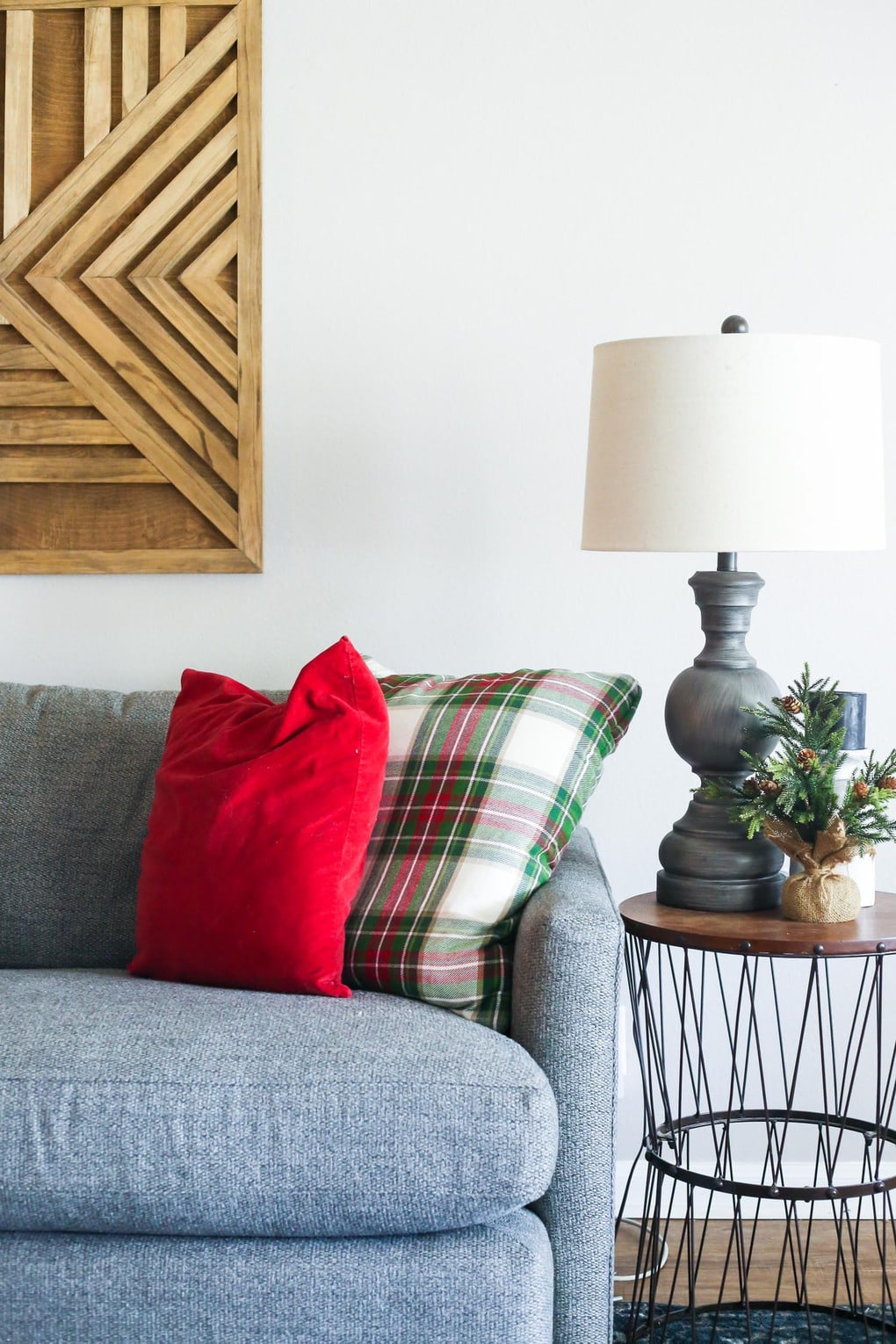 lounge II fabric options
We went with the standard "Taft" fabric for our sofa. The color that we chose is called "Steel". It's a medium-tone gray and I think it's the perfect neutral color to layer into just about any room. It's significantly lighter than the dark blue of our old sofa. I like that it doesn't feel too heavy in the room. There are about a zillion different options with the fabrics and colors for this sofa, but many of them are special order and add quite a bit of time (and money) to your purchase. We really loved how beautiful some of the fancier fabrics looked, but the "Taft" fabric (which is what comes standard) is really nice, thick, and sturdy feeling.
One negative I'll note about this fabric is that we quickly noticed it starting to pill. We have a large dog who spent a lot of time laying on this sofa, and her nails created a lot of pilling. I was able to easily get the pilling up with a fabric shaver, though.
Over time, the pilling of the fabric really started to bother us. So, when a brand reached out to us to try a sofa cover tailored to our couch, we jumped! You can see all of the details of our Comfort Works sofa cover here.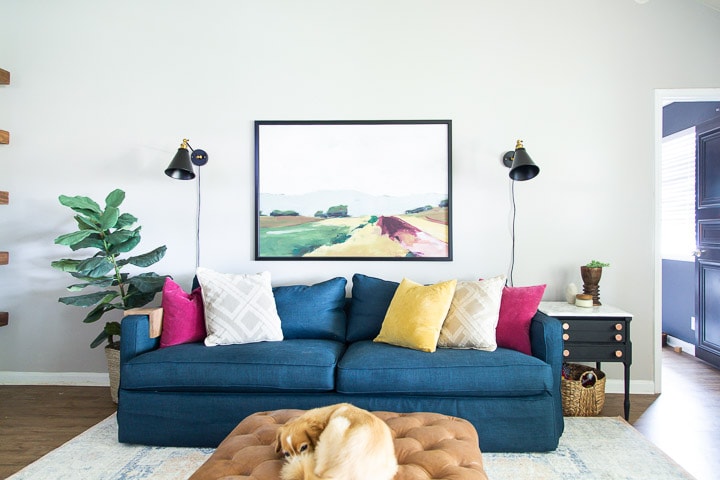 If I was purchasing a Lounge sofa again, I think I'd spring for a fabric other than the Taft fabric. It's worth a little extra money to avoid the pill-y fabric! There are seemingly endless fabric options, including some beautiful leathers, so take the time to consider what will work best for you! That being said, I also know people who have owned the exact same couch as us with zero issues with the fabric. So, our issue could be unique to our lazy, large dog.
cleaning the lounge II sofa
Keeping our sofa clean was a top priority to us, and one we took very seriously.
On a day to day basis, this is a great stain remover that works for simple spills and other issues. We tried to catch problems quickly and blot spills with a damp cloth and some mild detergent or Folex.
But, when it comes to deeper cleaning or set stains, here's a detailed post with info on what I did. Spoiler? I totally threw the couch covers in the washing machine!
the bottom line: what did we think?
I can honestly tell you that we loved this sofa. It worked so well for us and it's genuinely one of the most comfortable couches I've ever sat in in my life. The super-soft back cushions make things really cozy for movie nights, and it's seriously a stunning sofa.
So, why did we get rid of it? The simple answer is, we moved houses! When we moved to our current home, this couch became the upstairs family room sofa. Unfortunately, the overall dimensions just didn't work for that space, and we decided to swap it out for something a little bigger and cozier.
But, when we eventually replace the current sofa we have up there, I can assure you one of our considerations will be the CB Lounge II!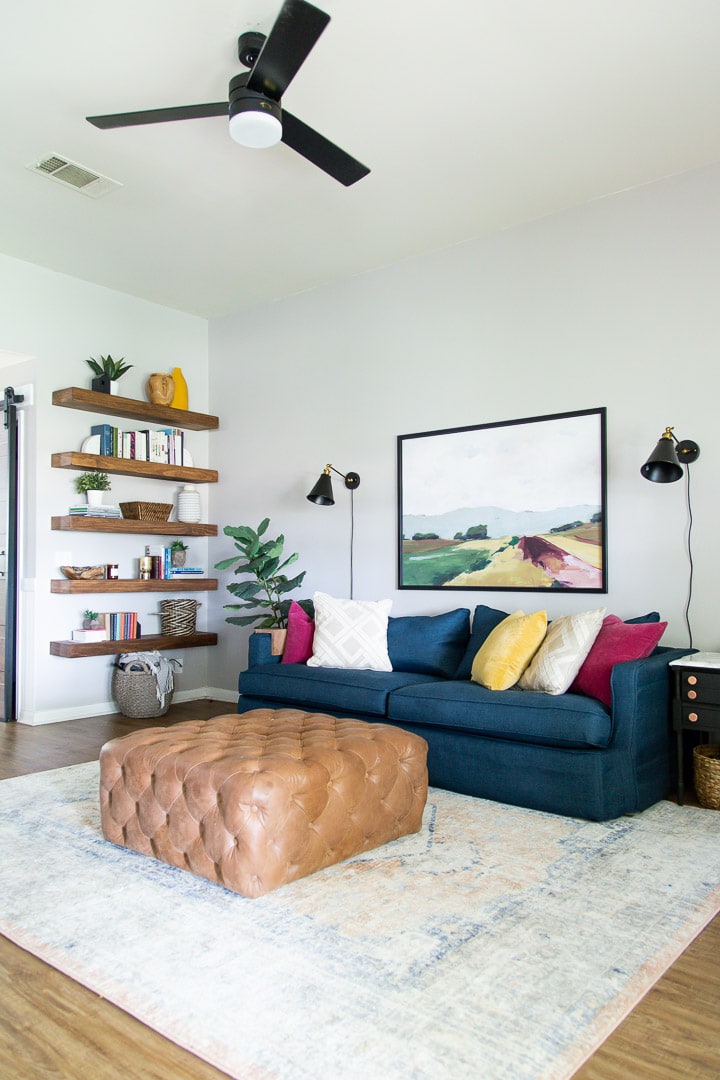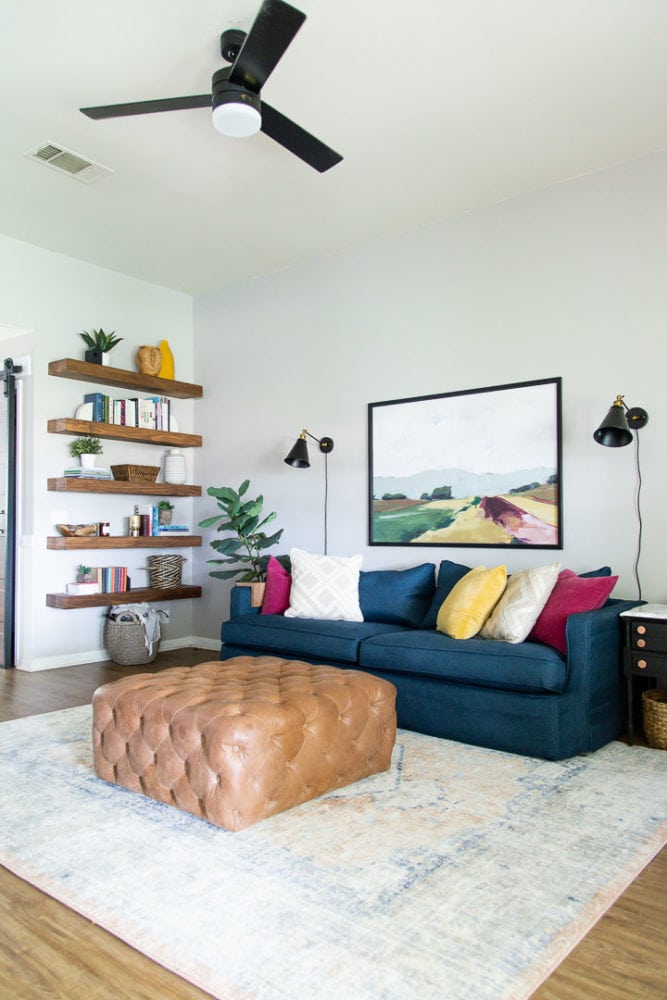 A few other posts you may love