I dedicated a little corner of our master bedroom closet to the new puppy, and today I'm sharing the mini closet makeover, along with some details of what we added to make the corner work for us!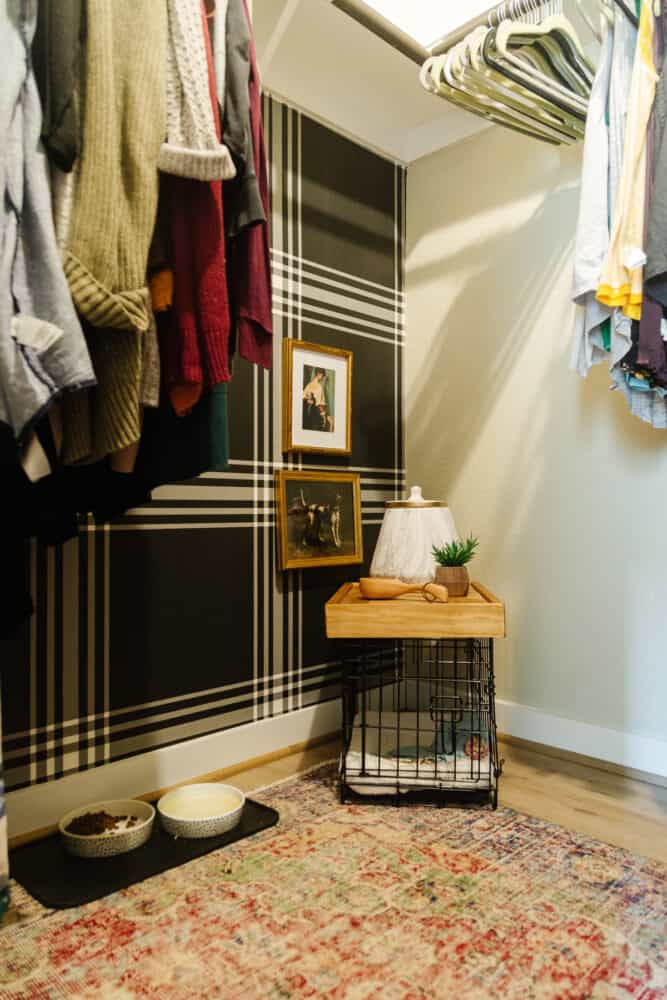 I have always wanted to do a huge master closet makeover and really create a super functional closet – but we never have. In our first house, we did a closet makeover that was pretty satisfying but not nearly as transformative as I really wanted to go.
We aren't quite ready to make any huge changes to our closet in this house quite yet – we want to make sure we get it absolutely right the first time, so we're going to wait a couple of years so we can get a good handle on what kind of storage we need. But, there's no reason I can't make things a little cuter in the meantime, right?!
We've been keeping Potter's kennel in our closet since we brought him home (it's the perfect spot for him to be close to us at night so we can hear him if he wakes up, but we won't wake him up if we're still moving around in our room or if we wake up before him) and it was perfectly functional but definitely not a good look.
Psst: Did you get a quarantine puppy too? I'm over on the Homes.com blog post today sharing some of our best tips + tricks for making the puppy transition as seamless as possible! Click here to read it!
Of course, the rest of the closet was also a total train wreck, so that wasn't helping matters either.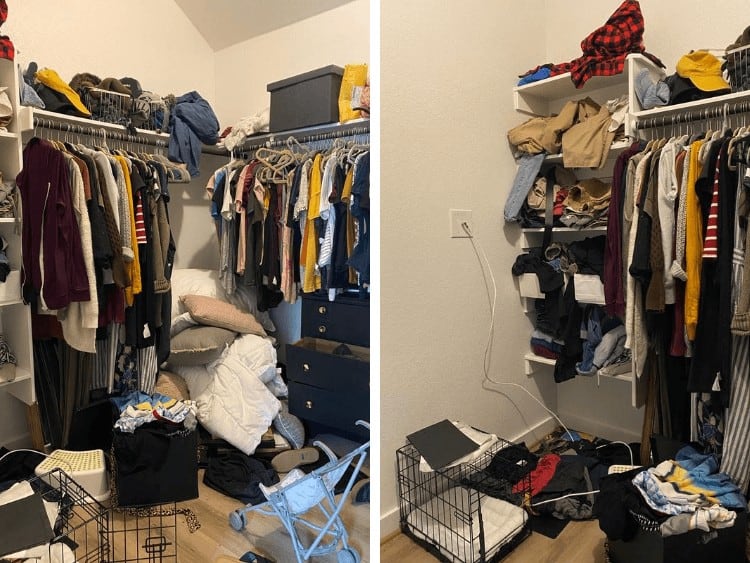 Eeeek.
Our closet was never organized but it has slowly devolved into utter chaos over the last few months and it was time to do something about it – and while I was at it, I decided to use some things I already had laying around the house to make it beautiful too. Just because we can't do a full overhaul yet, that doesn't mean we can't make it look great in the meantime!
I started off with a good deep cleaning. We donated a fair amount of stuff, but surprisingly enough most of the cleaning just consisted of moving things to the spots they actually belonged (you know, like putting all of the extra linens and pillows in the, um, linen closet instead of tossed in the corner).
Once I got things cleaned, we had a good starting point: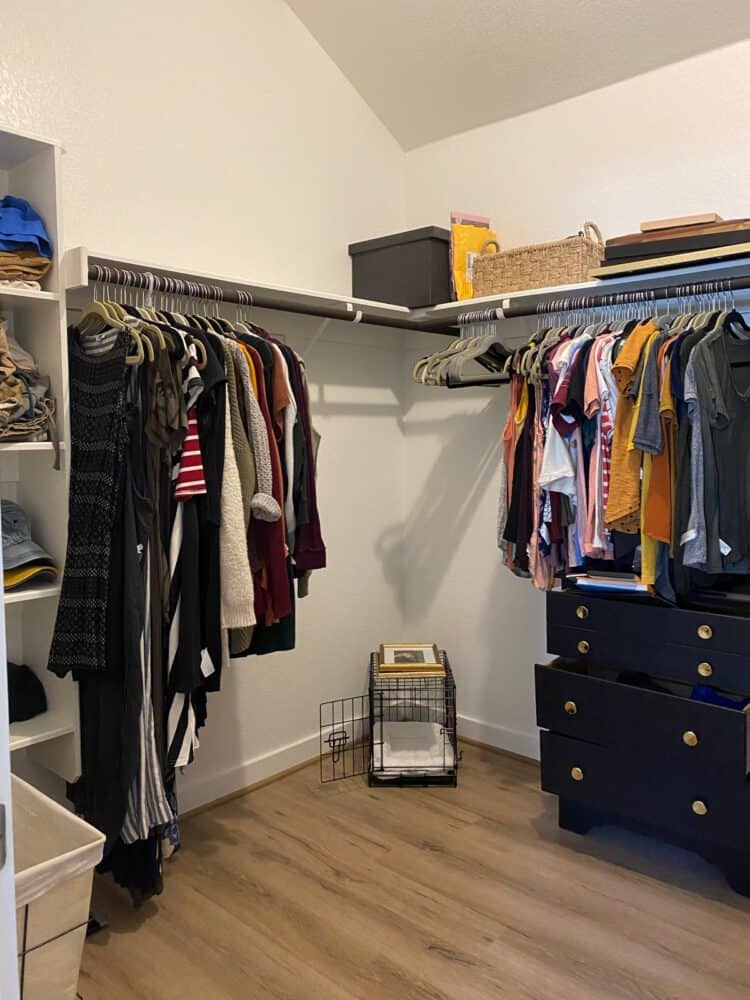 I had some black plaid wallpaper from the Hearth and Hand line at Target that I purchased on clearance (I think I paid $5?!) waaaaaay back in 2018 and it's just been sitting around waiting for the perfect opportunity to use it. I only had enough to do one wall, so I did the wall behind where Potter's stuff would be, and then I painted the rest of the room (including the ceiling) with the same color I used on the game room, Coliseum Marble.
Just these two little steps made a huge difference – it's such a good reminder that a fresh coat of paint can work wonders!
I have no idea if we'll keep either of these touches when we do the official closet makeover, but even if we only keep the paint and wallpaper around for a year or two it will have been worth it.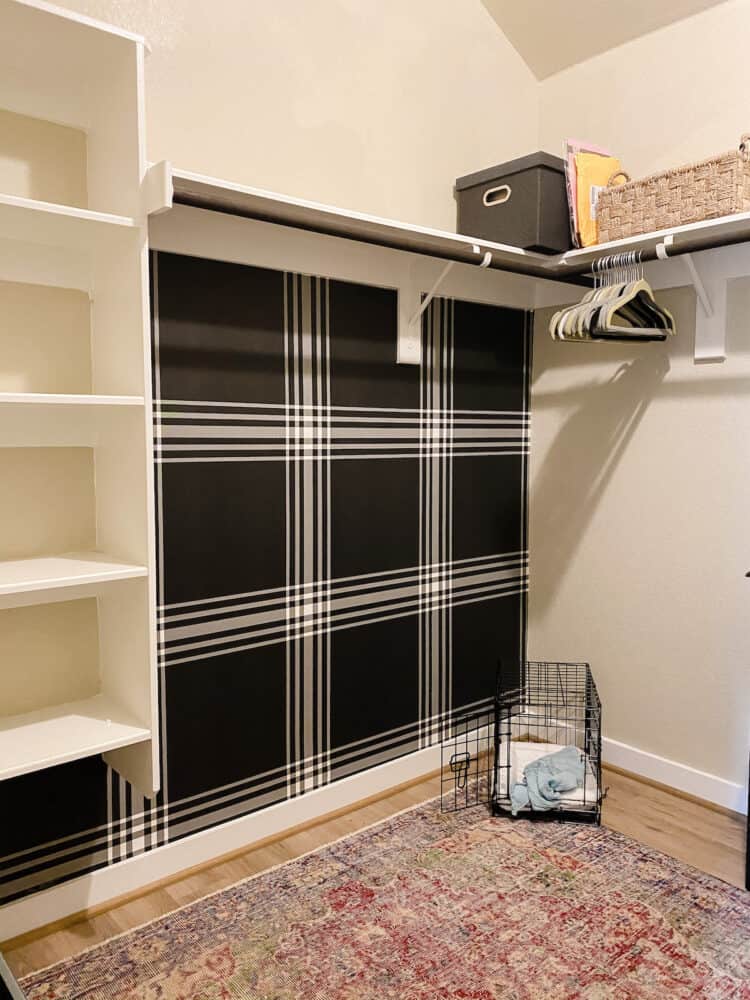 Once that was done, I brought down the rug from Grant's room (I have a new one on the way because I'm getting ready to make a few changes in there), and it was the perfect size for the. closet – what a win!
And then the real fun started.
I mean, what's the point of creating a dedicated puppy corner if you don't also hang some art at puppy level?!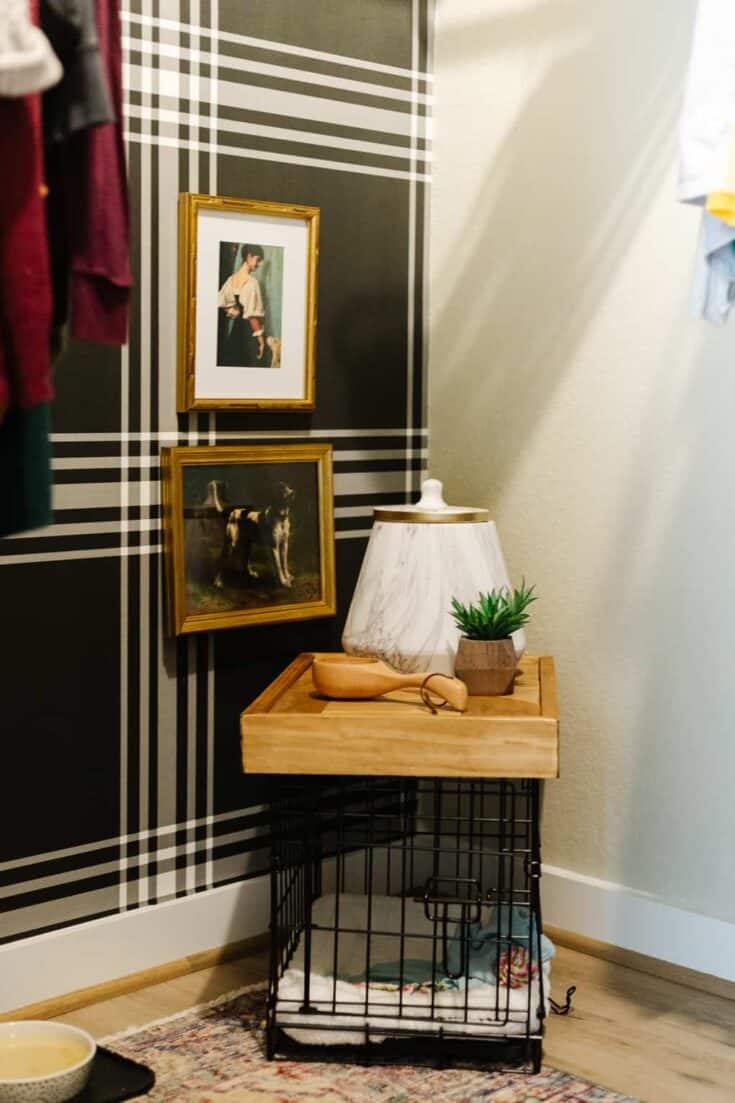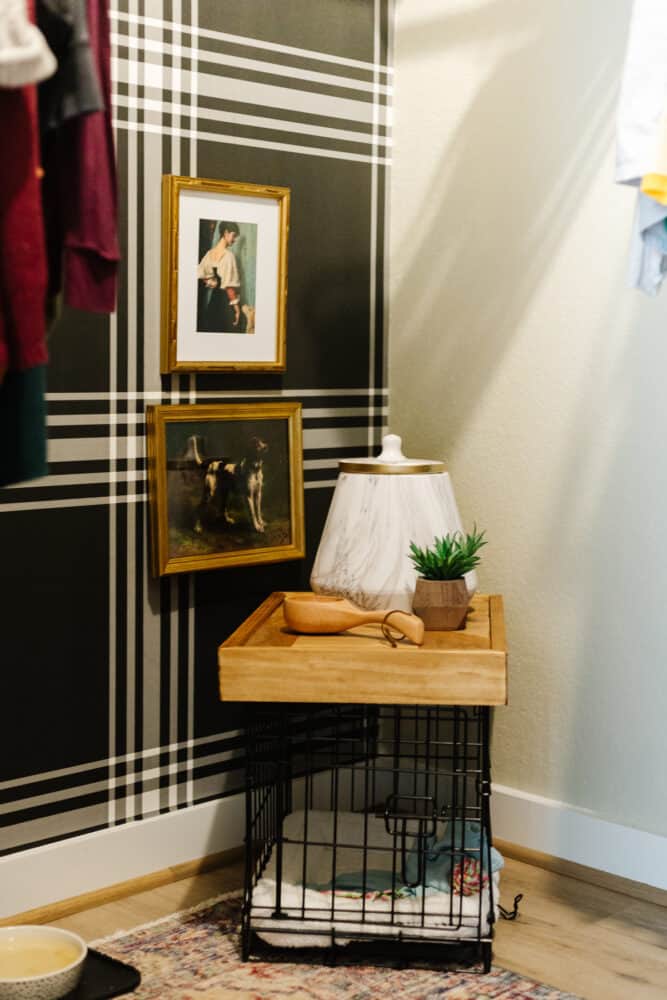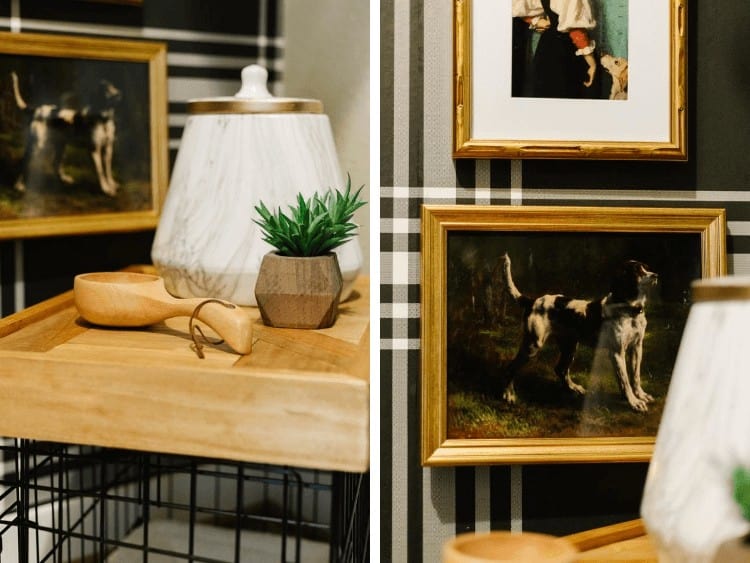 To finish things off, I built a little kennel topper from some scrap wood we already had in the garage – partially because I wanted to have a spot to set a container with Potter's food, and partially just because I thought it would look nice.
I'm a big believer in spending some time to make the little things cute whenever you can – if you can make the little day-to-day tasks like feeding your puppy a little more enjoyable with some beautiful touches, why wouldn't you?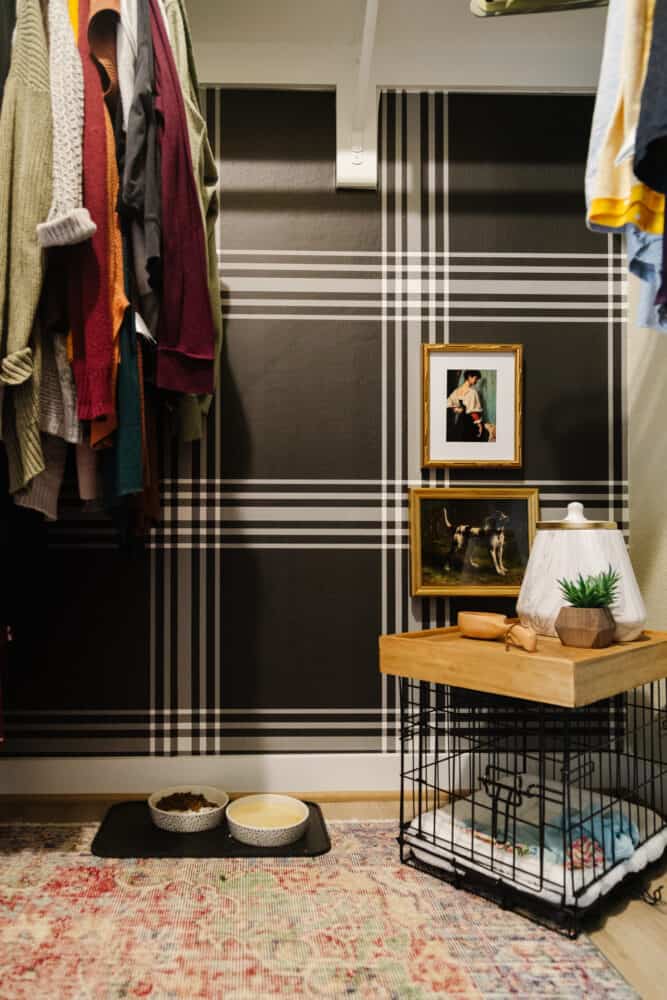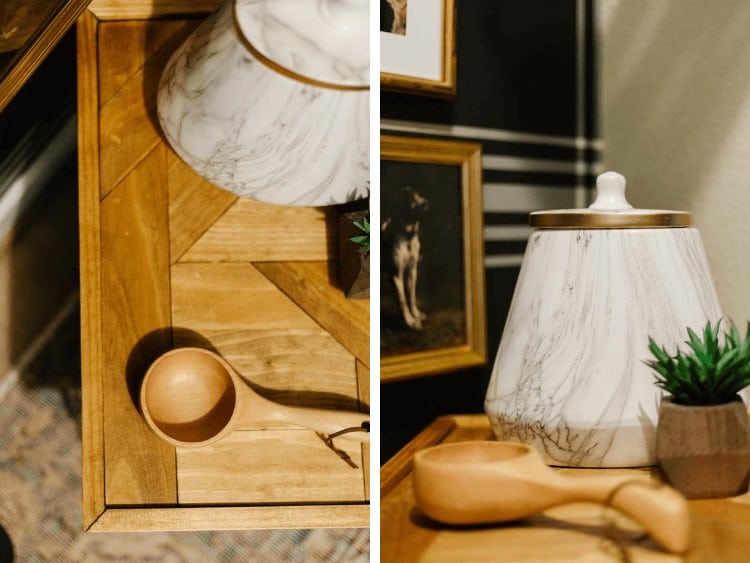 Now that the closet looks like this, the fact that no one in my family ever remembers to closet the door bothers me a lot less.
And Potter seems pretty thrilled with it too, so we're definitely calling this one a win.
sources