15-Minute Daily Cleaning Routine
This 15-minute daily cleaning schedule (and cleaning checklist!) will help you stay on top of the clutter in your home and won't take up your entire day!
If you know me at all, then you'll know that I'm a big advocate for simple solutions that don't take up a lot of time (or brain-power).
We're all busy, many of us are moms, and many of us have jobs that keep us outside of the house for most of the day. It can be so frustrating to spend the entire day working your butt off, only to come home to a crazy, messy house. Even if you've implemented a few habits to help you keep your home cleaner on a day-to-day basis (more on that in a minute, there are still going to be messes each and every day.
I mean, we all actually live in our houses, don't we?
And that means that, on a daily basis, you're going to end up with messes all over the place. Even if you're the neatest person in the world and you've got systems in place to keep things organized. Because, guess what? You might be a neat freak but I'm willing to bet your husband isn't. Or maybe it's your kids who are the culprit. Or maybe the dog. Whoever it is, chances are someone in your family isn't great about picking up after themselves, and sooner or later the mess is gonna have to be picked up.
I'm of the mindset that if I can get my home at least semi-cleaned up every single day, I'll live a much more relaxed life. I don't do well in chaos or mess, and I find that the days I'm the grumpiest with my family also just happen to be the days that my house is feeling the most cluttered. I work hard to stay on top of the little everyday messes so that I can keep my sanity, and I promise that this little routine won't take a ton of time out of your day.
So, today, I'm sharing a framework for how to get you to a point where you can simply implement this easy 15-minute daily cleaning routine and finally conquer the clutter in your home once and for all! I'm even including a checklist that you can hang on your fridge so you can be sure you don't miss a single step.
Let's get to it.
Start with a good foundation
The first thing you need to consider is that if your home doesn't get maintained at least at some level throughout the day, 15 minutes will never be enough to get you back to clean.
In order to only spend 15 minutes a day cleaning your home, you'll need to start with a space that has been treated well all day long.
That's where good habits come into play.
I've already blogged extensively about this, so I won't cover it again – I'll just point you in the right direction.
Before you even think about trying to implement a 15-minute daily cleaning routine, I highly recommend putting in some time and building those first three habits at a minimum.
Once you feel like you've got that taken care of, you're ready to move on to the next step.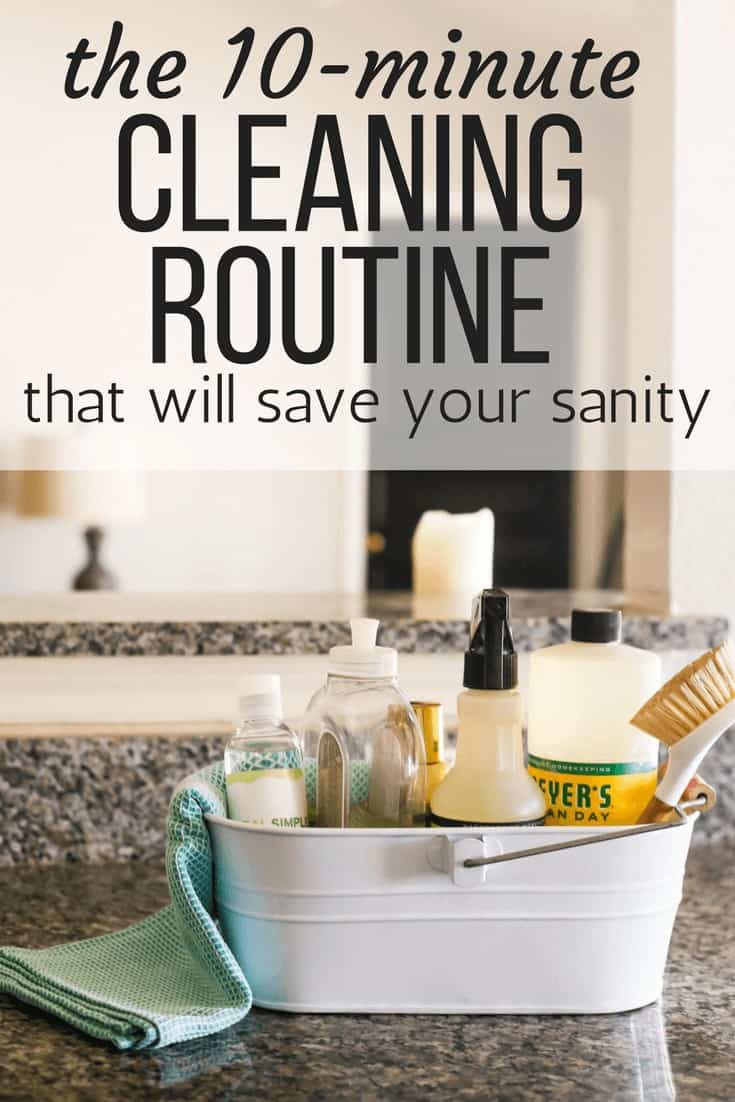 This post contains affiliate links. Click here to read my full disclosure policy.
My 15-Minute Daily Cleaning Routine
The first thing you'll want to do is set a timer.
Seriously. Set a timer!
It can feel really annoying to have to focus on cleaning for fifteen minutes, and it can seem like a lifetime if you're tired and just want to go to bed. Keep yourself motivated by actually setting a physical timer and reminding yourself that you can stop the second it goes off. It helps you stay focused and makes it feel a little more like a race against the clock.
Once you've set your timer, you're ready to go. I'm including approximate times below – don't feel like you have to stick to those times, it's just to give you a general idea of what each step should take.
Minutes 0-5
For the first five minutes or so, you'll do a quick sweep of the main living areas of your home and put away things that are out of place.
One of the habits I recommend practicing before starting this is the two-minute rule – basically, if something will take you 2 minutes or less to put away or clean, do it immediately rather than waiting. If you've done this, your daily clutter sweep should be pretty easy.
Of course, if you're like me and have kids and/or a husband who don't follow the two-minute-rule, then there's still going to be some stuff to deal with.
For this first part, you sould focus mostly on the living room, dining room, and kitchen, and try to get things placed where they belong. This is also the time to toss your throw pillows back onto your sofa (why do they always end up on the floor?!) and put away the throw blankets.
Minutes 6-8
Next up, wipe down your kitchen countertops. A clean kitchen makes a huge difference towards making the whole house feel clean, so focusing there will give you the biggest bang for your buck. Make sure the counters are cleared off, spray them with your favorite cleaner (this one is mine), and give 'em a good scrub down.
Remember that at this point it should be a daily habit to end the day with a clean sink, which means your dishwasher and the dishes in your sink should already be taken care of. If not, allocate some time to that now.
I also recommend getting into the habit of putting food and other cooking supplies away as you cook. You can easily deal with some dishes or put away some of the clutter in the kitchen while the chicken is in the oven or while the pasta is boiling. If you do this, your kitchen should already be more or less clean once you sit down to dinner.
Minutes 9-10
Now it's time to do a second run-through of the house, this time grabbing dirty laundry from the bedrooms and bathrooms.
Grab all of the kitchen towels, the clothes that got thrown on the floor, and the socks your kid stuffed under the sofa. Gather it all up and toss it into the laundry hamper (bonus points if you go ahead and set the washer on a delay to be finished when you wake up in the morning!).
Minutes 11-13
Head into the bathrooms and give the counters a quick wipe down.
I like to use these antibacterial wipes on the counters for a super fast clean. You can do this on a rotation if you don't have time to do every bathroom every night – take care of one each night and throughout the week you'll be able to get each bathroom vanity clean a few times a week.
While you're in there, do a quick clutter sweep and take care of any super obvious issues. If you've got time, go ahead and give the toilet a quick scrub as well.
Again, if you have multiple bathrooms I recommend picking on a night and doing this on a rotation, so each one gets cleaned throughout the week.
Minutes 14-15
You've probably got time for one more quick task, and I like to take care of the floors!
Bust out the vacuum and do a quick pass-through all of the main living areas in your home. You can also do this on a rotation – do the living room and kitchen on Monday, the bedrooms on Tuesday, etc.
As soon as your timer goes off, finish whatever you're doing and stop! The point of the daily cleaning routine isn't to spend a ton of time on cleaning – it's to spend just 15 quick minutes knocking out a few things that will make your life easier.
The first few times you do this, you probably will feel frustrated that you aren't getting through as many tasks as you'd like. When we haven't been in the habit of doing a quick cleaning sweep every night, the clutter quickly piles up and there's way more than 10 minutes worth of work to do. But if you give yourself a week or so to catch up, you'll get to a point where you're able to fly through everything on the list in 10 minutes or less.
And, I know we're all busy, but who doesn't have 10 minutes to spare before you go to bed in the evenings?
How do I maintain a cleaning routine?
If you've struggled in the past to actually keep up with this sort of thing, here are a few suggestions:
Set an alarm on your phone to go off at the same time every night. As soon as it goes off, set everything aside and do your cleaning. Soon, it'll become second nature!
Take time to notice how you feel when your home is clean. Light some candles. Turn on some music. Bask in the feel of waking up to a freshly-cleaned every day. Once you realize how good it is, you won't want to stop!
Make it a family affair! I cannot emphasize this enough: your kids should be doing this with you! It's vital to teach our kids good cleaning skills, and having them not only see you clean regularly but help will go a long way towards instilling those habits. I recommend making the 15-minute cleaning routine something the whole family participates in. Plus, you'll get way more cleaning done that way!
Want even more cleaning tips and tricks?
If you're looking for more ways to get your home and life organized, I've got plenty of posts for you!
FREE Printable Cleaning Checklist