20+ of the Best Cleaning Hacks
A roundup of the very best cleaning hacks and house cleaning tips. If you're looking for easy ways to keep your home clean, this is the post for you!
I don't know about you, but I'm constantly looking for ways to make my life easier. I love a good cleaning hack and I'm always on the lookout for new tricks I can try around the house. One of my most popular Pinterest boards is always my "Life Hacks" board – so I think it's safe to say we're all looking for ways to make our lives easier, no?
Since I can't be alone in this obsession with tricks to streamline my life, I thought today would be a fun day to round up a few of the best tips I've seen (and tried) for cleaning and organization. I haven't given all of these a shot, but I didn't include a tip unless I had either tried it or I had heard from multiple sources that it actually works.
Ain't nobody got time for life hacks that don't work, am I right?!
So, are you ready to be totally overloaded with amazing tips for keeping your home totally clean and your life totally organized?
Let's do this.
House Cleaning Tips
First up, let's review a few tips from the Love & Renovations archives. I've shared lots of little ways to keep your home cleaner and more organized over the years!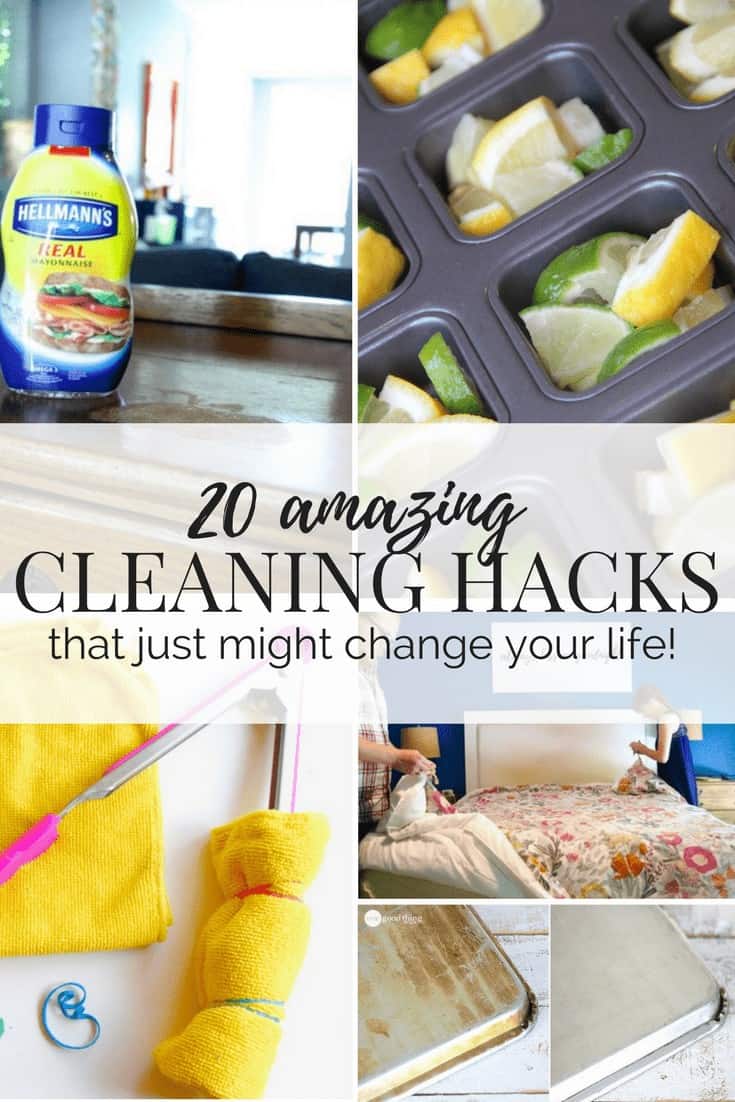 Images via: Love & Renovations // Bitz n Giggles // One Crazy House // Love & Renovations // One Good Thing by Jilliee
This post contains affiliate links. Click here to read my full disclosure policy.
Cleaning Hacks
Clean hard water off your shower head with hardly any effort.
Toss a bowl full of 3 parts water to 1 part vinegar into the microwave and microwave on high for about 2 minutes. Then, you can clean the microwave with almost no effort. Add some lemon to the bowl to tone down the vinegar scent!
Get your stove burners clean with minimal scrubbing.
Clean your sink faucets with wax paper!
And then, get any stubborn stains off the stove top. (I have lots of those!)
Clean your baseboards with a dryer sheet – not only does it clean them really effectively, it helps slow down the dust build up!
Get your oven glass totally clean – I don't know if I've ever cleaned mine, y'all.
Use Pledge on your stainless steel appliances to get them nice and shiny.
Clean your rusty old cookie sheets with baking soda and hydrogen peroxide – mine need this!
Cut off a small piece of Magic Eraser and toss it into the toilet overnight. It's supposed to clean the toilet for you!
Add some Pine Sol to your toilet brush holder to keep the bathroom smelling clean and to make the brush more effective.
Use this method to put your duvet cover back on your bed when you wash it. Life. Changing.
Make these little garbage disposal tablets for when your sink gets smelly (gross!)
Line your garbage can with newspaper. It protects from any smelly or messy spills, and you can just replace it when you take out the trash!
Turn your drill into a powered scrub brush.
Did you know you can wash your pillows in the washing machine? If you toss a tennis ball in the dryer with them when it's time to dry them, they'll come out super fluffy!
Clean dusty blinds with tongs – I bet this would work well for ceiling fans too!
Of course, you can always use a pillowcase to clean your fans (I'm SO TRYING THIS!)
Clean your mattress with baking soda – sprinkle it on, rub it in a bit, and let it sit for a couple of hours. Then, vacuum it up. We've used this a few times when our dogs have had accidents on our bed!
Get your wooding cutting boards looking (and smelling) new again.
Fill a dish wand with cleaner and keep it in the shower (this is genius, y'all!)
You can use Dawn dish detergent (specifically this one!) to clean grease stains off of your clothes! It works like a charm.
If you get a little bit of paint on your clothes when you're working on a project, you can often get it off once it dries by using a razor!
Use mayonnaise to clean water stains or other scratches on your wood furniture.
You can also use a walnut to get small scratches off of wood furniture! Just rub it on the spot and let sit for a few minutes, then polish it with a lint-free cloth.
Okay – those are the best cleaning hacks I know…now it's your turn! What are your favorite cleaning and organizing tips and tricks?!