After dealing with an excess of clutter for years, I wanted to whip my house into shape. So, I decided to tackle the KonMari method of organizing from Marie Kondo's The Life-Changing Magic of Tidying Up. This post is all about the best way to organize paper files using KonMari's organization method!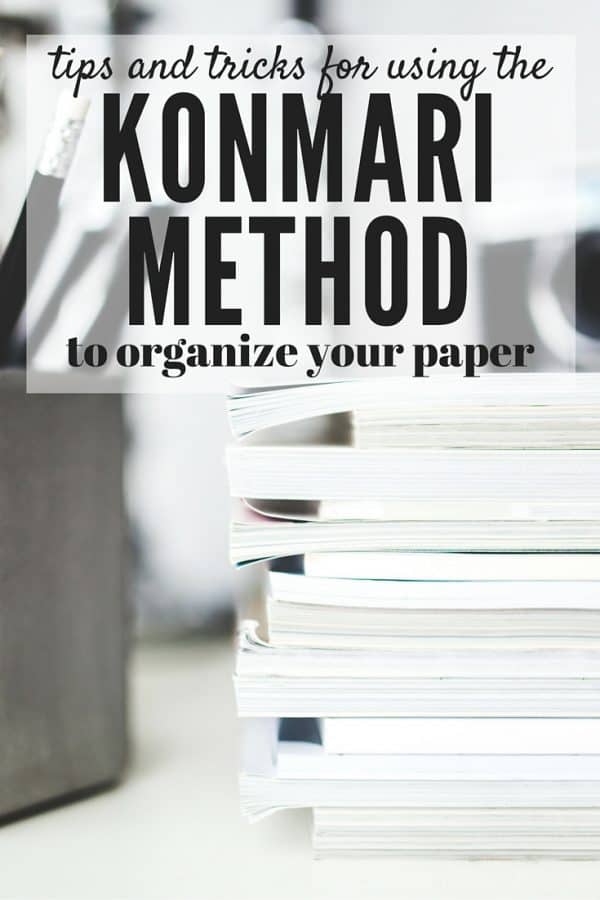 This post contains affiliate links for your convenience. Click here to read my full disclosure policy.
Psst: Don't forget to read all the way to the end of this post for more organization tips + tricks and a FREE organizing e-book and KonMari Method Checklist!
I'm a pretty organized person. However, one area I have always struggled to keep organized is paper clutter. Junk mail. Bills. Forms. Paper. It's the bane of my existence.
I'm the purging type when it comes to clutter, so my natural instinct is "throw away ALL THE THINGS!" Luckily, Marie Kondo tends to agree with me. Seriously…direct quote:
"My basic principle for sorting papers is to throw them all away."
– Marie Kondo, The Life-Changing Magic of Tidying Up
That's my girl.
Thank goodness she's on my side because I am a master of throwing away important papers. (Just ask my husband. I make him crazy with this talent of mine).
Of course, when you're an adult you can't just throw away every single paper that comes through your house. It's just not a good idea and could lead to some trouble down the road.
So, I figured between KonMari and my own obsessive organizing tendencies, I could come up with a system that would work for anyone to organize paper. Here are my steps to help you figure out the best organize paper files and clutter once and for all:
HOW TO ORGANIZE PAPER FILES
Step One: Gather Your Materials:
The first step of this whole thing is to gather all of your papers. Yes, every paper you can find in your whole dang house. Leave the sentimental things out of it for now (that comes later), but grab each and every important and unimportant-looking piece of paper you can find and dump it all in one place.
I chose our dining room table because it's the only surface large enough to contain all of the chaos.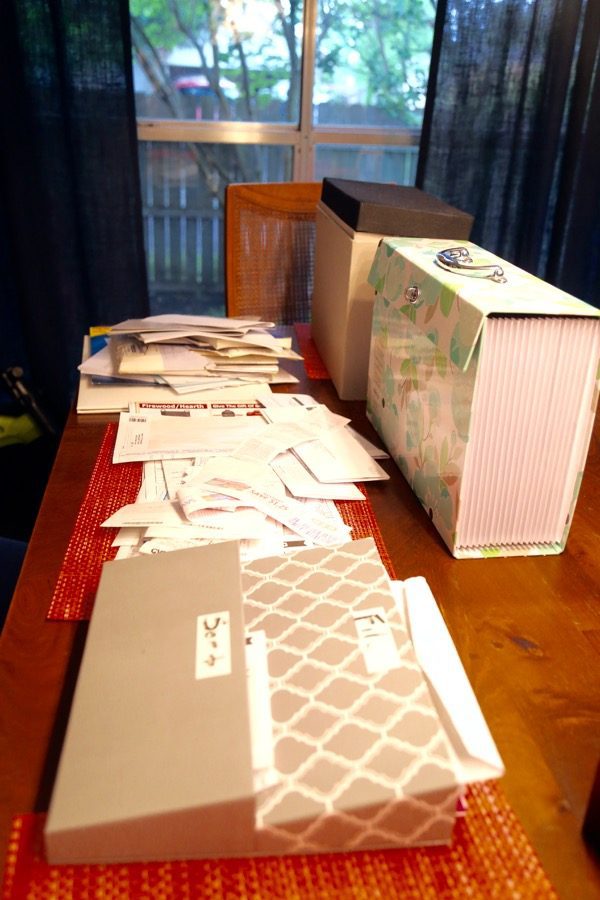 I also grabbed two different paper organizers – Kondo suggests keeping all of your papers in one place, but since I'm starting to have more documents that I need to hold onto for the blog, I figured it would be best to keep blog paperwork and personal paperwork separate. Oh, and I also had my trusty label-maker (seriously, don't know what I'd do without this thing) and some file folders.
Here's a quick round-up of the products to kick start getting your paper files organized:

Step Two: Organize Your Paper Into Piles
I used the home file organization categories recommended in the book to organize paper clutter, which are:
– Paper that needs attention (Bills to be paid, forms to be filled out, etc.)
– Paper you need to keep short-term (Tax documents for the current year, warranties, etc.)
– Paper you need to keep forever (Contracts, mortgage paperwork, birth certificates, etc.)
Normally when I try to tackle this project I'm tempted to organize into so many more categories than this – house paperwork, car paperwork, tax paperwork, etc. etc. etc. But doing things this way meant that I was thinking much more critically about what each thing was and what needed to happen with it, which I think will be key to keeping this system in check!
Step Three: Purge!
This will happen naturally to some extent as you organize the papers (anything that doesn't fit into one of the three categories can be tossed!) but I went through each of the three stacks one more time once I was finished categorizing to make sure that I didn't miss anything that could be shredded or thrown away.
This is where I had to pull Corey into the process and have him help me out – I'm a big-time purger when it comes to papers, but he was an accounting major in college and is much more careful than me. If he had it his way we would pretty much never throw paperwork away…we settled on a compromise of keeping the last two years' worth of tax info, and I tried really hard not to argue about other paperwork that he felt was important and I didn't. In the end, we had quite the stack of trash and shredding, so I'd say we did okay!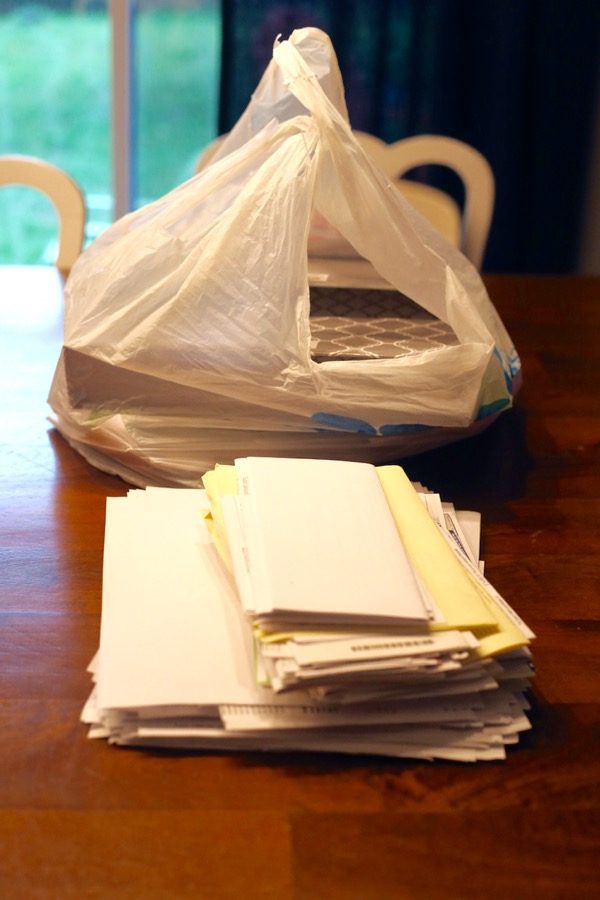 Step Four: Plan, Label, and File Your Papers
Next up was to label my folders in our paper organizer. I stuck pretty much to the categories I sorted my paperwork into, with the added division of tax info for each year so that I can easily purge it when the time comes.
I'm always inclined to label and file into super specific categories (like home, insurance, receipts, etc.), but this exercise helped me to re-think and simplify my categories, and I really think it will be just as easy to find what I need!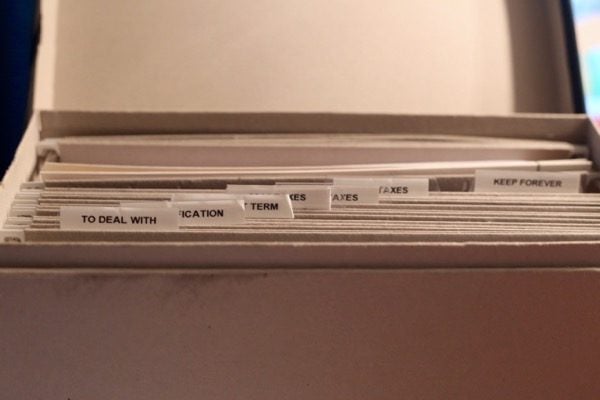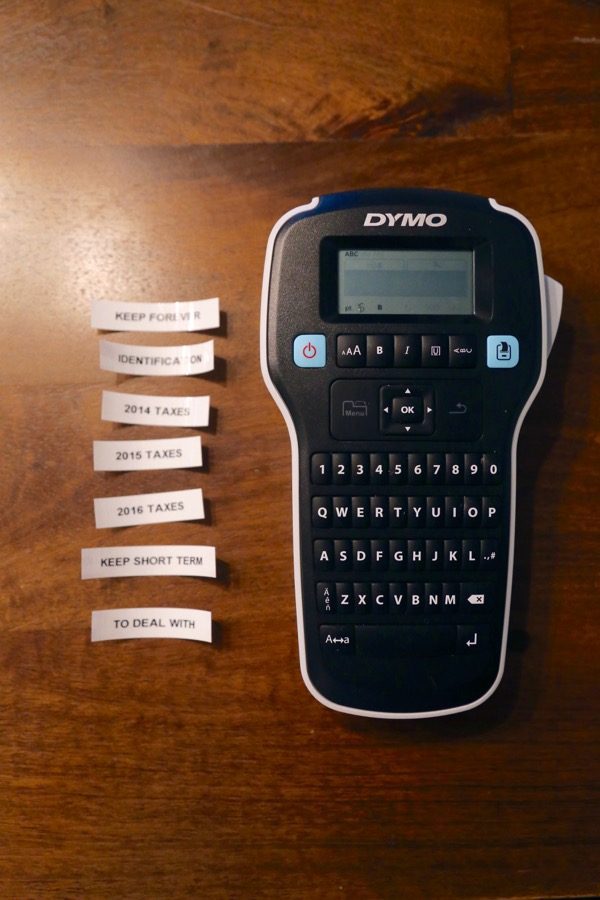 Step Five: Make an Upkeep Plan
This is the part where we've always struggled. We do this purging of paperwork every few years, but so far we've never kept up with maintaining it. Here are a few ways I attempted to remedy that:
I moved our filing box to a more central location. Now that I have a desk area, I am keeping both our main filing box and my blog filing box right next to my desk – they're out of the way but still very easy to access. We used to keep our paperwork upstairs in the guest room and it was always such a pain to access it when we needed it. I think this simple shift will go a long way to helping us maintain it.
I got rid of any other paper storage systems. It sounds counterintuitive, but we used to have a little paper sorting system that attached to our fridge where we could drop papers off until we dealt with them later. But guess what happened? We never dealt with them. They would just stay in that little file for forever because they weren't in our way. Now, we have absolutely nothing to organize and store our paperwork other than our simple filing system, which means all incoming paper will have to be dealt with quickly or else it will just be floating around the house driving me crazy!
We set up weekly "business meetings." I have a recurring alarm that will go off on my phone every Sunday afternoon during Jackson's naptime – this will be when Corey and I sit down and review our budget, look at our finances, and deal with any paperwork that we need to address. Having a weekly date like this helps us to not put it off and say "we'll do it tomorrow" and that little alarm going off every week is a really easy way to keep us on track. Now, all we have to do is grab the "to deal with" file out of the box, address anything that needs to be addressed, and go about our day!
It felt so good to organize paper clutter in our house. Paper clutter is something that makes me absolutely crazy, so I'm thrilled to hopefully have it taken care of once and for all.
Want more tips and tricks for organizing your home?
Here are the rest of the posts in our KonMari Organization series!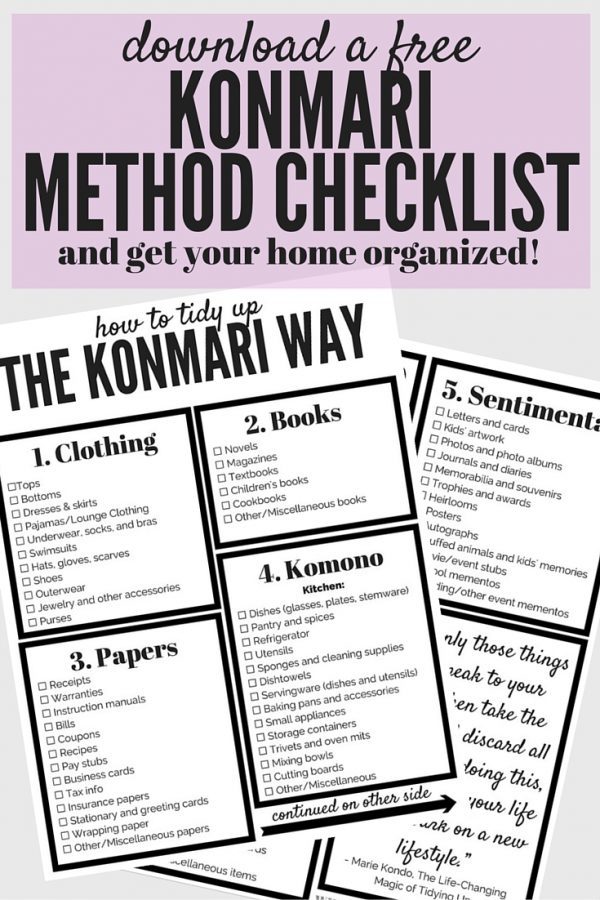 DON'T FORGET YOUR FREE EBOOK AND ORGANIZING CHECKLIST!
If you need some extra help going through this process, I wrote a quick ebook and checklist to walk you through the whole thing in just 30 days. All you have to do is sign up for my newsletter and a link will be automatically sent to you when you confirm your subscription!