How to Spring Clean in a Weekend
Looking for the easiest way to spring clean your home in a weekend? Today, I've got a super simple spring cleaning schedule for you to keep you on track.
Raise your hand if you love to spring clean your home.
Yeah, I didn't think so.
It's that time of year where we all feel like we should be giving our homes a thorough cleaning but none of us really want to. It's exhausting. So, I decided to make a little checklist to help keep us on track. Because I'm an Enneagram 1 and there's nothing I love more than a good checklist.
This isn't a spring cleaning checklist for the clean freak who wants to make sure every inch of the house is sparkling.
I mean, we're not even gonna clean the windows.
(Unless they're really dirty. Then clean them. But they're probably fine.)
Easy Spring Cleaning Schedule
This is a spring cleaning checklist for those of us who want our home to be clean but just don't have the time to get it all done. For the working mom who is desperate for a clean home but doesn't even know where to begin on the 10-page list of essential spring cleaning to-dos that she saw on Pinterest. This is for the stay-at-home mom who always has a toddler or three clinging to her legs and can't imagine having the time to dust her refrigerator coils (where even are those?).
This is the lazy girl's guide to spring cleaning.
You can do it all in a weekend, and you'll still have time to grab a margarita on the patio of your favorite restaurant. Or catch up on the latest episode of The Last of Us. Or both. We're gonna focus on the items that will make an impact, ignore the ones that won't, and high five each other for letting go of unrealistic expectations.
This is my kind of spring cleaning.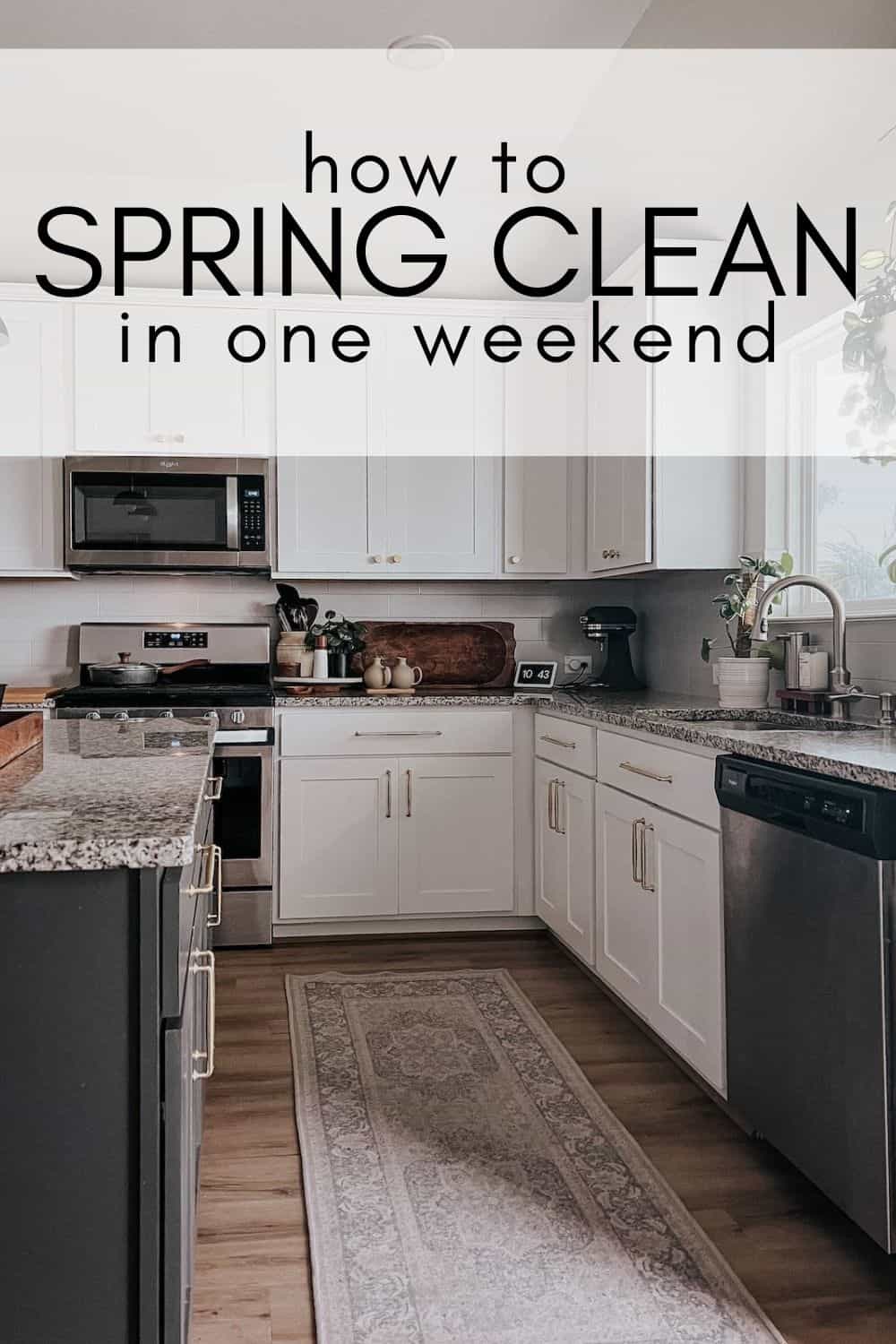 How to Spring Clean in a Weekend
Essential Cleaning Tools

Here are a few of my favorite cleaning tools. These are sure to make the job easier, and maybe a little more enjoyable, too!
This super simple schedule will walk you through giving your house a light spring cleaning over the course of one weekend. It's created for a working parent, meaning the schedule starts Friday afternoon and goes into Sunday evening. You should plan on spending a large chunk of your time on Saturday and Sunday cleaning, but Friday is a bit lighter to account for being at work all day!
DAY ONE (Friday)
Do a quick clutter sweep of your home, and get all of the dishes washed. It's going to be a lot harder to get the deep cleaning done if you're behind on the day-to-day tasks. Take a bit of time to put all the kid toys away, gather all the laundry, etc. I highly recommend recruiting your family to help with this part! While you're working, toss a load of laundry in.
Next, throw out any old leftovers in your fridge – this will make it much easier for you to clean the refrigerator later this weekend.
Finally, do a quick run through the house with your vacuum and/or broom. Again – if you want the house to actually feel clean when the weekend is over, you need to make sure that the basics are taken care of. If you have the energy left to mop afterward, go for it.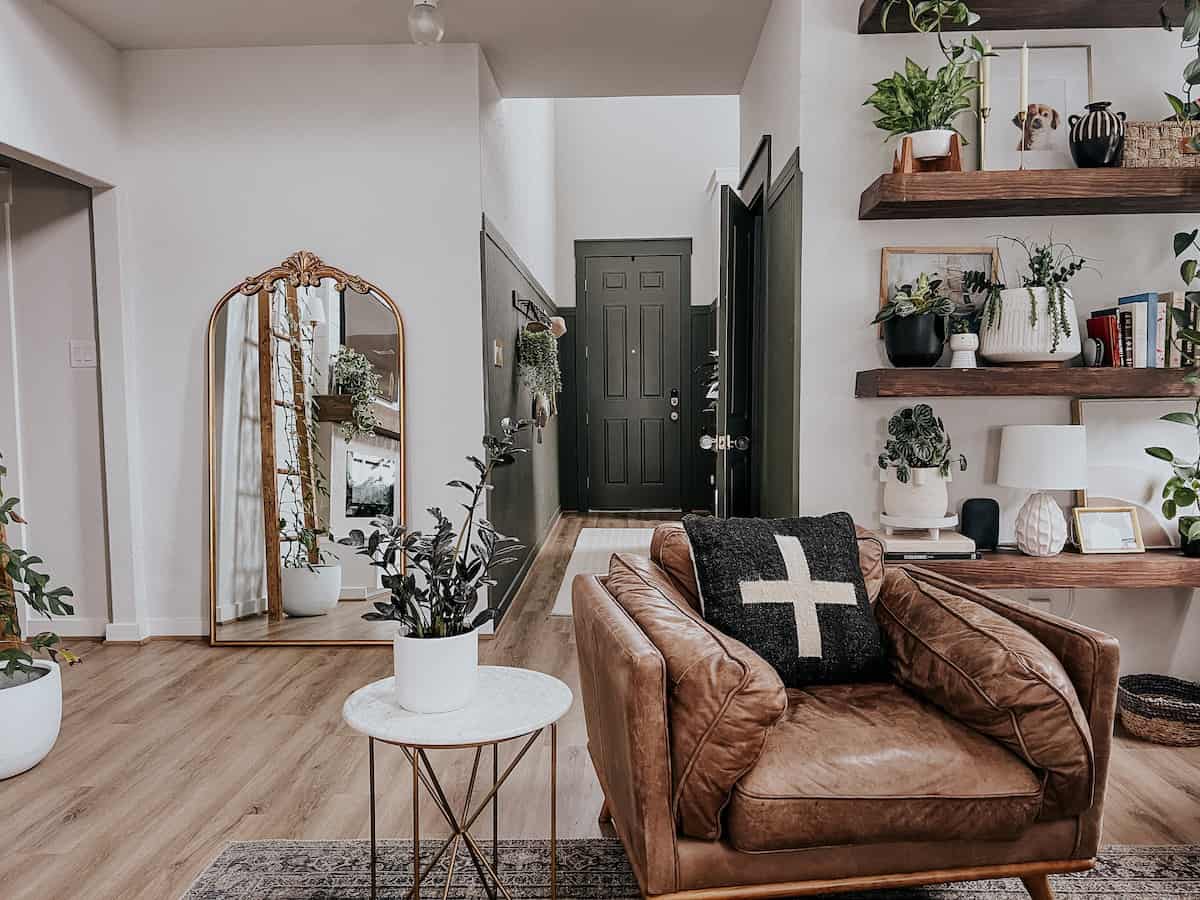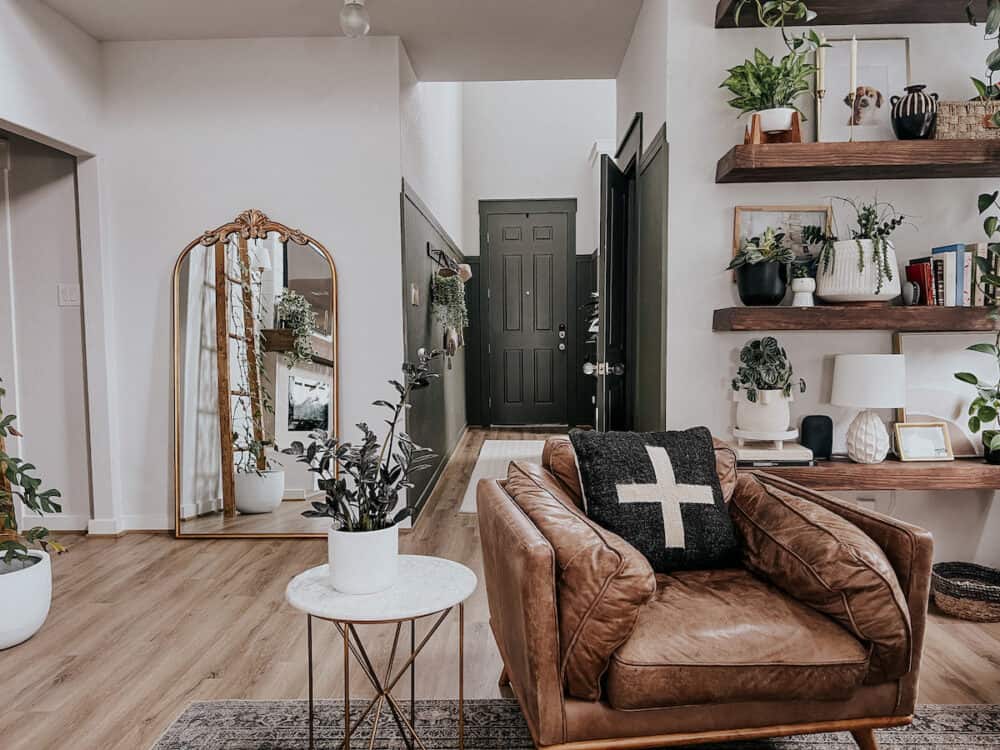 DAY TWO (Saturday)
Wash all of your sheets, duvet covers, and other bed linens. You should be doing this every week or so, but just in case it's a good idea to tackle it while you're already cleaning! Plus, after a long day of scrubbing and sweating, you're really going to appreciate climbing into a nice clean bed!
Time to clean your cabinets. I don't know about you, but mine start to get really grimy looking after a while! I just like to use general cleaning spray and a microfiber cloth to give them a quick rub-down. Use a magic eraser for any particularly stubborn parts!
Clean the fridge. This is one of my least favorite jobs in the world, but it's so satisfying! I like to pull everything out onto the counters and thoroughly wipe it down. While you're at it, go ahead and get everything nice and organized. I like to designate one shelf for leftovers, one for breakfast stuff, one for fruits and snacks, etc. The more organized you are, the easier it is to find things! Click here to see how I recently reorganized my fridge.
Clean the stovetop. If you've got a gas stove, my tip is to toss all of the parts into a sink with nice hot soapy water and let it soak for 15 minutes or so. Then, I like to use this cleaner to clean the top of the stove.
Toss a small bowl full of one part water and one part white vinegar into the microwave with a toothpick or wooden spoon in it (to prevent it from exploding all over the microwave and making your problem worse). Microwave on high for 5-10 minutes (the dirtier the microwave, the longer you cook it) and then wipe it clean. There will be almost no scrubbing required – it's like magic, promise!
Tackle the oven. Ugh. Cleaning the oven. It's the worst, I know. But you'll be glad you did – and I'm gonna make it easy on you. You don't even have to do any scrubbing today – just make this the last thing you do before bed. Pull the racks out, mix up a paste with baking soda and a few tablespoons of water and spread it all over the oven. Next, take the oven racks, lay some towels down in the bathtub (so they don't scratch it up), and fill it with some hot water and a fair amount of dish soap. Toss the racks in there to soak. Then? Go to bed! We'll deal with the rest tomorrow.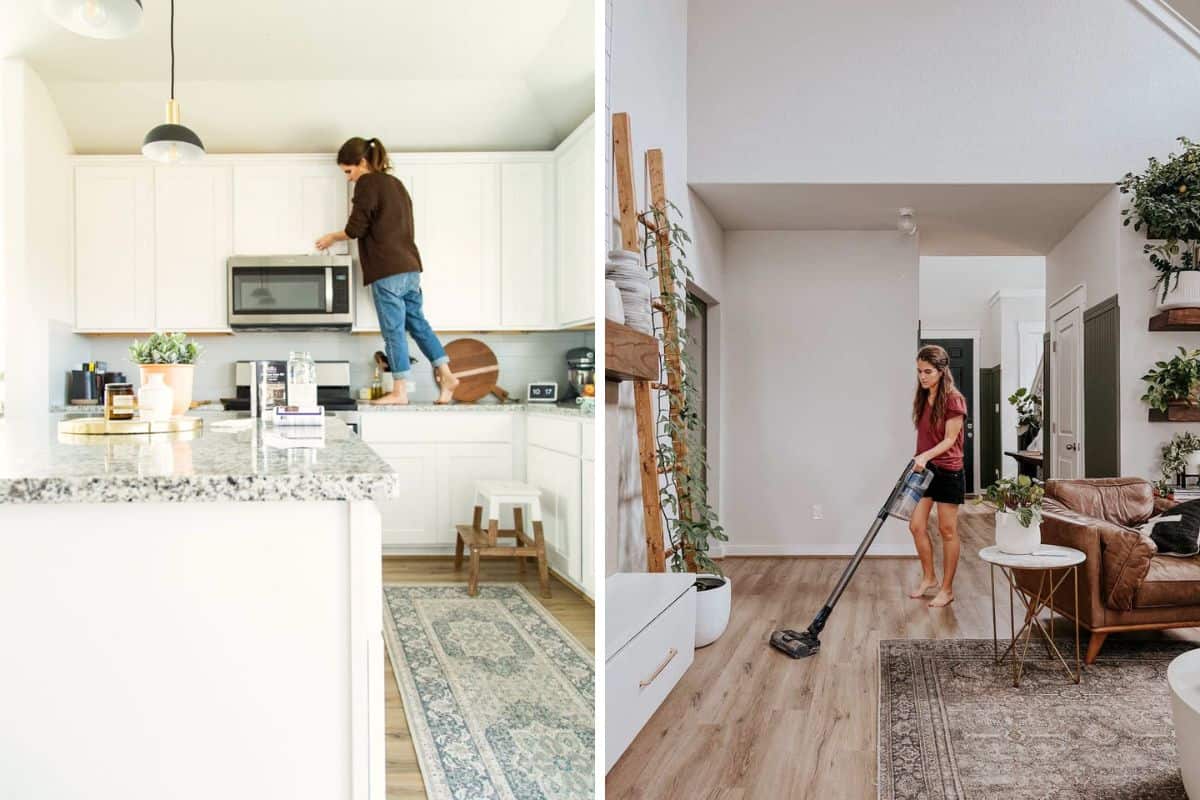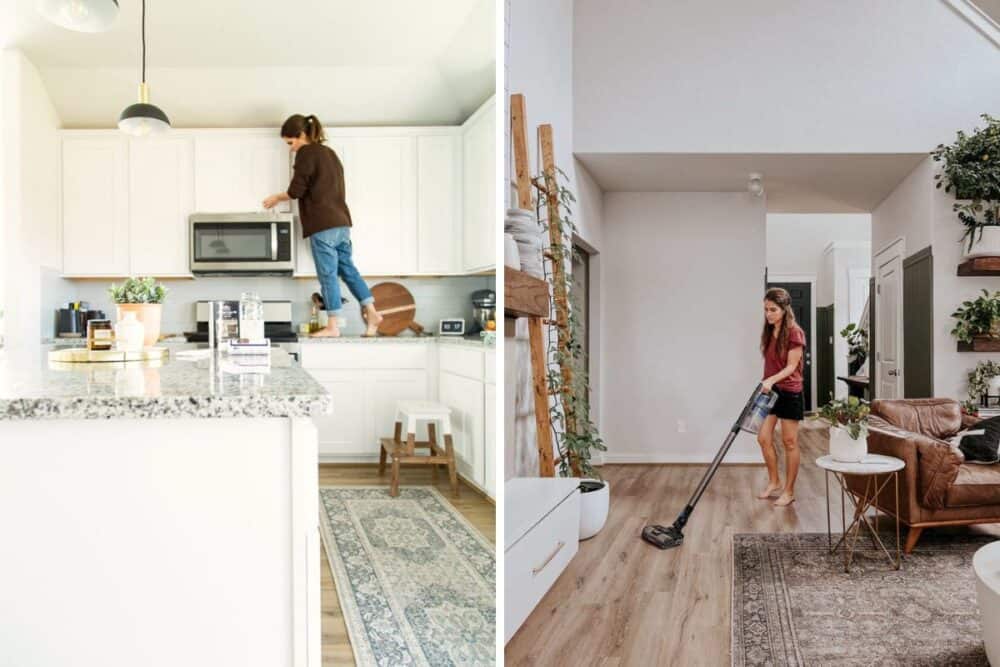 DAY THREE (Sunday)
First things first, let's finish up the oven. Give the racks a good rubdown with a sponge and rinse them off. Use a damp cloth (or even a silicone spatula) to scrape out the baking soda paste from the oven. Use an old spray bottle to apply some white vinegar to any spots that didn't come up easily and scrub. Repeat as needed until it's nice and shiny! That wasn't too painful, was it?
Do a quick pass through the house and dust everything. Shelves, tabletops, nightstands – get it all done. Dusting is one of those jobs that feels monumental but only takes a few minutes, so blast some good music and dance, dance, dance your way through it.
Now, the ceilings and fans. This is something I tend to ignore but it makes a huge difference. Grab a lint-free cloth, stand up on a chair or stepstool and go to down wiping down any dusty spots on your ceiling. I like to use a pillowcase to clean the fan blades off (put the blade into the pillowcase and use that to wipe any dust off without throwing it all around the room). I find that our ceilings get particularly dirty right next to the air vents, so this is the area I focus on!
Dust the baseboards. If you've got a toddler, this is a great job to give them to help with. If not, just throw on a good podcast and go to town. I haven't tried this, but I hear if you use a dryer sheet to dust them with, it helps prevent dust from gathering for a while afterward!
Do a thorough cleaning of the bathrooms. I don't know about you, but I feel like all of the bathrooms in our house are never clean at the same time. It feels like such a big, annoying job that I always put it off and then only end up with time to clean one. But in reality, it doesn't take that long and your home will feel way cleaner if you get it all done at once.
Run to the store (or, bonus points – send your partner!) and grab some fresh flowers. While you're at it, grab a frozen pizza or something equally easy for dinner. And some cookies. You deserve it, dammit. When you get back home, light some candles, spread the flowers out, and bask in a job well done!
And that's it! I made a simple little checklist to help keep you on track – you can print it out, or just pin it for later (you know, when you actually feel like tackling your spring cleaning). Just click here to access the PDF version!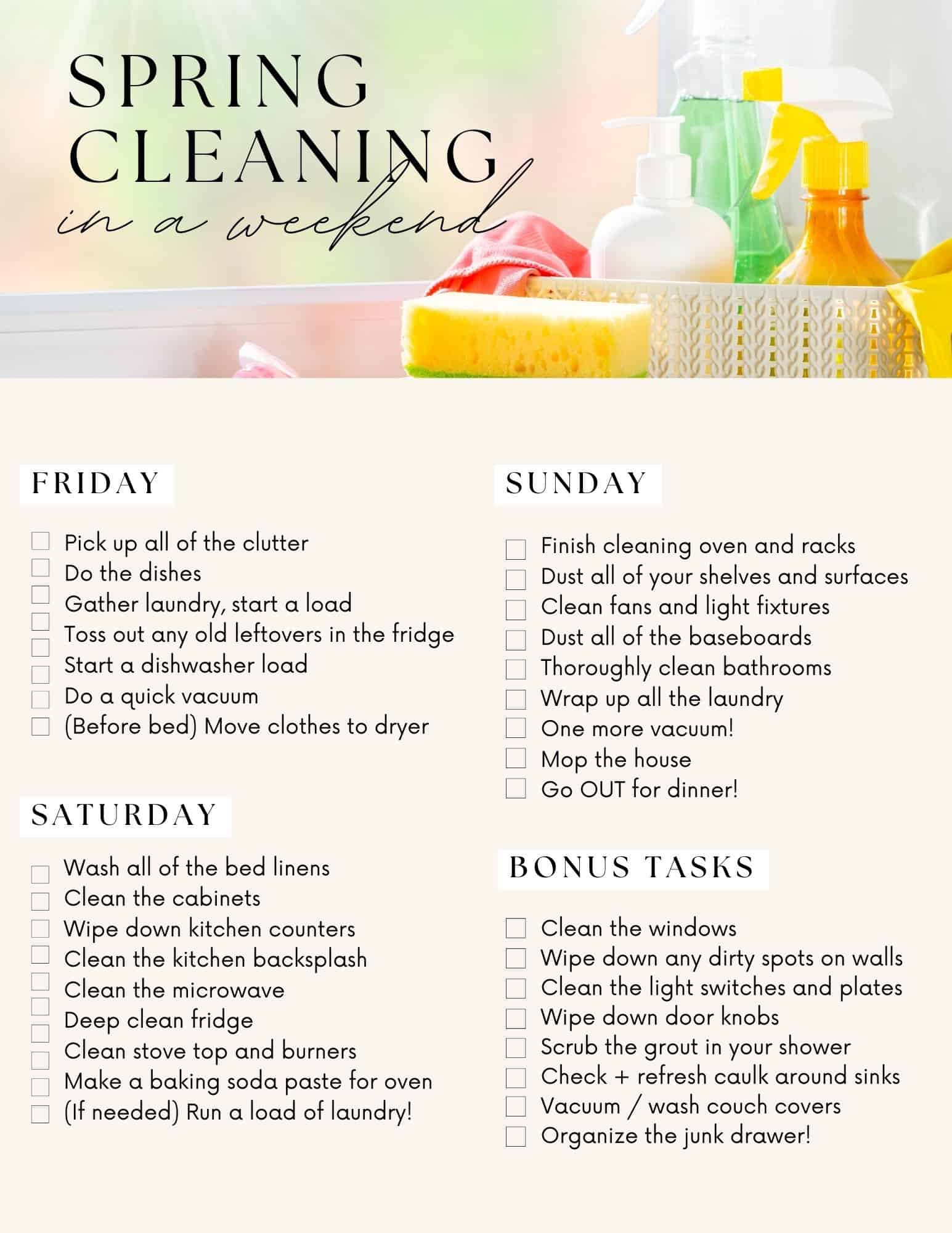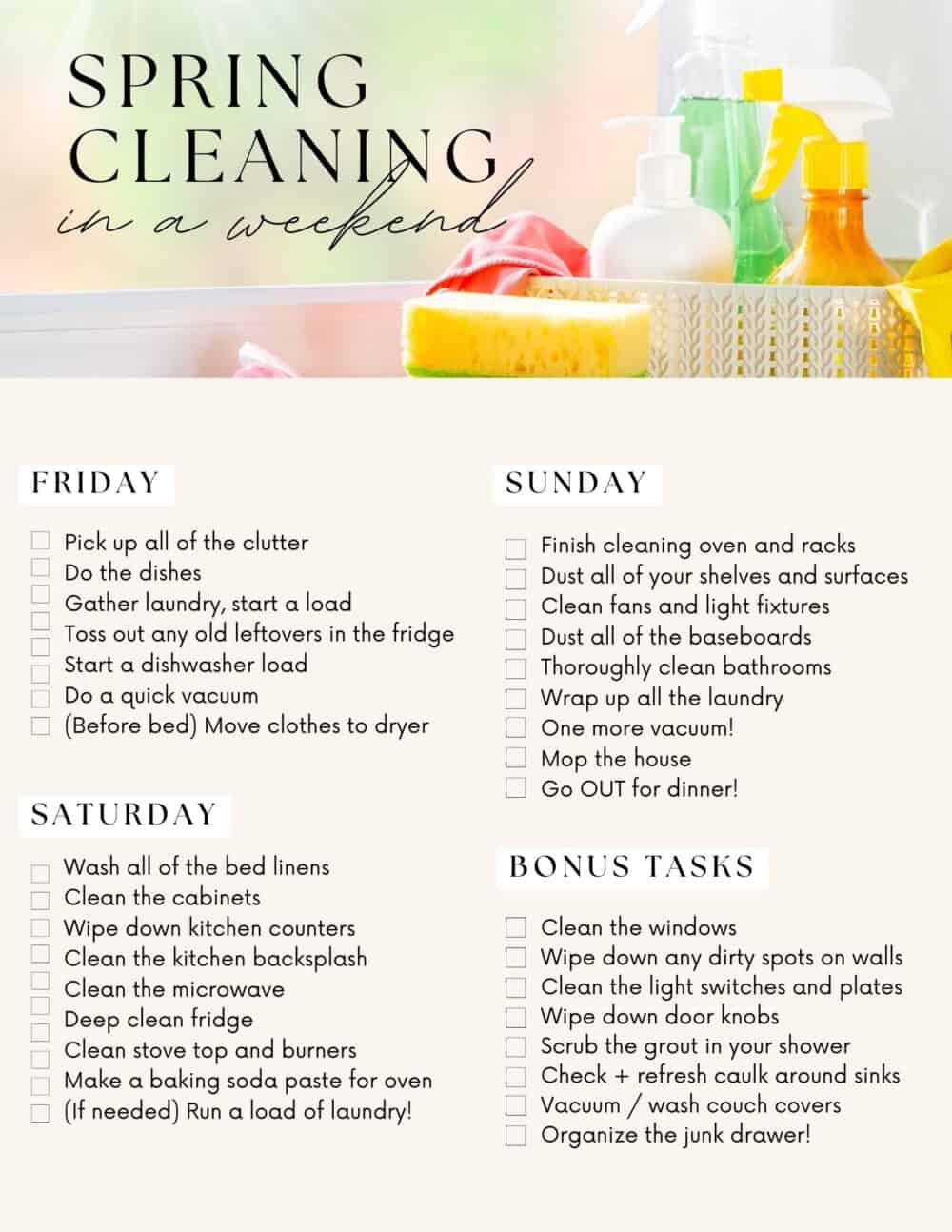 What are your best spring cleaning tips?