This post on Big Lots Christmas Trees is sponsored by Big Lots but all opinions are 100% mine! Thanks for supporting the brands that support Love & Renovations! 
This is by far my favorite time of the year – the air is crisp, Thanksgiving is on the horizon, and we're mere days away from the full-blown, holly-jolly Christmas season. There's just something about all of the excitement and love in the air that just satisfies my soul, and I basically walk around for the entire months of November and December smiling like Buddy the Elf.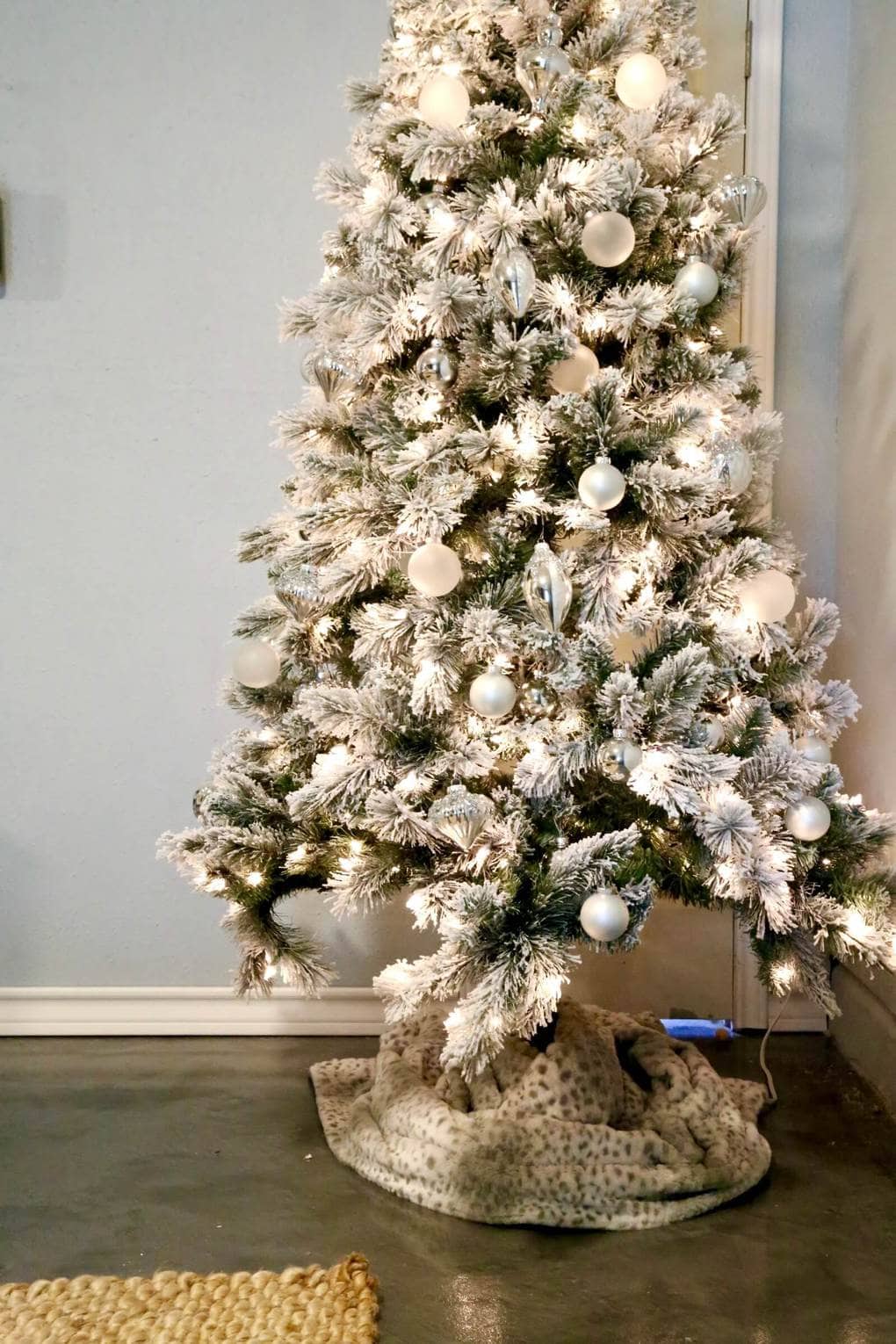 Normally I don't decorate at all until after Thanksgiving, but for some reason this year the Christmas spirit has hit me a little bit early. Maybe it's the fact that we've had a rough month so far and I need some cheer in my life, or maybe it's just the fact that Jackson's excitement about Santa's arrival is so infectious that I can't help but join in. We haven't actually decorated our entire home for Christmas yet, but I have to admit that we did put up our first Christmas tree in the garage this past week – and it's from Big Lots!
Notice I said first? You see, if you haven't been around for long you might not know that Corey and I are a little, um, enthusiastic about decorating for Christmas. Over the years we have slowly accumulated a total of five (yes, five) Christmas trees in our home. I like for every room in the house to feel fully decorated during the Christmas season, and I think we've finally achieved our Christmas tree limit.
Big Lots Christmas Trees – Our Experience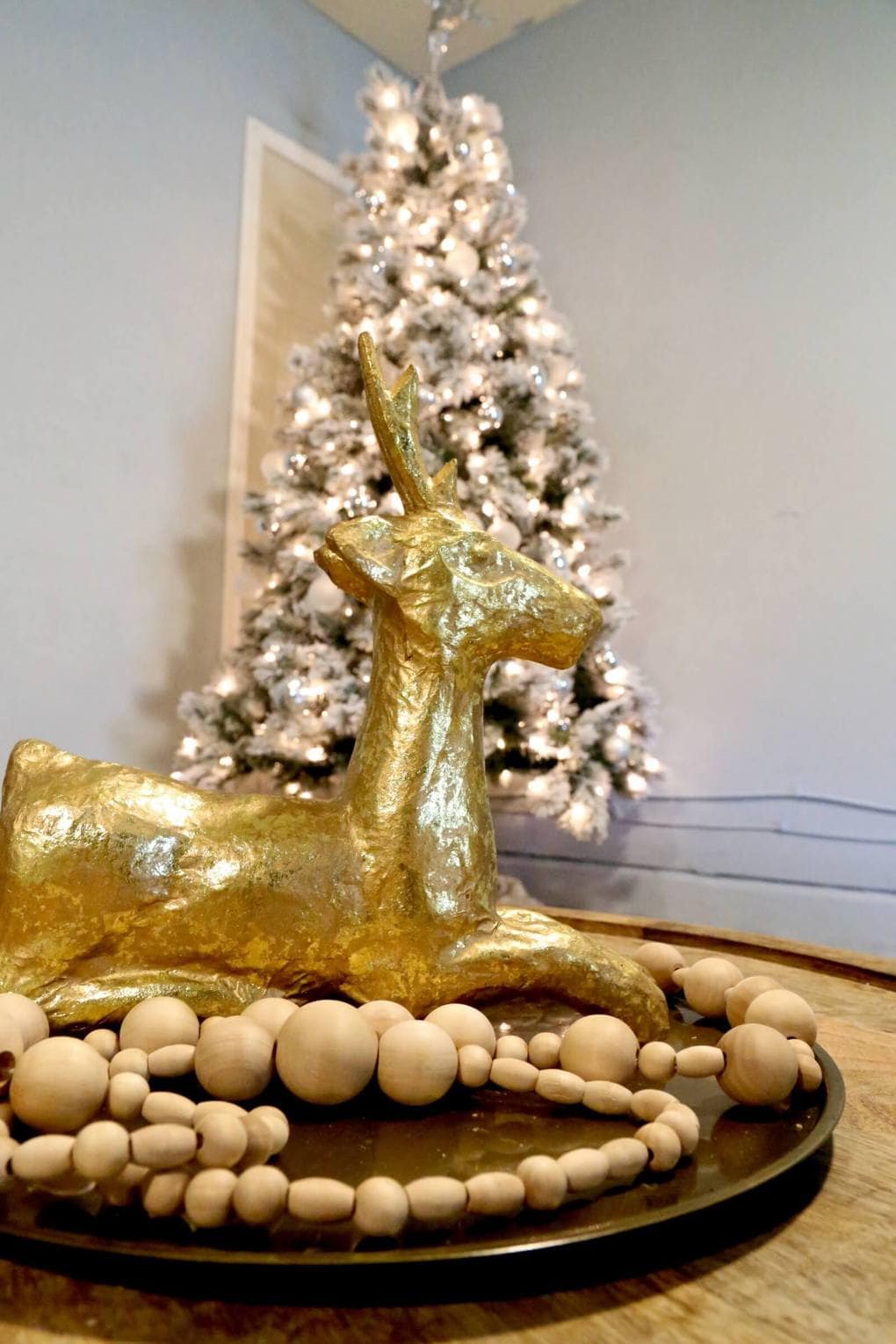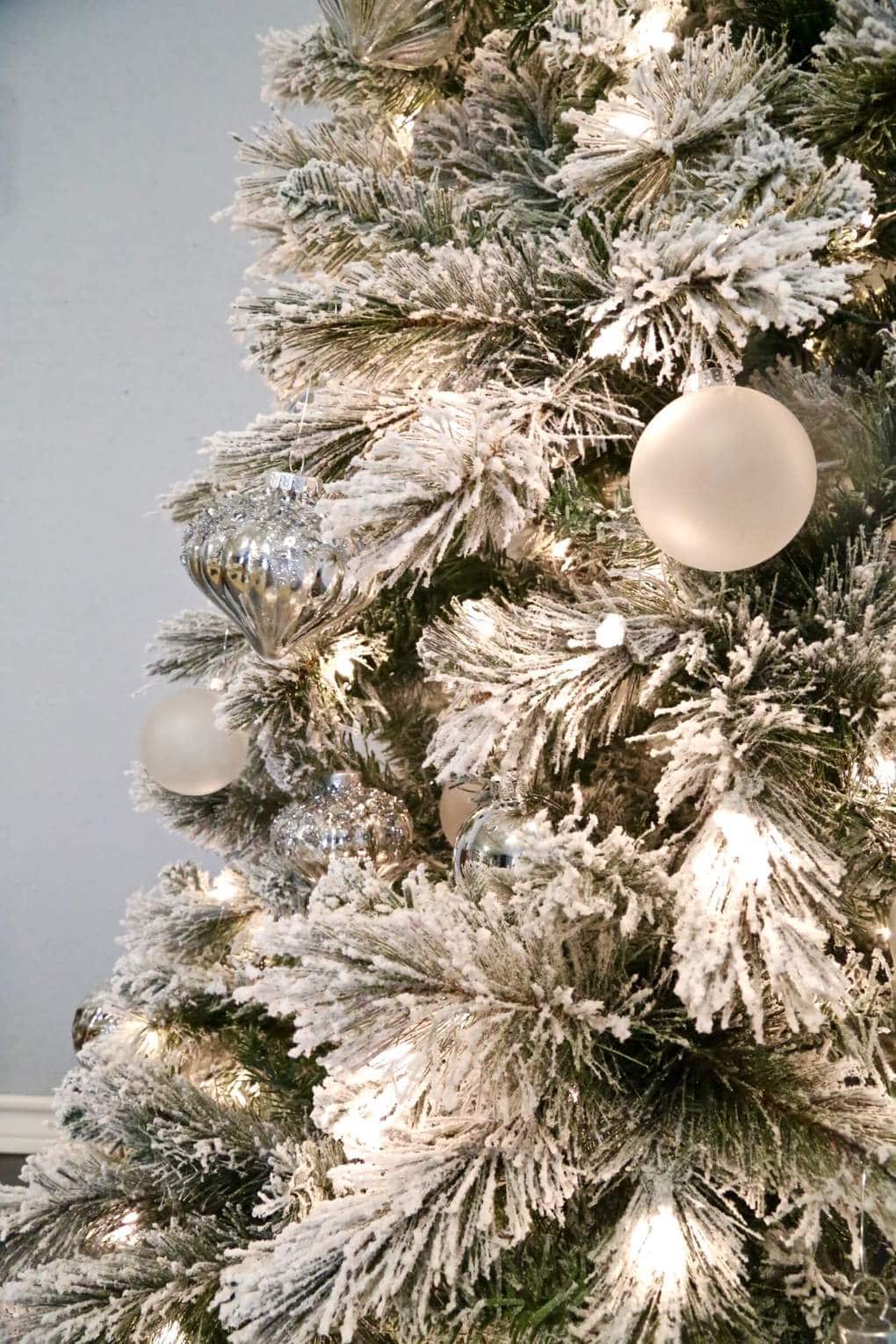 The media room tree is the newest addition to our collection. It's one of the Big Lots Christmas Trees, and the opportunity to do this post came at the perfect time since we just finished up our big garage-turned-media-room renovation and have been spending a lot more time in there. This tree makes me so happy. I have a major crush on flocked Christmas trees, so I just about fell over when I saw the options for Big Lots Christmas trees – I knew this one would be coming home with me immediately. I love that it doesn't look super cheesy like some flocked trees can…it just adds a nice little sparkle and shimmer to it that makes it feel really special. I let Corey pick out all of the ornaments for this guy, and he decided to go with an all-silver look. I really love that decision because it fits so well into the room and helps brighten up this windowless room.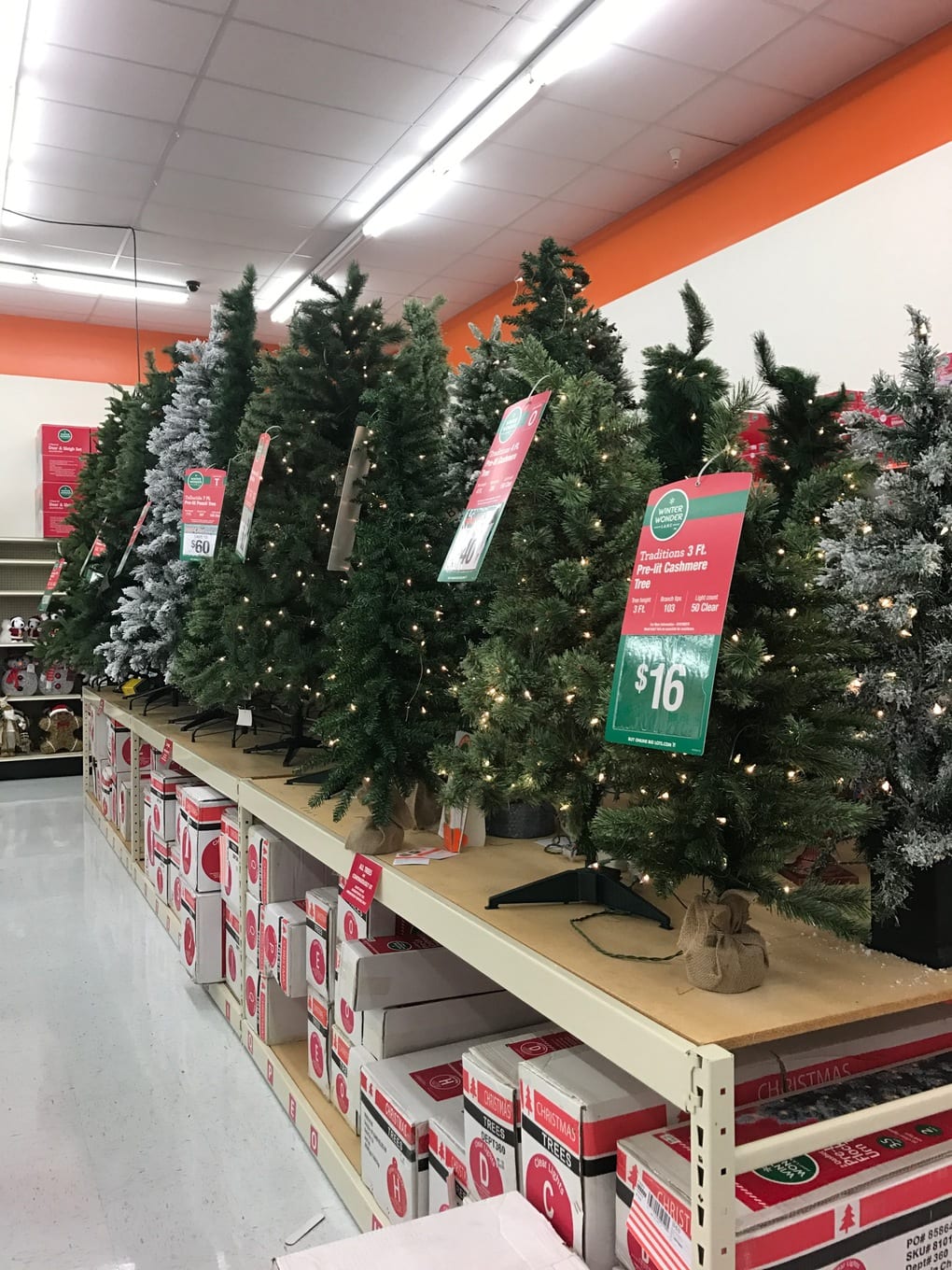 Big Lots had quite a selection of Christmas trees and decorations, and the ornament selections were great too. I was really pleasantly surprised with how many big and small Christmas decorations they had, and we had no problem getting everything we needed for our tree with just this one stop. We couldn't help but get a little nostalgic while we were shopping because our very first Christmas decorations ever were from Big Lots! Corey's freshman year of college we headed to Big Lots together and stocked up on a little tree and a bunch of decorations for his tiny apartment – I'll spare you the photos because our decorating game wasn't very strong back then, but we were so proud of our first tree!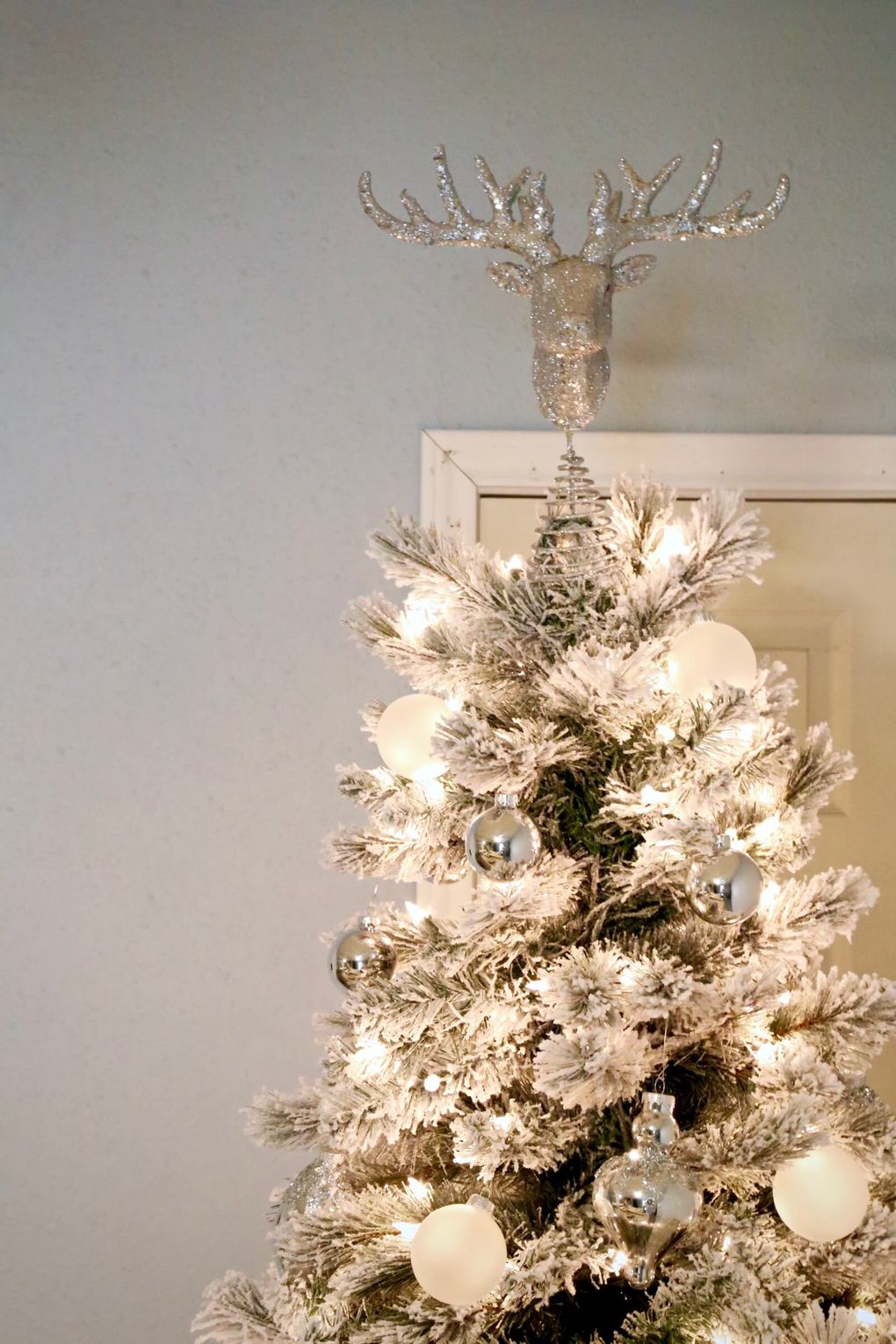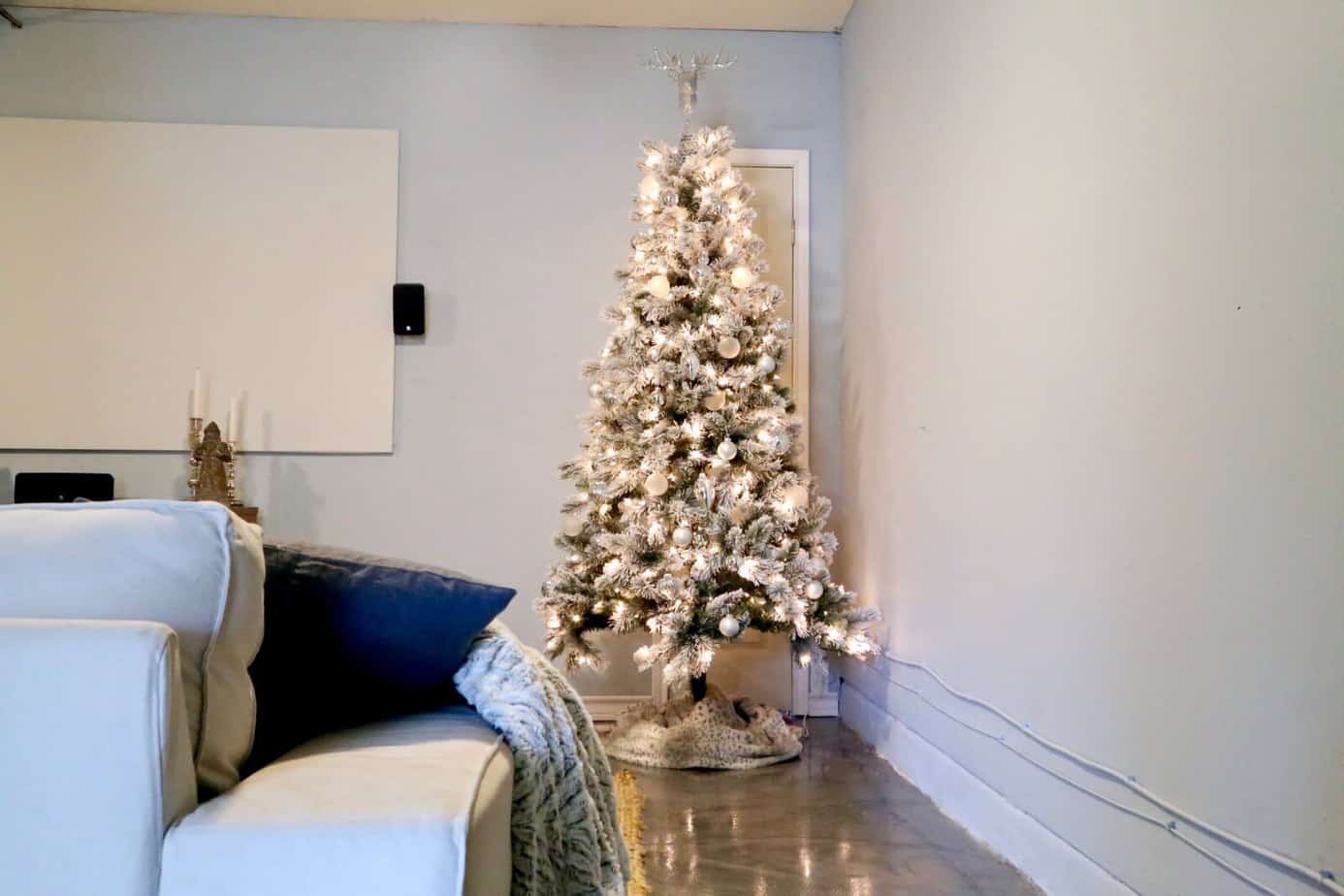 Over the years, I've learned that I can have a tendency to go a little overboard when it comes to Christmas decorations, so this year I'm working on keeping things (a little) more restrained. We haven't finished decorating this whole room yet, but just the tree and a couple of small touches around the room go a long way to making the room feel cozy and Christmas-y. Here are a few of my favorite holiday decorating tips for spaces like this – and remember, Big Lots Christmas trees aren't the only gorgeous Christmas decorations they have – their options for other Christmas decorations are pretty amazing, too!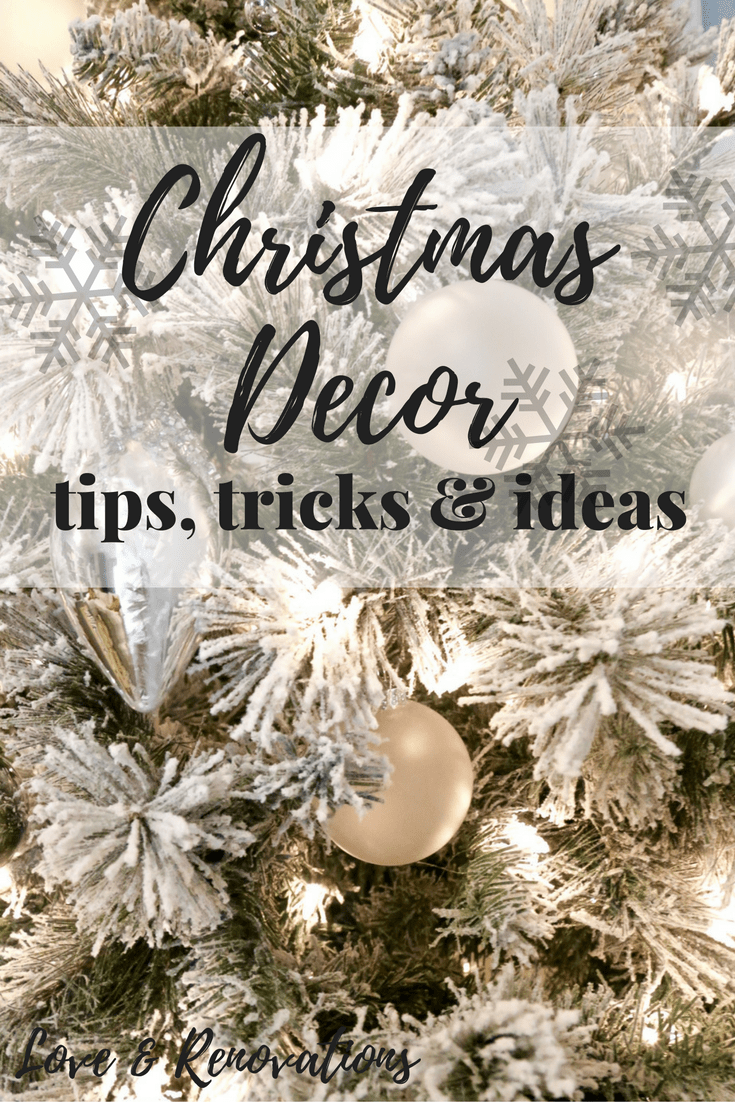 Add lots of texture. To me, Christmas decorating is all about faux fur, luxurious fabrics, and lots of shimmer. I would call our Christmas decor style rustic-glam – we like a lot of glitter, but we also use a lot of wood textures and traditional colors. So far, this room focuses mostly on the "glam" side of things, but as we get more of our decor out we'll be sure to add some different textures and styles in here to balance things out a bit.
Think outside the box. Notice the tree "skirt"? It's a blanket! I fell hard for Big Lot's collection of faux fur blankets, and I love that after Christmas is over we can keep using it as a regular throw. Using a blanket as a tree skirt has a more casual look (which helps dial the look back towards our more laid-back style) and there are way more options for throw blankets than there are tree skirts – the sky's the limit!
Decorate slowly. In the past, I have generally pulled out all of my decor on one day and just spent the entire day decorating. Once I've put something in place, it pretty much stays there – often several years in a row. However, in all of the time I've spent experimenting with styling lately, I've really learned that it's a slow process and should evolve over time. This year, I'll probably bust out the Christmas stuff a day or two before Thanksgiving and spend several days getting everything perfect instead of trying to knock it all out on Friday.
When it comes to ornaments and lights, more is more. I don't think I'd be exaggerating if I said you practically can't put too many ornaments on a Christmas tree. They look fabulous when they're stuffed full of baubles and balls, and the same goes for lights! A variety of shapes and colors also tends to look best – refer back to the "texture" tip! I like for a tree to look cohesive, but it's always really beautiful to have a good variety of shapes and styles for the ornaments.
Don't forget the whimsy. I'm all about adding an unexpected touch here or there, and we captured that perfectly in this room with the reindeer tree topper. I love that it's nice and sparkly, so it ties in really well with the rest of the tree, but it's a fun little touch that you don't see very often on a tree. It also fits really well with the general theme of our Christmas decor for the whole house – we decorate with lots of trees and lots of deer!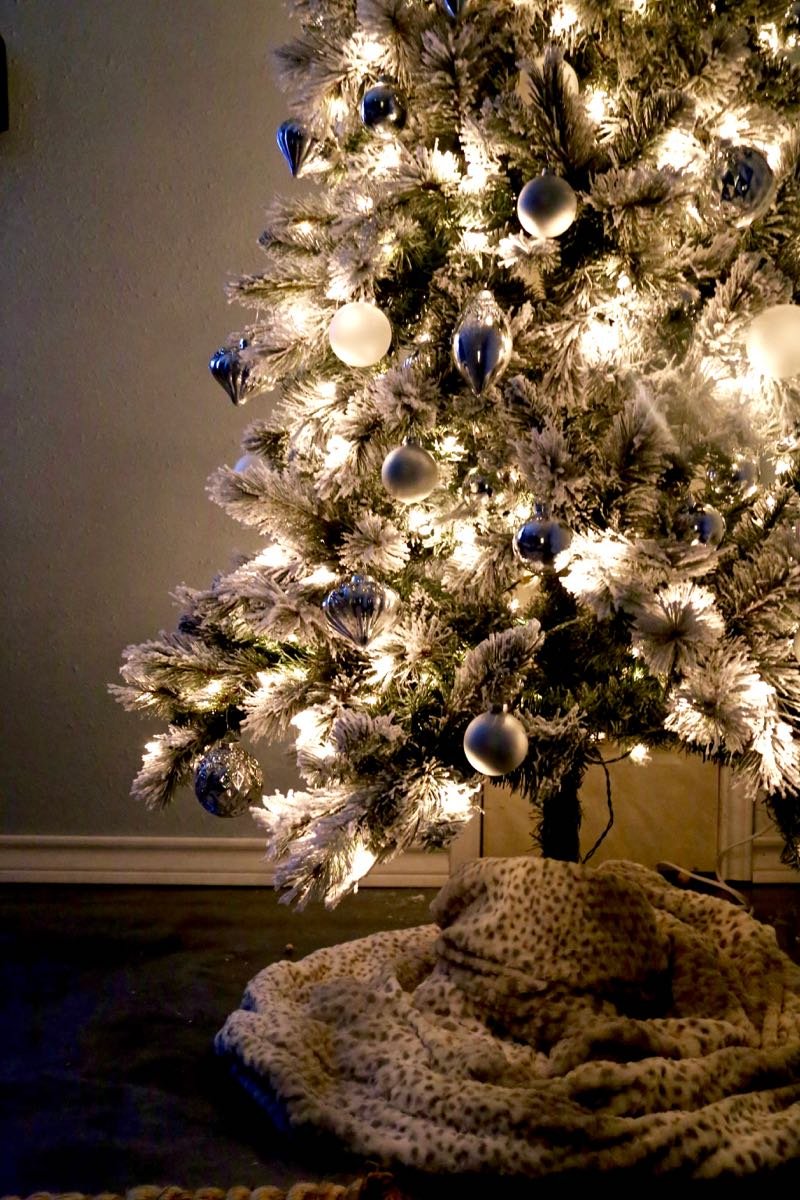 Have you started decorating for Christmas yet, or will you wait until next week? Have you ever checked out the Big Lots Christmas trees? You might be surprised at how big their selection is!
Want to see the rest of our home all decked out for Christmas? Here's part one of our Christmas home tour, and here's part two!