Are you ready to see one of the coolest things you've ever seen?
I'm so excited to share this with you because Corey is learning a new tool and we're so pumped about the possibilities of what we can do with this thing. It's basically the most awesome thing we own.
Meet our new lathe.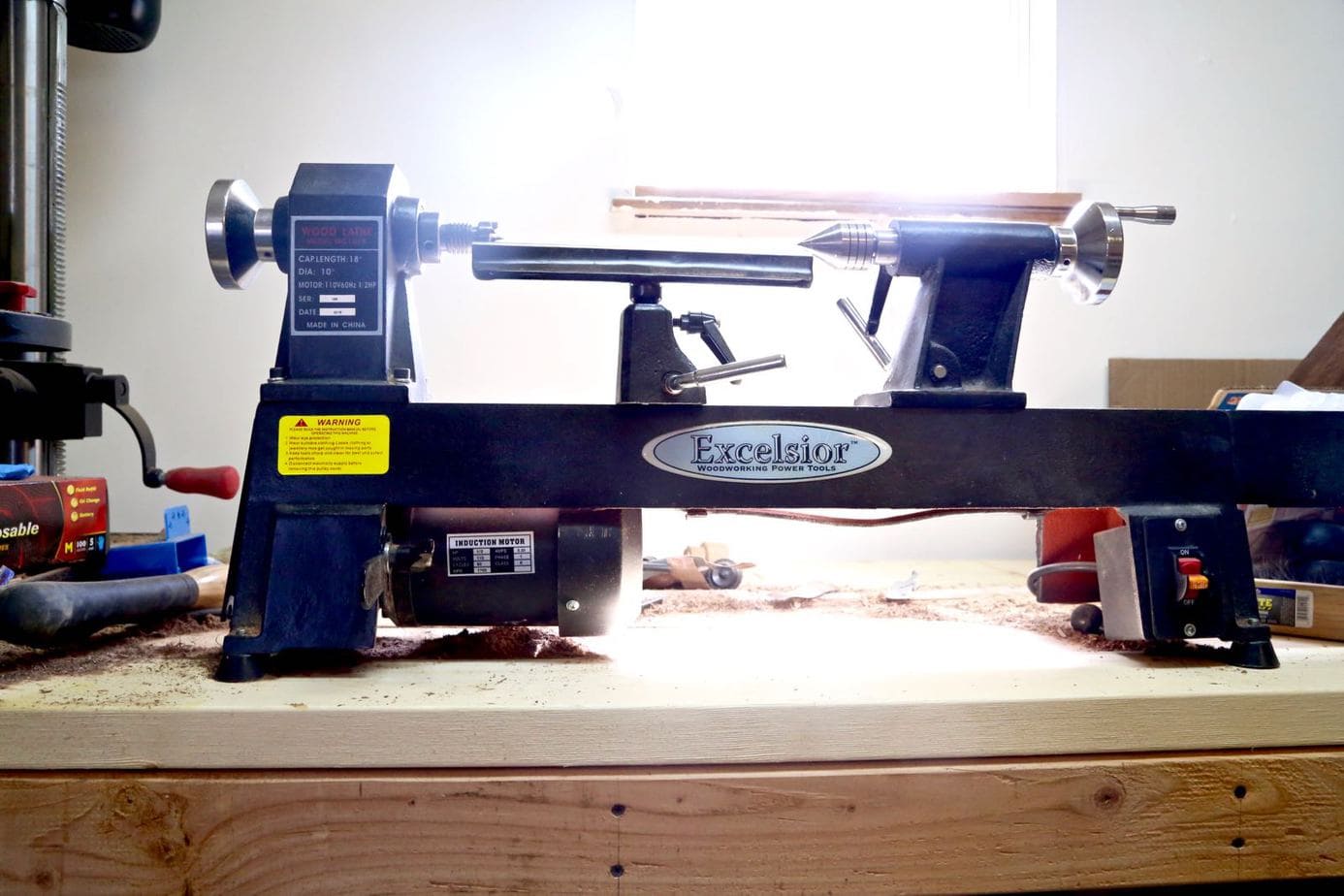 This post contains affiliate links, and is sponsored by Rockler. All opinions are 100% mine! Click here to read my full disclosure policy.
Don't know what a lathe is? That's okay, I only know because I grew up with a woodworking father. A lathe is a tool used for wood turning, or shaping wood by rotating it around while using a tool to whittle it down. Don't worry – I've got a video that'll help you understand a little better if that sounds as clear as mud. But, um, bottom line – it can make things like these beauties: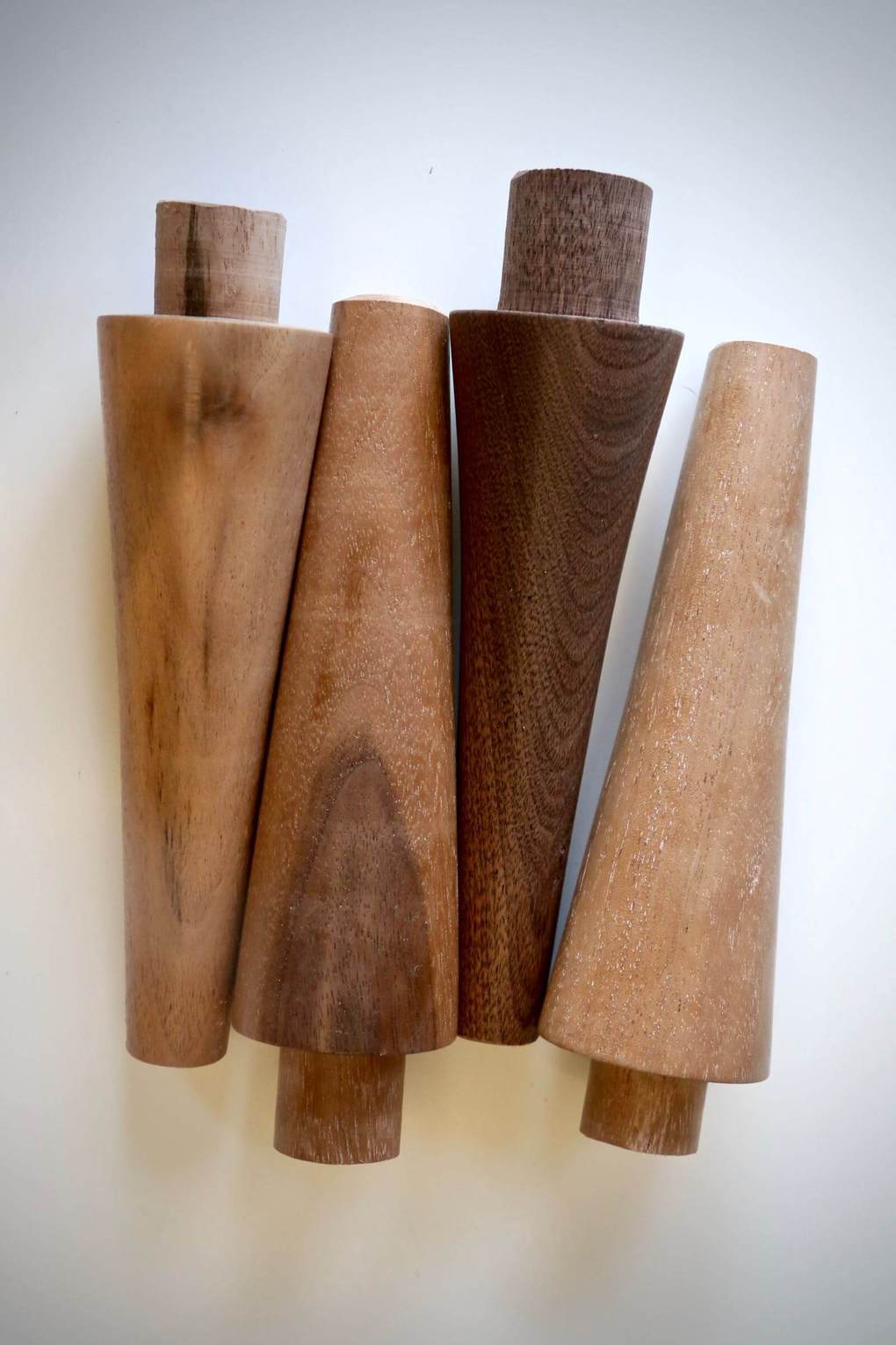 DIY Mid-Century Modern Furniture Legs With the Lathe
Can you even handle it? Those are the legs we'll be putting on the new bar cart Corey is building for our kitchen (which, fingers crossed, I'm hoping to reveal next week!) and they're so amazing. I wanted to do a post today to introduce you to the lathe and how awesome it is, because Corey's really wanting to get into more intense woodworking projects over the next few months so we'll all need to be familiar with how this puppy works and what it can do.
Corey got to try a lathe for the first time when we went to Haven back in August. His face basically turned into a heart-eyed emoji when he realized that Rockler was there, and I think he would have spent all weekend at their booth if he could have.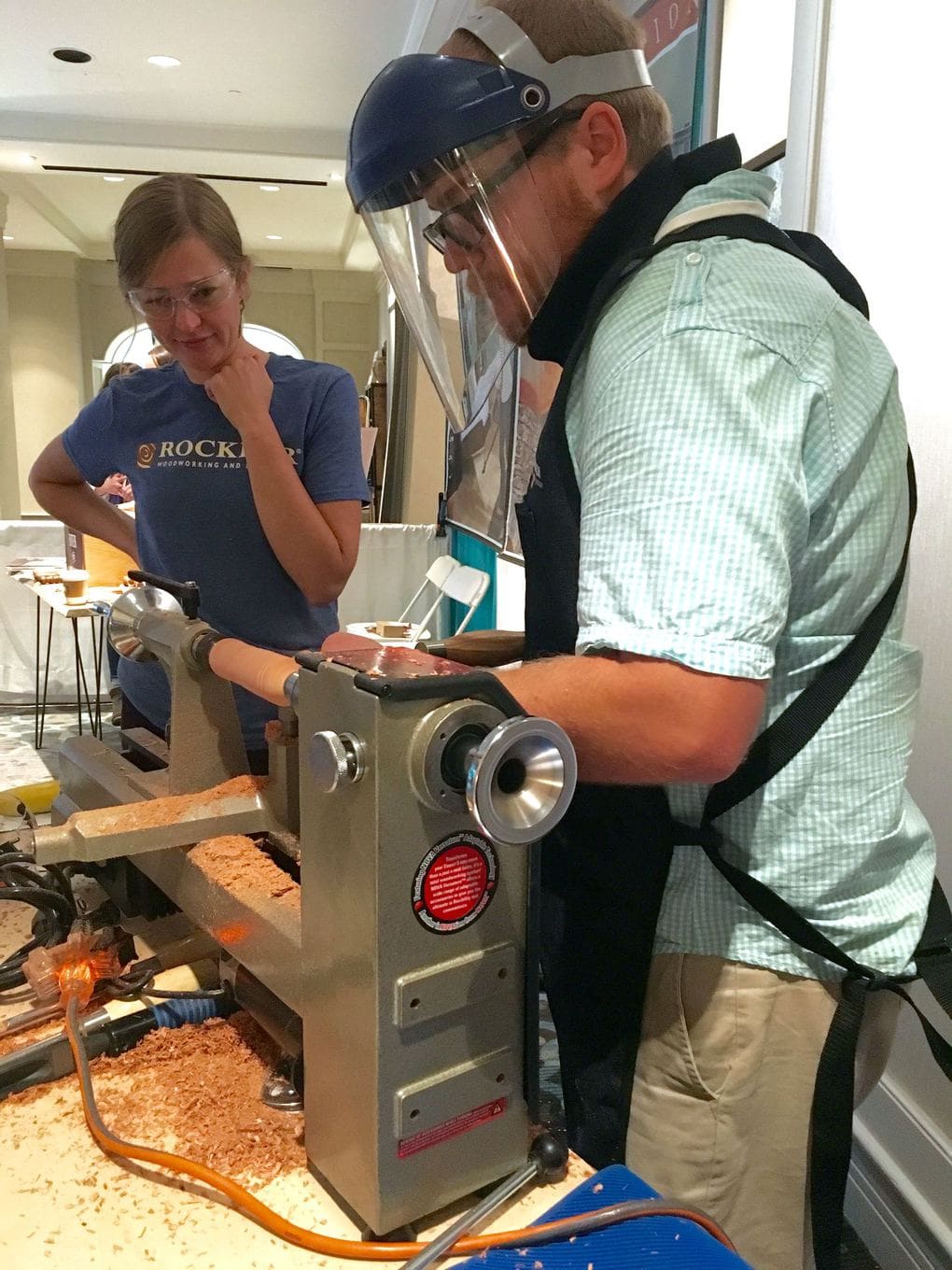 The people we met were so friendly and helpful, and we immediately knew this was a company we would love to work with. We kept in touch with them, and when we got back from Haven we were thrilled to have them agree to send us a lathe to try out for ourselves. I think it was all he talked about to anyone who would listen for a good two weeks straight.
Okay, now that you have the backstory, let's chat about how it works.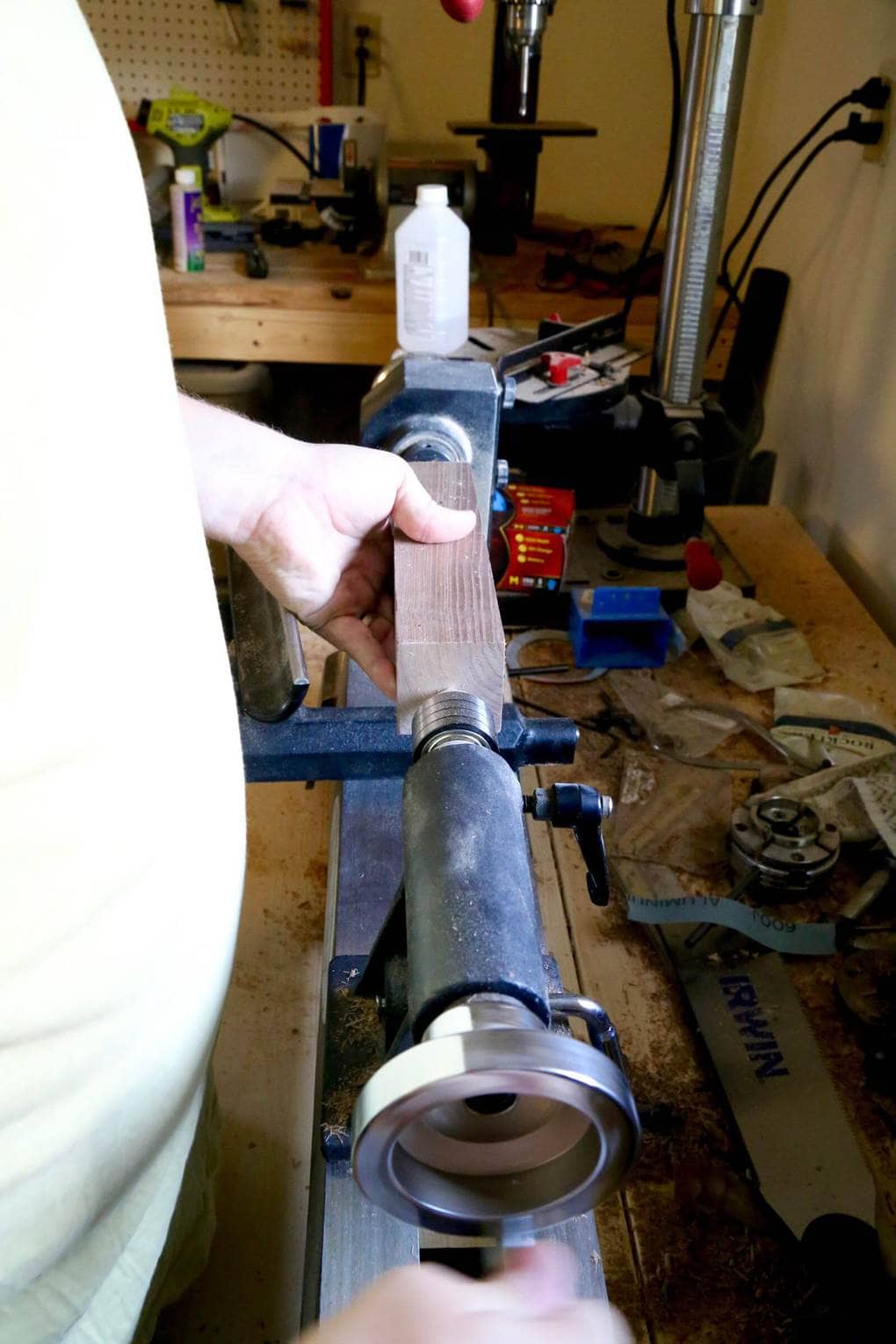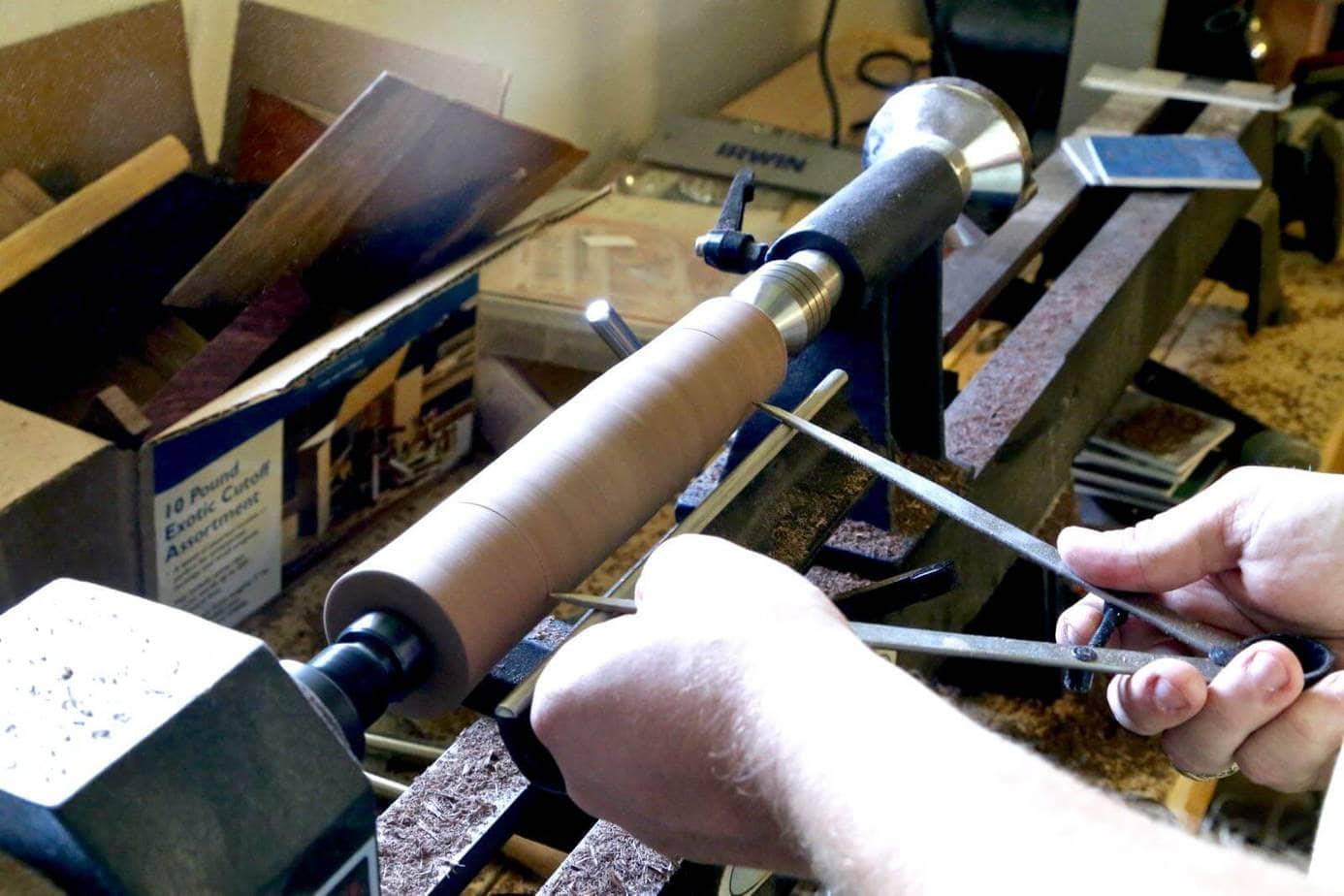 Corey let me try it out a few times and it's so much fun to use! Basically, how it works is that you attach the wood to the tool and turn it on, then the wood begins to spin and you use various cutting tools to whittle it down and shape it however you want. I'll be doing a post in a few weeks to show you some other, more intricate projects we've created with this (we've got some seriously cool gift ideas for you!) but the possibilities are basically endless.
Since Corey is relatively new to working with this tool, he decided to keep it pretty simple and just do a tapered, mid-century style leg. It took some serious practice to learn how to make sure they're all the same size and shape, but he used a caliper to help him measure and make sure everything stayed consistent.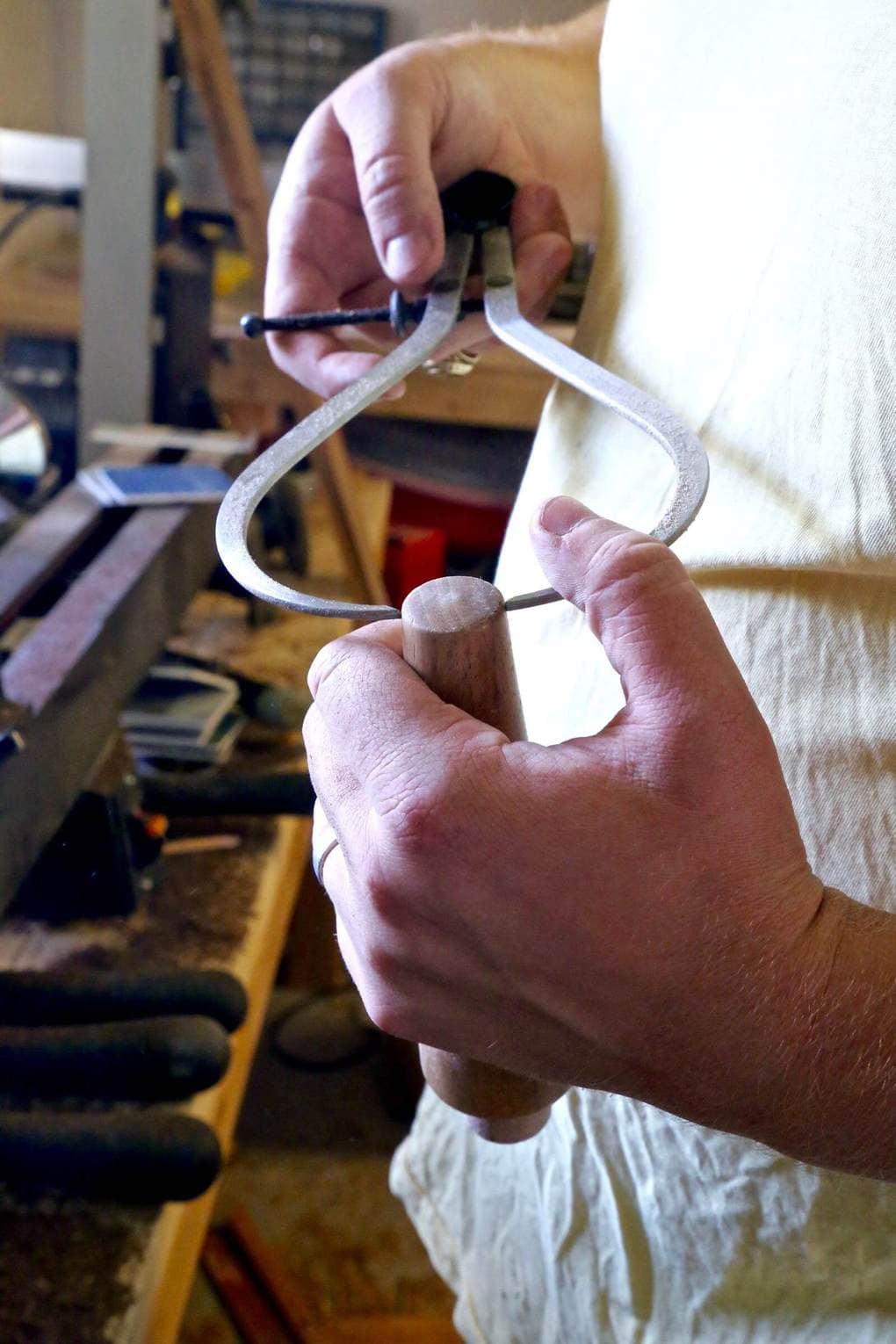 Once he finished shaping the legs (which he makes look ridiculously easy, but I can tell you from experience is harder than it looks!) he used this awesome little set of sanding strips to sand the legs down so they're perfectly, 100% smooth. You can see in the video how it works, but basically he uses a bunch of different grits of sandpaper to make it perfect. These things are so smooth they feel like they're factory-made. It's incredible.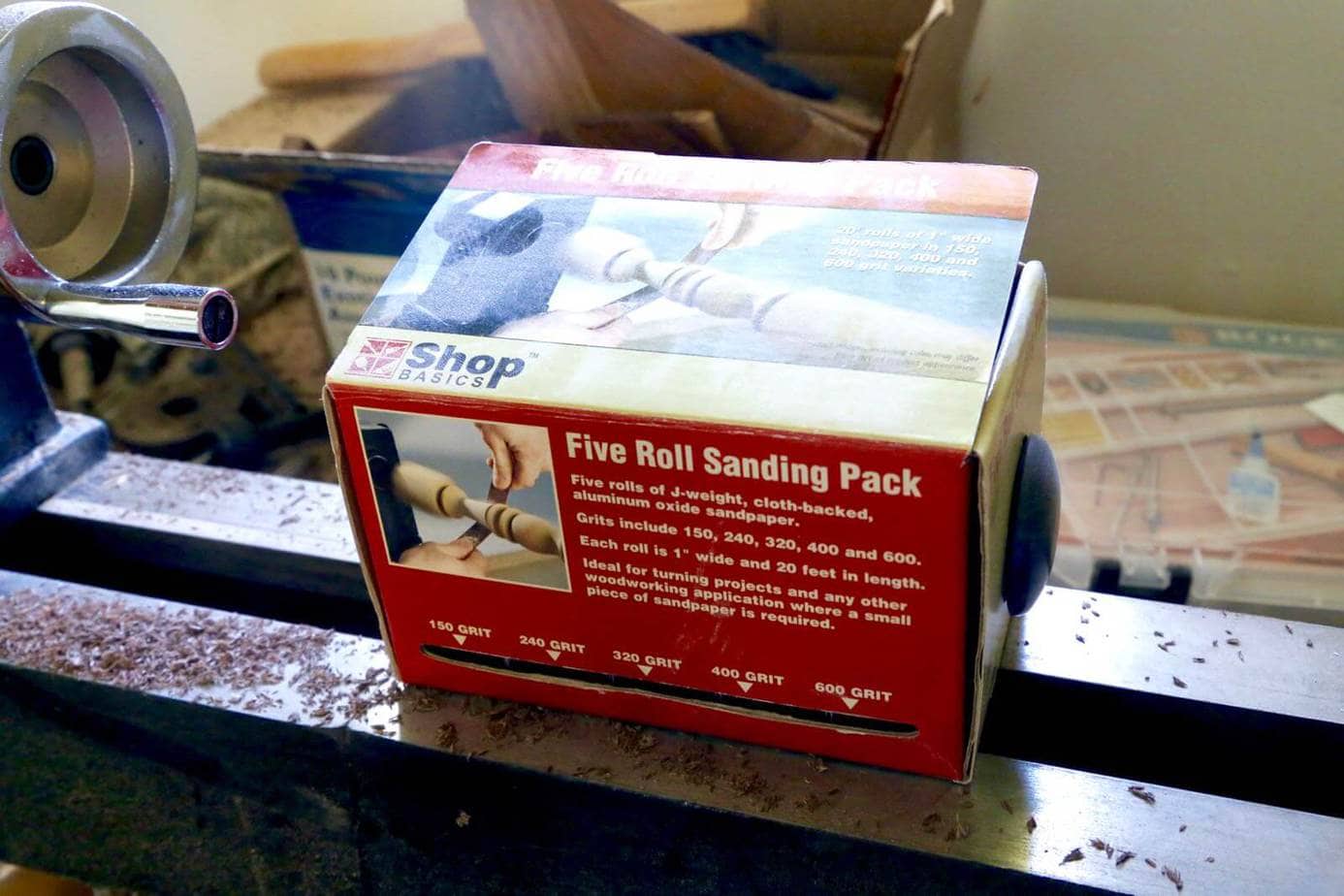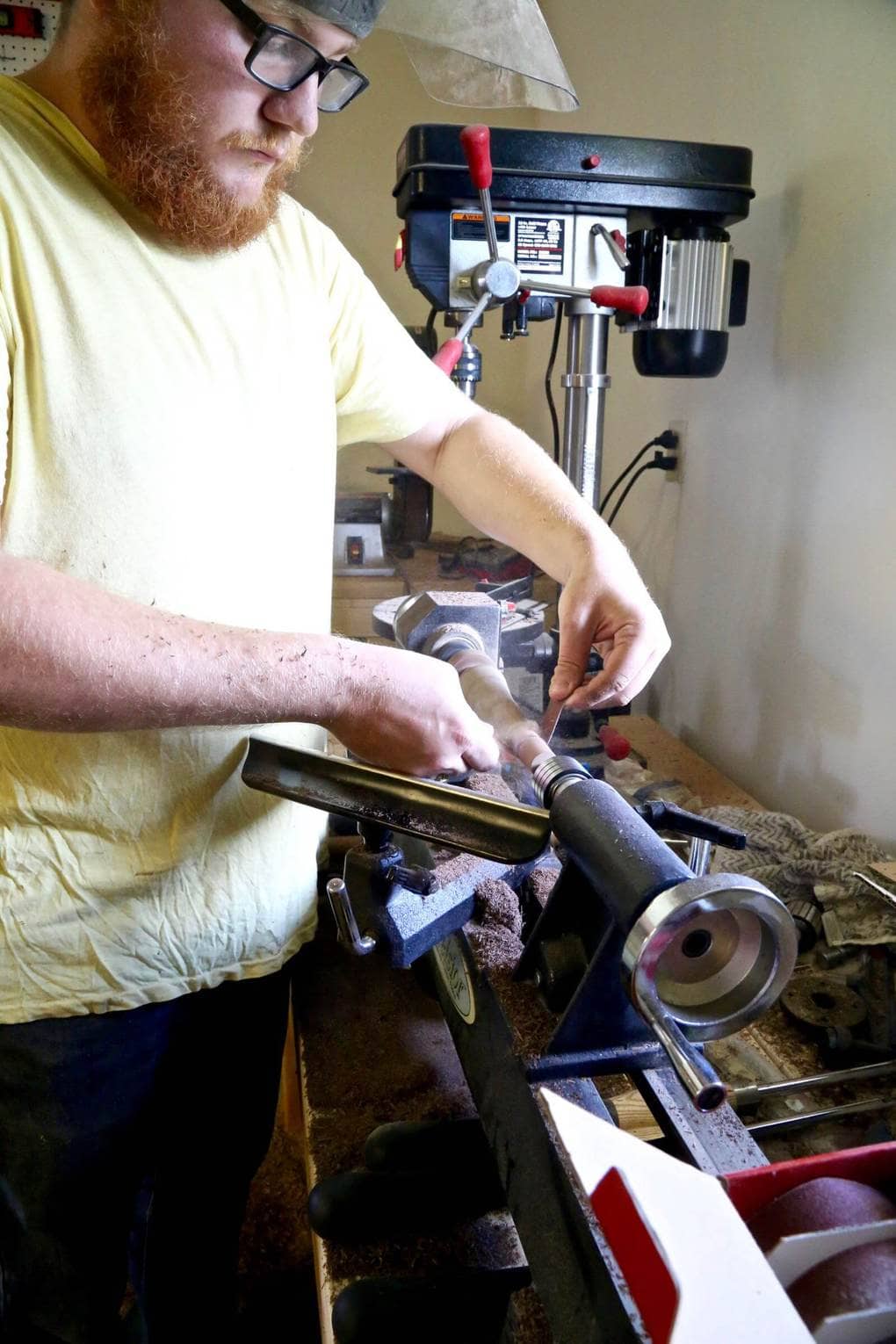 And finally, he cleaned them up with some rubbing alcohol, adds this finish to it, and buffs them with some fancy buffing pads. You can see all of these little steps in the video – it's kind of crazy to watch how the wood transforms throughout the process.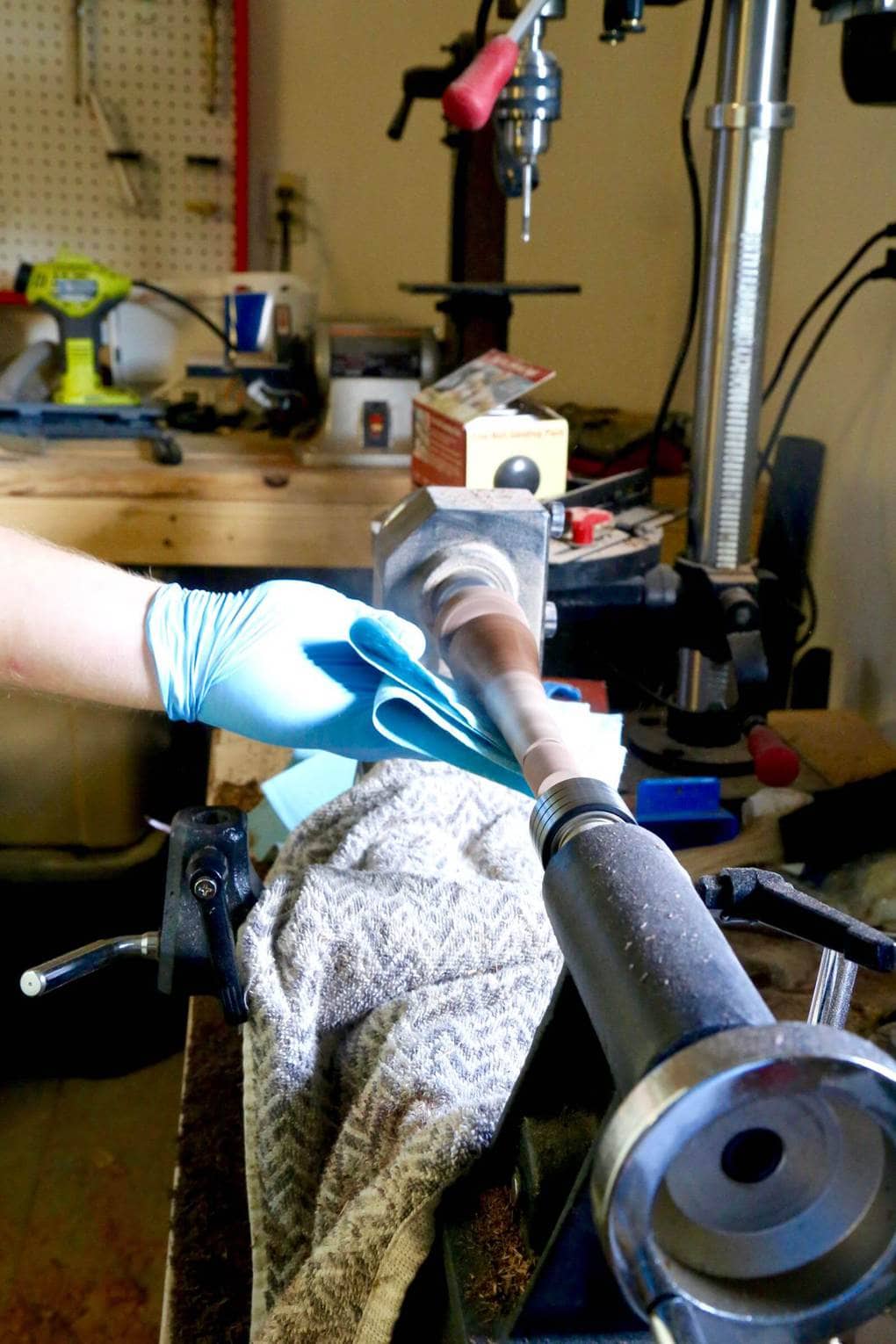 And then? Done!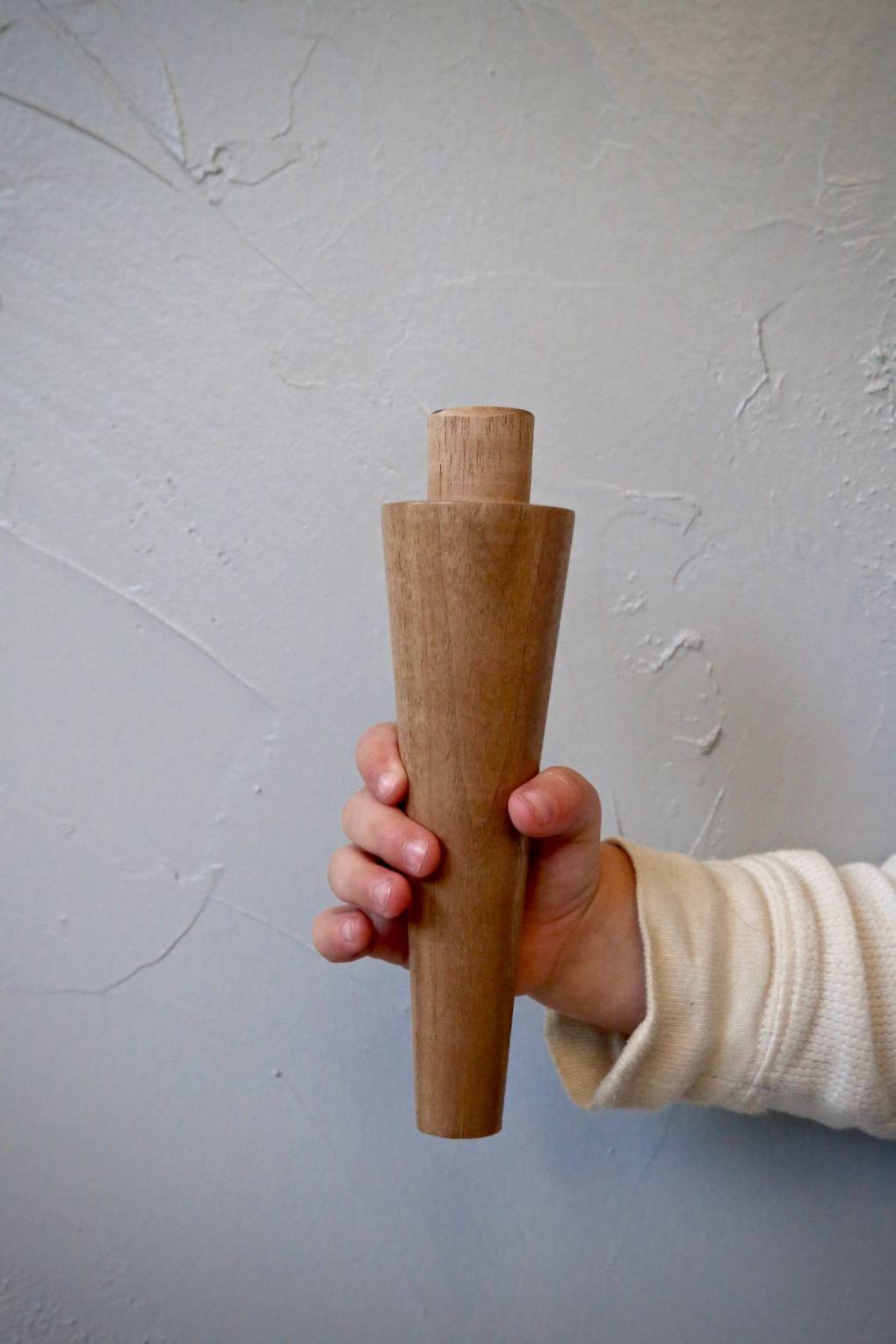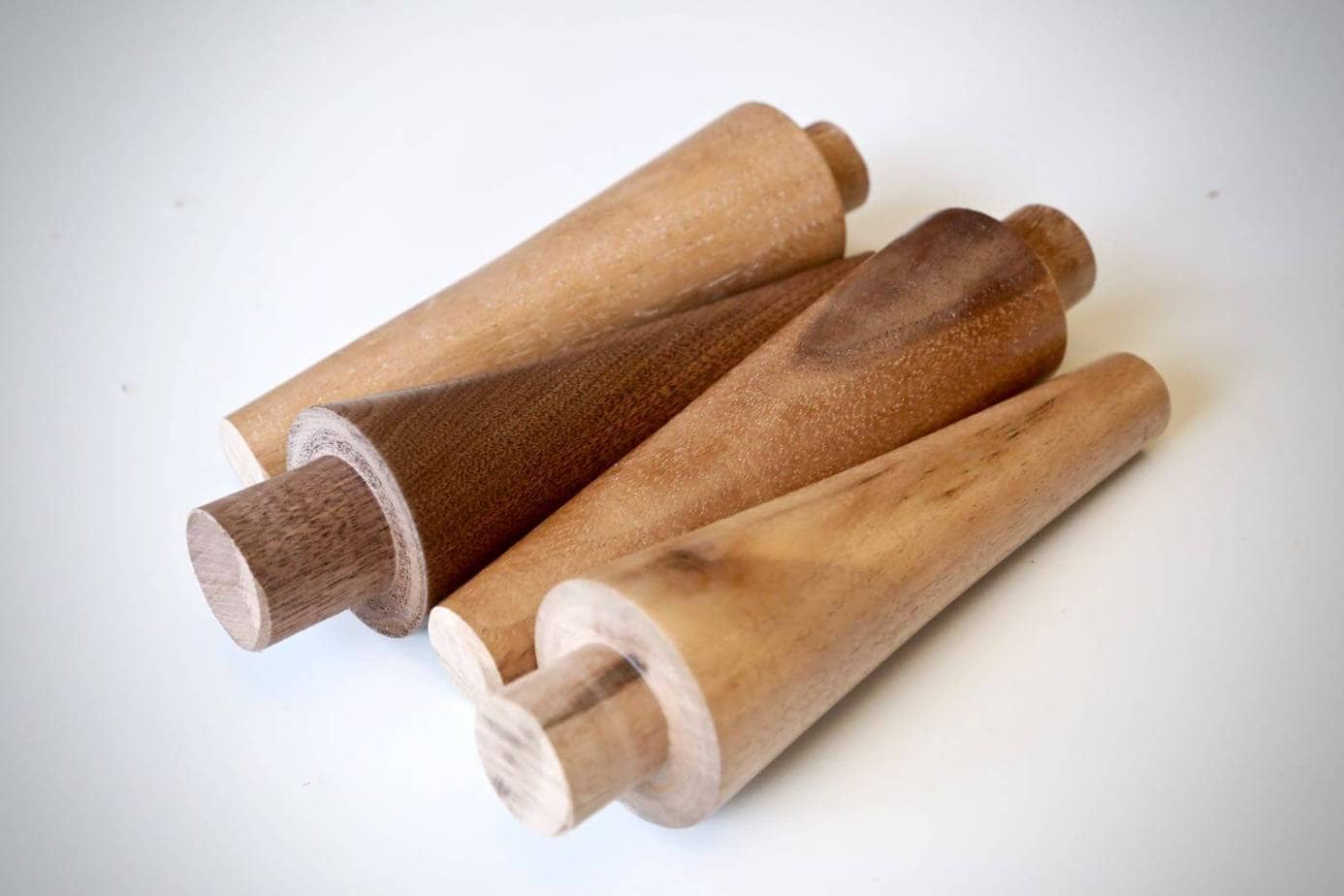 I feel like this tool is going to be a game changer for us when it comes to DIY projects – there are so many more things we can do now, and it's really reviving Corey's love of woodworking. He's so excited to learn more and get even better at it.
If you want to see more details about how our lathe works, you can see a bit more detail in this short little video. It's so cool to watch this tool in action – I promise you'll be entranced with it. I could sit and watch Corey use it all day long.

So cool, right?!
I know I mentioned the legs are for a bar cart, but let me elaborate – Corey's building (from scratch!) a bar cart/small credenza for our kitchen. It's going to go where our china cabinet currently is and I'm so beyond excited I can't even handle it. It's going to be a really fun place to style some of our favorite bar tools and accessories, and it's really going to lighten up that corner of the kitchen. I love our china cabinet but it doesn't really flow well with the rest of the room, and it's so huge and imposing!
Corey's been working hard on our bar cart all weekend and I'm really hoping next week it'll be ready for its grand entrance – I'm so excited to show it off!
UPDATE: You can see the finished bar cart right here, and you can click here to see some other fun projects we created with our lathe!
Have you ever seen a lathe before? Are you as entranced as I am?