DIY Bar Cart From a $30 Television Stand
We took an ugly old television stand that we found at the thrift store and turned it into a DIY bar cart that is not only super functional but also gorgeous! Read on to learn how we did it.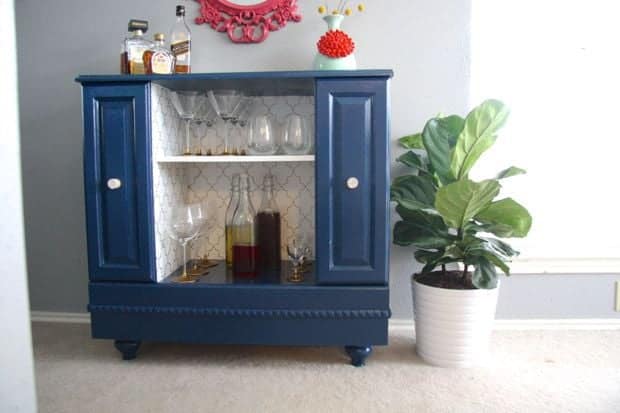 Note: Hey friends! I'm on maternity leave and I'm re-publishing a few old posts and project ideas that don't get a ton of eyes on them. This is a project we took on several years ago for a competition we were participating in, and while the photos aren't fantastic it's still one of the projects I'm the most proud of! I adore how it turned out, and I hope you enjoy seeing it! 
I have always loved the idea of a bar cart – they're gorgeous, functional, and who wouldn't feel fancy making themselves a drink from a piece of furniture made specifically for holding all your alcohol?
They're such a fun concept – totally unnecessary, yet somehow I feel like I must have one.
I can't justify spending hundreds of dollars on a piece of furniture that's meant to do nothing but display my liquor…but I can justify spending a few bucks to make my own!
And that's why when I stumbled on an old 80's style bar cart at my local Goodwill I knew I wanted to snatch it up to turn it into the bar cart of my dreams. It was a simple project that just requires a bit of creativity, so read on to see how we tackled it!
Want More Bar Cart Ideas? 
Here are a few other bar cart related posts we've done over the years:
Can you even believe that this bar cart was created from this beauty awful old 80's style television stand we found at Goodwill for $30?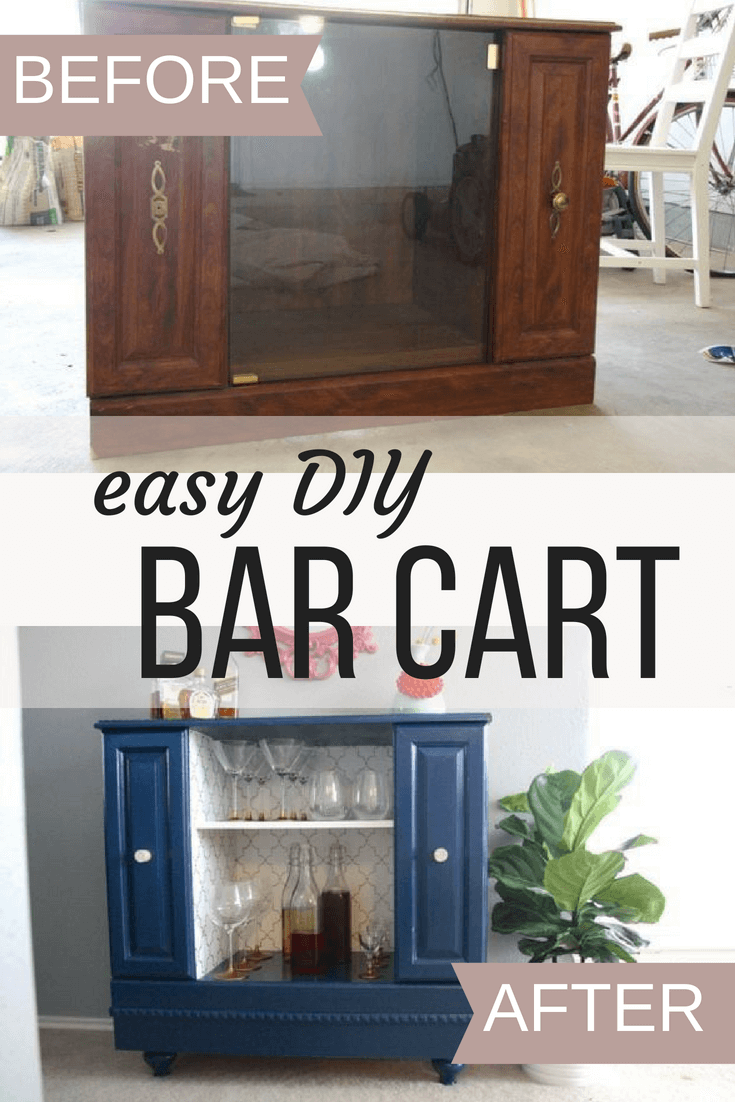 Not gonna lie, my grandmother used to have the exact same television stand in her house.
Sorry, Meme.
As soon as I saw this beauty, I knew I wanted it to be a bar, so I sat down with Corey, formulated a quick plan of attack, and got to work.
How to Make a DIY Bar Cart
Step 1: Paint & Prep
First up, we had to paint it. I gave the whole thing a quick coat of primer – I didn't worry too much about making it a perfect coat, because I was going to be using oil-based paint, which is much thicker and covers better than latex.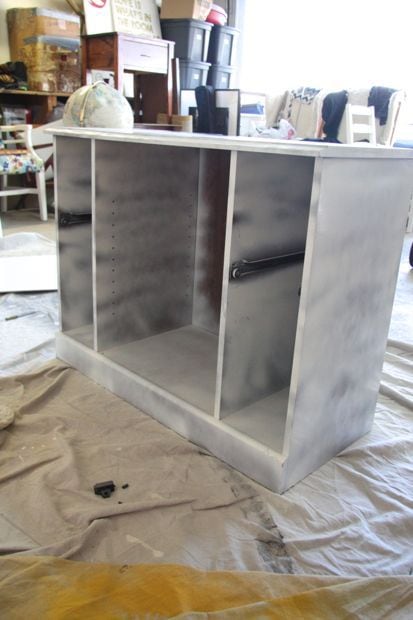 I mean, let's be honest – it was looking much better already!
Because the function of the piece was originally for televisions and all their components, the backer board had a big hole in it – it was also pretty flimsy. So, I removed the old board grabbed a new board for the backing.
Step 2: Add Legs
Once I had a good coat of primer on everything, we had to figure out a way to make it a bit taller and more substantial. The whole thing was a bit too small to make a good bar, and it needed a little something to make it look less like the 80's style television stand that it is was.
Corey whipped up this quick box and attached some legs so we could give the whole thing some height. Although you can't see it in this photo, he cut the boards for the front at a 45-degree mitered angle so that you can't see the end of the board (you can see what I'm talking about a little better if you look at the finished photos).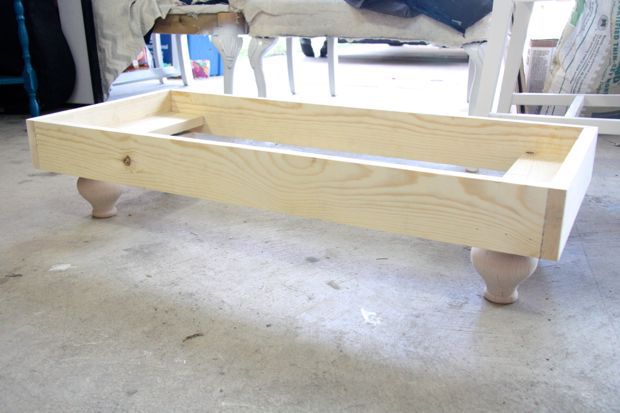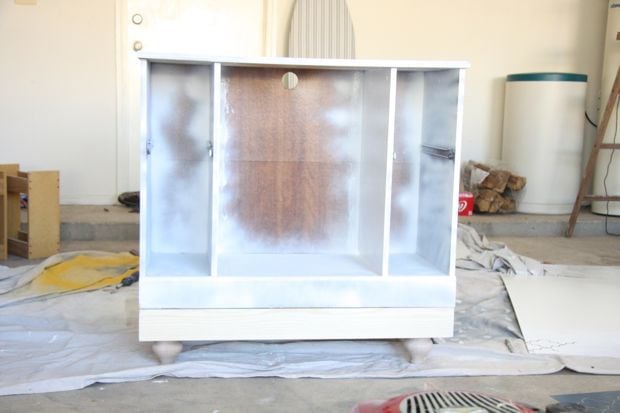 Obviously I wasn't going to be able to live with that giant seam on the front of the bar, so I picked up a trip piece from the hardware store to spruce it up a little bit – it adds a fun detail and hides the fact that this wasn't always just one solid piece of furniture.
Before we attached everything, I went ahead and painted all of the pieces individually. You could do it either way, but I figured it would be easier to get at those curvy little legs when I wasn't contending with the rest of the bar.
We decided to go with an oil-based paint for this project. I can't say I recommend it, but it was a fun experiment in trying a new medium. It's much harder to work with (and to clean up!), so I definitely won't be pulling out oil-based paint again for my next furniture project, but I do love the way the finished product looks!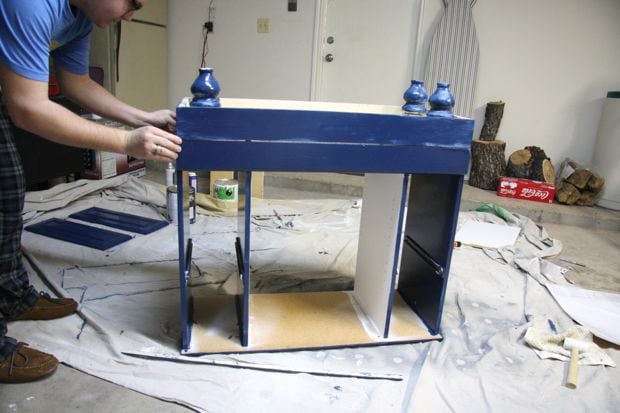 It was finally starting to actually look less like a $30 piece of Goodwill furniture and more like a bar! At this point, all that was left to do was do some paint touch-ups, stencil the inside, and then take care of those old VHS drawers on the sides.
Step 3: Replace the Back
Let's start with the stencil.
I knew I wanted to do a stencil on the sides and back of the bar, but I had a hard time figuring out exactly how I wanted to tackle it – I knew using paint would probably be pretty awkward on the sides, so I grabbed a gold metallic Sharpie to try instead. Sharpies can have pretty terrible bleed-through and I wasn't about to start over with painting everything, so I decided to stencil it all in pencil first, then go back over it with the Sharpie.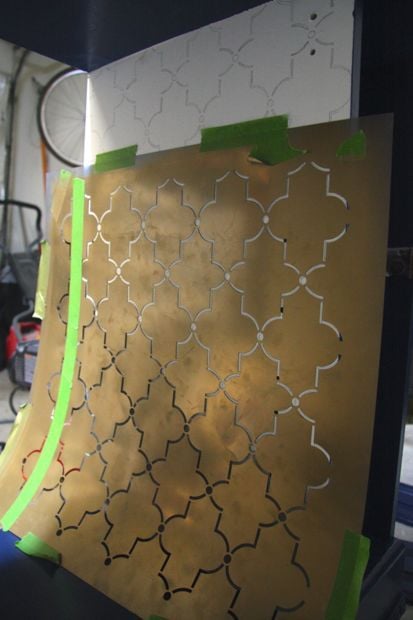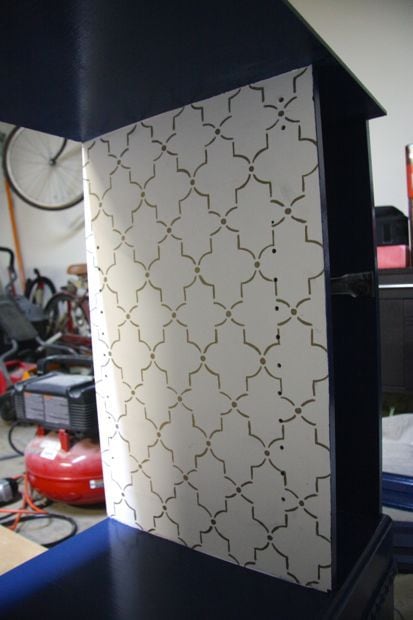 Step 4: Alter the VHS Drawers
And, finally, now that the legs were added, the bar was painted, and the stencil was completed, it was time to turn our attention to the VHS drawers. As soon as we saw them in the store we knew they would be perfect for holding bottles, but we didn't want them clanking around too much.
So, we bought a few glass bottles from Hobby Lobby to hold mixers and alcohol (so that they're all a standard size) – we could fit 3 bottles in each VHS drawer. The VHS drawers had two shelves in them – we removed the top one (so the bottles had room to fit) and replaced the bottom shelf with a board that had 3 holes cut in it to perfectly fit the bottles.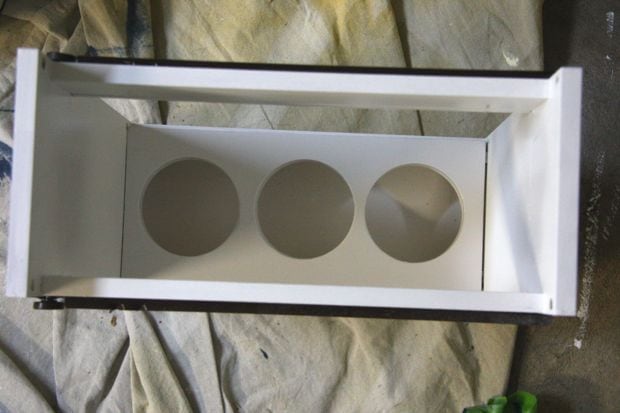 Once that was all completed, it was time to put the whole thing back together and start adding our stuff! We decided to etch the bottles that we bought with the names of the alcohol, so we don't have to try to remember which is which, and we got a custom-cut piece of glass from Lowe's for the top so we don't have to stress about spills.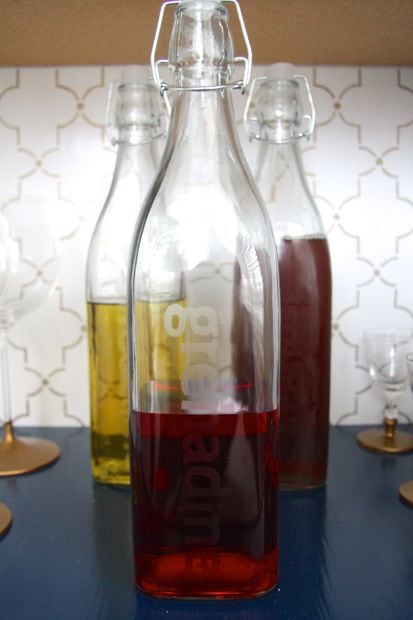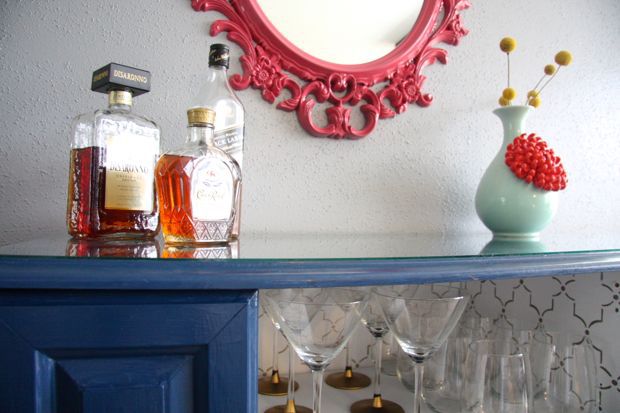 For a final little touch, we grabbed some gold craft paint and dipped the bottom of our stemmed glasses – they play off the stenciled sides nicely and add a bit of fun to the whole thing.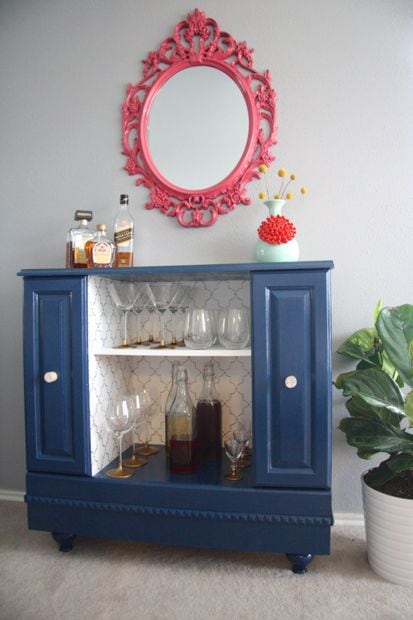 I love how it turned out and I have to admit I have a hard time believing that it used to look like this.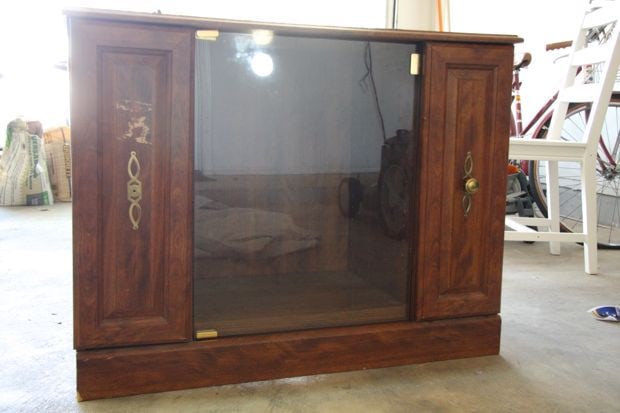 And that's how we turned a $30 thrift store television stand into a custom DIY bar cart! This whole project was a ton of fun and a great reminder to Corey mend I to think outside the box when it comes to pieces we find at the thrift shop! We almost passed this guy up because it looked so awful, but then the idea for a bar clicked and from there it turned into a piece that we absolutely adore and think we will get a whole lot of use out of!