Simple + Fun DIY Christmas Advent Calendar Ideas
I've always been a huge fan of activity advent calendars this time of year. Corey and I love to come up with unique ways to celebrate the season, and coming up with fun advent calendar ideas is such a fantastic way to be intentional about soaking up every single second of the season.
Also, it gives me a good excuse to eat a metric ton of cookies and spend entire days in my pajamas. I have to! The calendar says so!
I'm tricky like that.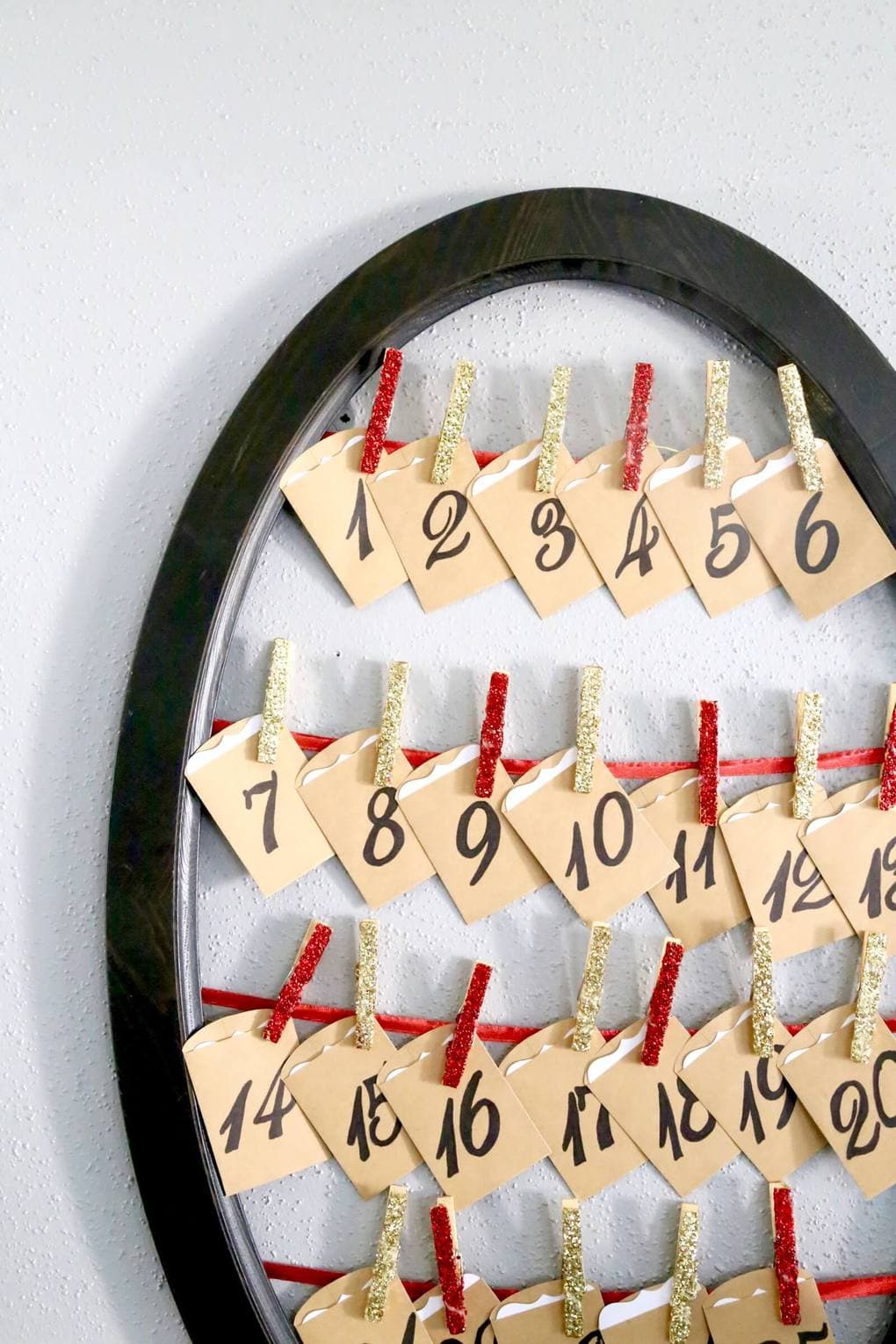 Our calendars have shifted and evolved a bit over the years – I'll share a few links below to all of the different versions of our advent calendars. Our favorite method, however, is just a plain ol' advent calendar (rather than a bucket list or another method) and I'm always so excited to dive in and get started. Each year, I spend a ton of time making sure that everything on our list is placed perfectly so that we don't have a big activity planned for a busy weeknight and we don't have too many "bake cookies" nights in a row.
Although let's be honest, no one would complain about that.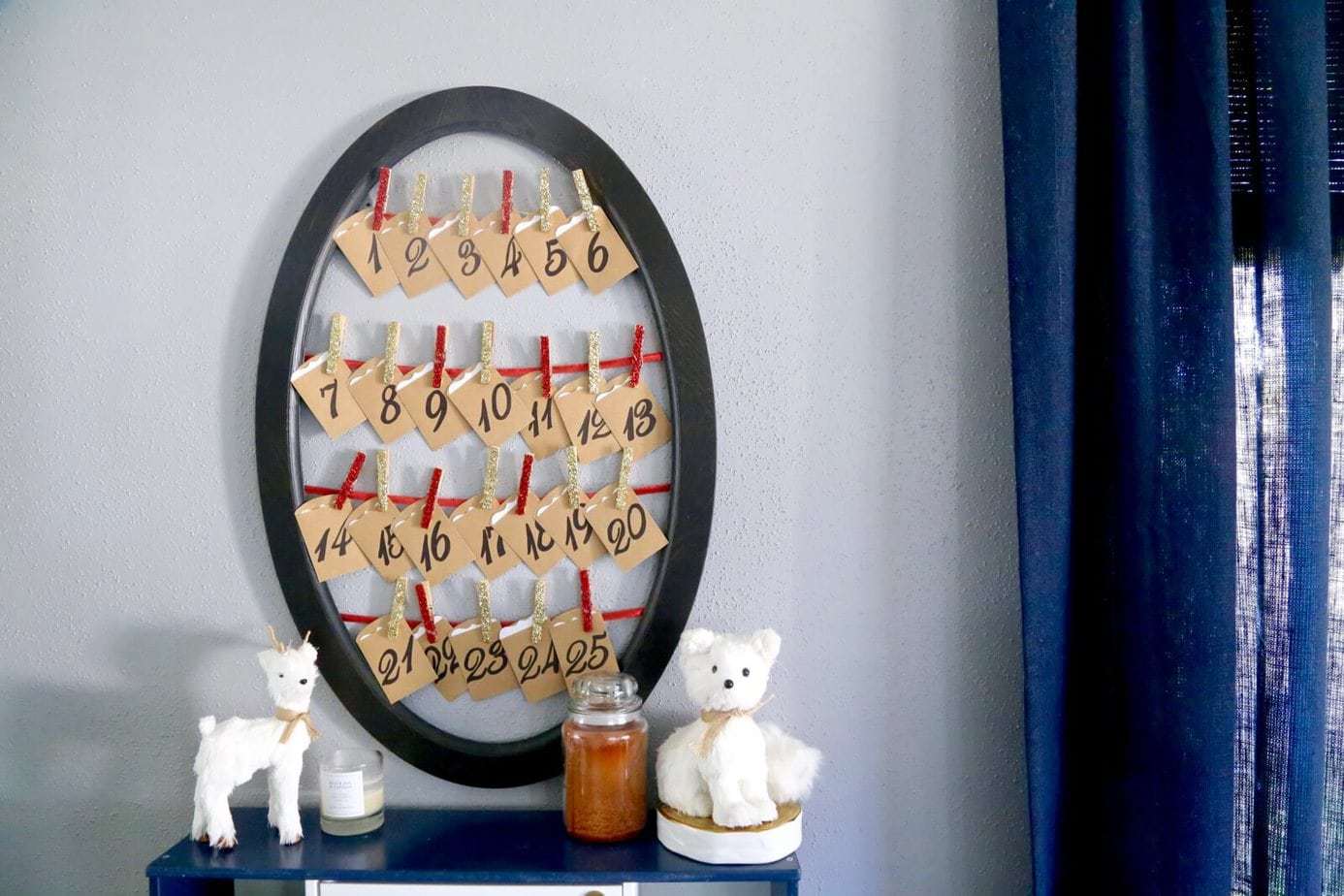 Advent Calendar Ideas
Here's a quick list of all of our activity advent calendar ideas from years past – keep scrolling to see what's on our list this year!
This year's calendar was incredibly simple to make, and I think it's one I'll keep using for a few years, at least. Let's chat about how it's done.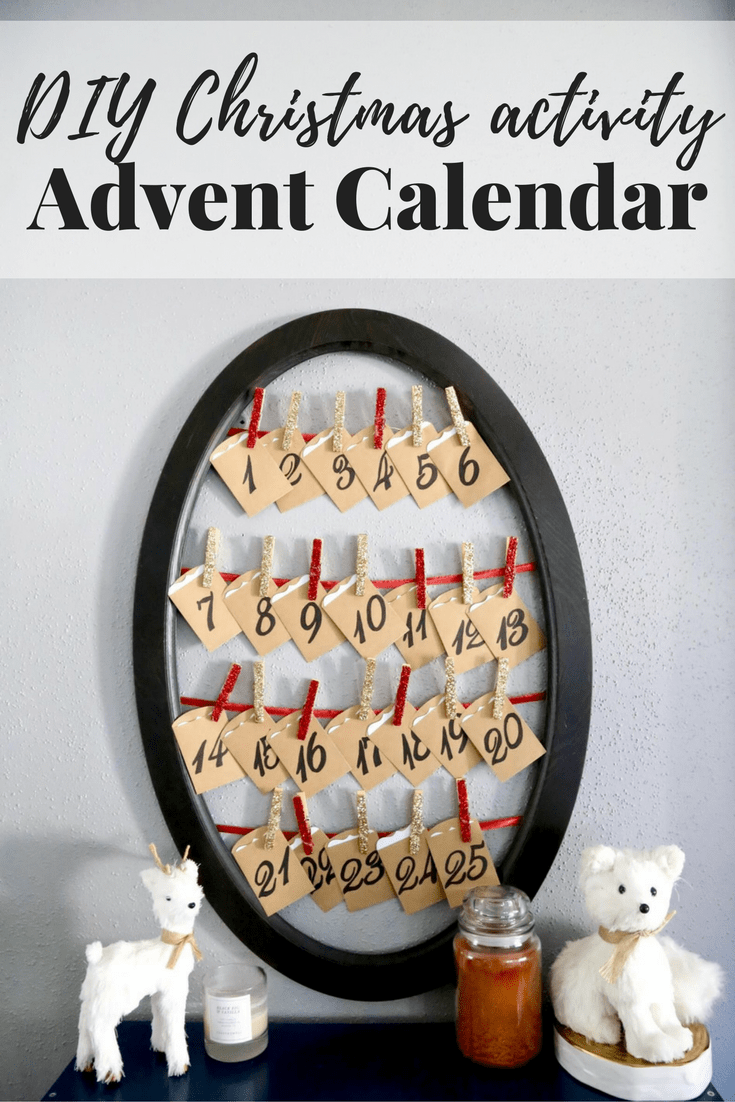 (This post contains affiliate links. Click here to read my full disclosure policy.)
How to Make a DIY Activity Advent Calendar
Materials:
A frame (I used an old frame from an IKEA mirror I wasn't using anymore)
Clothespins or clips (I added glitter to mine by brushing on some Mod Podge, sprinkling glitter on top, and then doing another layer of Mod Podge on top – super simple!)
Hot glue gun + glue (If you do a lot of hot gluing, this one is totally worth the investment!)
Ribbon
How it's done: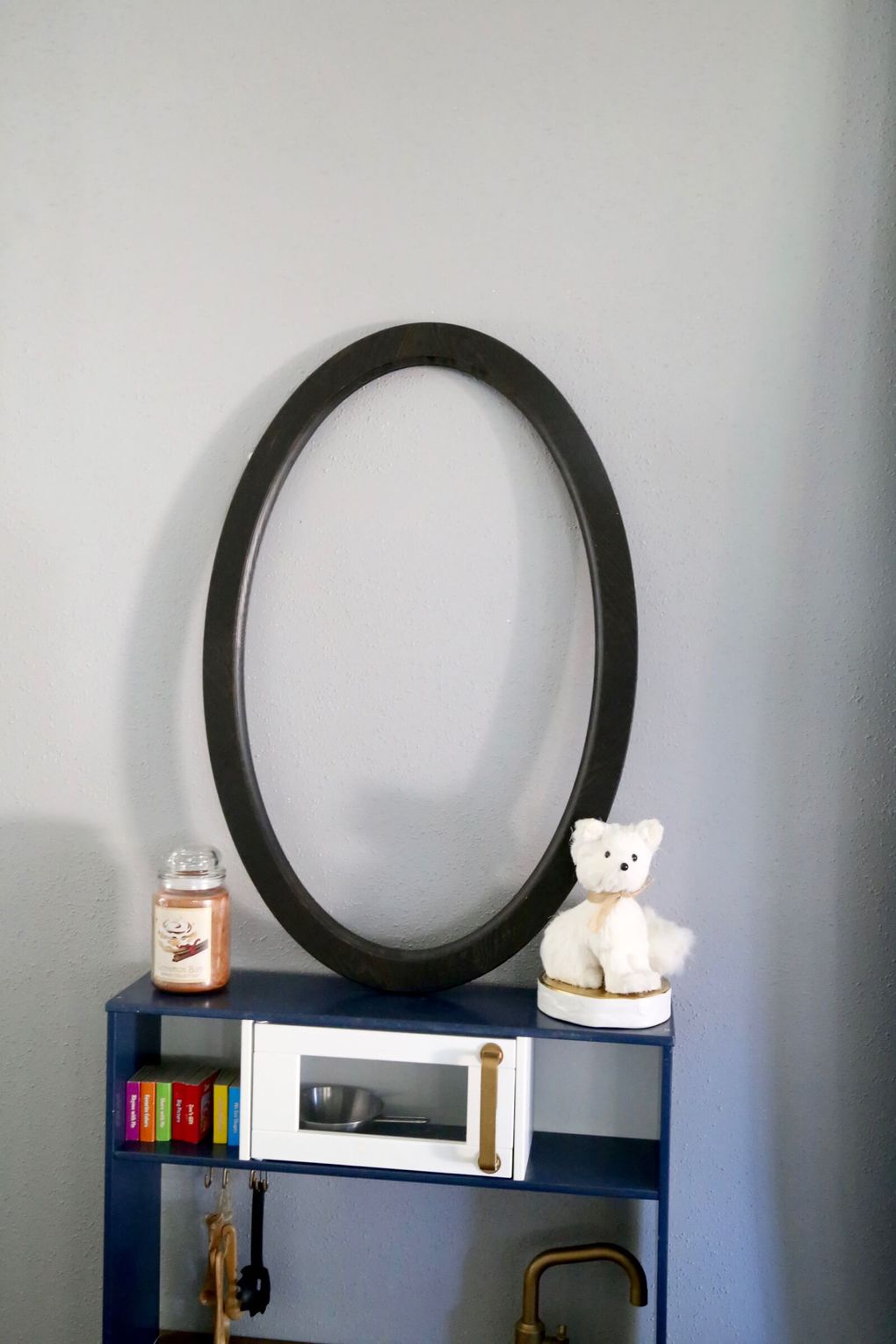 I decided to use a frame I already had laying around – it's an old Ikea mirror with the mirror part removed (it was just held in with those little metal folding prongs). I was going to hit up a thrift store to find something, but then I remembered I had this and it was perfect – such a good reminder to check your random stash of leftover mirrors before you go buy something.
What? You don't have like 12 extra mirrors hanging out in your house? That's just me?
Anyways. To make the frame itself I grabbed some pretty red ribbon and hot glued a few rows of it to the back of the frame.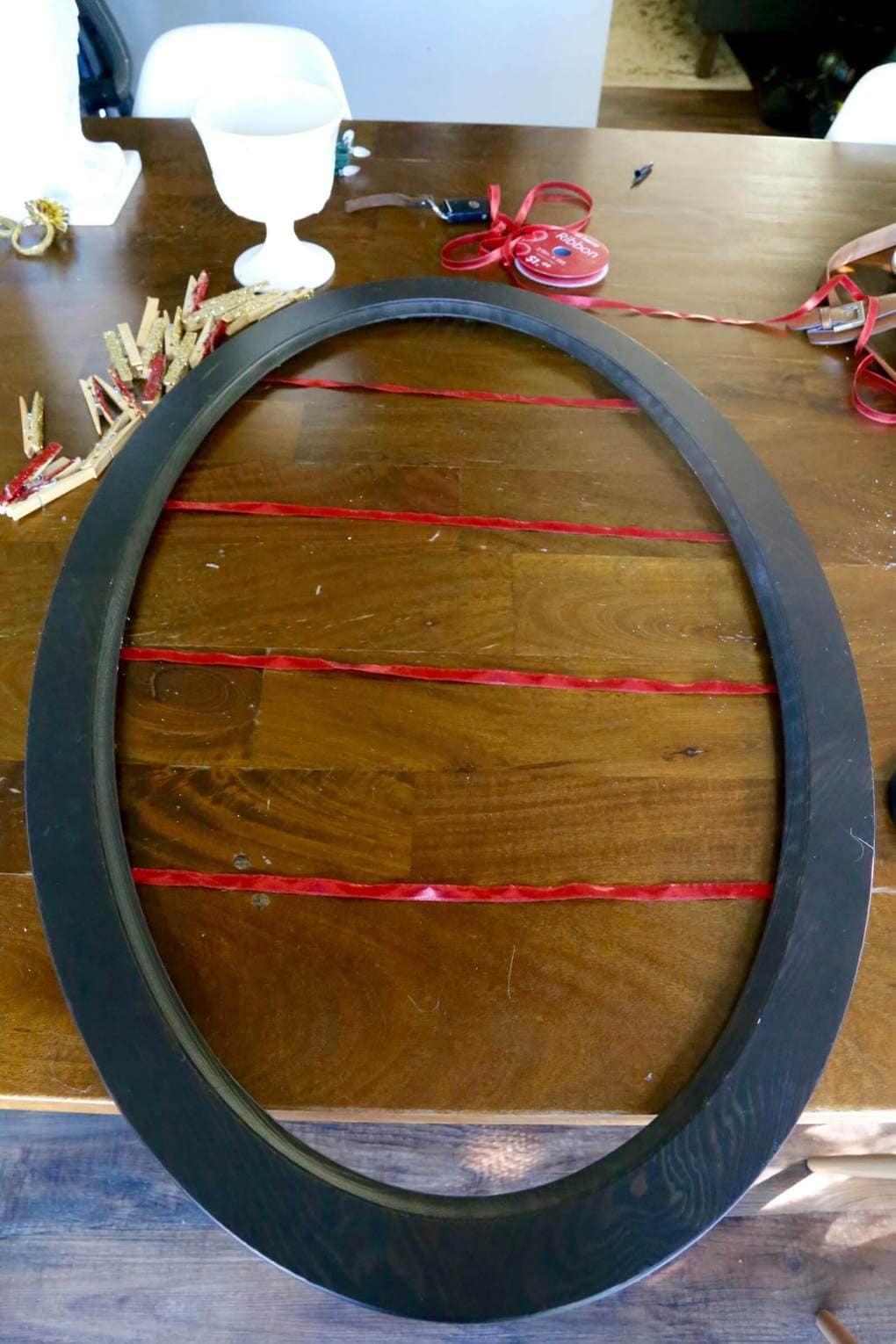 The numbered envelopes were incredibly simple to make. I just printed out some numbers in a pretty font then I used my graphite transfer paper to get a nice outline on the envelopes.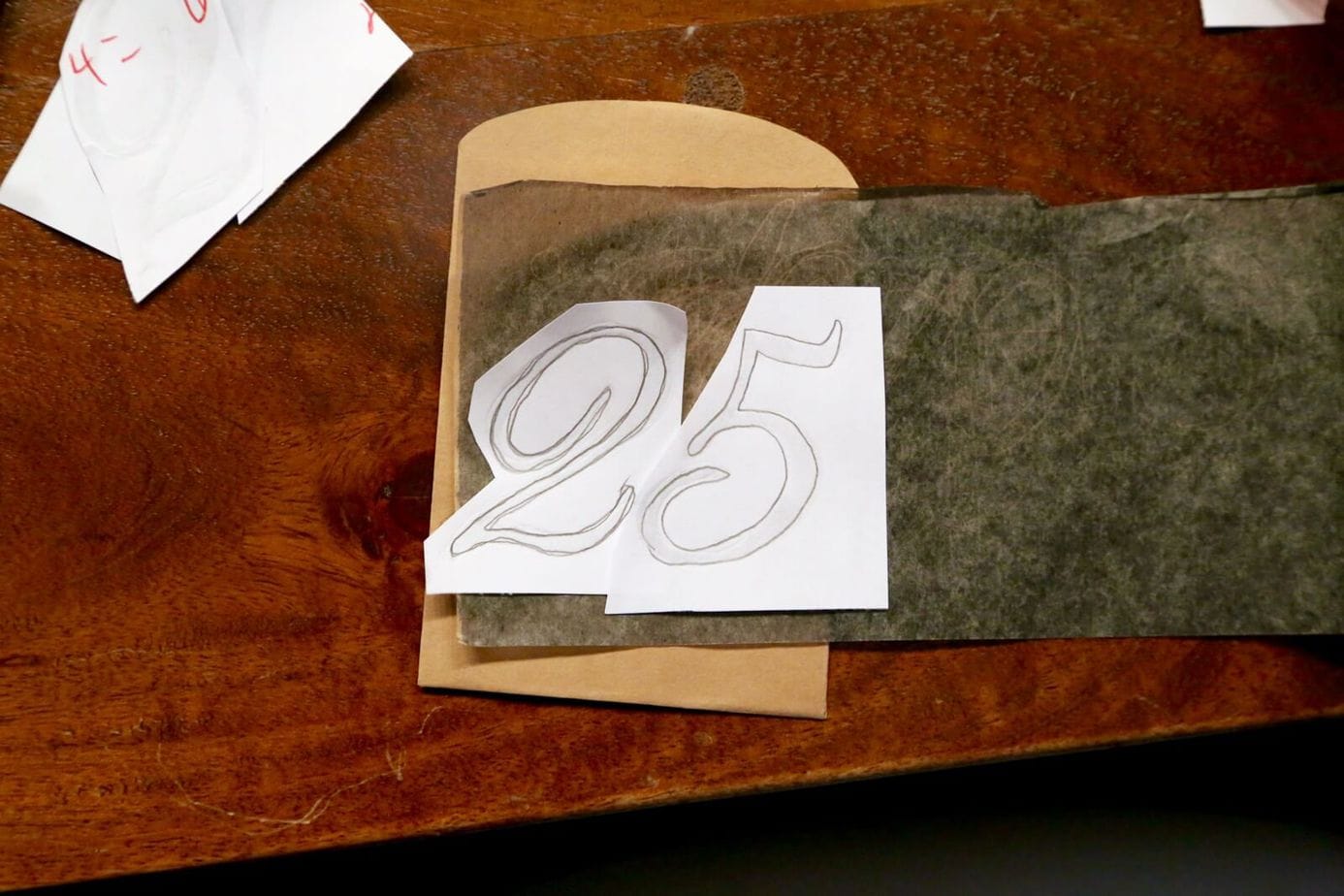 Then, I traced over 'em with a Sharpie. Done!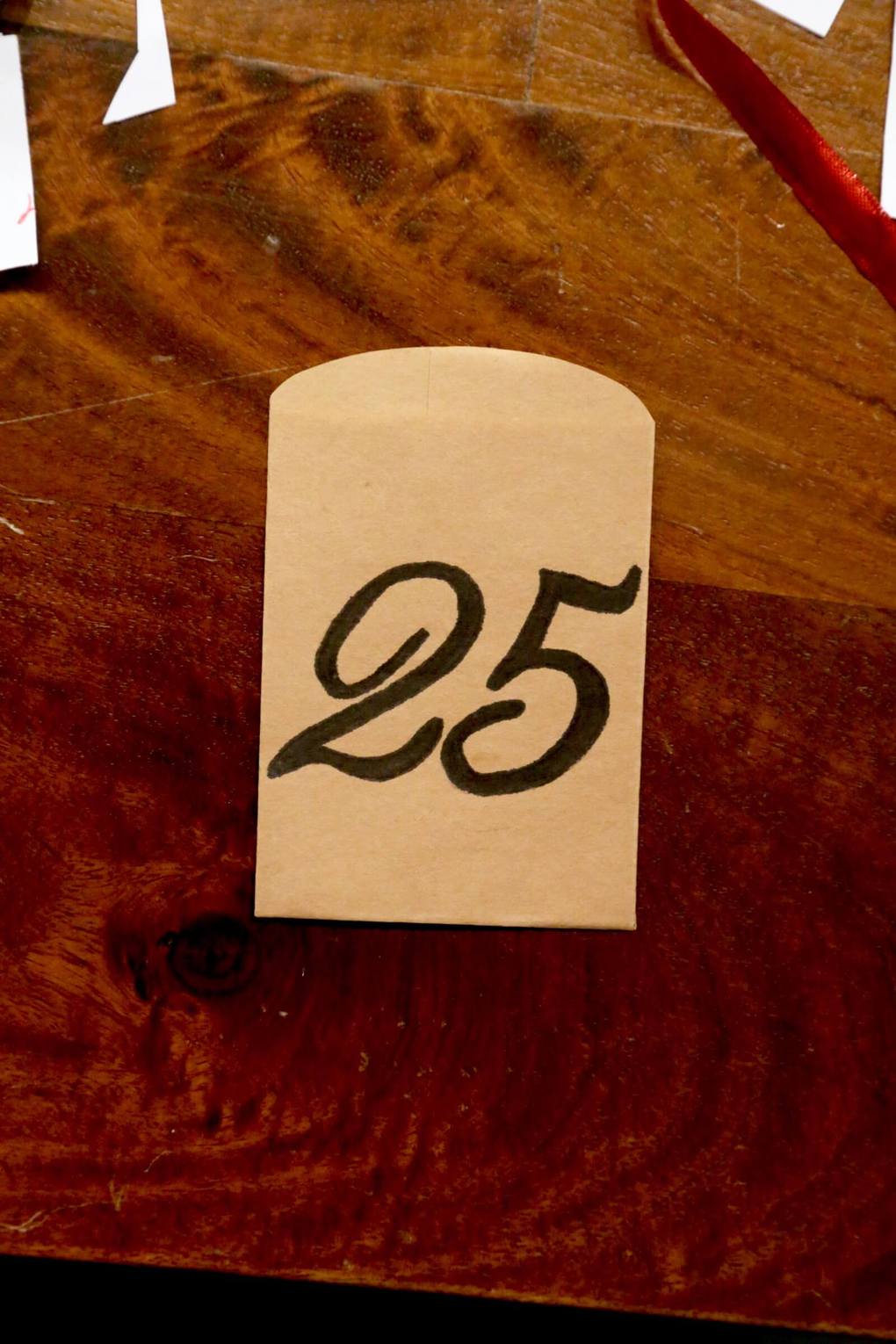 I didn't do anything fancy with the cards – we probably won't re-use these from year to year, so I just wrote our activities on them with a pen.
Then, I clipped them up on the frame with the glittery clothespins and that's it!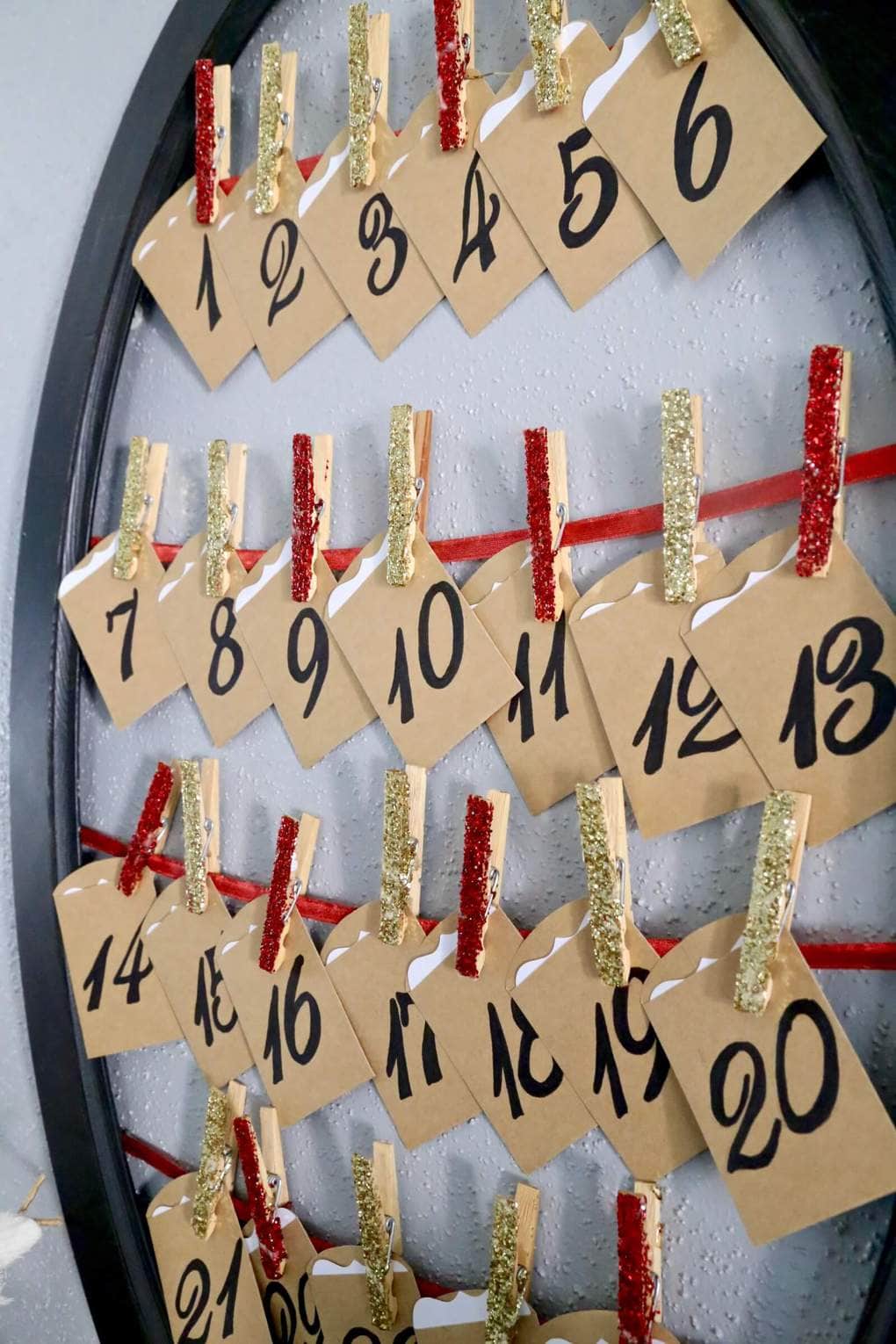 I love how this turned out and I am so excited to get started. Jackson really understands what Christmas is this year and has been talking about it nonstop for weeks, so I think he's going to have a blast with this.
And even if he doesn't, I know I'll have a blast with it.
In case you're curious, here's a quick list of what is one each day of our activity advent calendar this year (and yes, I know some of them are repeats – who doesn't want more than one cookie + Christmas movie night?!)
Christmas Activity Advent Calendar Ideas
Write a letter to Santa
Go to a Christmas festival
Local Christmas parade and tree lighting
Make salt dough ornaments
Bake cookies and watch a Christmas movie
Make homemade marshmallows
Make s'mores
Wear matching Christmas pajamas
Make gingerbread houses
Go see Santa at Magnolia Market
Have a family movie night
Go look at Christmas lights
Bake Christmas cookies
Play board games and make hot chocolate
Color in some Christmas coloring pages
Go out to eat
Pajama + movie days
Have hot chocolate and go for a walk to look at lights
Have breakfast for dinner under the tree
Bake cookies and watch a Christmas movie
Have a Christmas music dance party
Have a fondue dinner at home
Cook and bake for Christmas Eve
Set out cookies for Santa
Merry Christmas!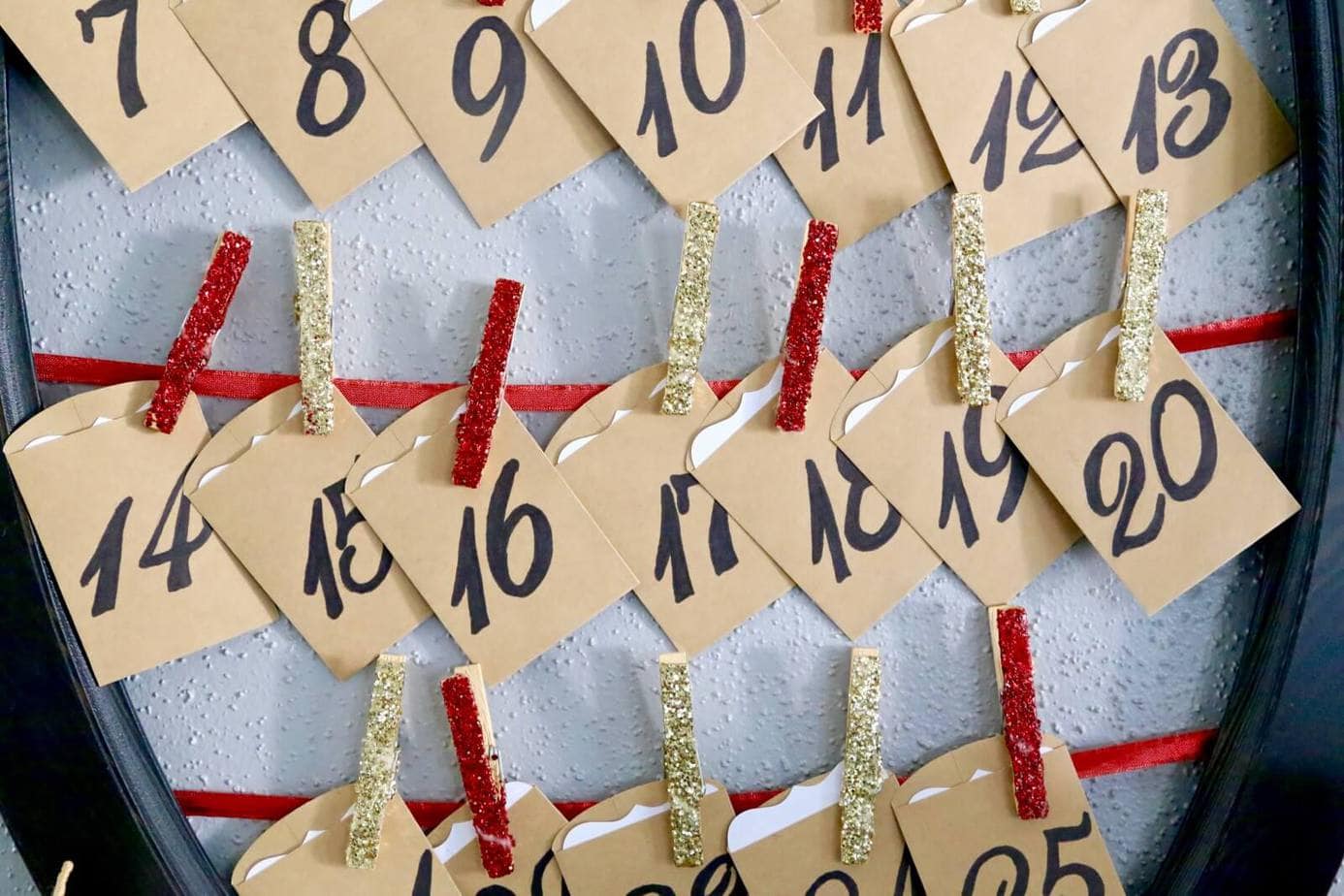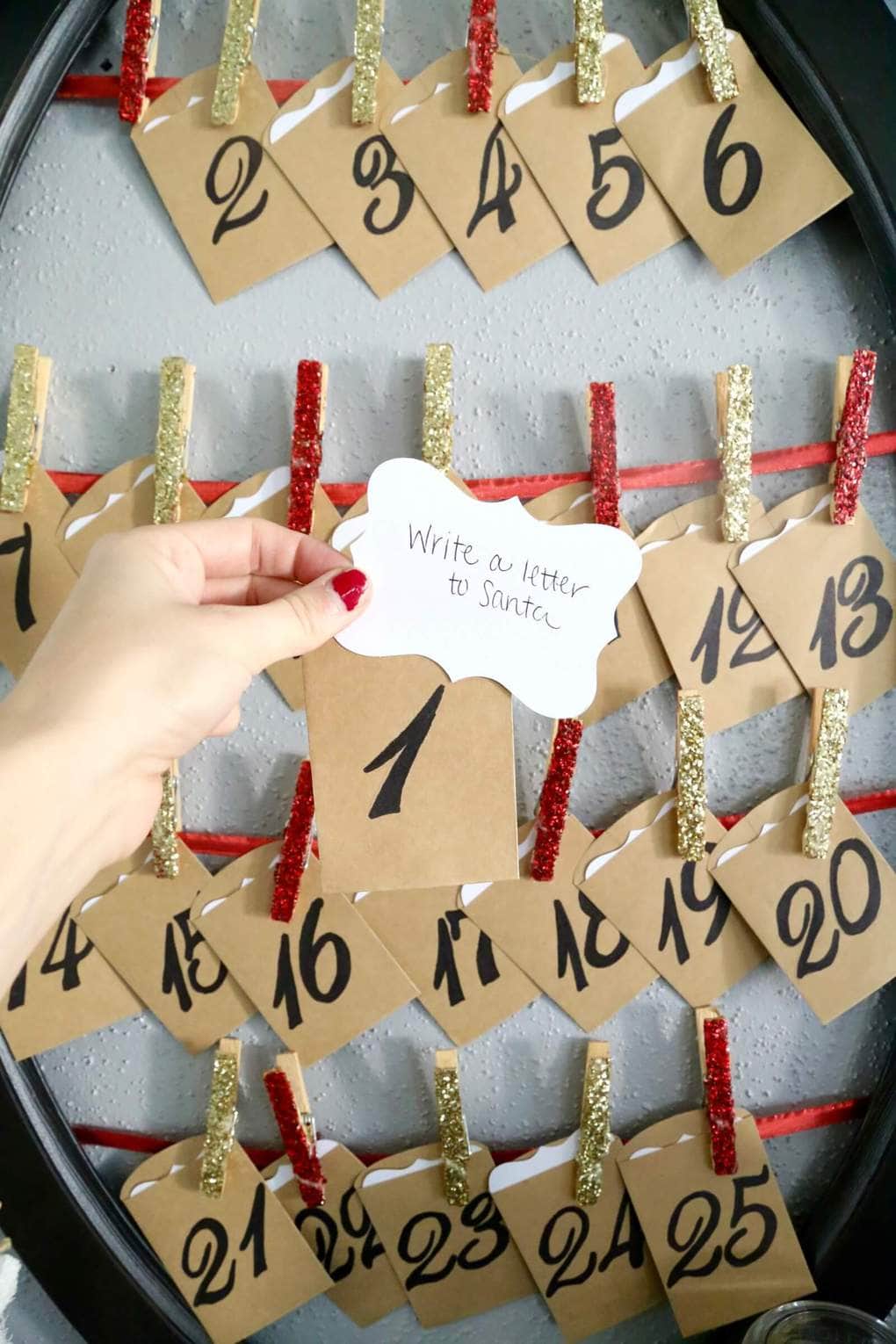 I'll be back on Friday with some photos of our Christmas decor this season – I'm so proud of how it all turned out this year and I really sometimes feel like my house was just meant to be decorated for Christmas all year long.
That's not weird, is it?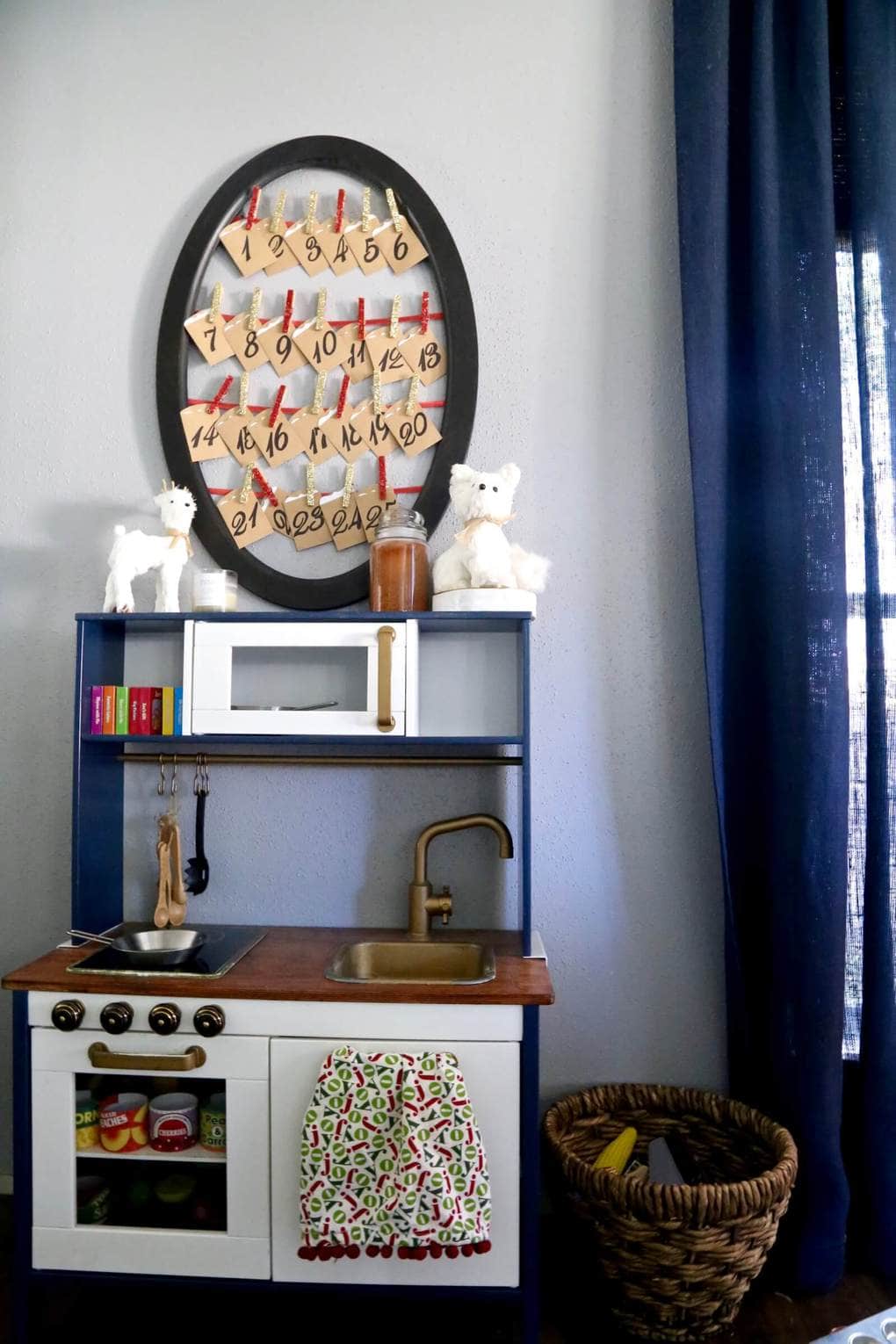 Do you do an advent calendar? What kinds of activites do you like to put on yours?