How to Build a DIY Fireplace Mantel
I know a lot of you have been waiting for the tutorial of how I built our DIY fireplace mantel – I had lots of questions about it when I shared a peek of it on my Instagram story, and I promised y'all it was super simple. Well, the tutorial is here!
By the way, if you want to see the entire process of our DIY shiplap fireplace renovation, you can click here to see the Instagram story highlight with all of the details!
Last time we took on a fireplace renovation, we had some large chunks of wood from a tree that had been cut down, and we used that to create a gorgeous, rustic DIY mantel. We originally had planned on doing the same thing here (we had some wood left over), but in the end we decided to go a more streamlined route. And, as much as I adored the mantel at the old house, I'm really thrilled with this one too! It's got a little more room for decorating, and it was way faster and easier to put together.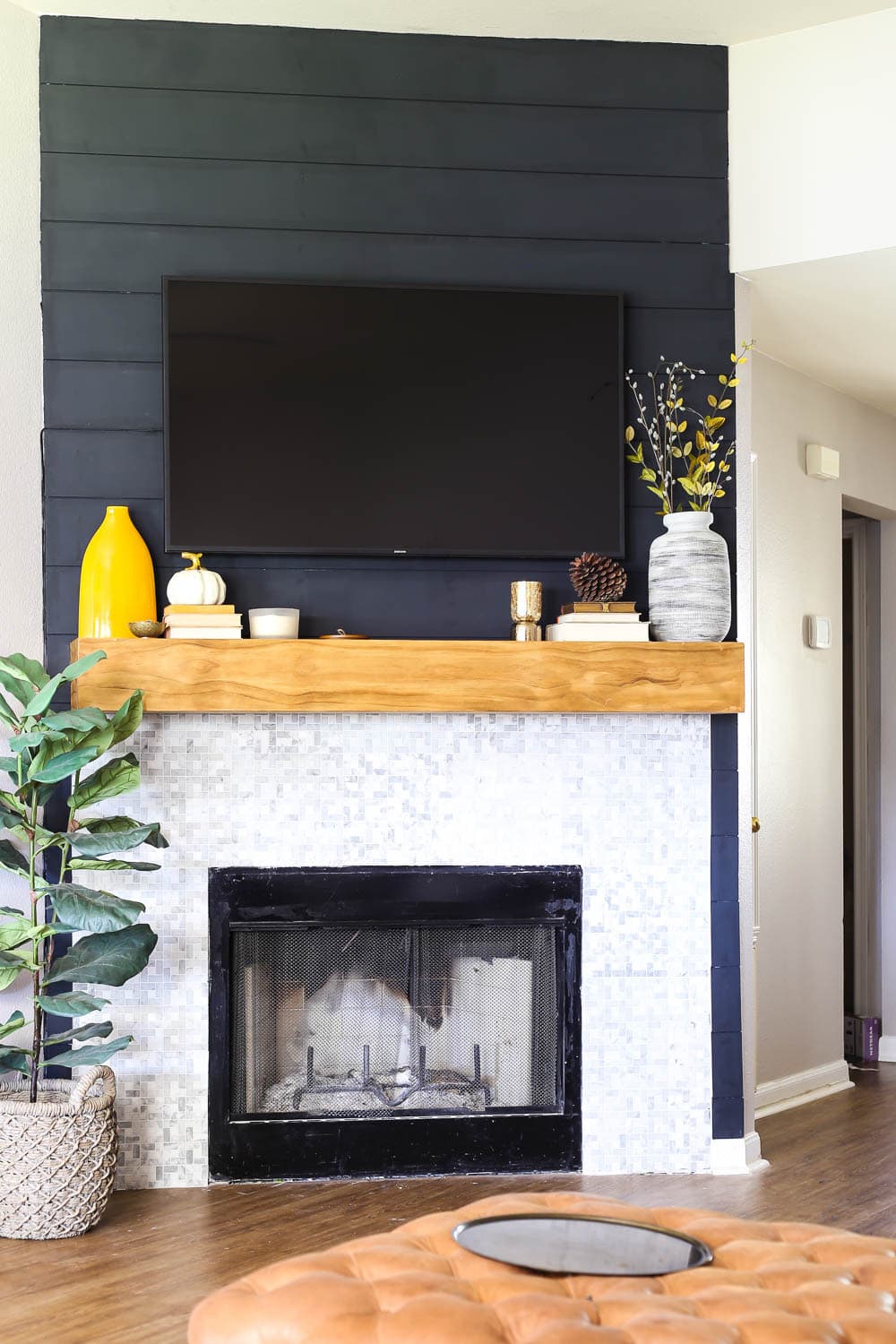 Easy DIY Fireplace Mantel
Materials Used: 
Two 1X10 pieces of pine (the length will vary depending on how long you want your mantel to be)
One 1X8 piece of pine
Table saw
Wood stain (I used this one)
Wood sealer (here's what I used)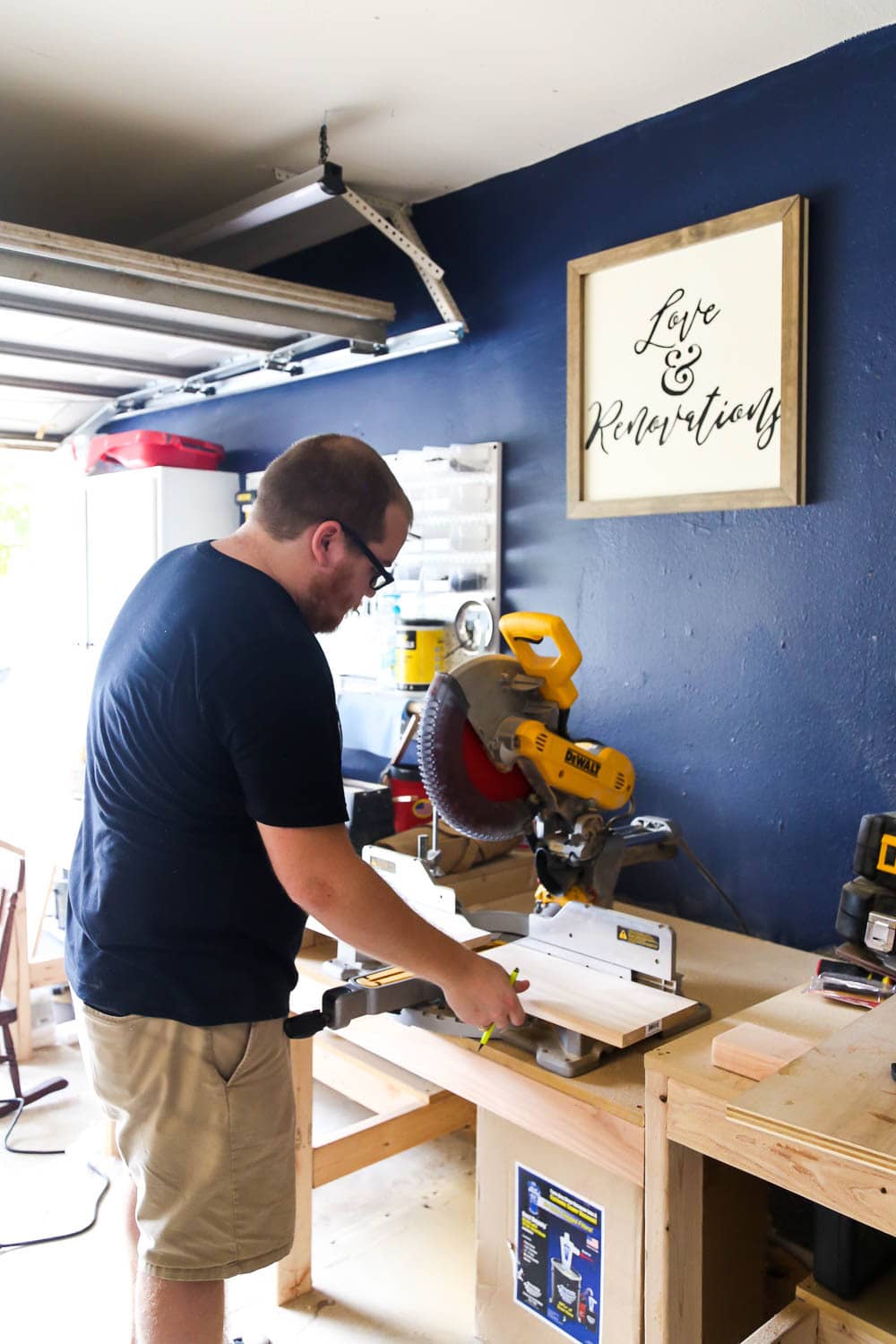 Step 1: Cut wood to size
First, you'll need to cut your wood pieces down to the right size for your mantel. This will obviously vary for each individual home, but we wanted ours to be nice and wide – it covers almost the entire wall. Our goal was to have it line up with the edge of the tile surround, so we simply measured that and cut our wood to the same size. We chose to have the mantel be about 8″ tall, simply because that would mean we wouldn't need to rip the 1X8 board down at all.
One thing we debated quite a bit was the height of the mantel – our old mantel was way taller than a standard mantel height, and it drove us crazy every day. We wanted to lower it a bit so that we had some room under the television to decorate, and also so it didn't look so dang silly.
Research told us that standard mantel height varies depending on the height of your fireplace box, but that the average is about 54″. So, we planned on having ours right around there.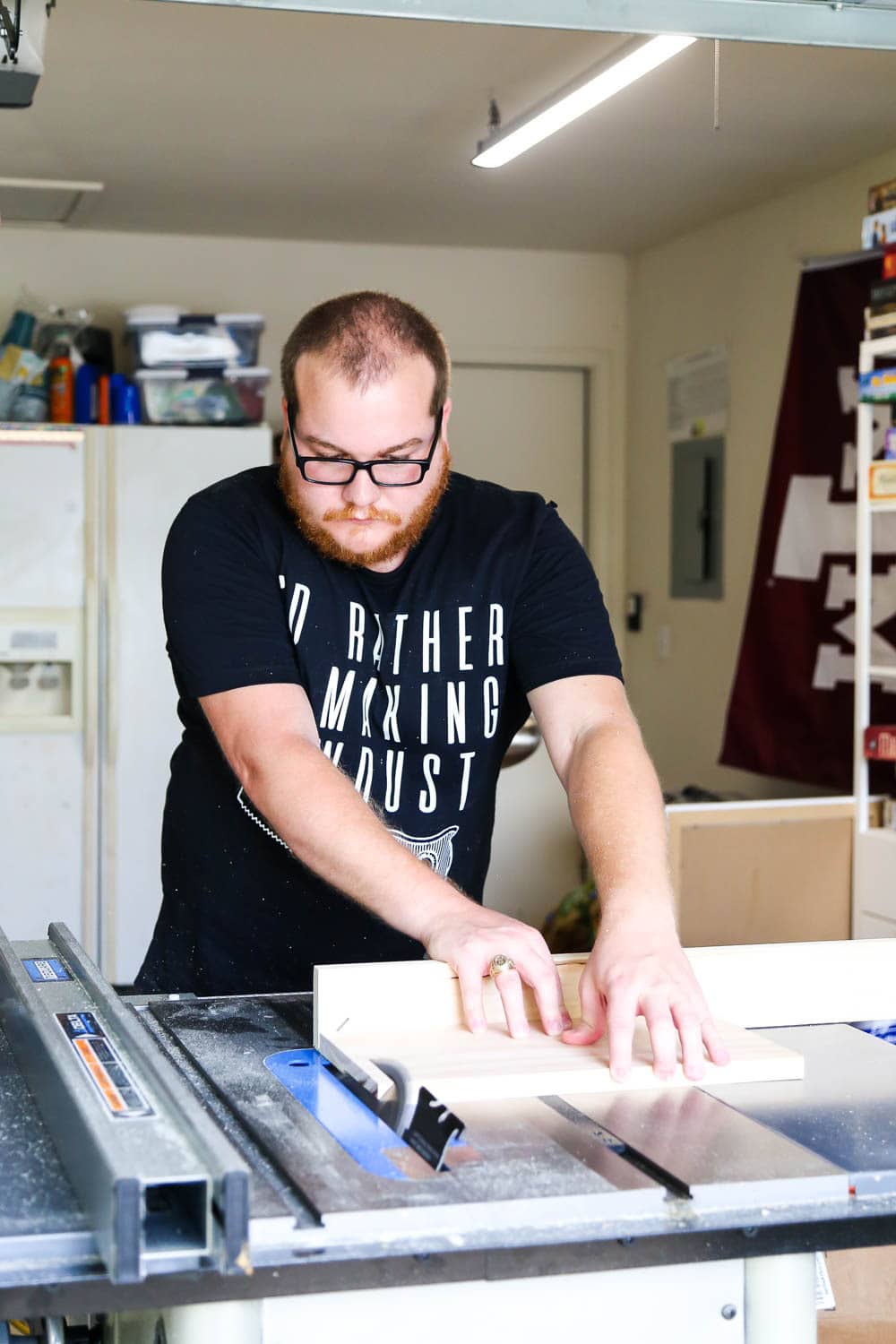 Step 2: Miter edges
Once you have your wood cut to the appropriate size, set your table saw to a 45-degree angle so you can cut a mitered edge where all of the pieces of wood will fit together. This is not a completely necessary step – many people build gorgeous DIY mantels without mitered edges, but we wanted a super streamlined look and didn't want any end pieces showing.
You'll miter all four edges of the front board, but the remaining four boards will all have one edge that remains flat, since it needs to sit flush against the wall.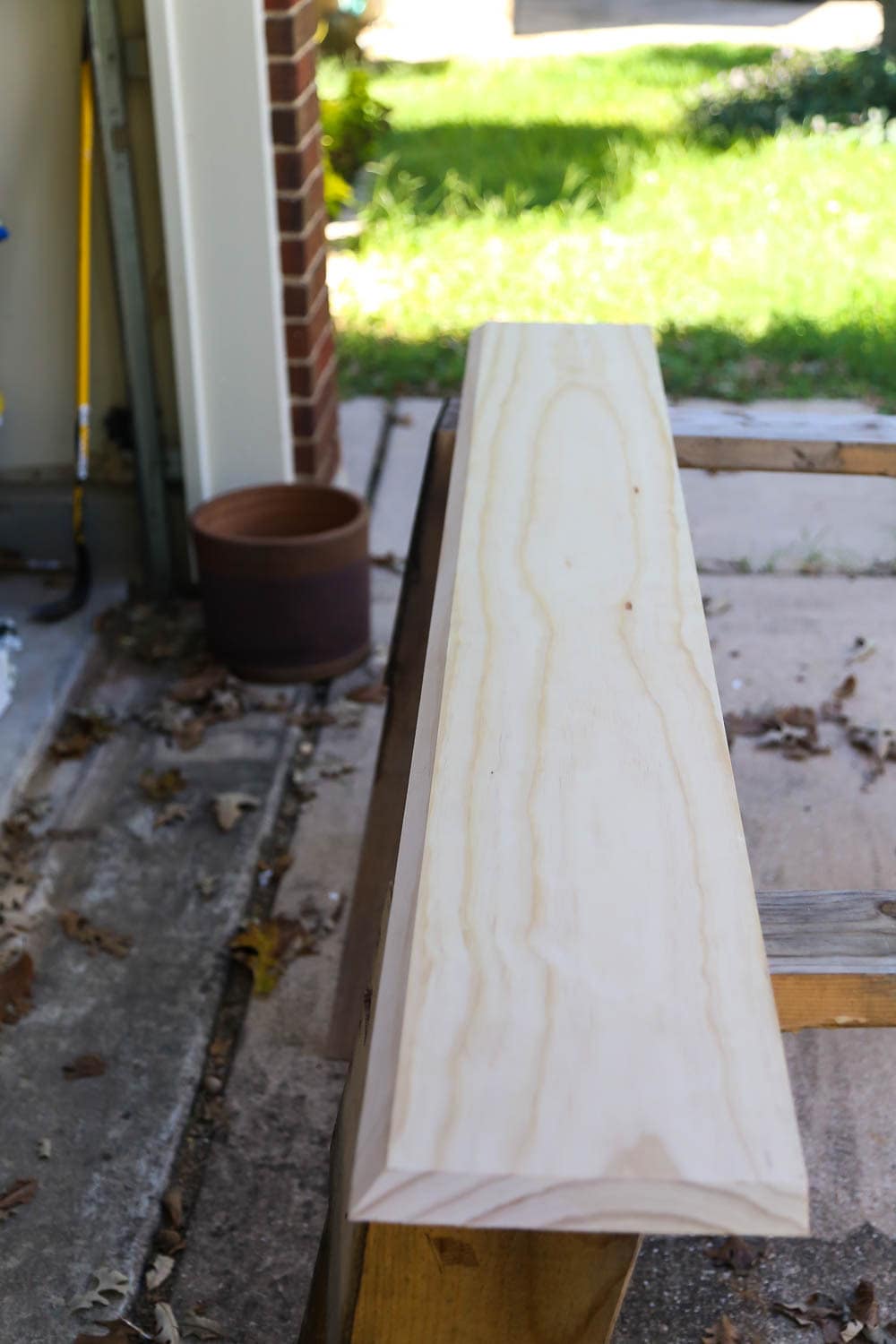 Before you head to the next step, be sure to dry fit all of your pieces together to make sure they line up. You might need to add a bit of wood filler if the edges aren't perfect, but you want a tight fit to begin with.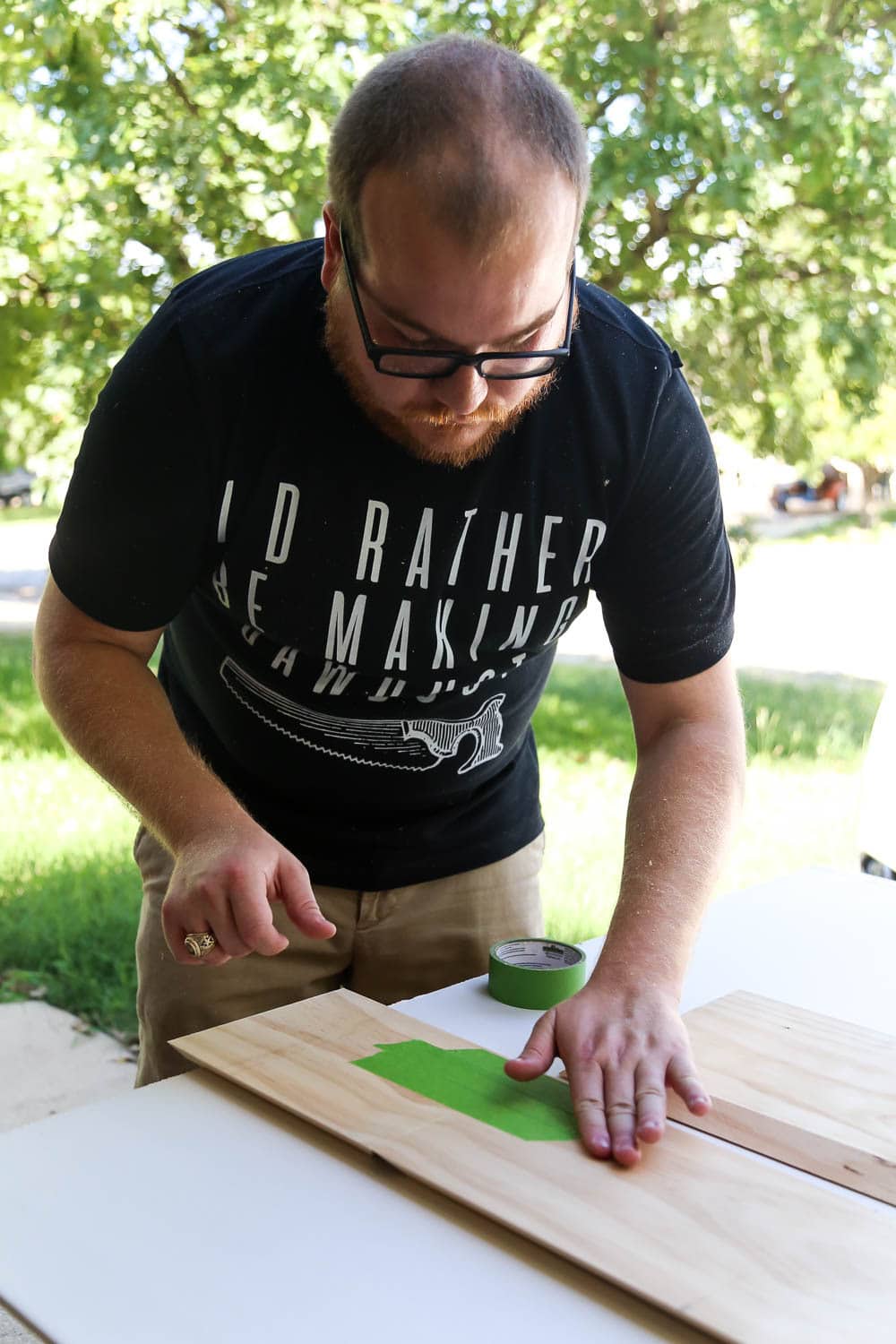 Step 3: Tape boards together
Now, you'll lay out the front and side boards all in a row with the mitered edges facing down. Grab some painter's tape, and tape the three boards together in a long line. The tape is going to provide some extra stabilization while the wood glue dries.
Once the front and sides are taped, grab one of the remaining boards, line it up on either the top or bottom, and tape it as well. It'll look something like this: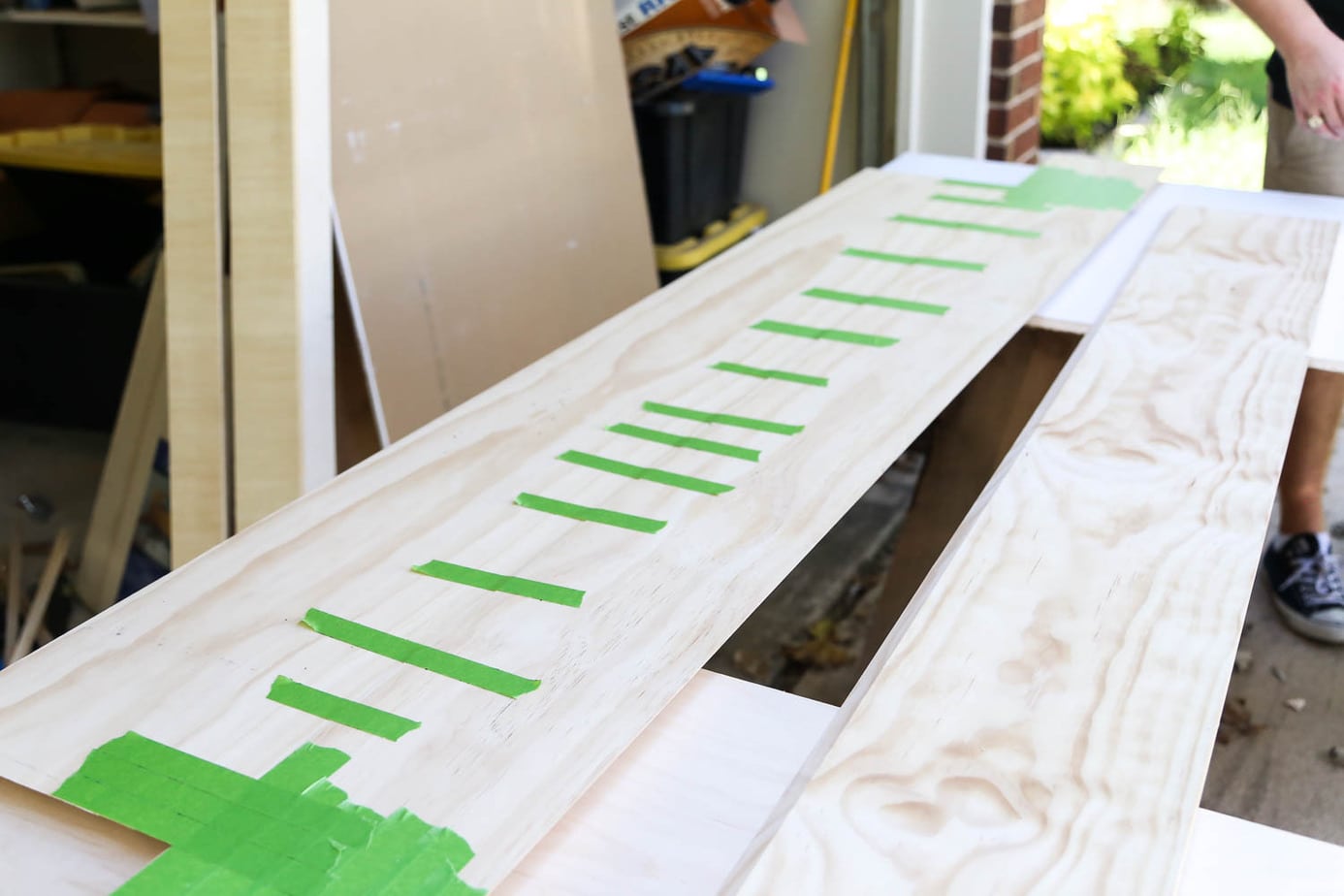 Once it's all taped up, flip the whole shebang over (you'll need an extra person to help you with this, or else it'll probably just fall apart on you). You'll attach the remaining board later, so don't worry about it right now.
Step 4: Glue it up! 
Now's the part where it all starts to come together. Grab your wood glue and apply a generous amount in all of the seams.  Then, carefully lift up the boards and fit them together – this is another spot where it will be helpful to have an extra pair of hands!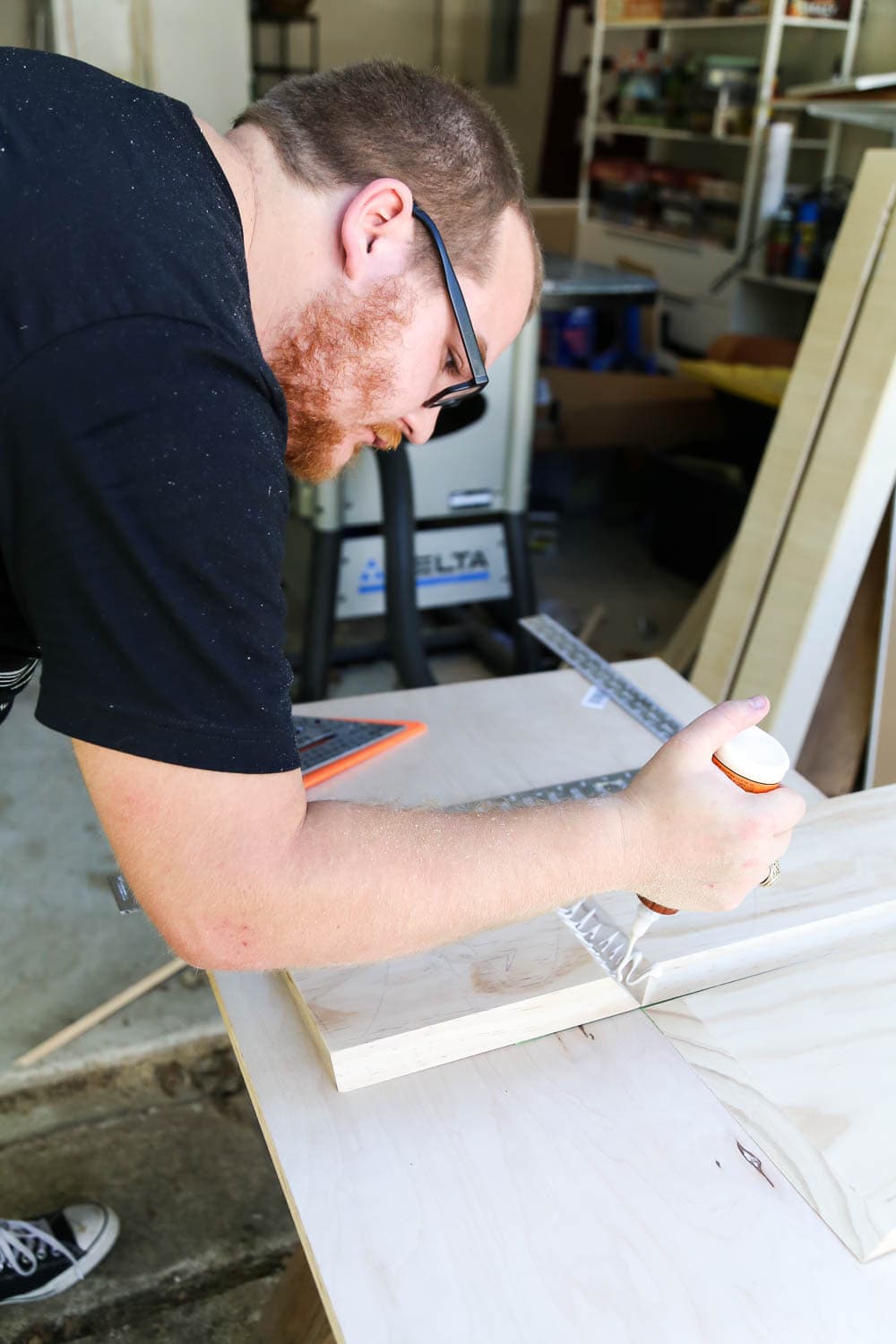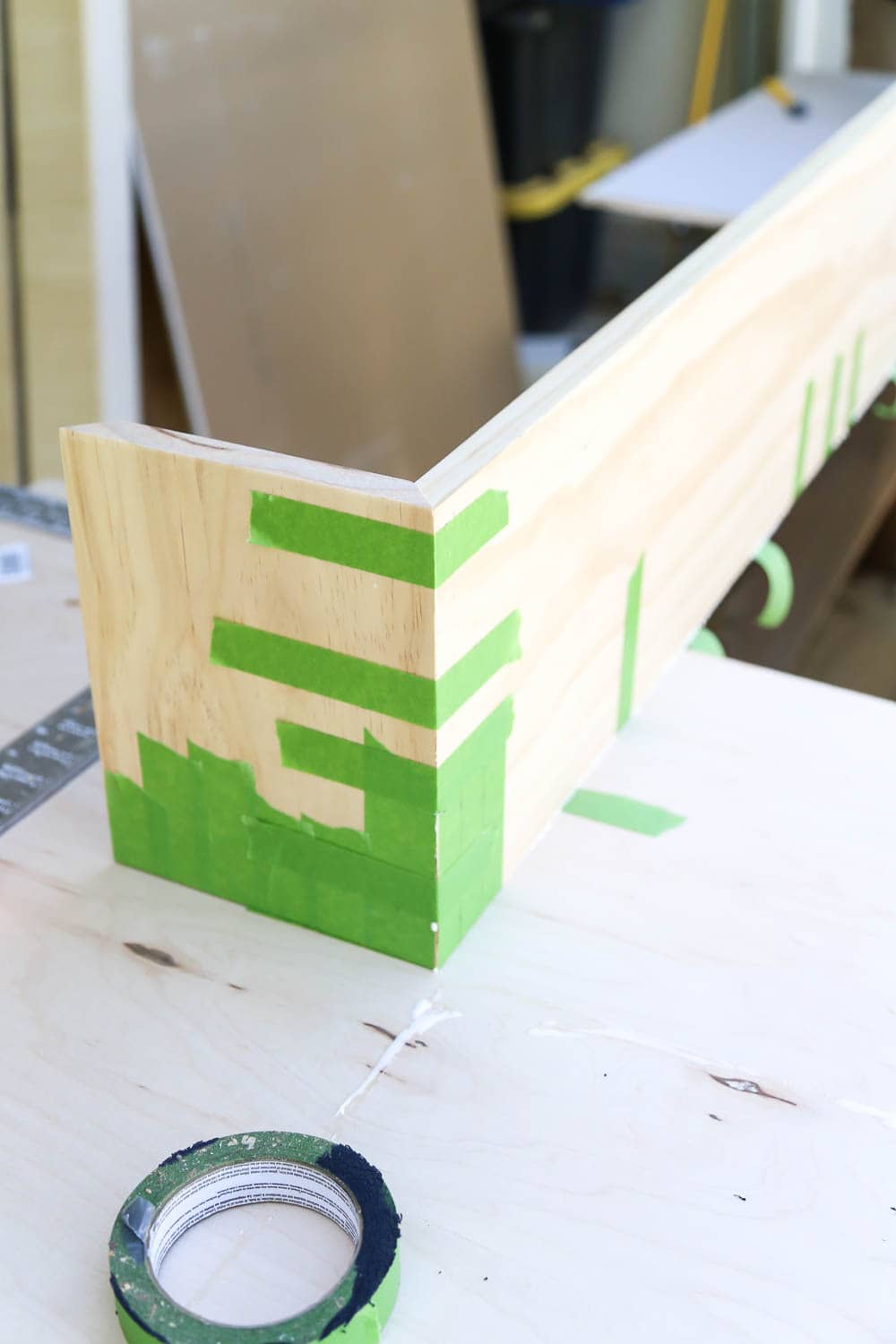 Add some more tape on the outside edges of the mantel to hold everything in place while it dries, then give it a few hours to set fully before you add on the last piece.
Be sure to take a minute to wipe of any excess glue that seeps through the seams – wood glue causes all sorts of annoying issues when it comes time to stain, so you want to get it all off.
Step 5: Add the remaining piece
Once the first four sides are fully dried, it's time to add the final piece. You'll use the same process, but since everything else is already set, it'll be pretty simple. Just add your wood glue and carefully set the final piece on top of the mantel. We found that for our mantel, a quart of paint was the perfect size to hold everything in place – but your mileage may vary with that!
Once the final piece has been put in place, add some more tape to hold it together and then walk away for a while until it dries fully. Don't touch!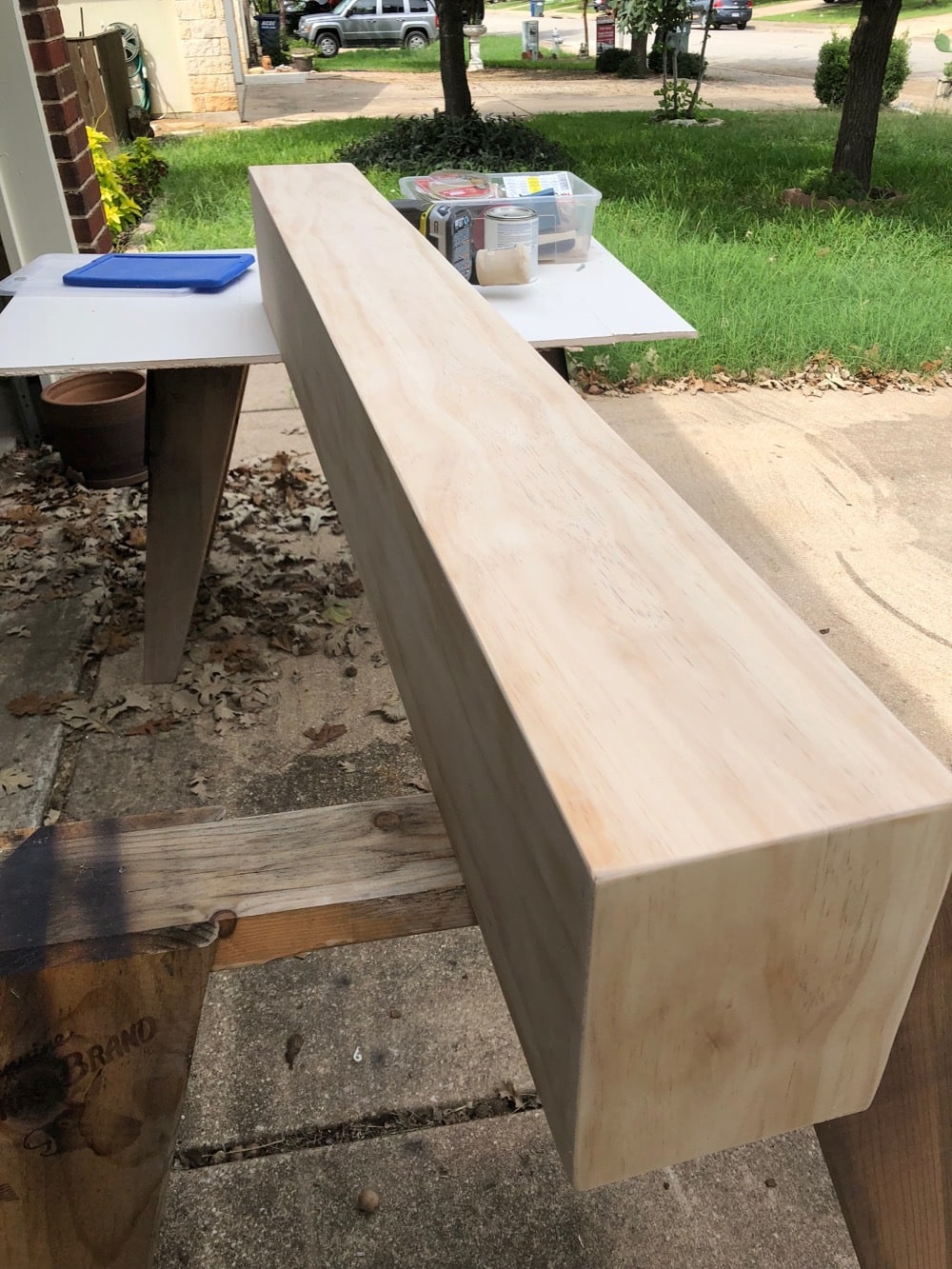 Step 6: Sand & stain
Now that your mantel is assembled, the fun part starts. Fill in any seams that don't fully line up with a bit of wood filler, then fully sand the entire thing. Pay special attention to the seams and corners – you don't want sharp corners just sitting there lying in wait to attack.
Those edges can be nasty, y'all.
After you've sanded it all down, clean off any remaining sawdust and get to staining! We used Minwax's Golden Oak for our mantel – I love the lighter color and it plays so nicely with the black.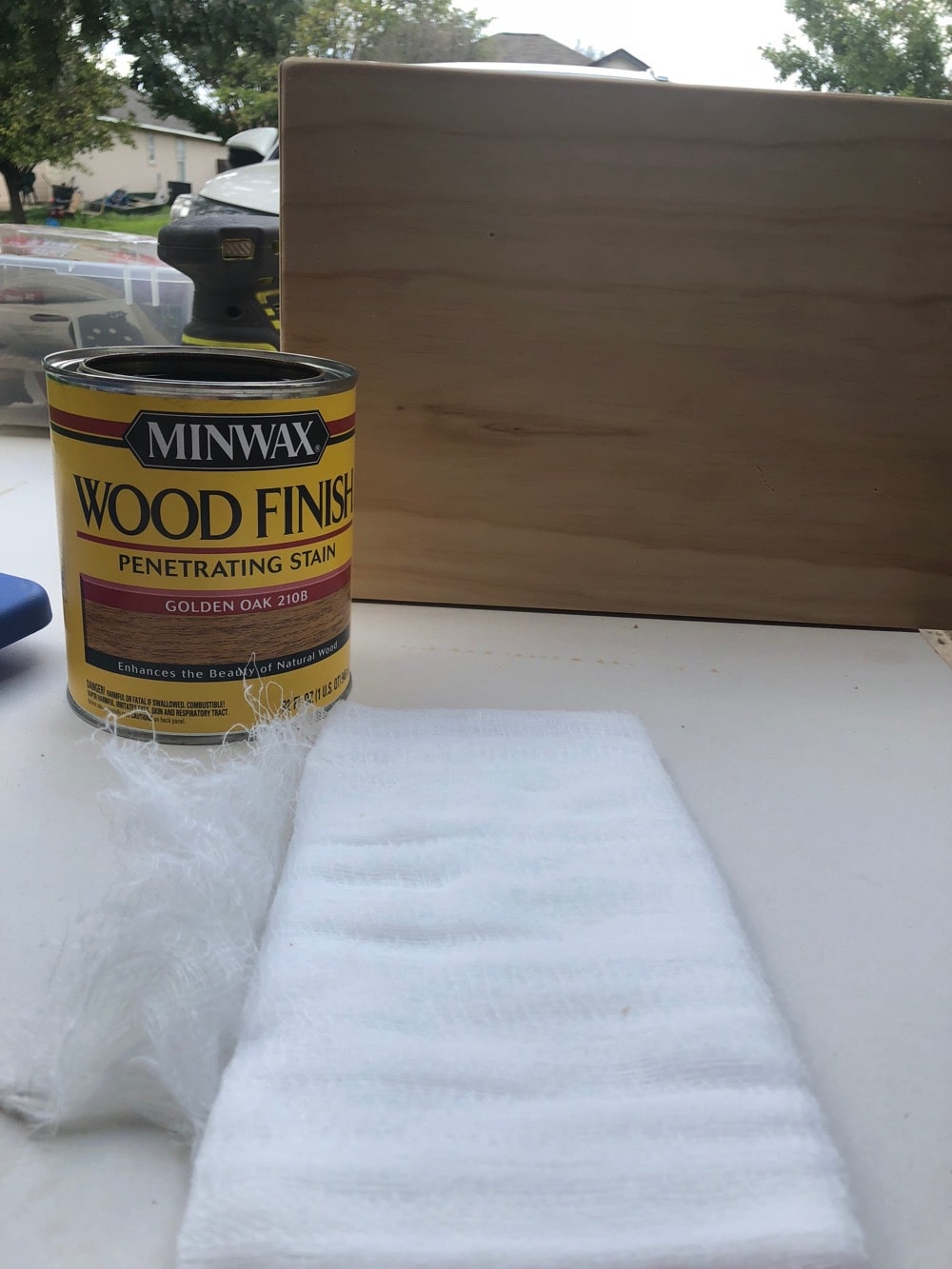 I chose to apply the sealant to the mantel after it had been hung because we had some bad weather and wanted to get it inside and safe from the elements as quickly as possible. But if you'd rather apply the sealer before hanging it, that works too. I used this triple-thick polyurethane from Varathane – it only requires one coat and dries quickly, so it's perfect for this kind of project!
Step 7: Hang it up! 
After the mantel has dried completely, you're finally ready for the best part – hanging it!
We started by hanging a ledger board on the wall to attach it to – just a plain ol' 2X4 board screwed directly into the studs with heavy duty screws. You can see here that it's off-center – that's because we wanted to be sure to hit the studs, and that's where they're at.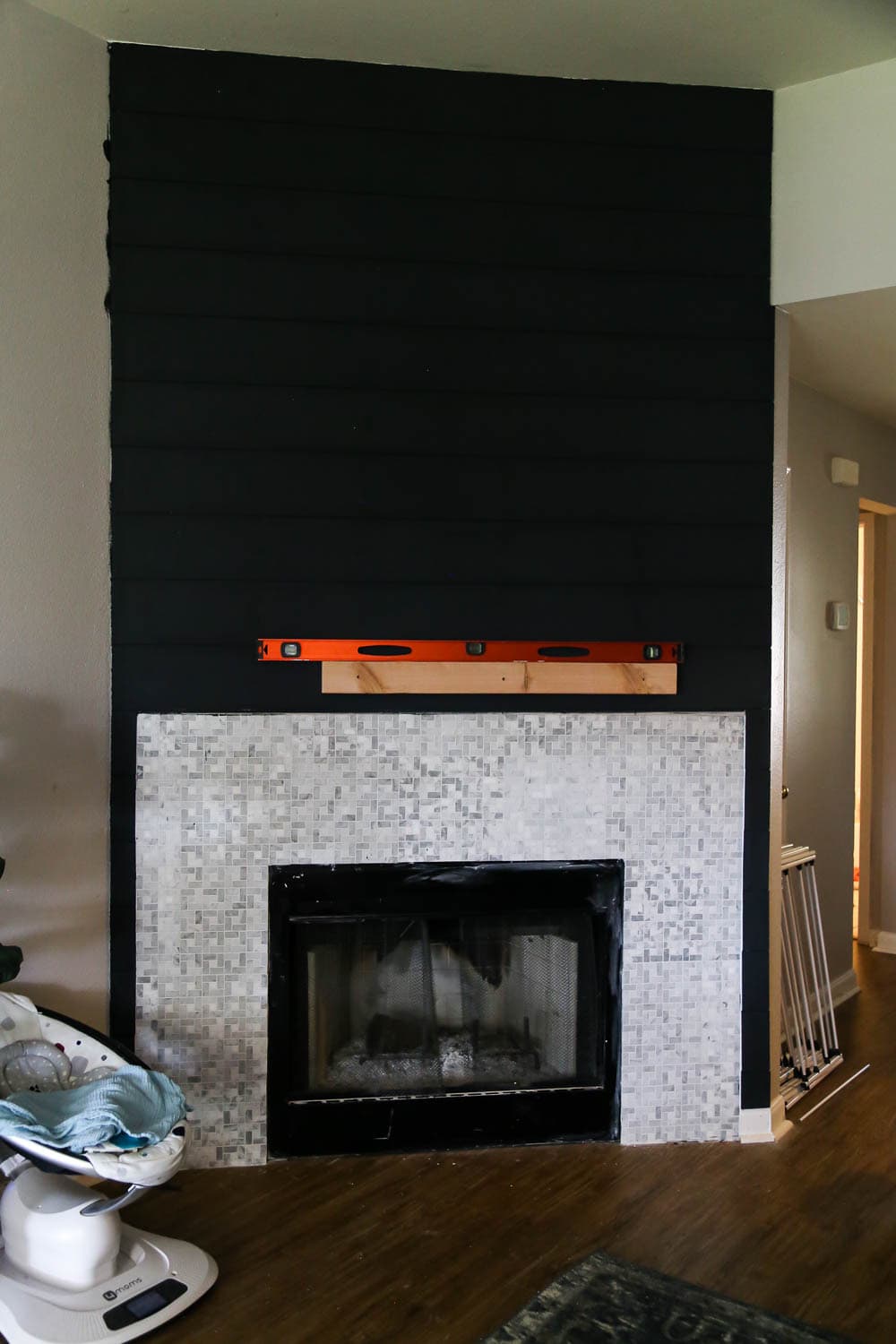 After the ledger board is installed, simply fit your mantel over it and nail it into place from above. This is the exact same method that was used on the mantel that was already in this home, so even though it might feel entirely too simple, I promise it's completely sturdy! If you want some added stability, you could always screw the mantel into place rather than nailing it, but we wanted to stick with the smaller and less noticeable holes.
The final step in hanging your DIY fireplace mantel is to add some caulk around all of the edges to seal any small gaps and help hold everything in place. It'll create a more finished look and also does a great job of preventing any small shifting of the mantel!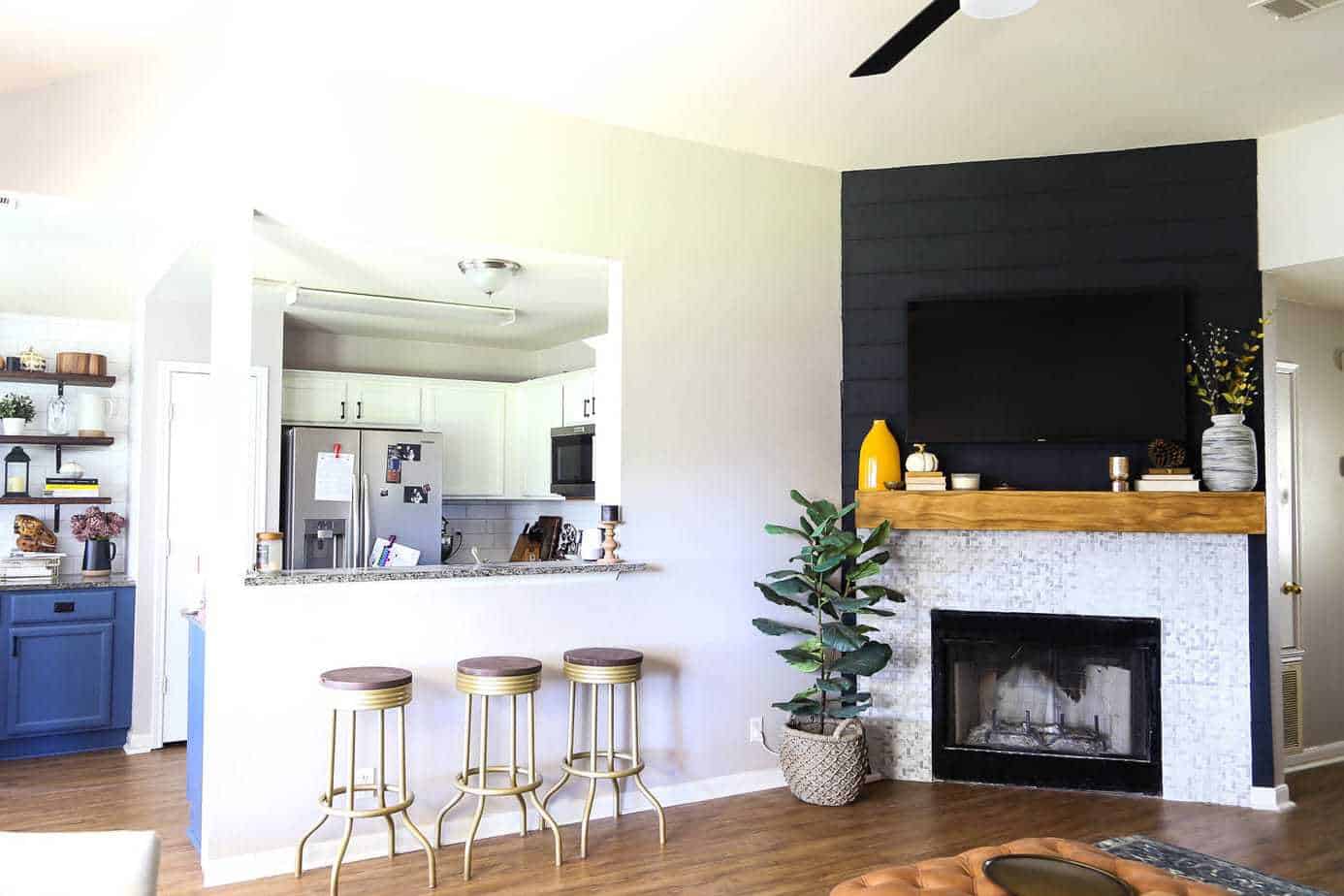 I'm loving our new mantel so much and I'm so excited to start decorating it for Christmas in a few weeks!
Let me know if you have any questions about the process – it's way simpler than I ever expected, and the finished mantel is oh so good.
If you want to see other super simple home upgrades, check out the posts below: