DIY Scrap Wood Christmas Trees
This post is sponsored by Rust-Oleum, but all opinions are, as always, all mine. Thanks for supporting the brands that support Love & Renovations! 
Happy December! Can you believe it's actually here? The end of 2017? I know it's cheesy and cliche to say it, but I seriously feel like this year just started, and it's already over.
Is this what getting old feels like?
Even though I'm still having a hard time wrapping my brain around the fact that the holidays are here, I'm incredibly excited nonetheless. Things have been really crazy in our lives lately what with a sudden decision to move a few months back, and just getting all moved into the new house right before Thanksgiving. Under normal circumstances, my home would be fully decked out by now, but since we're still settling, we're taking a slower approach this year.
But, I can't resist at least one or two Christmas-decor-related posts, so I planned ahead to be sure I'd have something ready for you.
If you've been reading over the last few months, then you'll know that we paired up with one of my very favorite brands, Rust-Oleum to show a few different ideas for mantel decor. We started off with our DIY mantel made from an old tree, then we chatted about a fun fall mantel idea using dollar store pumpkins, and today it's all about decorating the mantel for Christmas.
You just thought we were done talking about the old house.
Yup, I've still got one more post up my sleeve featuring that beautiful fireplace we knocked out right before we listed the house – I mean, we put so much effort in, I might as well squeeze as much decorating as I can out of it, right?!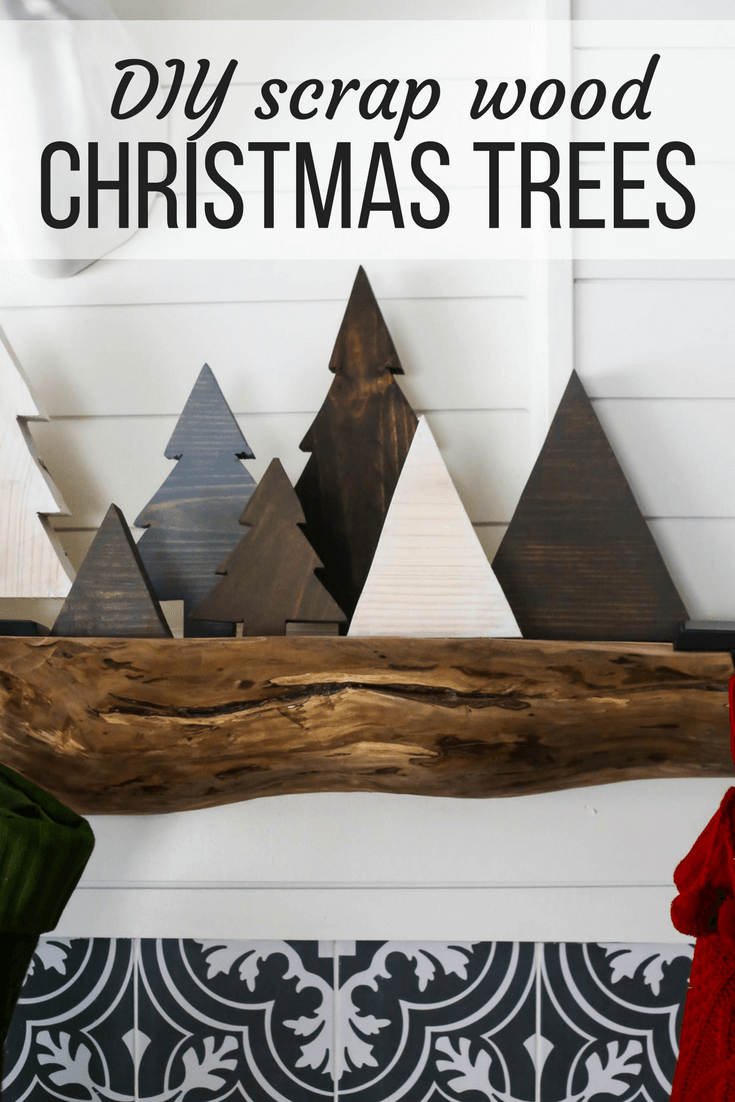 This post contains affiliate links. Click here to read my full disclosure policy. Adorable, no?
And, bonus – SO EASY!
When it comes to Christmas decor, I'm a big fan of rustic and traditional decor – I like natural textures, lots of trees, and a little bit of sparkle. So, when Rust-Oleum asked me to come up with a fun DIY idea for the holidays featuring some of their stains, I knew right away that I'd be making some scrap wood Christmas trees. They're easy, cheap (or free!), and the perfect rustic-but-not-too-rustic piece to add to your Christmas mantel.
This project is so easy to make, and I love the finished look – it fits right in with the rest of our Christmas decor, and I just love the simplicity.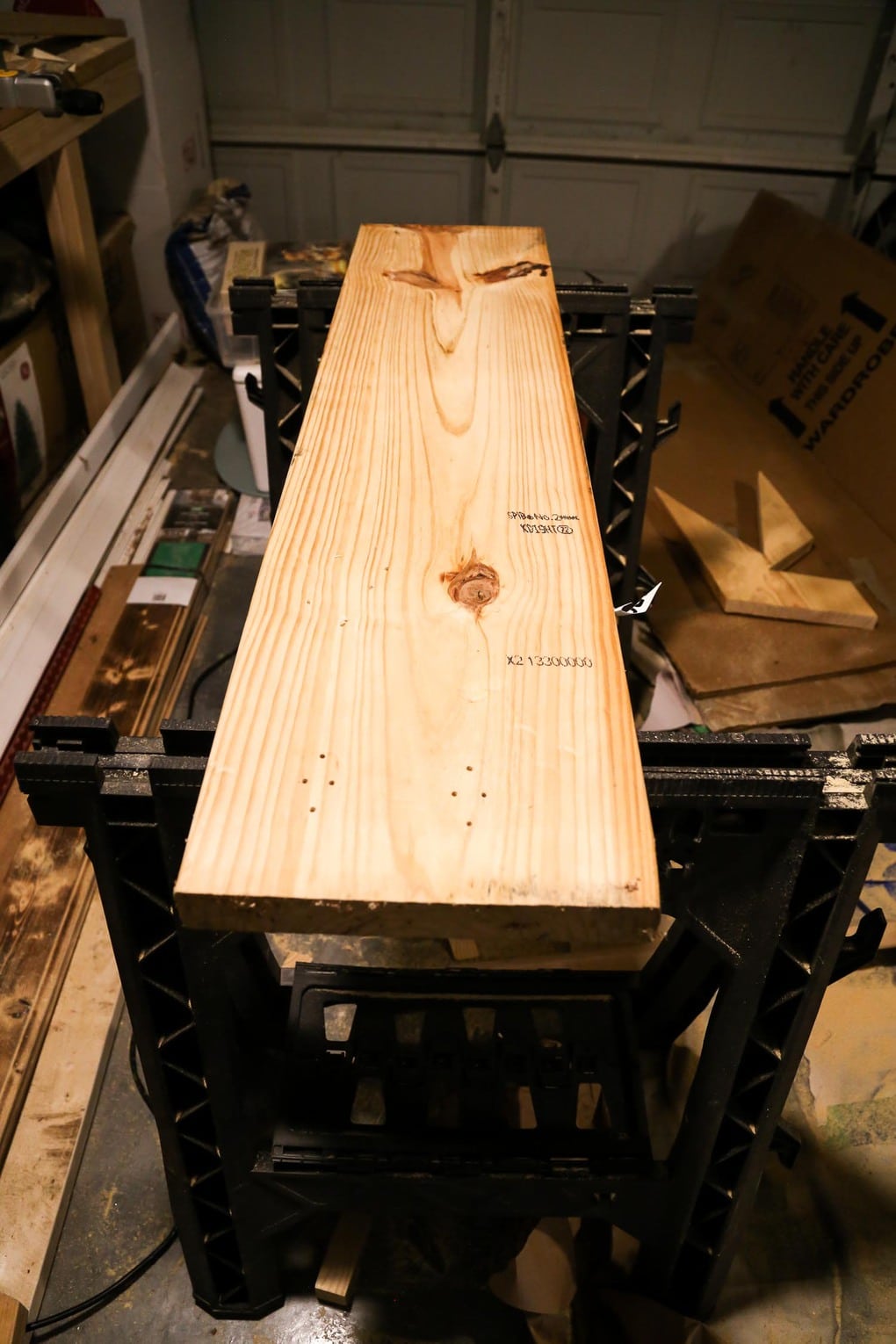 For this project, I used some scrap 2×12 boards that we had from a project we did over the summer. To cut the trees out, all I did was use a marker to draw out the shape I wanted and use my jigsaw to cut it out.
Seriously. Tutorial over. It's that simple!
Just kidding. I mean, it is that simple, but let's dive a little deeper.
To draw the shape for the more traditional trees, I used a straight edge (I actually just used the lid from a Tupperware box that was sitting around – anything that will help you draw a straight line works just fine) to draw the general shape of it, then I drew lines in the middle for where each tier would be, and used the lid to help me draw the angles in. Clear as mud? Here, this picture might help:
This doesn't need to be too precious or perfect – a little bit of imperfections in the shape of the tree just adds whimsy and character, and there's nothing wrong with that.
For the other trees, I just drew a large triangle – sometimes I added a stem on, sometimes I didn't. There wasn't much rhyme or reason to the sizes and shapes that I drew – I just kept working until I had what I felt was a good variety and a good number of trees. When all was said and done, I used about two 6-foot boards to cut all of these out.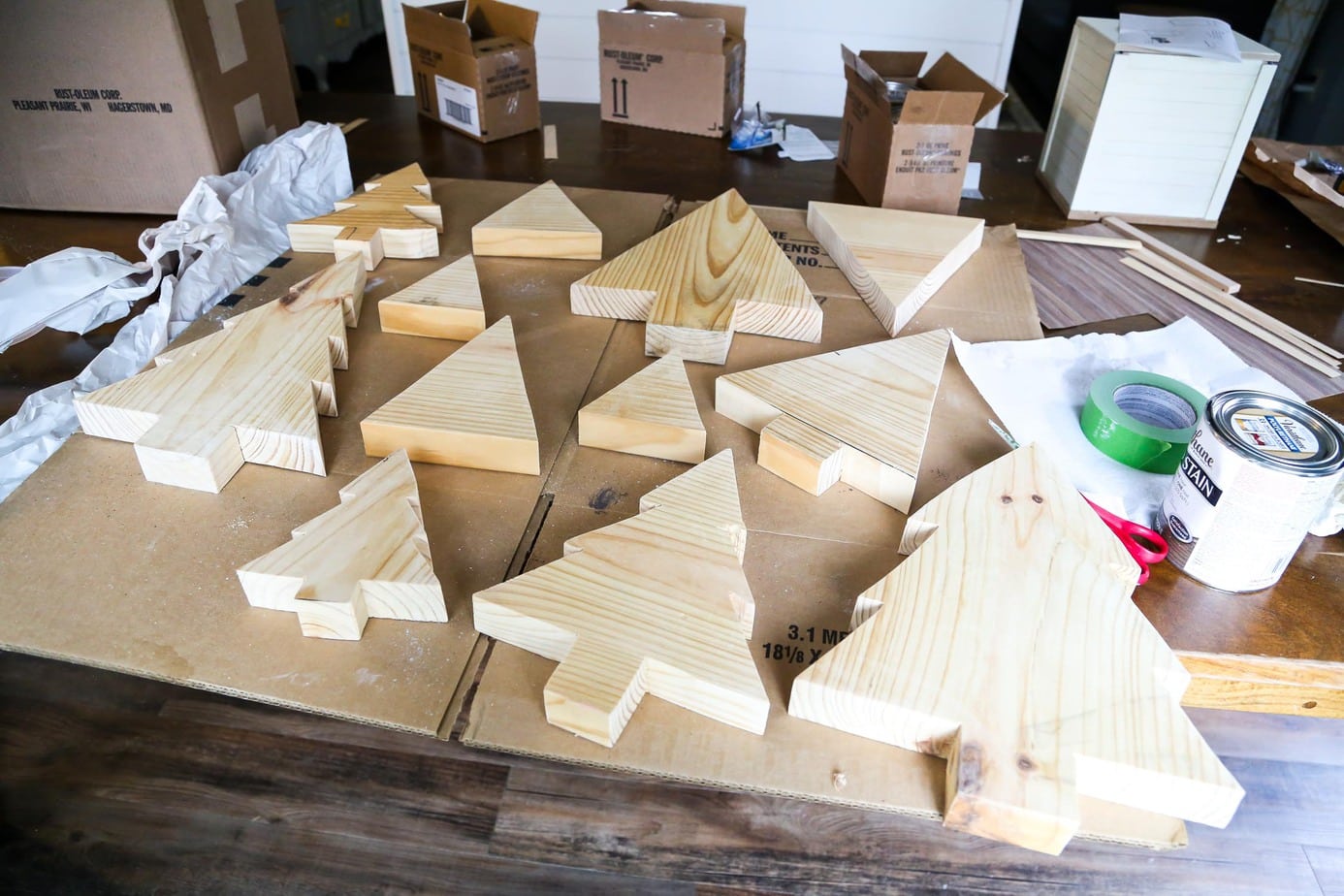 Once they were all cut out, I sanded them down and got to staining. Before this project, I actually hadn't ever played around with colors of stain other than plain ol' brown – I haven't had much of a reason to stain anything white or gray, so it's not something I was familiar with. So, I was really looking forward to trying out some new (to me) colors, and these didn't disappoint. They go on so beautifully, and I love that it's a more rustic look than paint would be, but the color is still rich and warm.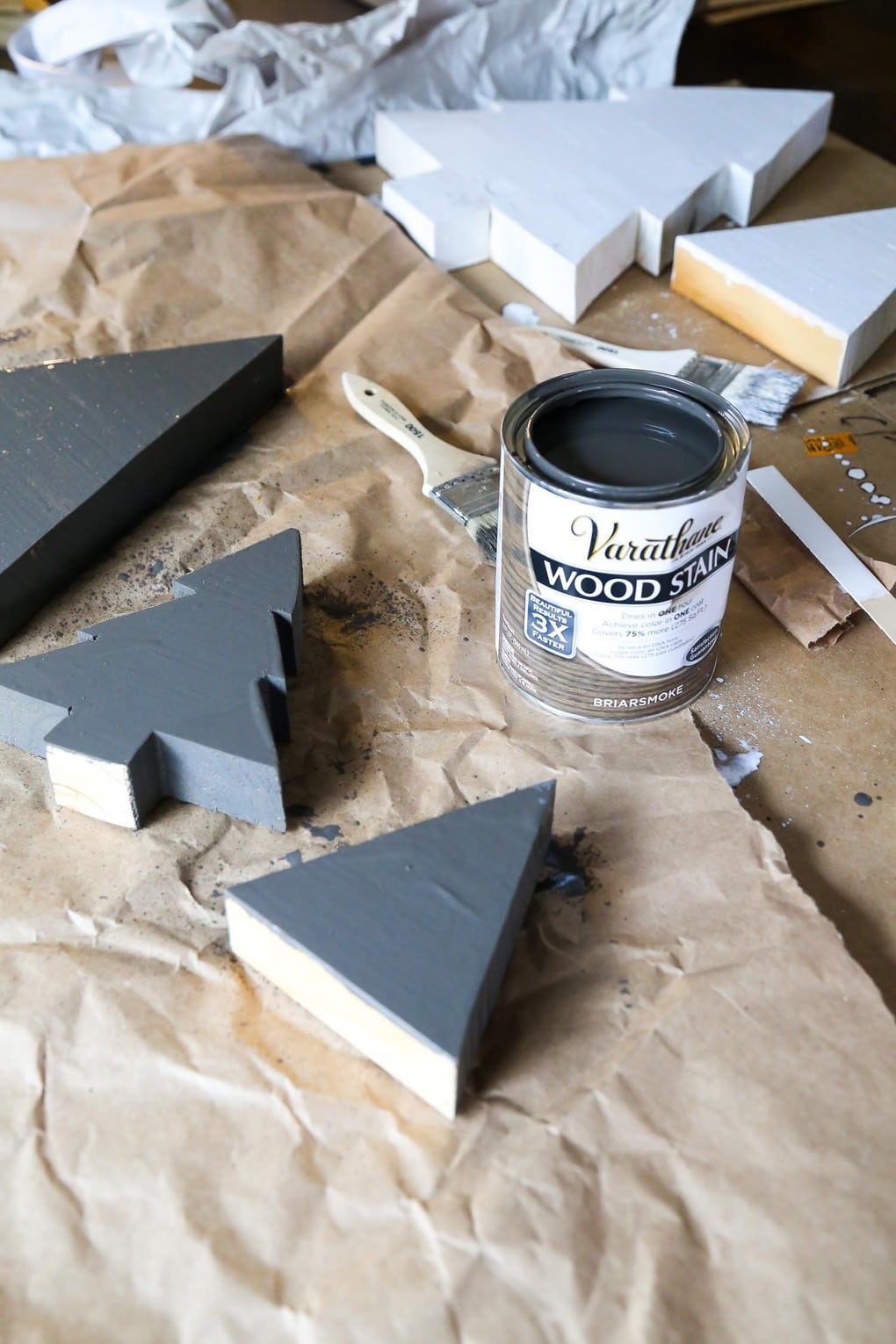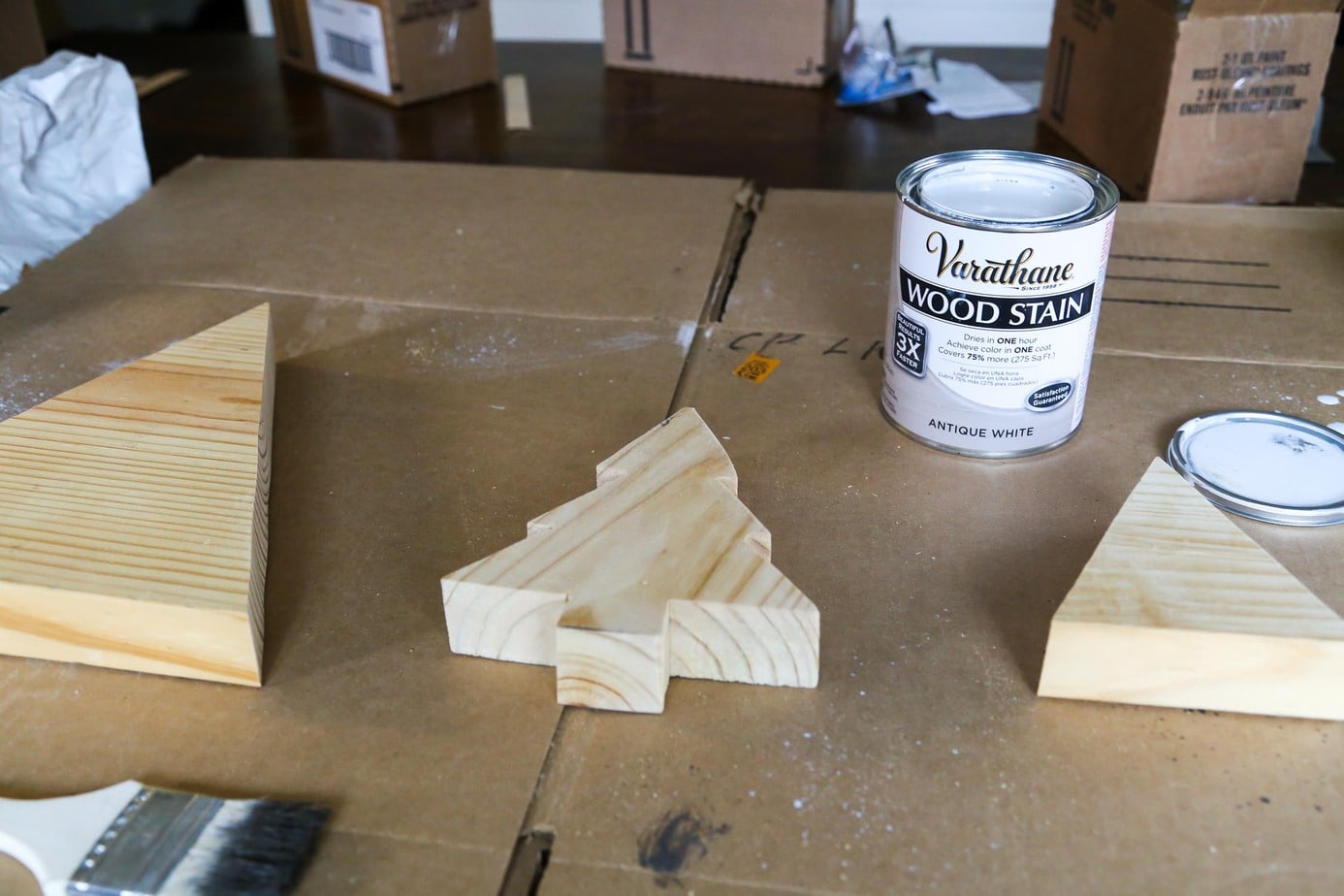 I went with four different colors for these trees:
I was shooting for a good mix of neutral colors that would blend right in with just about any decor – I think they all look pretty beautiful together, and I can't wait to find an excuse to work with these colors again! Briarsmoke, in particular, might just be my favorite – it's a gorgeous brown with a good amount of gray in it, and I just love how it looks on the finished trees.
But, wait. I know what you might be thinking.
If you're shaking your head right now because you've never stained wood and have no idea how, let me help. I did a quick tutorial on Facebook recently for how I stain wood – there's really no science to it and it's one of the easiest ways to finish furniture if you ask me, so don't be intimidated by it! I promise, it's simple.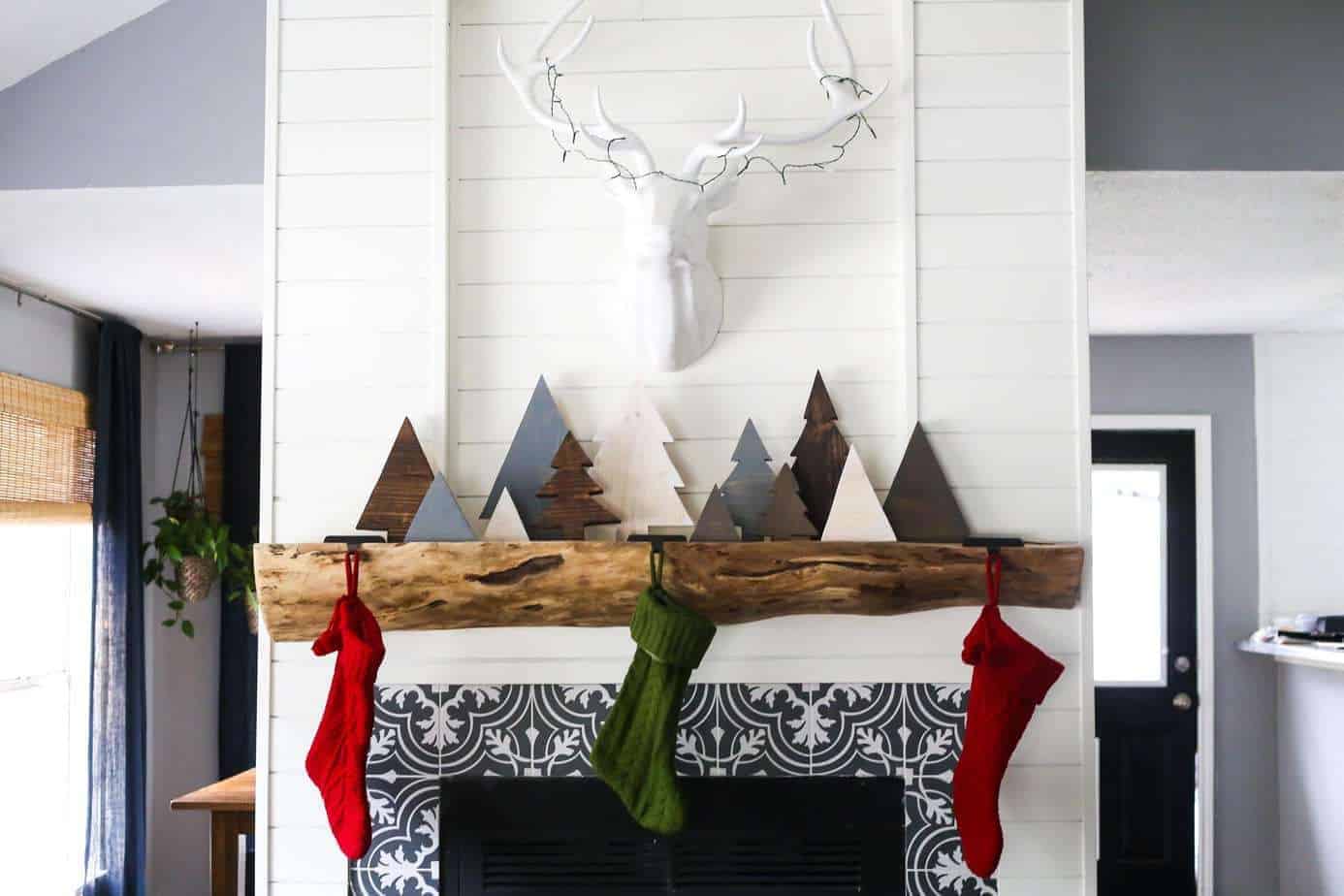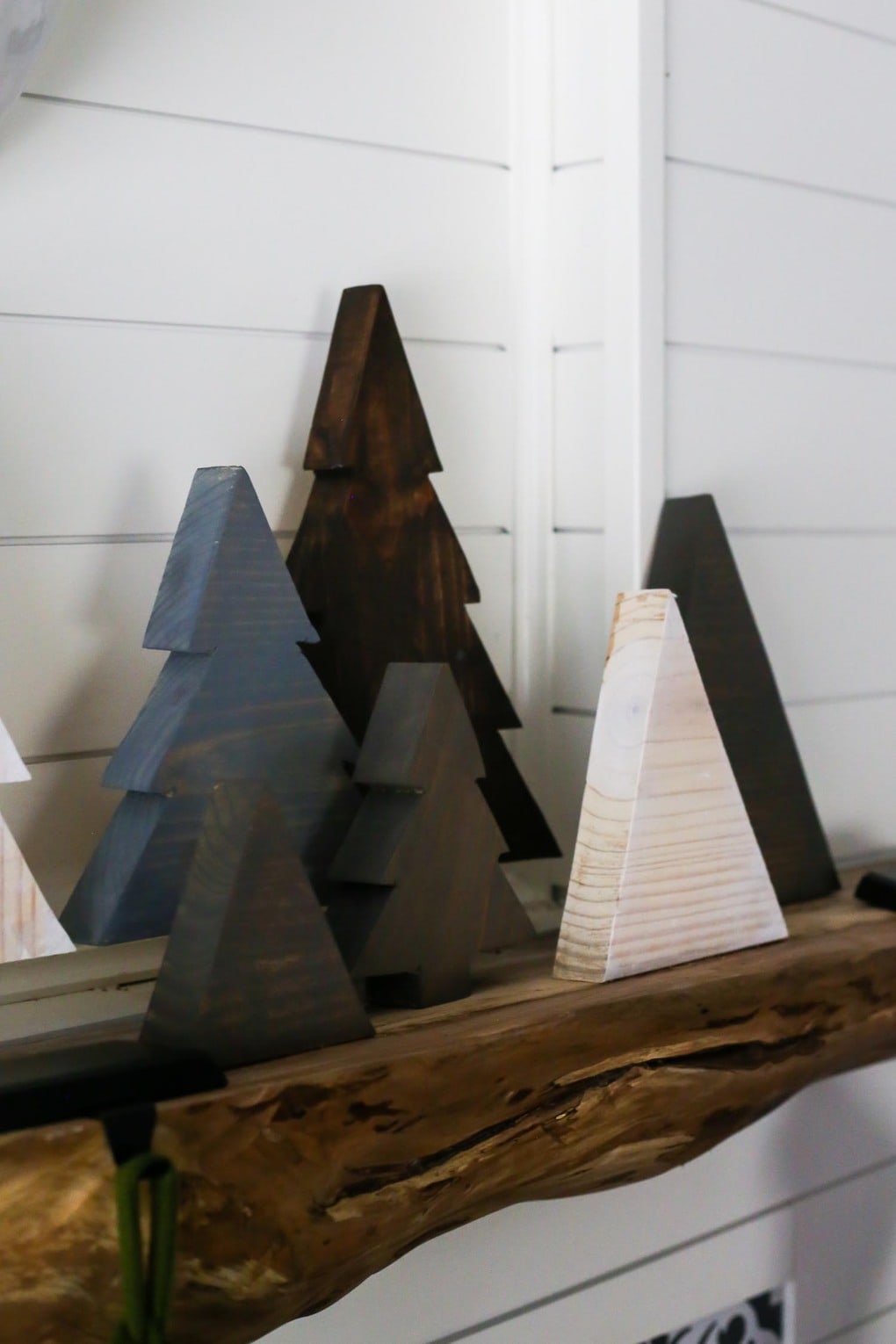 Once I had everything all stained, all that was left to do was put them up on the mantel! I had originally thought I'd add some other decor in with them, but I loved how they looked all by themselves, so I decided to keep it simple. I love how this look really embraces a more neutral approach to Christmas decor, and I think it would look fabulous in a room with lots of red and green and more traditional decorations.
I haven't finished decorating our new house for Christmas yet (long story, but it involves new flooring and you've probably seen some peeks on Instagram if you follow me there!) but I'll definitely be using these guys in the new house this year as well. I'm thinking I might set them up in our bedroom, where we tend to keep things a bit more simple than we do in the rest of the house. I'll keep you posted when I decide!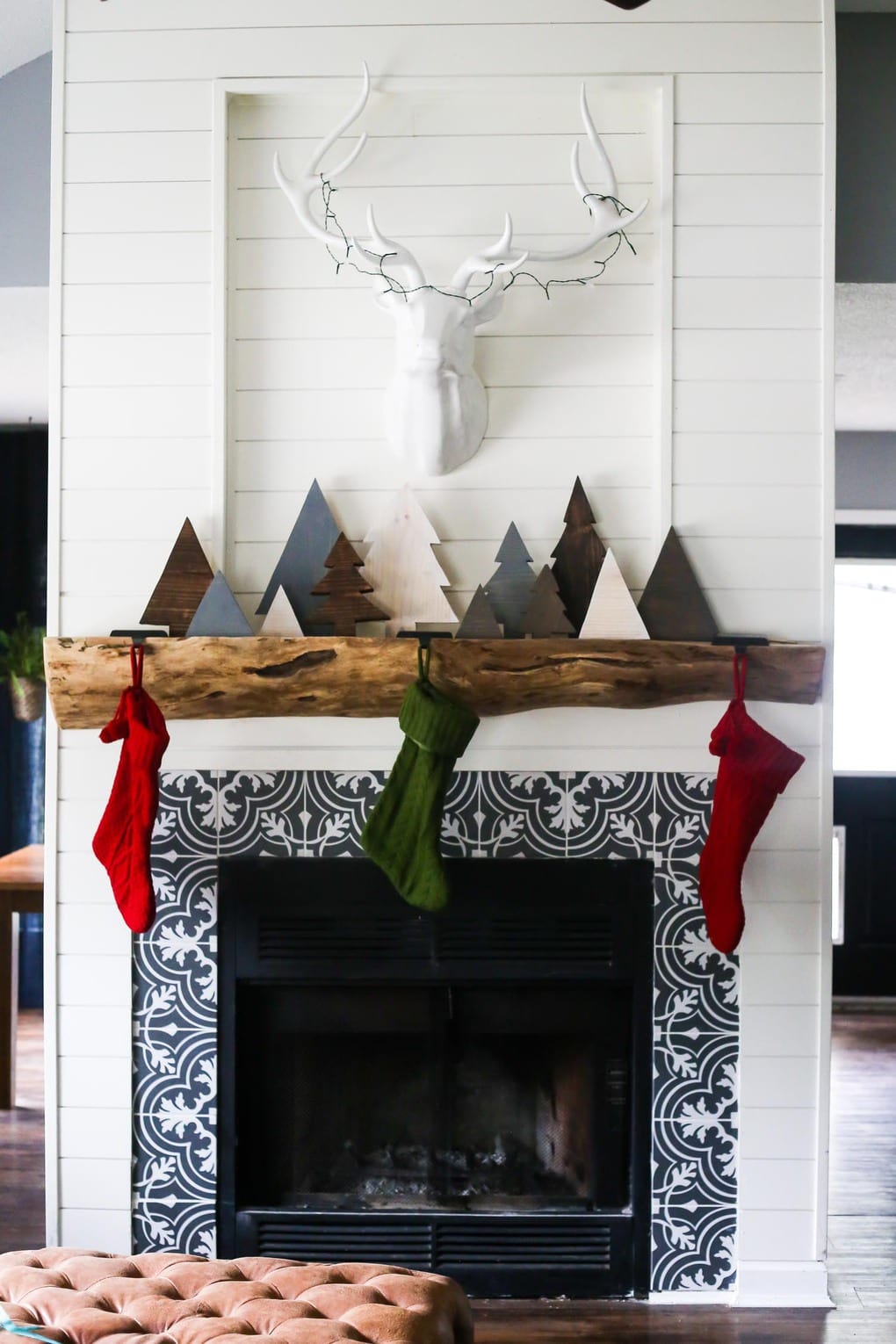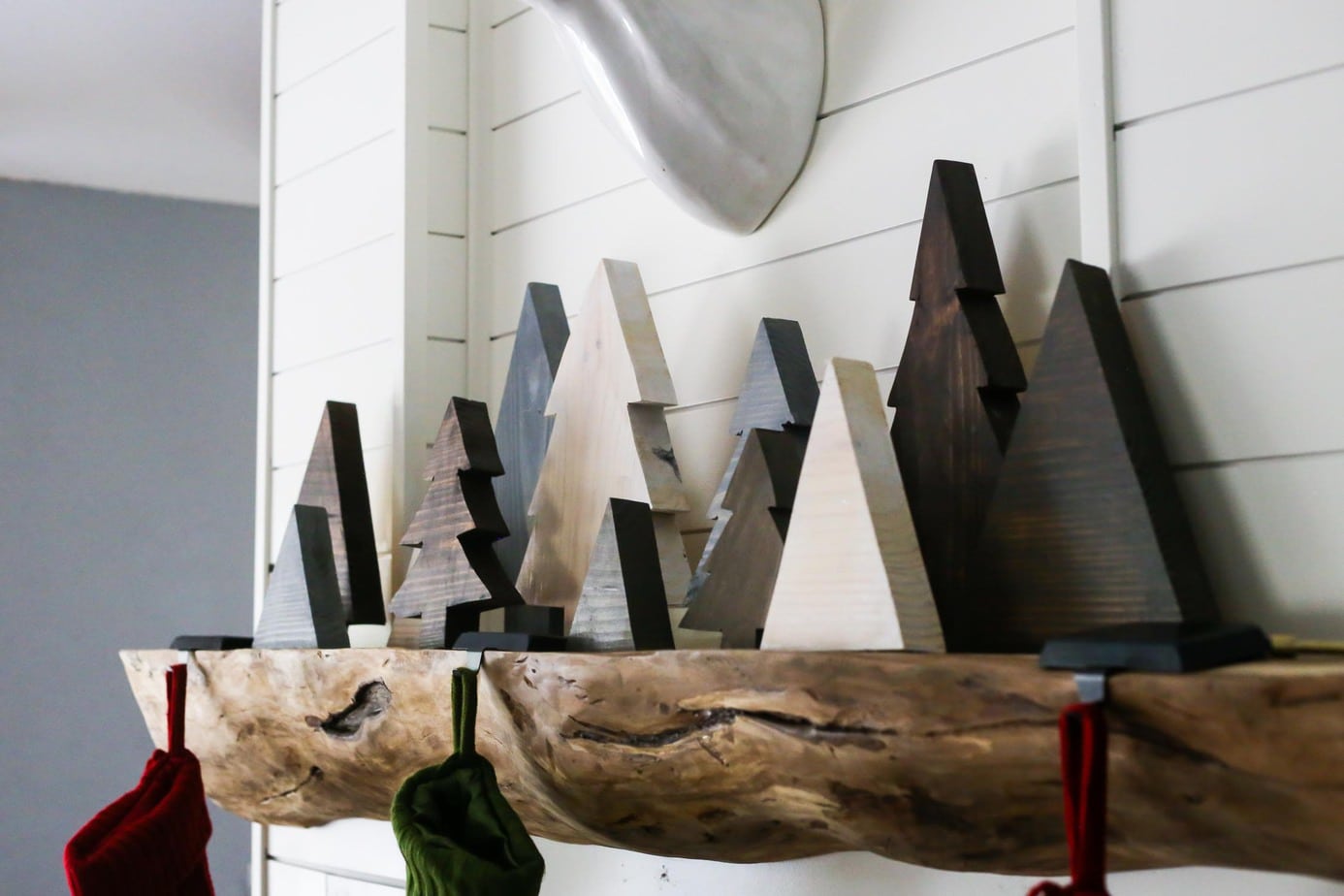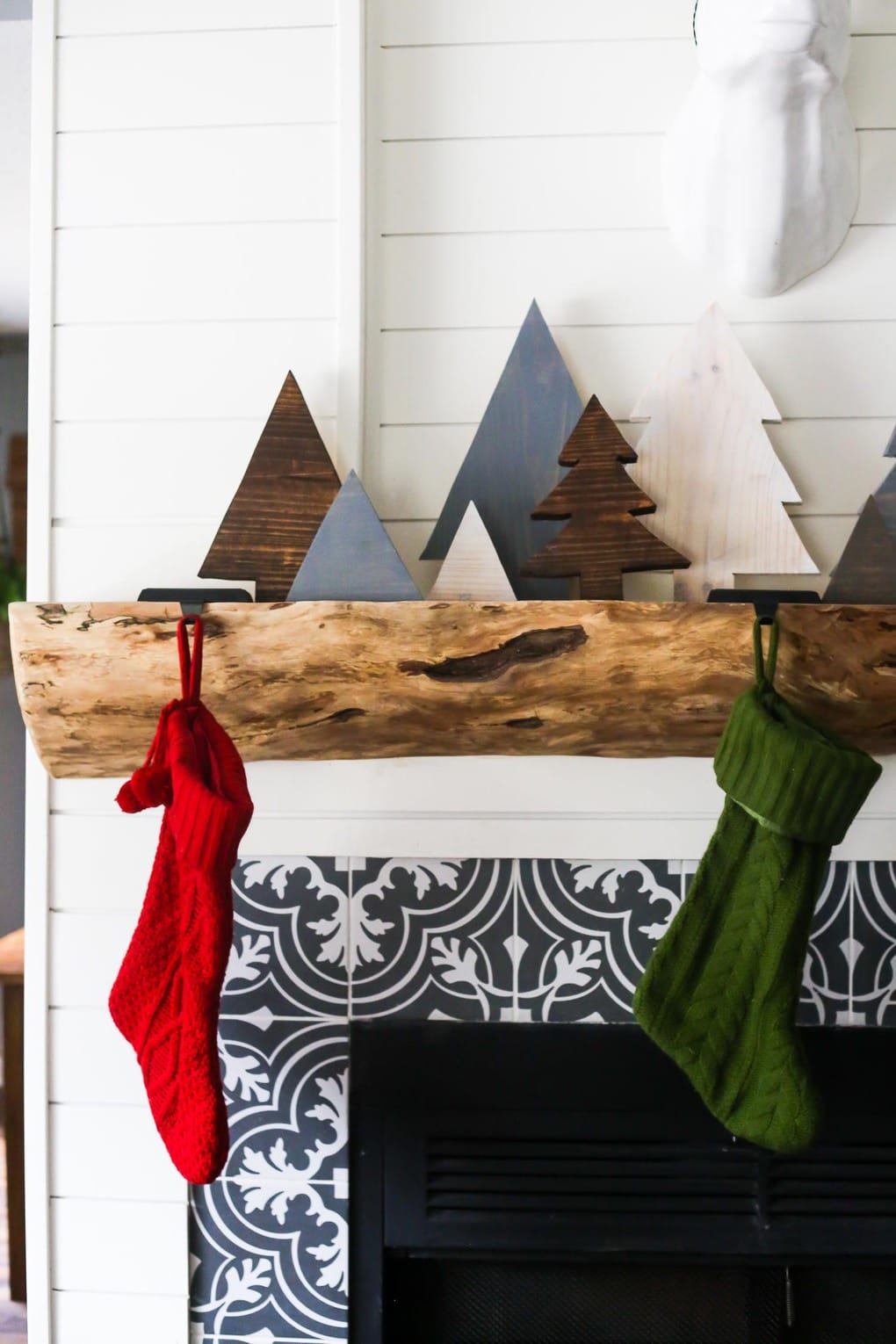 For now? I'll just keep staring at these photos and pretending like my house is actually decorated and adorable. When, in reality, it kind of just looks like a bomb went off in the living room most of the time.
Ah well, there's always next year, right?!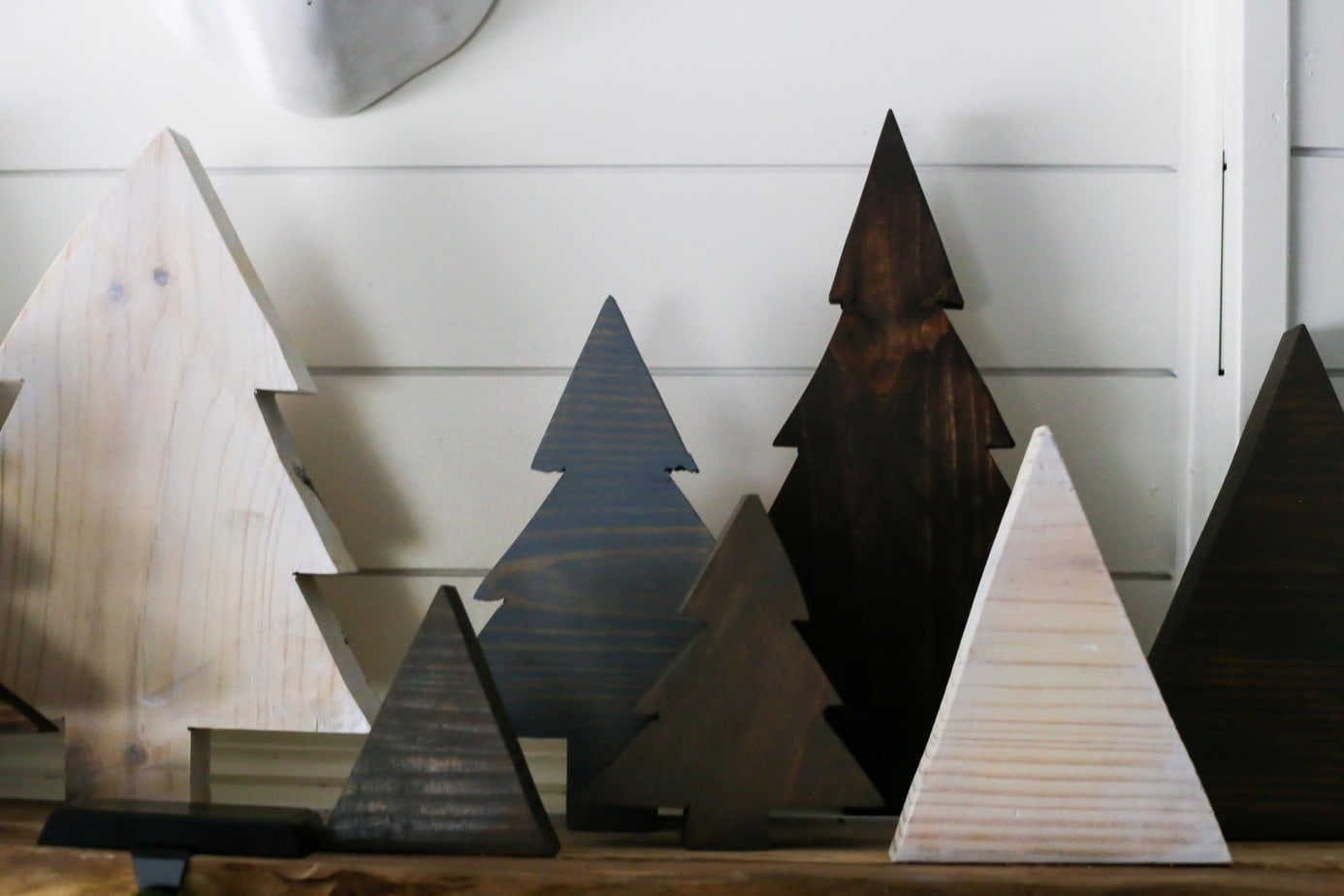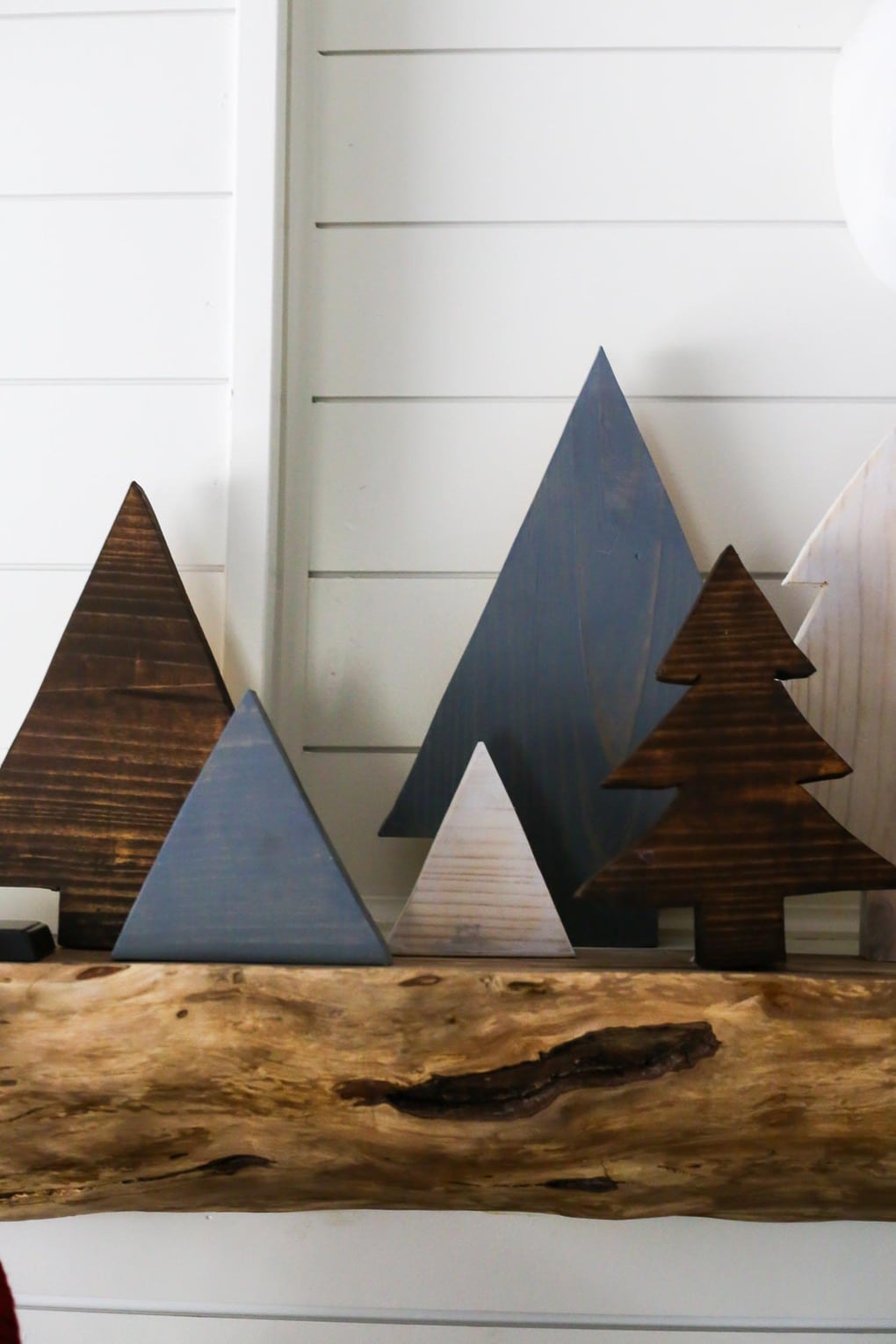 Have you finished decorating your home for the holidays yet?! Any fabulous ideas for where else I should try out my pretty new white and gray Rust-Oleum stain colors? I'd love suggestions!