How to Make Dried Orange Slices for a DIY Dried Orange Garland
One of my favorite super simple (and affordable) decorations for Christmas over the last couple of years has been dried orange slices. Last year, I made my first every dried orange garland and it brought me so much happiness – it looks gorgeous and brings in so much texture!
This year, I wanted to add a few more DIY dried orange slices to my collection, and I thought I would share the process with you. It's so simple to make dried orange slices, and it's a gorgeous decoration for your home that only costs a few dollars!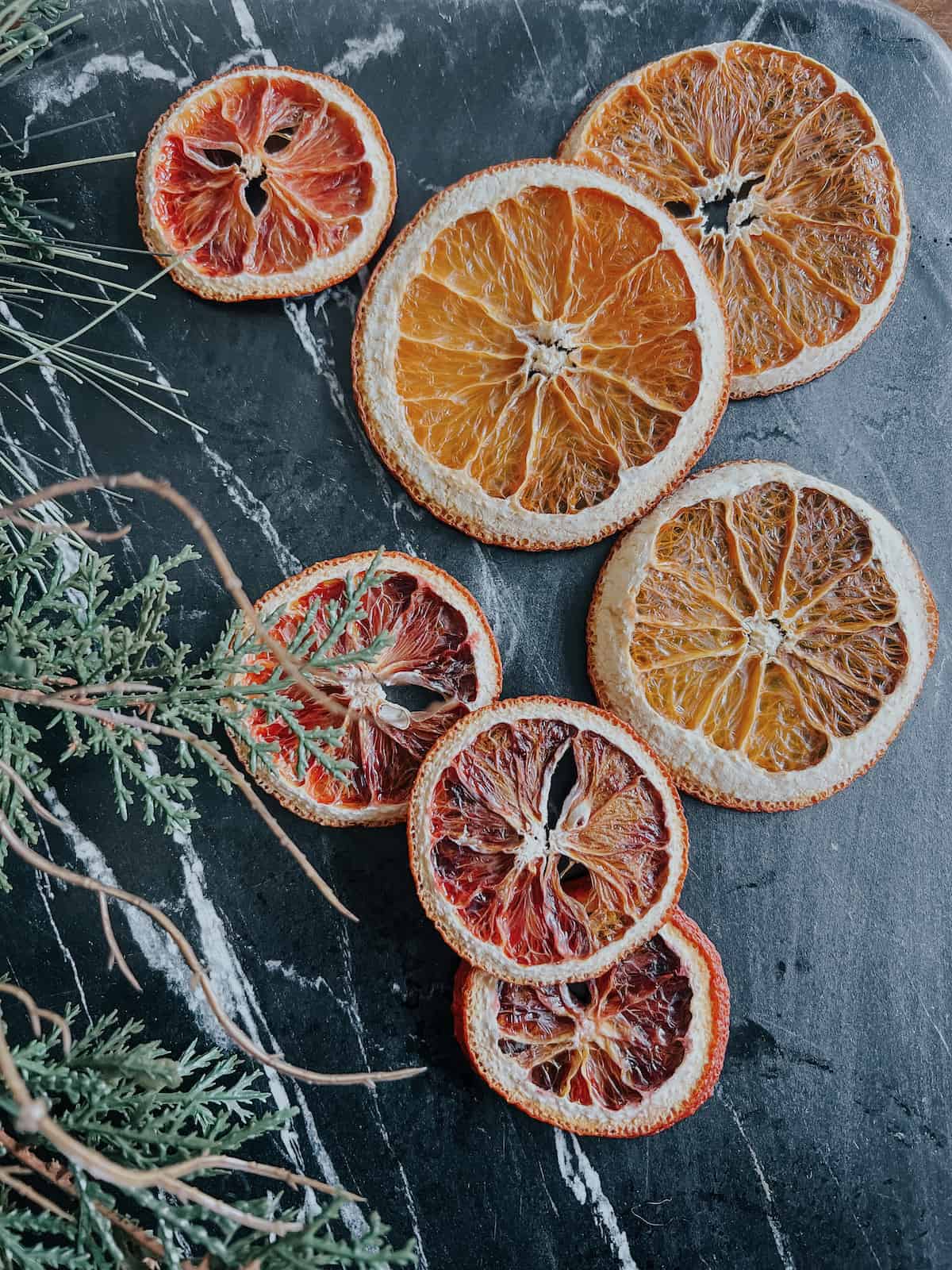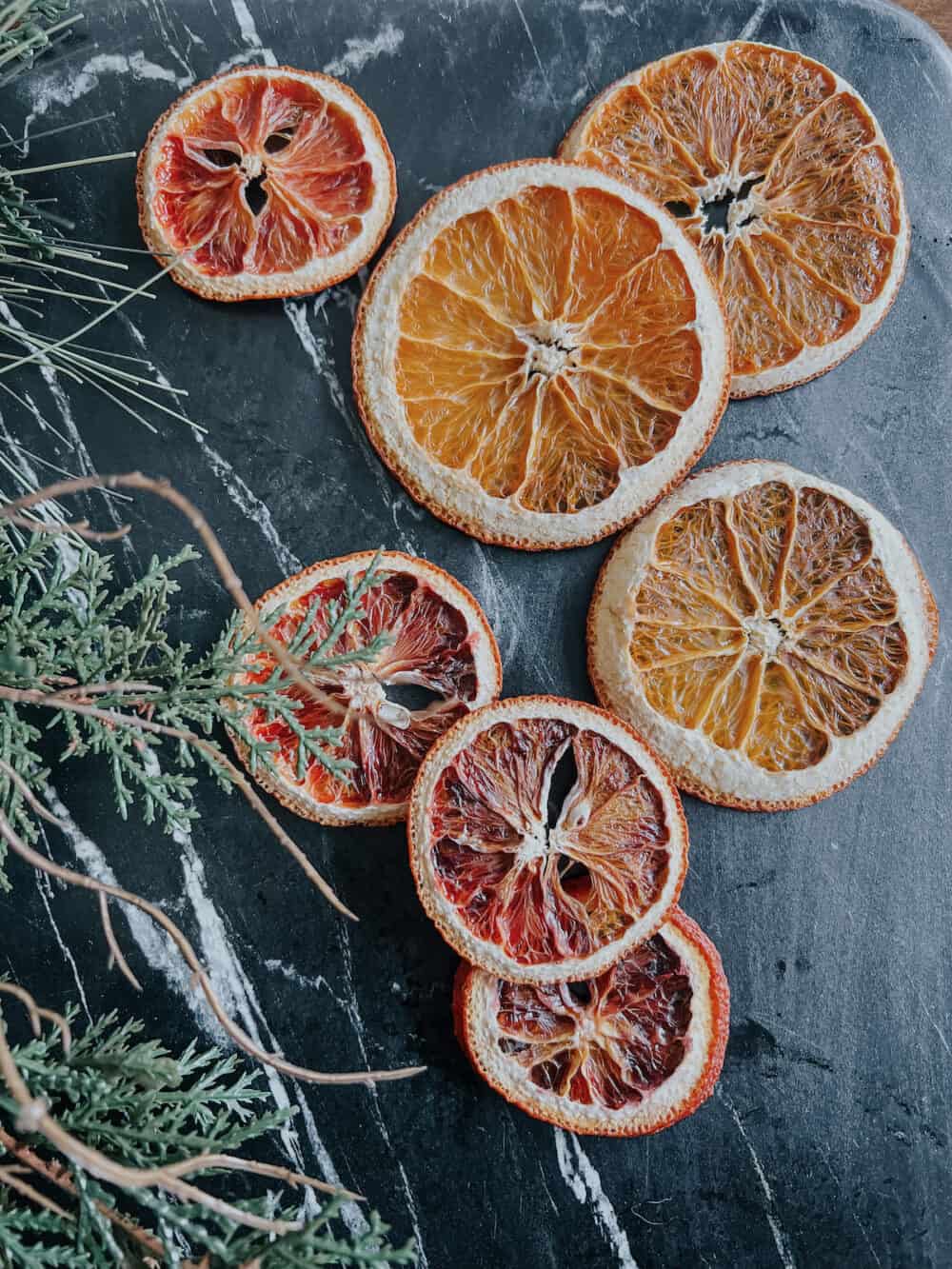 What Kind of Oranges Do I Need?
Let's start with the types of oranges that work best for drying. Pretty much any orange or citrus fruit will work, but my go to's are:
Naval Oranges
Blood Oranges
Grapefruit
You can also do this exact same process with limes, lemons, Cuties, Cara Cara oranges, etc. Basically, any dried citrus is a good idea!
What Do You Do With Dried Orange Slices?
I like to use mine to decorate with. Last year, I strung them up on a garland and hung them on my fireplace (so gorgeous!). This year, I plan to sprinkle some on the greenery on my dinner table, or mix them in a bowl with some pine cones.
But, they're not just for decor! You can use your dried orange slices as a healthy snack. I mean, we all know they're a great source of Vitamin C! Pair them with some dark chocolate sprinkled with sea salt and they'll be super tasty.
A few other ideas?
Use them as a garnish for your Thanksgiving turkey
Mix with some fall scents like cinnamon sticks and cloves to make your own potpourri
Or, toss them in a simmer pot with other fall scents to make your house smell great!
Use as a cocktail garnishes, or on top of cakes, cupcakes, etc.
Create ornaments with your dry orange slices and hang them on your Christmas tree
Tuck them into wreaths on your doors or cabinets
Use as decorative accent on your gifts under the tree
Basically, the possibilities are endless. Dried oranges are good for so much, and you'll have so much fun coming up with ideas for how to use them!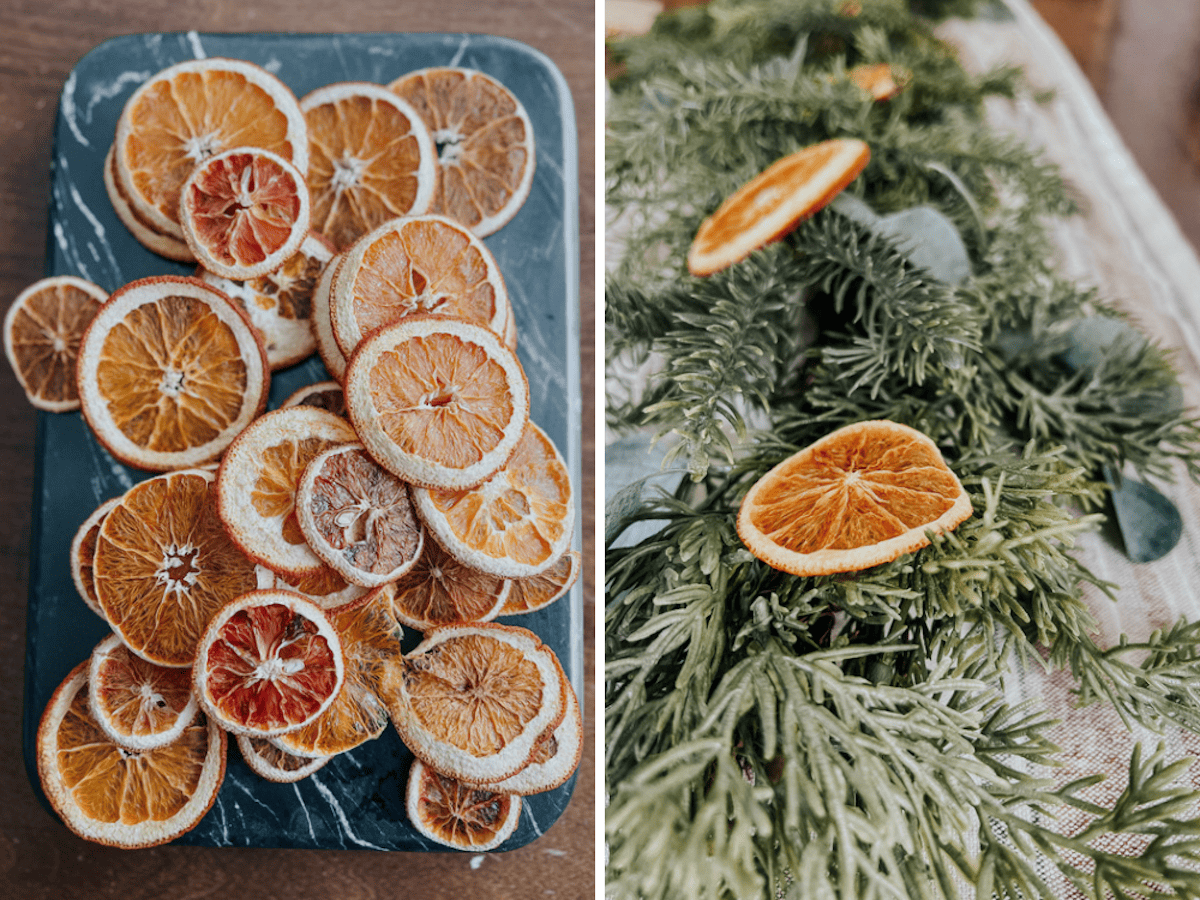 How Long Do Dried Orange Slices Last?
The shelf life on dried orange slices is surprisingly long – if they've been dehydrated and stored properly, they'll last you two years at a minimum. I've yet to test this as this is only my second year with them, but I hear they can last even longer.
Thankfully, even if they need to be tossed after two years, it's really easy to make more. Let's get into the details!
HOW TO MAKE DRIED ORANGES
Now, let's get into the instructions for how to make them yourself.
Start by preheating your oven to 200 degrees F
Use a sharp knife or a mandolin to cut your oranges into thin slices. The thinner you slice them, the faster they'll dry out. I think thinner slices look best, too!
Use a paper towel to pat both sides of the orange slices down. You want to dry them off as much as you can, so they'll dry faster.
Arrange them in a single layer on a baking sheet with parchment paper.
Place the cookie sheet on the top rack of your oven and let them bake for 3-4 hours, flipping them every hour or so.
Remove them from the oven once they are mostly dry, and let them sit out for about 24 hours to finish drying.
Note: If you have a dehydrator, this will of course be even faster and easier!
And that's it! You're ready to string them up as a garland, use them as a centerpiece, or just snack on them.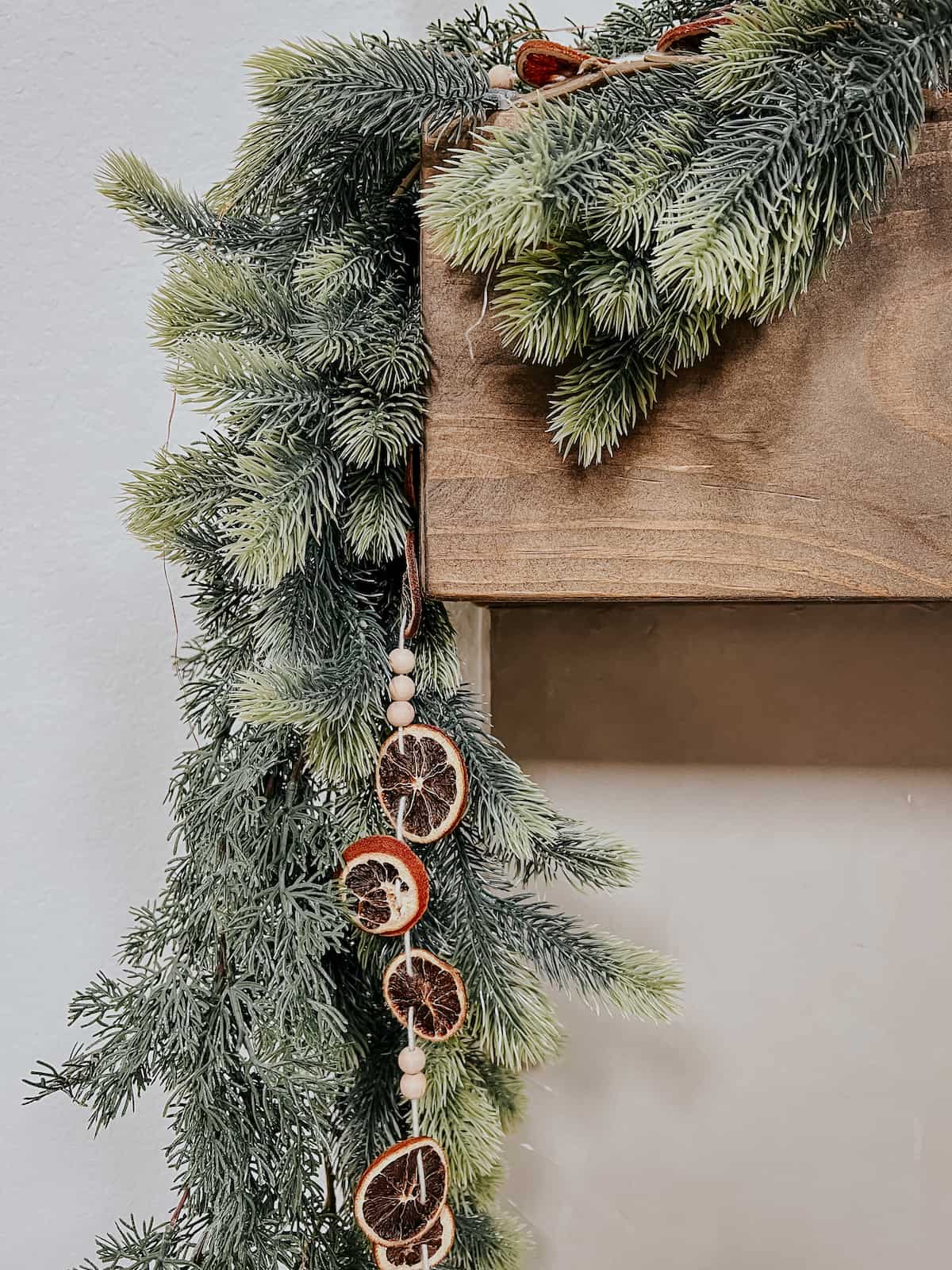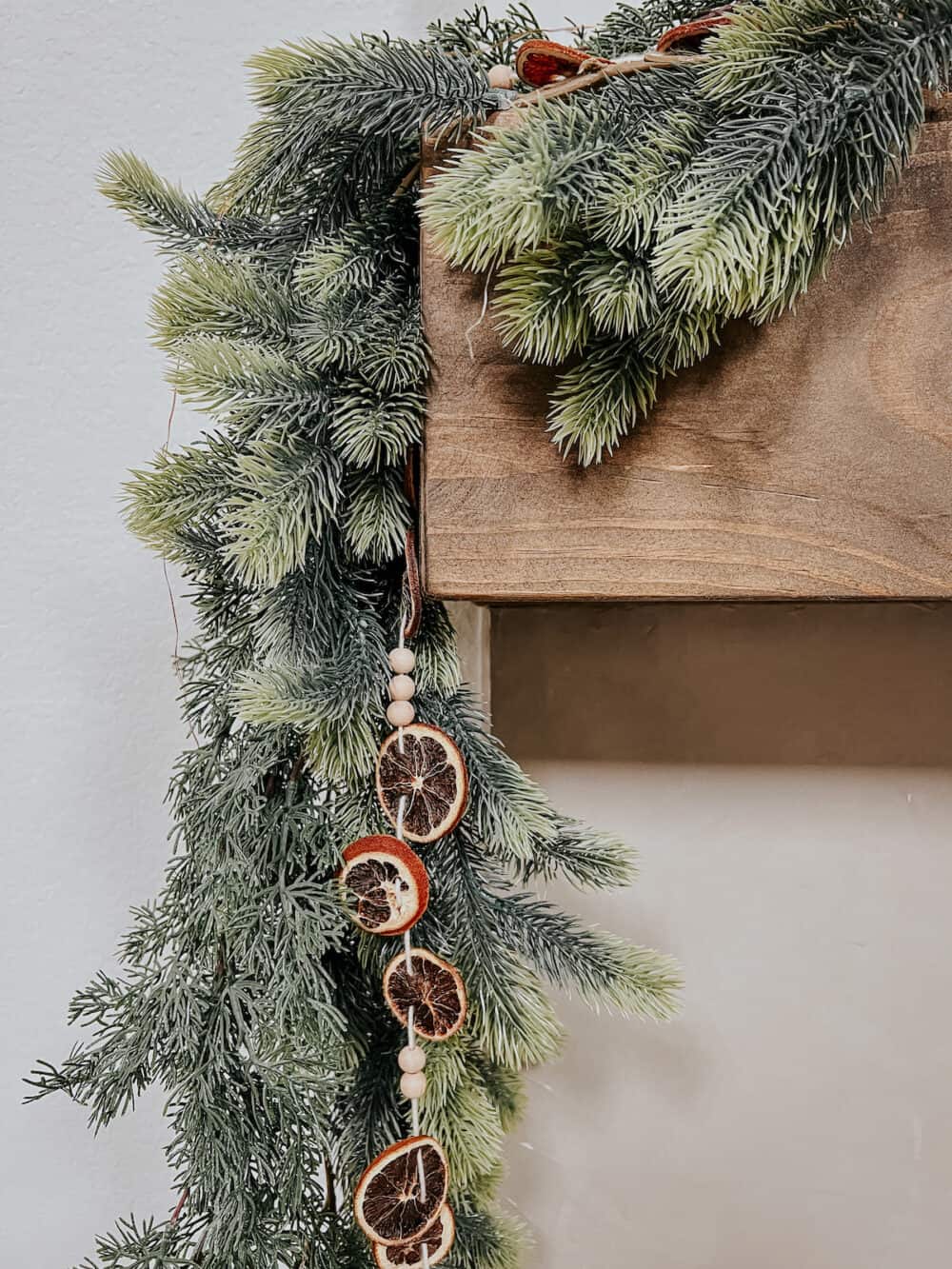 Personally, I love to mis them with some wood beads and twine to create a garland for the mantel. I've been sprinkling them all over the house as I decorate, and they add a really pretty touch and texture that makes me so happy!
related posts
DIY Christmas Ideas