Our New Dust Collection System
Our current mission in life is to get our garage organized – that's why I'm so pumped to tell you about the progress we're making and our brand new Rockler dust collection system. This thing is amazing and is going to help us keep our garage workshop clean and tidy!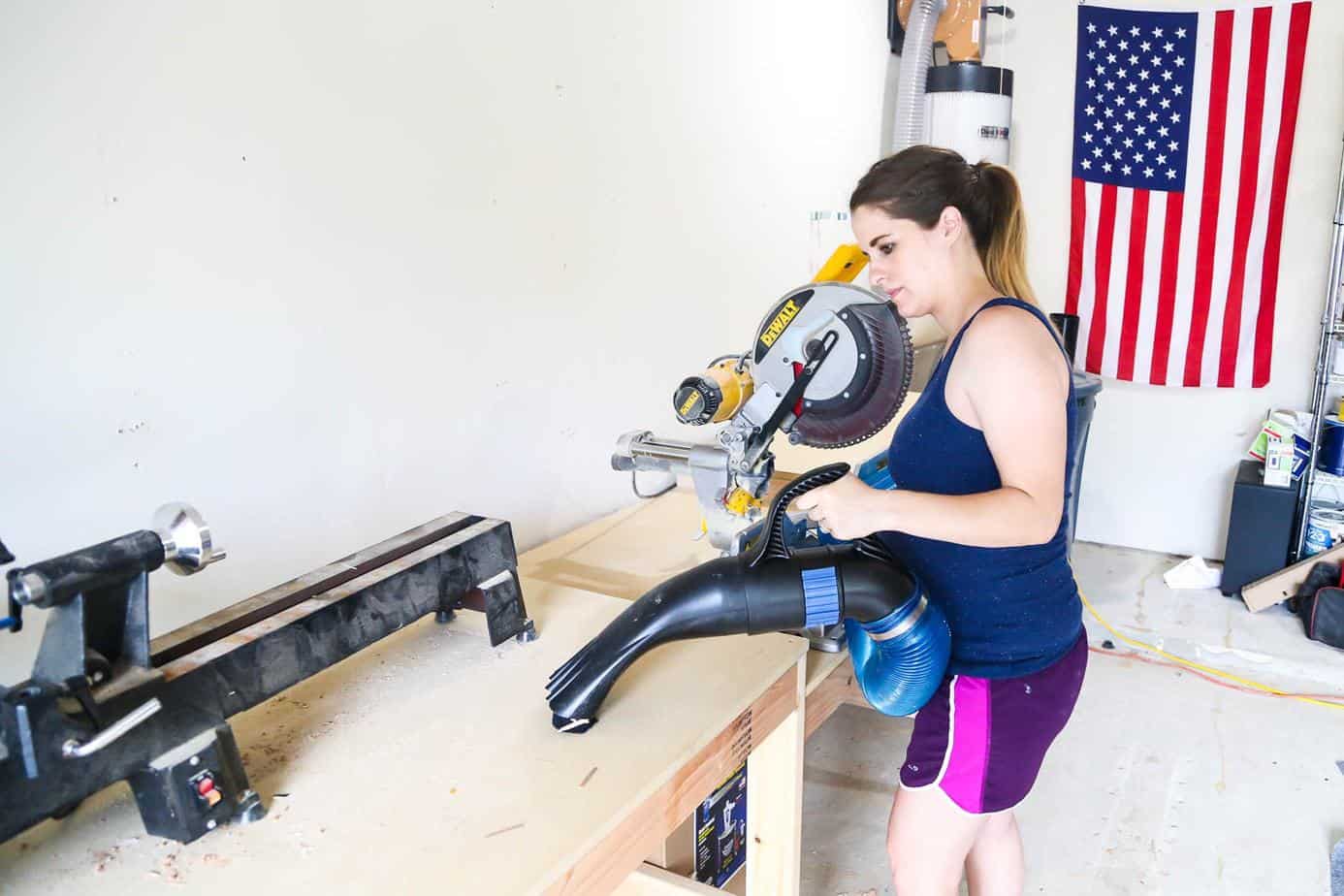 You may recall that shortly after we moved into this house, I wrote a post declaring that Corey and I were about to whip our garage into shape.
Well, um, that didn't happen.
In fact, not only did we not get the garage organized, we dove into other projects and ended up making it look even worse than it ever did before.
I'm not even going to show you photos (picture the images in the post linked above, except at least 5 times worse), but let me paint you a picture: when you walked in, you could see nothing but junk everywhere. We have some workbenches along one wall – which is great! – but they were covered in tools and other random things that didn't have a home. You had to step carefully because there was literally only one tiny path you could take and if you stepped in the wrong place you might break something (like your leg).
I'm sure I don't need to tell you that it was absolutely infuriating to actually accomplish anything in there. And we spent a lot of time working in the garage, considering we tackled about a zillion different projects over the last few months!
Well, NO MORE! Corey has officially put me on project hiatus until we get the garage under control, and I'm calling June the month of the garage. It's gonna be all garage all the time over here – and today, we're starting with what is probably my very favorite addition to the entire garage workshop.
Our brand new Rockler dust collection system.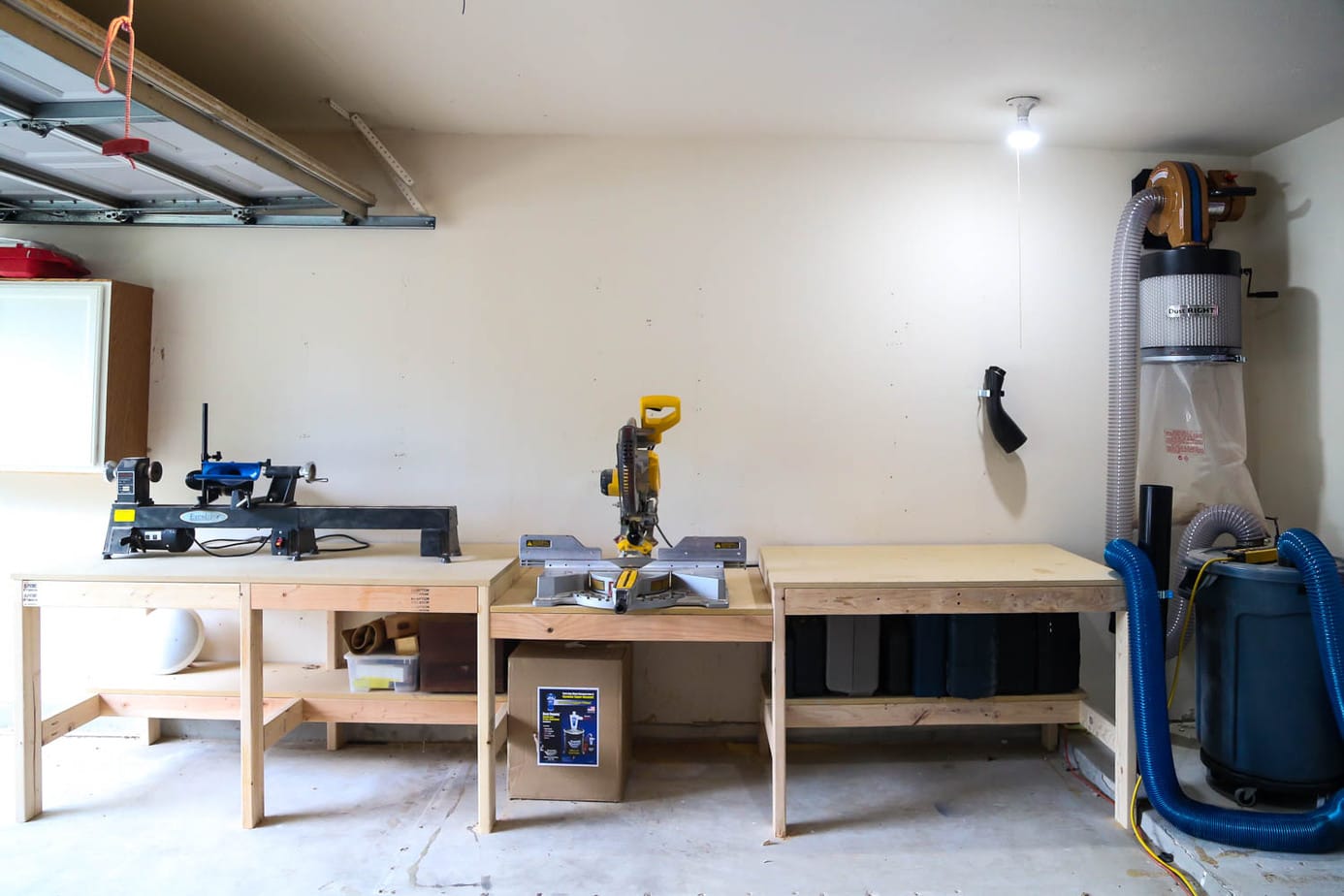 This post is sponsored by Rockler and contains affiliate links, but all opinions are 100% mine. Thanks for supporting the brands that support Love & Renovations! 
Our Rockler Dust Collection System
What's a dust collection system? I'm glad you asked! I honestly didn't know this was a thing before Corey ordered all of this stuff, and now that I know what it is I can't stop talking about how much I love it. Basically, this is a system of tools and gadgets that help minimize the sawdust and general chaos in our workshop. The main component is the dust collection system itself (which is basically a giant dust vacuum) and it sits in the corner of our garage. Then, we have a long hose along with several attachments that can attach directly to specific tools (like the lathe or the miter saw) and collect the dust they produce as you use them.
Note: I'll link to most of what we have as I talk about it throughout the post. However, if you want to browse all of the options Rockler has for dust collection, just check out their website to see it all!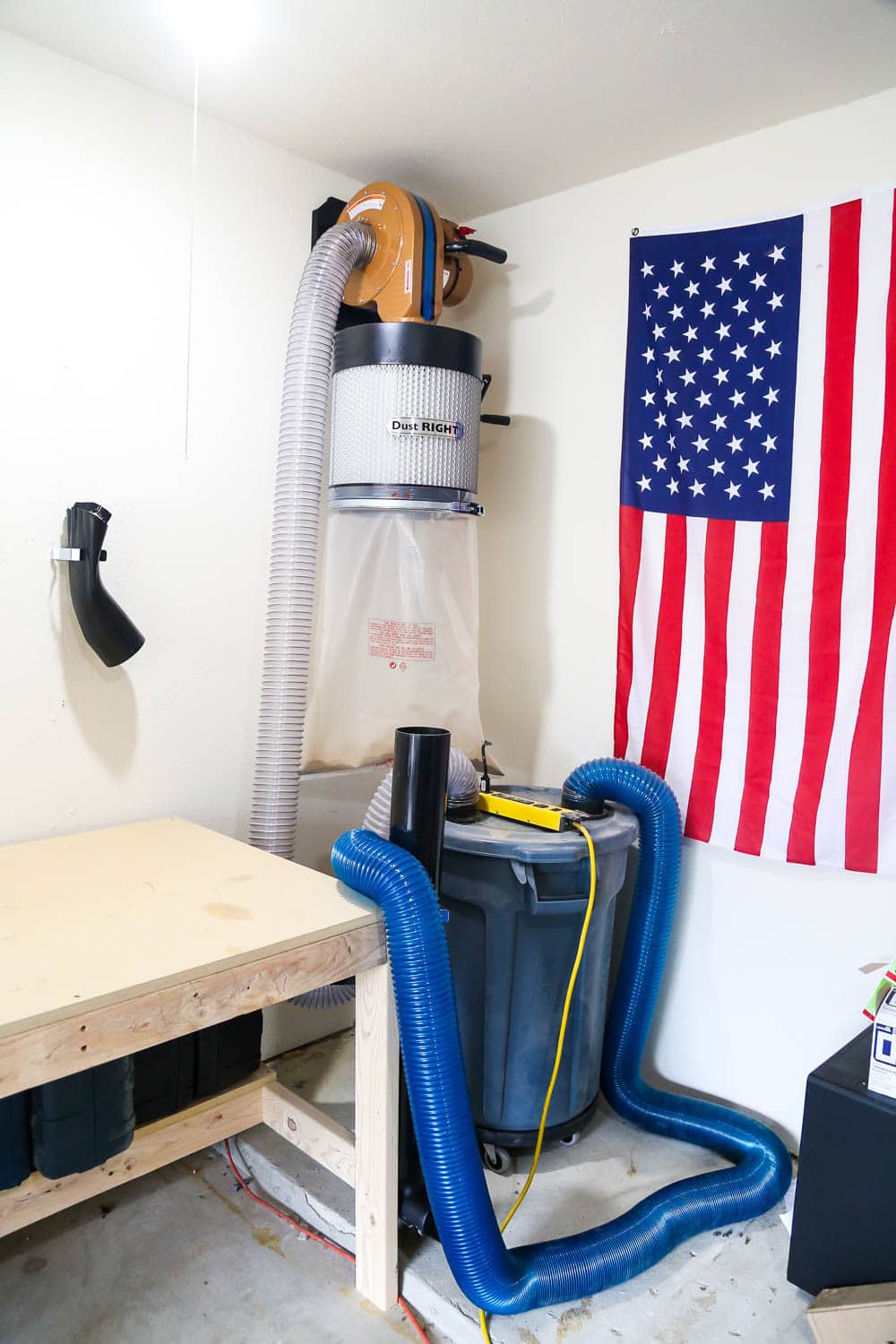 I shared a bit about this on Instagram a while back and had some questions about how it functions – you guys are just as fascinated as I am! – so I created this quick video to show off how it works.
As you can see, it's a pretty magical system that will be absolutely key in helping us keep this place nice and tidy. I hate working in a messy space, so this will keep me motivated to be in the shop more (since I won't have to lug out the big shop vac every time I want to clean up). Plus, there's nothing more fun than operating a gigantic vacuum, no?!
The system basically functions with various pieces that attach to the main vacuum in the corner. We have one piece that attaches to the lathe – so, when we want to turn something, we hook up the main vacuum hose to the lathe as pictured below and turn it on. Then, it'll automatically suck up all of the sawdust that's created as we work. This is a total game-changer because a lathe's job is literally to make sawdust. It's the messiest tool in the world. (Wanna see? Just check out this post about our lathe from when we first got it!).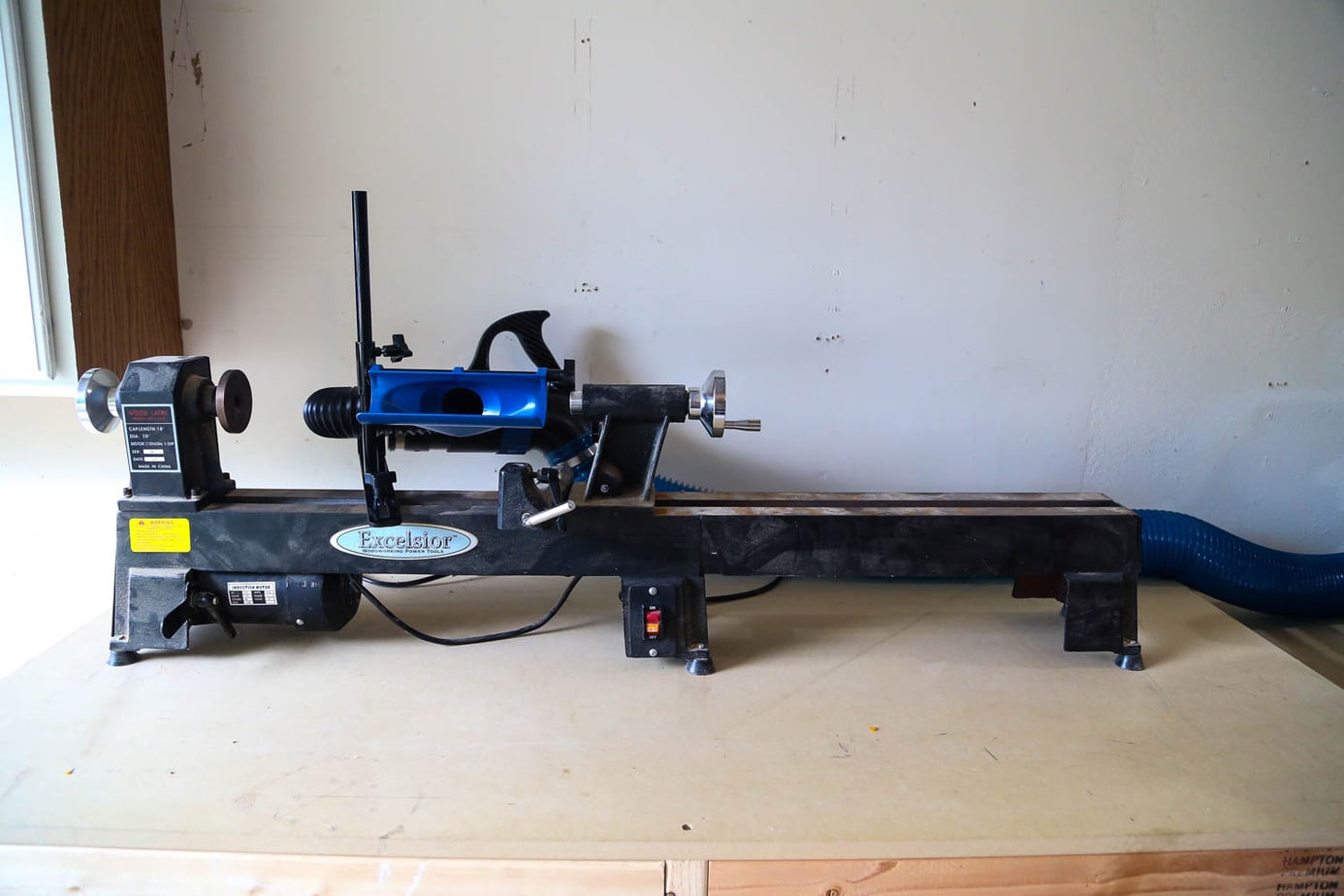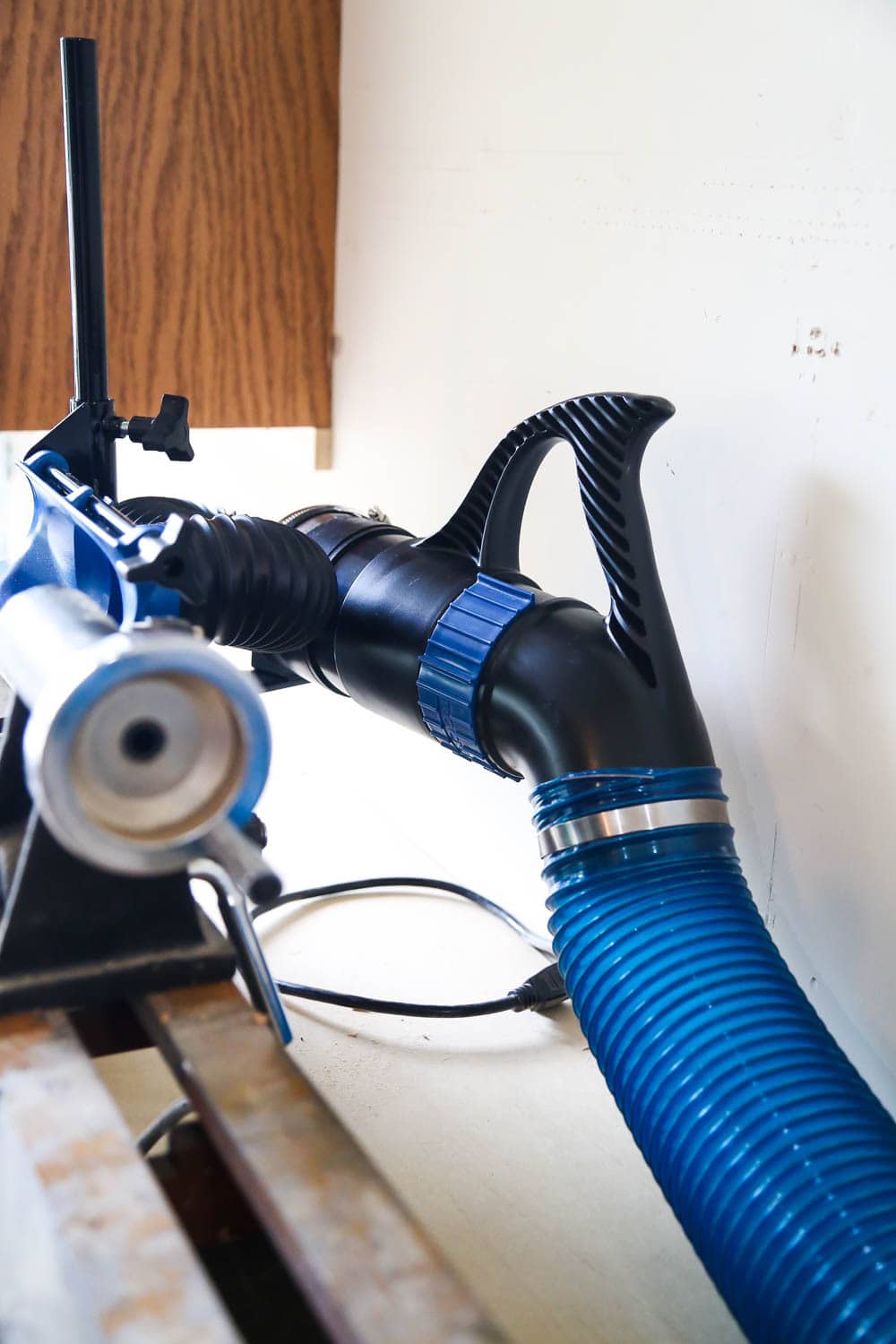 We also have an attachment for the miter saw, but we haven't set it up yet because the way we're going to set it up is a more involved process and we'll need to take care of a couple of other things in here first (see our to-do list down at the end of the post). But, I'll update you on that later once we've got everything all finished.
There's an attachment to clean off the workbench (which is what we use to deal with miter saw dust for now), and an attachment for the floor – it's perfect for a quick dust clean-up when I don't want to deal with the shop vac (which is all always) and it's so easy to operate.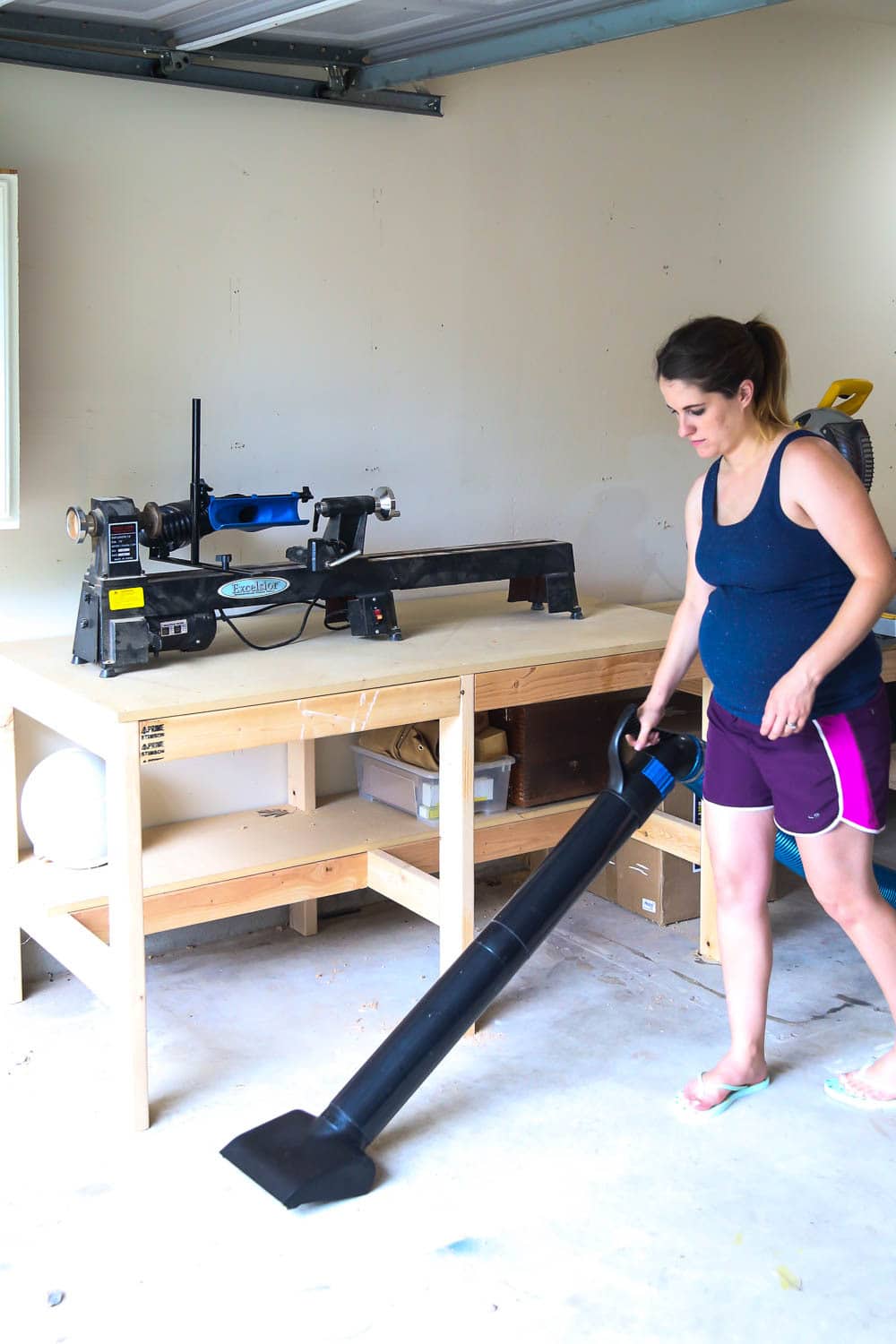 Probably one of the coolest features of the floor attachment is that we added a metal strip along the top that catches nails and screws (so you don't grab something that will poke a hole in your hose or the dust bag), and it also has a filter to prevent it from sucking up larger things like leaves. This is great because it means the hose won't get clogged up!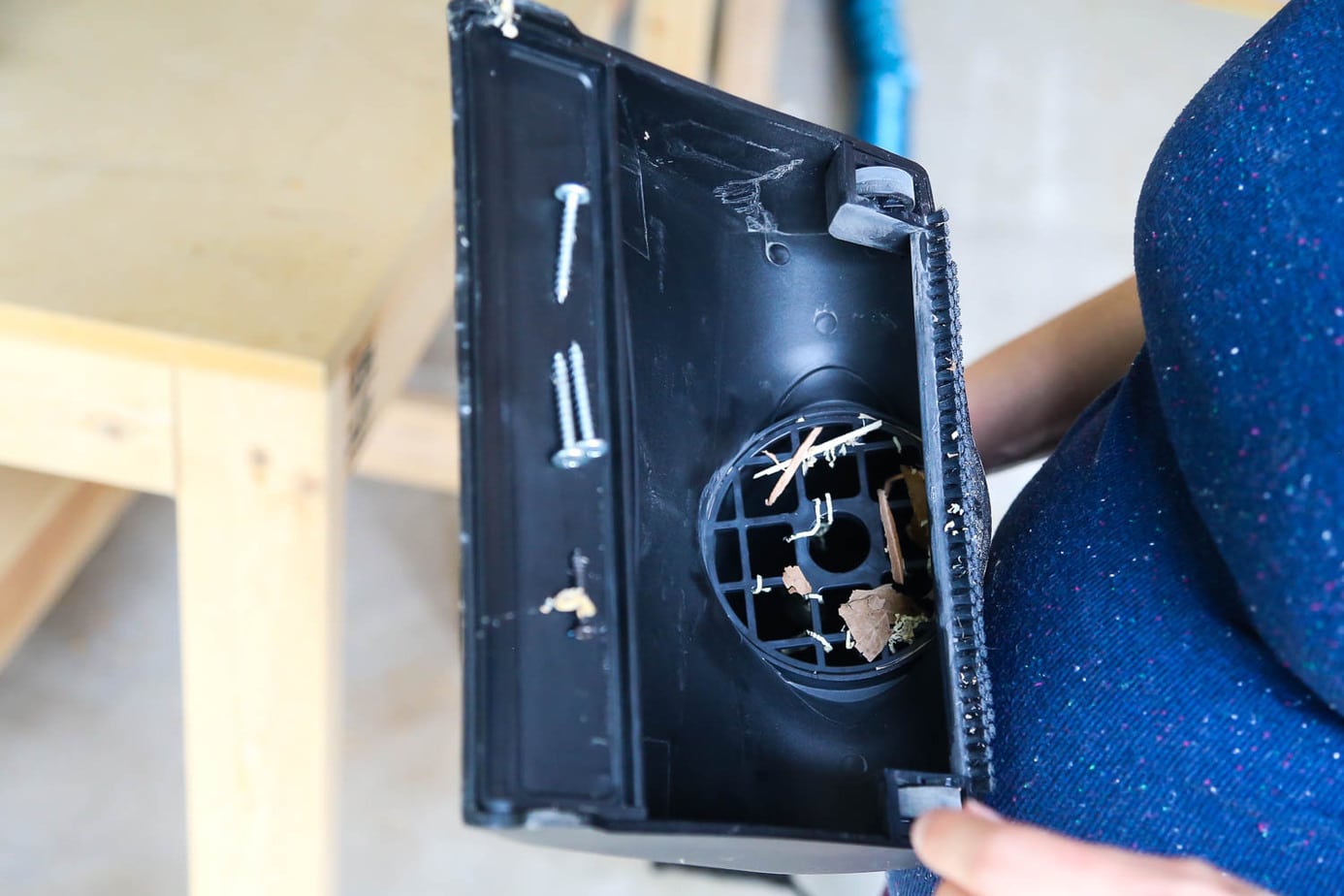 Now that we have this all set up and operational, Corey and I are both so excited to dive into everything else in the garage! It feels so good to be able to walk in here without fearing for our lives, and seeing the potential of what it will be like to have a totally organized and functional garage workshop is just incredibly motivating.
So, what's next in here? Well, just like when I first talked about this organization project way back when we moved into this house, the plan is still shifting and changing a bit. We have lots of ideas for how we can get this workshop organized, but we're taking it one step at a time and trying to squeeze as much function in here as we possibly can.
Here's a quick list of what's currently floating around in our brains for the garage workshop:
I want to patch and paint the walls so it's a little more enjoyable to be out here. They're in rough shape, and I know it'll make a big difference.
We'll likely do a giant pegboard above the workbenches, similar to what we did in our old workshop.
We're building lots of custom organization and storage to hopefully maximize the small space. We don't know what all we'll build for sure but have talked about hanging storage for clamps, a moveable work table for the center of the room, as well as stands for various large tools. We'll see where we end up with this, and this part of the makeover will probably be ever-evolving!
We're toying around with the idea of doing an epoxy floor in here like we did in our old garage. We loved it so much and I know it will make the entire space feel so much cleaner and more enjoyable to work in. At this point, the only thing that's holding us back is knowing that we'd have to remove everything from the garage for a few days in order to do the flooring – it's a daunting task!
I want to revamp the lighting situation in here a bit – most of the time we have the garage door open while we're working so we get plenty of natural light, but there is basically no usable light in here for when it's closed (or when we're working at night)!
We still need to figure out a better board game solution. We have a pretty massive collection and there just isn't space for them inside the house. We're still brainstorming what we want to do here.
We've still got a long way to go, but it feels so good just to be able to show you a semi-clean garage and show off how the dust collection system works! We wanted to get this set up first because it's really the base of everything else – if we don't have a way to keep the garage clean, it's never going to stay looking nice and organized!
Hopefully, I'll be back soon with an update – my goal is to have a workshop garage update for you every week this month…keep your fingers crossed for me!