Fall Clothing Faves from Amazon
It's that time again – time for another little roundup of my latest Amazon clothing finds! Over the last year or so, I've become more than a little obsessed with all of the amazing clothes available on Amazon. You can find anything, and the prices are usually great. I love sharing my favorite finds on occasion, because it can be a lot to wade through. So, today, I'm sharing my favorite Amazon clothing picks for fall!
Let's just jump on in, shall we?
dresses, skirts, & jumpsuits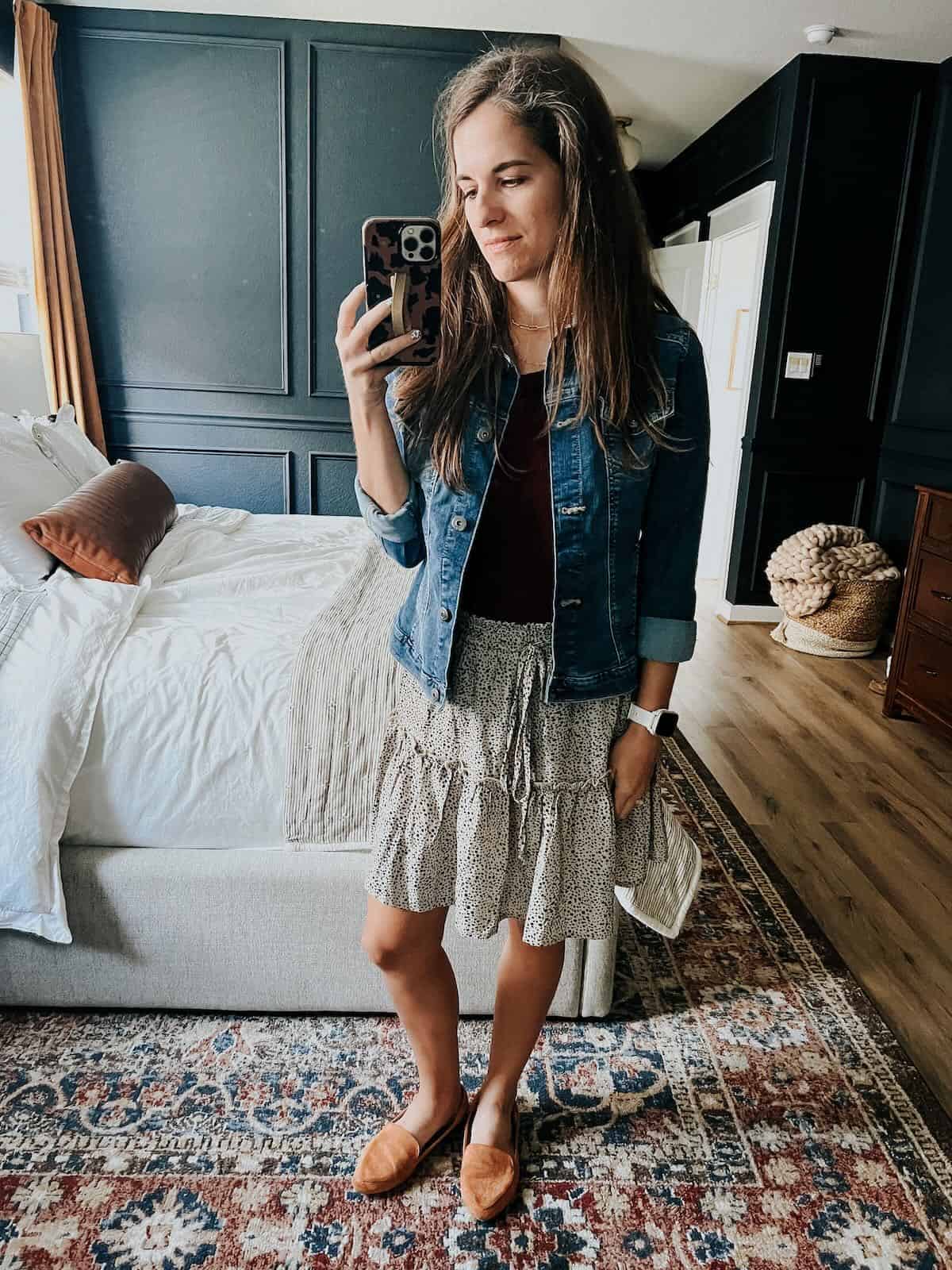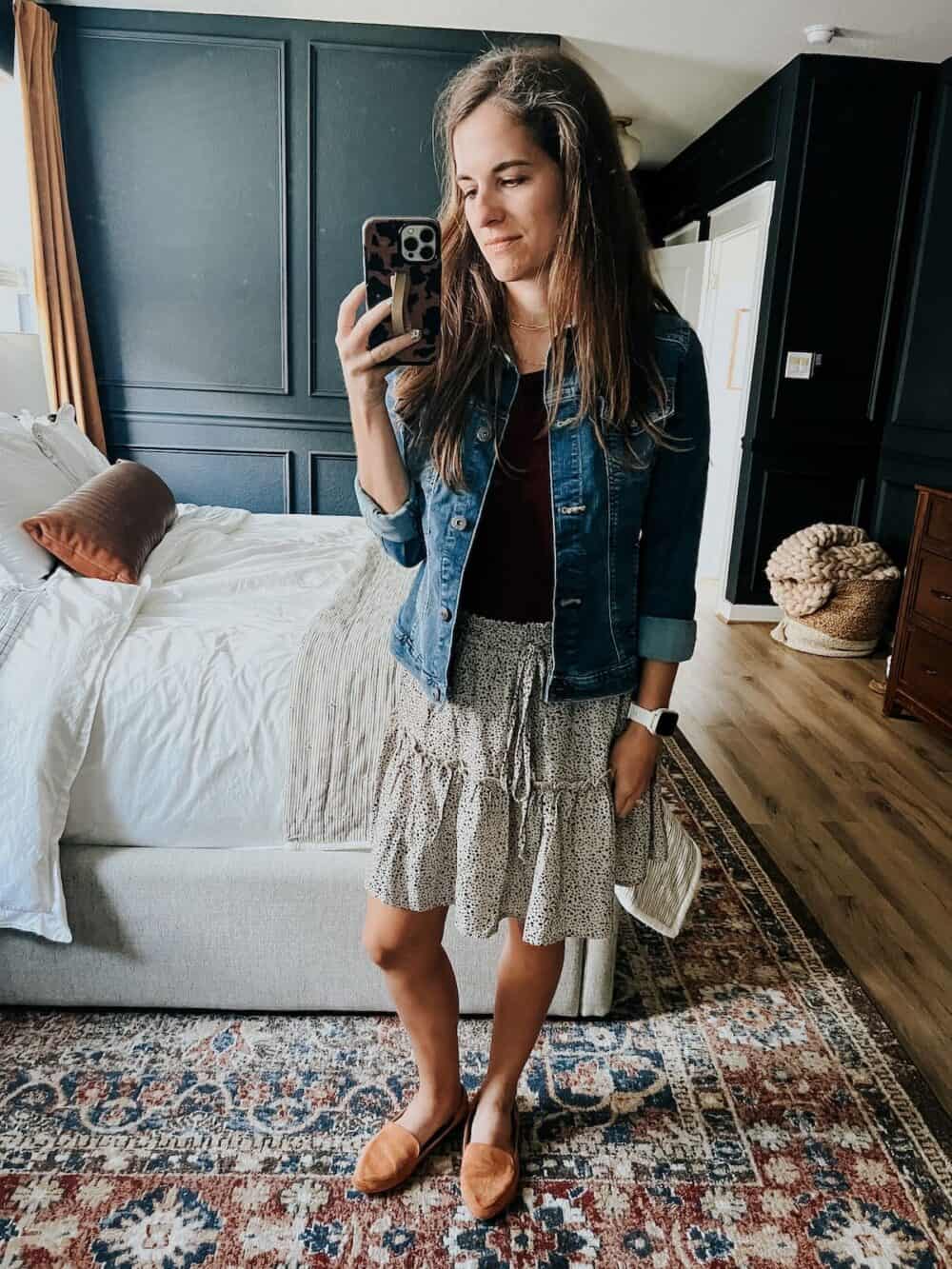 Skirt | Tank | Jean jacket | Shoes
This little skirt was the first skirt I've worn in years and years and convinced me that I can be a skirt person! I absolutely love how I feel in it, and I love that it can easily be dressed up or down. I've worn it with plain tanks and graphic tees, and it would look great with a sweater, too!
It comes in more than 25 color options, and runs TTS. I'm wearing a small.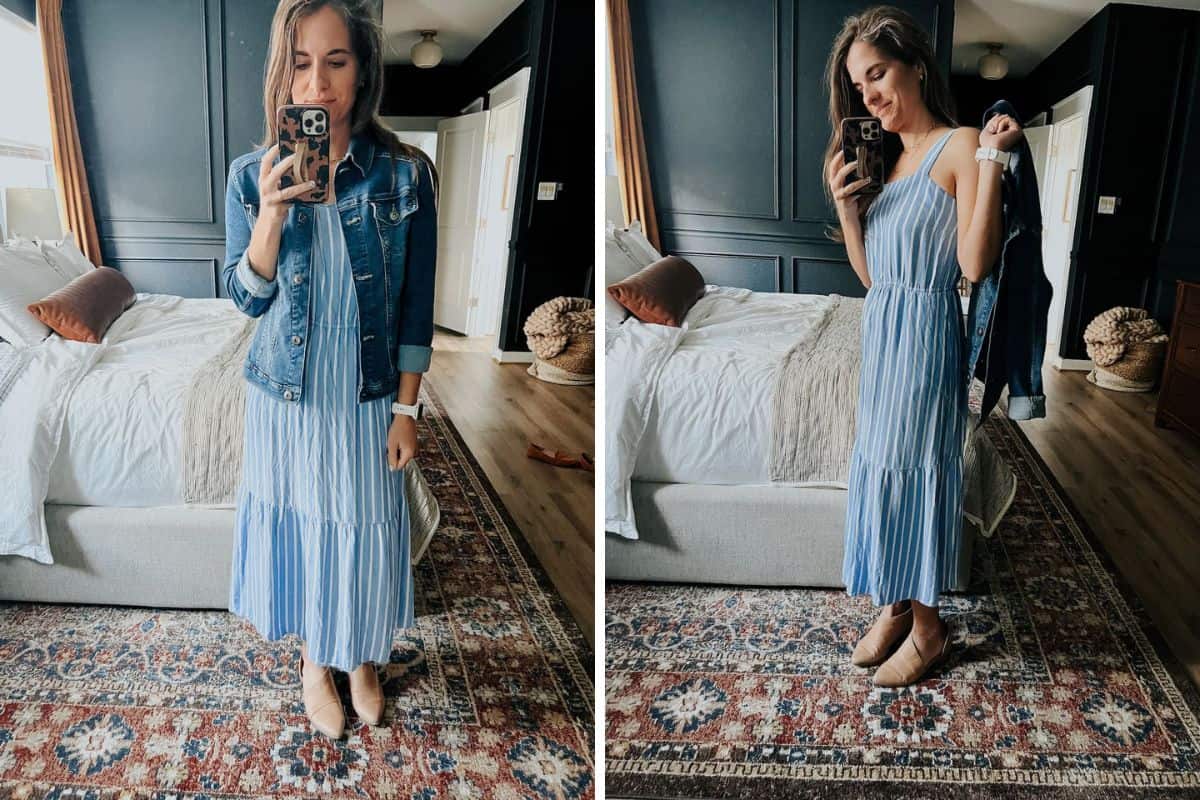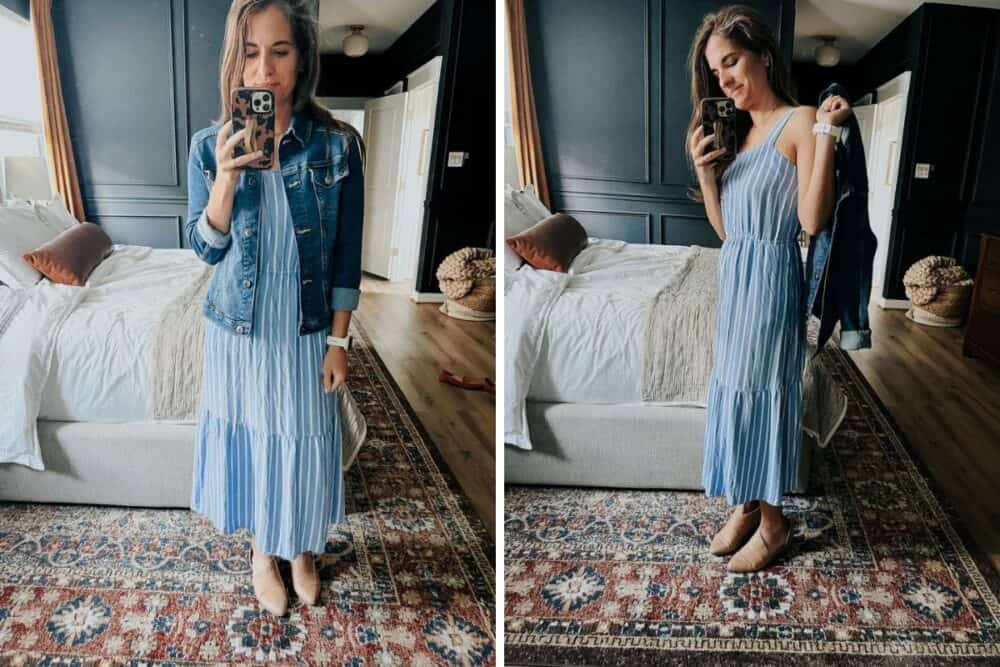 Dress | Jean jacket | Shoes (similar)
I got this dress at the tail end of summer and, while it might lean a little more "summer" than "fall," I think it could easily go either way! Toss on a cute cardigan or a jean jacket and it's ready for the crisp air! Of course, it's still gonna be in the 90's here until at least November, so I'll be good either way.
This runs TTS (I'm wearing a small!), and comes in 8 colors and prints.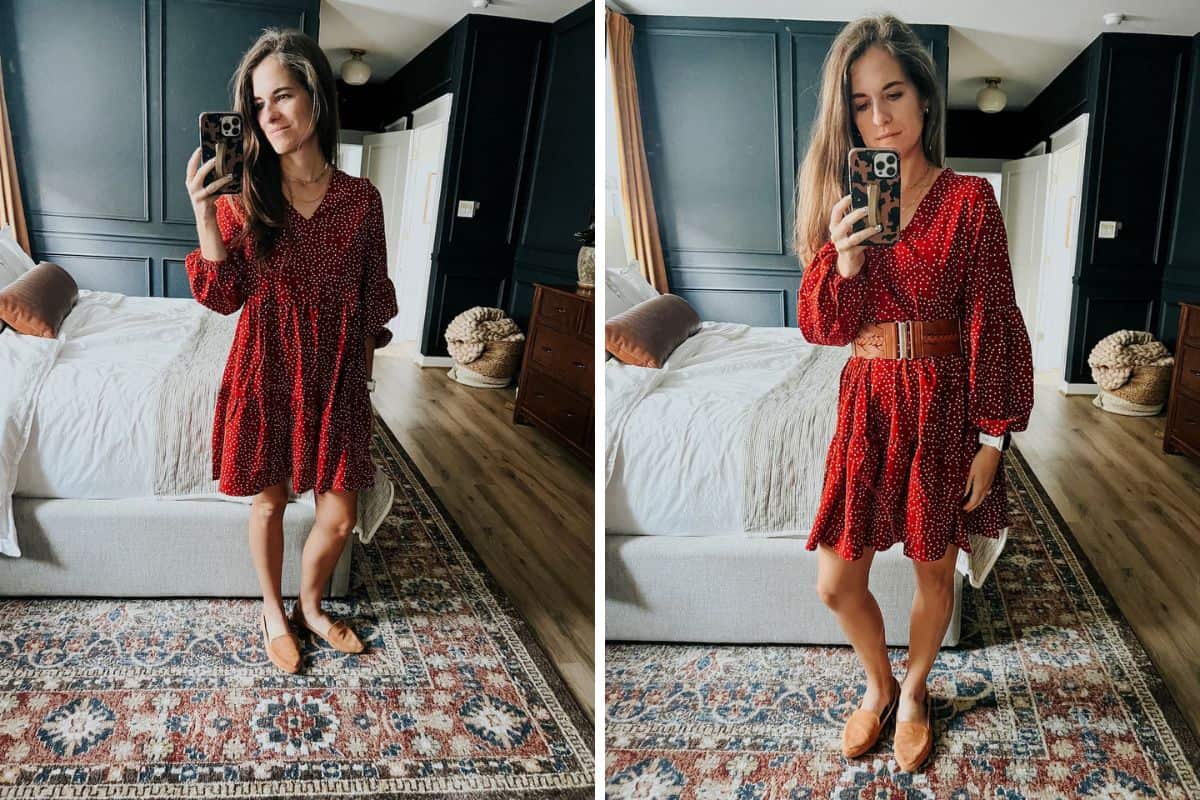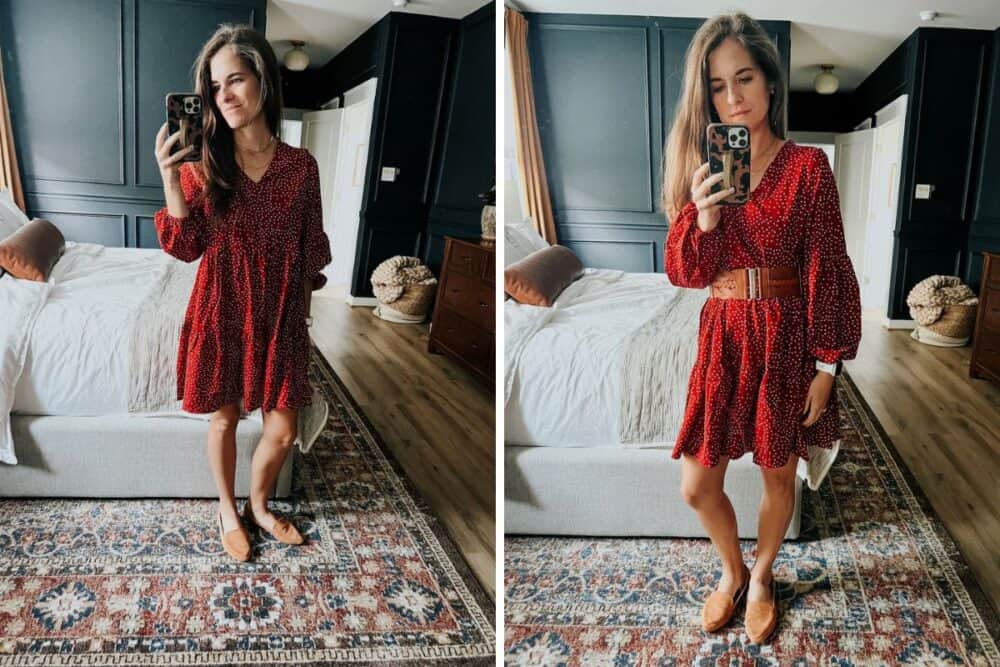 I snagged this dress recently because it was the #1 best-selling dress, so I figured it HAD to be good. It's really comfortable and flowy – I grabbed a belt to wear with it for days when I want it to be a little more form-fitting. I love it both ways, and this is a great one to dress up or down!
I'm wearing a small, and it comes in more than 40 colors in patterns – so, there's something for everyone!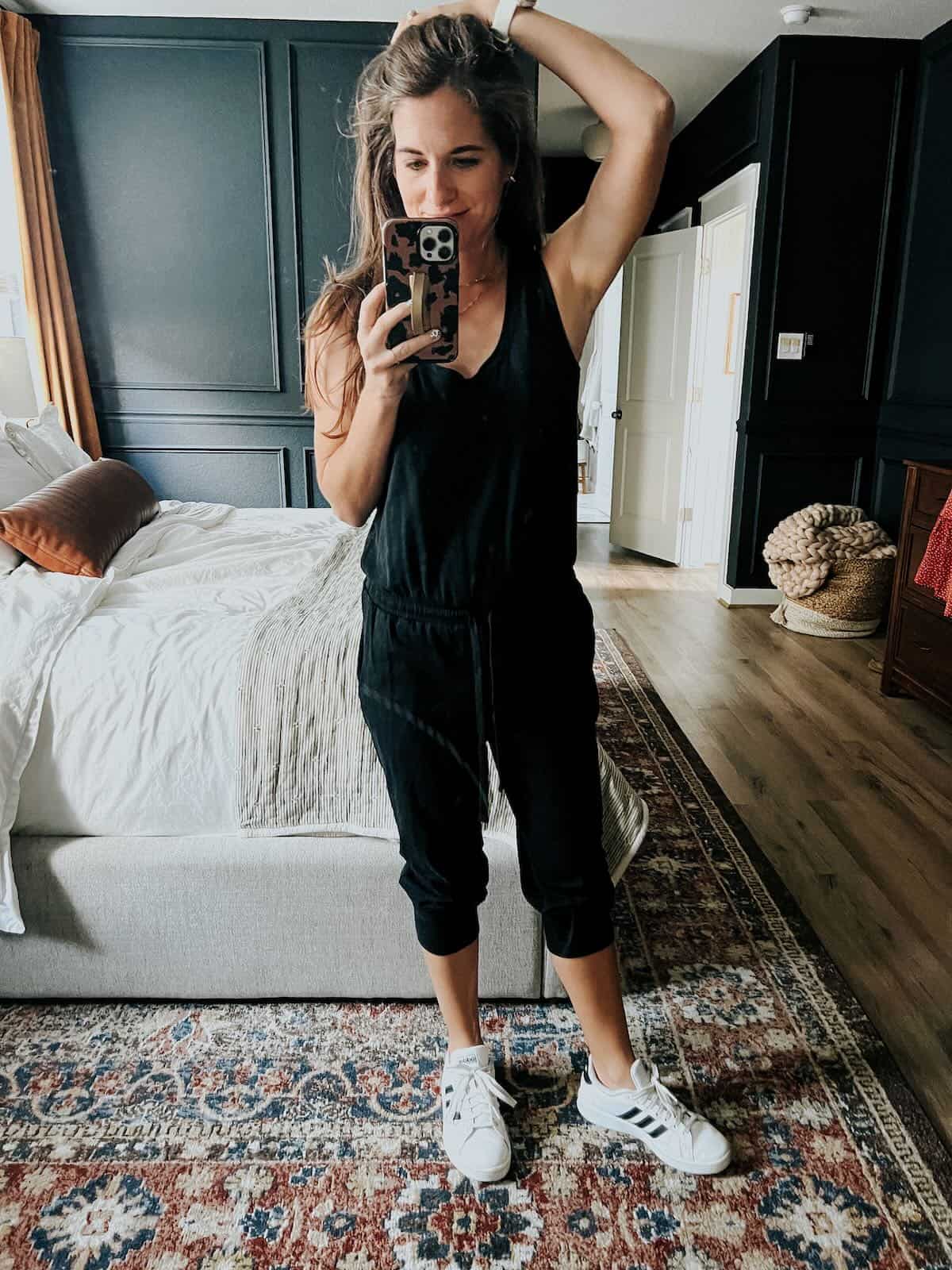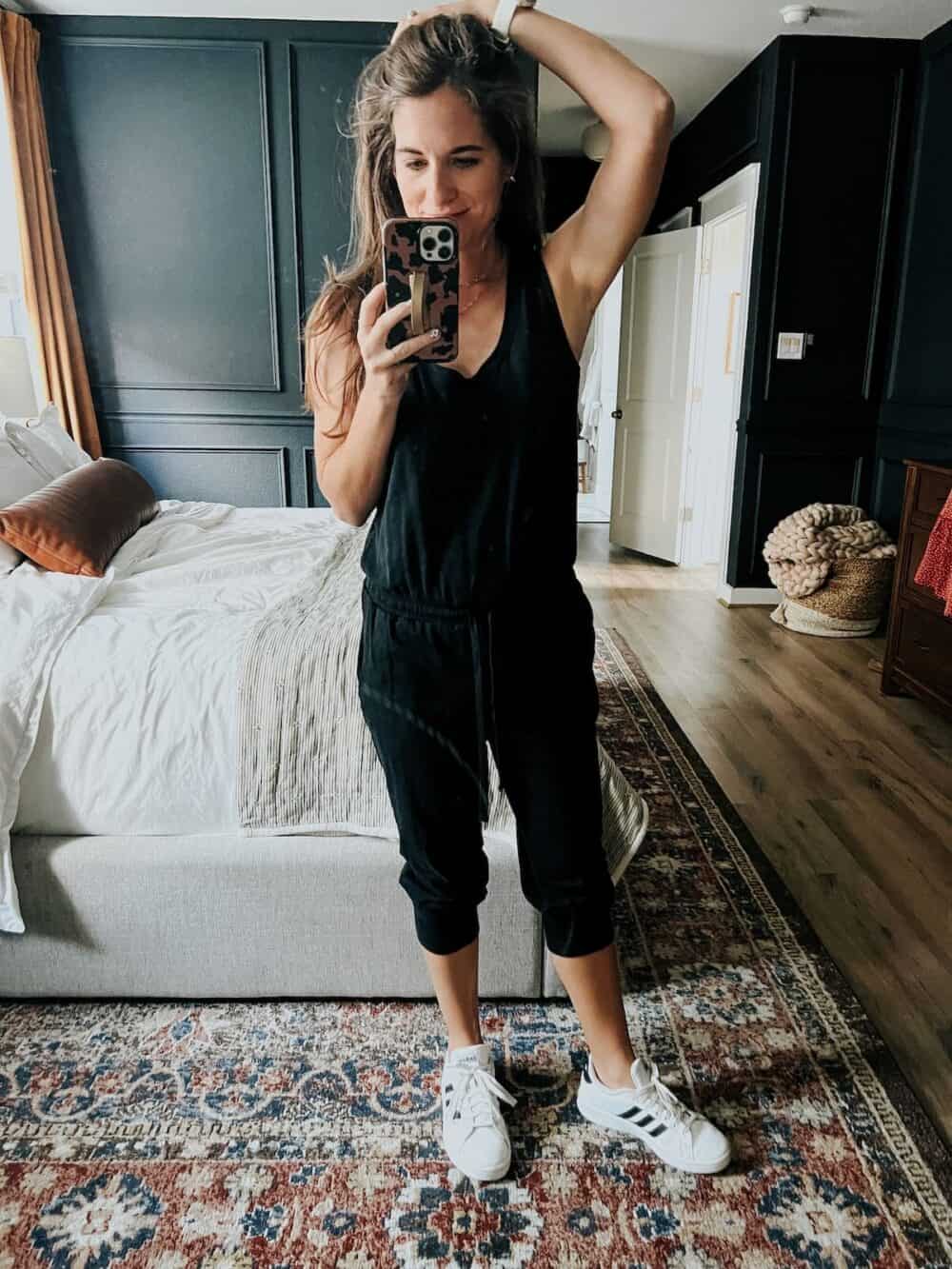 I LOVE a good jumpsuit or romper, and this one is the best of the best. It's made of a terry knit fabric, which means it basically feels like pajamas, and it's perfect for those in-between weather days.
I've worn this dressed up a little with nicer shoes and my jean jacket, but it also looks great alone with sneakers or sandals! It's one of the most comfortable things I own, and it looks adorable with just about everything. Highly recommend.
I'm wearing a small, and it comes in 20 colors and patterns.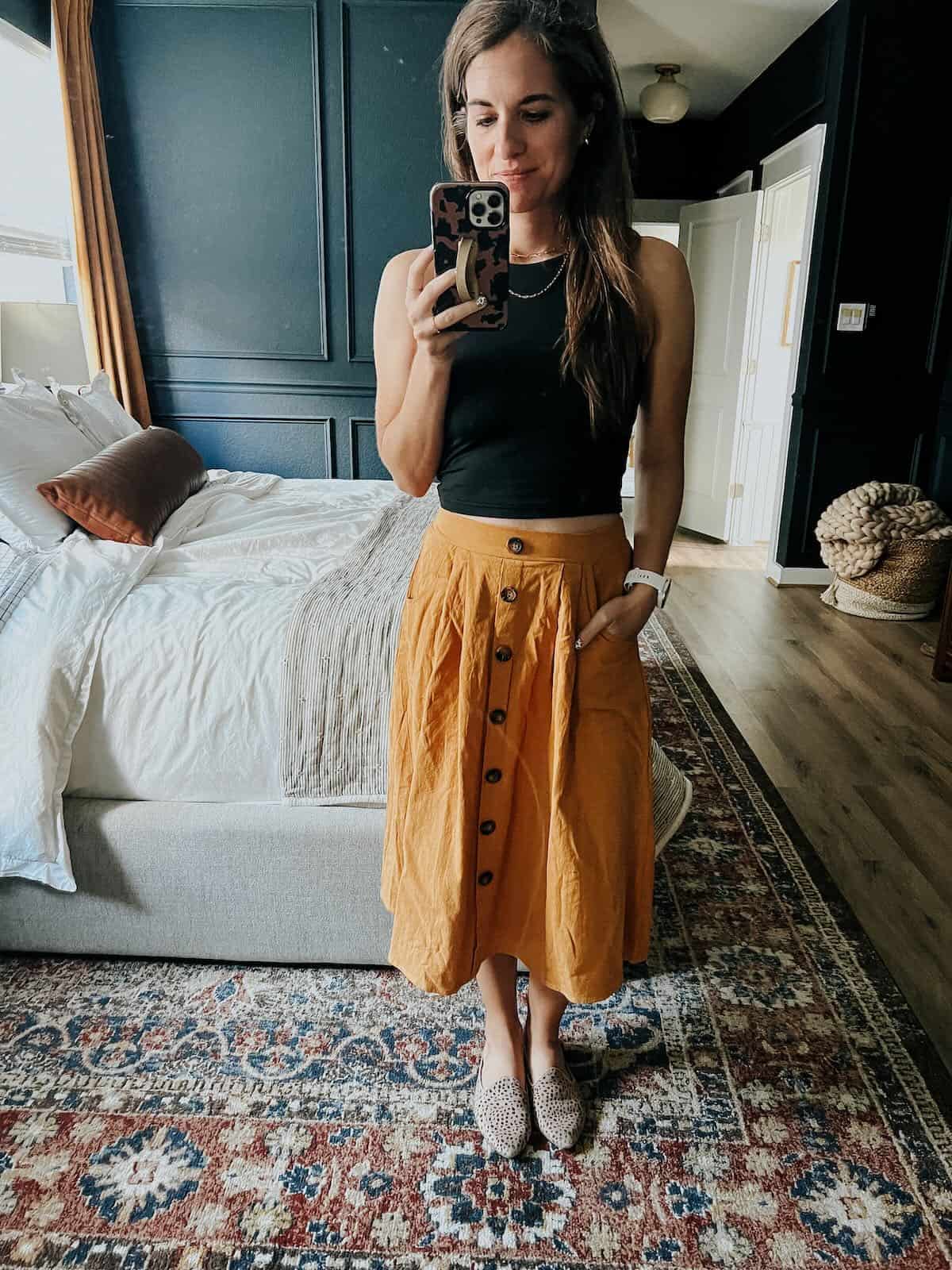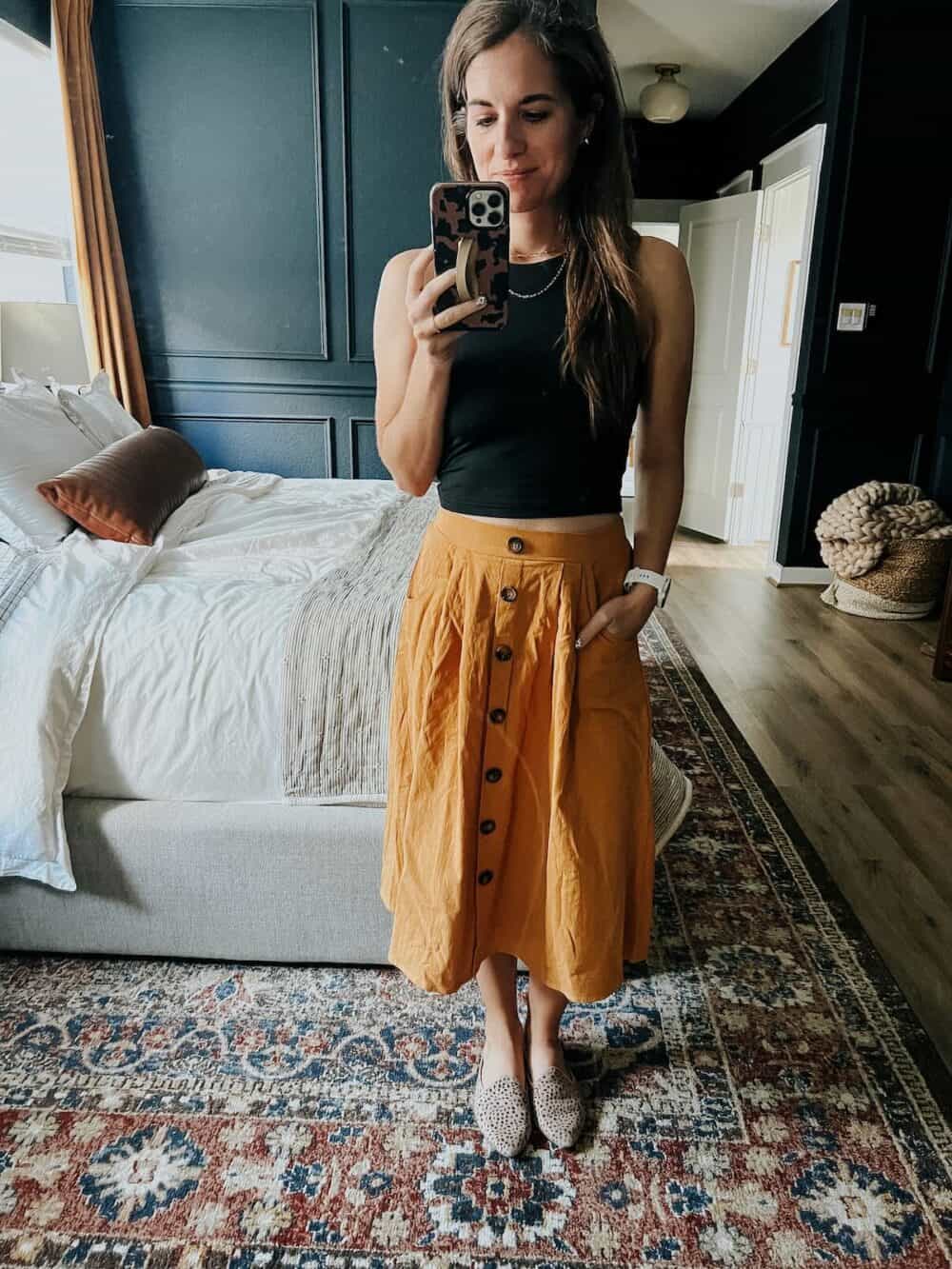 This is one of my newest finds, and it's quickly becoming a favorite outfit for me. I've never worn a crop top before this outfit, but I adore how it looks with the high-waisted skirt! This outfit is so incredibly comfortable, and I think both pieces are going to be a go-to for me this fall.
I'm wearing a small in both pieces, and they both come in a wide variety of colors and patterns!
shirts & sweaters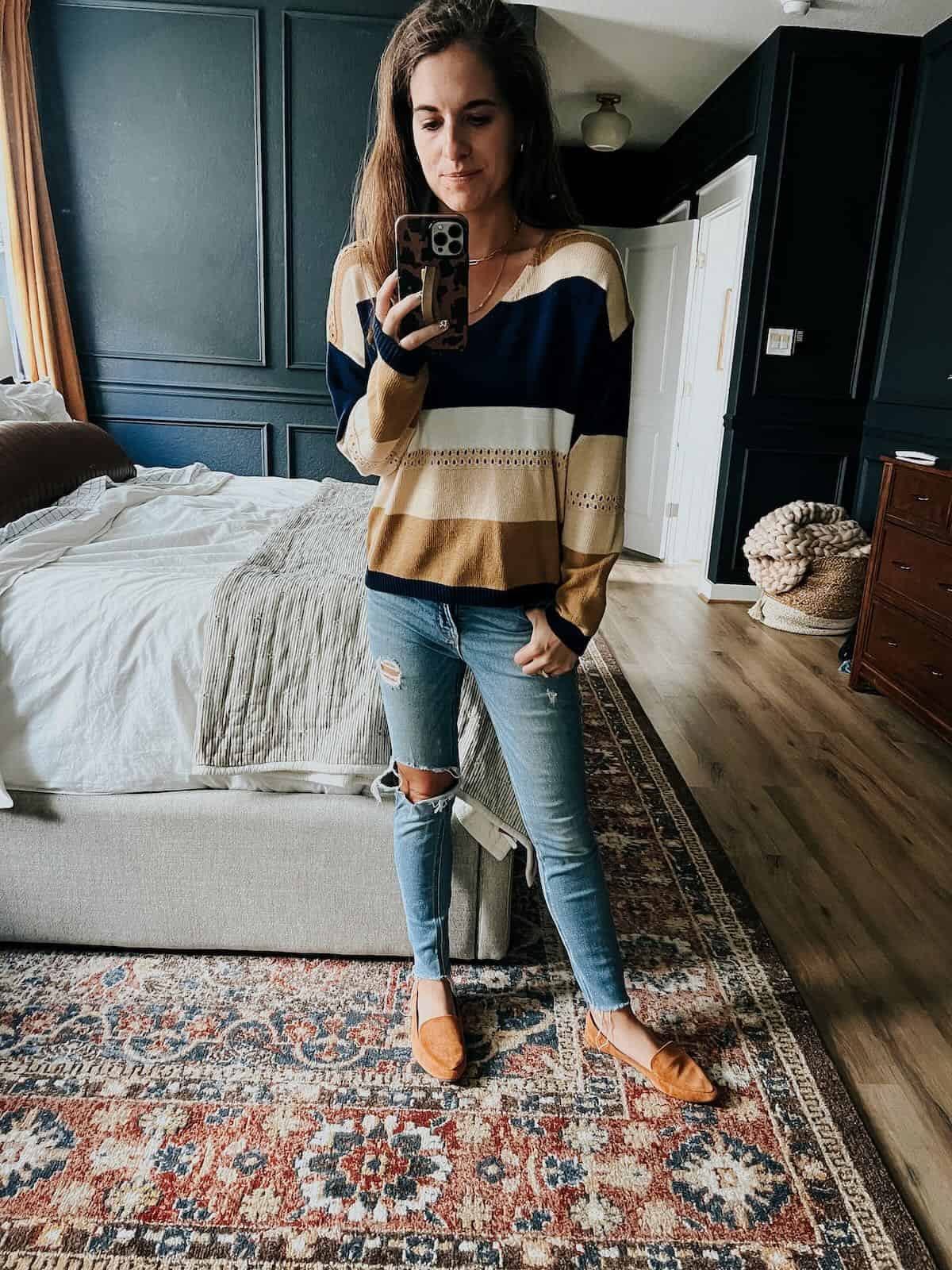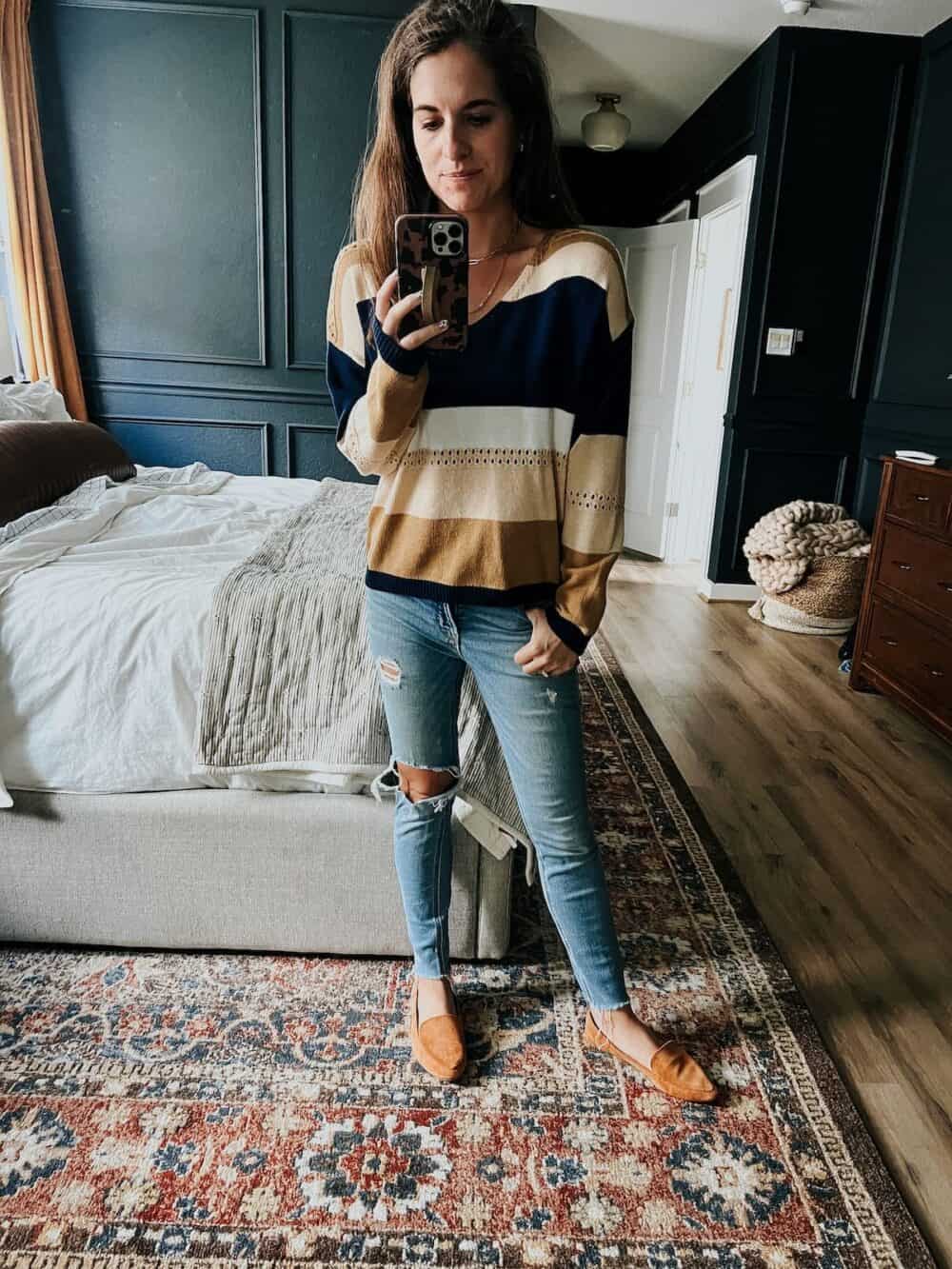 This super lightweight sweater is perfect for our often-still-pretty-hot fall weather! It's got a really loose weave and a few small holes throughout, which makes it really breathable, and makes it feel a little more modern. I love pairing this with jeans or shorts, and the colors feel so perfect for fall.
This sweater comes in about 14 different colors and styles (some of them are a really cute half-zip!) and fits TTS. I'm wearing a small here.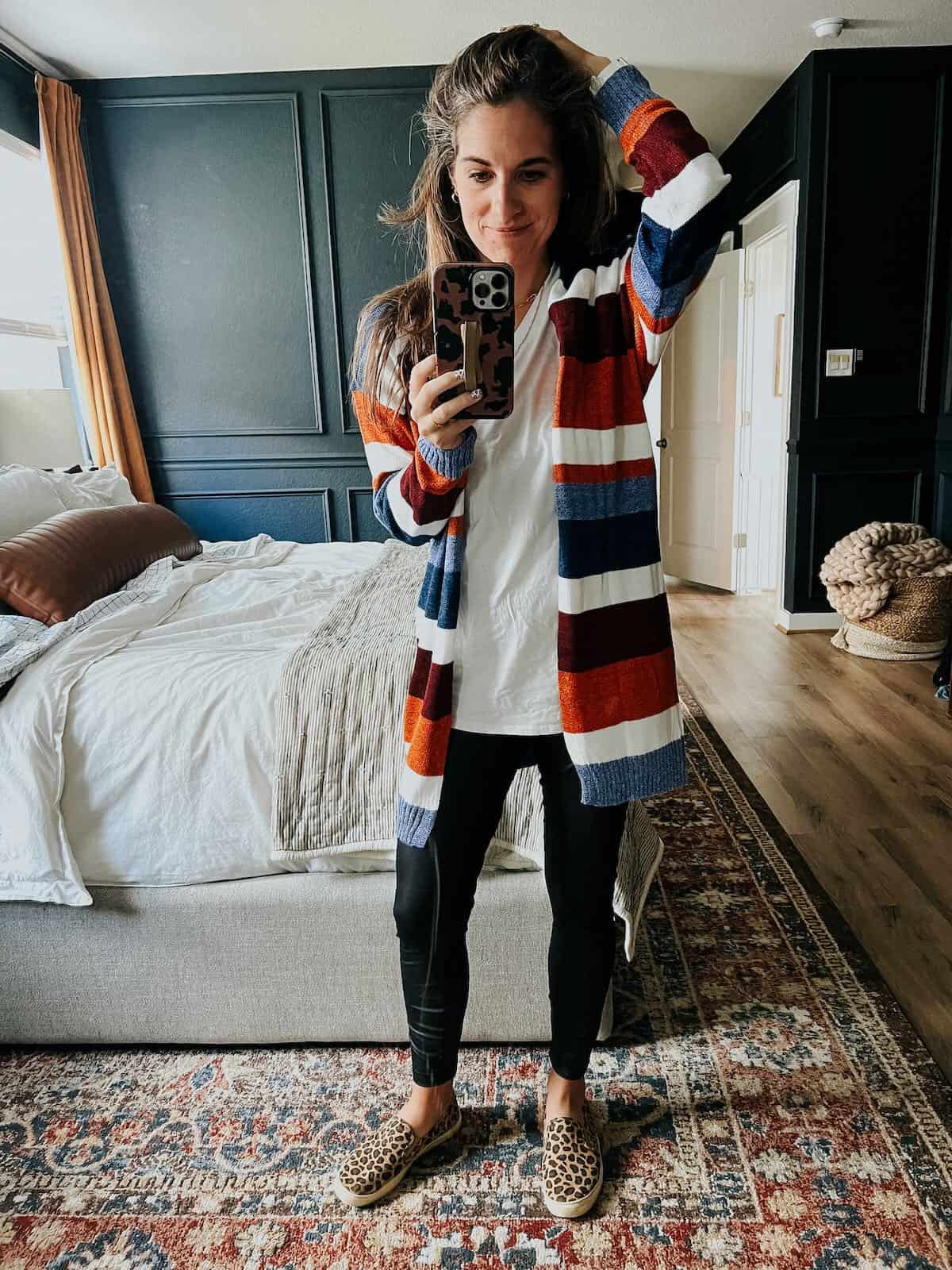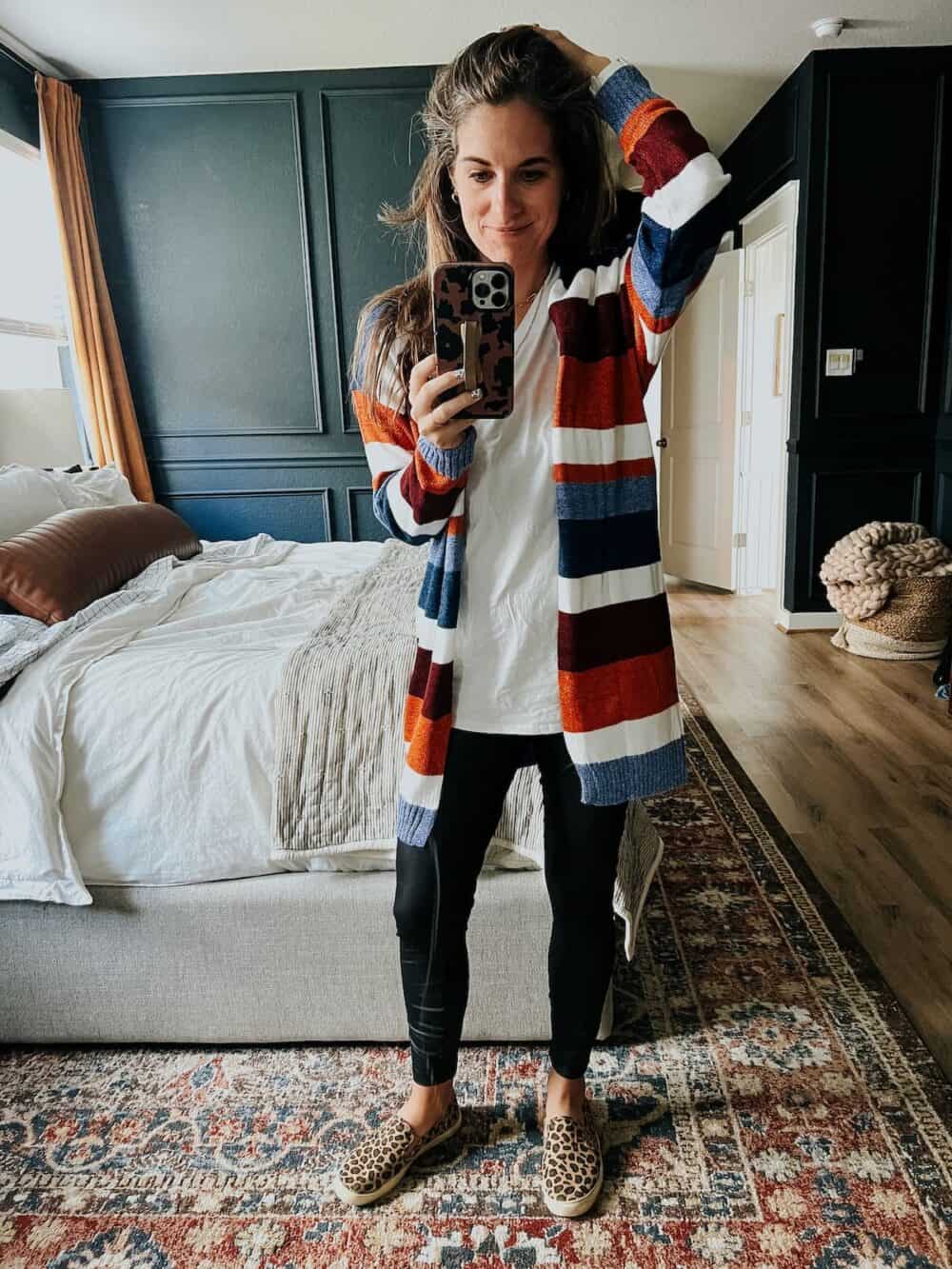 Cardigan | White Tee | Faux Leather Leggings | Shoes (Similar)
I love me a cardigan and this really striped colorful one is so fun. It's perfect for the cooler fall days, and I love that it can be paired with a tee or a tank so I can take it off in the afternoon when it's inevitably too hot.
Also, can we talk about the leggings? These are a dupe of the famous Spanx leather leggings, and I think they're great! They're super comfy, not too hot, and they've help up great for me for a year so far.
The leggings, tee, and cardigan all come in tons of different color and pattern options. I sized up to a medium in all three of them.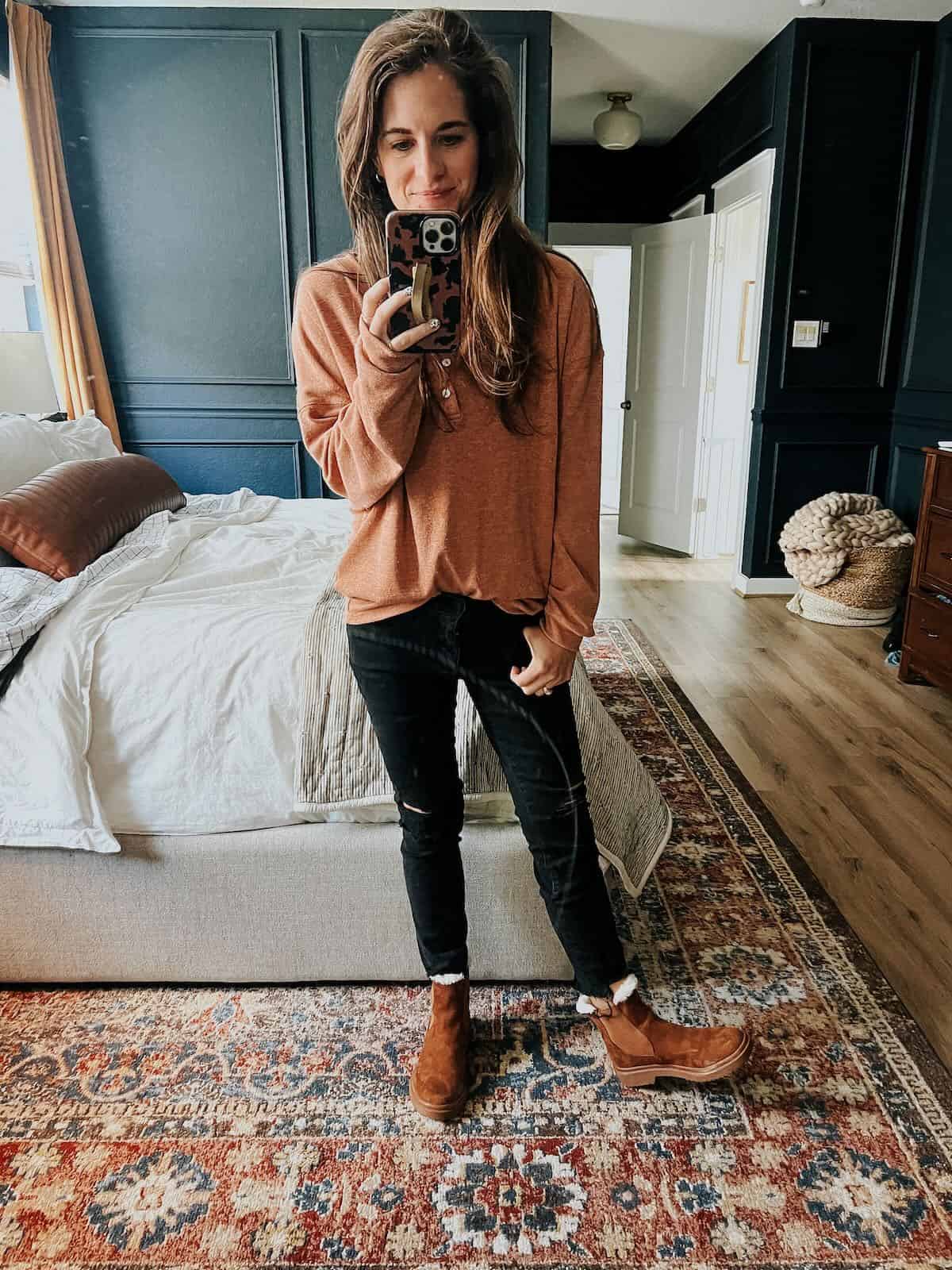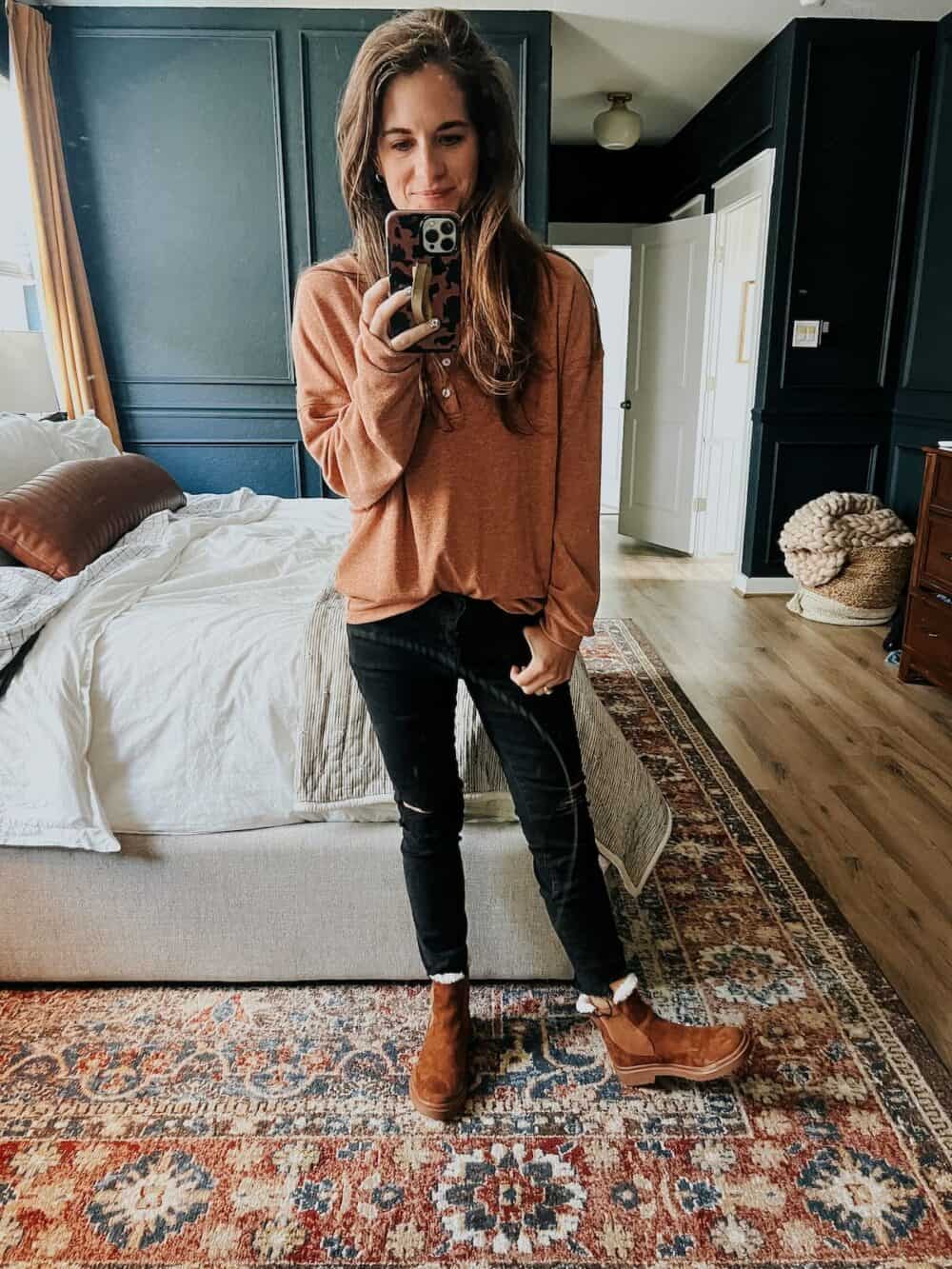 Sweater | Jeans | Boots (Similar)
There's not much that feels more "me" than a pair of ripped jeans and a loose, cozy sweater. This little formula is a definite go-to for me, and I never tire of it. This lightweight sweater is great with jeans, leggings, and shorts – which is exactly the kind of versatility I need in my fall wardrobe!
These jeans are the holy grail of black jeans – I found them after trying a ton of options last year and I'll never go back. And, the boots are some of my favorites but if we're being honest there's no way I'll be able to wear them until January. Thanks, Texas weather.
I sized up two sizes to a large on this sweater for a really oversized fit – you could easily get your normal size for a more fitted look.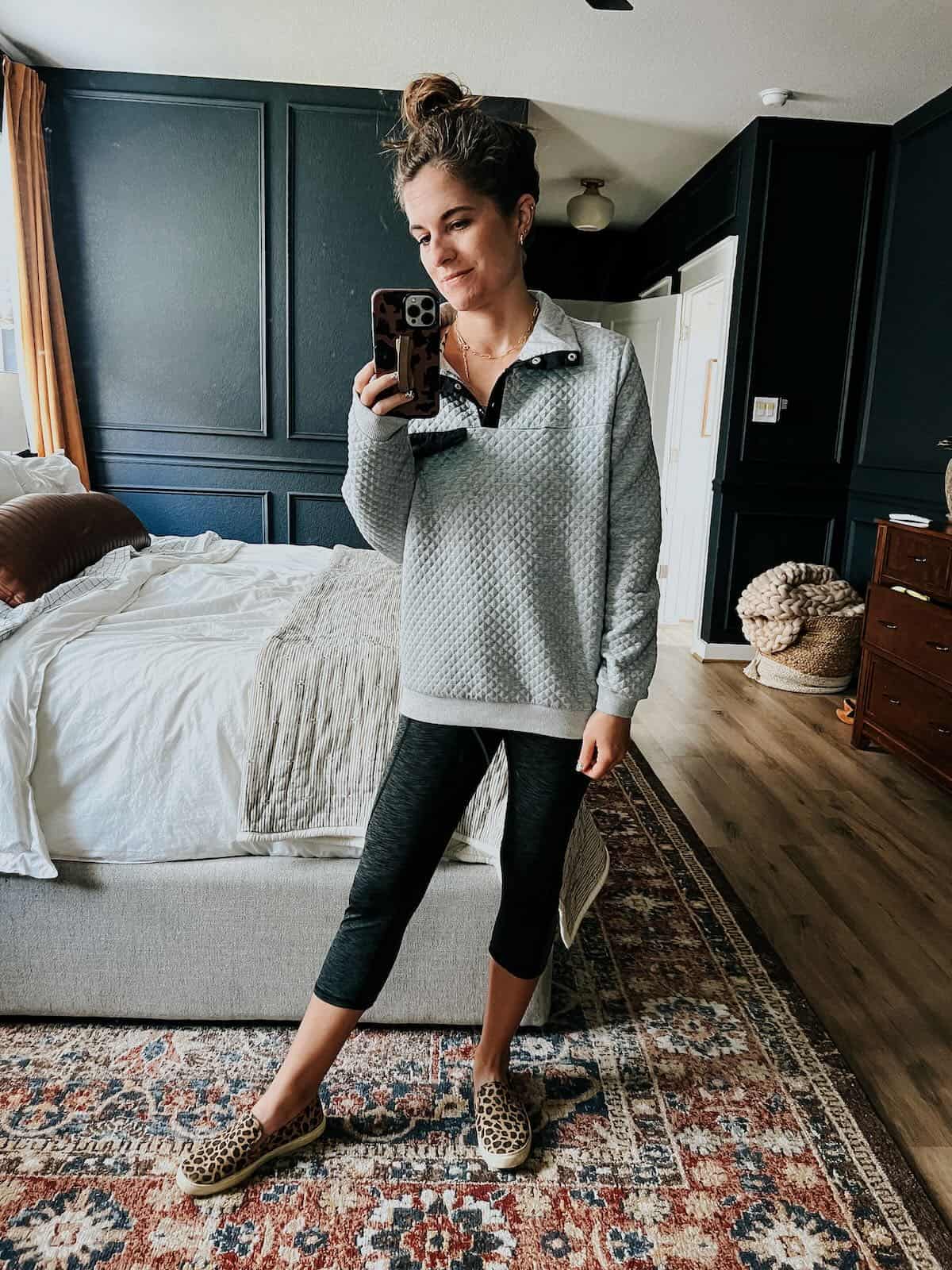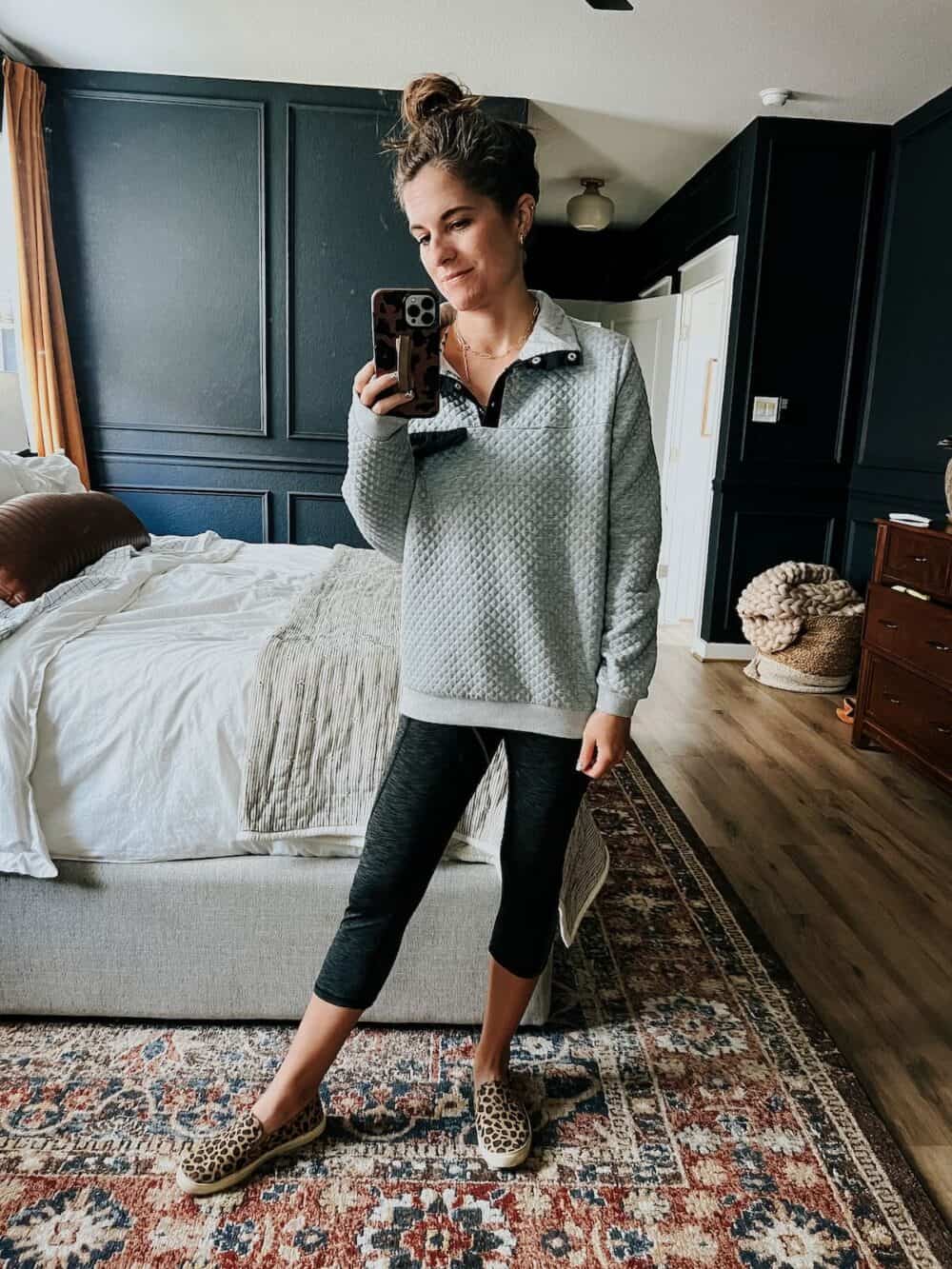 Pullover | Leggings | Shoes (Similar)
This crazy-cozy pullover was one of my most-worn items last fall and winter, along with the best-of-all-time leggings I've paired it with here. The sweater is thick and warm, but not too warm for our Texas weather. It's really flattering and is perfect for a cold morning at the soccer field. It comes in a lot of different styles, and runs TTS – I'm wearing a small.
The leggings are my favorite of all time and I own them in multiple colors and styles. They have big pockets on the side of the legs that can fit my phone, and they're my ride or die forever! They come in tons of colors – I usually size up to a medium because I don't like a super fitted legging.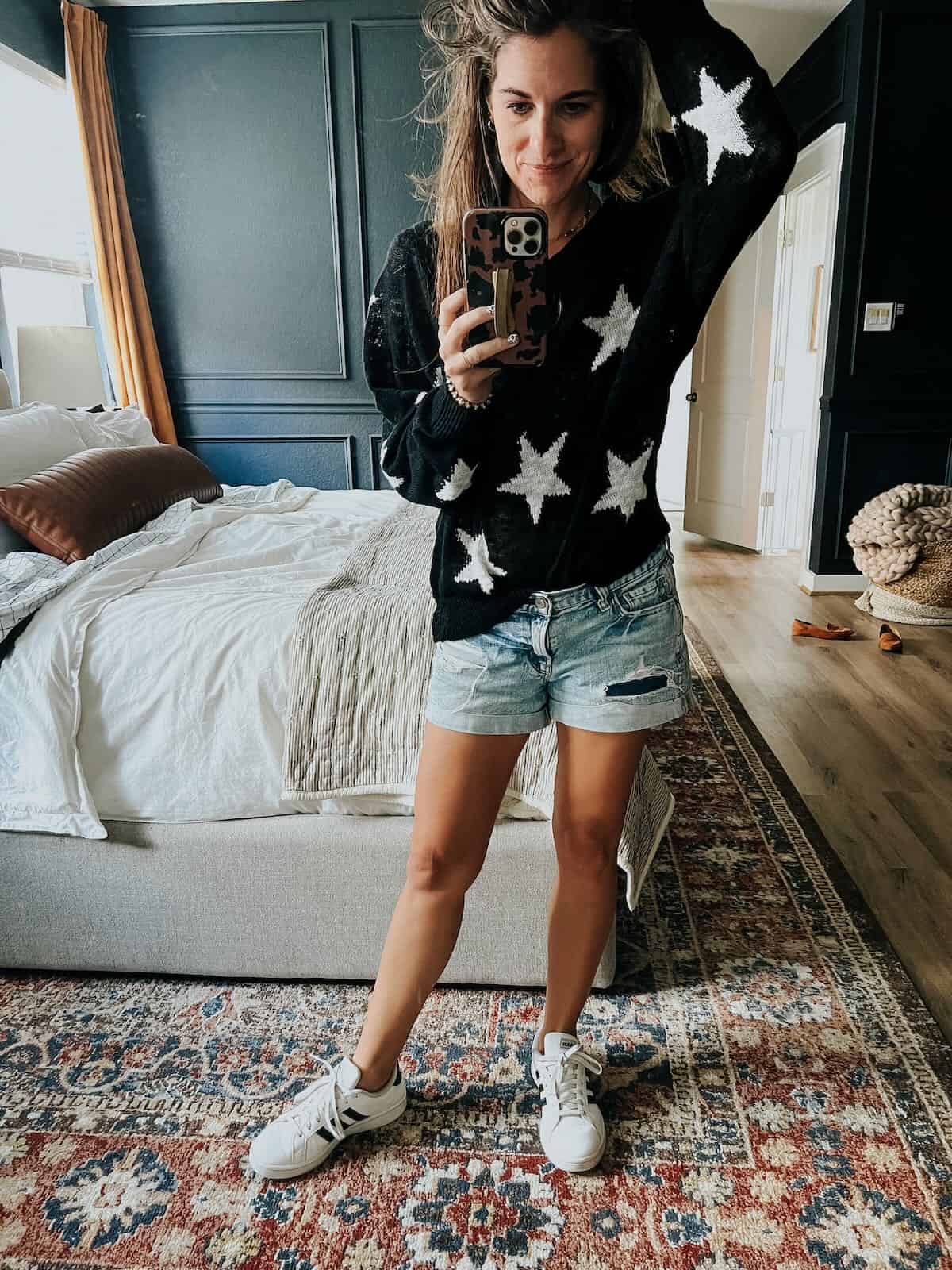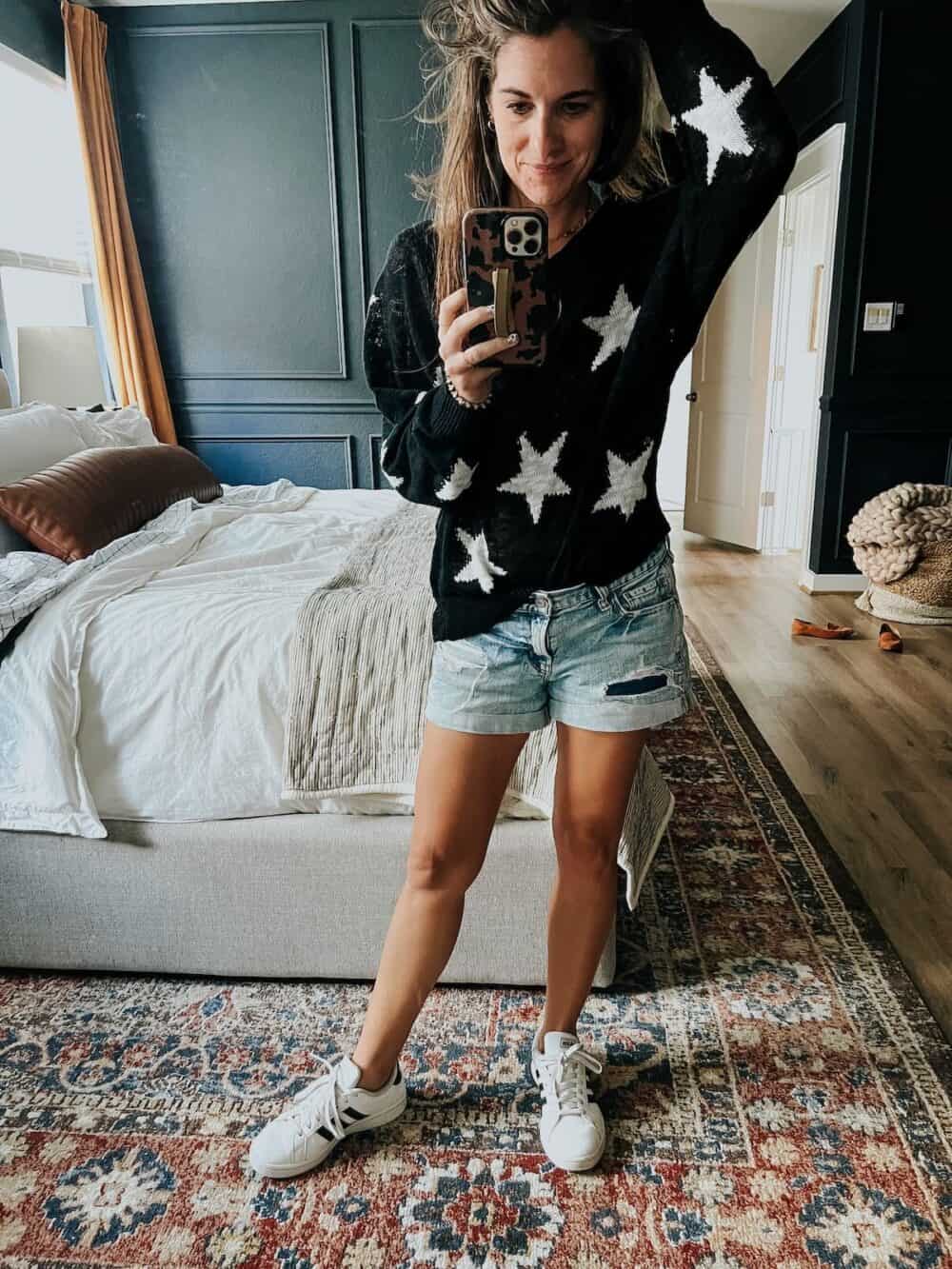 Sweater | Shorts (Similar) | Shoes
This is the quintessential "let's pretend like it's fall in Texas" outfit – a super lightweight sweater, shorts, and sneakers. It makes me feel like I'm dressed for fall without actually making me physically melt from heat exhaustion.
This cute little star sweater is one of my very favorites – I like to pair it with a cami that has a built-in bra, or if I'm feeling particularly brave I'll wear it with just a black bralette underneath (it's a bit see-through). It comes in more than 20 different colors and patterns, and runs TTS – I'm wearing a small.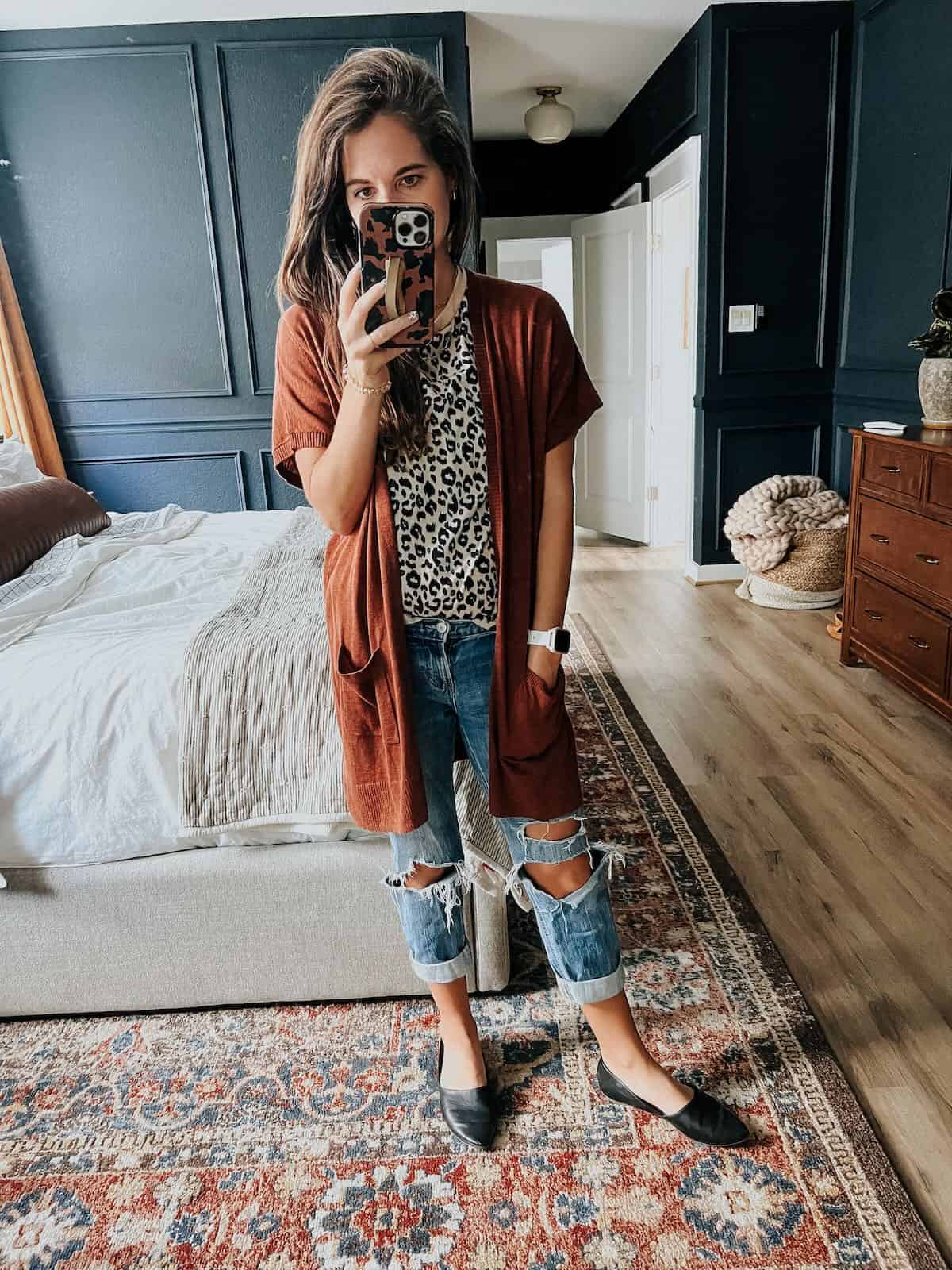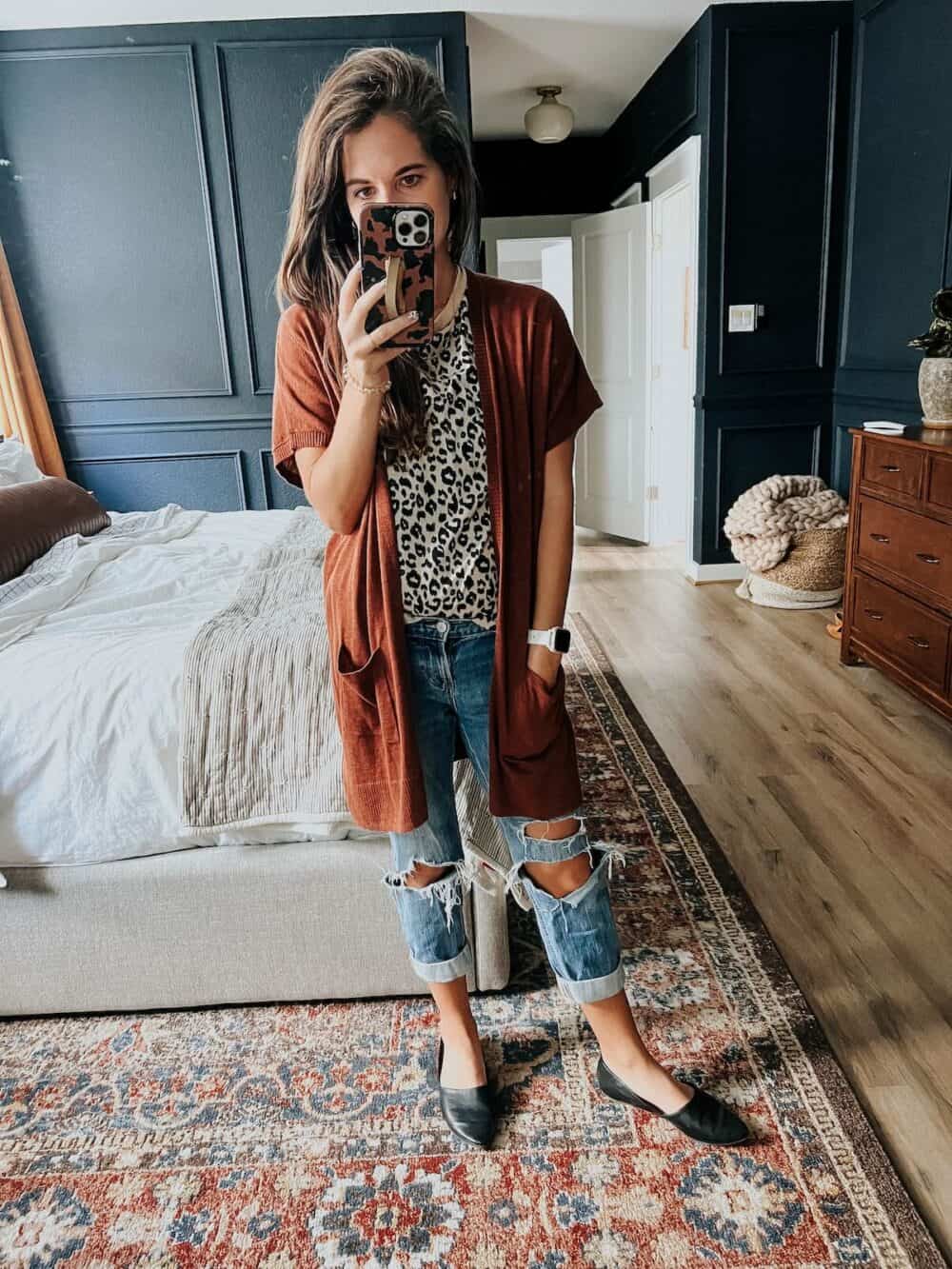 Cardigan (Similar) | T-Shirt | Jeans | Shoes (Similar)
A leopard print t-shirt is a must-have for every wardrobe if you ask me. It's cute on its own, paired with a cardigan or blazer, or under a jean jacket. I've got mine under a short-sleeved cardigan here, but I often dress it up with a black blazer and it's one of my favorite looks!
These jeans are hands down my most-worn jeans of all time (and the ones I get asked about the most). They're a few years old from Old Navy, but this is the current version. The holes in mine weren't that large when I got them – they came about naturally from constant use!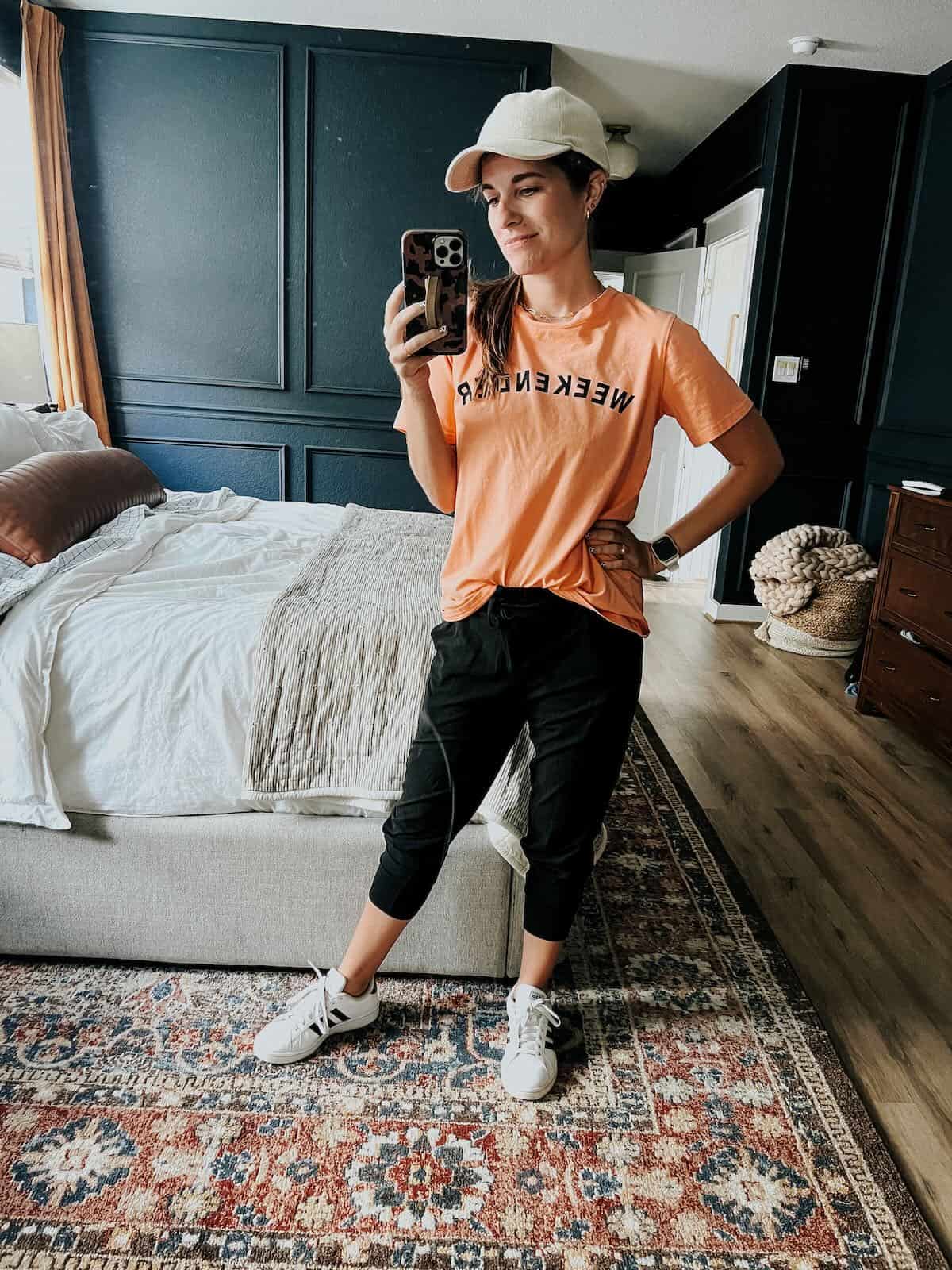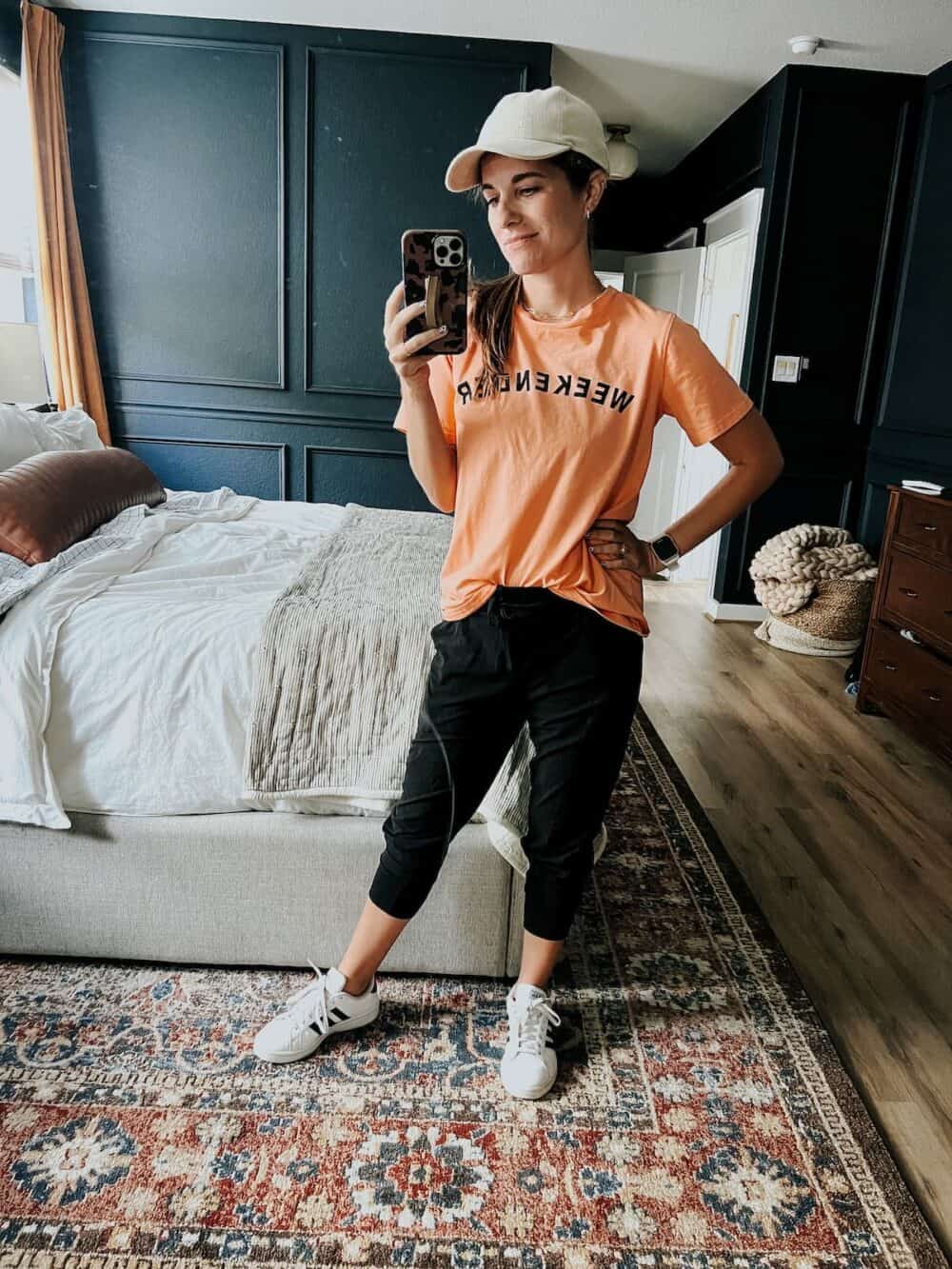 Hat (Similar) | Shirt | Joggers | Shoes
And finally, this is my go-to outfit for errand running, house-cleaning, soccer-momming kind of days. I love a graphic tee, and it doesn't get much better than when you pair it with the best pair of joggers ever.
The shirt and joggers both run TTS, and the joggers come in a bunch of colors (I also have the light gray).
And those are a few of my favorites from Amazon this fall! I'd love to know yours – drop a comment or send me a DM on Instagram if there's something I have to try!
Need more Amazon faves?