Testing the Best White Wood Stain
That's right, friends – we're back again with a stain testing post! So far, we've tested seven different wood stains on four types of wood, and four black wood stains on three types of wood. Today, it's all about white wood stain! I love testing things and showing you how different wood stains look on different types of wood, so I tested four different white wood stains for you – so, next time you need a good white wood stain for a project, you don't need to test!
White wood stain is a really beautiful choice for lots of different projects, and it's a unique one that you don't see used as much as a lot of other stain colors. Today, we'll take a look at what different white wood stains look like on a few different types of wood. Then, we'll talk about why you might use white wood stain, along with some tips and tricks for staining wood.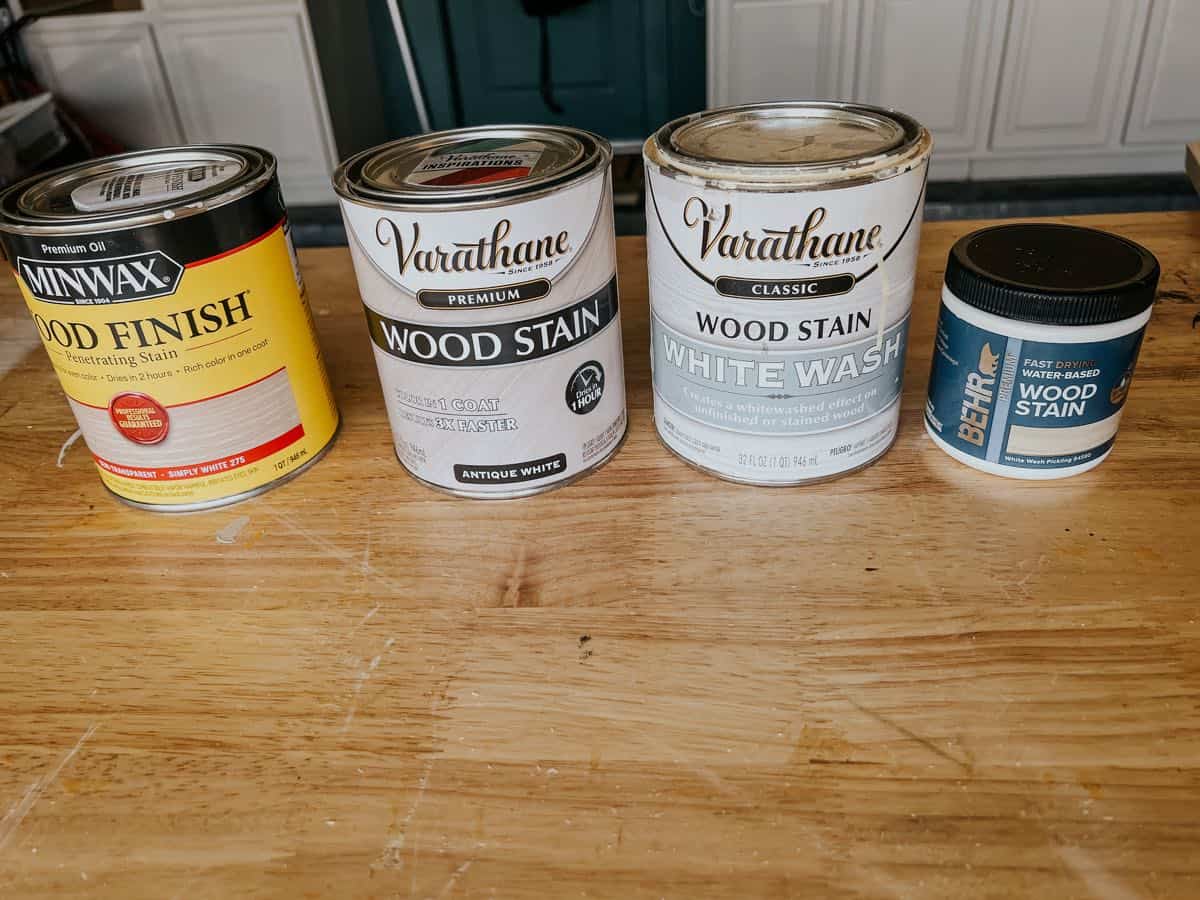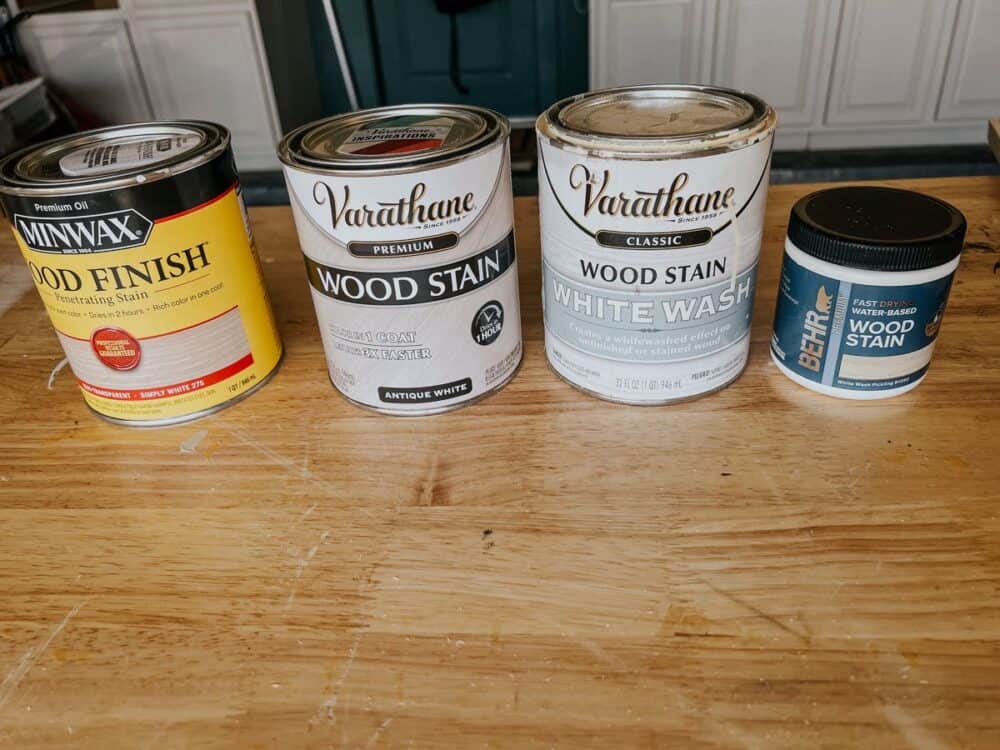 The Best White Wood Stains
First up, let's take a look at the stains we're using. The four types of white wood stain I'm testing today are:
I tried to grab a white wood stain from each of the major brands that you can find at Lowe's and Home Depot, so you should get a good look at the various options. We're testing the stain on red oak, poplar, and pine. Different wood species accept wood stain differently, so it's important to see how each looks on the wood you'll be using before you make a decision.
It's worth noting that white wood stain is different from dark wood stains. All of these wood stains are very subtle whites and very similar. White wood stain is really best used for when you want to mellow out the tone of the wood a bit and add a bit of a tan color to the wood's natural tone. If you want good coverage and a true white color, then white paint or a homemade whitewash (where you can control the saturation) is a better option.
Varathane Antique White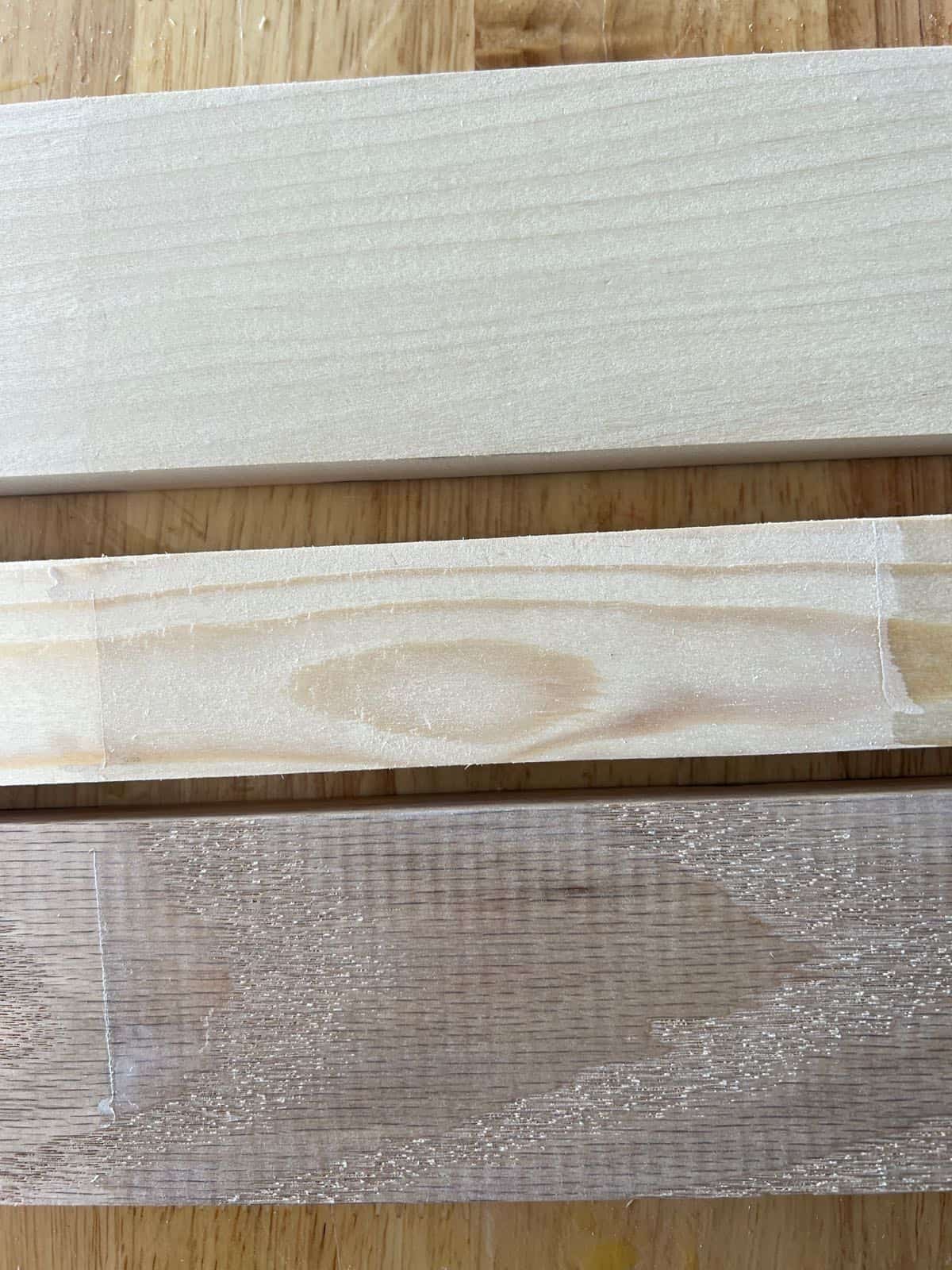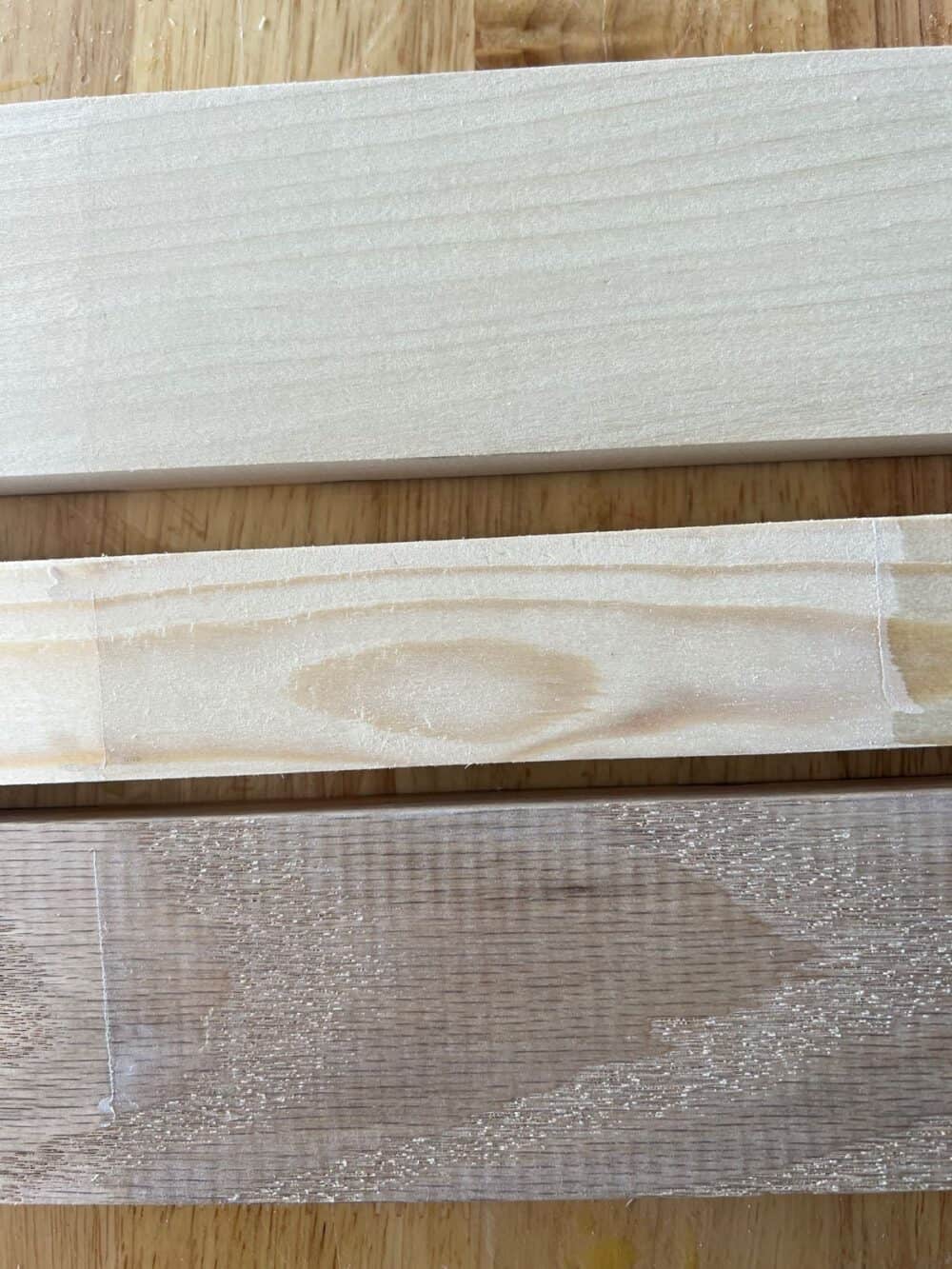 (From top to bottom, you have poplar, pine, and red oak)
Varathane Antique White stain is a good medium-coverage stain in terms of the white colors. It's noticeable, but doesn't change the color of the wood all that much. You'll notice that it pulls a little green on the poplar wood – that's because poplar already has some green undertones in it. So, if there's any green undertones in the stain it'll really bring that out. It also makes the red oak look a little purple – that would be because the red oak has red (obviously) undertones. So, when mixed when the slightly green color of Antique White, it's gonna pull purple.
If you want a more solid color, grabbing a stain that has the poly mixed into it (like this one) can make for a more saturated finish with white wood stain. It will also give you a glossier finish! And, to add to the ease of use, a combo will eliminate the need to use a sealant afterwards. So, that's something to keep in mind if you love the feel of this one but want something a little less subtle.
You can buy Varathane Antique White at Home Depot, and you can also find it on Amazon.
minwax Simply White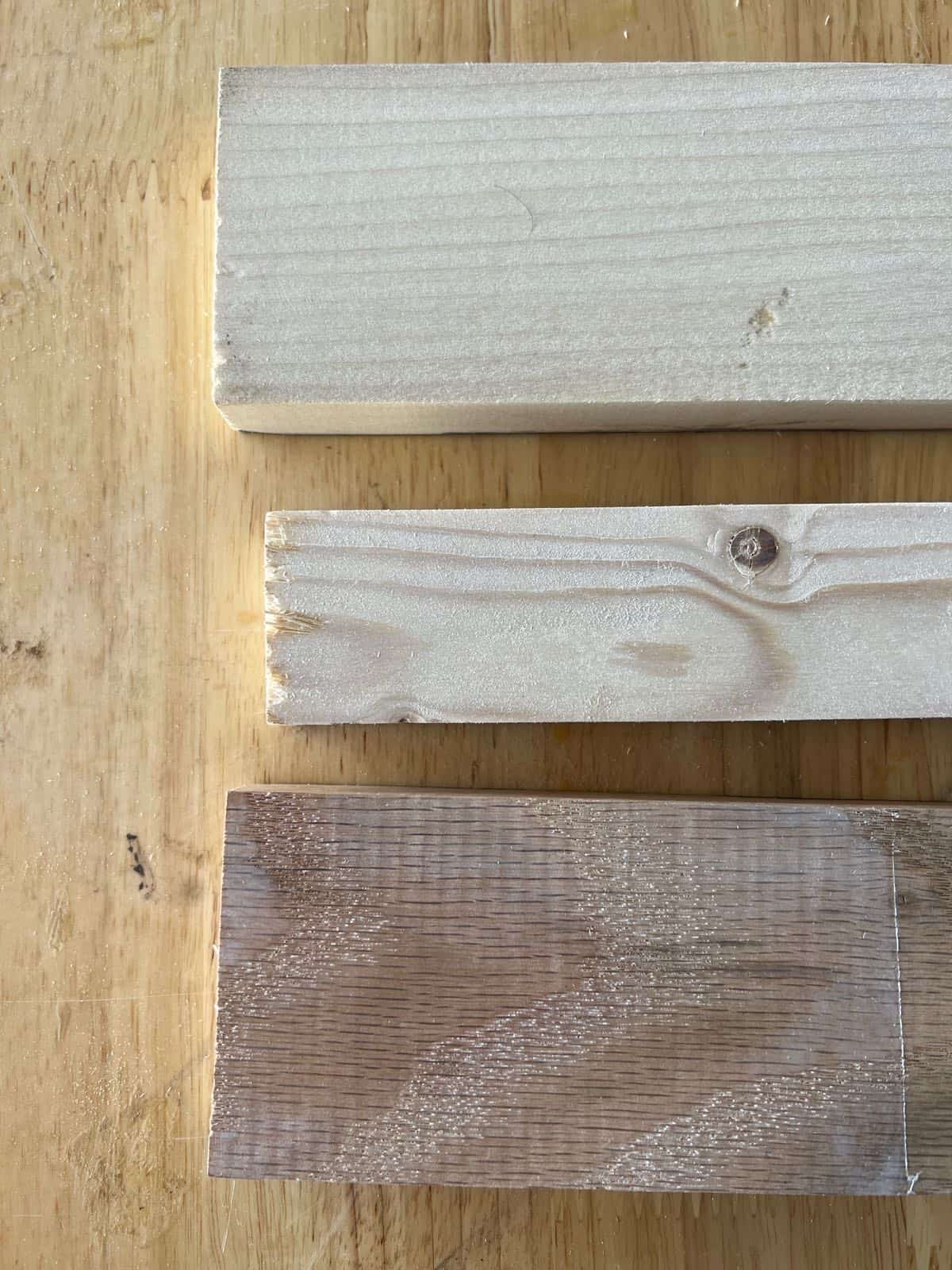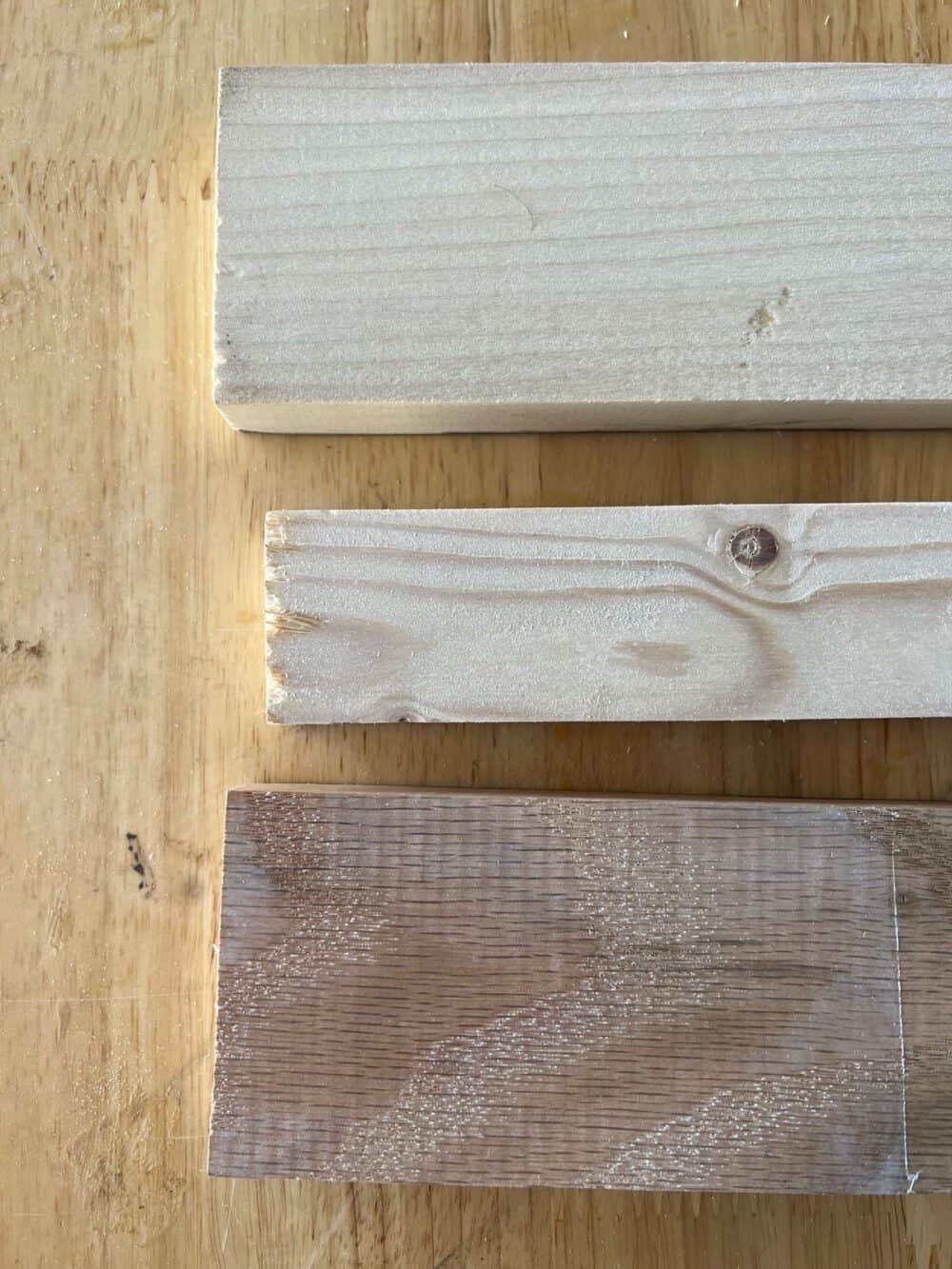 (From top to bottom, you have poplar, pine, and red oak)
Minwax Simply White is the most subtle of all of the colors I tried. It gives just a hint of white and is much more noticeable on the darker wood than it is the light wood species. It's barely even visible on the poplar and pine!
I did notice that it toned down the yellow wood tone in the pine a bit, so that's a great thing to keep in mind if you're working with pine and want to keep the natural look without the yellow undertones.
This Minwax wood finish is available at Lowe's, and you can also find it on Amazon.
varathane white wash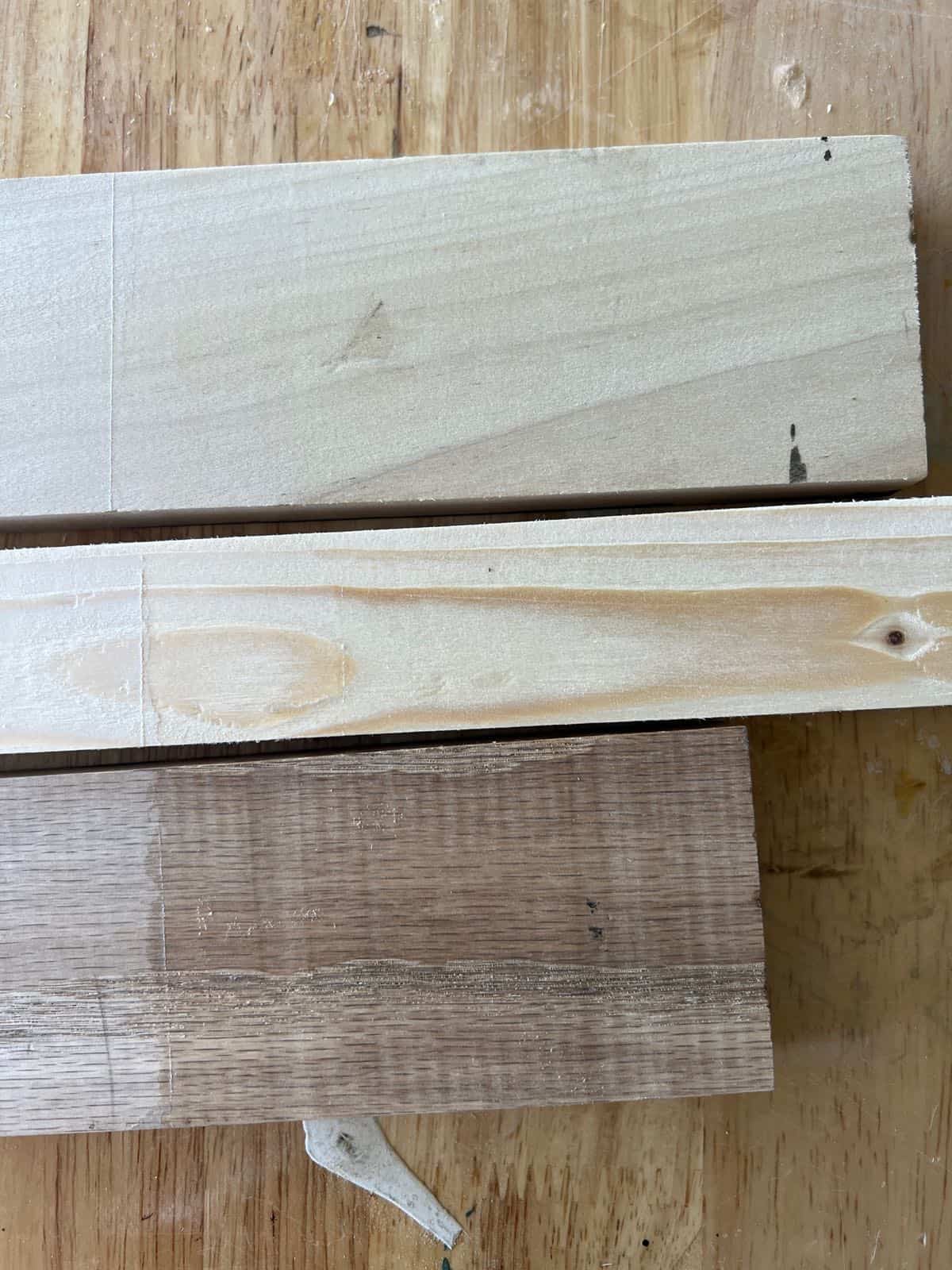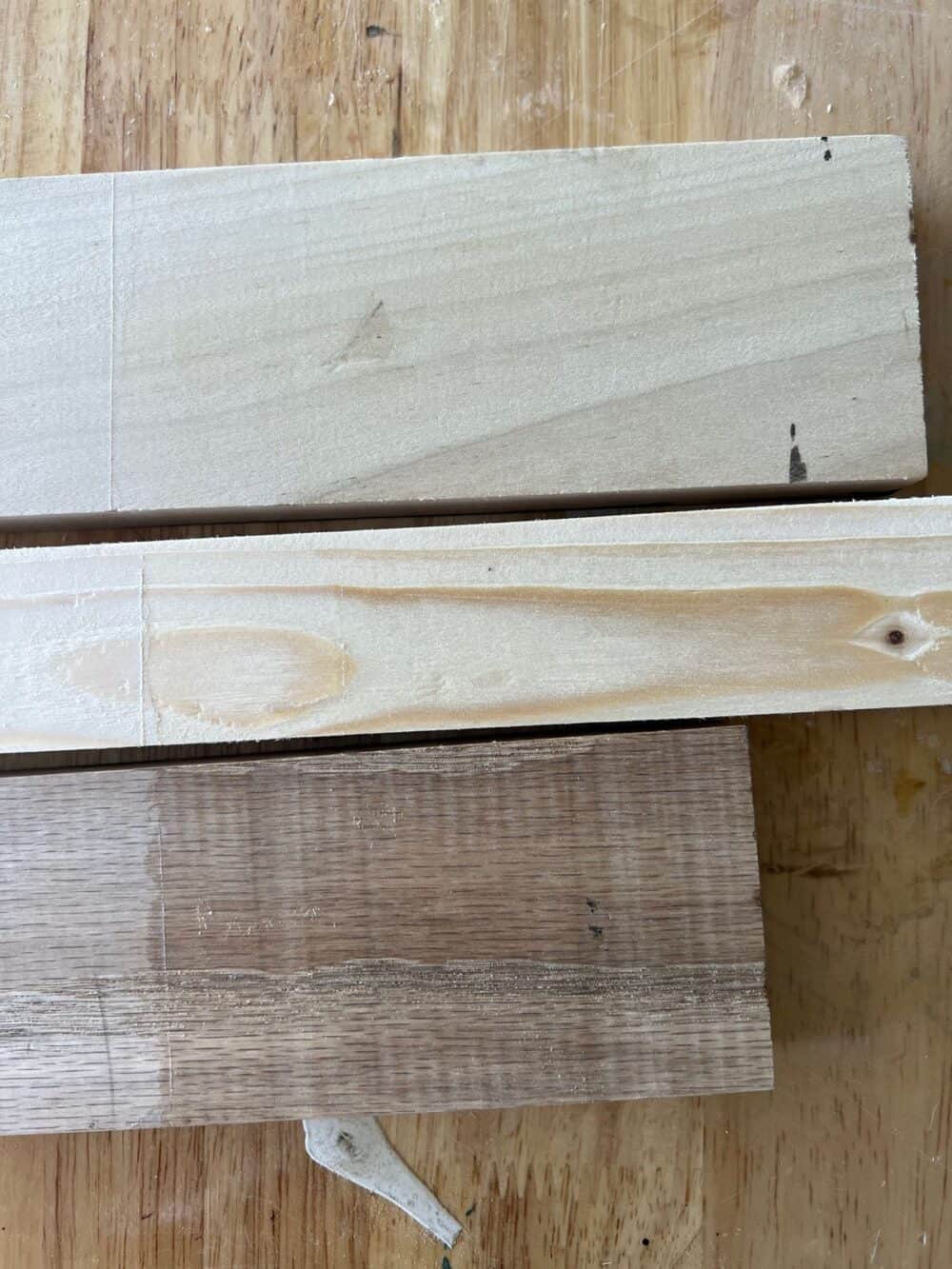 (From top to bottom, you have poplar, pine, and red oak)
Varathane White Wash is a really great option if you want a thin white stain that creates a whitewash look without being too subtle. I love how it looks on the red oak – it really warms it up quite a bit and creates a beautiful white wash look without highlighting the red tones of the wood. A good whitewash wood stain can be hard to find, because many of them just end up looking translucent. This one does a good job of achieving the white washed look without covering up the dark knots and natural wood grain like a thicker whitewash made at home might do.
Like most of the other white wood stains, this one is most noticeable on the red oak – it's much harder to see on lighter wood.
You can find this Varathane stain color at Home Depot.
behr White wash pickling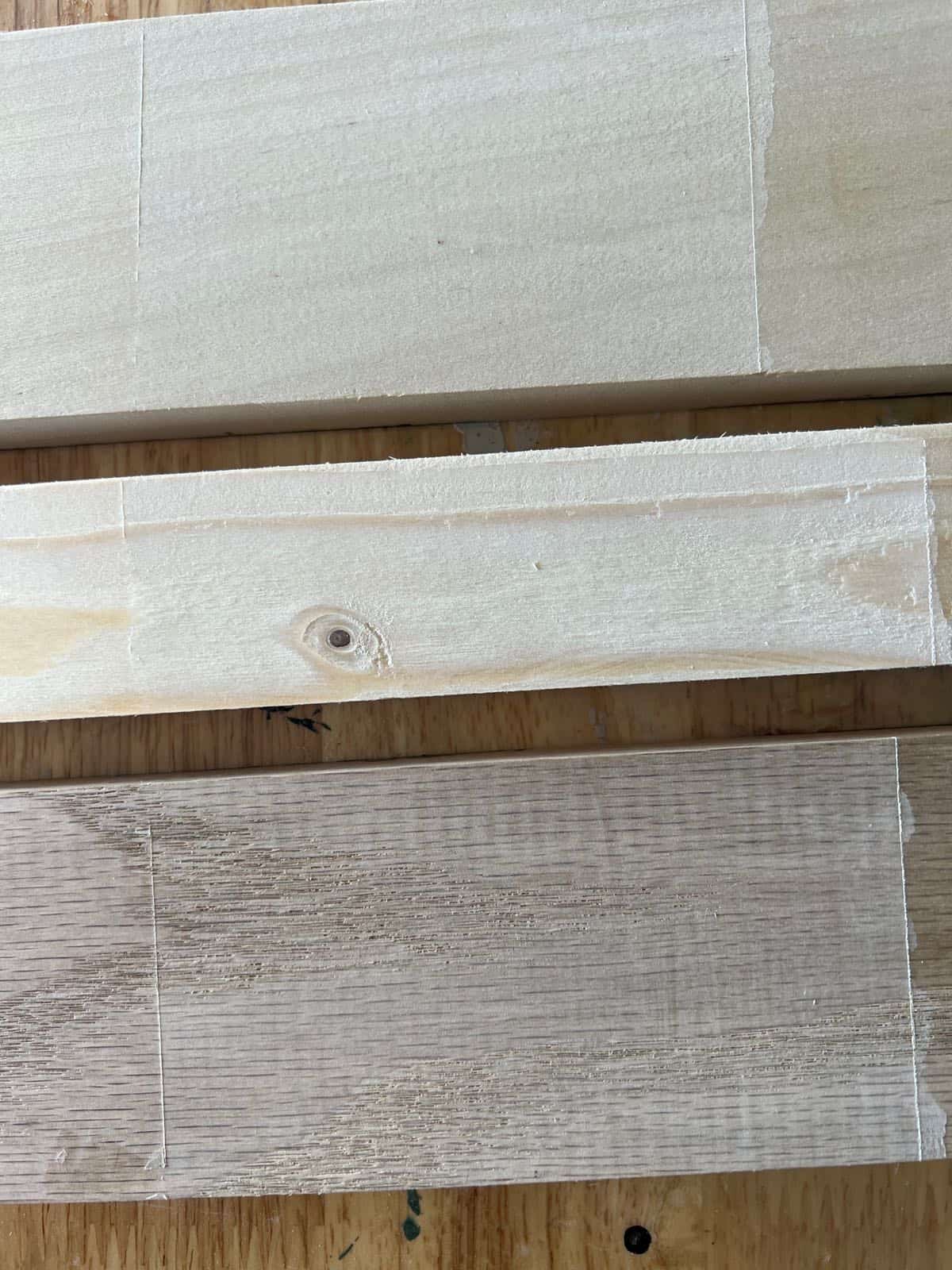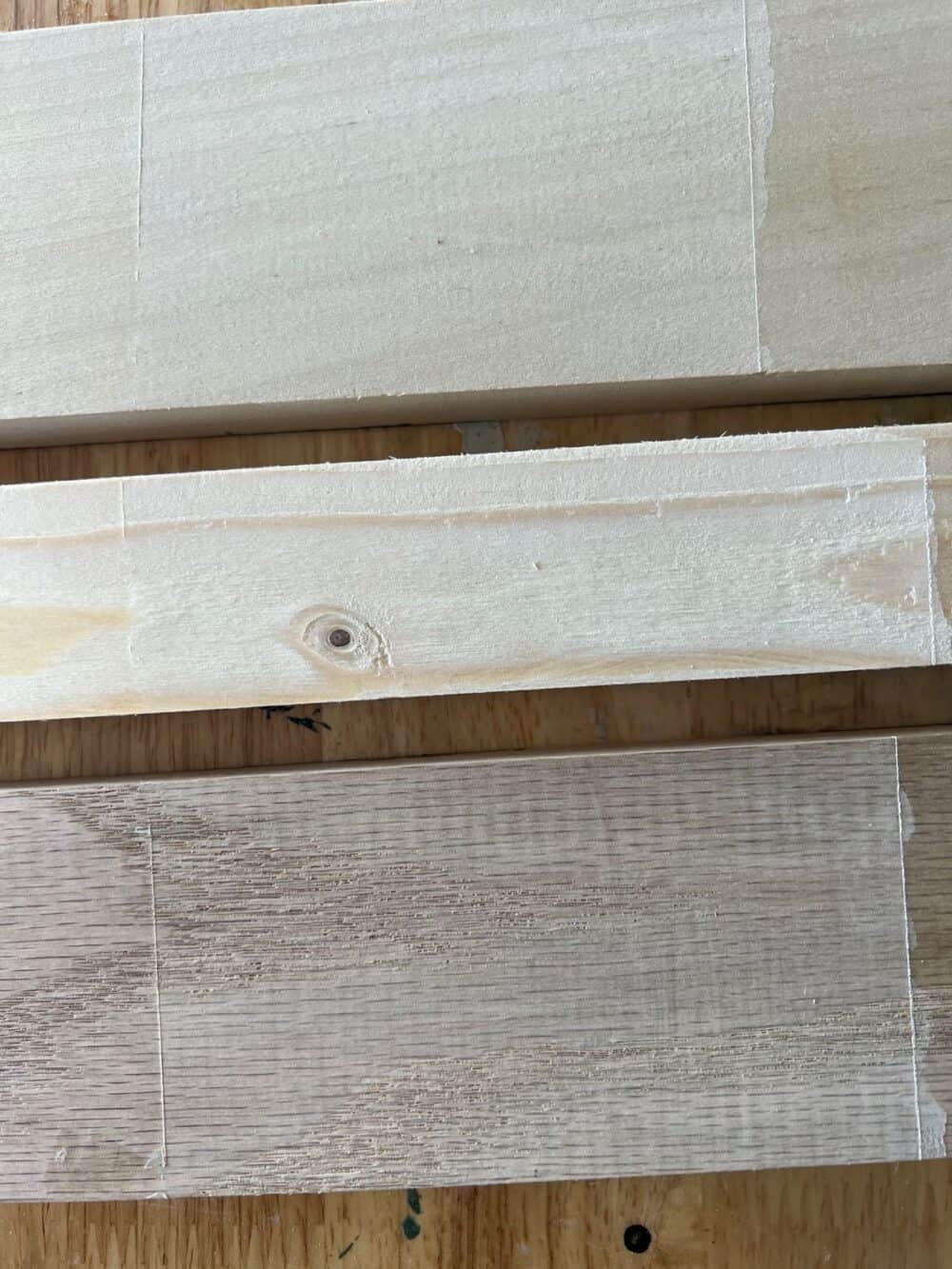 (From top to bottom, you have poplar, pine, and red oak)
I think Behr White Wash Pickling was the most opaque of all the stains I tried – it's the stain that looks the most white on all of the woods! You'll notice that it shows up pretty well on the pine wood, which most of the others don't at all.
I really like this particular stain, and I can definitely see myself using it. It feels like a more solid wood stain than the other options, and it doesn't bring out any undertones that I don't like in the wood.
Behr's stains are available at Home Depot.
How do I stain wood white?
Staining wood is very simple. Start by sanding your wood with a fine grit sandpaper. I recommend starting with 120 or 180, then moving to 220. Make sure to remove any dust or wood particles from the wood before you move on.
To stain, you'll want to use a clean cloth (or a foam brush works well, too). Start with raw wood that has been sanded slightly. You always want to sand wood prior to staining, as it can knock out some of the yellow or red (depending on the wood) tones in the wood and let the stain color shine.
Rub stain onto the wood, going in the direction of the wood grain. Allow it to penetrate for 5-10 minutes, then wipe off the excess stain before it fully dries.
With white stain, I would also recommend using a pre-stain wood conditioner. I don't use them every time I stain, but with a subtle white stain, having that extra step can help the white show up a little more.
If you want a complete tutorial on how to stain wood, this post will help you out!
what would I use white wood stain for?
White wood stain is great for unfinished wood furniture, wood molding, or any project where you want to add a subtle finish to your project. It can also be great as a base stain color if you want to mellow out the wood tones you're working with and create a more neutral base!
why use white stain over white paint?
If you want a white look on your wood projects without covering up the wood grain, white stain or whitewash paint is a great option! White paint is going to be more opaque and will cover up the wood grain fully – white stain, on the other hand, allows the natural grain of the wood to shine through.
White stain and white paint are both great for different applications. If you're looking for a lighter option that will allow wood grain to show through, stain is the right choice. If you want to fully cover your wood, go for paint!
Can't I make my own whitewash?
Yes, you can! It's easy to make your own whitewash with white paint and some water. It can be more customizable than using wood stain, but it's harder to get a consistent finish if you're trying to re-mix more! It's just a personal preference on the look you want and how much effort you want to put into the prep work!
It will function slightly differently than stain, as paint will sit on top of the wood rather than soaking into it like stain does. The benefit is you can fully control how opaque your finish is – add more paint for a more opaque finish, and more water for a more transparent finish!
I need more help with staining wood!
Looking for some more guidance with how to stain wood? I've got you covered.