Oh, garages. They're an awesome space for storage (or, you know, parking your car) and it's been so exciting for me to have one now that we've moved into a "real" house. But they're also really awesome at collecting a ton of crap totally important stuff that has no purpose.
We spent a day back in early December cleaning up and getting rid of all of our boxes from moving. We thought we would be able to keep it clean after that, but just a few months down the road and it was looking something like this: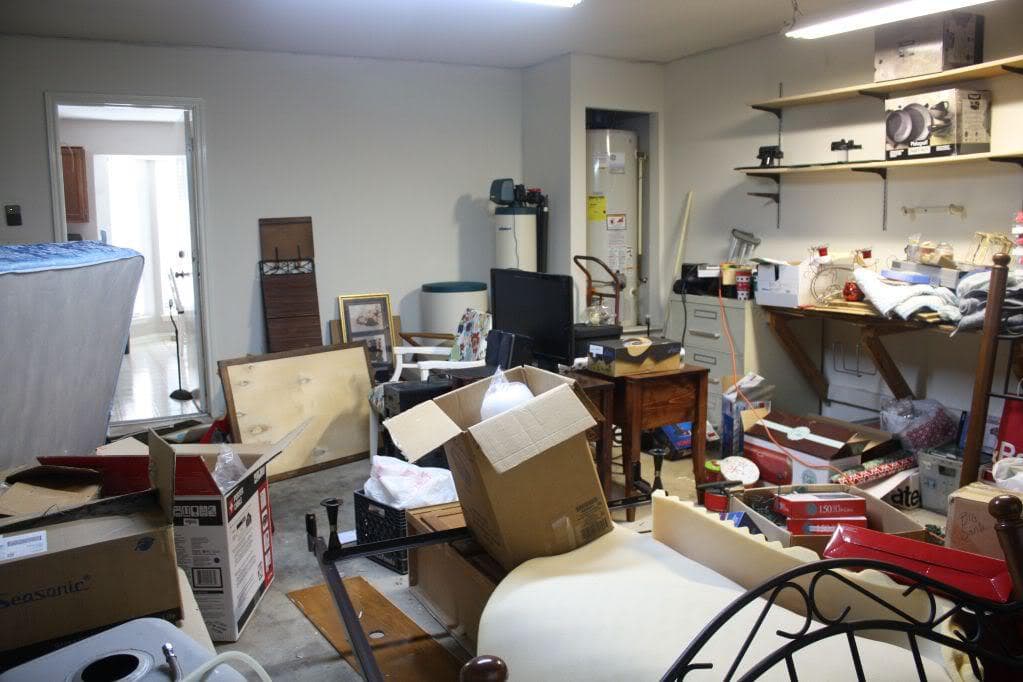 Yeah, I don't know if you noticed, but it's EVEN WORSE than it was before. I don't even know how that happened, but I'm blaming it on Christmas decorations and a bit of furniture shuffling (like getting new nightstands and switching out the bed in our guest room).
All I have to say is that I'm glad I challenged myself with this whole "organize one room a week" thing, because if it wasn't for that I don't know if we ever would have gotten our garage under control.
Corey and I spent a couple of hours on our Sunday afternoon organizing, and soon enough we had something that's much easier to, you know, walk in.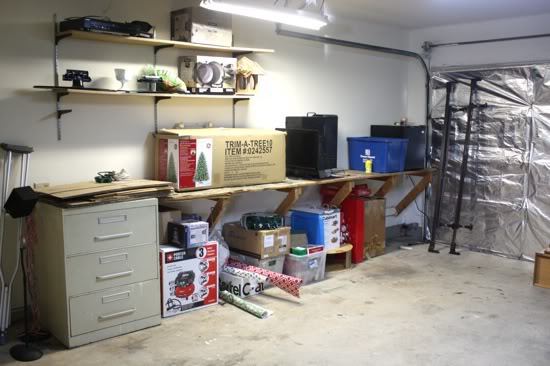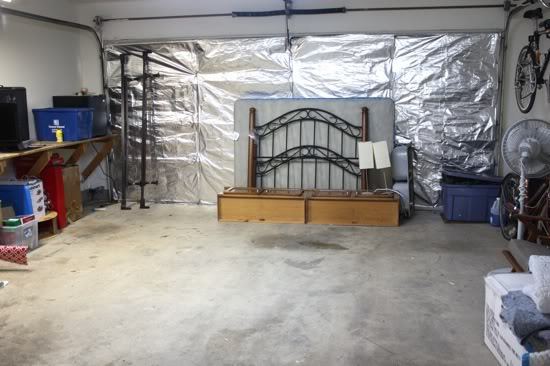 We've still got a bit more clutter in here than we would like, but we're working on it. We've got a stack of things at the back of the room that we have listed on Craigslist currently – if they don't sell soon we'll toss 'em out on the curb and someone will pick them up. We also have a (surprisingly large) stack of things that need to be given back to various people (mostly a ton of random stuff from Corey's mom) and a nice little pile of furniture that is waiting to be given a new home in our house.
I don't think our garage will ever actually look nice (at least not until we get some sort of actual organization system in there), so I think this is the best we can ask for at this point. I'm thrilled that we can walk into the room now without tripping over a million different things, though, so I won't complain that it doesn't look pretty.
I'm really starting to feel like our home is finally organized. All of the rooms that had major clutter in them are nice and cleared out now, and I know where to find anything I might randomly need.
I know. What a novel thought –  I can actually find things in my own home. It's pretty exciting.
We're down to the last week of our organizing challenge – and I'm really happy to say that Corey and I are actually a bit stumped over what we'll organize this week! I'm sure we'll think of something, but this has been the first week that we didn't immediately know exactly what needed to be organized. That's a good feeling.
It's not too late to join in on the Organize-a-Thon! All you've gotta do is organize one room or area of your home, snap some photos, and either blog about it (and tell me you did) or e-mail them to me at [email protected] I'll be doing a round-up of everyone's organizing projects the first week of March, so be ready for that!
Do you have a garage? Is it just a junk collector like ours has been so far, or do you keep it nice and organized?