The Last Big Project in Grant's Room
When I first started planning Grant's room makeover, wallpaper was not a part of the plan.
In fact, if you look back at the mood board for his room, I had planned on keeping the scalloped walls and blue ceiling he's had all along!
But, things change. Sometimes you have to pivot and add some green plaid wallpaper. And, oh my goodness am I ever glad we did!
When I installed the bookcases in his room, I wasn't able to get all white bookcases like I had planned. If I wanted to get started quickly, my only option was a hodge-podge of colors that IKEA had in stock.
I wasn't willing to push the project start date back, so my only real option was to paint the bookcases. I considered just painting them white and sticking with the original plan, but something in my gut was telling me to consider pivoting. After some scrambling and reconfiguring, I decided on a completely new look for his room. I was incredibly frustrated by it at the time, but now that we're on the other side of it?
I'm so grateful for the pivot. Because without it, we wouldn't have this.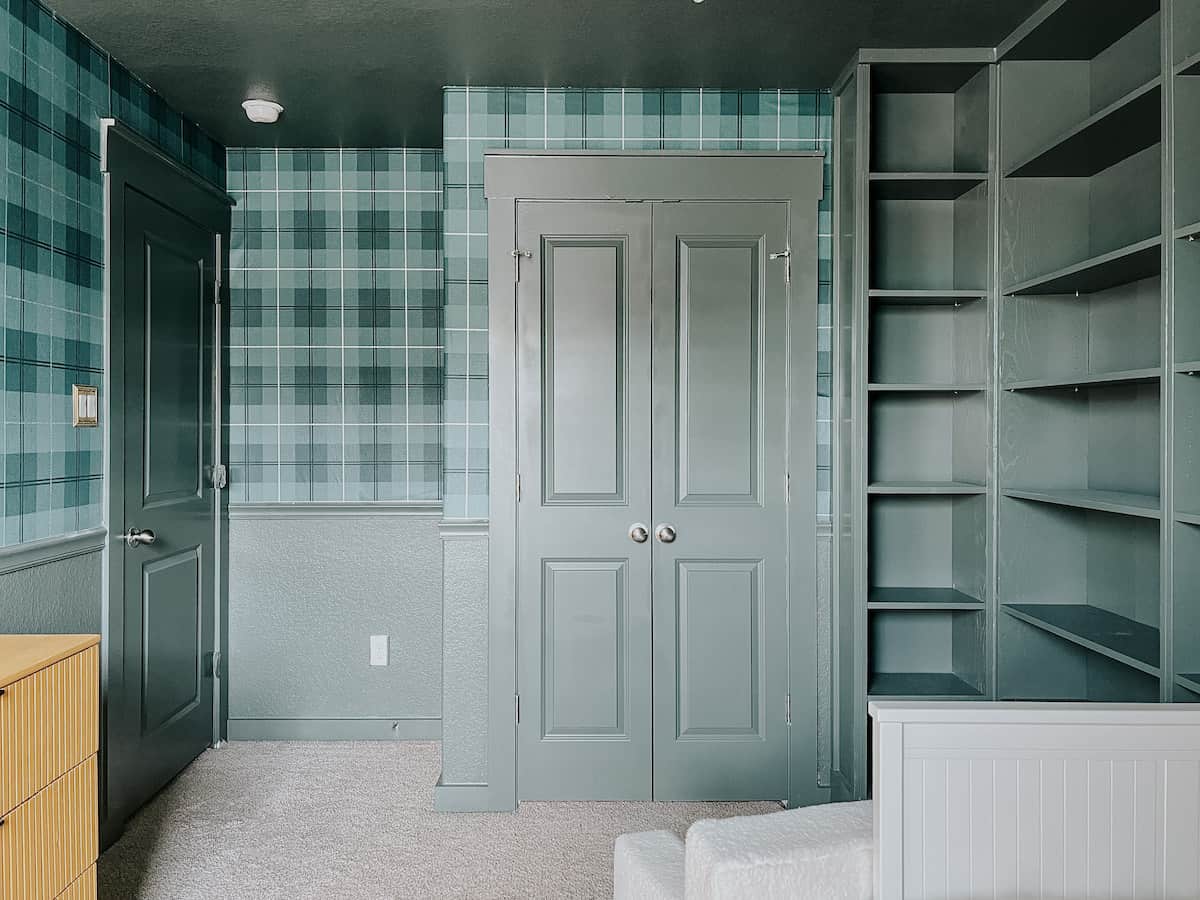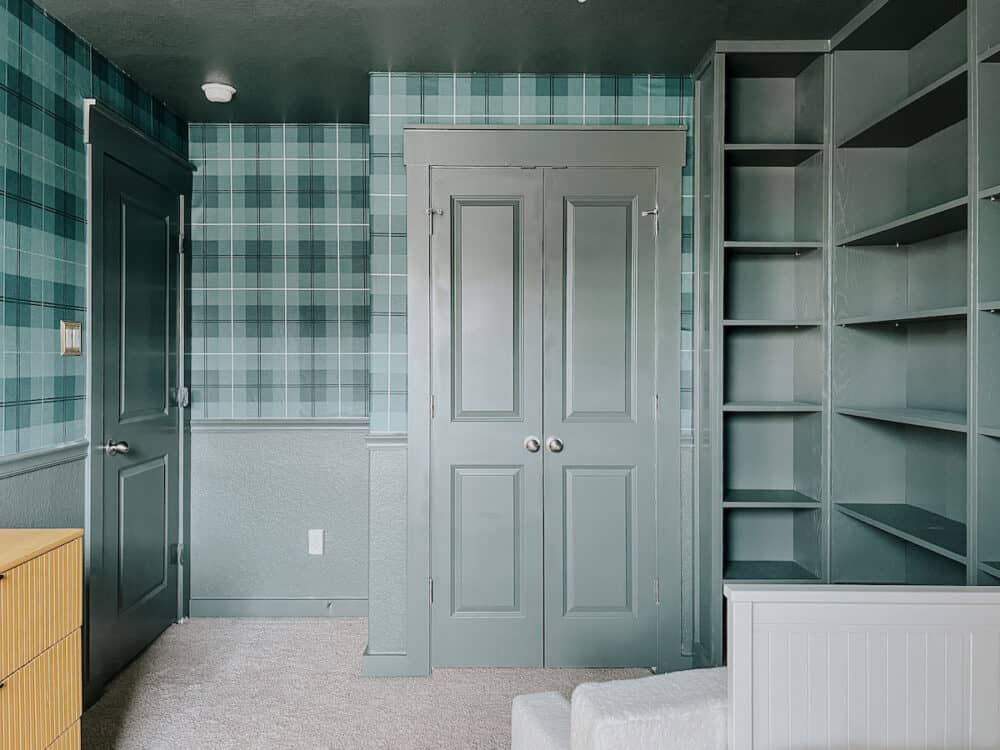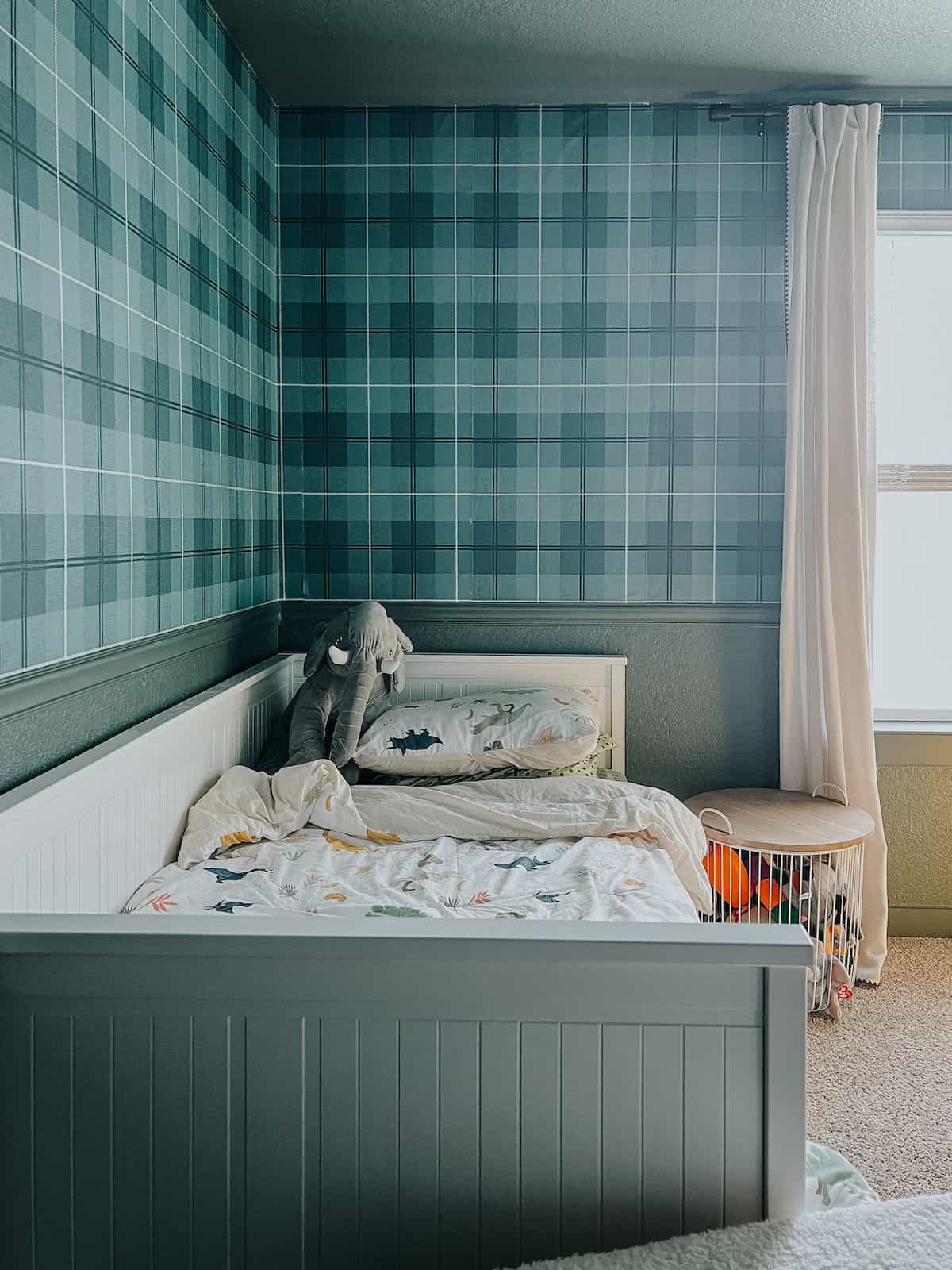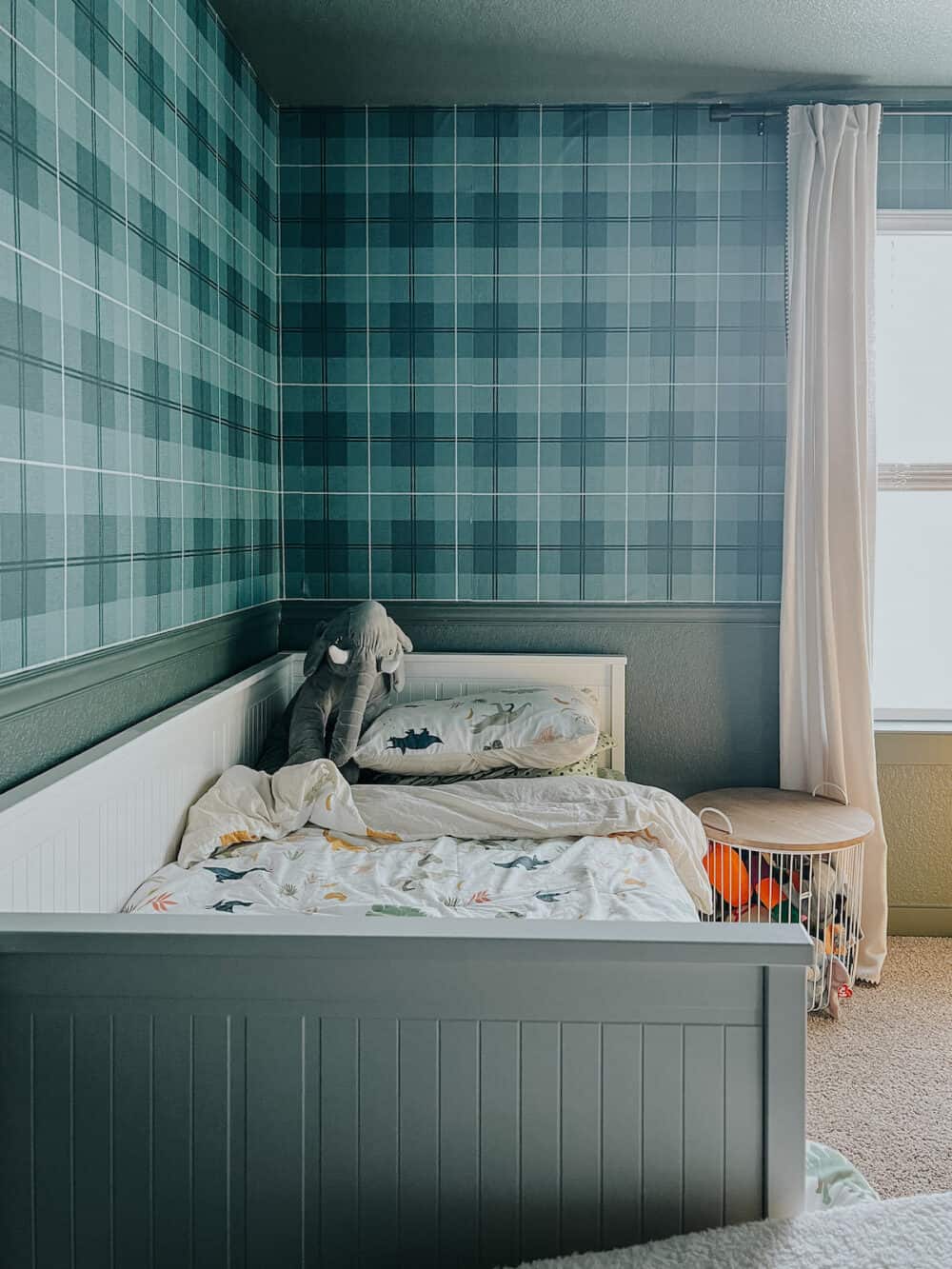 I feel like I could just drop a whole bunch of images on you and walk away from this post because my goodness this green plaid wallpaper really speaks for itself, doesn't it?
But, I'm nothing if not overly chatty, so let's talk a little about how we got here.
why green plaid wallpaper?
When I was trying to figure out how I wanted to pivot and make the painted bookcases work, I was really inspired by this image from The Goodman House on Instagram. It just felt right, and I knew something like that would fit perfectly into our home.
So, I did a little searching for some plaid wallpaper and I landed on this one. If you've been following super closely, you might remember that I originally ordered it in blue, not green. But, as I started planning and picking paint colors, I was feeling uninspired by the blues. Our bedroom is already a dark and moody blue, and so is Jackson's. I wanted something different!
Thankfully, the same wallpaper came in green too, so I ordered it and things fell right into place.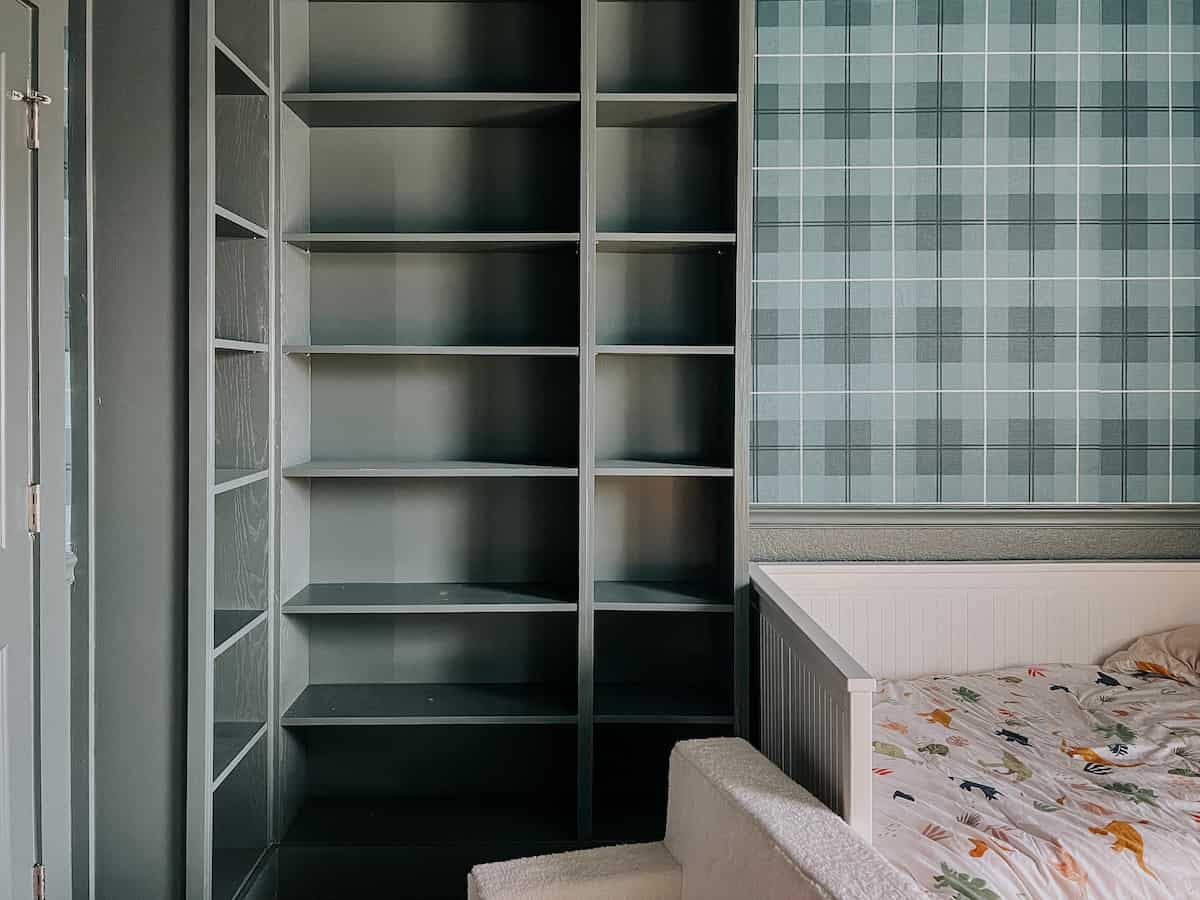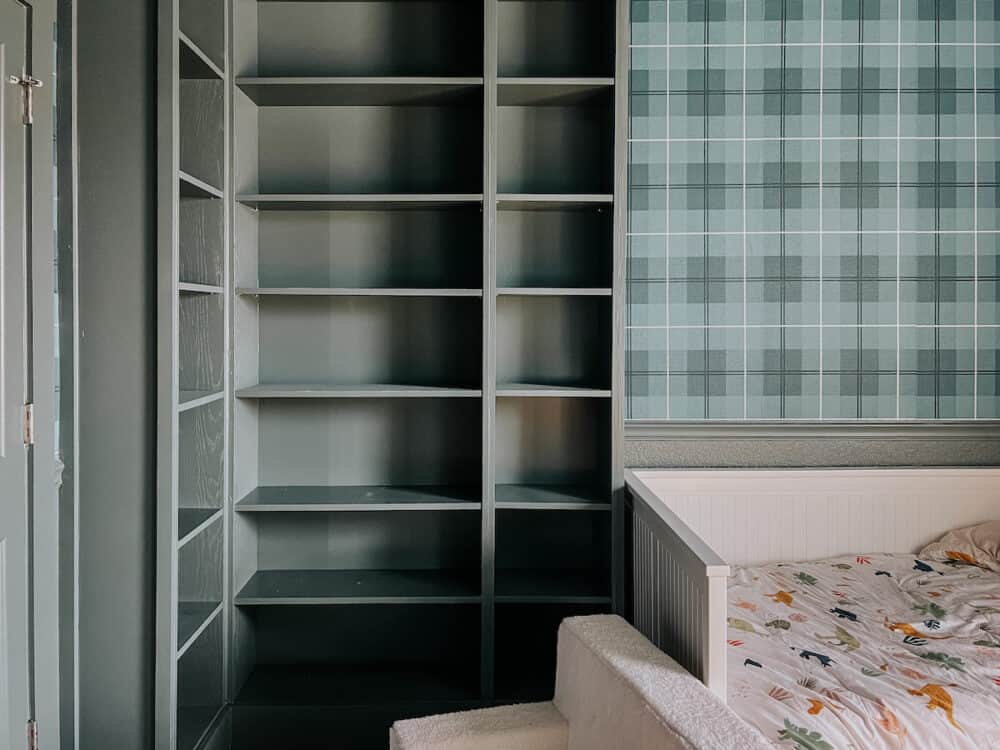 a note on geometric wallpaper
I've already written a full tutorial on how to wallpaper, plus another post with some additional tips, so I won't go into detail here.
What I will note, though, is that I learned with this project that geometric wallpaper is much harder to install than a floral pattern like I'm used to! There's absolutely no room for error when it comes to getting the paper straight and perfectly lined up. With floral wallpaper, things are a little busier and it doesn't matter as much.
But with this? I had to rip four panels down and start over because my lines were running a bit diagonal and it was very obvious!
So, keep that in mind when you're picking out wallpaper. Once I realized that the geometric lines were going to give me some trouble, I slowed down a lot and really focused on making it as close to perfect as I could. There are still plenty of little mistakes (because I'm no wallpapering pro), but I feel really great about how it turned out!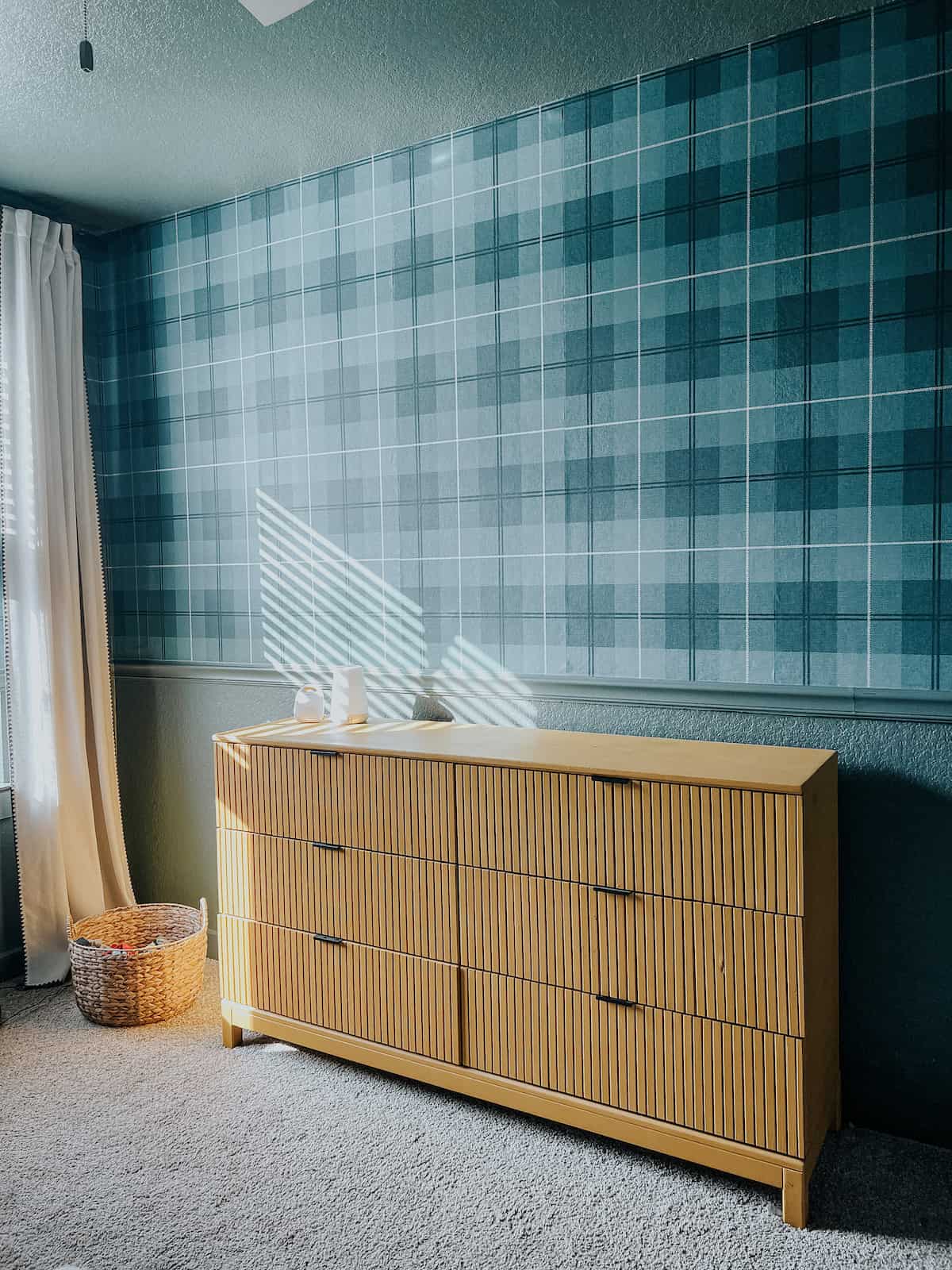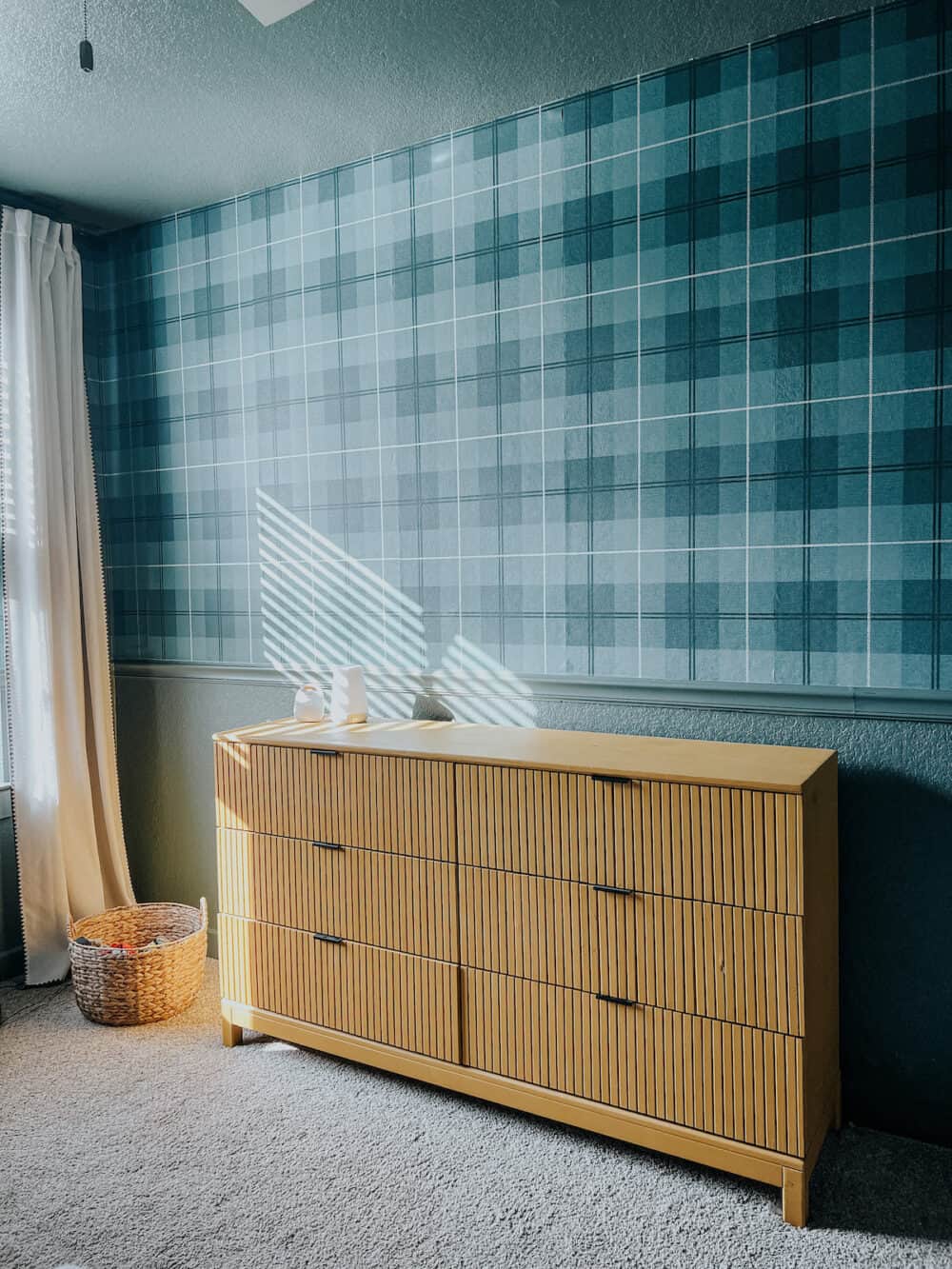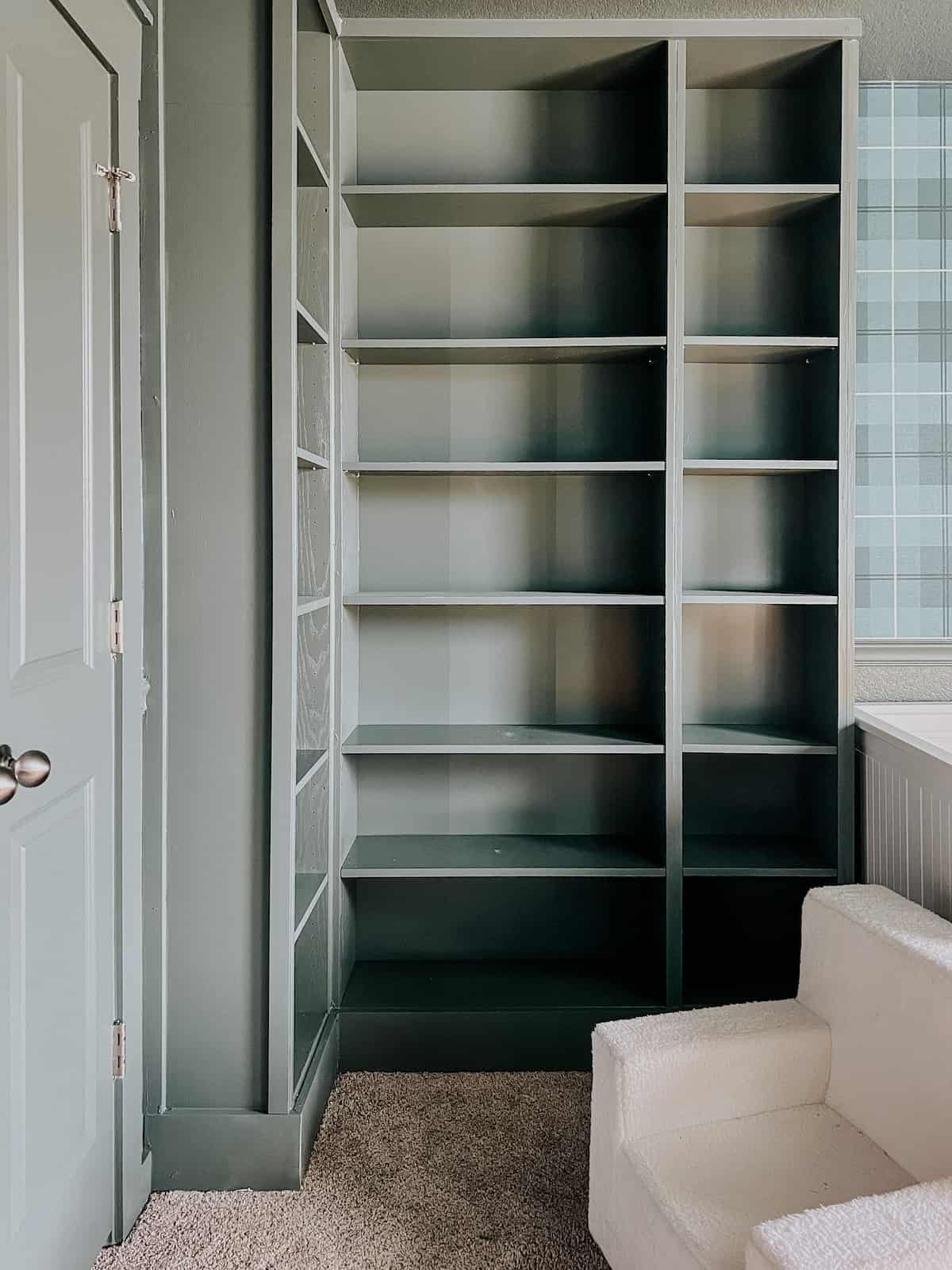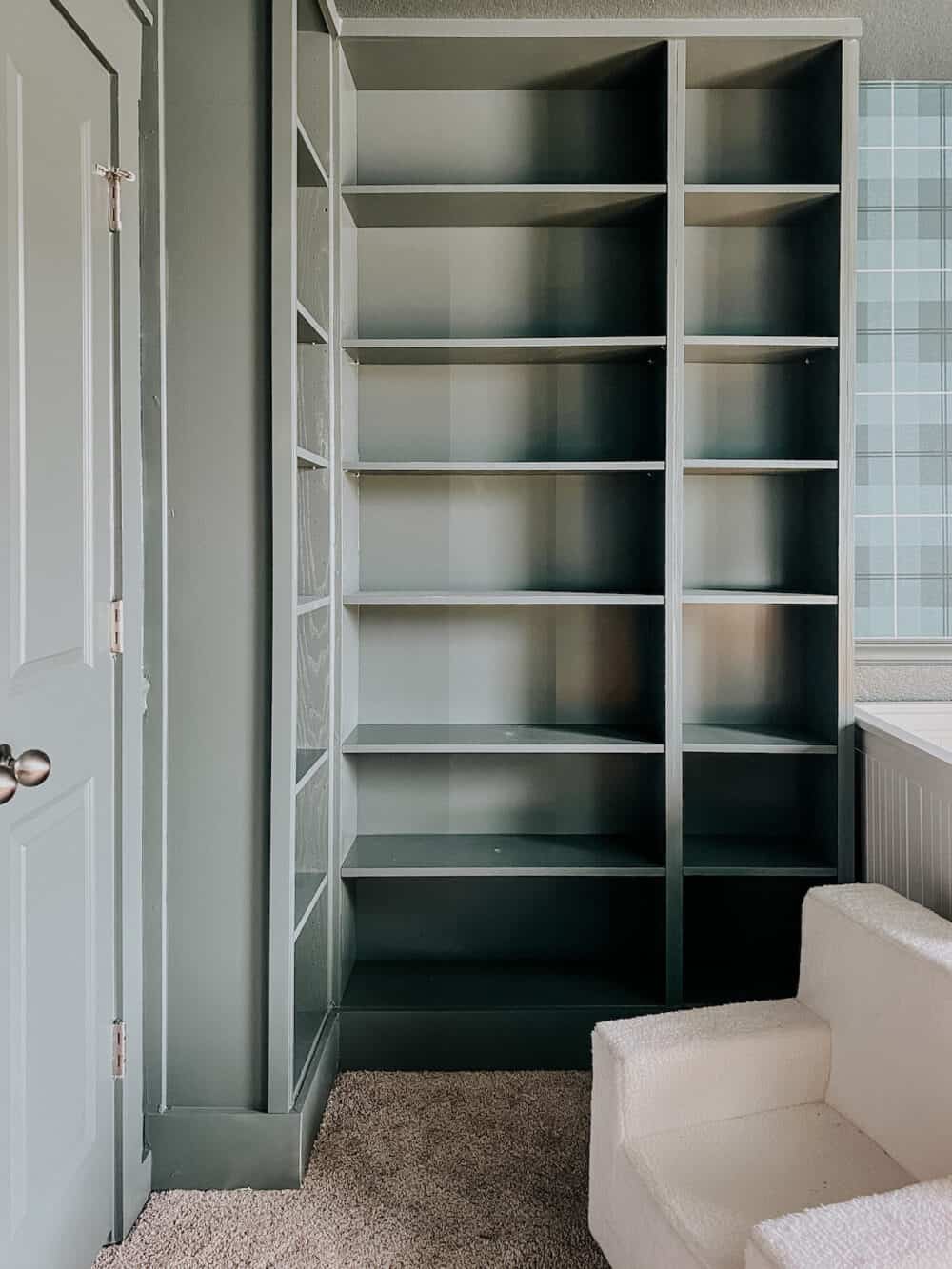 His room feels moody and preppy and sophisticated and so incredibly cozy. He loves the final product, and it feels like a really great base layer that can change and grow with him as he gets older.
grant's room to-do list
Of course, we're still far from done in here!
What's left on my to do list for his room?
Hang a gallery wall above the dresser
Create + hang a large art piece above his bed (more on this later)
Decide what to do on the wall next to the door (we used to have book ledges but those obviously aren't necessary anymore. Maybe a mirror?)
Swap out the curtains
Accessorize!
We can't end this post without at least one before and after photo. Are you ready for this?!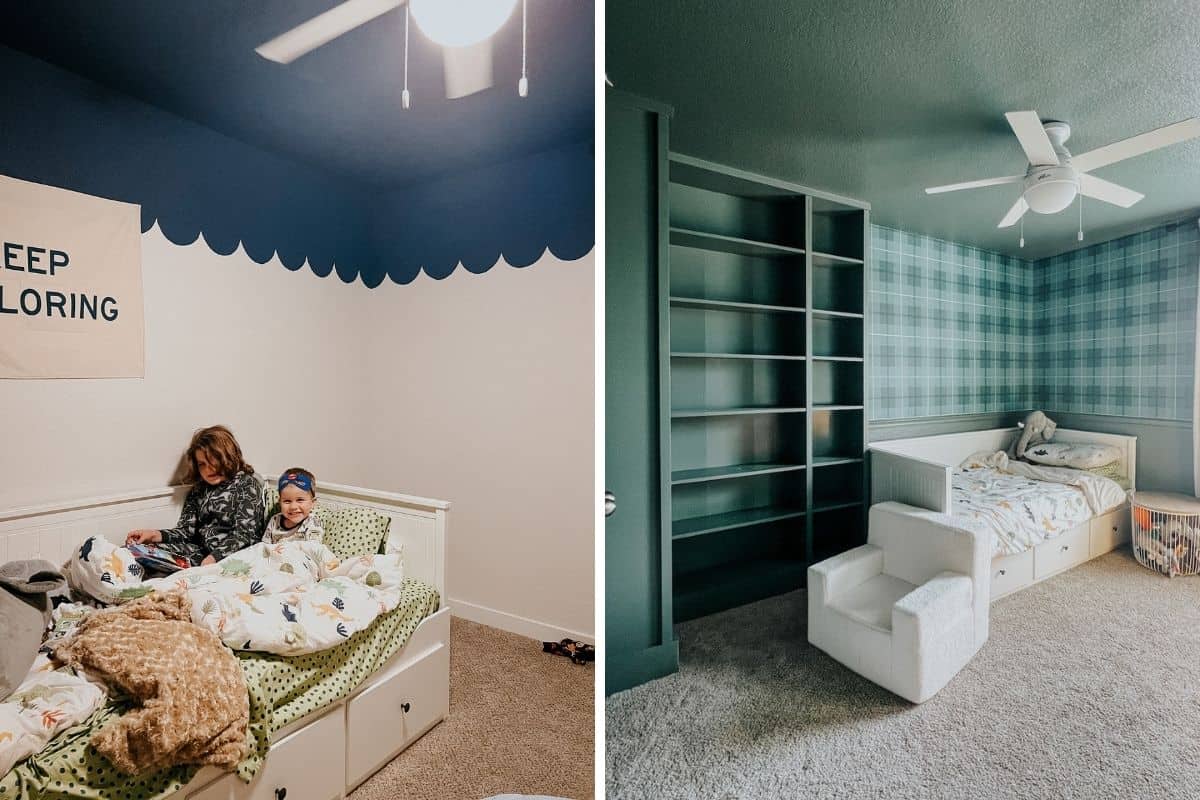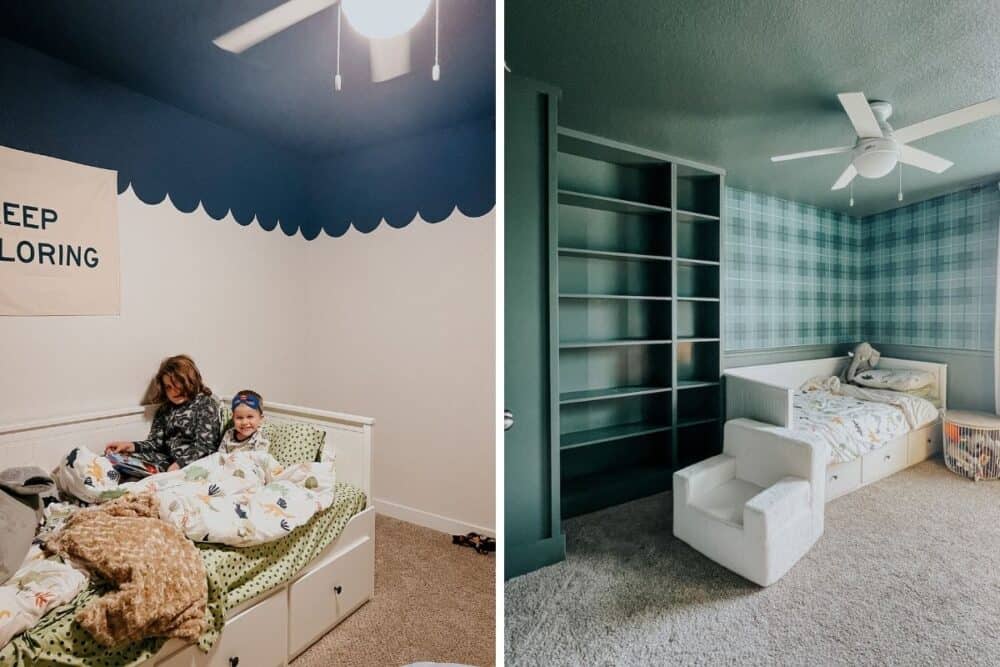 It's hard to believe it's the same space!
I'm really excited to be heading towards the finish line in here, and I can't wait to see how it all comes together!