Today I want to introduce you to two incredibly simple tools that you may have never thought of using in your home – but they're hugely helpful for regular home maintenance, AND can save you a ton of money!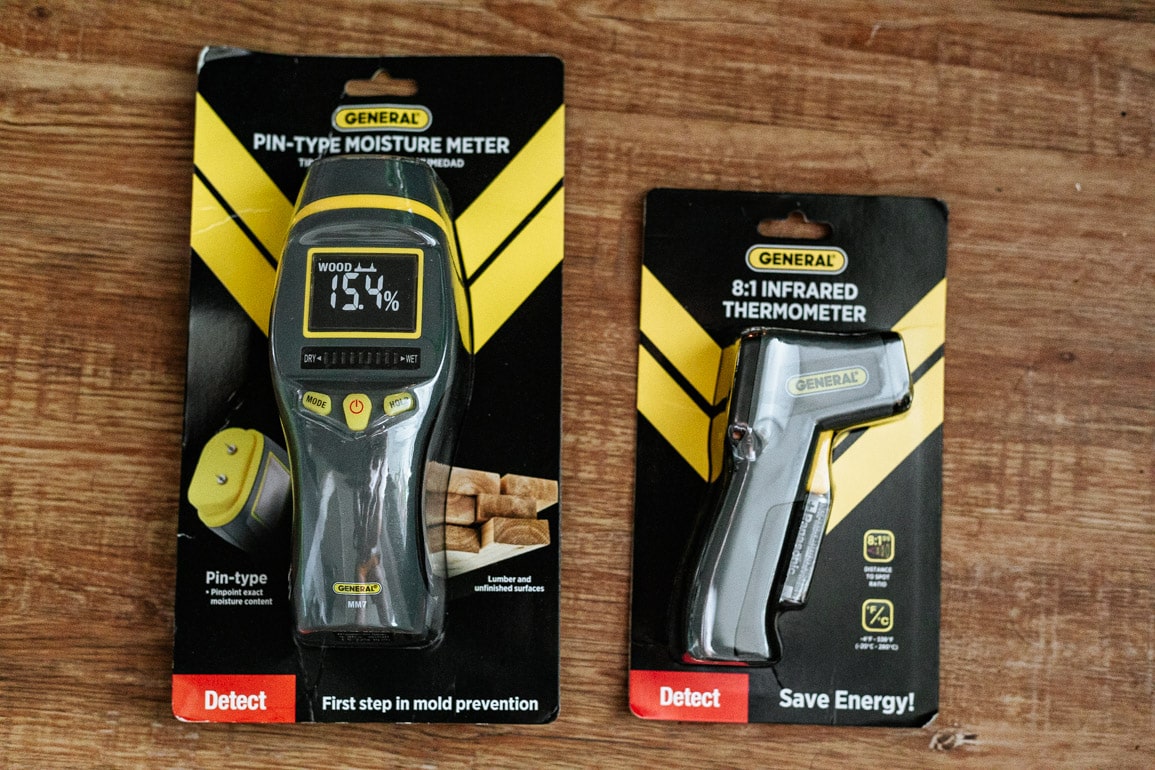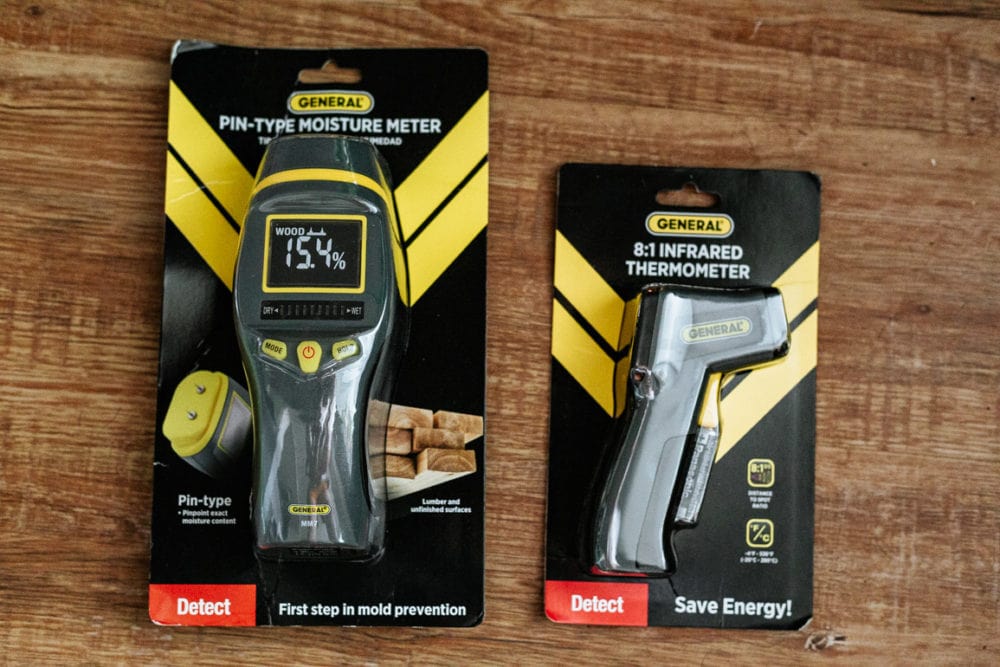 This post is sponsored by General Tools
As we get closer and closer to listing our home for sale to get ready for our big move later this fall, Corey and I have begun to shift our attention away from finishing up those final few projects and towards things like mentally preparing ourselves for the reality of inspections and appraisals and all of that awful waiting time between accepting an offer and actually closing on a house.
I don't know about you, but I find the entire home inspection process to be so, so stressful – you never know what an inspector will find (or how much it's going to cost you), and last time I felt like I was sitting on pins and needles waiting for news of how our house did.
This time around, though, Corey and I have learned to take a more active role in some of the smaller maintenance and monitoring tasks in our home, and I feel like we have a solid grasp (for the most part) on where our house is and what we do – and don't – need to worry about. I wanted to share a couple of the tools we've been using to help keep an eye on things, because this is such a simple maintenance task that every homeowner should be doing! And a bonus? It only takes a few minutes to give you complete peace of mind (or, you know, let you know something is wrong).
Tool 1: Moisture meter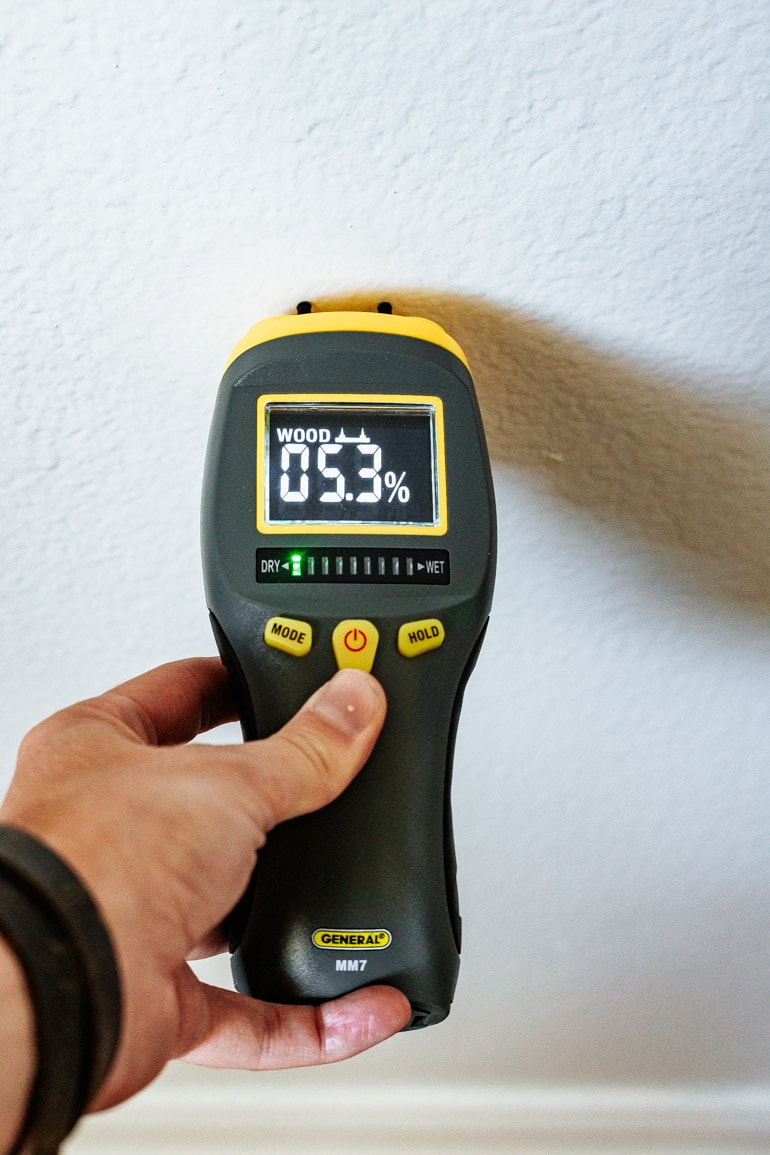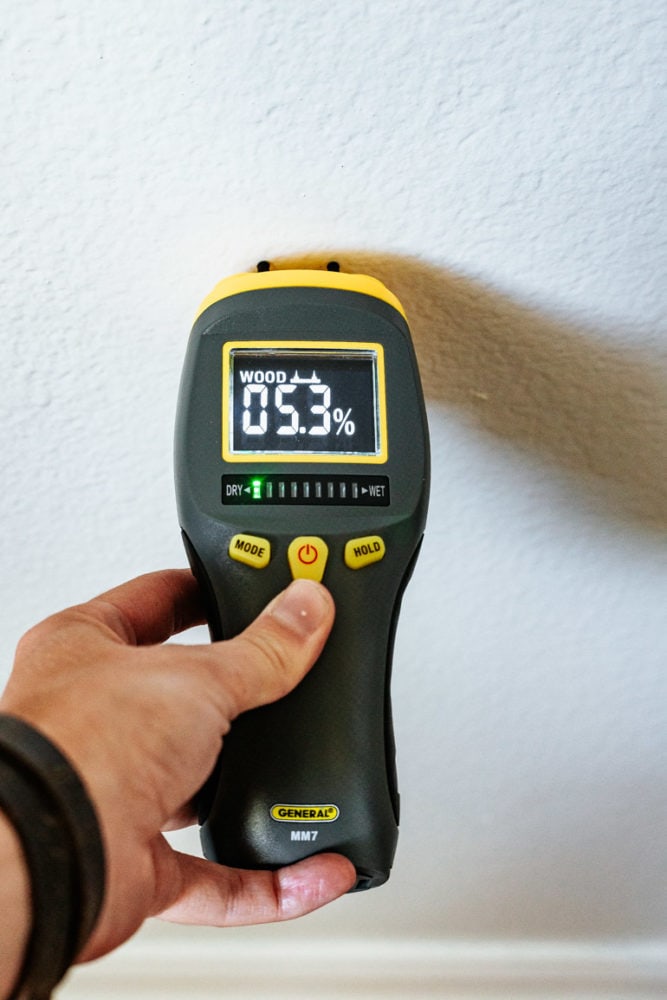 A moisture meter is a tool that checks the percentage of water in a material, like wood or drywall. So, for example, they're really commonly used to check freshly-cut wood to see when it's ready to be used. Wood tends to shrink and shift as it dries out, and it's never a good idea to work with wood that has a high moisture content. So, moisture meters help check to see how the wood is drying out.
However, that's not all they're good for! Our favorite use for our General Tools Pinless Moisture Meter is to keep an eye on all of the leak-prone areas in our house to make sure things are in good shape. Moisture meters can check drywall, so if you have any areas where you notice the walls or ceiling look like they may have water damage, you can easily grab your meter and check it out. It's simple to add this into your regular house maintenance tasks, and only takes a few minutes so you could even make it a monthly routine! Leaks can be so sneaky, and it's so hard to repair the damage once they get too far, so staying on top of it will not only help prevent a surprise leak but it'll also save you some money if you catch it early!
If you're house hunting (like us!), it's also a great idea to bring along a moisture meter to houses you're checking out! I can't tell you how many times we've been in a house that we're considering and see something that looks like water damage on the ceiling or behind a sink. All we can do is guess, and if we want to look into it further we have to hire an inspector (which generally means putting an offer on the house). However, if we bring along a moisture meter we're able to quickly check any suspicious spots and know immediately if there's active moisture in the walls – it's an easy way to make a more informed decision and can save a ton of money if it prevents us from putting an offer on a house with tons of issues!
Here are a few other simple uses for a moisture meter:
You know how you have to allow new wood flooring to acclimate in your home for a few days before installing? Use a moisture meter to monitor it – once the moisture percentage stops changing over a day or two, the floor is ready!
Use it to test how dry something is after you've cleaned it to prep for paint. You should never paint over wet wood, so with furniture, freshly cleaned walls, or even siding, you can use this to make sure it's ready!
If you've ever painted concrete flooring (or added any sort of other covering to it), you'll know it has to be fully dry before you do anything that would seal it. Use your moisture meter to know when it's ready – because concrete may look dry but not be fully dried out!
Tool 2: Infrared Thermometer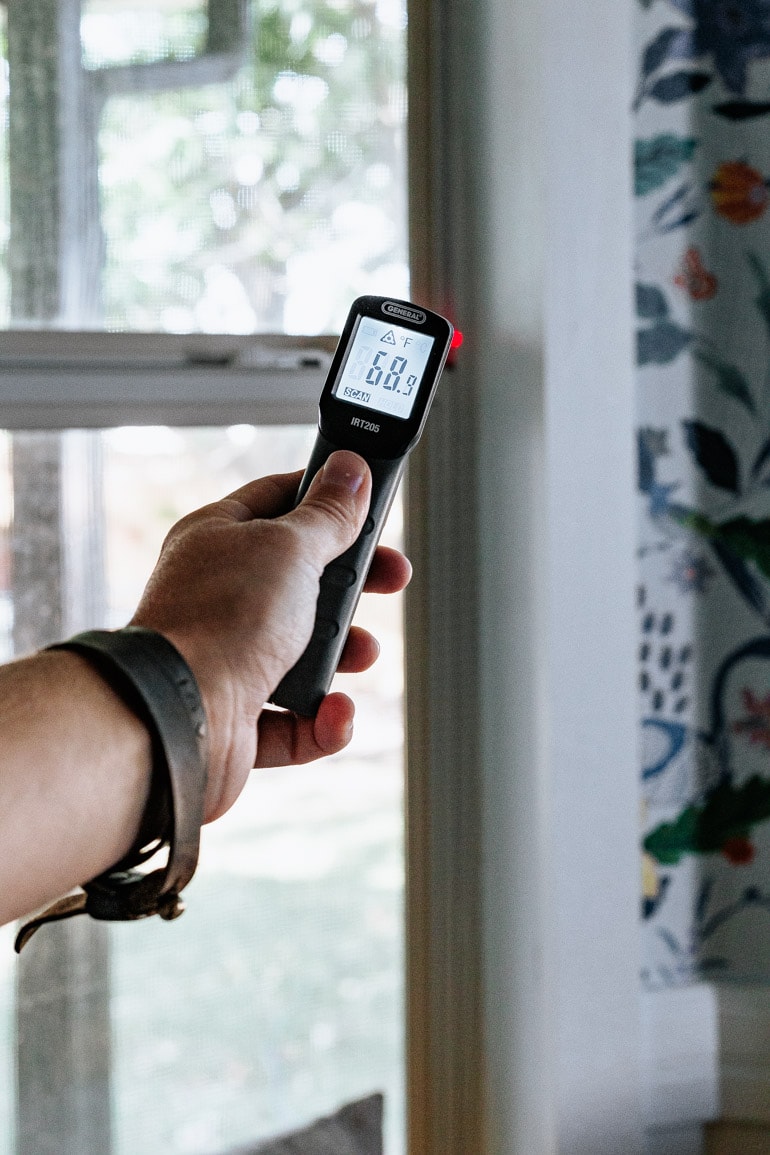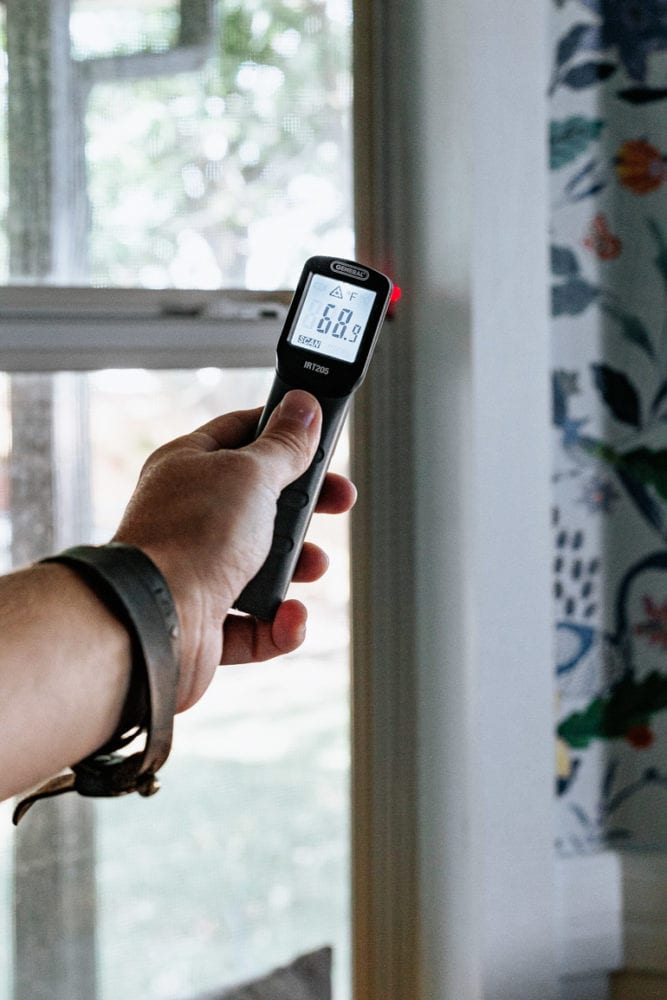 The second tool we've been reaching for to help us keep an eye on things is our General Tools Mini Infrared Thermometer. This little guy helps detect differences in temperature around the house and can save you a bundle on having someone come out to locate the problem areas for you!
We used our infrared thermometer and walked around the entire house to check every window and door – if the area around a window was notably hotter than other areas of same room, we'd know there's a draft in that window that probably needs to be addressed. It's a great way to get ahead of any potential issues, and possibly deal with them before listing your house rather than having to go back and do it later when stress and emotions are running high.
Another great help (and something that gave us some peace of mind!) was using the infrared thermometer to check that our AC is working accurately. We know that the house feels cool enough, but by checking the temperature at the intake and outtake vents we were able to confirm that it was cooling properly. This would be especially helpful if you're suspicious that yours might not be in good working order!
A few other uses for your infrared thermometer:
Check to see if the temperature in your stove is consistent and accurate.
See if your charcoal grill is ready to cook on.
Get a quick temperature read of your swings or slide before allowing the kids to hop on.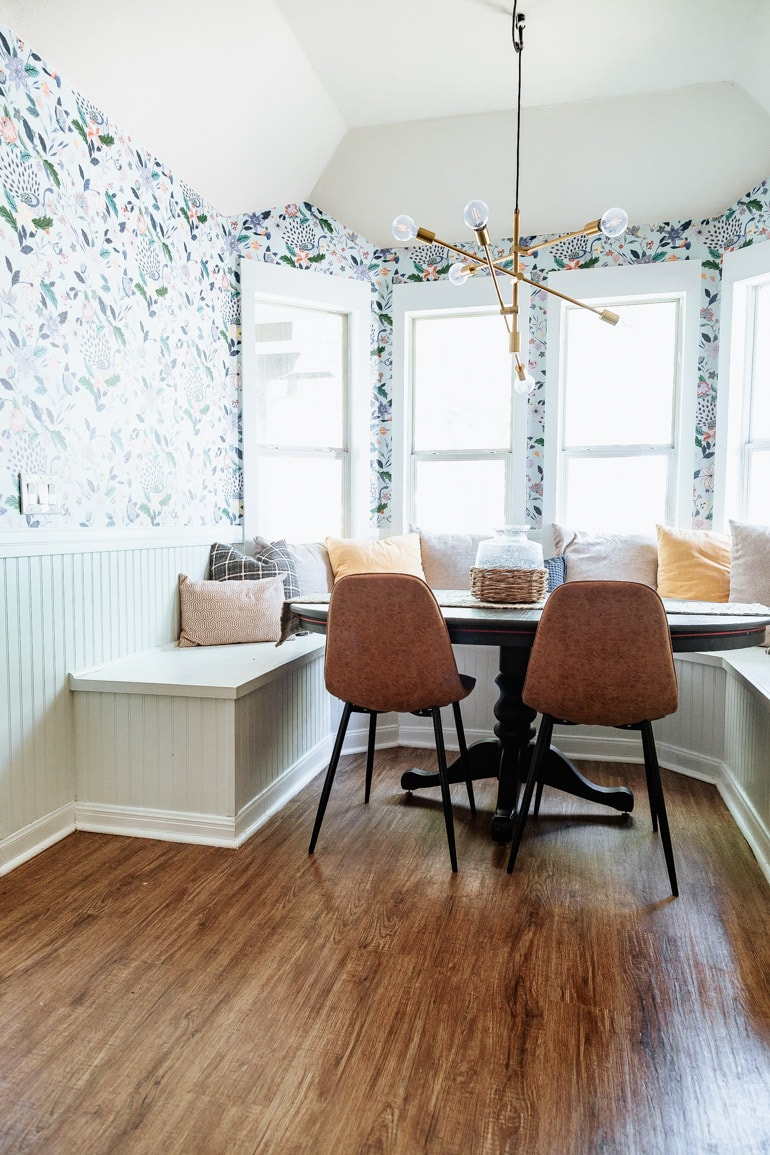 Owning a home can be stressful enough, but throw in trying to sell said home (and buy a new one) and your stress levels can skyrocket. But, if you're doing some regular monitoring using simple and affordable tools like these, you'll at least be able to cross off some of the scary possibilities! It feels great going into the process of selling and knowing that we don't have moisture in our walls, the drafty windows are all taken care of, and everything we know of is in good working order!
If you want to snag these (incredibly useful) tools for yourself, you can grab our Pin-Type Moisture Meter Here (and here's a pin version, if you prefer that), and you can find the Infrared Thermometer we use right here.