There's nothing I love more about fall than having a cozy home. Cozy homes are my favorite, and I'm always looking for ways to make my house feel a little more like fall. This post is sponsored by Chesapeake Bay Candles and contains affiliate links, but all opinions and ideas are all mine. Click here to read my full disclosure policy.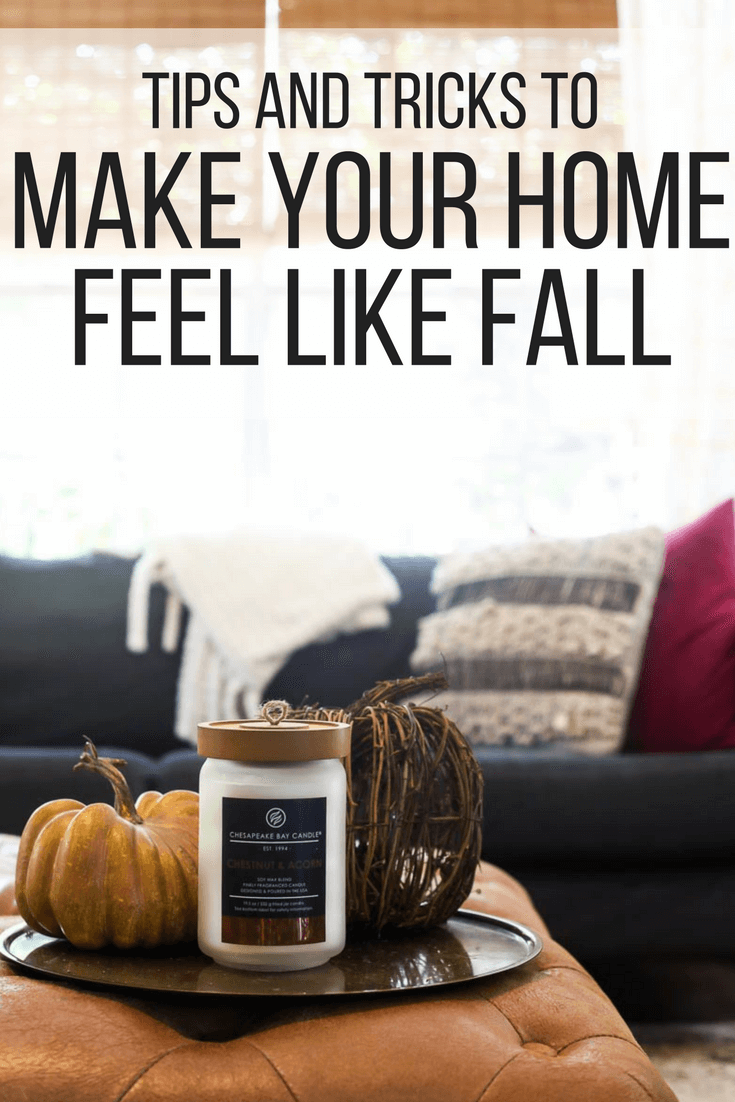 I may have mentioned once or twice (or a thousand times) that fall is my favorite season. I love everything about it – the crisp air, the smells, the clothes (oh, the clothes!), and just the general feeling I get this time of year. It's magical for me, and it's rivaled only by the Christmas season – which some would argue doesn't technically count as an actual season.
And to them I say, don't tell me how to live my life. Christmas is totally a season. So there.
Anyways. Fall. I love it. This time of year just has this incredibly cozy feeling about it that fills my soul with happiness, and I can't get enough. One of my favorite ways to describe and talk about the "fall feeling" is with the concept of hygge – I'm sure you've heard of it (if you haven't, see my post on how to hygge here, and how to hygge in the summer here), but it's basically the concept of intentionally making your home and your life cozy.
Who doesn't love to be cozy? A cozy home is my favorite.
I've talked before about how to incorporate hygge elements into your home, but today I wanted to talk specifically about how to infuse that feeling into every corner of your house. It's easy to light a fire and toss on a blanket and feel all nice and cozy, but sometimes it's hard to extend those feelings to other rooms of the house. So today, let's go room by room and talk about ways that you can make your entire home feel like one big bundle of fall.
Are you excited? I'm excited.
First off, let me start off with my top 4 general tips that can apply to every room, then we'll chat about a couple of specifics for different parts of the house.
How to Create a Cozy Home
Candles, candles, candles. YOU GUYS. There is nothing like a good fall-scented candle to make your whole house smell like fall, and there isn't much in the world that screams cozy home more than a candle does. Light 'em in every room of the house. It can be easy to neglect certain rooms and focus on bringing candles only into the main living areas, but I literally can't think of a single room in your home that doesn't deserve a candle or two.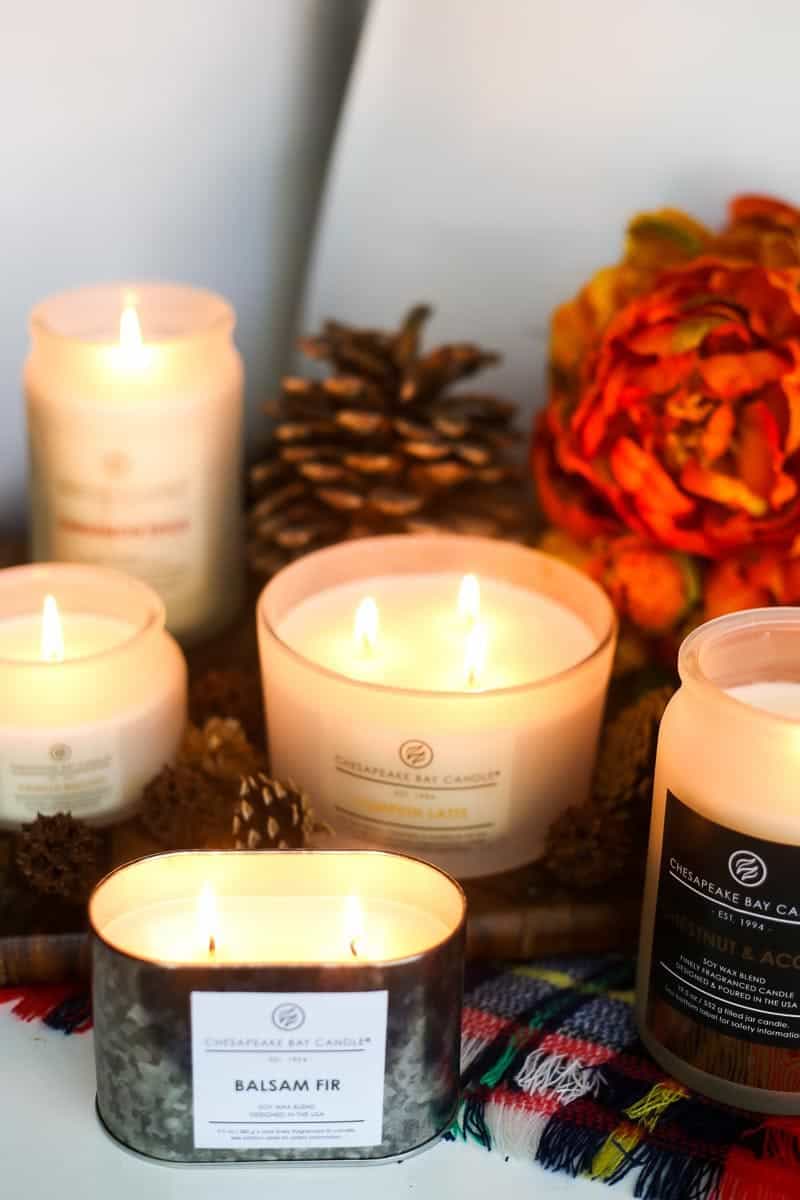 I've been loving my new fragrances from Chesapeake Bay Candle this season. I've been lighting candles from The Heritage Collection – they've got classic lines, neutral and simple packaging, and they smell heavenly. Corey is obsessed with the Pumpkin Latte scent and the Chestnut and Acorn scent makes me feel all the fall feelings. We've also got a Balsam Fir tin candle set aside to start lighting the day after Thanksgiving – it's always our favorite Christmas-related scent and I typically have a Christmas tree scented candle lit 95% of the time during the month of December. If these candles don't make your home feel like fall, I don't know what will.
Mood lighting. We've talked about this before when we've talked about hygge, but lighting is very important to the entire hygge concept and creating a cozy home. I have a tendency to rely on overhead lighting most of the time, but that doesn't evoke very cozy feelings at all. I've been making a conscious effort to lean more on lamps and more ambient lighting in the house, and it's kind of astonishing the difference it makes – every room suddenly has a totally new feel to it, and the change in lighting makes my home feel much cozier. When we move to our new house, I know I'll be putting an emphasis on finding at least one or two good lamps for every room of the house so that we can create that feeling everywhere.
Don't forget the music. I have music playing in our house almost constantly – if the television isn't on, we probably have music playing. It's something I've always loved and have always felt creates a nice cozy feeling in our house, but ever since Corey got a Google Home for his birthday we've been listening to music even more. I'm kind of obsessed with this thing, you guys. It's so much easier than my Bluetooth speaker was because it doesn't require me to do anything with my phone or press any buttons – I just ask for the music I want and it starts playing! It even understands Jackson most of the time, which means we hear the Moana and Frozen soundtracks often. Usually, if I'm just working or if we're busy doing other things, I'll have a classical station playing or I'll ask for some Nickel Creek – I find that the soft, bluegrass-y music makes my home feel like fall all the time. I don't know what it is about bluegrass that screams fall to me, but the soft banjo and the happy vibe of the music just speaks to my soul. I'm also a big fan of the Thanksgiving music playlist on Pandora – it has lots of really great classics that make your house feel homey. Just play around with a few different types of music until you land on the one that makes your home feel like fall to you – it'll be different for everyone, but when you find it, you'll know.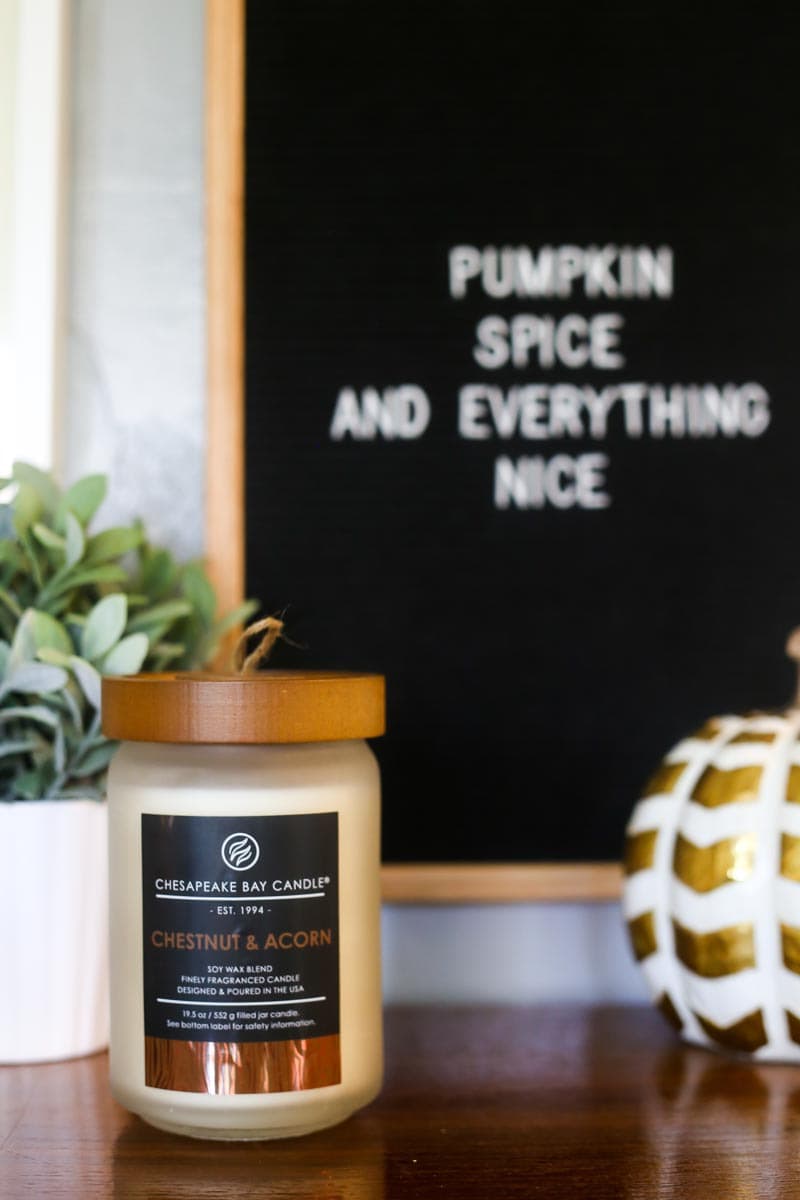 And finally,  find ways to bring natural elements into your home. This is a little trick that works in every room of the house to make your home feel like fall – snip some branches off a tree, get a new houseplant, or throw some acorns around on a table. Think about some of the things in nature that feel like fall to you and try to find ways to incorporate them into your decor. Trader Joe's is really great about selling seasonal foliage for really great prices – head out there a couple of times a month to pick up some blooms that scream fall to you and spread them around your house. I tend to lean more towards simpler foliage in the fall – I don't get many flowers but I like to get the bouquets of just greenery, branches, and other foliage that has a lot of texture but not as much color. You can see a great example of how I use foliage in the fall in our Thanksgiving tablescape from last year.
Okay. So, we talked about some general ways to make your home feel like fall, let's get specific.
How to Make Your Kitchen Feel Cozy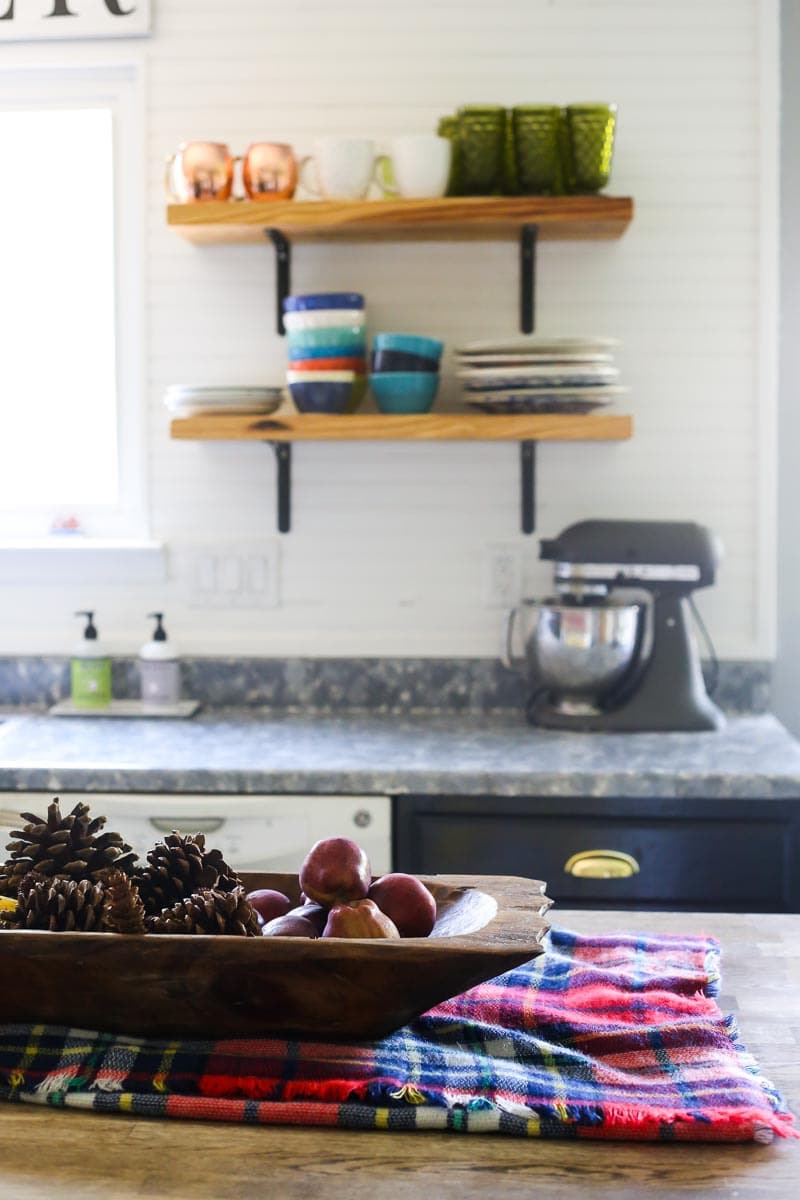 I try to bring out more wood decor and elements in my kitchen this time of year. Put your wooden cutting boards on display, find a pretty wood serving bowl, and put away some of the more brightly-colored decor. Using more neutral and natural decor is a great way to make your home feel like fall, and the kitchen is an easy place to do that!
Do some baking! I don't know about you, but baking is quintessentially fall for me. I like to always have some sort of baked good on hand this time of year, and just knowing it's there is enough to bring out all the fall feelings in me. Bonus points if it's pumpkin flavored.
Bust out the crockpot. Meals that slowly cook all day long have a tendency to make your home feel like fall in a way that nothing else can. Make a nice slow-cooked soup or stew and you'll be feeling the fall feelings in no time!
How to Make Your Bathrooms Feel Cozy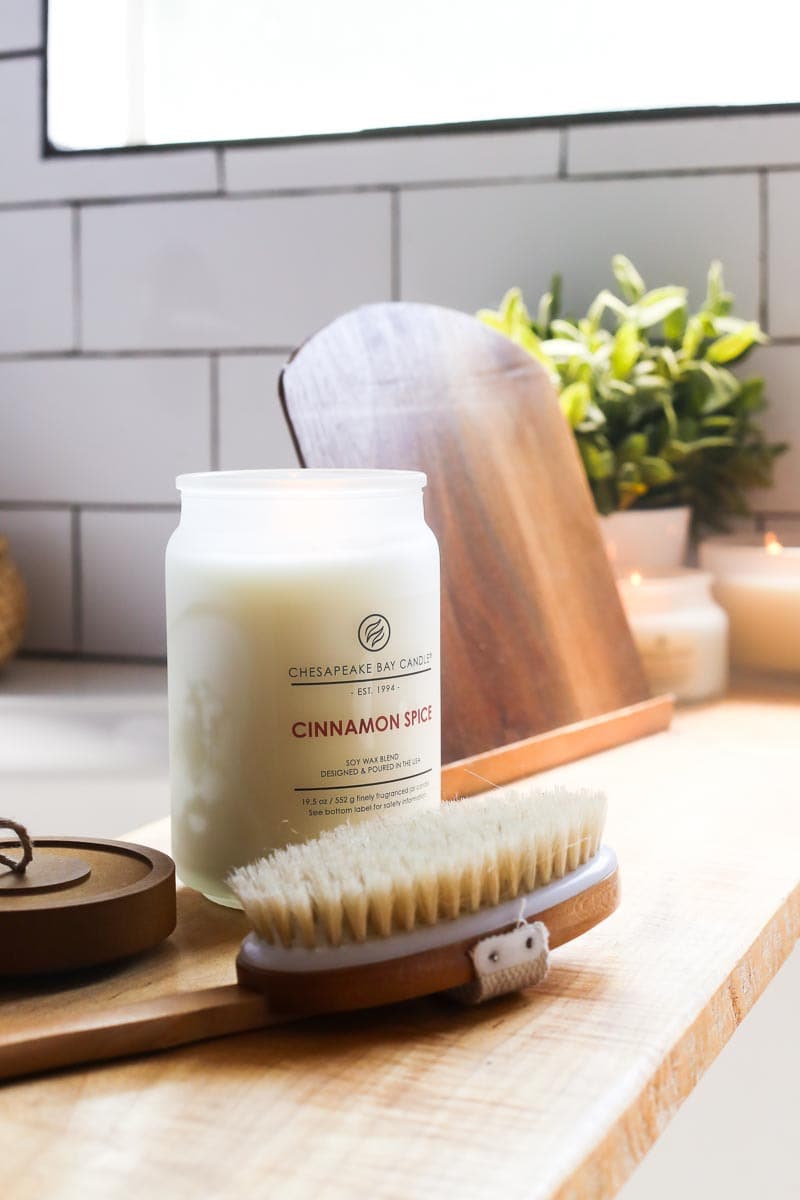 I said it before, but I'll say it again – it's all about the candles! I take a lot of baths when the weather starts to cool off, and a good fall-scented candle makes a plain ol' bath feel like a retreat. I always have tons of candles sprinkled around my bathroom – but don't forget to use them in your guest bathrooms too! You might not light them as often, but just having them there is enough to throw out a cozy fall scent –

my current favorite for the bathroom is the

Cinnamon Spice scent

from

Chesapeake Bay Candle

.

Bring out the plush towels! If you really want to up the cozy factor in your bathroom, buy a few super cozy and plush towels that you only bring out this time of year. You don't have to replace all of your towels, but splurge a little on three or four good ones so that you can treat yourself when you need a particularly hygge evening.
Pay attention to the details. This is true year-round, but something about fall makes me really focus on hospitality and having guests over – and the little details in a home make it feel so much more welcoming and cozy. Get a cute soap dispenser, add some pretty details to the bathroom, maybe even bring in a plant or two. I think a big part of hygge is really focusing on the things that make you happy, and I can promise you that if you spend a little time attending to the little details that make your bathroom a beautiful and enjoyable place to be, you'll be glad you did.
How to Make Your Bedrooms Feel Cozy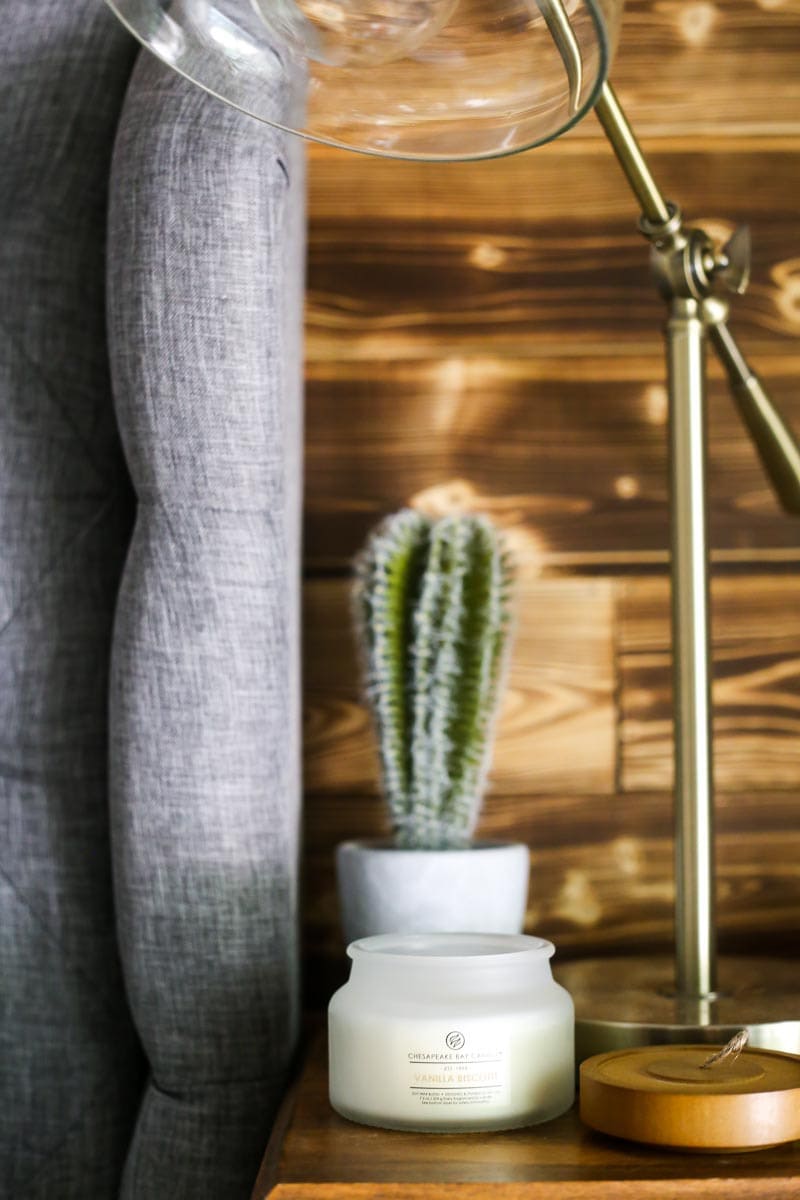 Add an extra blanket or two to the bed. Here in Texas it never really gets cold enough to need a ton of extra blankets, but even just the sight of them is often enough to make your home feel like fall. Fold up a pretty throw blanket and toss it at the foot of your bed or drape a pretty blanket over a chair – it ups the cozy factor to just know the blankets are there, even if it doesn't get cold enough to really use them.
Light your candles. I know. I've talked about candles a lot – but, while I'm good about keeping candles in my room, I'm not good about lighting them. I've been making an effort to light the candles in our bedroom more often, and I'm amazed at the difference it makes. A quiet Saturday morning watching television in bed with our family feels a lot more special when I've got a candle burning, and a Sunday evening watching a movie before we go to bed feels like an actual date and not just a regular Sunday night!

I like the

Vanilla Biscotti Small Jar

from Chesapeake Bay Candle in our room – it's such a calming scent for me and make me want to never get out of bed.

Keep them clean! I know, that's really just general life advice, but hear me out – if you want to make your home feel like fall, the feelings you're trying to evoke are calm, cozy, and relaxed feelings, right? I don't know about you, but I can't relax very much in a super messy room. When I take the time to clean our room up every day, make our bed, and keep the dirty clothes off of the floor I find that it's a much happier place to be, and it makes it feel a lot cozier (and, as a result, a lot more like fall!). It's a simple mind trick, but it works, my friends.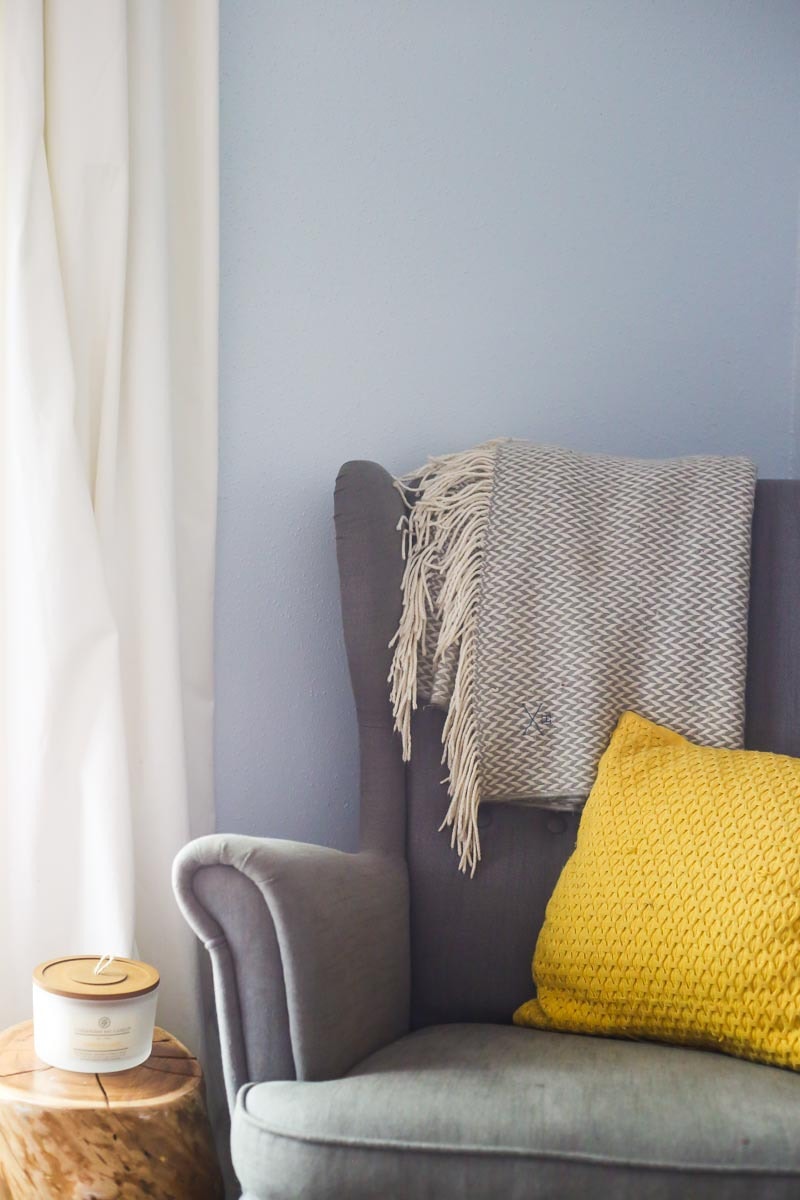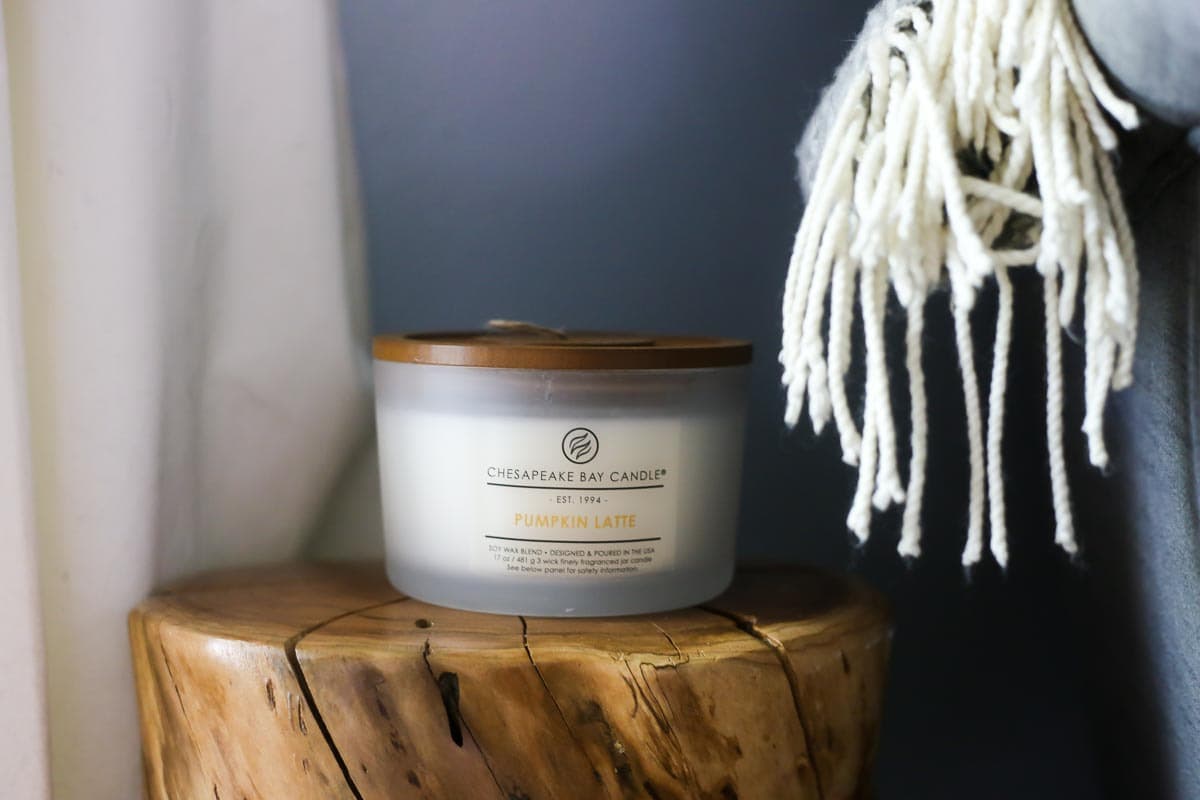 It's really easy to make your home feel like fall if you put a little effort in. Plus, who doesn't want a cozier, more welcoming house? It's important to me year-round (and most of these are things I do throughout the year anyway), but something about this time of year makes me want to focus on it even more!
I encourage you to check out the Heritage Candle Collection from Chesapeake Bay Candle if you need some ideas on good candles to add to your collection this fall. They smell amazing, they're beautifully designed, and they are the perfect way to make your home feel a little cozier! And, I mean, I'll never complain about an excuse to buy some new candles.
How do you make your home feel like fall?