How to Deep Clean Your Dishwasher
Welcome back to what I affectionately like to call, "how to clean things that clean other things." Last month, I shared my regular routine for how I clean my front-load washing machine, and this month we're talking about how to clean the dishwasher. This is one of those tasks that's really easy to ignore, but vital do to.
When my dishwasher hasn't been cleaned in a while, I notice a really drastic difference in the cleanliness of the dishes coming out of it. And, mildew and mold can grow in the nooks and crannies of your dishwasher and cause odors. No one wants that. Thankfully, deep cleaning your dishwasher is a really quick and easy process.
How to Deep Clean Your Dishwasher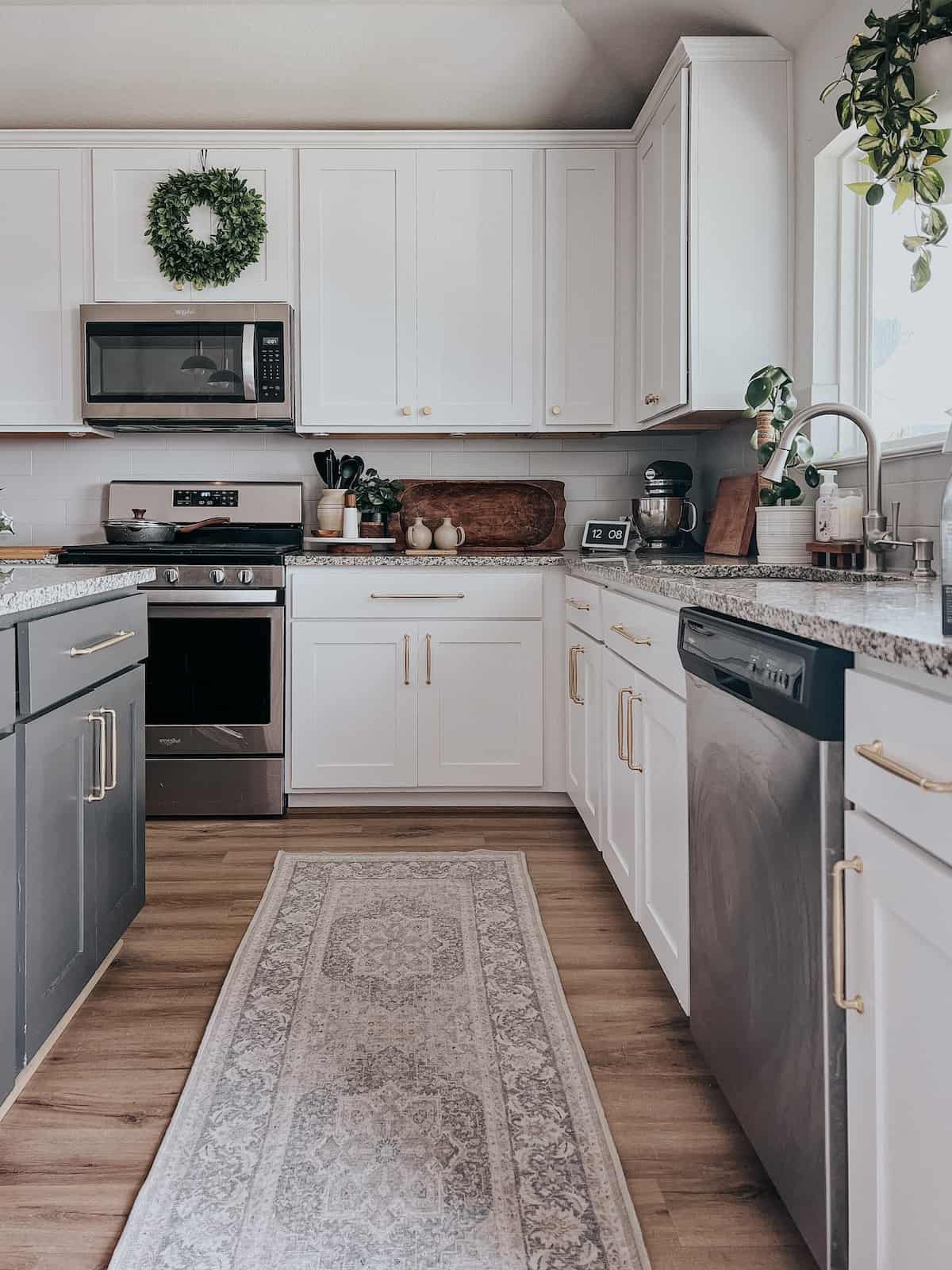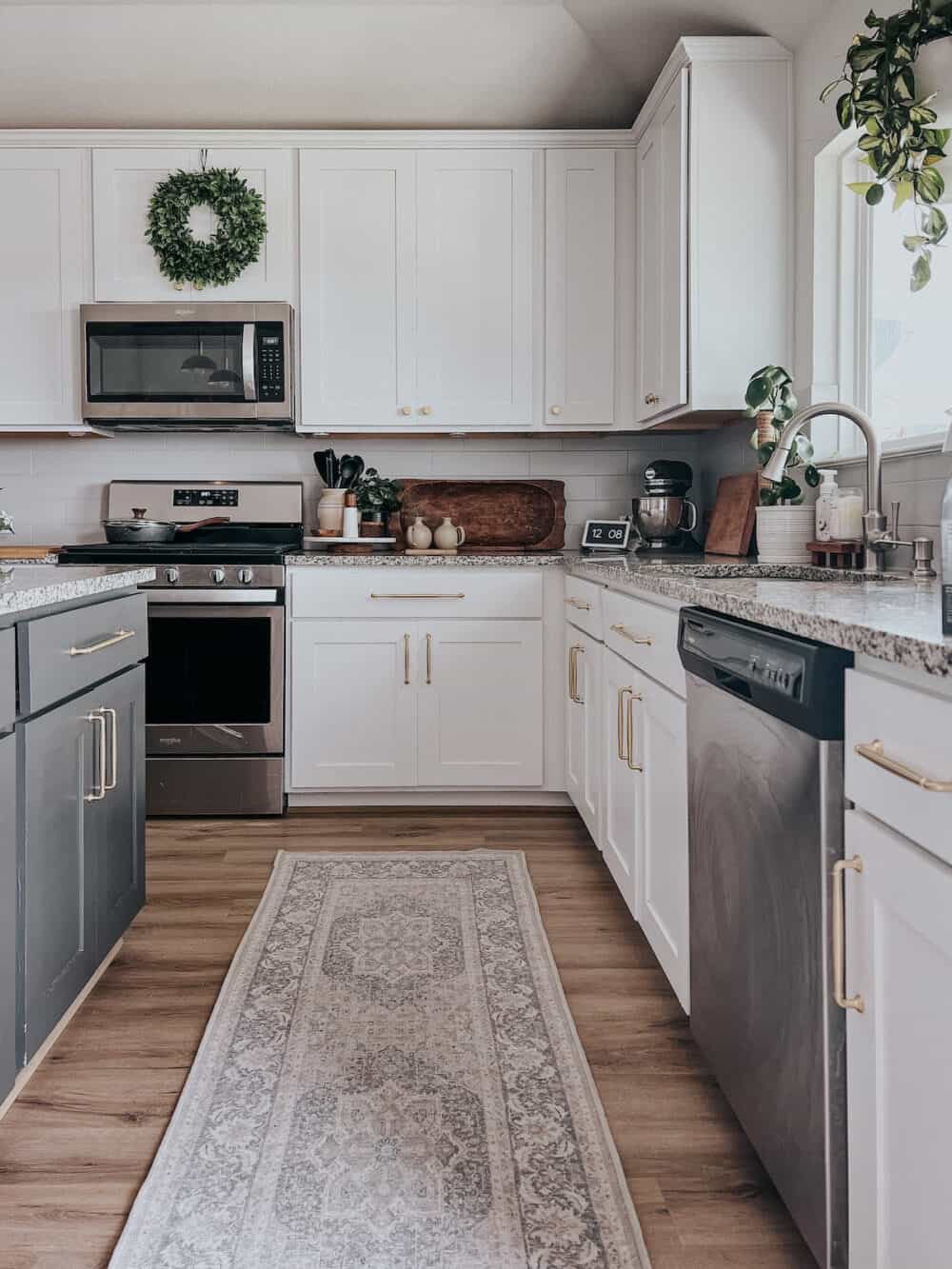 I'm going to walk you through everything I do on a regular basis to clean my dishwasher. We'll tackle cleaning the filters, cleaning the inside, and cleaning the outside. With these super simple tips, you'll find that your dishwasher runs better and your dishes get cleaner!
Step One: Clean the Filters and Drain
My first step is always pulling out the dishwasher filter and deep cleaning it. You should also inspect the drain area and clear it of any food or debris, along with any other removable parts. This is the most important step, and the one that will make the biggest difference in how your dishwasher runs.
Most dishwashers have two basic filters that need to be cleaned. They sit in the bottom of the dishwasher. The first is a round filter that catches any food particles that are left on your dishes when you put them in. You simply twist it and pull it out to clean it. I clean it at the sink with hot water and dish soap.
Note: Some newer dishwasher models come with self-cleaning filters. Be sure to check your manual to see the recommendations for how to clean your specific dishwasher.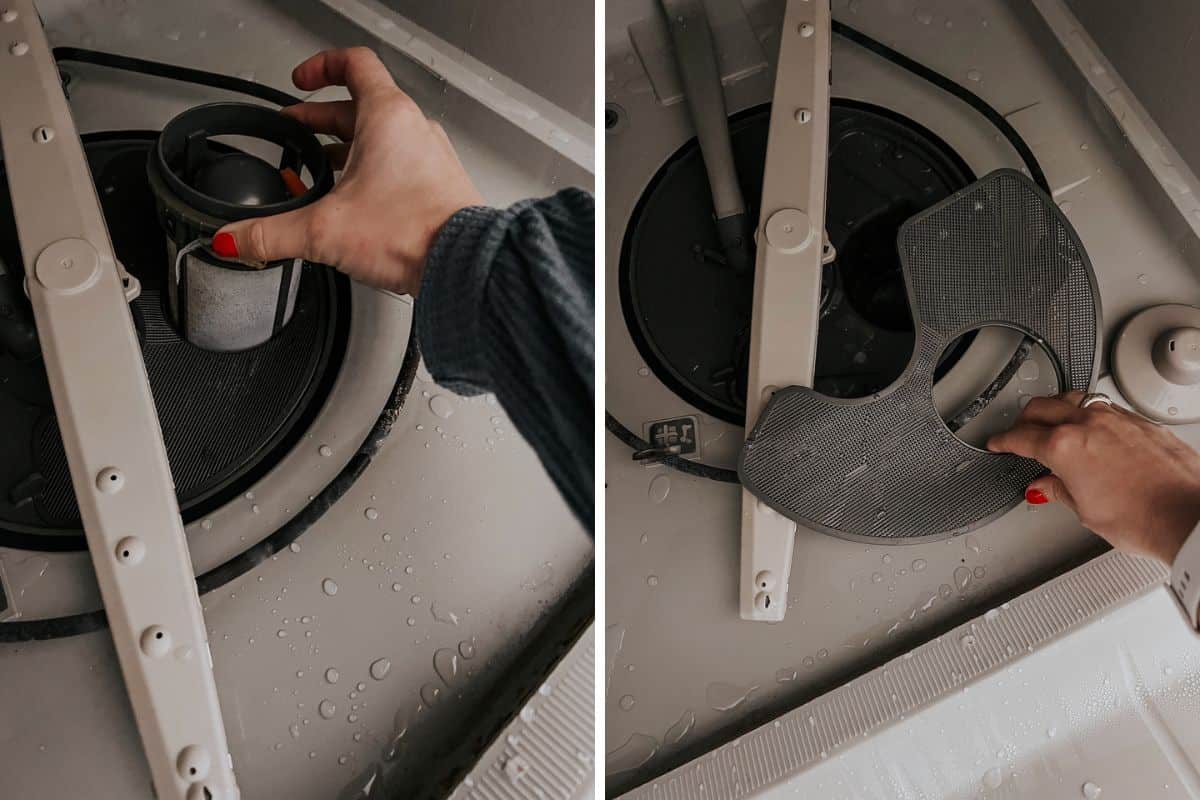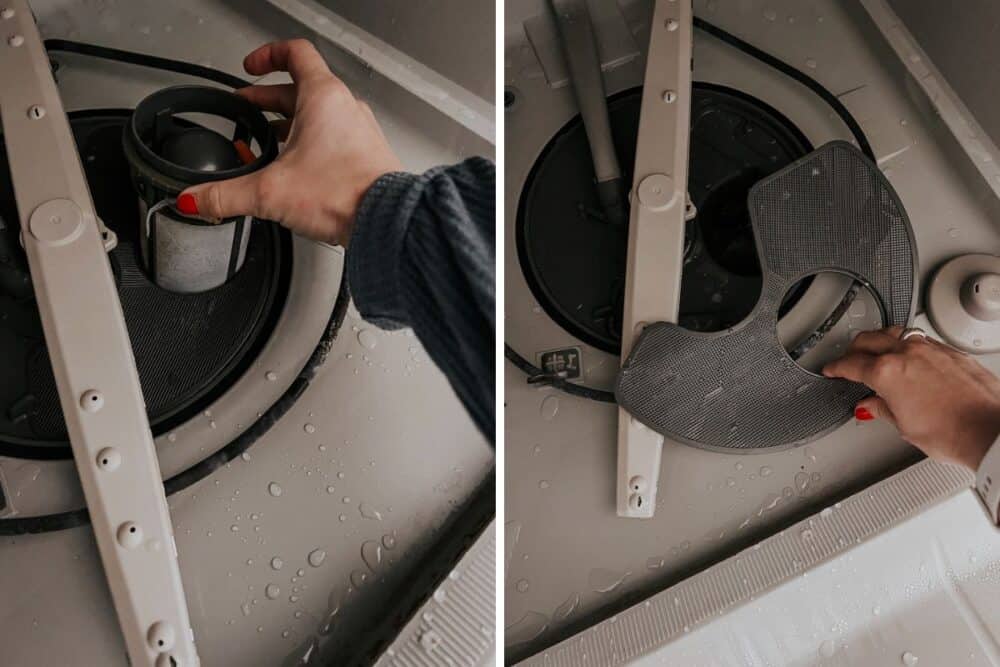 The second filter is a long mesh filter that sits in the bottom of the dishwasher. It just pops out of place and can similarly be cleaned in the sink!
Every dishwasher will look slightly different, but just know that there's usually a screen to remove and clean, along with a secondary filter or drain.
Your dishwasher may have a piece with two long arms that spray. It sits on top of the screen at the bottom. This should be pulled up and cleaned. Make sure the holes where it sprays are clear and there isn't any food residue on it.
Step Two: Clean the Dishwasher Interior
After cleaning the filters, you should move on to the rest of the dishwasher interior. This includes cleaning the racks, the seal, and all of the other pieces!
Thankfully, most of this can be accomplished by running a dishwasher cycle with some cleaner. But, some things need to be cleaned first, separately.
Start by removing the utensil holder and the racks so the dishwasher is completely empty. This allows you to access everything a little easier. Those can be cleaned separately in the bathtub, or you can just wipe them down with a clean cloth and some warm, soapy water.
The SEal
First, clean the area where the seal at the bottom of the door is. There can be a buildup of food and residue down there, and over time it gets gross!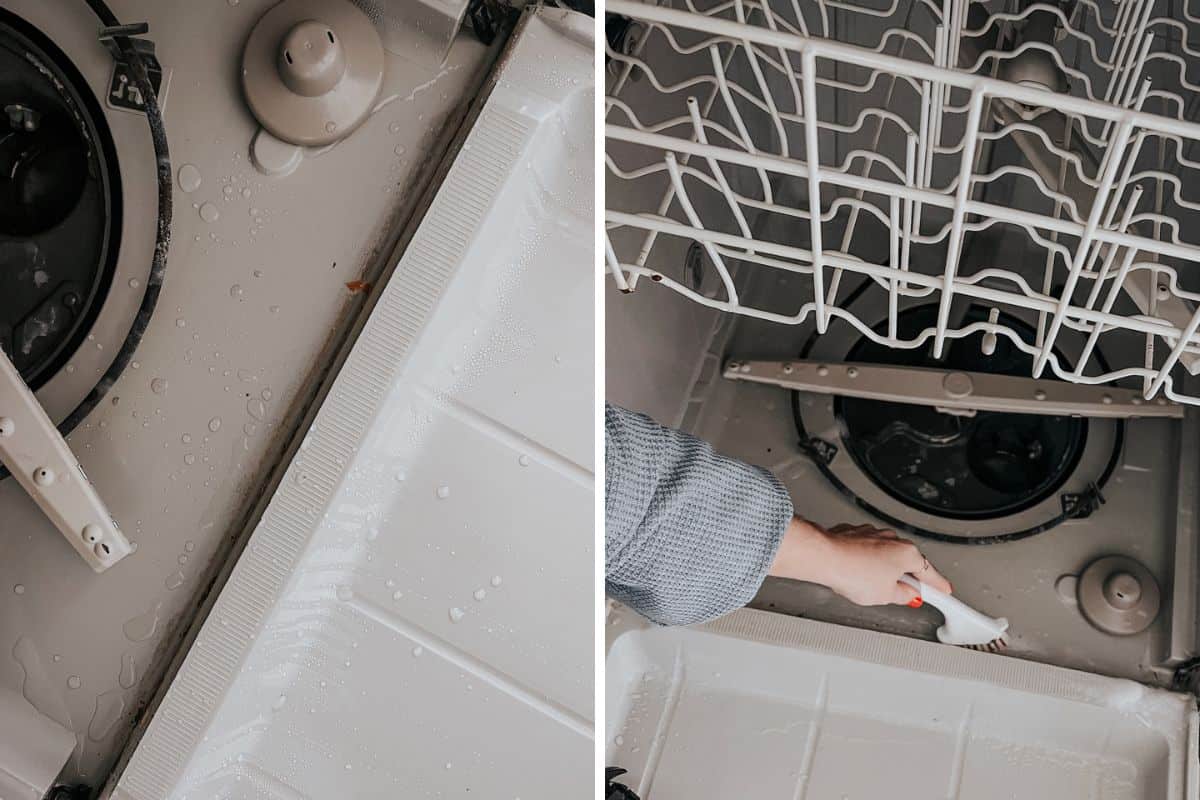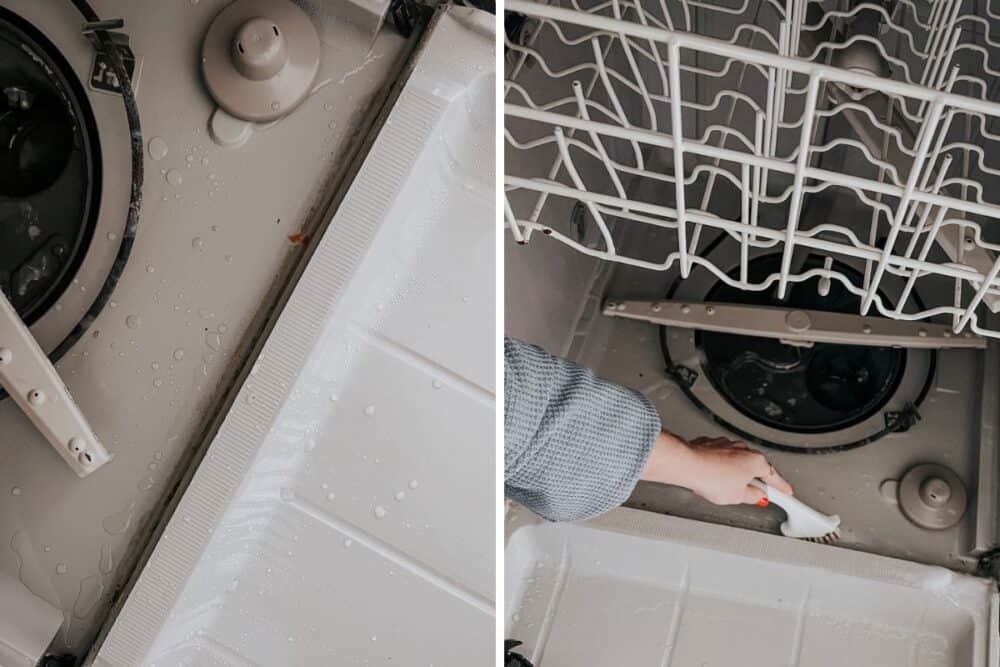 I like to clean this with a 50/50 mix of water and white vinegar in a spray bottle. Simply open the dishwasher door, spray the area down, and allow it to sit for a few minutes. You can use a scrub brush (my personal preference) or a toothbrush to clean it, or just a microfiber cloth.
The Spray Arms
Next, you'll want to clean any residue or soap buildup on the spray arms or anywhere else you notice it on the interior of the dishwasher. Again, every dishwasher will look slightly different, but you should be able to see an area where the water sprays from. Inspect the holes and make sure they're clean.
You can use a small scrub brush or toothbrush to deep clean all of this and make sure it's clear. If there are any really stubborn particles, use a toothpick to pull them out.
The Sides and Bottom
Finally, take a moment to look around and the sides and bottom of the dishwasher. Make sure there aren't any food particles or glaring issues to deal with before you run the cleaning cycle!
If you feel like you might need to scrub the interior before running the wash cycles, you can! Mix up a paste with two cups of baking soda and three tablespoons of hydrogen peroxide. This will help break down the scum and you can clean the entire interior with this mixture prior to running the wash cycles.
Run a Wash Cycle With Vinegar
Now, it's time for the easy part!
Fill a small dishwasher-safe bowl with white vinegar and place it in the bottom of your empty dishwasher. Set the dishwasher to run on the hottest setting possible, and run a cycle with nothing but the bowl of vinegar in there. Don't add detergent!
This will break up any remaining bits of food, grease, grime, or soap residue. It will also help remove odors!
Run a Wash Cycle With Baking Soda
You're almost done! Now, remove the bowl and sprinkle some baking soda in the bottom of the dishwasher. Run a short cycle on your dishwasher. This will remove stains, any remaining odors, and leave things looking sparkly clean!
A note on bleach: Some people recommend also running a cycle with a cup of bleach in your dishwasher. In theory, this is a great idea. But, it's only okay if you don't have stainless steel parts in your dishwasher interior. It can break down the stainless steel and cause issues over time. I recommend just sticking to baking soda and vinegar, unless you're confident your dishwasher is free of any stainless steel parts!
Step Three: Clean the Exterior
Now that the interior is fully clean, you're ready to clean the outside! I like to use this stainless steel appliance cleaner on mine. But, an all-purpose cleaner like Mrs. Meyers works great as well. If you like a more natural, homemade route, simply mix equal parts of water, dish soap, and white vinegar!
How Often Should I Deep Clean My Dishwasher?
Generally speaking, you should be fine to do this process just once every 4-6 months or so. It takes a long time for serious residue to build up on your dishwasher! But, it's a good idea to do a more regular monthly cleaning, especially if you have hard water.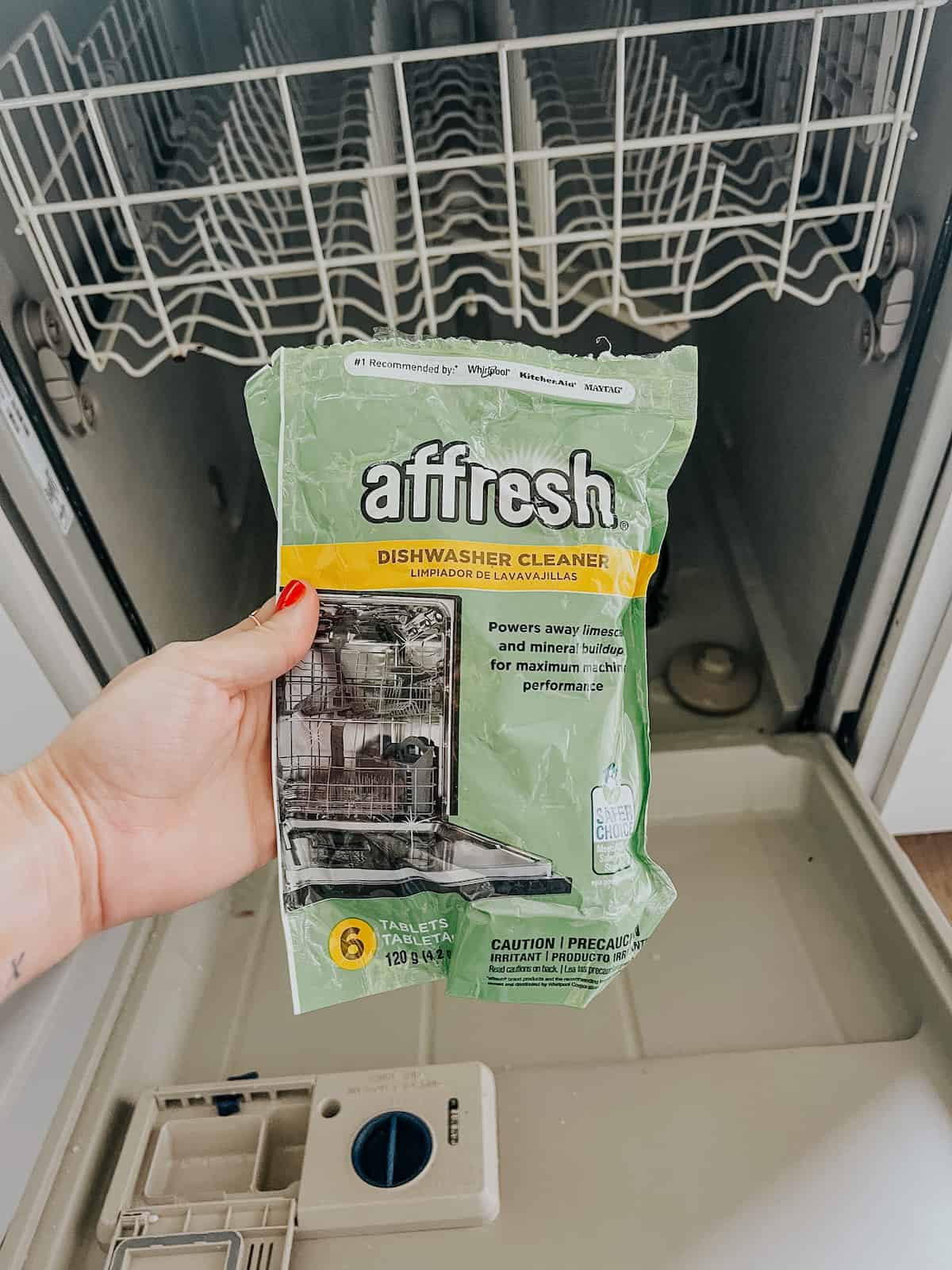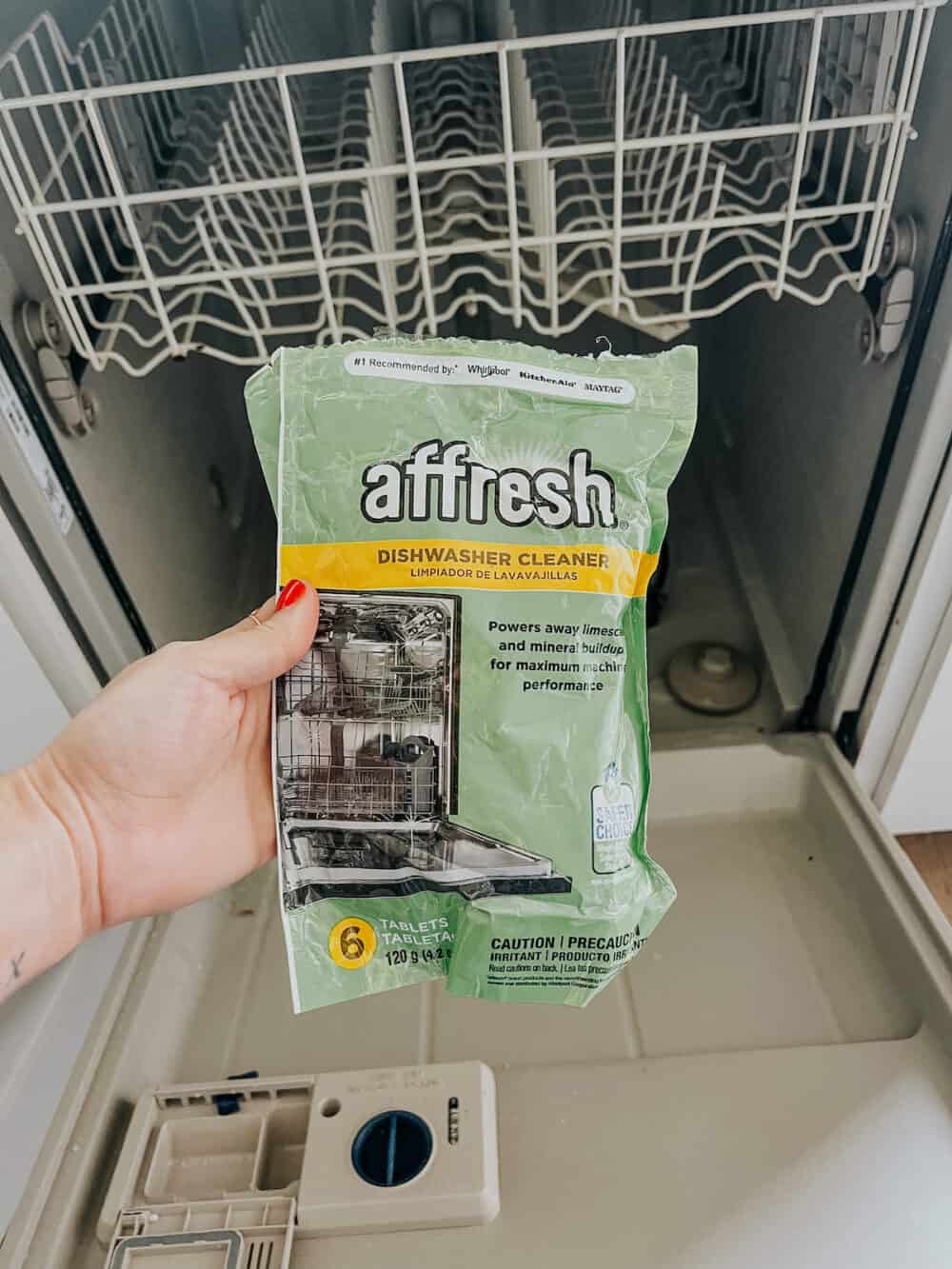 For monthly cleanings, I recommend using Affresh tablets. They're great for a more regular cleaning and are so easy to use. Just set one in the normal detergent tray and run a normal cycle with the dishwasher free of dishes! They'll help remove soap scum and mineral deposits from hard water, so it's easier to deep clean when it's time. You should also remove food from the food filter monthly!
Another monthly cleaning option is to use a cup of lemon juice. Place it on the top rack and run on a normal cycle.
Tips For Keeping Your Dishwasher Clean
Here are a few bonus tips and tricks for keeping your dishwasher cleaner on a day to day basis, and for making sure dishes get as clean as possible.
Make sure the temperature settings are at at least 120-degrees Fahrenheit for optimal cleaning.
Stick to using the top rack for cups, bowls, or large utensils. Use the bottom bottom rack for plates, pots, platters, and cutting boards.
Dishwashers generally drain into the same pipe as your sink. If that pipe isn't clear, your dishwasher won't run as effectively! So, make sure to run the garbage disposal before you start the dishwasher to make sure it's clear.
You can also take a second to run the hot water on your sink for a bit before you start your dishwasher. If the cycle starts with the water already heated up, it will be more effective!
Rinsing your dishes prior to putting them in the dishwasher is unnecessary, and actually can reduce the effectiveness! With less grime, your dishwasher won't work as hard and your dishes might come out dirtier! The filter is there for a reason. Remove excess food prior to putting them in, but don't over-rinse them. Just be sure to clean out the filter in the bottom regularly.
And that's how to keep your dishwasher clean and running smoothly! Staying on top of cleaning your dishwasher not only keeps your dishes cleaner, it prevents the need for costly repairs. And thankfully, it's a really quick process!
Have more deep cleaning to do? Here are a few posts that might help: