I know what you're thinking. A post about deep cleaning my kitchen?! Snooze. Boring. Moving on.
And honestly, I don't blame you.
But!
Have you ever fully organized your fridge and experienced the magic of opening it and knowing exactly where everything is? Because before this week, I hadn't. And let me tell you – it's a game-changer.
I feel like a real grown-up now.
I know the topic of deep-cleaning the kitchen isn't the most fun topic in the world, but it honestly might be the most practical topic in the world. And I don't know about you but now that I'm in my 30's I find I need a lot less fun and a lot more practicality.
So, here are my tried and true tips for deep cleaning every single inch of your kitchen. And, as always, if you have a genius tip that I forgot to include please oh please drop it in the comments so I can update my post!
How to deep clean your kitchen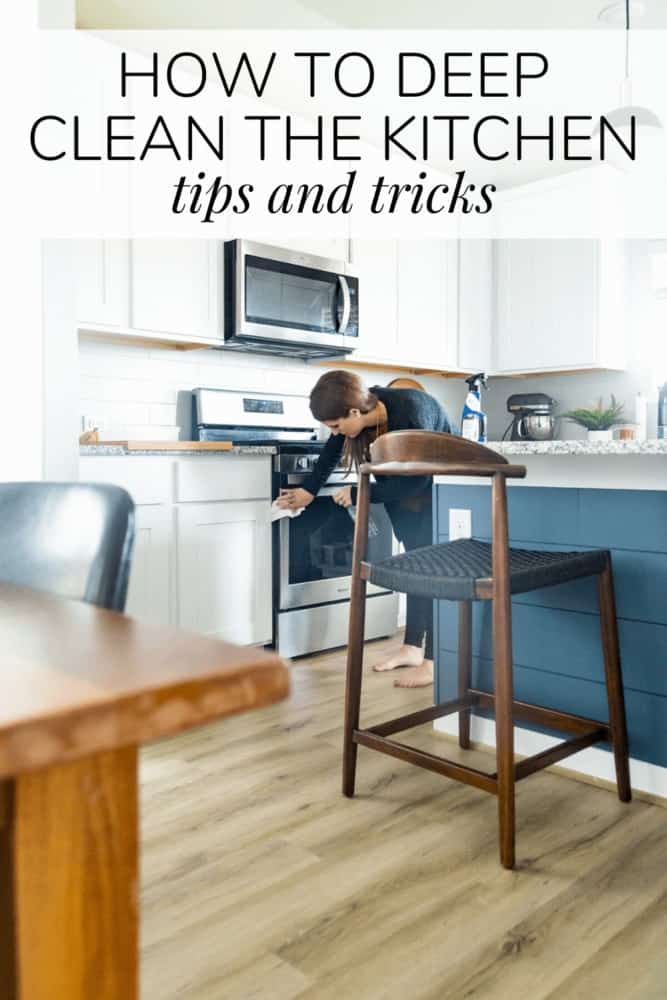 cleaning the stovetop & Oven
Favorite cleaning products
Most ovens nowadays have a self-cleaning feature, but that always makes me a little nervous. I'm sure it works and is perfectly safe, but I feel more comfortable doing the scrubbing myself most of the time.
If you want to deep clean your oven and are really ready to fully commit, here's an overview of how it's done:
Remove all racks and set aside (you can clean these in the bathtub with some dish soap if they need it!)
Make a paste with 1/2 cup of baking soda and a couple tablespoons of water.
Rub the paste onto all of the surfaces of the oven
Let the paste sit for several hours – overnight, if possible.
Come back and use a warm, wet rag to wipe down all of the surfaces. You should find that most of the grease and grime will come right up, but you may have to scrub some of the more stubborn parts!
If there are any remaining spots, you can try spraying some vinegar on top of the baking soda paste and scrubbing to remove.
If you're not willing to devote quite that much time to cleaning your stove, here's my quick & easy method:
Remove the racks
Make a paste with about 1/4 cup of baking soda and a bit of water.
Rub the paste on the dirtiest parts of the oven (I did it just on the door and the glass)
Spray the entire interior of the oven with Krud Kutter
Allow to sit for 10-15 minutes
Wipe off with a warm rag.
DONE!
This won't get your oven quite as sparkling clean as the more intensive method, but it works fine for me and feels a lot less burdensome!
For the stove top, I generally try to wipe mine down every night with some Mrs. Meyers. Then, once a month or so I do a deep clean with this gas stovetop cleaner. It stays looking pretty great all the time with this method! I wipe the grates down nightly as well, and then do a regular deep clean just by tossing them in the sink and spraying them with Krud Kutter, allowing it to sit for a few minutes, then rinsing off with very hot water.
The key here is that if you stay on top of cleaning up the little messes on a daily basis, there's a lot less deep cleaning that needs to be done!
Cleaning + Organizing the fridge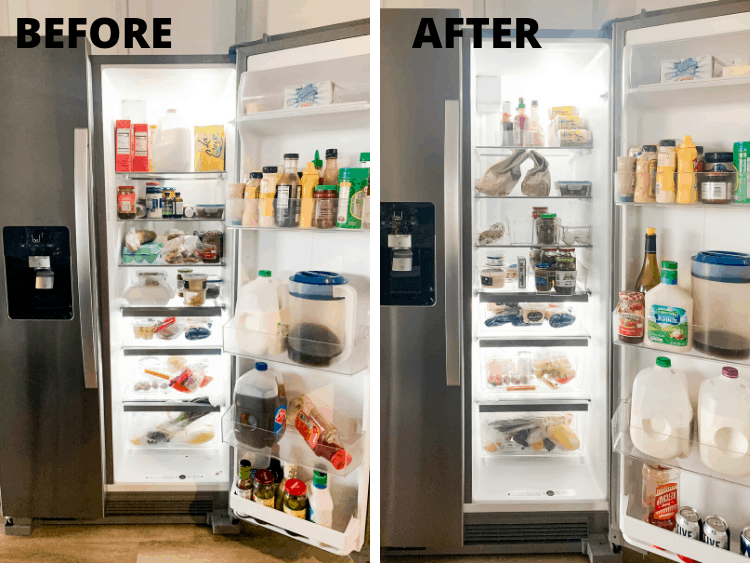 Getting the refrigerator cleaned and organized is one of the smallest yet most life-changing tasks ever.
I grabbed this set of fridge organizers along with this lazy Susan and those products alone pretty much totally transformed my fridge. I originally thought it was kind of silly to have something like a clear egg organizer in my fridge when the eggs come with an organizer, but now that it's here I love that I can see if we're low on eggs at a glance, and it's much sturdier than the egg crate they come in. The lazy Susan is definitely the MVP here and I think I need about 12 more of them.
Here are my best tips and tricks for cleaning the fridge:
Remove all of the food (all of it!) and go through everything. Toss anything that's expired.
Use an all-purpose cleaner to spray down the interior of the fridge and wipe down any food spills.
You can add a couple of paper towels into the bottom of the drawers to catch any spills or grossness – this means less scrubbing for you, and when they get dirty you can just replace them!
I like to corral like things together in our organizers. The lazy Susan is for sauces and salad dressing, one bin has all things pickled (jalapeños, sweet peppers, pickles, banana peppers…we might have a problem?!), and another has all of the dips and other similar ingredients. Find a system that works for you and stick to it!
I like to corral all of my kids' snacks into one of the drawers. It makes it easy for them to get it on their own and super quick for me to find anything. There's no organization in the drawer – we just toss it all in there and it seems to work for us. Your family may need more structure than us, but this is what we've done for years!
For cleaning the front of the fridge (and all of my stainless steel appliances), I love to use this Method Stainless steel cleaner once or twice a week. It removes all of the fingerprints and gunk and leaves things looking gorgeous. When I have a wild hair and feel like it needs a deep clean, I love this stainless polisher.
Cleaning the cabinets
We actually just recently talked about this on the blog!
I'm still new to owning white cabinets (I feel like it's a whole new ballgame compared to darker cabinets!), but over the last three months I've come up with a system that works pretty well for me. I generally have three different "levels" of cabinet cleaning:
Every day: On a day-to-day basis I usually use a baby wipe to clean any little fingerprints or smudges on the cabinets. We keep some in a drawer in the island and they're really easy to grab. I'll do this as I'm making breakfast for the boys or when I'm cleaning down after dinner.
Quick clean: When I'm actually cleaning the house and not just doing little tidying up jobs, I'll grab a Clorox wipe and actually rub down the cabinets. It cleans a little more thoroughly than the baby wipe does and, of course, removes germs too. I try to actually wipe down all of the cabinets once a week or so (but it's honestly more like every other week).
Deep clean: I'm trying to stay on top of giving my cabinets a serious cleaning quarterly using this cabinet care kit. It helps protect them from future dirt and grime too, so doing this regularly helps make my day-to-day job a little easier!
Favorite counter cleaning tips
Please don't laugh at me, but I lived in a home with granite countertops for two entire years and always got annoyed at how hazy they looked after a cleaning before I realized that I really needed to be using specific granite cleaner.
Sigh.
I finally learned my lesson and never looked back – I always have this Method Granite Cleaner on hand (I love the Apple Orchard scent!) and it's what I use every night to wipe down my counters.
Of course, I also go for a baby wipe on occasion when I need a quick clean because baby wipes are good for everything.
Getting aaaall the nooks and crannies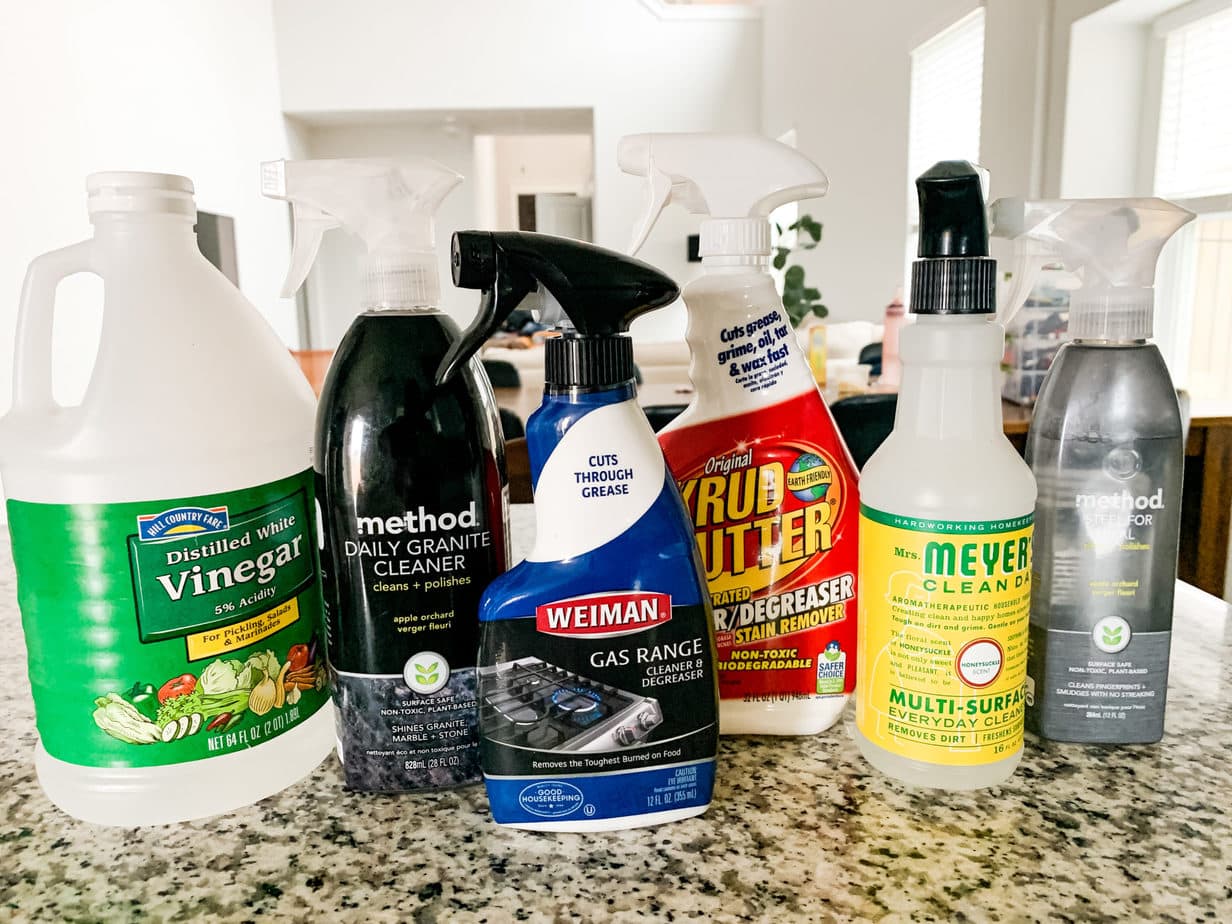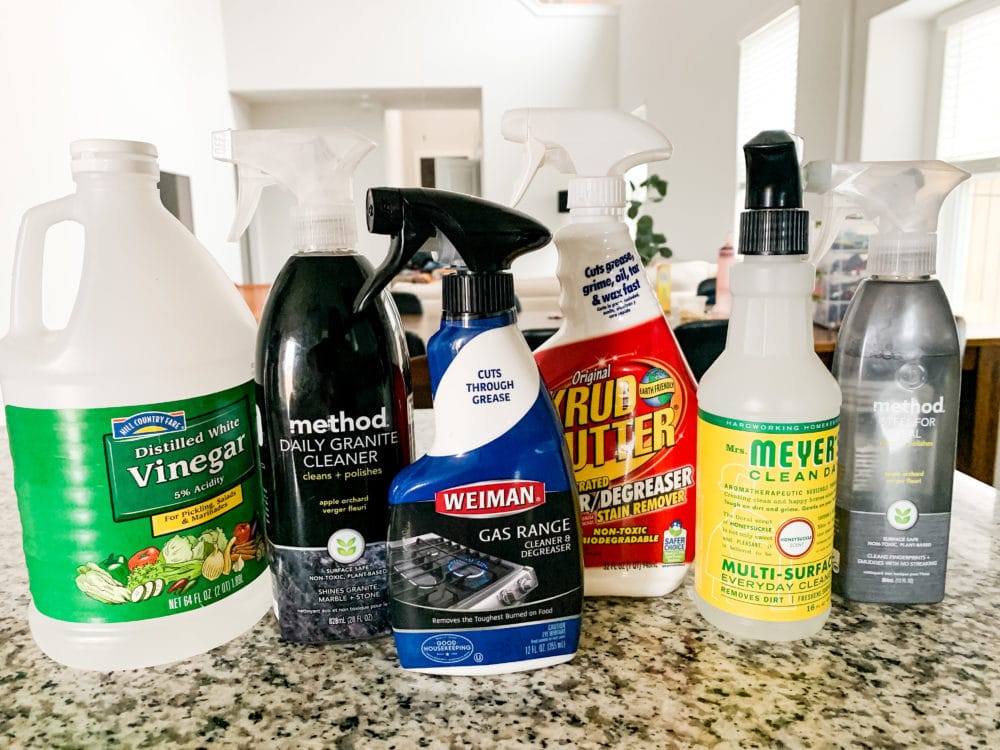 Of course, the kitchen has way more tiny little (crazy annoying) spots to clean than just these!
Above you see a roundup of all of my favorite cleaning products for the kitchen. From left to right, they are:
I also asked my Instagram friends for their best tips and tricks for deep cleaning various spots in the kitchen, and I'm rounding up some of the best ideas below, along with a few more of my tips.
Other tips and tricks:
Bar Keeper's Friend is great for the kitchen sink (and so many other things around the house!)
Instead of paper towels, use a microfiber cloth for the counters. It gives a better shine and wastes less paper!
A spin mop is your best friend ever for the floor (I totally agree – I'm obsessed with mine).
Get a drip pan for the bottom of the oven, or simply lay down a layer of tin foil. It saves a lot of scrubbing in the long run! (I just ordered these as I was writing this post!)
1 part Dawn dish soap, 1 part water, and a splash of vinegar seems to be the cure-all for just about everything! It was recommended for the oven, counters, backsplash – basically, any mess in the kitchen!
A steamer is great for getting gunk out of the hard-to-reach spaces!
Don't forget about your refrigerator coils! You can use a dryer vent brush to easily reach them.
More deep cleaning inspiration
Need more ideas and help for deep cleaning around your house? Here are a few other posts that might be helpful!