12 Gorgeous DIY Shiplap Fireplace Ideas
It's no secret I love shiplap. I'm a big believer that it can go with any home style, and it's so easy to work with. It can totally transform a space, and it's one of my favorite materials to work with! A shiplap fireplace is one of my favorite styles, so I thought in honor of reaching the two year anniversary with our own shiplap fireplace, I'd round up some more shiplap fireplace inspiration for you!
Let's start with the basics… I'm not going to do a full shiplap fireplace tutorial (you can find that here), but I'll give a quick overview of how it goes. Because I want to convince you that you can do it!
How to create a shiplap fireplace
Real shiplap planks are tongue and groove boards that fit together and automatically create a gap. No spacers needed! They're honestly probably the easiest way to totally transform a fireplace, or any wall. Here's how to do it:
Before you install any boards, use a stud finder to locate all of the studs in your walls. Draw a line up the wall at each stud. You'll use this to help make sure you get as many nails as possible into the studs.
Start with your first board on the bottom of wherever you are working. Use a long level to make sure it's straight. Attach to the wall using a nail gun.
Place the next board on top and fit the tongue and groove together. When you reach a corner, be sure to miter them so that they fit together and create a point, rather than butting them up against each other.
Continue working until the wall is covered.
If you have any outlets, use a jigsaw to cut around them before installing the shiplap.
You can use a corner trim board on any exposed corners – it helps hide imperfections and creates a really polished look.
Fill all of the nail holes with wood filler, and use caulk to cover any caps between the shiplap boards and the wall.
Be sure to wipe down the wall and use a vacuum to clean up any dust before you paint!
You can screw your TV mount or shelf brackets right on top of the shiplap once it's all done.
And that's it!
Helpful posts
Here are a few blog posts from the archives that might be helpful to you if you're attempting this particular DIY project.
12 Shiplap fireplace ideas
Ready to see the ideas? Let's do it. Click on any of the links below the photos to be taken to the source and learn more about the specific shiplap fireplace!
I love the stark contrast of the white walls and the black fireplace in this living room! I also am obsessed with the fact that the shiplap runs vertically here. It really elongates the room and creates a beautiful look! This modern shiplap fireplace is the focal point of the entire open concept living room, and I love how it makes the space feel. Black accents in any space are always a good idea!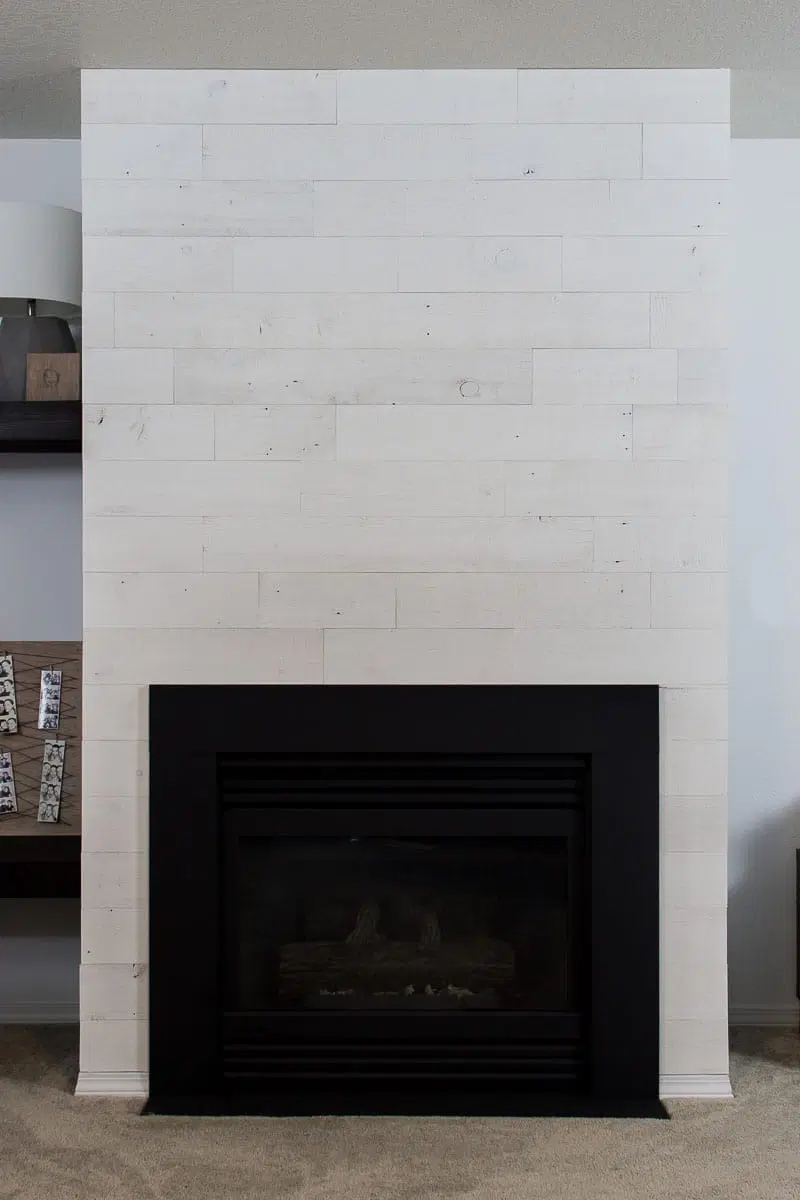 This shiplap fireplace is created with peel and stick Stikwood panels! I love the reminder that a paneled fireplace doesn't have to be with traditional shiplap. I also love the more rustic look the peel and stick panels give it. This is a really clean and beautiful option that feels cozy and vintage!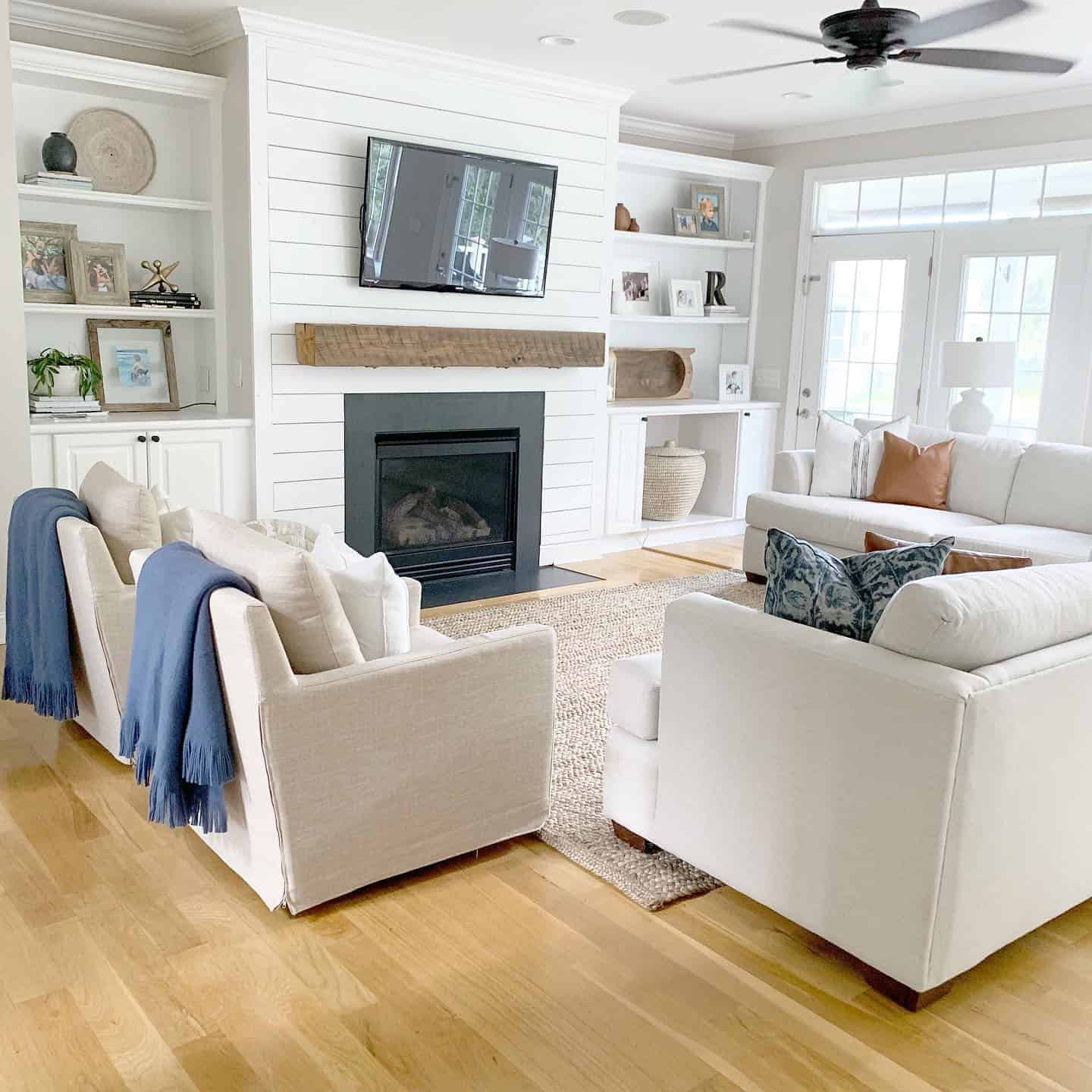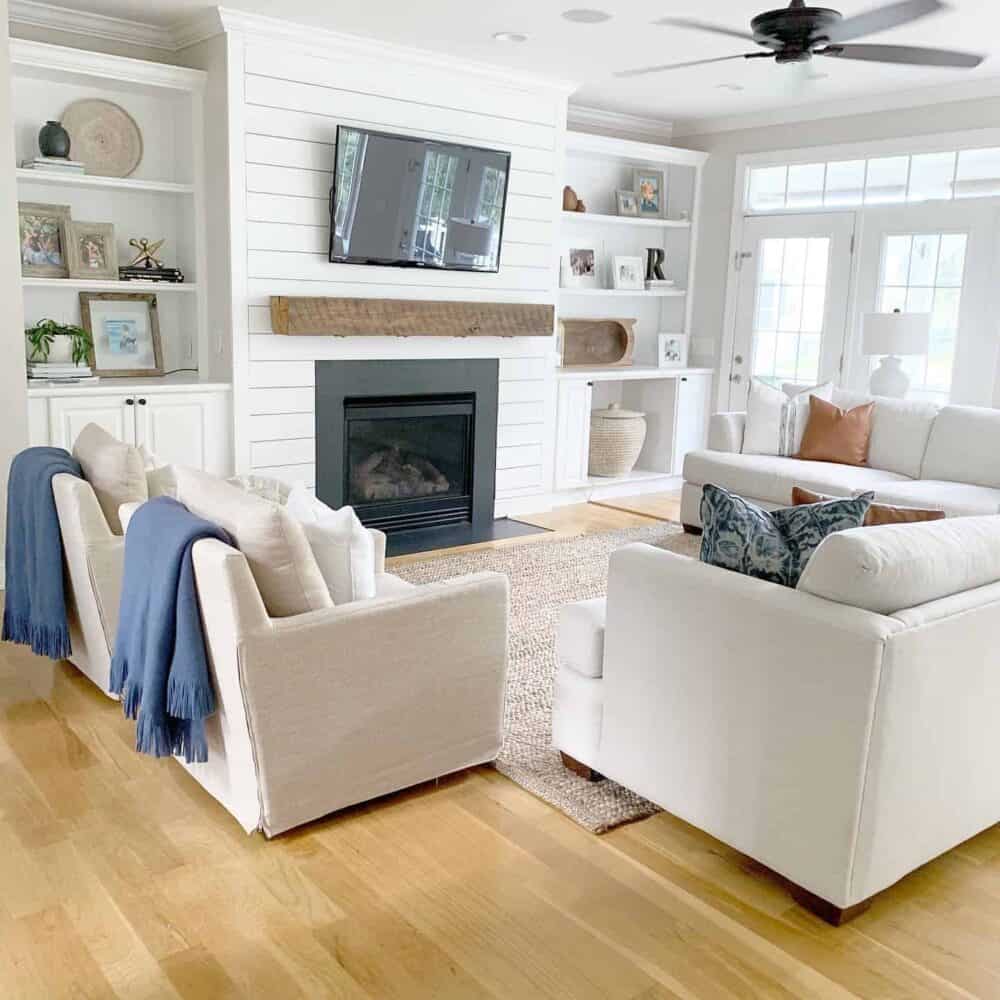 I am so in love with the shelving on either side of the fireplace, and I wish our living room was set up in a way where this made sense! It adds so much functional storage and display space, and really feels so intentional. It's stunning, and the shiplap brings it all together really nicely.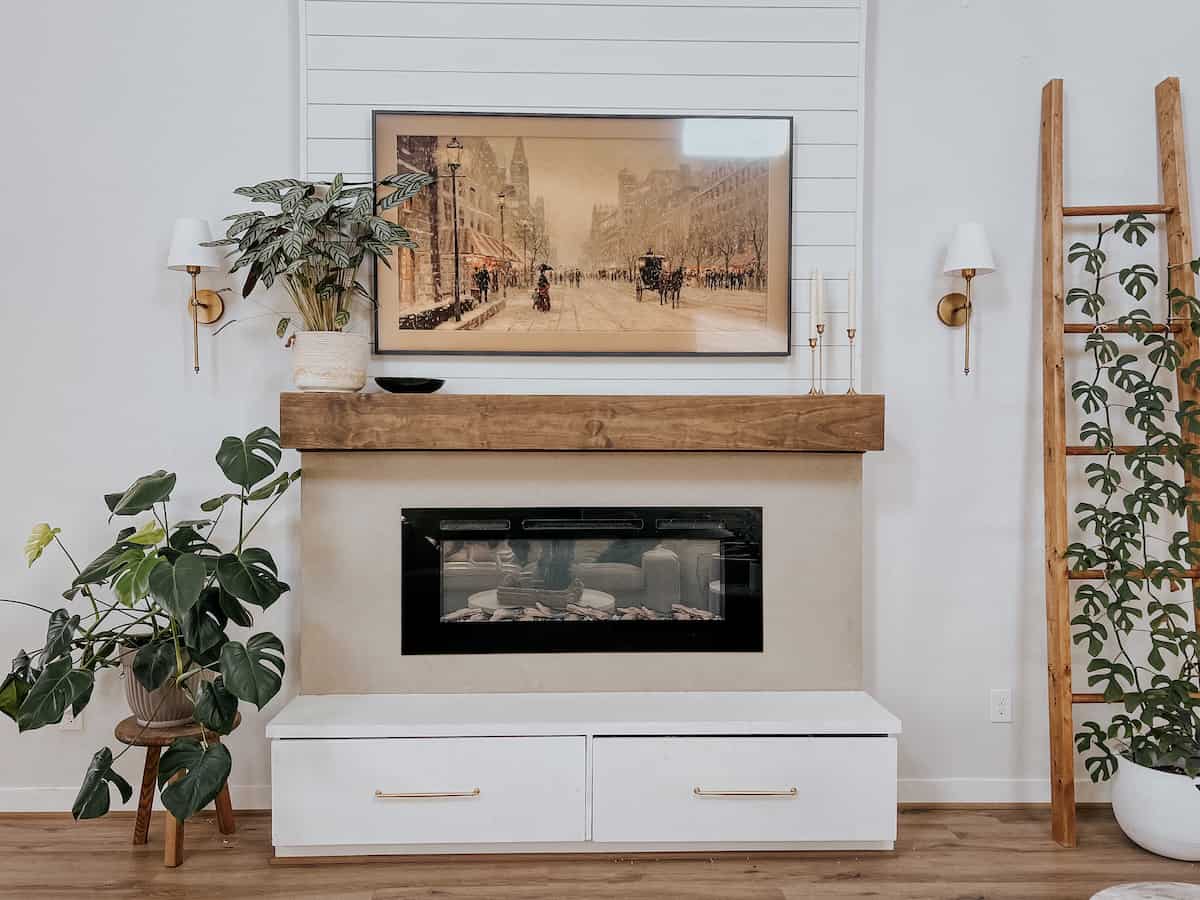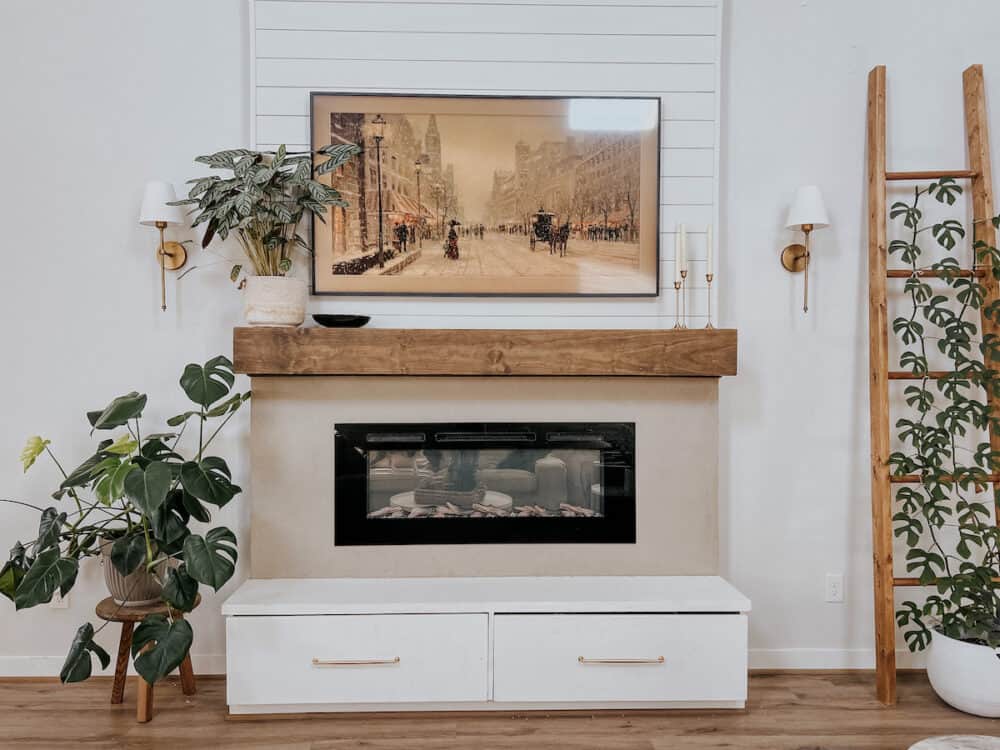 Oh, this one looks familiar! Wink, wink. This is probably the project I'm the most proud of in this house. Maybe ever! I built this entire shiplap fireplace from scratch, and I am in love with every single detail. From the Roman clay on the bottom to the super functional drawers in the hearth, it's exactly what I wanted.
Oh man, does this ever look cozy! I love that it's a slightly whitewashed brick fireplace, I love the rustic mantel, and I love the picture light above the television! Every detail here is clearly very thought out, and the shiplap fits right in with the rest of the space. So beautiful!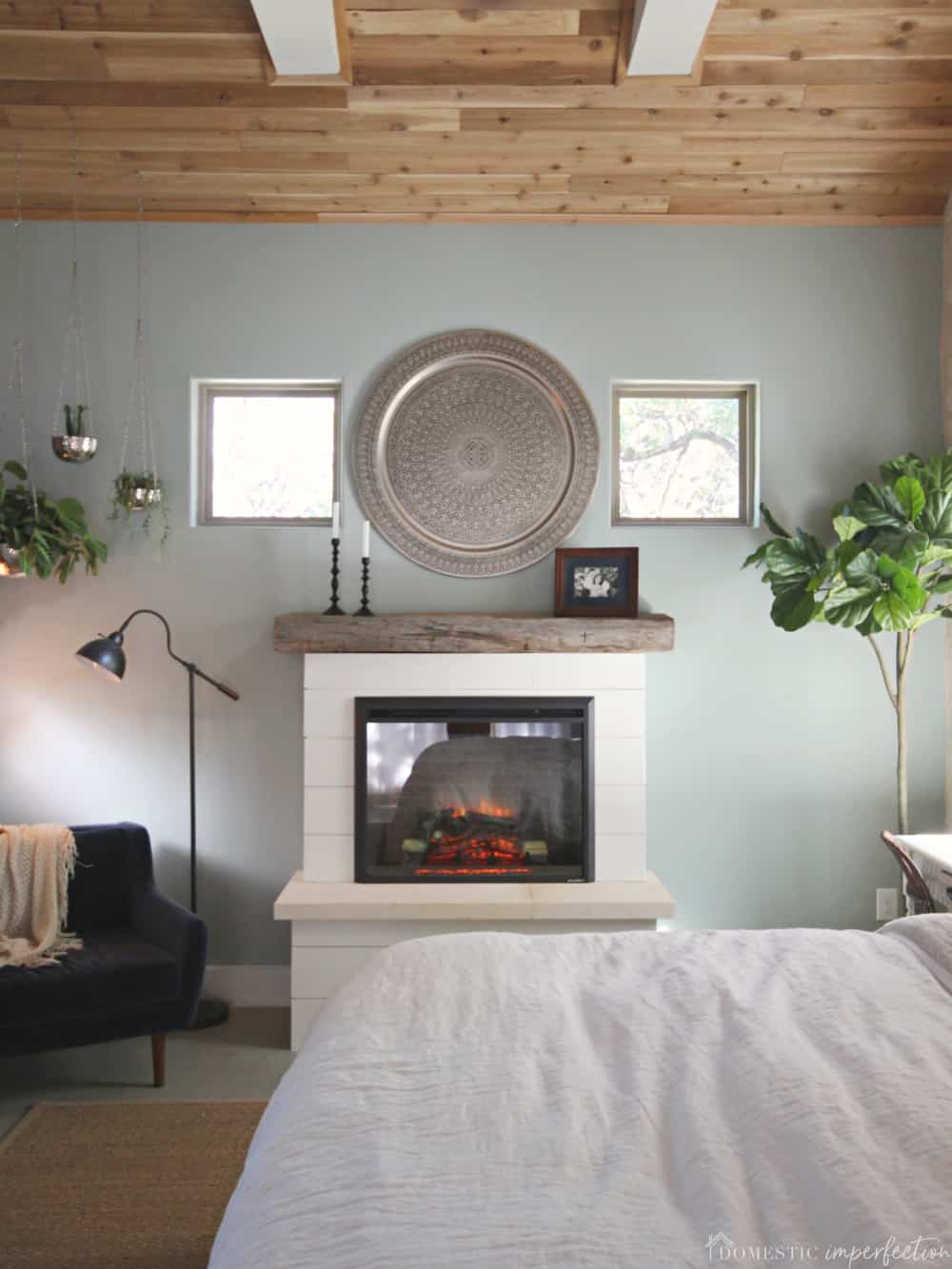 This little guy is a great example of adding a fireplace to a smaller area! It doesn't take up much room at all, and this wall was totally blank before. I love how much warmth and coziness it brings to this bedroom. You're also going to want to click through to see the rest of the room, the ceiling is to die for!
I, of course, love that this one is nice and tall like ours is! The white shiplap wall looks gorgeous next to the beige walls, and the stone tile surround on the bottom brings in a lot of warmth. The shelving that flanks the fireplace is also really gorgeous!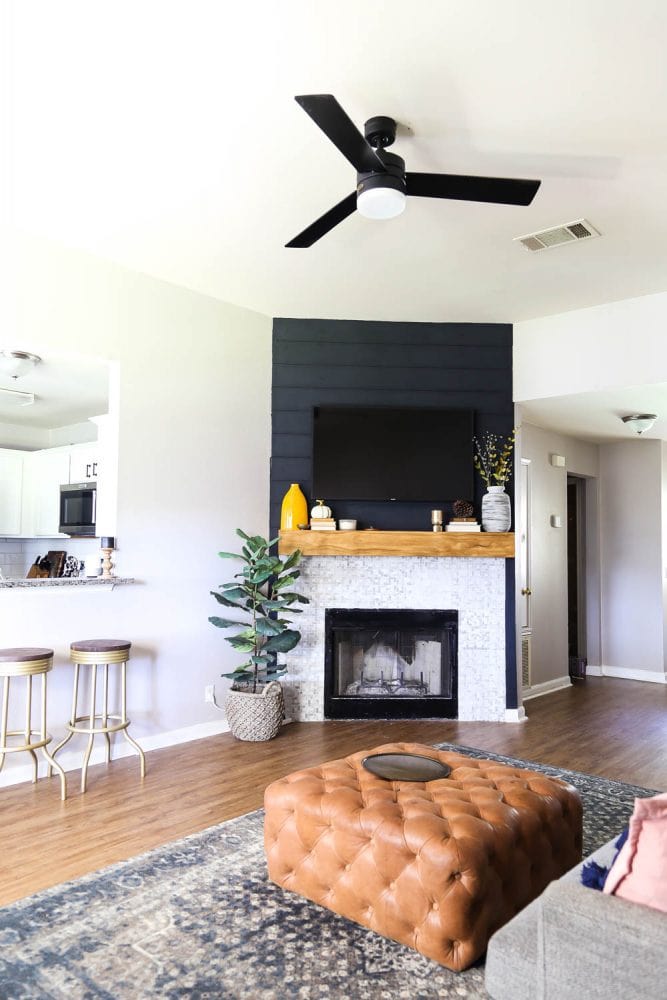 Another one from my archives! Turns out, the fireplaces in all three of our houses have been shiplap fireplaces. This little diagonal fireplace was a serious eyesore in our house before I got my hands on it. By adding a beautiful tile fireplace surround, a DIY mantel, and black shiplap all the way to the ceiling, it became a beautiful accent wall instead.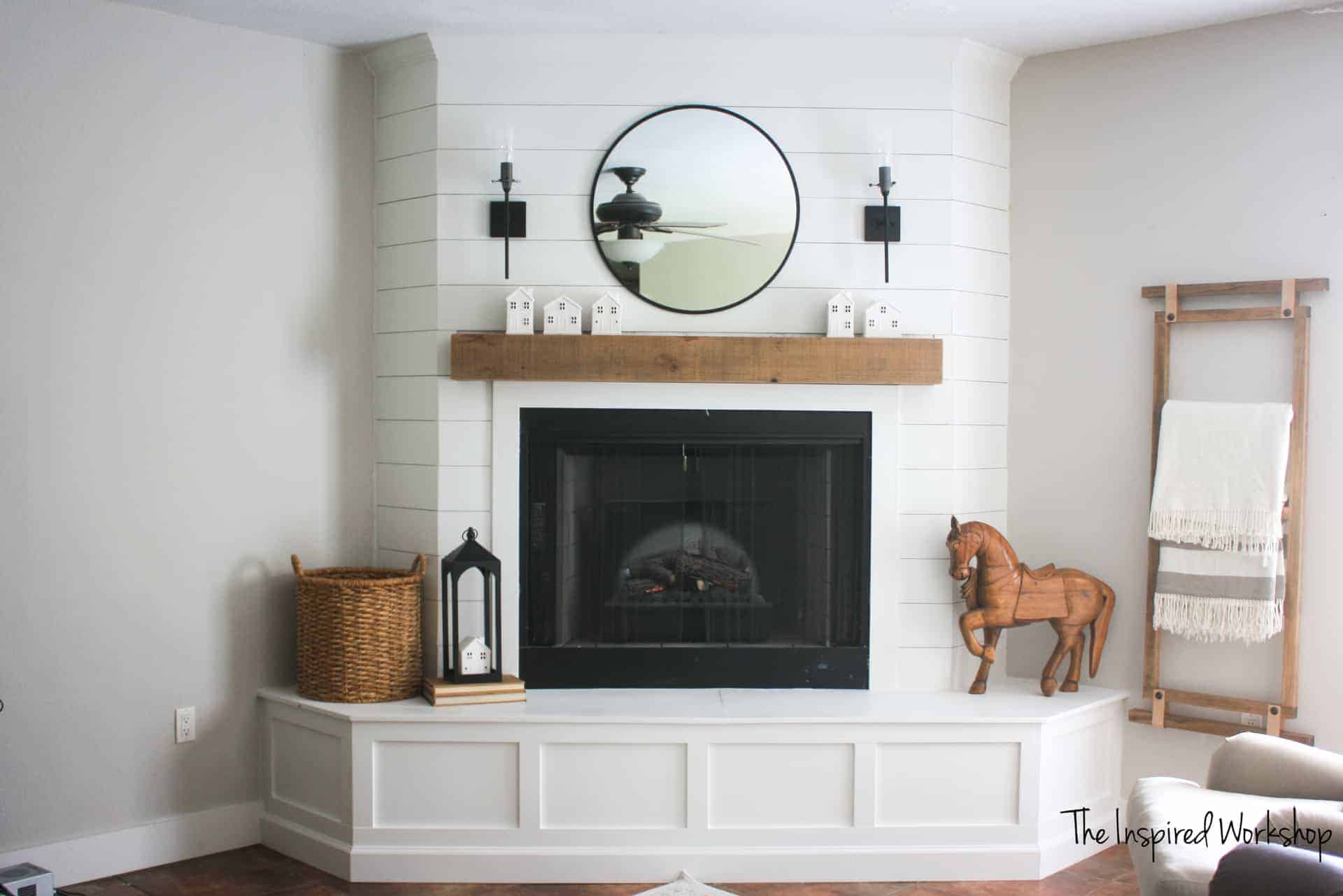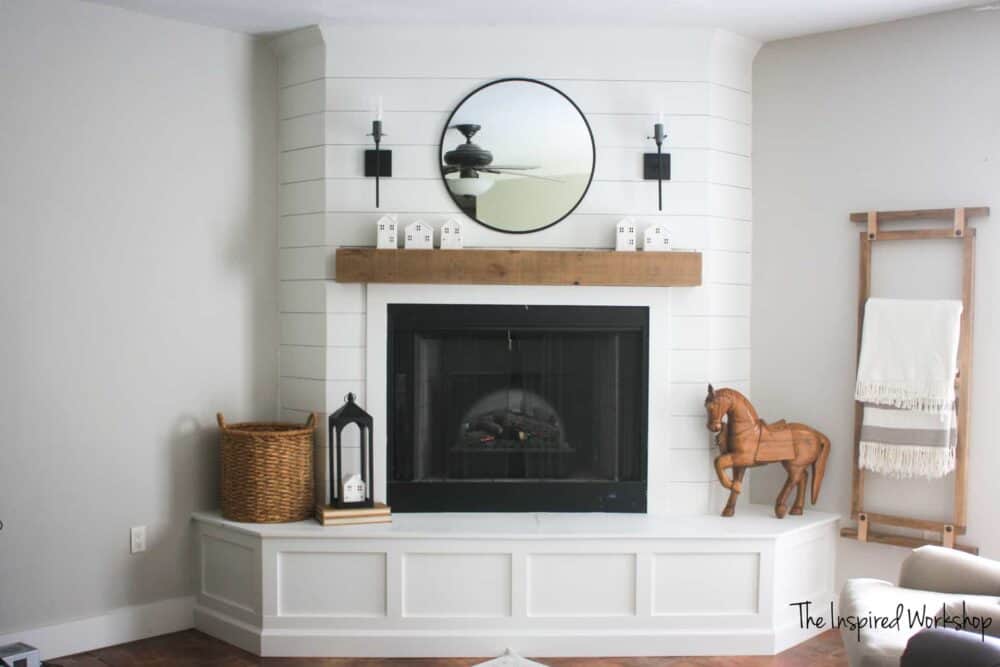 I really, really love the framing of this fireplace wall. The angles are gorgeous and create such a focal wall in this room! The white fireplace stands out nicely against the gray walls, and the crown molding at the top finishes it all off really beautifully. That and the hearth at the bottom keep it feeling a little more traditional, which I love!
This cozy, farmhouse style living room looks really beautiful with the shiplap fireplace wall. I love that the shiplap continues onto the walls on either side. The shiplap accent wall creates a really beautiful continuous look and makes it feel really intentional. Like it's always been there! I also love how the shiplap accents the peak of the ceiling!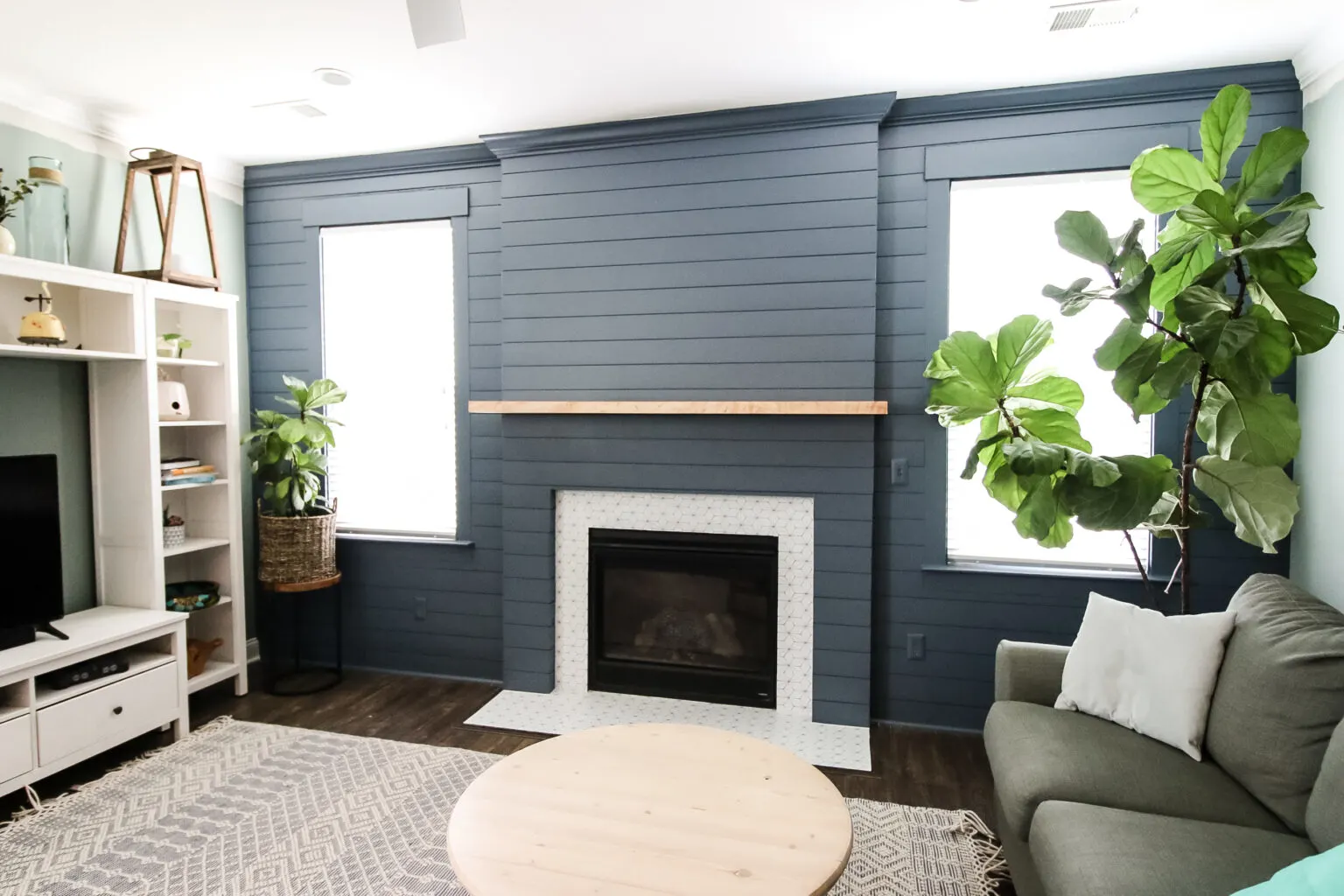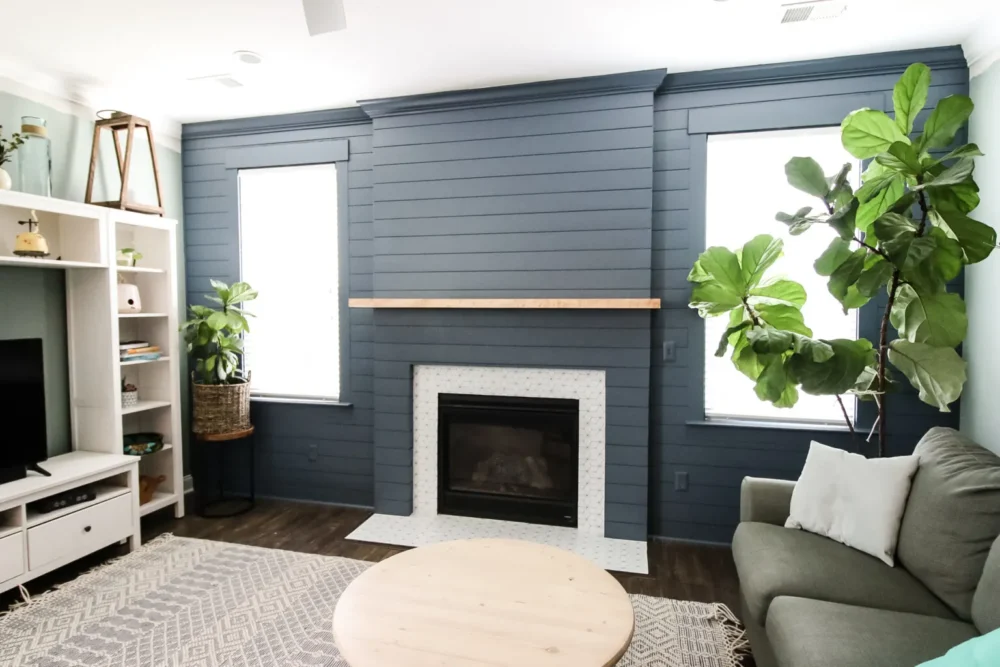 I looooove that this one is blue! Most shiplap fireplaces seem to be either white or black, so it's really refreshing to see something a little different. Again, the shiplap continues the entire width of the wall, which is a really beautiful feature. This one also has crown moulding, and the tile surround is a great finishing touch. Of course, I'm a little in love with the giant fiddle leaf fig, too.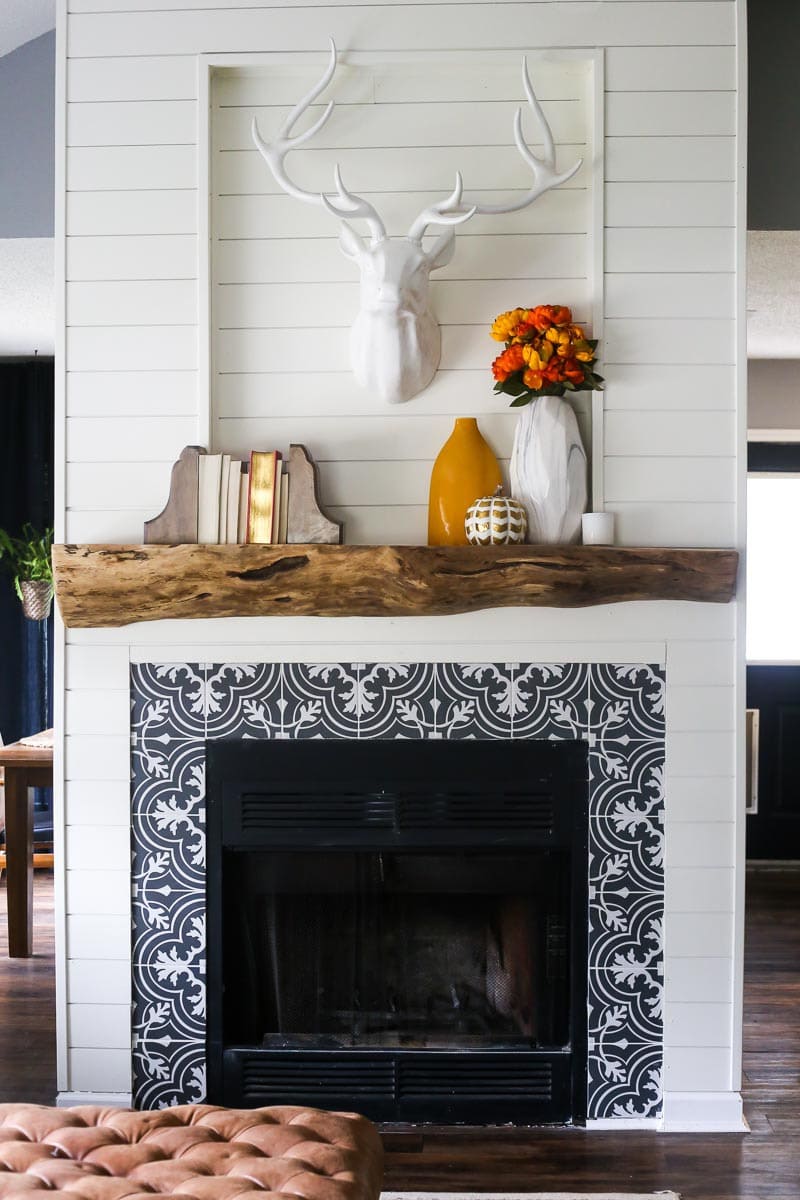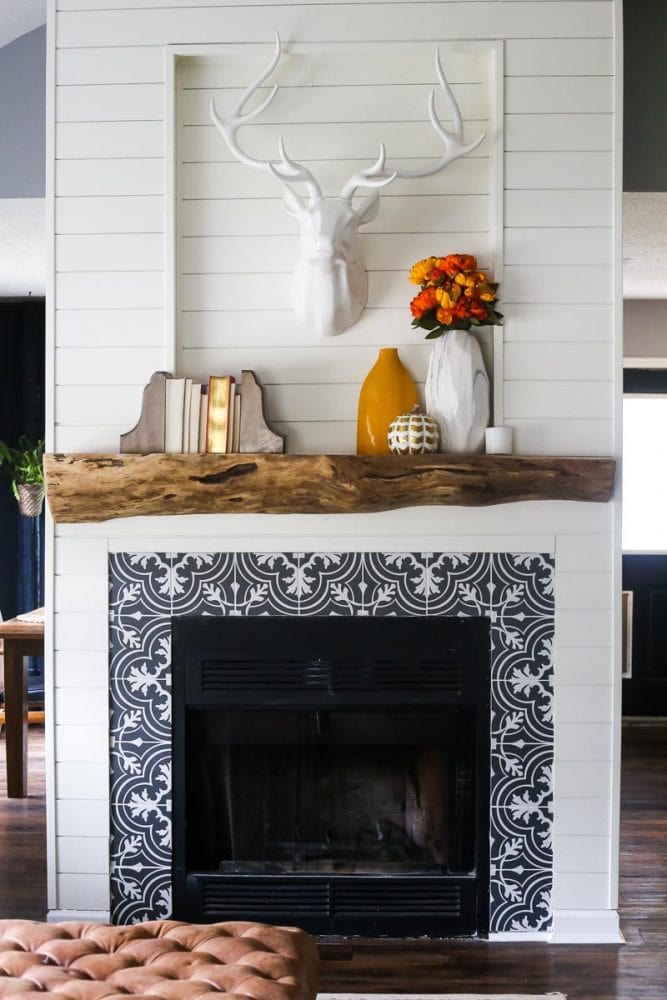 And finally, let's finish it off with the first fireplace makeover I ever did – also my first time working with shiplap! This was by far my favorite project we completed in our first house. I wish we had done it sooner, because we moved shortly after I finished! Of course, the best part has to be the rustic wood beam mantel. Corey made it from a literal tree! Click here for the details on that project.
And