How to Use a Paint Sprayer
If you're considering trying out a paint sprayer for your interior and exterior projects but feel overwhelmed at learning how to use one, this is the post for you! I'm going to show you step-by-step how to use a paint sprayer, to give you the confidence to try it out yourself.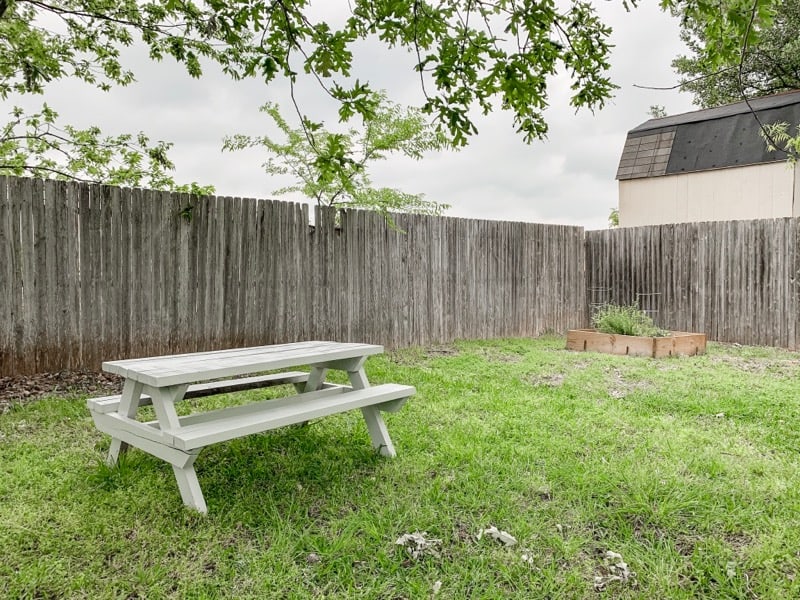 It's no secret that I'm a huge fan of my paint sprayer. I've been chatting about it for years, and I love how it makes painting projects so much easier and faster.
One thing I get asked about often, though, is how hard it is to use. I realized that I've never actually done a full tutorial on exactly how to use a paint sprayer (shame!), so today I'm fixing that! I love sharing simple tutorials for tools to help you learn how to use them (see the rest of my Power Tools for Beginners series right here), so I'm excited to share this detailed guide to how to use a spray painter today.
Oh, and if you're just here for the before and afters, don't go anywhere because I'm demoing how to use the paint sprayer with a fun little furniture makeover that I've been meaning to tackle for a while.
Let's do this!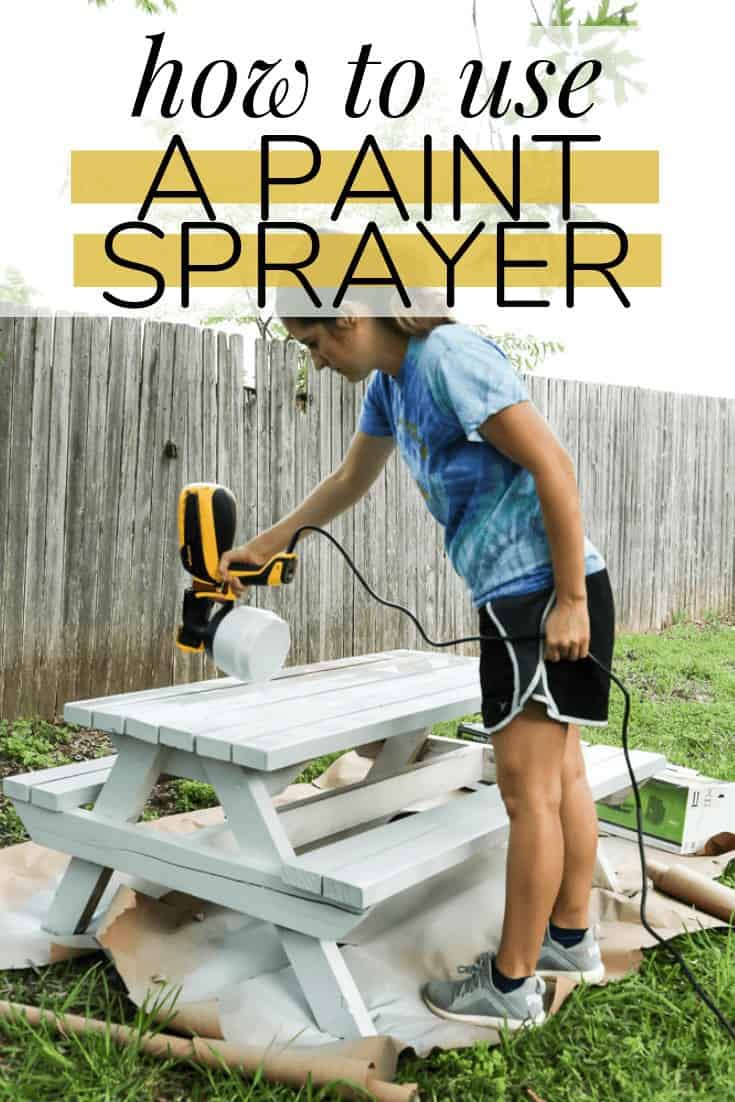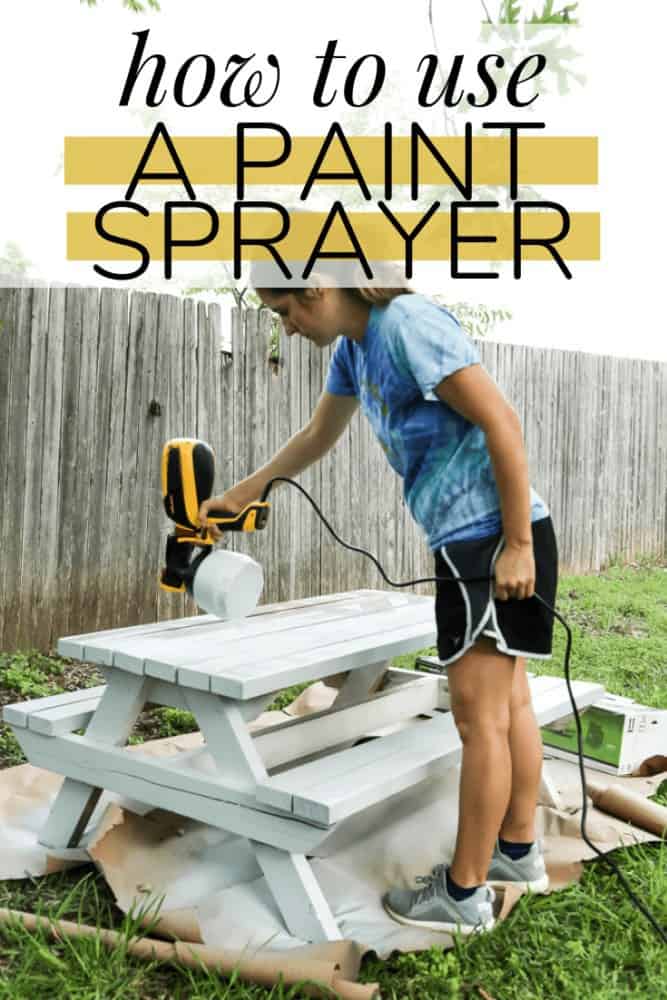 This post is sponsored by Wagner, but all opinions and love of paint sprayers are 100% mine! Thanks for supporting the brands that support Love & Renovations!
How to Use a paint sprayer
The first thing I want to tell you is that using a paint sprayer should not feel intimidating or scary. I promise! Many people have the misconception that they're too messy, too difficult, or only for advanced painters. None of this is true. Paint sprayers are simple and effective, and with proper technique they really aren't any messier than regular old painting. Read on for my step-by-step instructions, and then I'll also answer a few frequently asked questions at the end of the post!
first, Choose the right sprayer for the job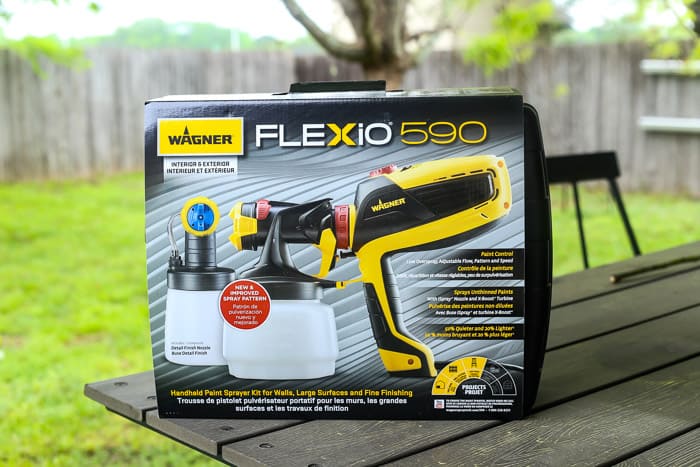 Of course, before you can use a sprayer, you've gotta choose one, right?!
My go-to paint sprayer for most jobs is the Wagner FLEXiO 590 – though, they've recently released a new and improved version called the FLEXiO 3000, so if you're looking for one I'd recommend that! It comes with two nozzles (one for larger painting projects, like walls and fences, and one for smaller projects like furniture or trim), and two differently-sized containers to hold paint. It's lightweight, super versatile, and great for both beginners and more experienced painters.
If you're looking for just one sprayer that can spray paint and stain and can tackle a variety of projects, this is definitely the one I'd recommend! I have multiple different paint sprayers, but this one is by far the one I reach for most often.
how to set up your paint sprayer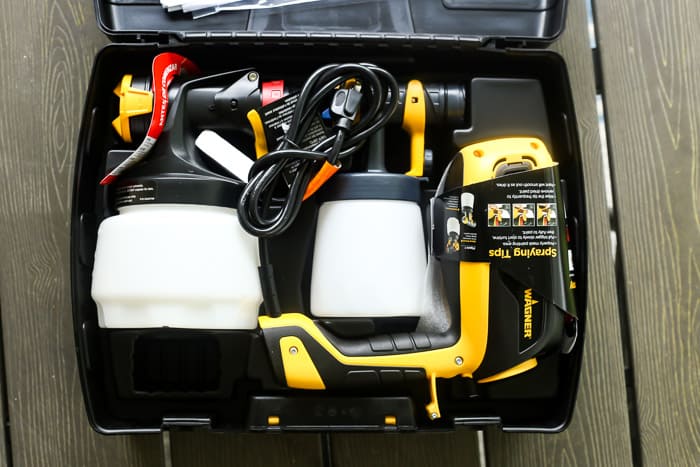 Once you've chosen your sprayer and are getting ready for your first project, it's time to get it all set up. These directions will be specific to the FLEXiO 590, but it's pretty much the same basic idea for all of the Wagner paint sprayers.
I'll also note that Wagner's instruction booklets are always so, so good and always have all the information you could ever need. My husband would be the first to tell you that I'm not normally the type to hang onto instruction manuals (despite my love of following the rules, I'm also stubbornly independent and don't like to be told what to do), but I reference the Wagner instruction manuals all the time and never get rid of them.
First things first, let's chat about the parts of a paint sprayer so that you know what I'm referring to when I name certain pieces. Here's a handy graphic to help you out: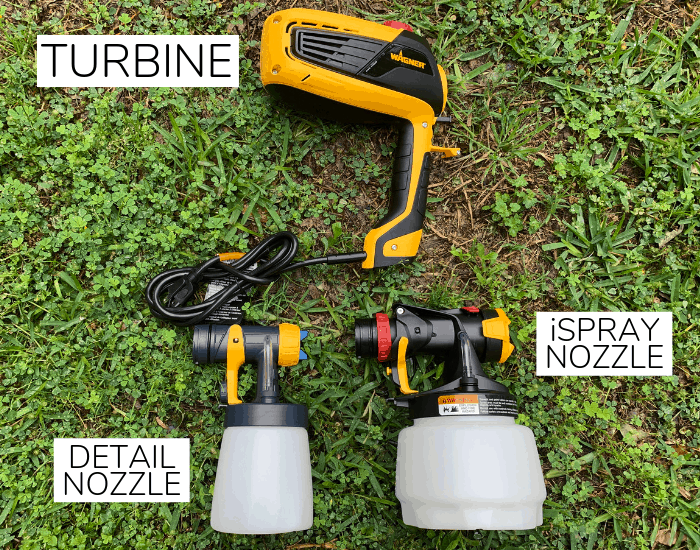 And, here's some detail on the two different nozzle options with the FLEXiO 590. Remember that the Detail Finish nozzle is the one you'll reach for if you're doing a smaller project, and the iSpray Nozzle is the one that you'll use if you're working with a larger space, like walls, ceilings, or fences. The Detail Nozzle is also intended for thinner materials, whereas the iSpray Nozzle can handler thicker materials (so, when you're working with a paint + primer, which is what I use most often, you'll always want to use the iSpray).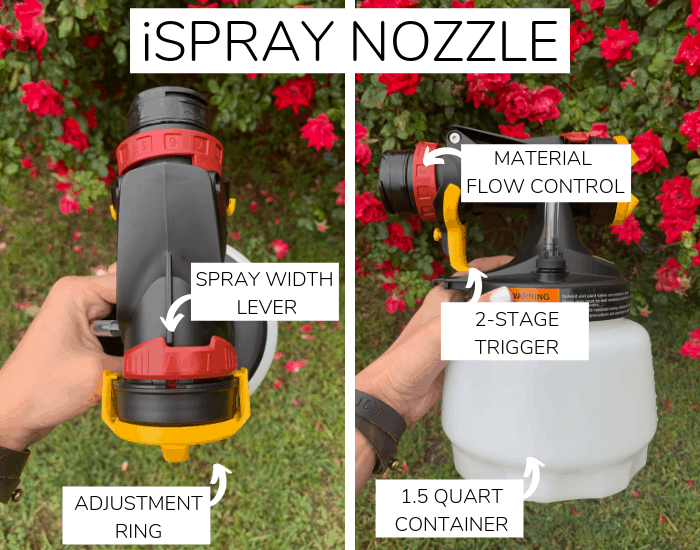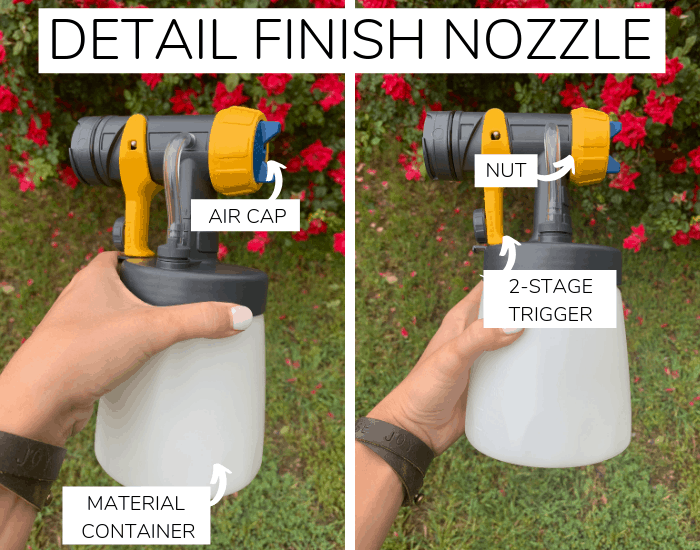 Alright, now that you know what each part is called, here are the simple steps to assemble your paint sprayer: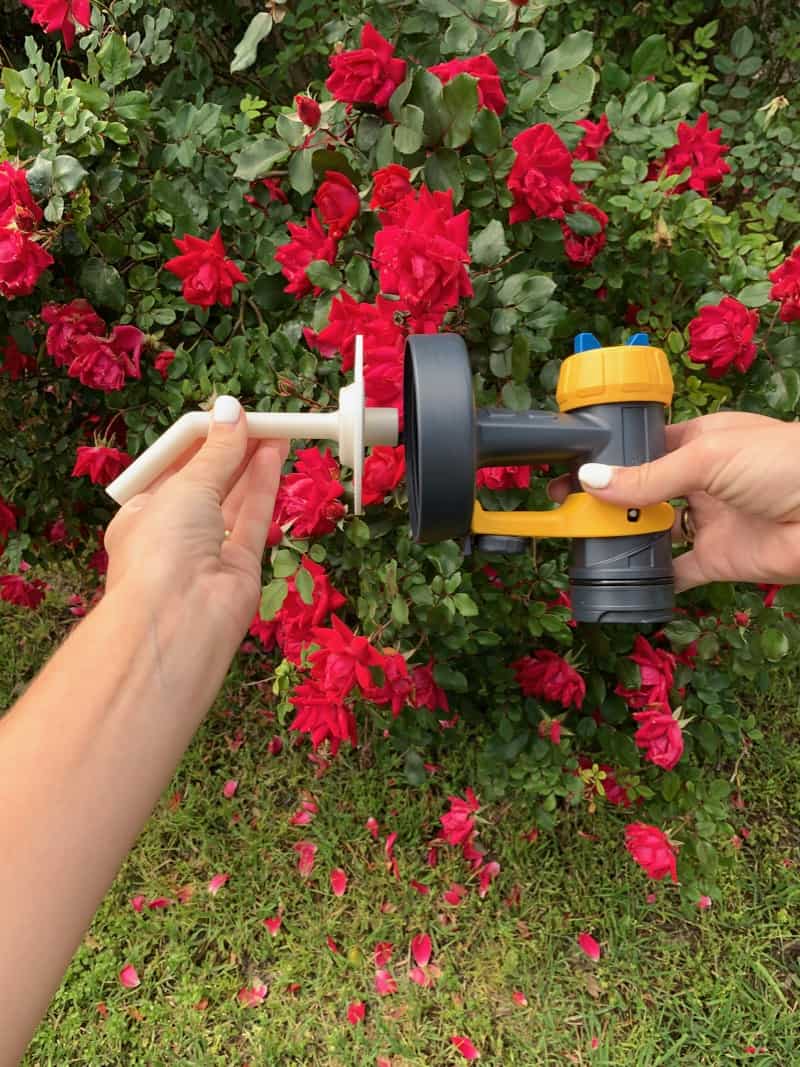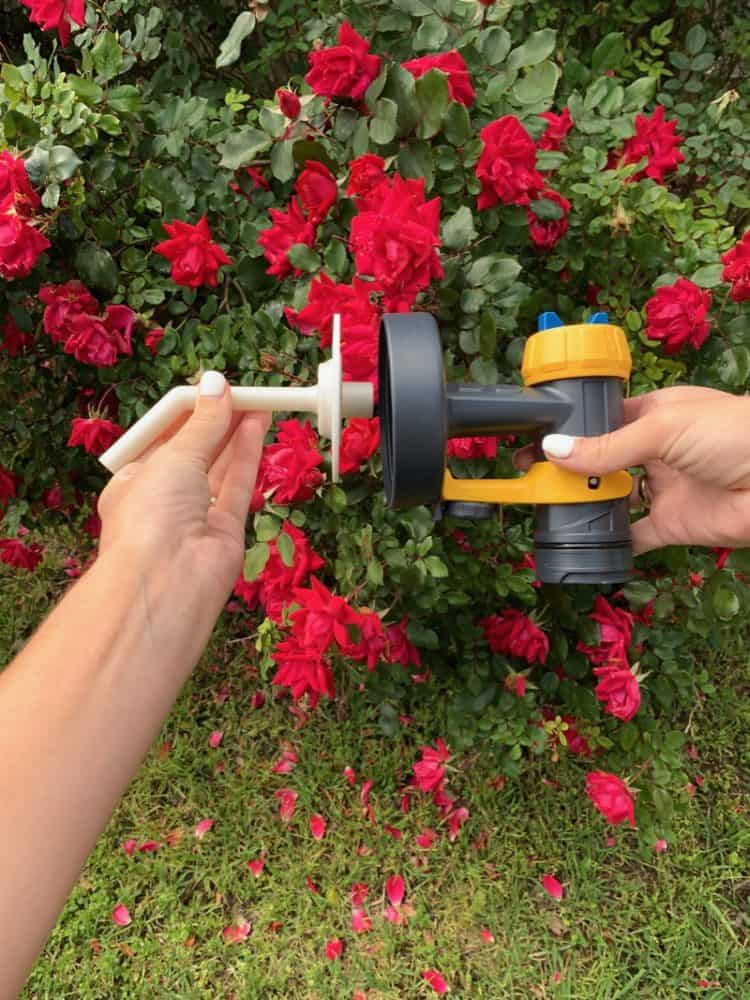 1. Insert the suction tube into the intake opening of your nozzle assembly. It should slide right into place. Be sure to align it to the appropriate direction for how you'll be spraying – if you're spraying in a downward motion (which you will do for most small projects like furniture, lower cabinetry, or trim) you'll angle it towards the front of the gun. If you're spraying upwards (like for ceilings, walls, or upper cabinets), you'll point it to the back of the gun. Basically, you want the opening of the suction tube to be pointed towards where the paint will be pooling when you tilt the gun!
2. Thoroughly mix your material (paint, stain, or poly), then fill the container to the desired level. The beautiful thing about Wagner paint sprayers is that you generally don't need to thin the material at all. I've never thinned my paint when working with either nozzle, and you should only need to thin it if you're working with a really thick paint or finish. If you do need to thin the material, be sure to follow the recommendations on the specific material you're using – most will have directions for how to thin listed right on the container!
3. Carefully screw the cup back onto the nozzle assembly, making sure to tighten it all the way.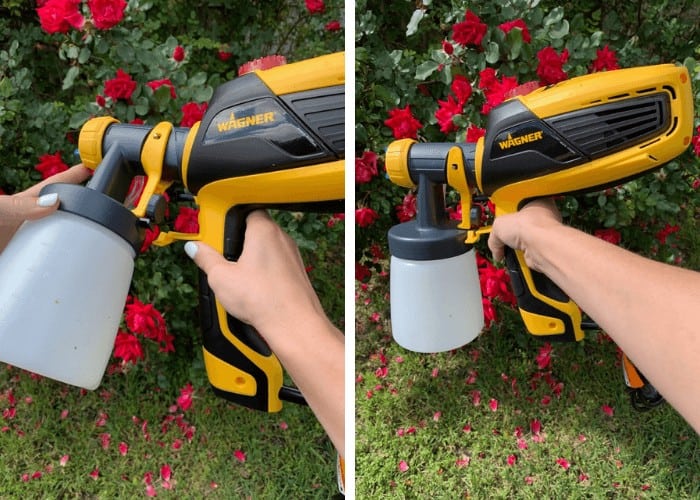 4. Now you're ready to attach the nozzle assembly to the turbine. Align the arrow with the "unlock" symbol on the turbine, then push it into place and twist towards the "lock" symbol. You should feel a click as the tab below the trigger locks the two pieces together. Now, you're ready to go!
Adjust your settings
Before you get started spraying, you'll want to check the settings on your sprayer to be sure you are set up for optimal performance. Again, I'll remind you that if you're struggling with this the instruction manual will be your best friend. No matter how long I've been using a sprayer, I still find myself pulling it out on occasion to remind myself what settings I should be using! To some extent, there is a bit of trial and error when it comes to the settings – you'll learn what materials do best with what settings over time, and you'll learn how to fine-tune things as you work. But, to get you started, here are some general guidelines.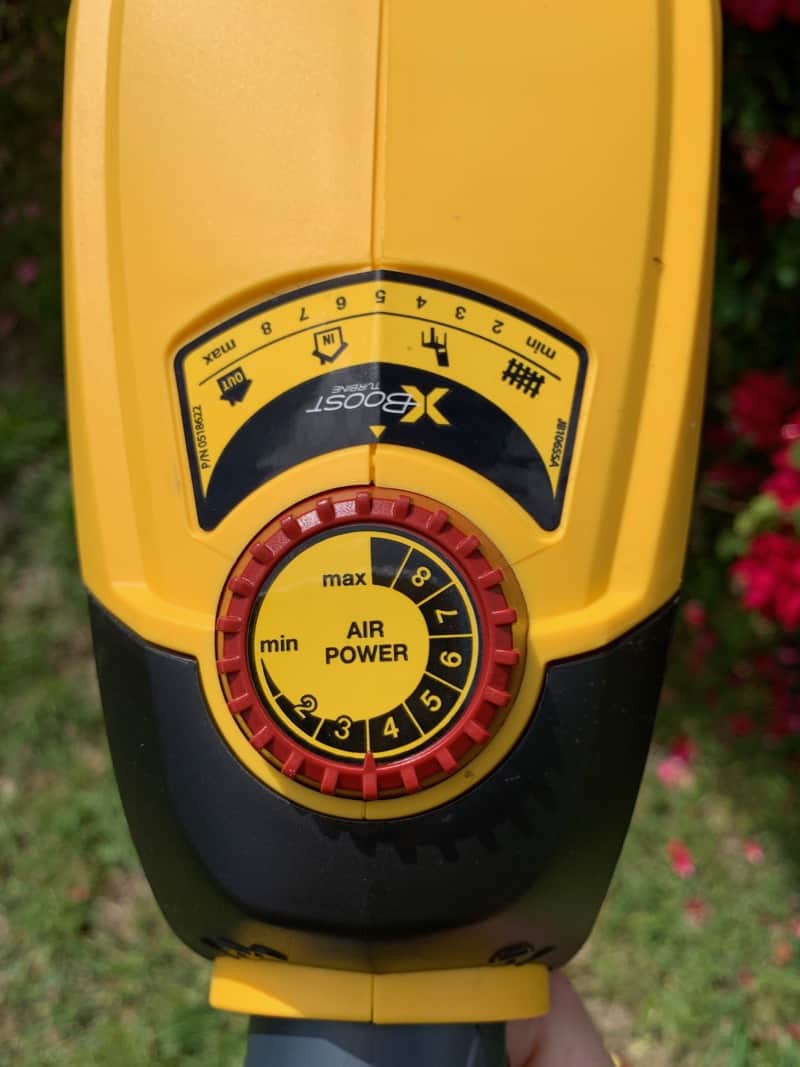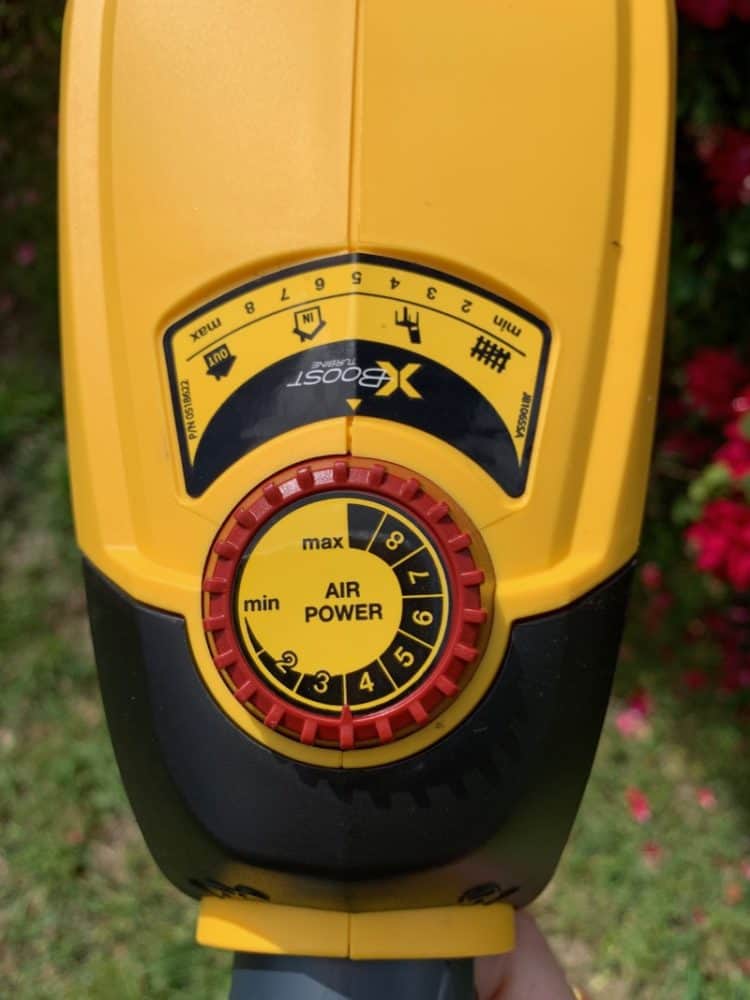 X-Boost Power Dial
This dial adjusts the level of pressure produced by the spray gun. A high air power level will give you faster coverage and a smoother finish with thick materials. A lower air power will give you larger drops of material coming out of the gun, which will give a slightly rougher finish. The thicker your material, the higher you'll want the turbine power to be!
If you're working with a thin material (like stain), you'll want a lower air power – when you have the air power too high with a thin material, you get more overspray. If you need a reference, there's a handy chart in the instruction manual that shows you exactly what air power level you should use for different types of materials. For most projects, I keep my air power around a 7 or 8 (out of a possible 9).
Material Flow Control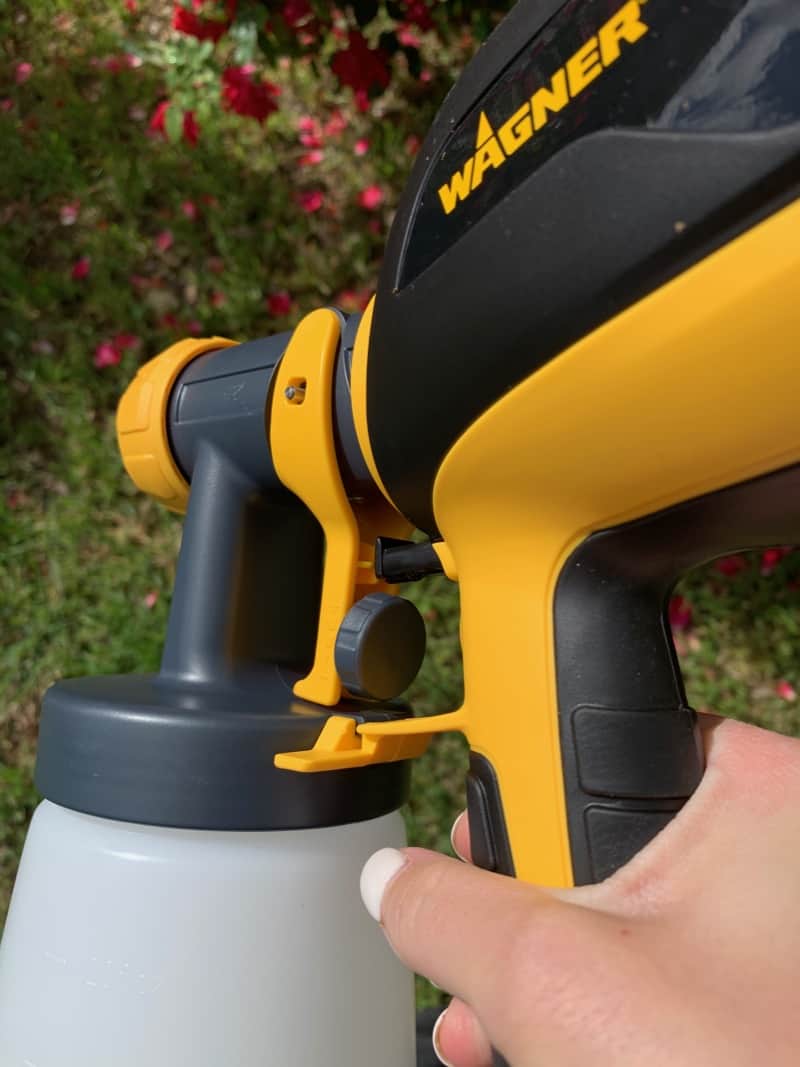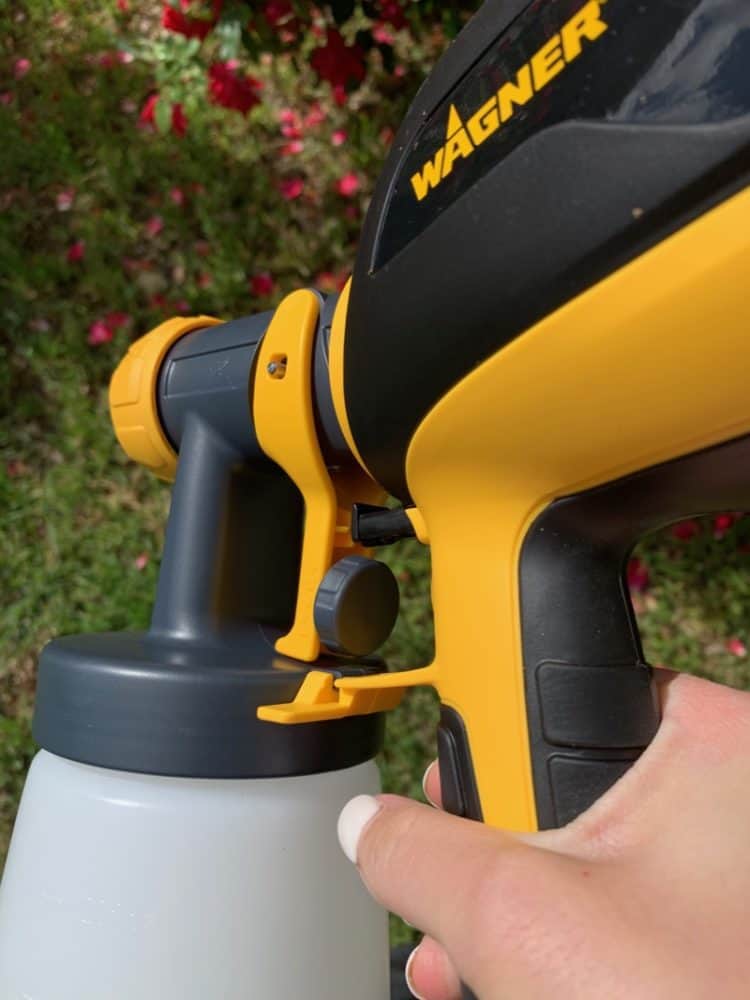 Next, you'll want to adjust the material flow – this is the amount of material that actually comes out of the gun. If you're working with a thicker material (like paint), you should start with the highest setting and gradually decrease it until you find the sweet spot. With thin materials, like stain, you should do the opposite – start at the lowest setting and increase it until you get to the right level.
With higher material flow settings, you'll need to move faster to avoid drips in your spray pattern – when you've got the maximum amount of material coming out, you'll quickly start to get drips if you aren't moving your arm fast enough.
This setting is adjusted with the red knob on the trigger of the spray gun, and it basically just adjusts how far back you can pull the trigger. As you're working, if you notice your paint is running and tripping, you should reduce the material flow. If you notice that you aren't getting enough coverage, you should increase it.
Spray Pattern Adjustment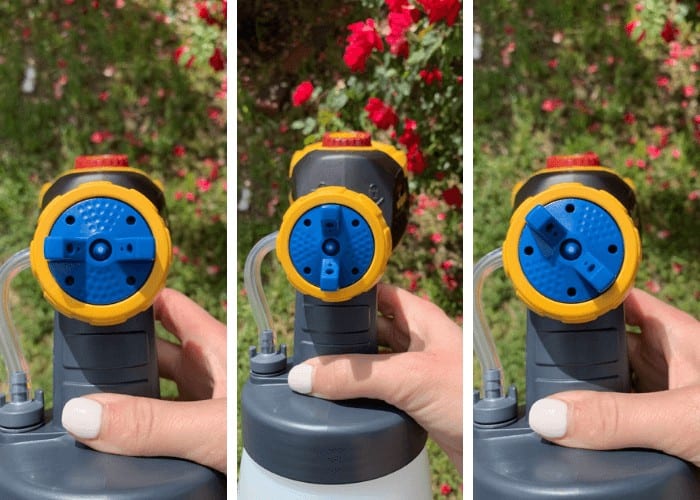 Finally, you need to adjust to your desired spray pattern. For the Detail Finish Nozzle, you adjust the spray pattern by twisting the air cap ears, and on the iSpray Nozzle you adjust it with the adjustment ring.
You have three options: a horizontal pattern, a vertical pattern, or a diagonal pattern. This is mostly a personal preference thing, and you can play around with what works best for each specific project. Sometimes you'll need to adjust the pattern as you work if you're moving around a lot and needing to get to the project from different angles. Generally speaking, if you're using an up and down spraying motion you'll use the horizontal pattern and if you're spraying side to side you'll use the vertical one. The diagonal pattern is typically just used for really small areas, or for corners and edges.
If you're doing a larger project with the iSpray Nozzle, you can also adjust the spray width – which is just how wide the spray pattern is. It's pretty intuitive – you want a wider pattern for large surfaces, and a narrow pattern when you're working in a smaller space.
Clean and prep your space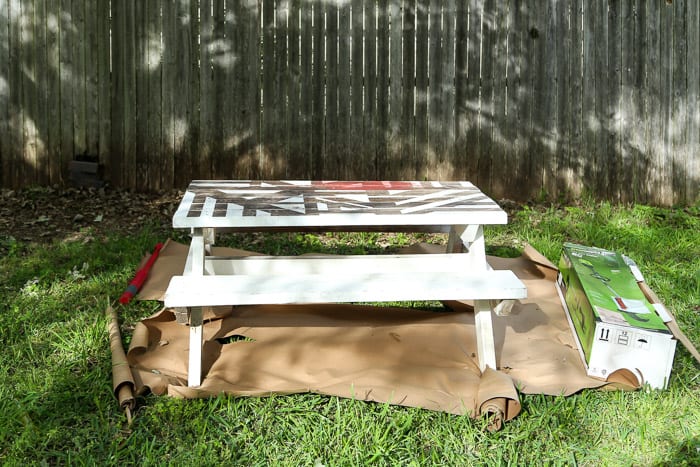 Anytime you're painting anything, you have a little prep work to do. It's the least fun part of any project, but it's also one of the most important!
With a proper technique and settings you will have minimal overspray, but some is unavoidable. If you're working inside, be sure to cover up furniture , floors, etc. and if you're working outside be sure to work in an area that can get a little messy – I always like to lay down a scrap piece of plywood or some cardboard to protect the ground.
You'll also want to thoroughly clean your surface before you get started. I power washed the table I was going to paint, then allowed it to fully dry before painting. If you're painting walls, give them a quick wipe down to make sure there isn't any dust or gunk on them.
It's time to spray!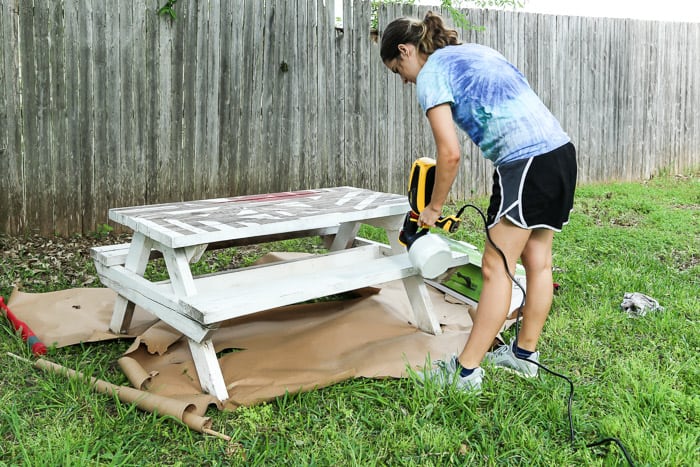 Alright, now that we've got everything all set up and adjusted and our surfaces are clean and dry, we're ready to get to spraying. It's always recommended that you test your settings and spray pattern before you start working on the actual project – your Wagner Spray Gun will come with a poster that is meant for this purpose, and it's a great way to get comfortable with the sprayer before you move on to actually painting something.
Here are a few basic tips on paint sprayer techniques:
Keep your arm moving. If you aren't constantly moving the gun as you spray, you'll get drips and runny paint. Remember that as long as the trigger is pulled, paint is coming out of the gun! It's similar to using a can of spray paint – you shouldn't pause or linger in one spot, and you should always have your arm moving as you work.
Activate the turbine before you start spraying. If you just partially pull on the trigger, the turbine will be activated but no spray will come out – you should generally do this to start the turbine before you actually start spraying. It's a small detail, but it helps you have a smoother finish in the end!
Get closer than you'd think! The biggest tip I have is to get much closer to your project than you'd think you should. Your spray gun should never be more than 6-8 inches away from the project. This drastically reduces the overspray and gives a better finish overall.
Spray parallel to the project and keep your strokes smooth and even. Try to move at a relatively consistent pace, and don't flex your wrist while you're spraying – you should move your entire arm across the project as you work!
Always start with a thin coat! You aren't looking for perfect coverage the first time. Most painting projects require two coats anyways, so you should stick to a nice thin coat the first time around, and once that dries your second coat can be (slightly) heavier.
Overlap your spray passes. Again, just like with using a spray can, you should overlap each pass by about 50% or so. This gives you better coverage and reduces your work on the second coat.
Periodically clean off the nozzle tip. Finally, as you're working it's a good idea to clean off the nozzle tip every once in a while. Since the paint is so fine coming out of the gun, it can dry really quickly on the nozzle tip and cause issues with your spray pattern. Don't get too caught up in this, but do wipe it off with a cloth every now and then to remove any dried paint. You should especially do this if you step away from the project for any length of time!
Clean it up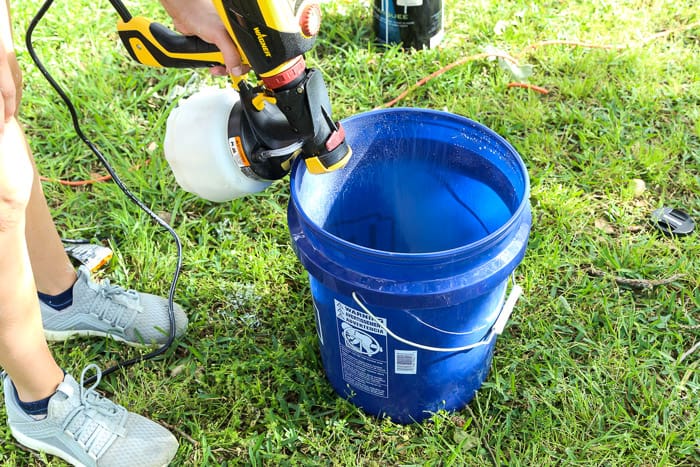 Now for the part that I think is the most intimidating for most people. I can't tell you how many people have told me that they would love to use a paint sprayer but the cleanup just seems too overwhelming. I promise you that it's really not that big of a deal, and the slight additional work during cleanup is so worth the time you'll save while painting! Plus, Wagner does a beautiful job of making sure their products do a lot of the work for you when it comes to cleaning up – you'll be surprised at how simple it is!
Before we dive in, a quick note: you should always use the appropriate cleaning material for whatever you were spraying. If you were using latex-based materials (which is the vast majority of what I work with) you just need warm, soapy water, and if you're using oil-based materials you'll need to clean with mineral spirits.
The first step is to flush the unit of extra paint. Unplug the power cord (vital first step!) and loosen the material container a bit to relieve some of the pressure. Then, pull the trigger on the spray gun – this will allow any of the material remaining in the spray nozzle to flow back into the container.
Once you've done this, you can fully unscrew the material container and pour any remaining paint or stain back into their original container to be used later.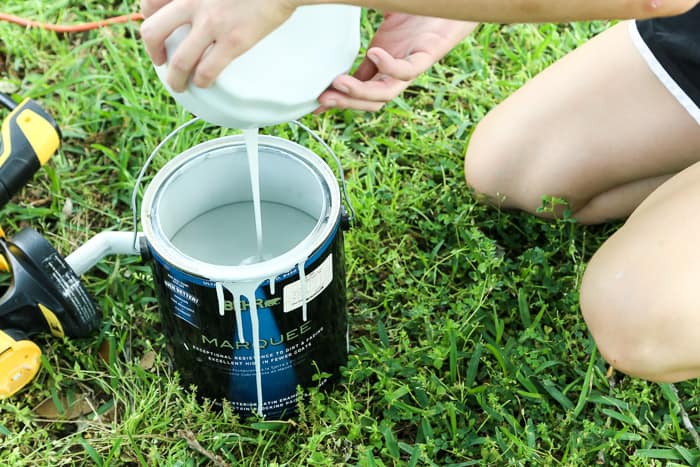 Next, you'll fill your container partway with your cleaning solution. If you're using soapy water, fill it up about halfway, and if you're using mineral spirits, fill it up about a quarter of the way.
Re-attach the material container to the spray nozzle and plug it all back in. Then, move to a safe area (I recommend going outside and bringing a five-gallon plastic bucket to spray into) and spray the cleaning solution until it's empty. Shake the spray gun just a little to help get off any stubborn parts. Then, repeat the process of unplugging the system, partly opening the container, and pulling the trigger to release the extra material.
Note: If you're working with mineral spirits, you'll need to repeat this process one more time! Oil-based products can be really sticky and hard to clean, so doing this process one more time will ensure you get your gun totally clean.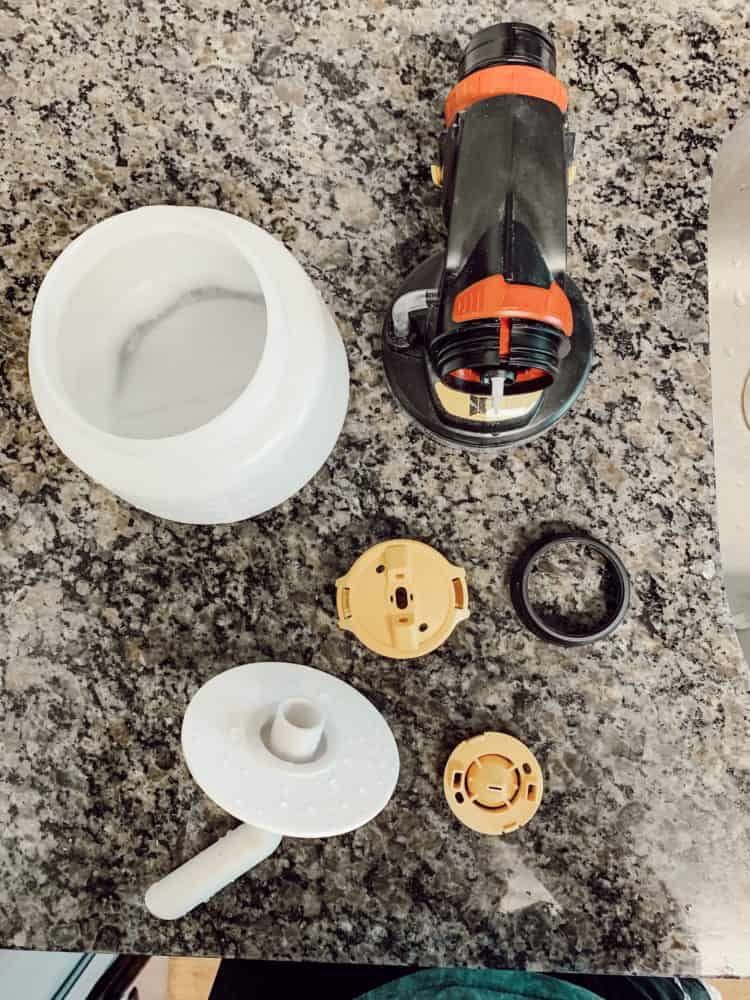 Next, you need to thoroughly clean the nozzle. Separate the nozzle assembly from the turbine by pushing on the tab below the trigger and twisting to pull them apart. Wipe everything down, then disassemble the nozzle assembly.
The pictures in the manual do a pretty good job of demonstrating how to disassemble things, but here's a quick rundown:
Pull off the suction tube and set it aside (you'll clean it next).
Unscrew the yellow nut and pull off the air cap and the nozzle.
Then, remove the remaining parts – there are four total. You should have the yellow nut, the air cap (which is what you twisted to adjust your spray pattern), the nozzle, and the nozzle seal. Be sure all pieces are separate.
Clean all of the pieces thoroughly with soapy water or mineral spirits.
Note: If you're working with the iSpray Nozzle, you'll have a couple more parts to clean, like the adjustment ring!
Next, you're ready to clean the suction tube. Use warm water to get any remaining material off the whole thing, then be sure to specifically clean the air vent (pictured above). You don't want any dried paint left in here, as it'll affect the flow of paint next time you pull your sprayer out.
Finally, once everything is dry you can re-assemble it and put it back into the storage box until you need it again!
I'll also mention one more time that you should always bust out the instruction manual when you're cleaning! The directions are so incredibly thorough, and they have great graphics to help you stay on track. It's really helpful and will ensure you are always properly cleaning your spray gun.
Okay, now that we've walked through the basics of how to use a paint sprayer, let's answer a few common questions.
Frequently asked questions about paint sprayers
can I really use a paint sprayer inside?
Yes! As I mentioned above, if you're using the proper settings and spray techniques you'll have very little overspray. It's always recommended that you cover up the floors and any furniture in the room when using a paint sprayer indoors, but that's a minor extra step that won't take much time.
Do you use more paint with a paint sprayer?
The short answer? Yes. Paint sprayers do use a bit more paint as opposed to painting by hand, but I find that the time-saving benefits are more than worth the extra material.
What all can I use in a paint sprayer?
Latex and oil based paint
Latex and oil based primers
Stain
Lacquers
Polyurethane
Oil enamels
Basically, anything you might be painting with can generally be used in a paint sprayer! You can find more frequently asked questions on Wagner's website.
I hope this guide has been helpful to you and that it gives you the confidence to try using a paint sprayer on your projects around the house! I've got a lot of projects planned with my sprayers this year, so get excited for some ideas on how to use one!
If you can't wait, here are some of my favorite paint sprayer projects:
Project ideas for paint sprayers
If you have any ideas of projects you'd like to see with the sprayer, let me know in the comments and I'll see what I can do! Be sure to check out Wagner's website for more info on their sprayers and other amazing products.
Power Tools for Beginners Series
DIY GUides