How I Painted Our ENTIRE HOUSE EXTERIOR
If you've ever considered painting your house exterior, you know it's a big job! Learn how I painted my house in just a few days, and see my tips for how to paint a brick house.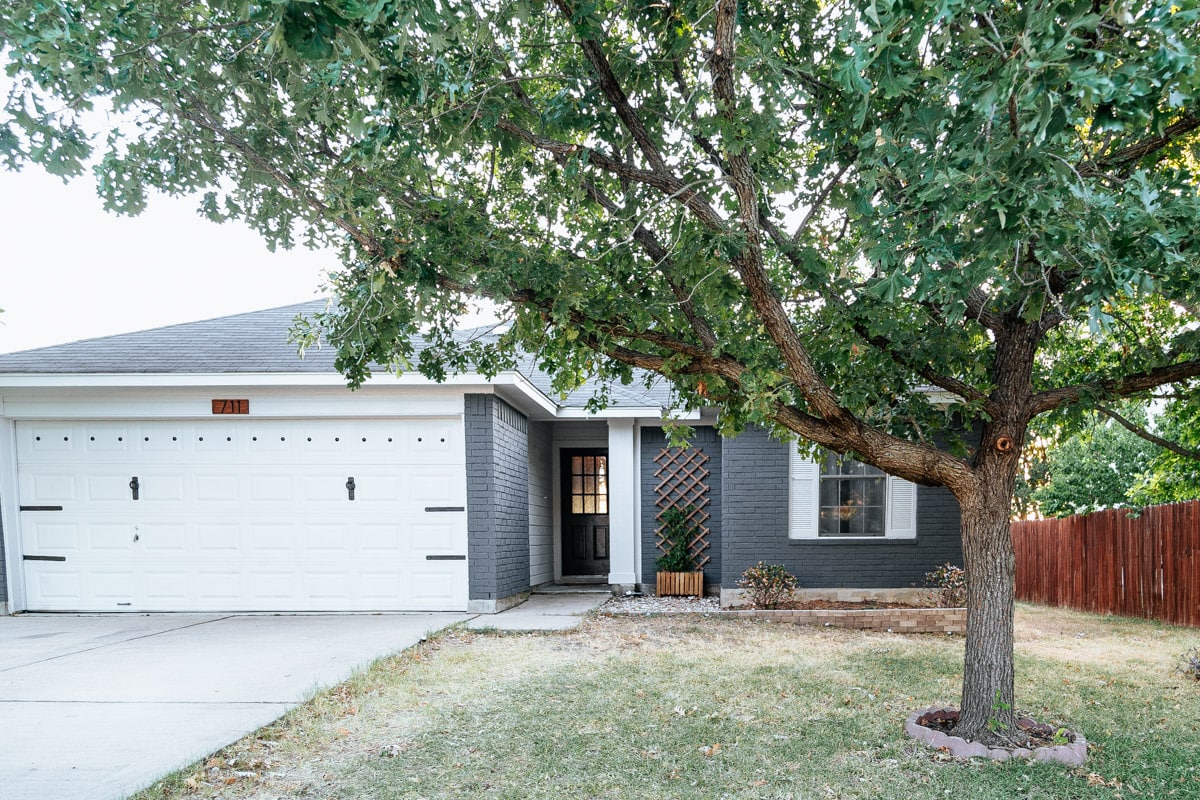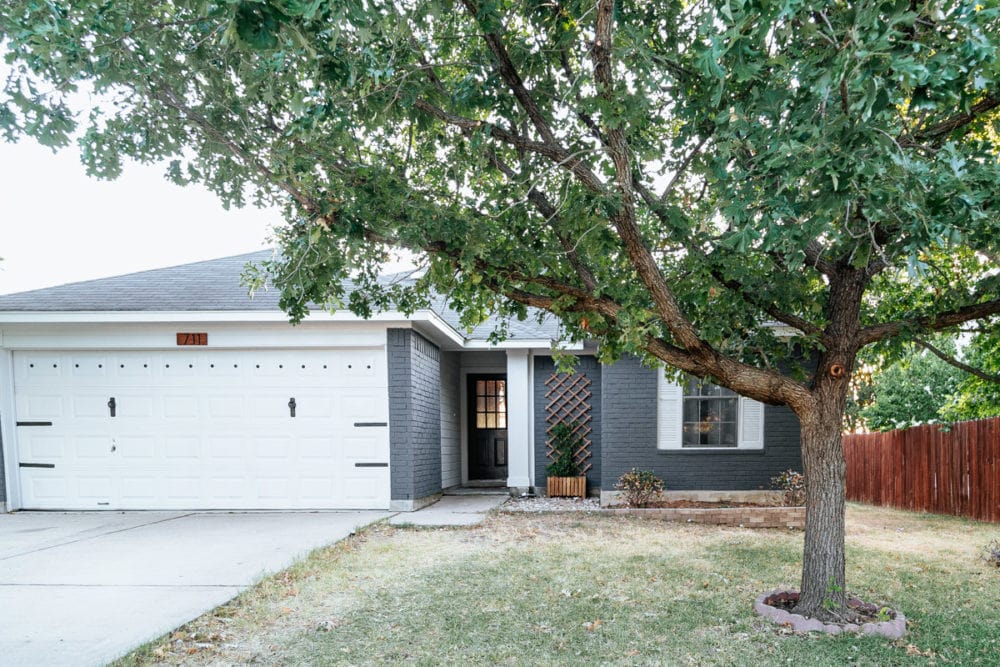 The big day is finally here, y'all. You've been waiting all summer long for me to finally paint the exterior of our house. After a few false starts, we finally got it completed and I can't even begin to tell you how excited I am that it's done.
As seems to be typical with these types of projects, I find myself asking why didn't I do this sooner?!
Because, my goodness, what a transformation!
Let's go ahead and get that first oh-so-satisfying before and after out of the way, because I know you won't be able to pay attention to a word I say until you see it. Here's the before…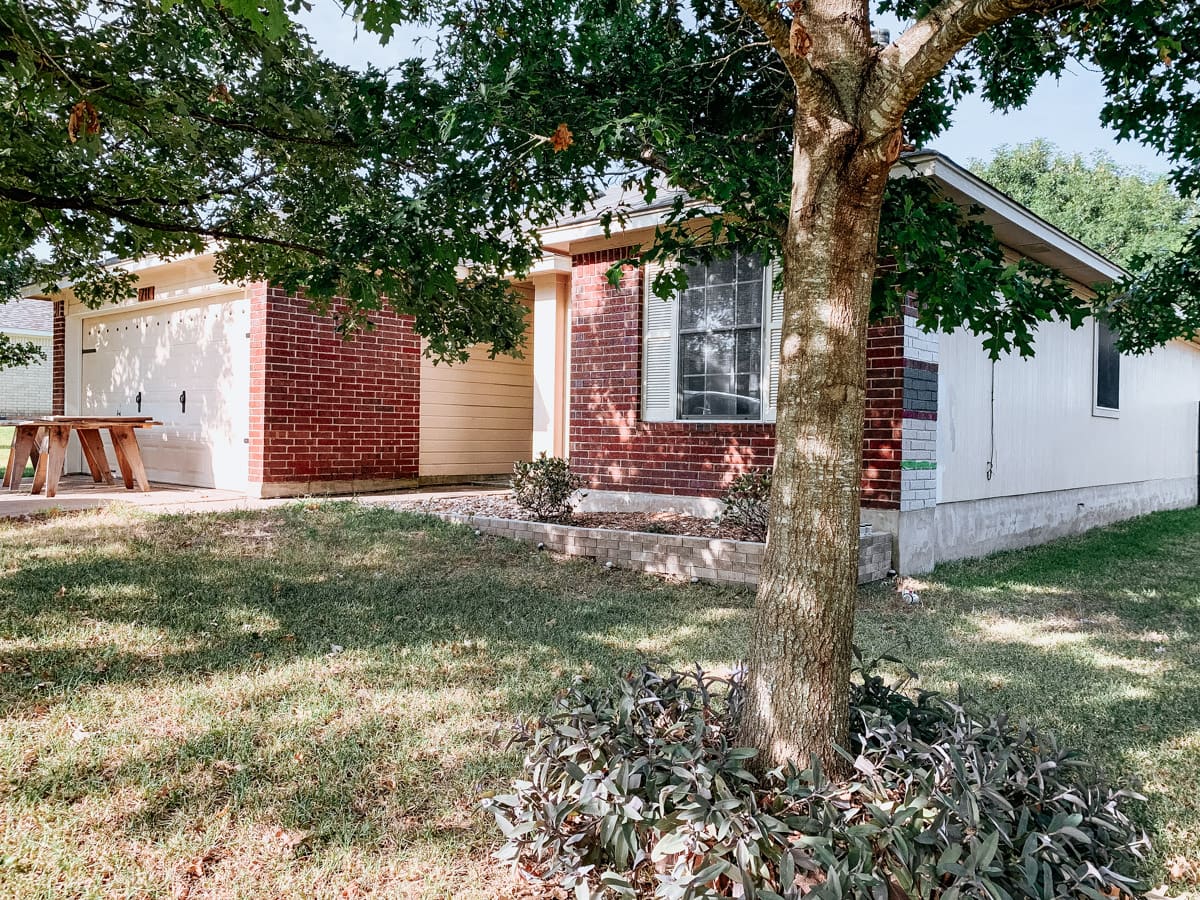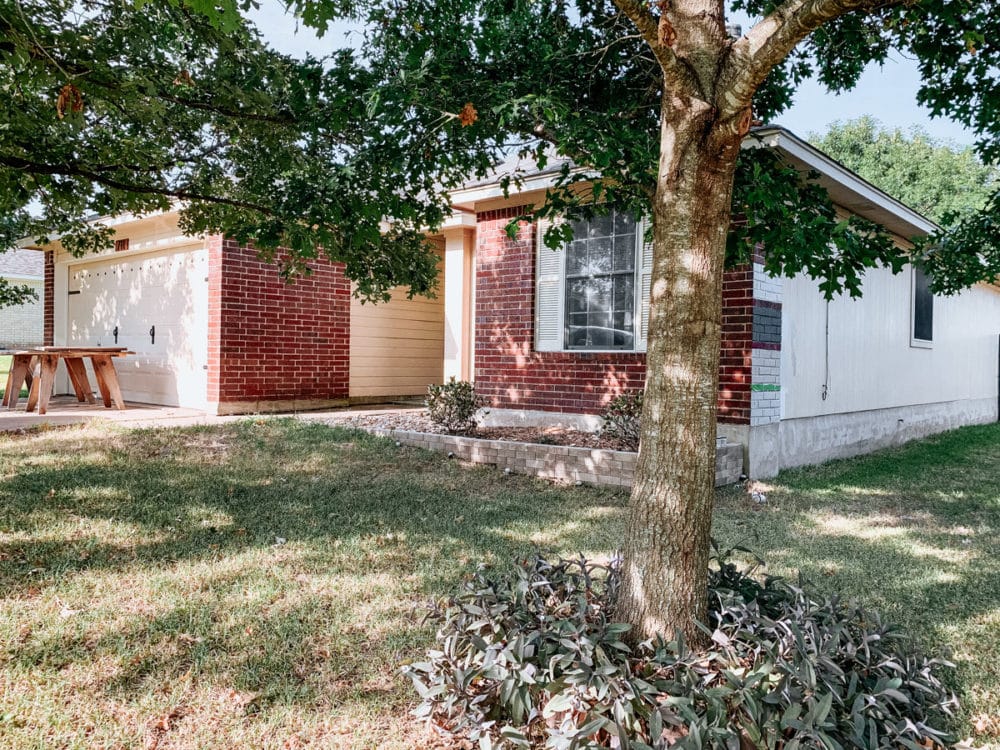 And here's the after: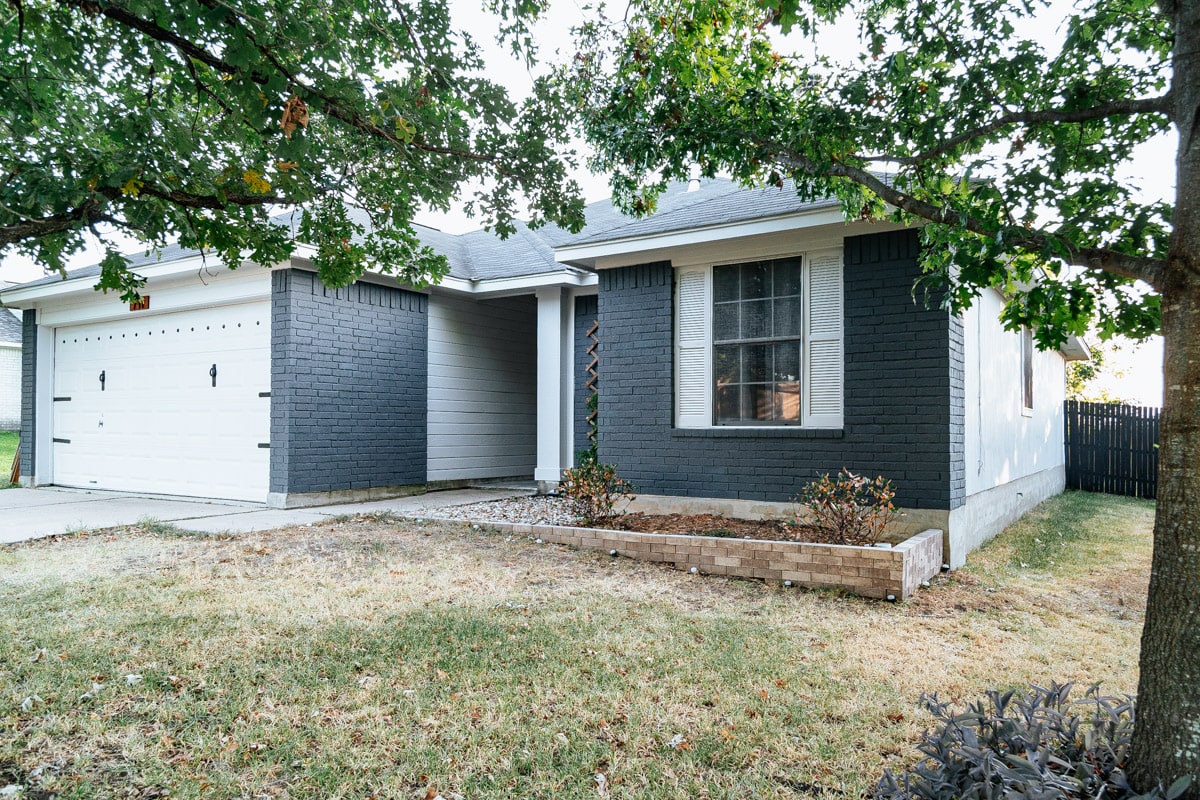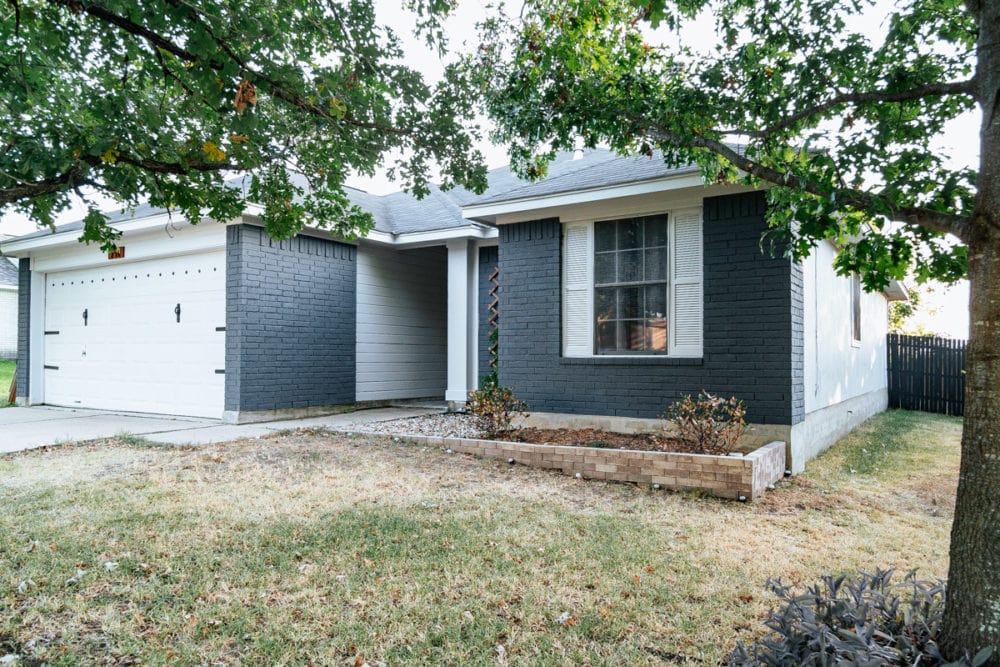 This post is sponsored by Wagner.
So! Good!
Today I wanted to break down all the details of what it's like to paint the exterior of your house, how much it costs, and my recommendations for making it go as smoothly as possible. It's a big job, and it's intimidating to tackle something like this on your own. But I promise it's 100% doable, even if you're not a super experienced painter!
I mean, this was my first time painting the exterior of a house and it worked out just fine! Sometimes you've just gotta dive in, right?!
How to paint a house exterior (SIDING)
Recommended tools and materials
Let's start with what I recommend you should use. Keep in mind, there are a ton of different ways you could approach this project, and I'm not a professional. But, this is what I used and it worked well.
For prep:
Pressure washer. You can also just use a hose and some elbow grease if you don't have access to one.
For siding:
For brick: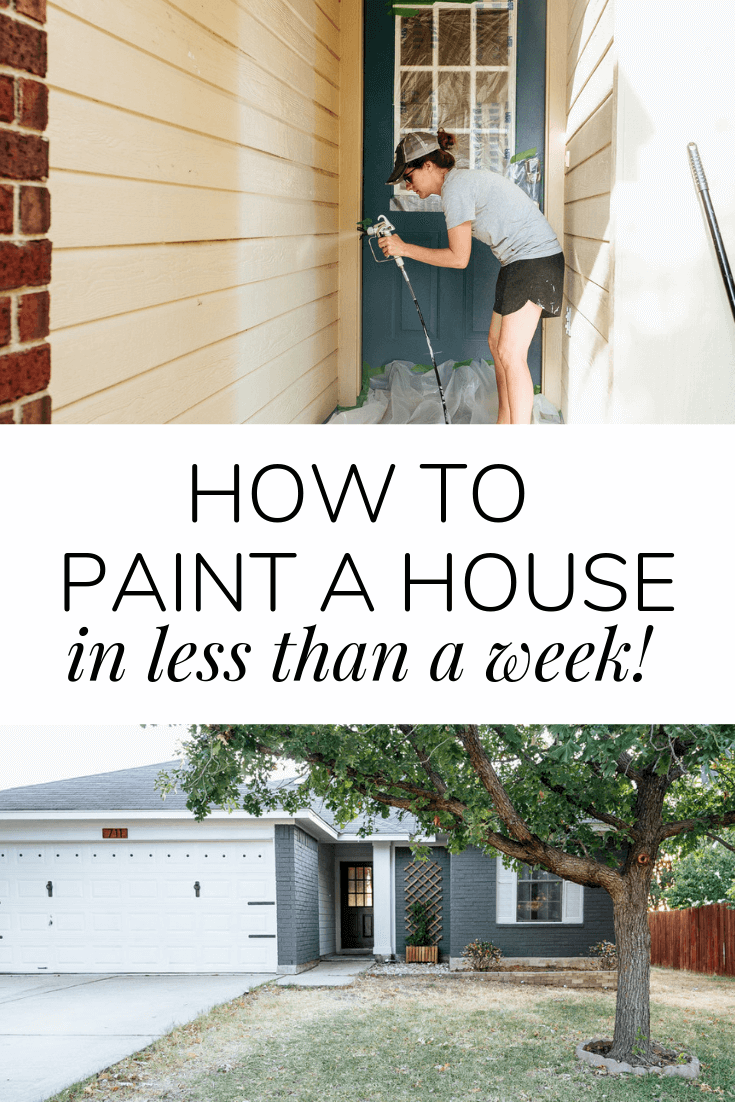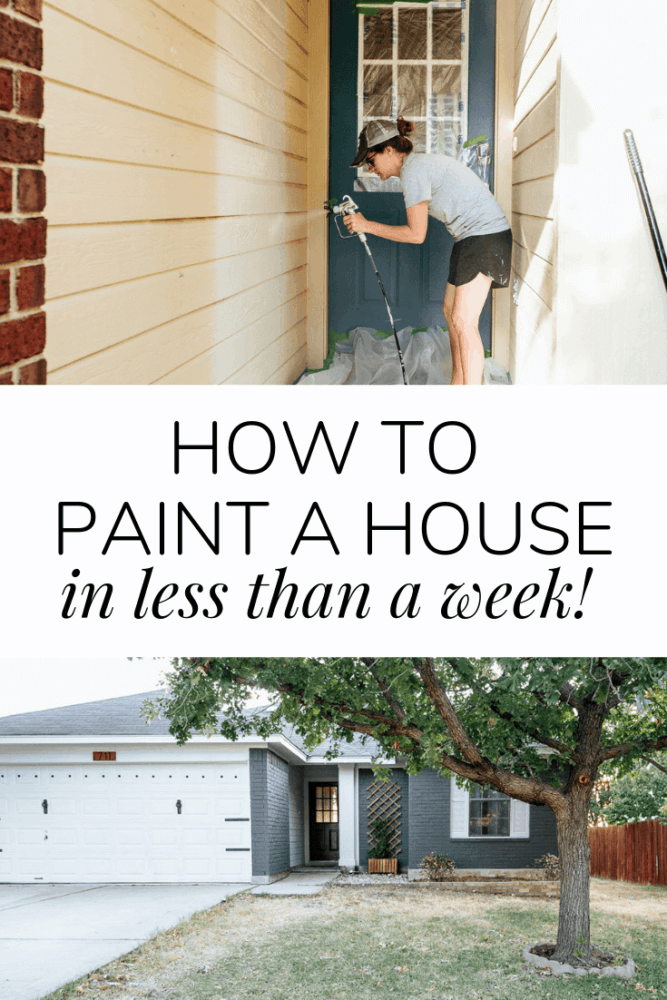 PREP WORK
Start by choosing a stretch of days where it won't be too terribly hot, there isn't any rain in the forecast, and you are able to totally dedicate yourself to working. It's incredibly hot here in Texas right now, so I only worked half days – if you're able to work the entire day, you'll get it done even faster!
The day before you plan to paint, go ahead and do some prep work on the house. You should clean the entire house (I recommend power washing it) thoroughly, and give it at least 12-24 hours to dry before you paint. I also went around the house with a caulk gun and a sanding block to take care of any little cracks in the siding or peeling paint.
If your siding needs dramatic repairs, I suggest you call in a pro. I'm more than comfortable making a few small repairs here and there, but if siding needs to be replaced or patched, it's generally best to let a professional handle it.
Painting the siding
Once your repairs have been made, and everything is fully dry, you're ready to paint!
I used my Wagner ControlPro 130 to paint all of the siding on our house. It's a high-efficiency airless sprayer, which is just a fancy way of saying it doesn't have a big motor attached to it like my handheld sprayer does. It's meant for big, exterior jobs and you first saw me use it when I painted our outdoor shed. It claims to reduce up to 55% less overspray than traditional airless sprayers, and I can really testify to this. I was shocked at how little overspray it left, and it really made cleaning up a lot less of a chore!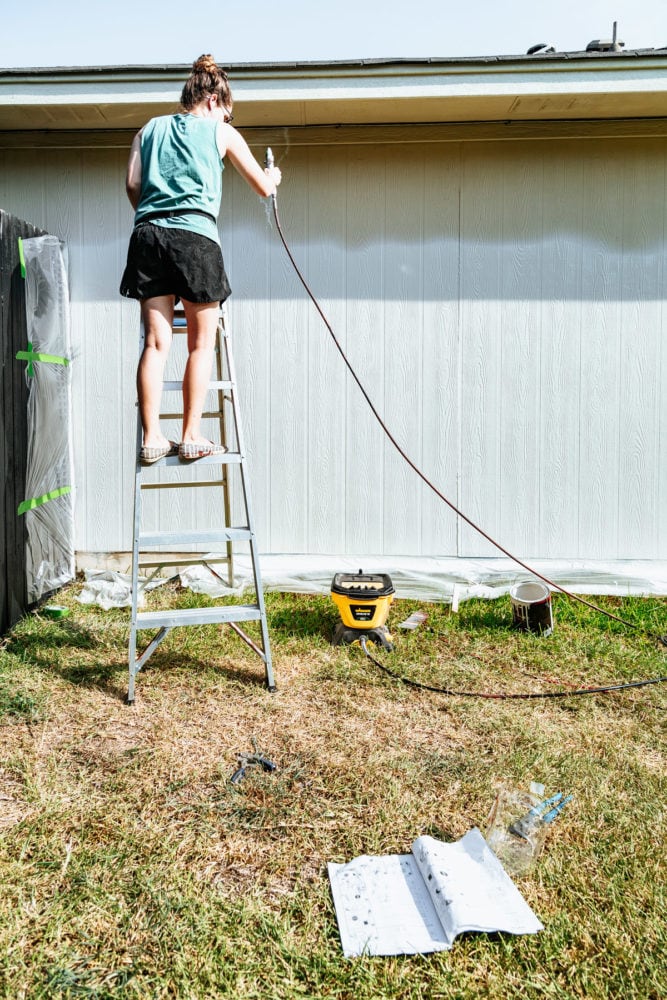 I gave a pretty detailed look at how to set it up (and how to clean it once you're done) over on my Instagram stories, so be sure to watch the House Painting highlight if you'd like to see it in action!
Here's what the steps to painting our siding looked like:
I worked one side of the house at a time – so, instead of prepping the entire house at once (which felt overwhelming – and boring, if I'm being honest), I just chose a side to work on first and did that side from start to finish. Then, I moved on to the next. It also helped to break things up a bit if I needed to take a break for lunch or stop for the day. I could just finish that side and I had a natural stopping point.
Start by taping off the foundation and any windows or other things that won't be painted with the Scotch Blue tape that has a dropcloth attached. I found that I often needed to also grab my Frog Tape to help it fully adhere, especially to the concrete. The blue stuff just didn't want to stick (which is why you also need to grab yourself some Frog Tape)! This is the most tedious and annoying part of the project, especially when you're so antsy to just get on with the painting, but it's worth it, I promise!
Once your wall is fully prepped, grab your sprayer and get to work! Wagner's instruction manuals are always incredibly thorough and well-written, so I won't break down every step of the process. But once your sprayer has been assembled, you literally just pour your paint in the tank and pull the trigger to get started. You'll be amazed at how quickly you're able to knock out an entire wall, and how beautiful the coverage is!
After you finish painting one side, be sure to remove all of the tape before the paint dries. Your tape can peel up your paint if it's allowed to dry on there, so it should always be removed as soon as possible after you finish.
For parts of the house that have a lot of obstructions or are hard-to-reach, I found it was easiest to just paint by hand. So, for example, our back porch I did almost entirely by hand. I just painted right up to where the porch started on either side, then I grabbed my roller to knock that part out. I could have easily taped everything, but I didn't really feel like moving all of the furniture, taping the windows, and covering the plant wall – I think doing all of the prep work might have taken me just as long as it did to paint this little part by hand!
A few frequently-asked-questions
Did you need to prime?
I didn't. I used Behr's Marquee line of paint, which is a paint + primer in one, and I've never added primer underneath it. Keep in mind that some homes might need primer. If you're painting over a really dark color, or if there are a lot of deep stains on the house, it might be worth it to go ahead and prime. But, for a relatively well-kept home that doesn't have a dramatic color, you should be fine just using a high-quality paint and primer combo.
Do you need to do two coats?
It'll all depend on what color you're using and what color you're painting over. My two colors were very similar, so I was able to get away with just one coat. Generally, a paint sprayer is going to give you much better coverage than a roller will, and find that I almost never need a second coat when I'm using my sprayer on a wall! However, if you're painting a dark blue house white, you'll probably need to do a second coat.
Should you be back-rolling the paint?
Back-rolling is where you grab a roller after you've used a sprayer and go over what you've just painted to be sure the paint adheres completely. This is really only necessary with surfaces like brick or stone that have a lot of crevices that the paint may not get in. For siding, which isn't super textured, just spraying is generally perfectly fine!
Do you need to thin the paint?
No! With the Control Pro 130, there's no need to thin paint or stain. Simply pour it into the container as it is, and go for it. Best feature ever, no?!
How much paint did you use? Does the sprayer use more paint?
It took me about 4.5 gallons of paint for the entire house. And, yes – as a rule, you're going to use more paint when you're working with a sprayer. In my experience, I'd guesstimate a sprayer uses approximately 25% more paint than painting by hand. To avoid wasting paint, be sure to stand close to the surface you are painting (so the paint only gets on the wall) and avoid painting on windy days, which may blow away some of your paint as you work.
How long did it actually take?
Here's the breakdown of time spent on this project for me (keep in mind, our home is 1-story and 1,100 square feet – a larger home will take some more time):
Prep work + cleaning: About 1.5 hours
Day one of painting: 5 hours
Day two of painting: 7 hours
TOTAL: About 13.5 hours of work for the siding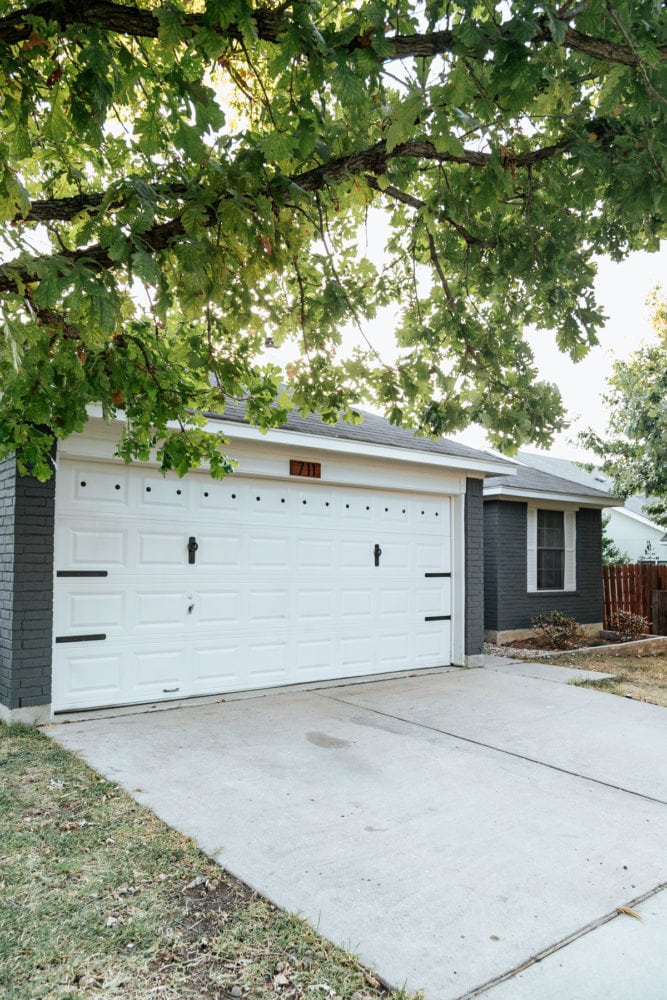 Now, let's break down phase two of the exterior painting job – painting the brick!
HOw to paint a house exterior (brick)
Prep work
Just like with the siding, you'll want to pressure wash the brick – but this time, you should do it immediately before painting! The brick should be damp when you apply the paint, and I found that (since it's so hot here), I only needed to let it rest long enough to drop dripping after I pressure washed it – a slightly more damp brick seemed to accept the paint a lot better. For this reason, I worked in sections.
Tips for painting exterior brick
I chose to use a masonry brush to do all of my brick by hand. I had a lot of questions on Instagram about why I wasn't using the sprayer, and there a few different reasons. First of all, by the time I started painting the brick we were having a pretty intense heat wave here in Austin (hello, August!) and the temperatures were a good 10 degrees hotter than when I painted the siding – subtle difference, but when the temps are over 90 degrees you really shouldn't be painting at all, much less using a sprayer. I worried that the tiny droplets of paint may dry as they were coming out and we wouldn't get an even coverage.
On top of that, I have such a small amount of brick on our house that I originally thought it would be more trouble than it was worth to tape it off. I was wrong – painting brick is very slow, and if I would have realized that ahead of time, I absolutely would have pulled out my sprayer! My recommendation is to wait until it's not too terribly hot in your area, then use a sprayer to apply the paint to your brick – and be sure to back roll it!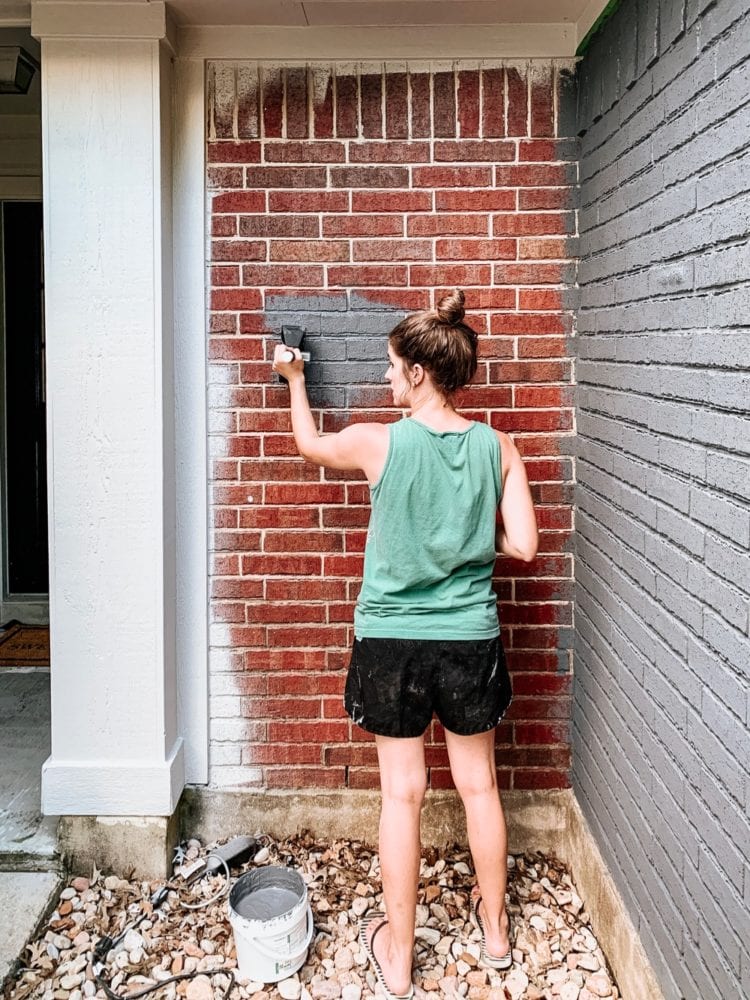 Romabio's paint recommends two coats, and no primer is needed for unpainted brick. I found that, similarly to painting a wall, the first coat looked kind of uneven and had me a bit worried, but the second coat is where it aaaaall came together. The trickiest part of painting brick is getting paint into all of the little grooves and crevices of the brick, so I recommend loading up your brush with more paint than you'd think you need – it was much easier to fully coat the brick when I applied it a little thicker than I would normal paint!
I found that this full tutorial over on Romabio's website (plus the videos on their YouTube channel) were really helpful in getting me feeling prepared, so I recommend checking it out if you're considering this project!
I was honestly surprised at how straightforward painting the brick was – other than the crevices in the brick, it was exactly like painting any other wall. Only, it was waaaaaaaay more satisfying because holy cow what a transformation!
I painted all of the brick over two days, working mostly in the evenings. It took about four hours to get the first coat on, and about 3 for the second.
Once all was said and done, we had a stunning new house and it was worth every single second of work.
Budget Breakdown
In our last home, it cost us about $5,000 to have some siding repaired and the entire house painted (just the siding, not the brick). You can click here to read more about that process. Here's the breakdown of about how much it cost to do it ourselves:
Paint for siding: $250
Masonry paint: $120
Paint sprayer: $200
Tape, brushes, etc.: $60
TOTAL: $630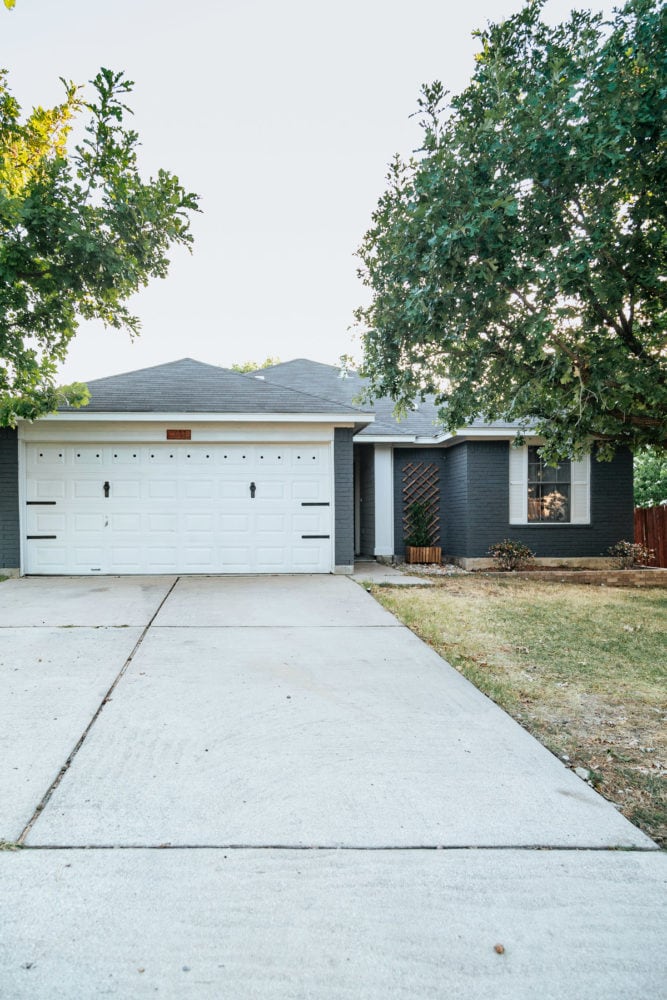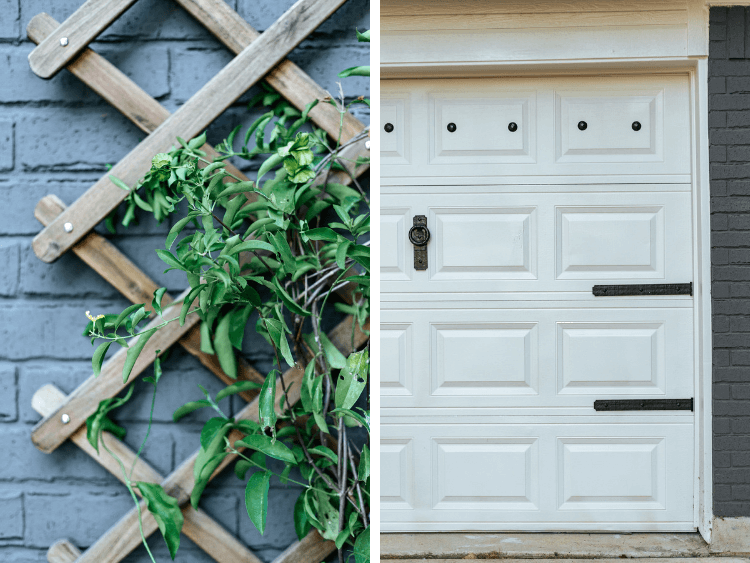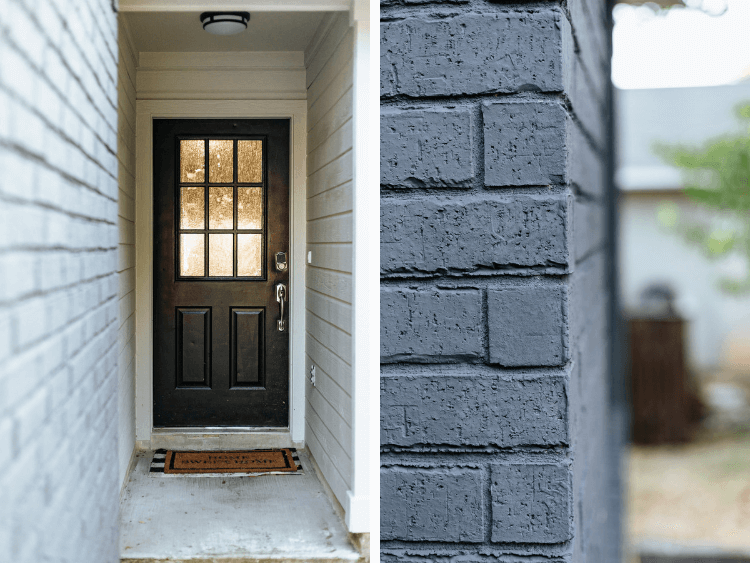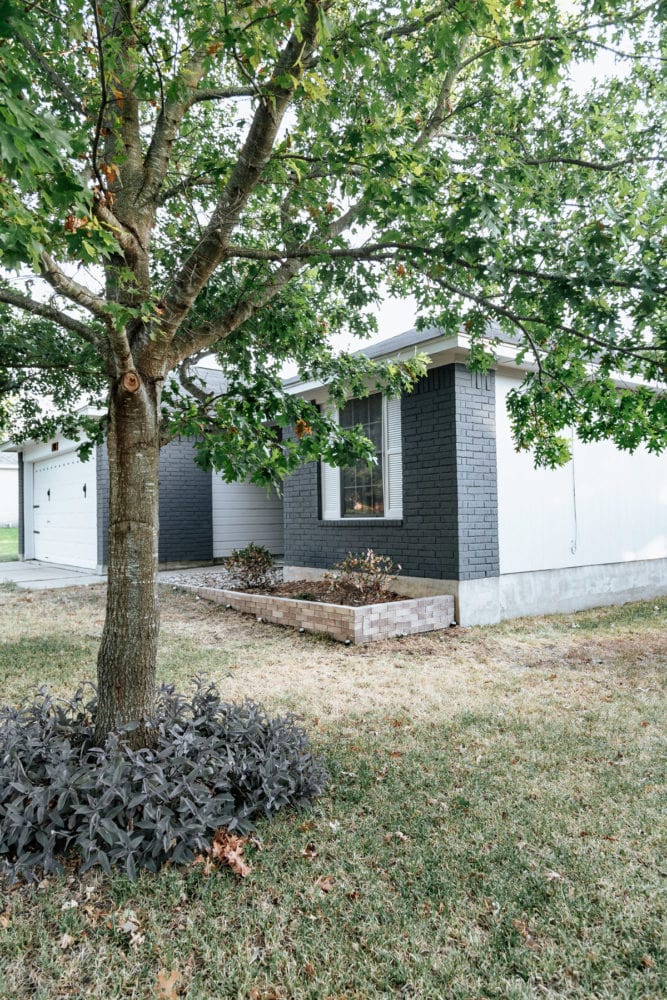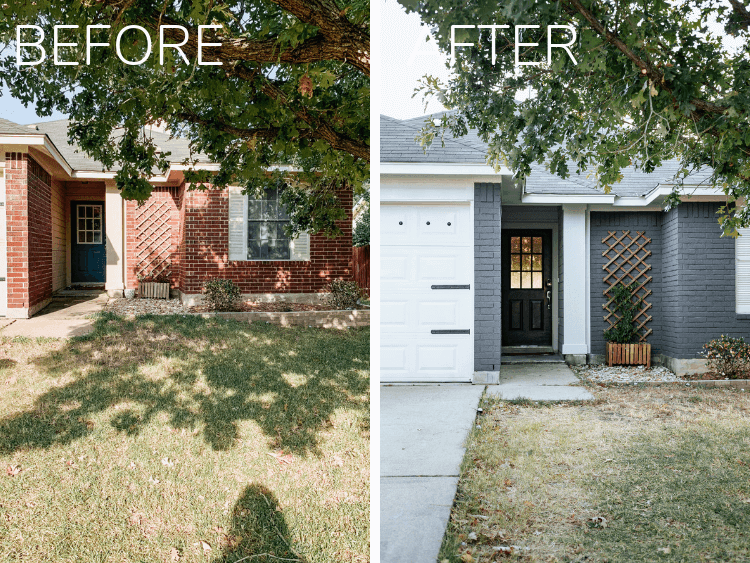 This was hands down one of the most satisfying projects we've ever done and I'm just so glad we decided to take it on! I think this fresh house color will make world of difference over the next few months as we work to sell our house, and I can officially say I pull into the driveway with a big grin every single day (rather than the slight cringe I used to have!).
Please let me know if you have any questions about how to paint your brick house (or how to paint siding), or if you have any questions about using an exterior paint sprayer. I'd love to help! And, if you're considering this project, don't forget to check out the Wagner ControlPro 130 – it's a fantastic choice for any DIYer, and it'll make your job much, much faster.
Other Exterior projects