We added a really fun and unique accent wall to our back porch, and I'm sharing the full tutorial today! I love how this living plant wall turned out, and it's a project I'd try again and again!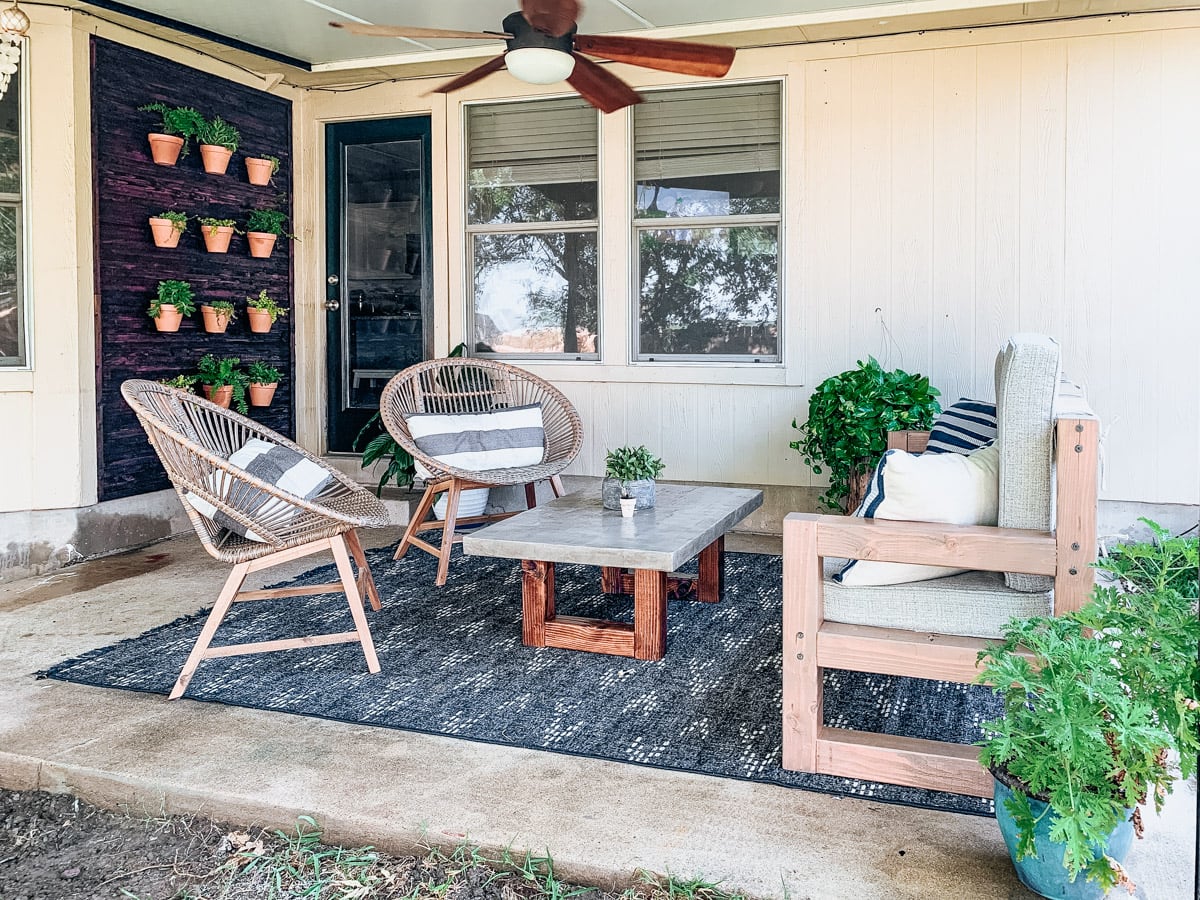 Friends! The last project in our big summer backyard overhaul is officially complete.
That feels good.
If you've been following along, you'll know that we have been on a mission all summer long to completely transform our backyard, and I think it's safe to say we accomplished it. I can't wait to share the big reveal (I'm hoping to get it up next week!), but for now let's focus on this fun little project. It came to us at the last minute, and I'm so thrilled with how it turned out.
We used to have some outdoor art hanging on this wall, but I wanted something a little more impactful and show-stopping. Corey had the idea to do a wood treatment on the entire section of wall and it kind of just grew from there – the next thing I knew we were hanging plants on the wall (as if I needed any more plants) and I was falling in love.
I mean, it doesn't get much better than this, y'all.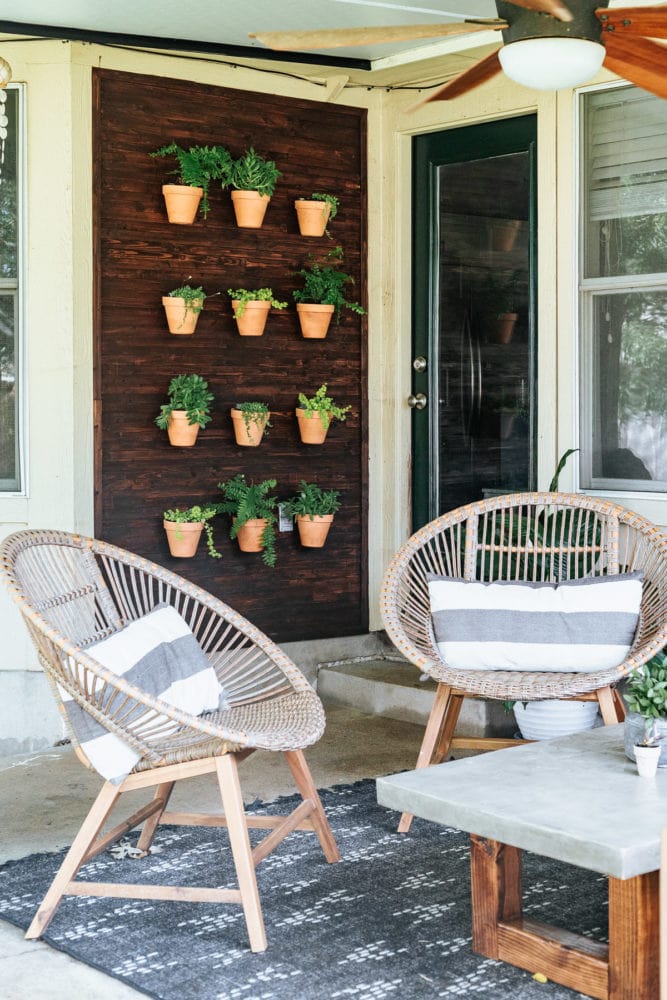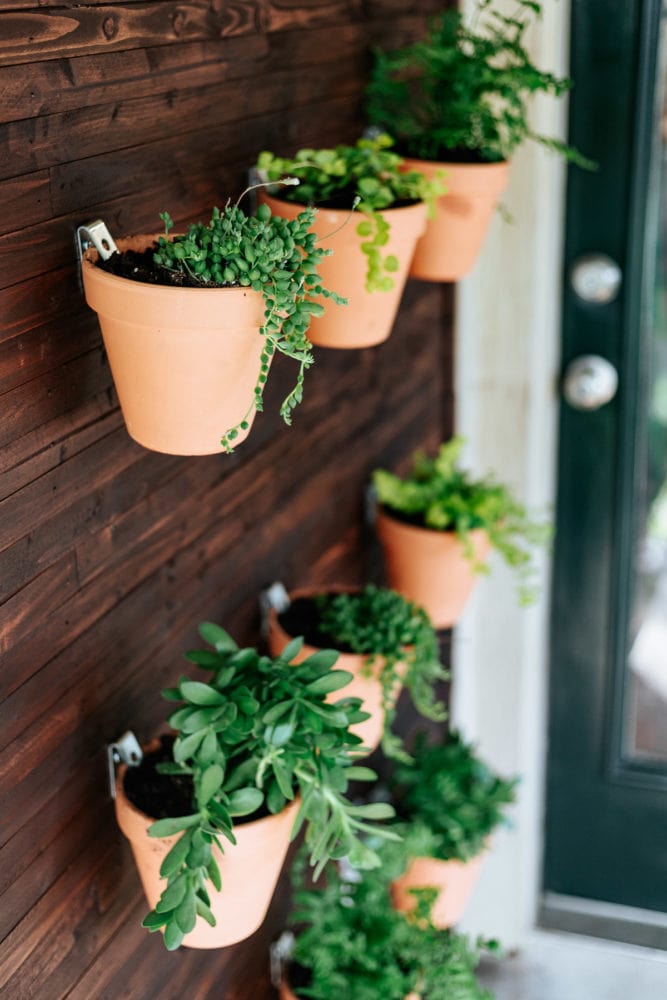 This post is sponsored by Wagner.
Yeah. I'm a fan.
Let's talk about how we did it because, y'all, this project might make a ginormous impact on our back porch but it was SO EASY to do!
How to Make an outdoor plant wall
Materials needed
4′ lath boards (I needed two boxes for our wall)
Wood glue
Power nailer + 2″ nails
Orbital sander (You could also just use sanding blocks)
Stain (I used Dark Walnut)
Terra cotta pots
Your favorite plants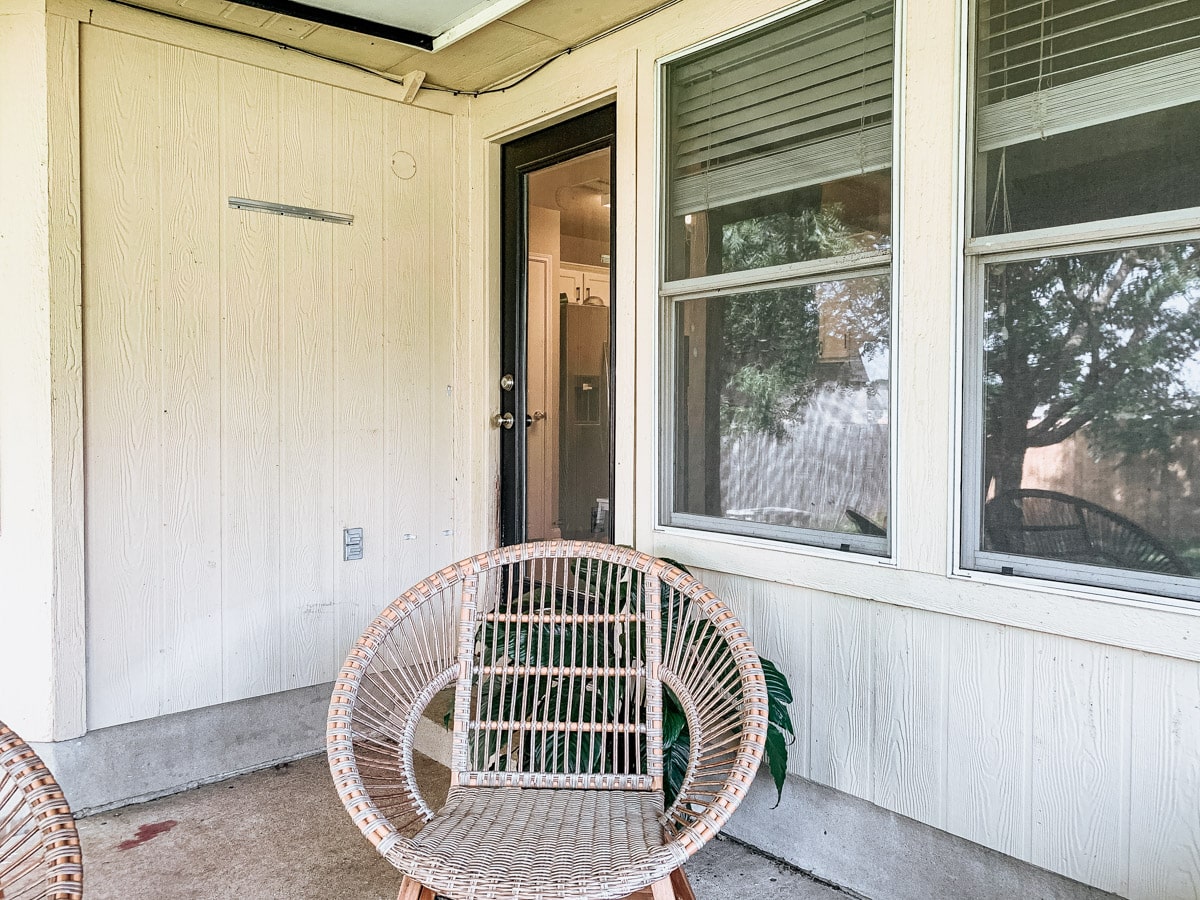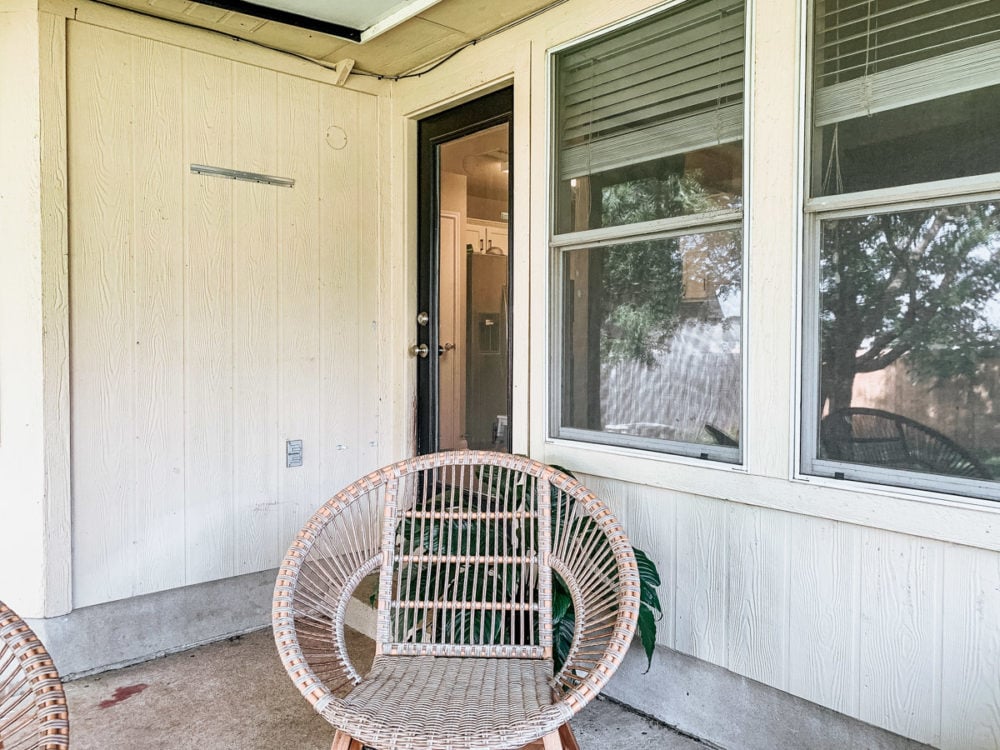 Here's a look at the wall we were working with before we got started. It's 84″X50″ and it felt like a big, blank intrusion on the space when it didn't have anything on it!
I started by installing the lath boards. These are really thin boards that are perfect for creating a "skinny lap" treatment, but be warned that many of them will come warped, and they'll need a lot of sanding. Thankfully, since they're so thin it's pretty easy to maneuver them into place, so the warping only matters if it's really bad.
To install the boards, I simply put wood glue on the back, then nailed them into place. I tried to nail into the studs wherever possible, since that'll hold up better over time. I staggered the starting boards so the pattern feels kind of random, and it took me about 1.5 boxes in total to get the whole wall covered.
You'll notice that I also added a border around all of the edges. I did it because I started on the bottom and ended up with a gap at the top of the wall, but I'm actually really pleased with how it looks, so I'm not complaining!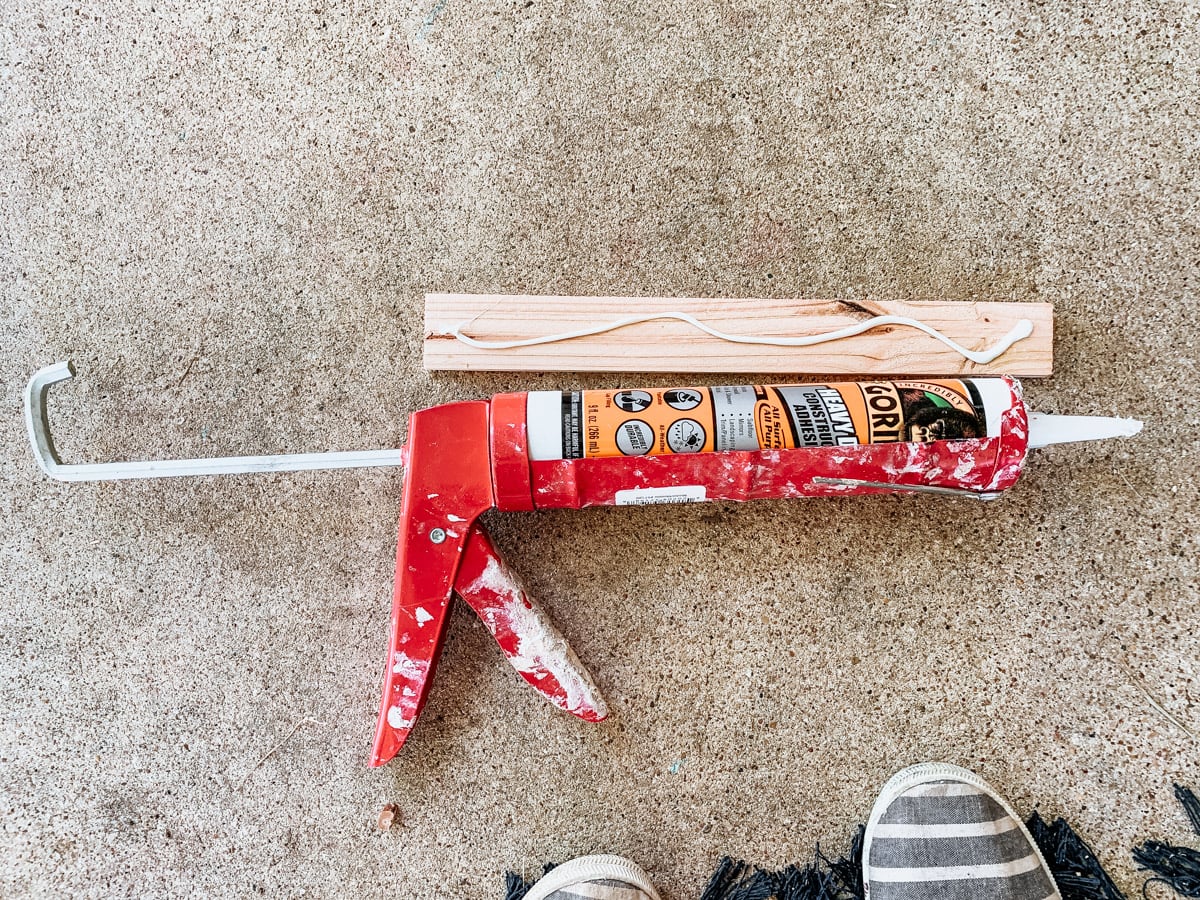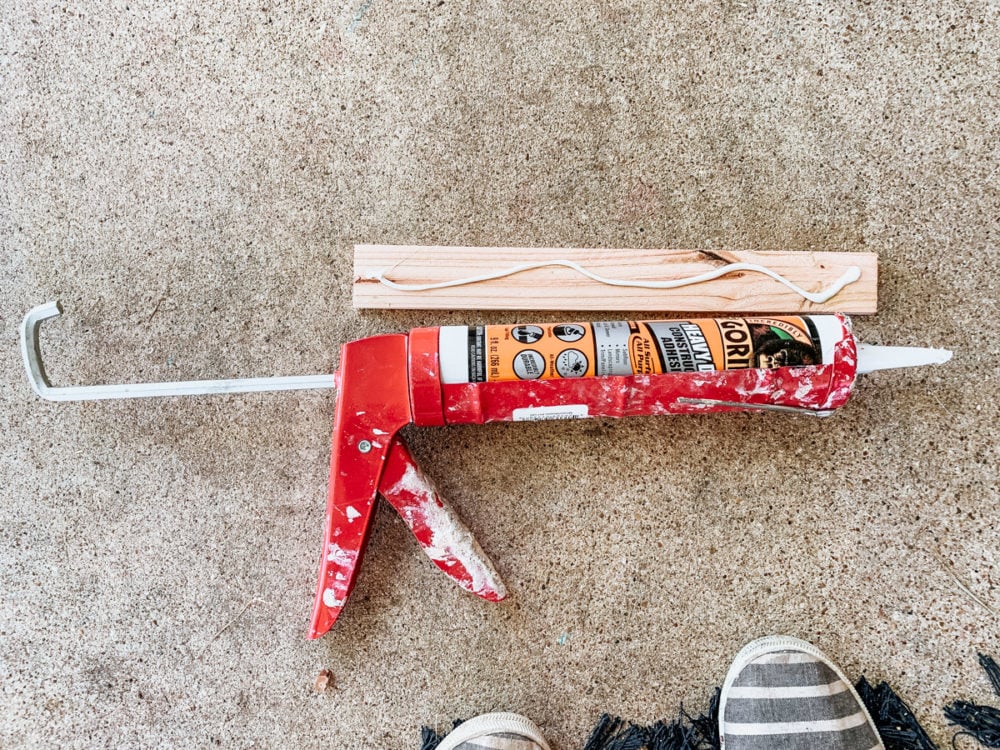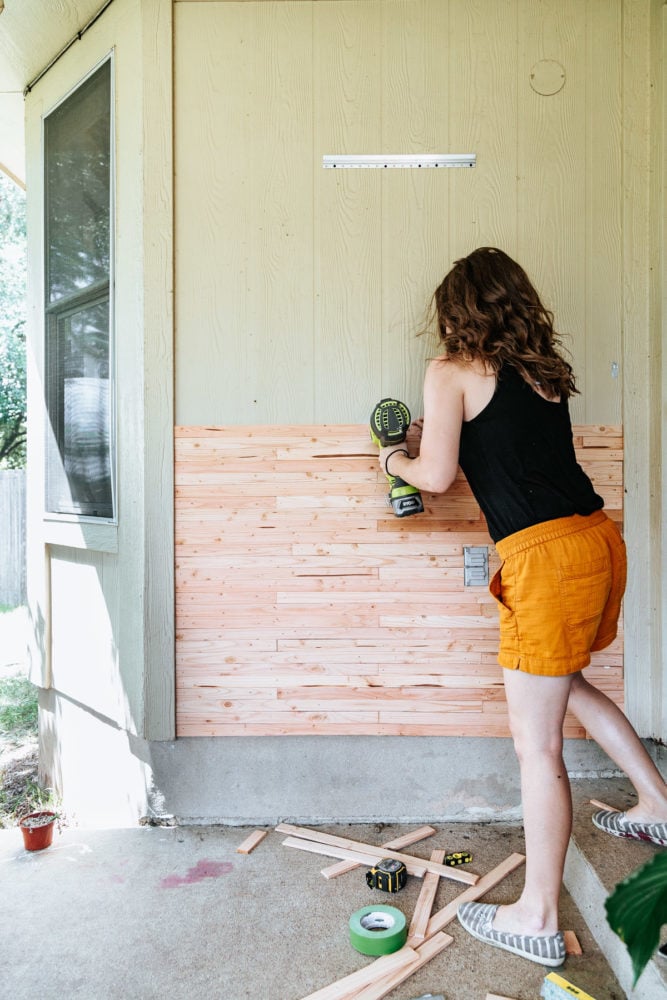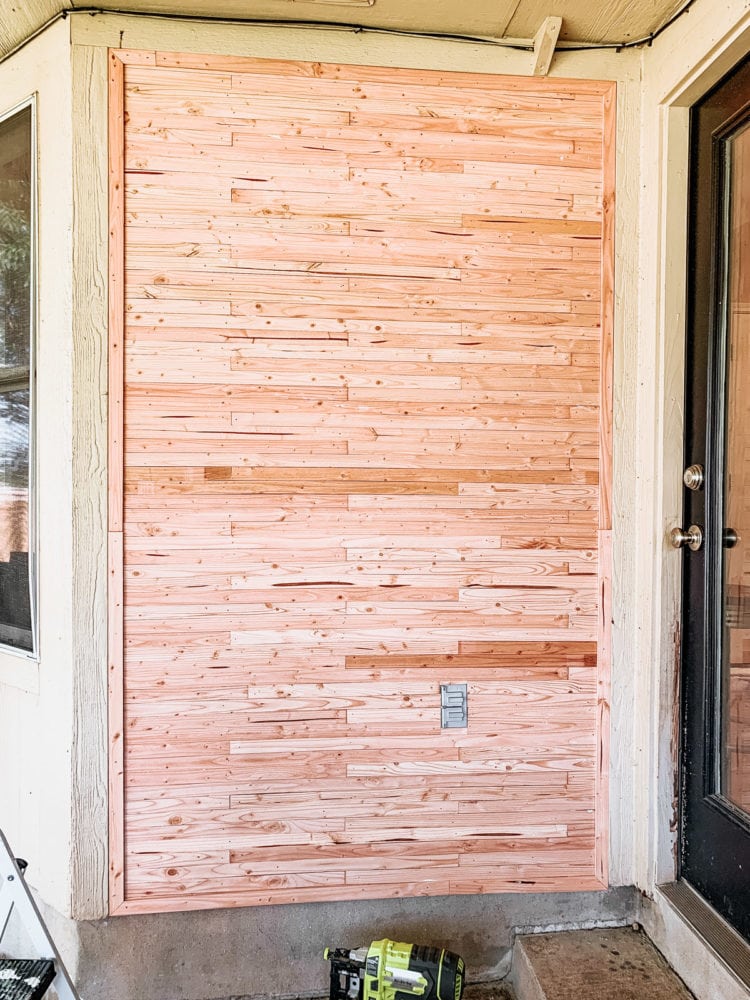 Once the wall was covered, it was time to stain it. I started by sanding it as well as I could – these boards are really rough, so while I didn't care if the wall was perfectly smooth, I also didn't want my accent wall to give anyone splinters.
I used an orbital sander (and I sanded with multiple grits, starting with 80 and ending with 220), but you could easily do it with plain ol' sanding blocks too.
After it was smooth (or, as smooth as it was going to get), it was ready for stain! I applied a pre-stain first – this helps ensure that the wood you're staining absorbs the stain more evenly and is a key step when you're working with cheap wood like this!
I chose to use my paint sprayer to stain the wall. It was notably faster than staining by hand would have been, and it's honestly the best way to stain rough wood like this. I used my Wagner FLEXiO 3000, and it legitimately took me about 3 minutes to stain the entire wall. It would have taken at least half an hour to get it all stained by hand!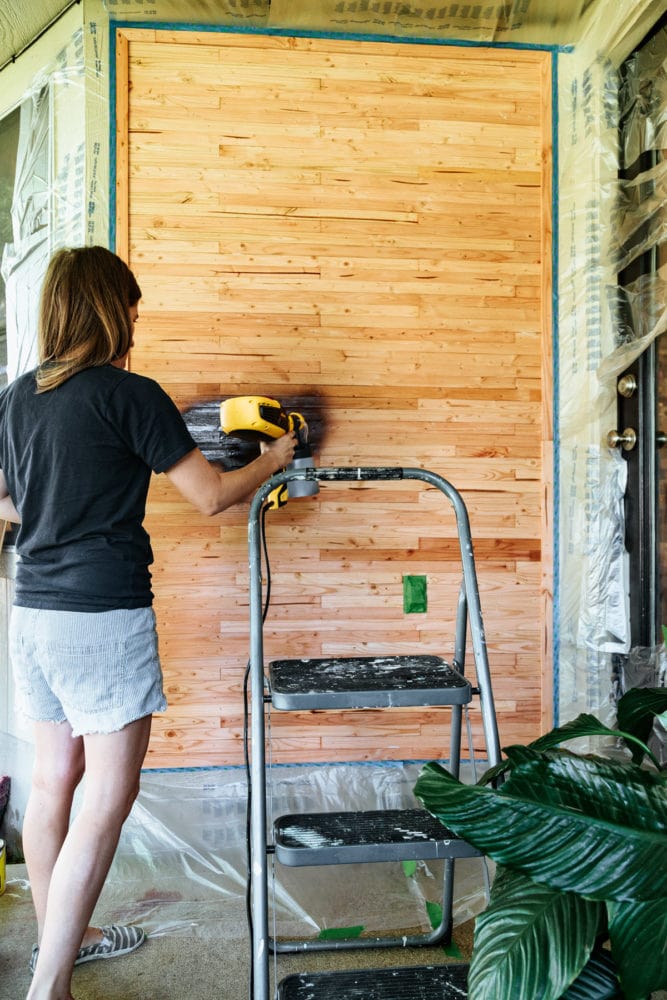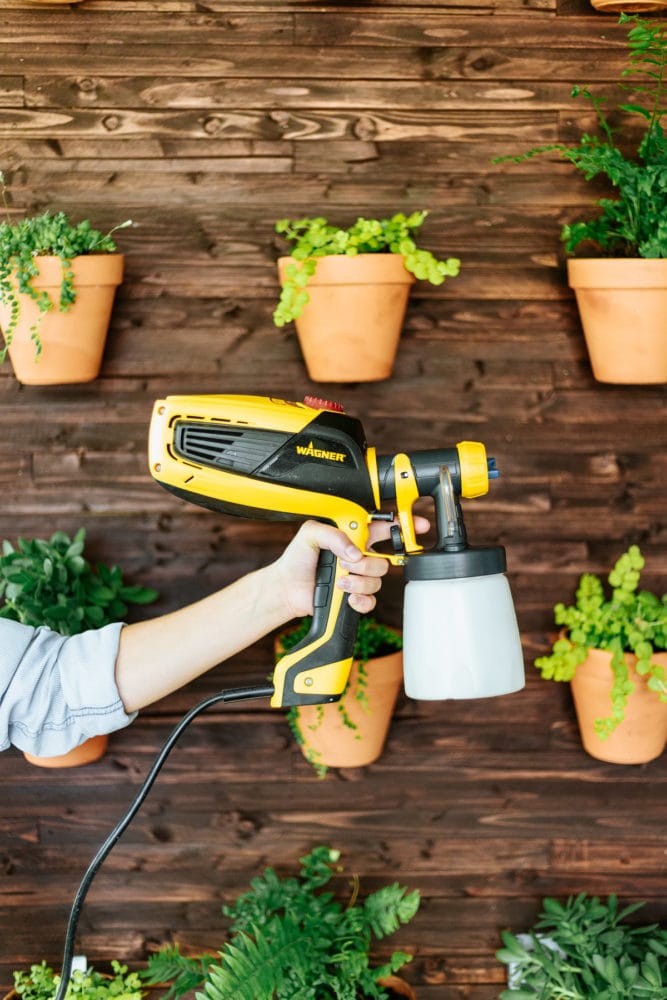 I think a lot of people don't realize that you can stain things with your paint sprayer, so consider this your official PSA. Corey even asked me if I needed a special sprayer for it, and no – you don't! I just added the stain to the cup for my Detail Nozzle just like I would for paint, turned the pressure down really low (since stain is really thin, I wanted to reduce overspray!), and went to town!
If you don't know how to use a paint sprayer in the first place, be sure to check out this post for a full, detailed tutorial. My paint sprayer is one of the most-used tools in my arsenal, and I don't know what I'd do without it. I've gotten my dad and his friends all hooked on them too – they're seriously life-changing, y'all!
But back to staining with the sprayer. It's seriously simple and it's great when you're working in the summertime because stain can dry so quickly! If I had been doing it by hand I would have had to stop regularly to wipe off the stain from parts I had already painted, but since the stain went up so quickly I was able to stain it all in one go. I just let it sit for a couple of minutes after I stained it, then I wiped off the excess.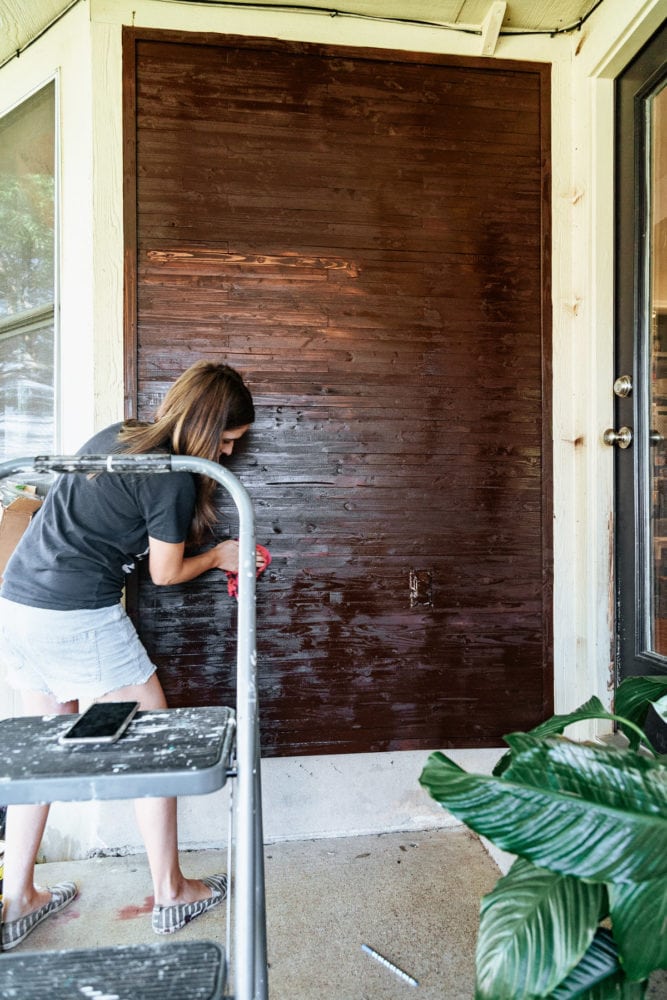 I had the entire wall stained and all of my mess cleaned up in less than an hour. That's pretty incredible when you're trying to cram a project in during nap time!
After the wall dried, it was time to hang the plants. I found these pot hangers on Amazon and they were the perfect solution for us. I didn't want the pots to stick out too far from the wall since the door is right there. These allow the plant to sit almost completely flush to the wall and they have a really clean look too. Win win!
I'm sure you're wondering what happens if (WHEN) they get bumped. I was really pleased to find that the plants really aren't going anywhere. If you bump into them, they shift within the hanger, but you really have to try to get them to come out. I feel really confident that we won't have any plants crashing down anytime soon!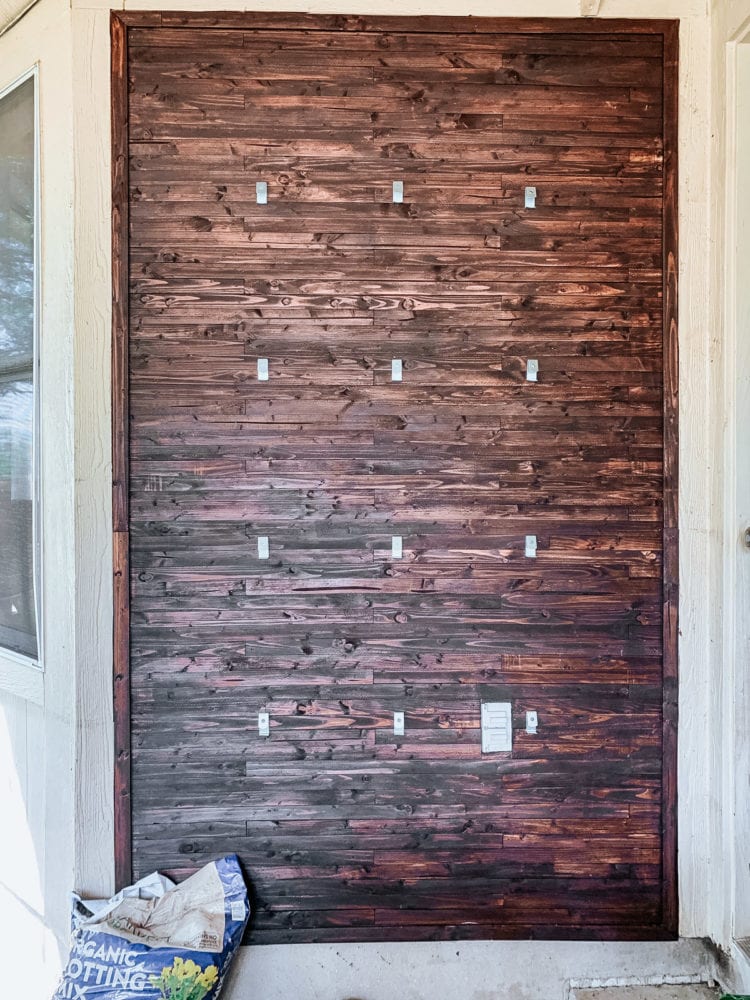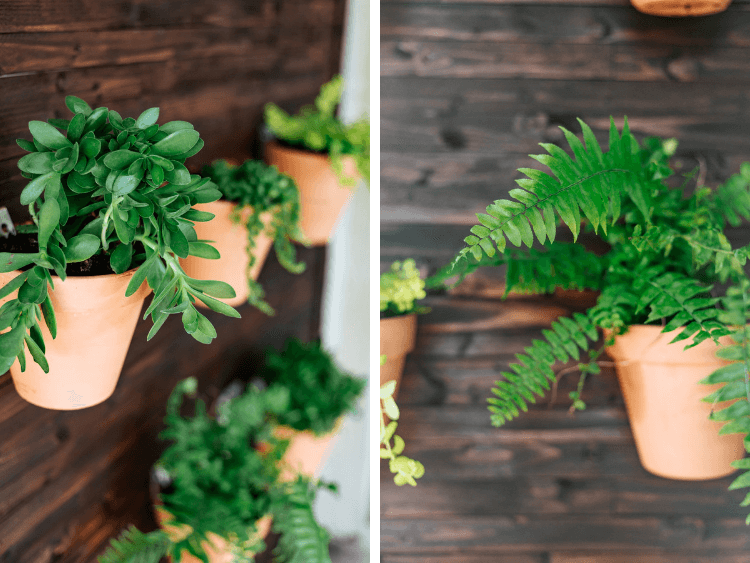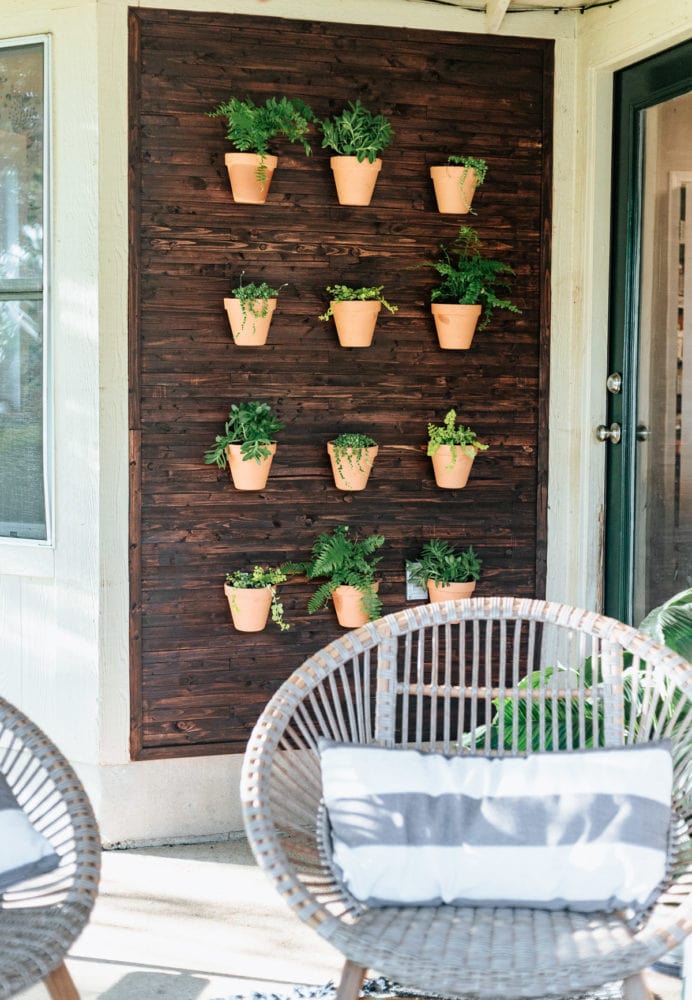 I asked y'all over on Instagram what the best plant options would be for this shady area, and the most common answers were ferns or succulents. So, I grabbed three each of a few favorite plants – we've got Creeping Jennies (which we also have on our back fence, so I know we can keep them alive), String of Pearls, Macho Ferns, and ?? . My track record with keeping this type of plant alive is actually pretty solid, so I'm feeling positive about my chances.
I'm so beyond thrilled with how this project turned out – my favorite part may be that you can see the plant wall from our living room, so it makes me smile all day long!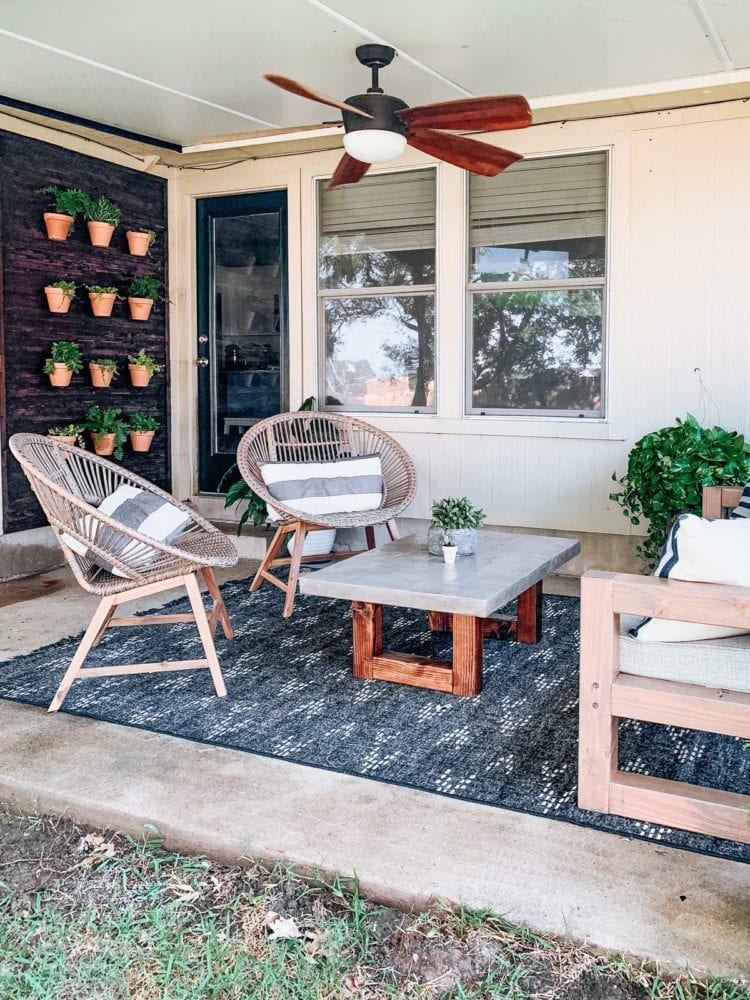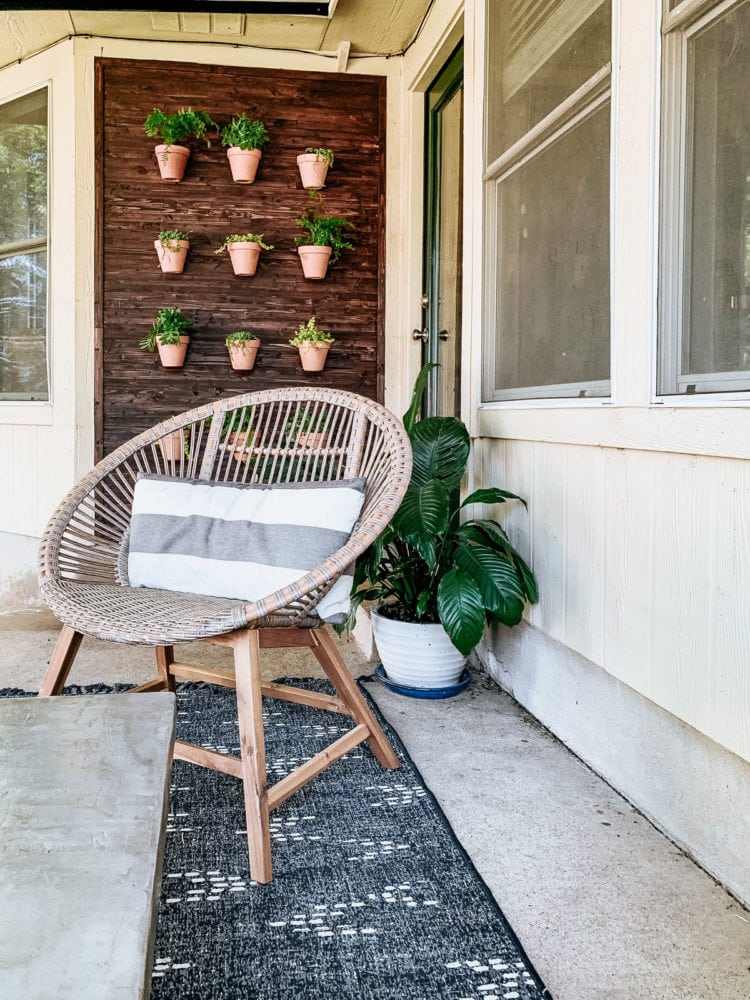 Did you miss a project in our backyard makeover?
Catch up here!
What do you think? Would you ever try something like this on your back porch?