How to Paint Laminate Furniture
I gave our old laminate IKEA dresser a quick makeover and wanted to share a few tips and tricks I learned for how to paint laminate furniture.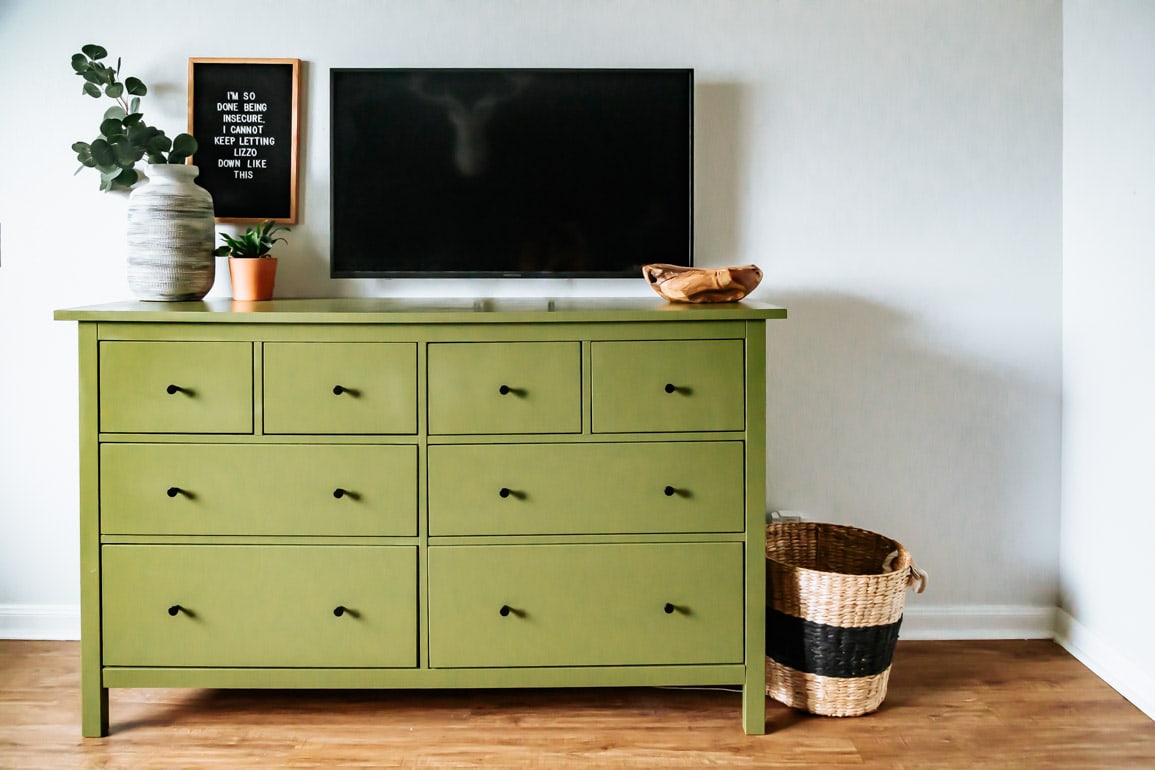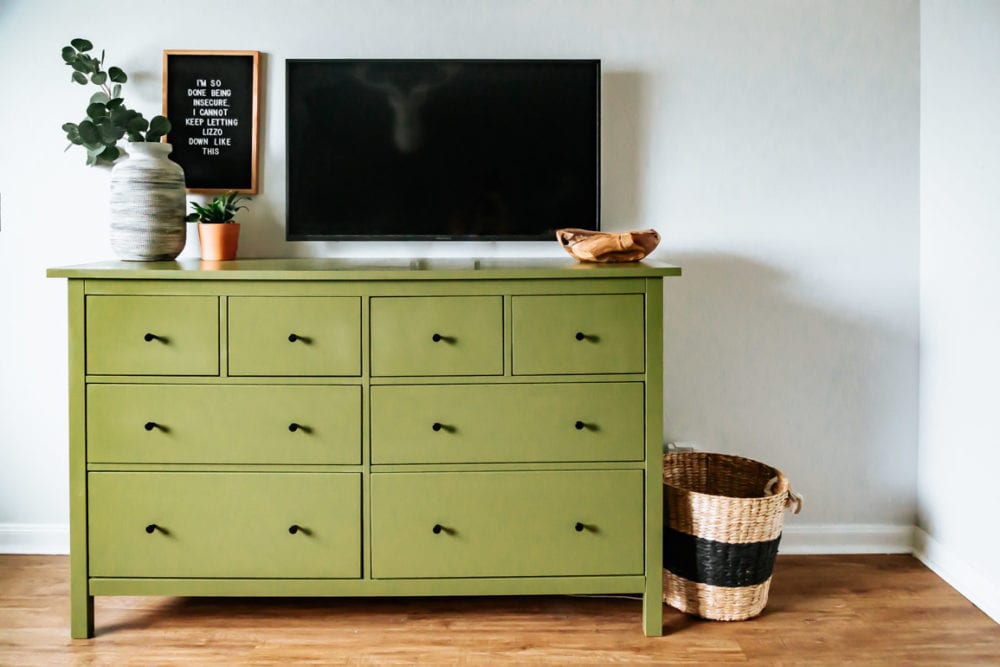 It's no secret that I love a good furniture makeover. There's nothing more satisfying to me than taking an old, tired piece that I'm getting bored with and giving it a totally new life with a fresh color. I even wrote an entire blog post all about how to paint furniture.
But! One thing I've never actually tried before this post is painting laminate furniture. I've only painted wood pieces before. Why? Laminate is an extremely tricky surface to work with. It's super smooth and shiny, paint doesn't stick to it (like, at all), and if it's not done properly, you'll end up with a big, ugly mess.
Well, we're prepping to move (we move in just over ONE WEEK!), and as we've been planning and talking about where all of our furniture will go in the new house, Corey and I decided that the old white IKEA dresser than has always lived in our room should go to Jackson in the new house. We have a big enough closet at the new house that we won't need a dresser in our room, and his current dresser is so small that the drawers are constantly overflowing.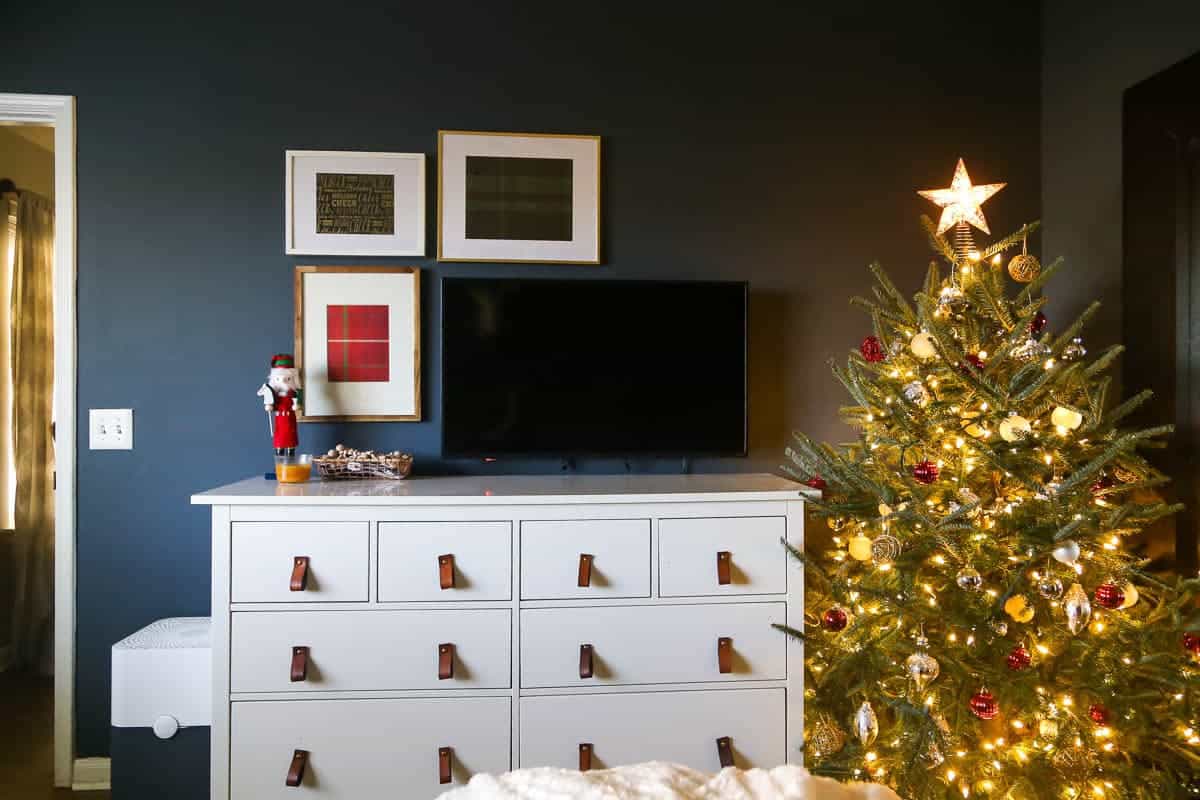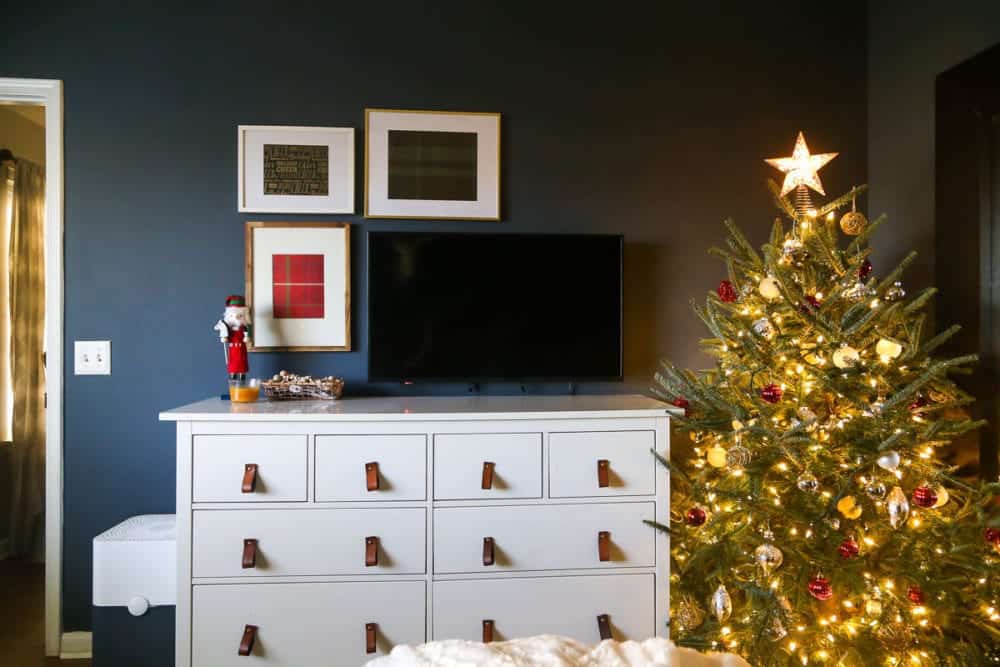 This post is sponsored by Wagner and contains affiliate links.
Clearly I never take photos of our bedroom because this photo from last Christmas is the only one I could find of this dresser. Whoops.
Anyways, we took him to Home Depot and let him choose a color for the dresser, and I set off to do some research and figure out how to paint the laminate dresser to ensure that the paint would actually be durable.
My friend Tasha wrote a post a while back about how to paint IKEA furniture, and she said that the key is to use this Zinsser BIN Shellac-Based Primer. Zinsser has always been my go-to brand for primer anyways, so I decided to give it a shot.
It worked like a charm, so I'm here to teach you exactly how I painted this laminate dresser to give it a totally new look that will (hopefully) last for years to come.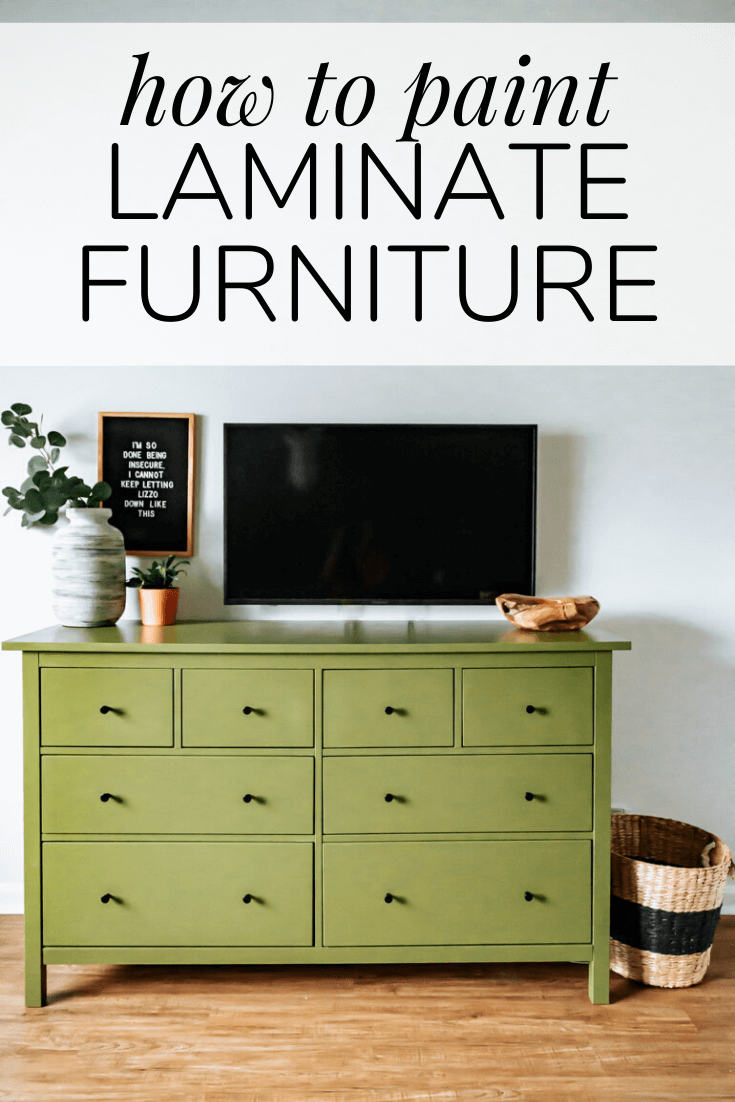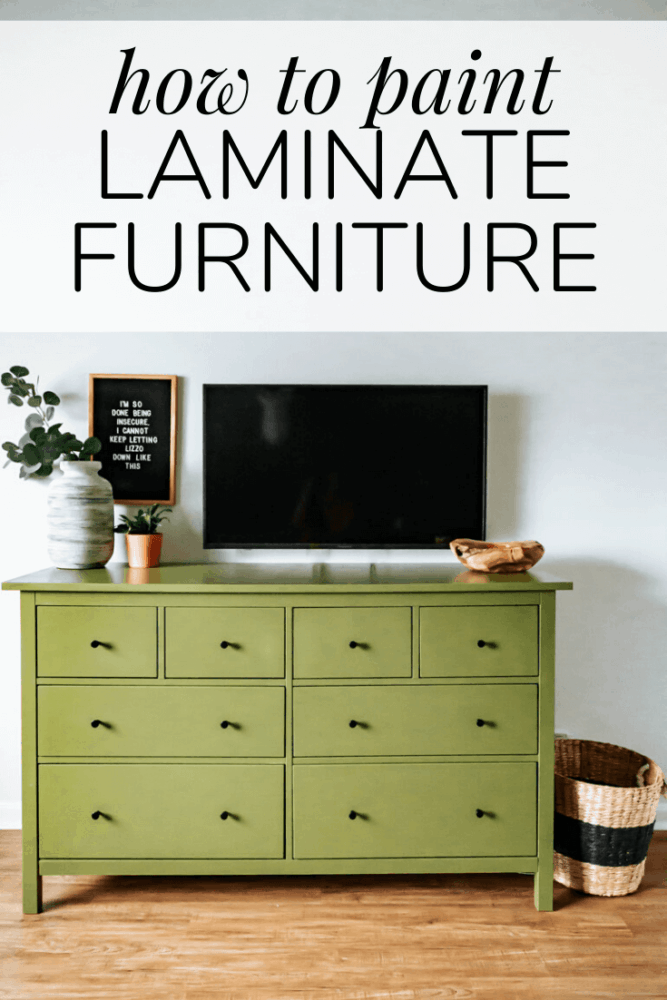 How to paint laminate furniture
Materials needed
I started by painting all of the laminate with two coats of the Zinsser shellac-based primer. I used a foam roller and a brush for this part, but you technically could spray it. Primer is on the thick side, so I generally prefer to just paint it on by hand, then switch to the sprayer for the top coats. Also, the oil-based primer is especially difficult to clean up, and it's much easier for me to just use a foam roller and a cheap brush that I can toss when I'm done!
After doing two full coats of primer on the dresser and allowing it to cure overnight, I switched over to my sprayer for painting.
I often get questions about my paint sprayer, what we think about it, and how easy it is to use. I cannot emphasize enough how much I love using my FLEXiO 3000 for just about everything, and I think anyone who likes to DIY anything should own one. It makes painting jobs about a zillion times faster, it's simple to use, and it doesn't take long to clean. I wrote a full blog post with all of the details on exactly how to use it, so be sure to check that out if you're curious!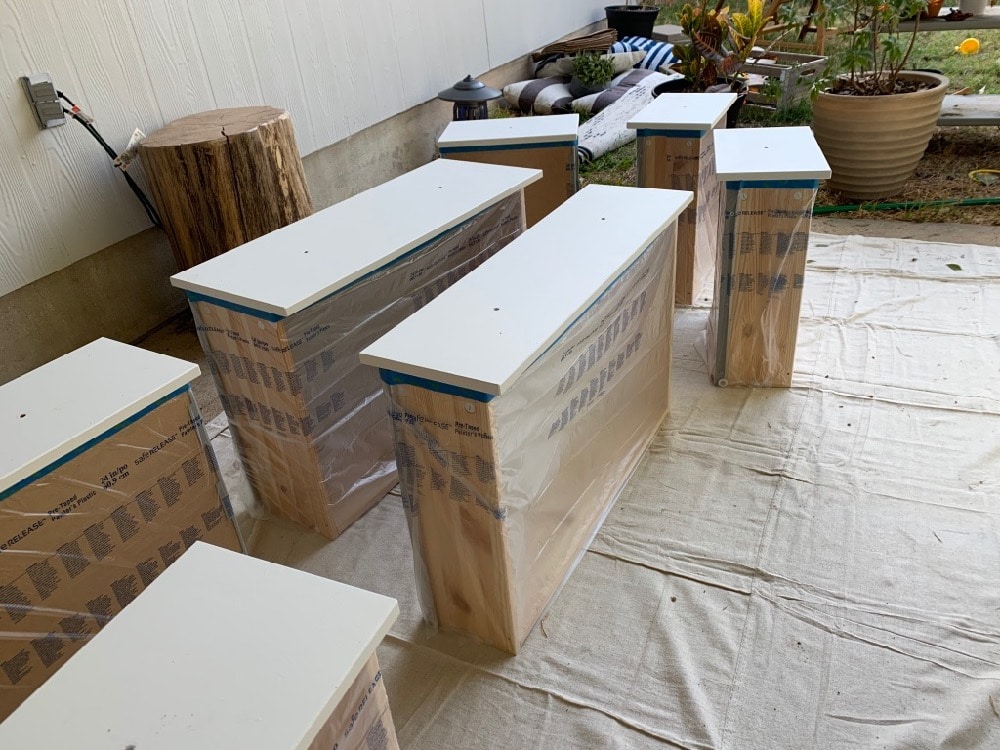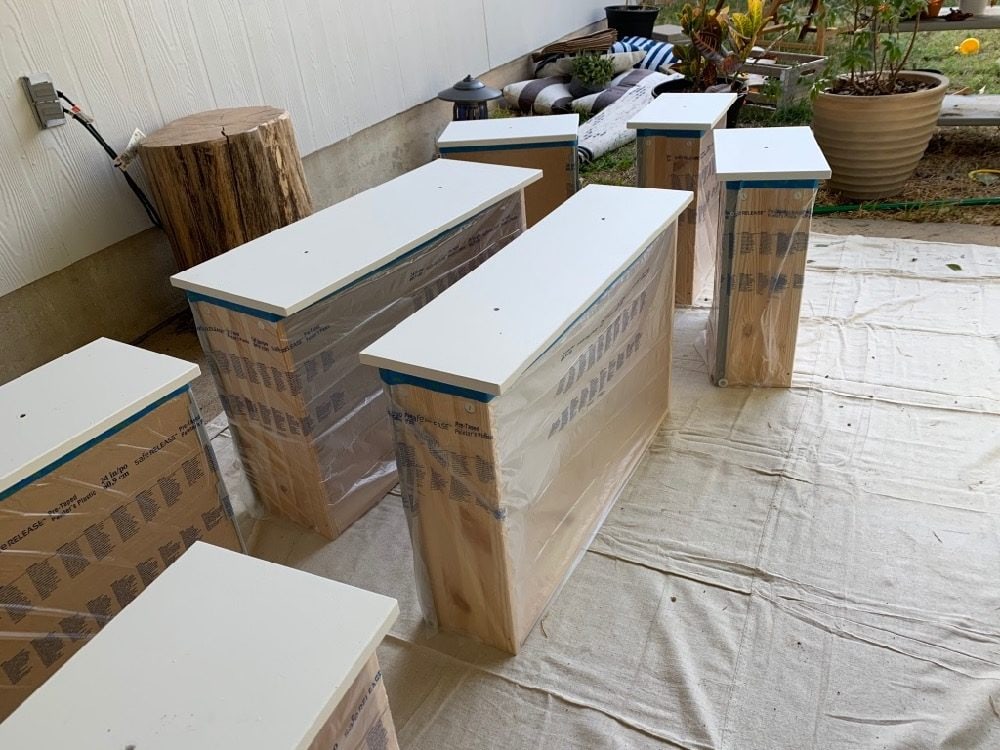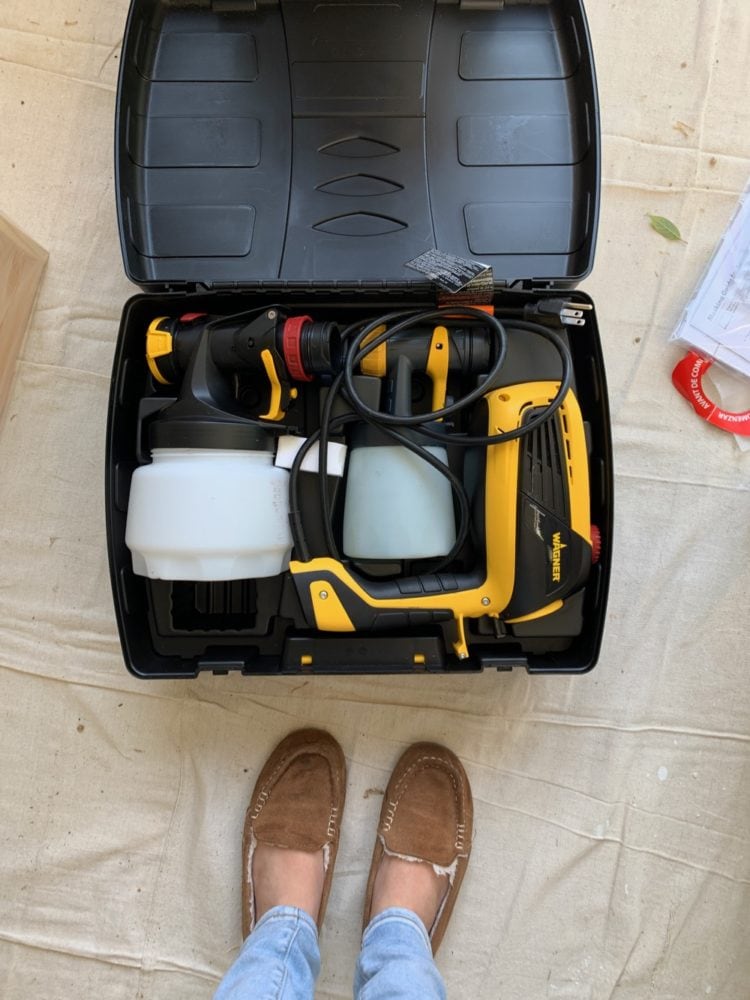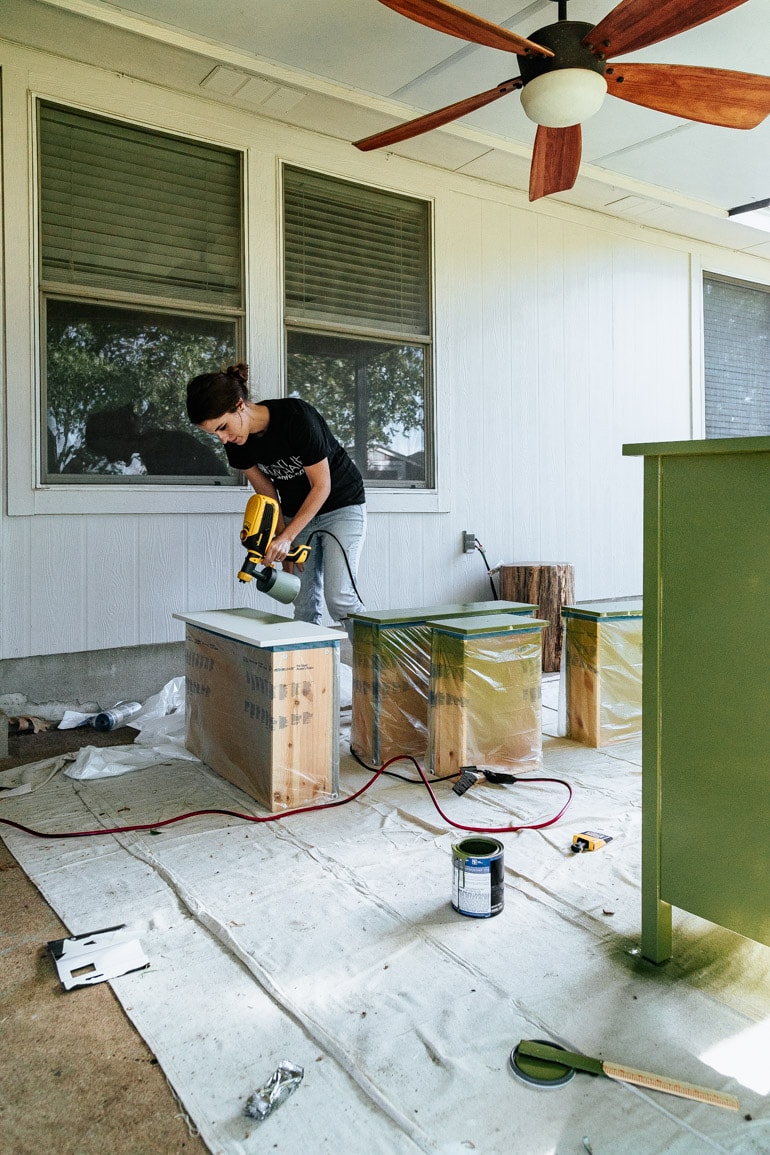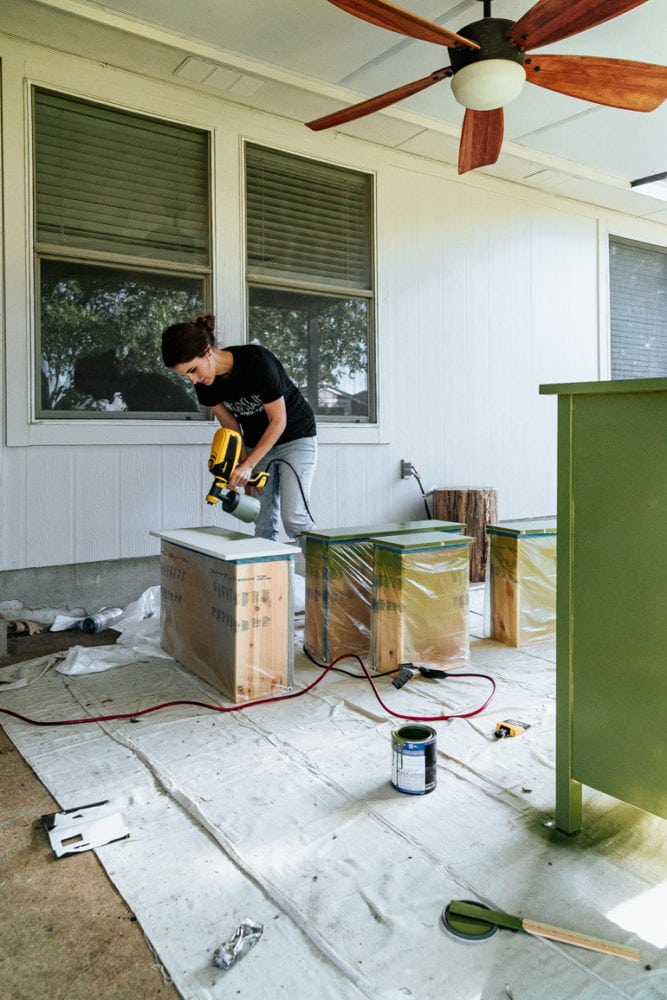 Before I painted it, I taped off all of the drawers and the inside of the dresser with this painter's tape that has a dropcloth attached. It makes life way easier and I always have some of it on hand!
I added two coats of paint to the dresser, and in-between the coats I very lightly sanded the dresser (by hand) with the 400-grit sandpaper. This helps with adhesion but it also knocks down any little bubbles or particles and helps ensure a really smooth finished product.
After I painted the second coat, I let the dresser cure for a few more hours, then I added the finishing touch: a sealer that will help make sure that the dresser stays in good condition.
I find that for painted finishes, the most reliable, non-yellowing, and best sealer to use is Polycrylic. I've used it on a variety of projects over the years, and always have great results. I also used my Wagner sprayer to spray the finish on – it gives a really smooth finish, it's so much faster than brushing it by hand, and it ensures you don't end up with any drips or weird spots. Just be sure to adjust your settings way down so that you're spraying significantly less material than with the paint – sealer is very thin and if you keep your normal settings you might end up with a giant blob of sealer on the dresser when you pull the trigger!
I just did one coat of the polycrylic, but honestly two would have been even better! After allowing the entire thing to cure overnight, we brought it back inside, switched out the knobs for these from IKEA, and put it all back together. And just like that, this little laminate dresser got a whole new life and will look so great in Jackson's room once we move!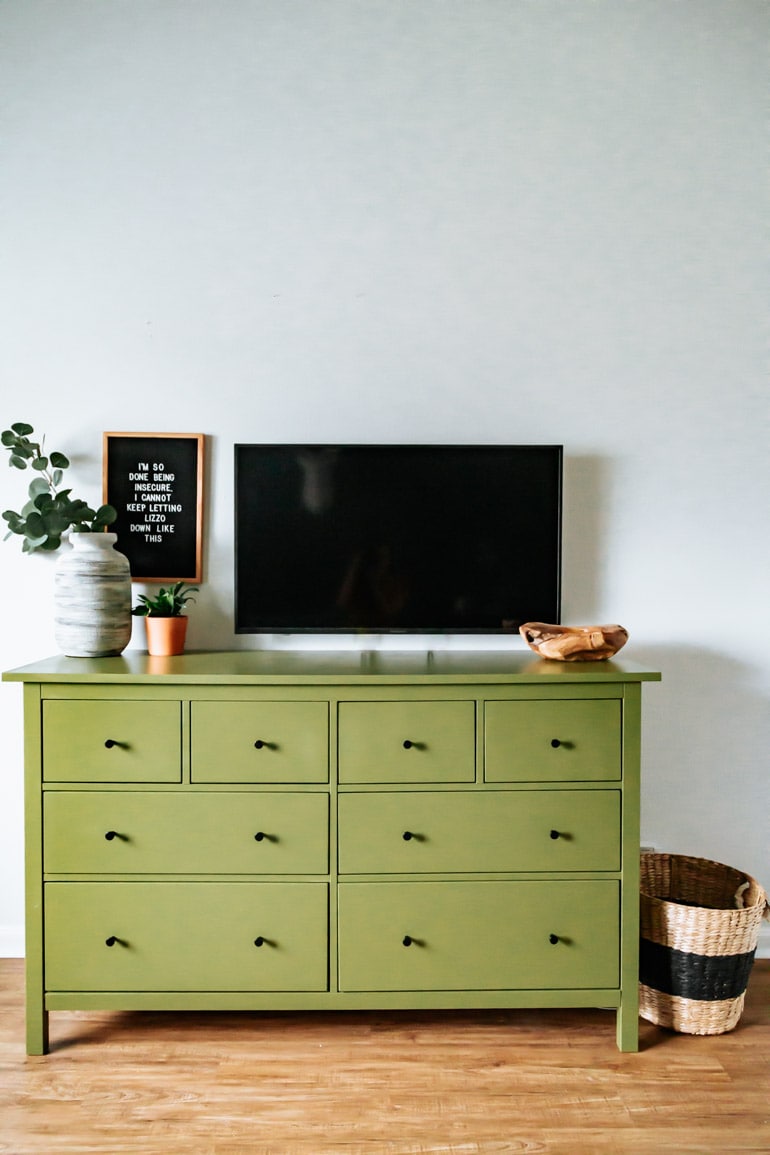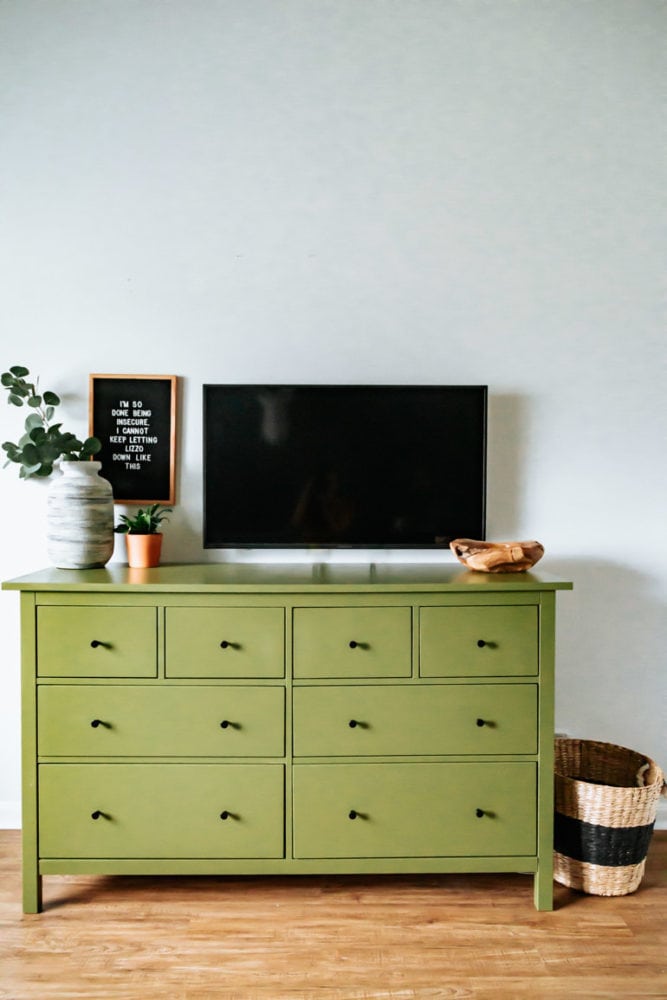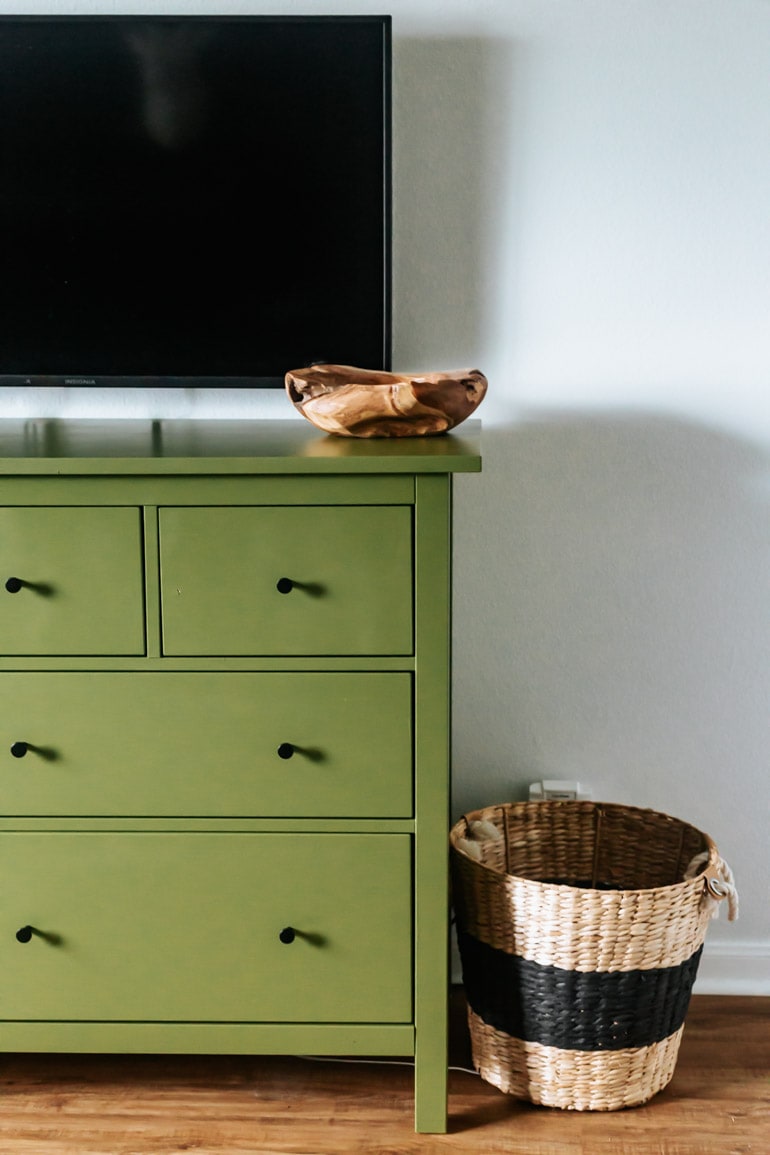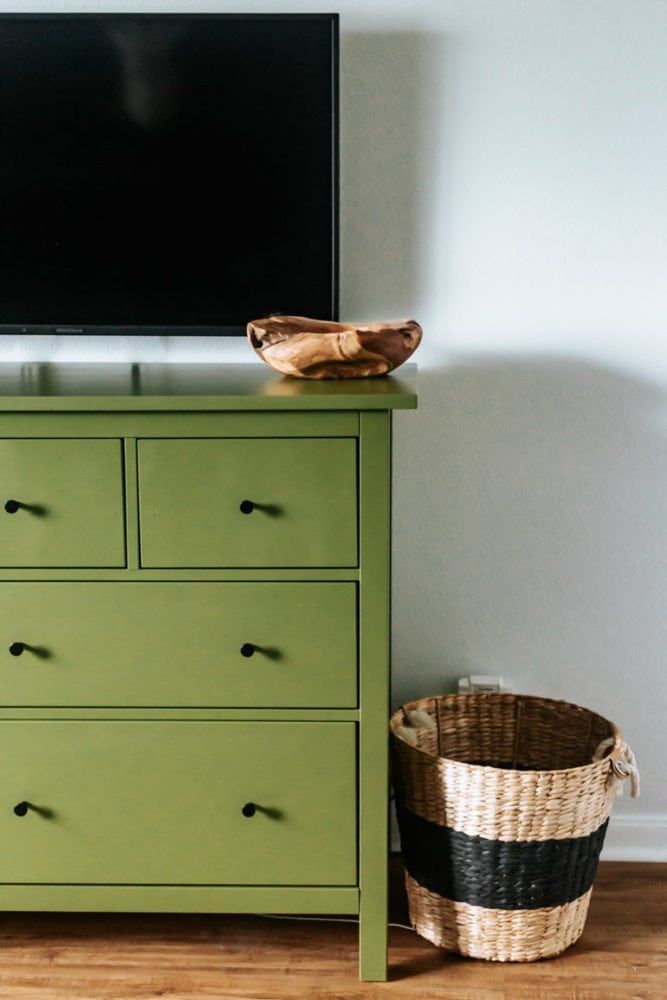 He's thrilled with the color, and very excited about having a "big boy" dresser. I'm excited that his clothes will actually fit in this one and I won't have to constantly be closing the drawers for him. It's a win-win, really.
I'm excited to know that this method of painting laminate furniture seems to work (I'll keep you updated on how it holds up over time!), and it's kind of freeing knowing that I can give future laminate pieces a makeover if I decide I want to!
Other Posts You May Love