How to Use a Steamer: 15 Genius Ways to Use Your Steam Cleaner
Ever wonder if a steam cleaner is right for you? These little machines are so versatile, and have more uses than you can ever imagine – here are 15 genius ideas for how to use a steamer to clean just about everything in your home.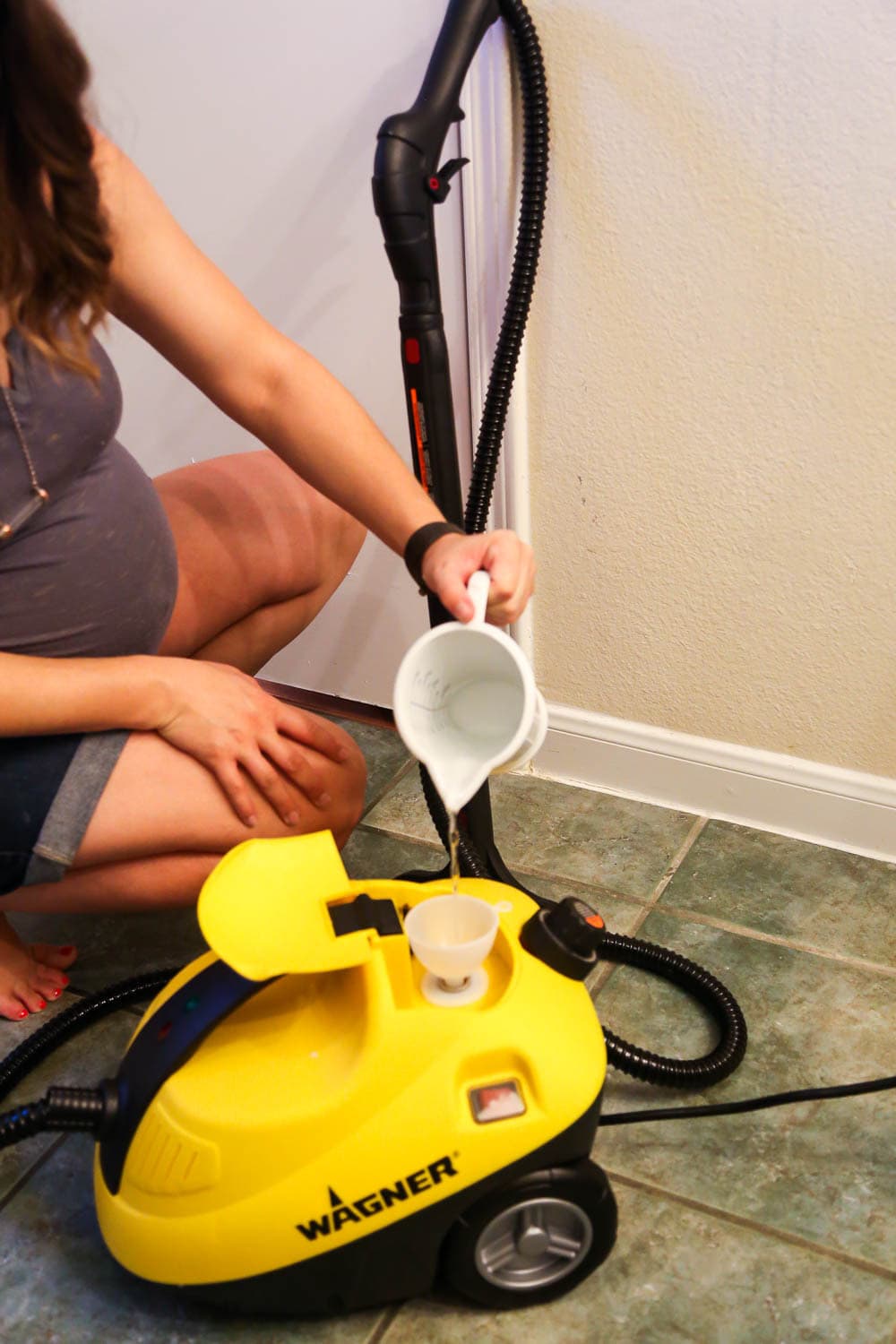 There is very little in this world that I love more than a tool that makes it easier to keep my home clean. I'm a bit of a neat freak, and I'm always looking for ways to keep my house cleaner with less effort.
I know y'all feel the same way.
Well, I recently decided to add a steam cleaner to my cleaning toolbox and, um, it's just a little bit life-changing. I can't believe it took me so long to get one of these things, and it has pretty much changed the way I clean everything in my house. Forever. It's that amazing.
So, today, I thought it would be fun to take a look at a ton of different ideas for how to use a steamer in your home to keep it way cleaner (with minimal effort, because we're all busy, right?!). Before I got a steamer I genuinely had no clue how many different things it can clean, and now that I have one I find myself breaking it out all the time to get that "super deep cleaning" effect without actually putting in all of the effort that a super deep clean requires.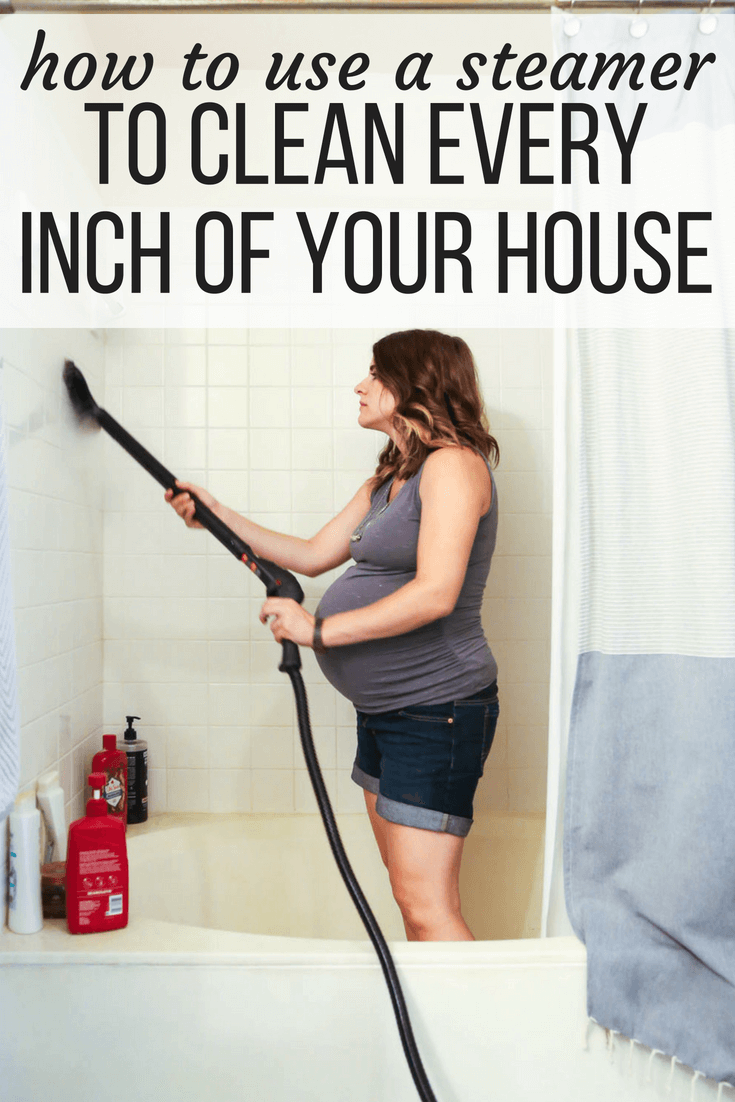 This post is sponsored by Wagner, but all opinions are 100% mine! Click here to read my full disclosure policy. 
Why a Steam Cleaner?
First up, let's chat about why I even wanted to try a steam cleaner in the first place. If you have one, you'll probably understand the hype already, but if you don't you may be wondering what's so special about it.
Our steamer is the Wagner On-Demand 915 Power Steamer – it can hold up to 48 ounces of water which translates to roughly 45 minutes of cleaning time. The beauty of a steam cleaner is that it can clean super tough spots and totally sanitize just about anything in your home without the use of any harsh chemicals – just water! This has been a beautiful thing to me over the last few months – when I'm pregnant I try to avoid super intense cleaning supplies, and I don't really want them around my brand new baby either. The steamer lets me keep my house sparkling clean without busting out a single chemical.
If that isn't enough for you, the high heat that steam cleaners use makes for a lot less scrubbing when you're dealing with a tough mess. Things that you would have labored for hours over before will take a lot less time to get clean, and they'll probably look even better than they did with your old methods.
Our steamer comes with a wallpaper steam plate, a window/tile squeegee, a floor cleaning head and pad, and two different utility brushes for the hard to reach places. It also has two extension tubes, which makes it really easy to clean floors or things up on the ceiling. All of the variety means that you can use the exact tool that you need for what you're cleaning, and it's super simple to switch them out when you need to. If you haven't snagged a steamer for yourself yet, you should probably go ahead and order a Wagner On-Demand Power Steamer before you keep reading – 'cause after you learn how versatile it is, you're going to need one in your life!
How to Use a Steamer: 15 Genius Ideas
Okay, so now that you understand why a steam cleaner is so amazing, let's talk about the how. I'll admit that before trying this guy out I really just assumed these big ol' steam cleaners were just used for removing wallpaper and the occasional wrinkle removal. But, they're so much more versatile than that! I've been doing tons of research to learn how to use this thing, and I quickly realized that the options are practically limitless.
Here are my 5 favorite ways to use our steamer.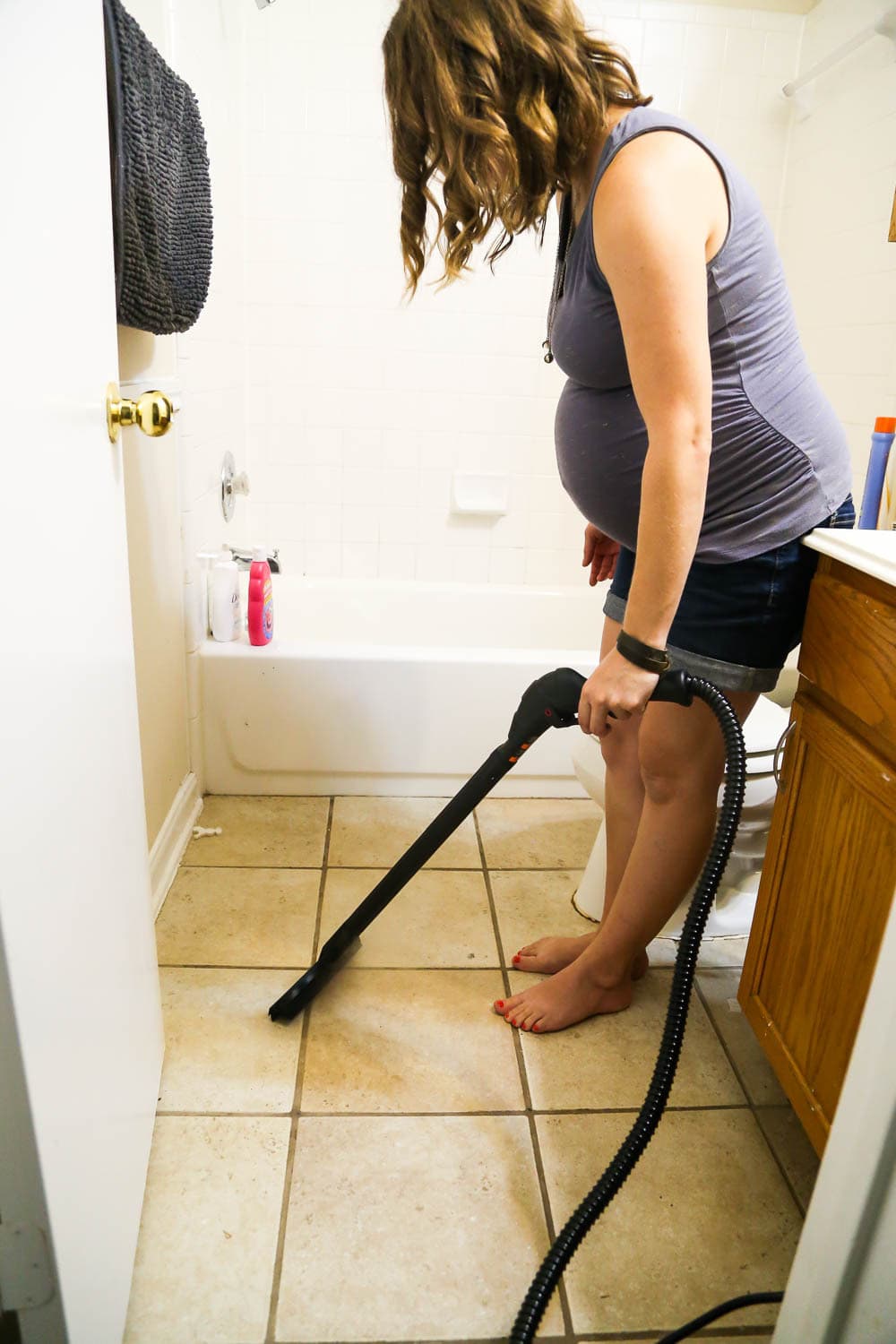 Clean grout. 
The grout in the bathrooms in this house has driven me nutty since the day we moved in. Both of our bathrooms have felt pretty grimy and disgusting from day 1, but I haven't known how to deal with it. When I learned that one of the most popular uses for a steamer is to clean grout, I knew I had to try it out on Jackson's bathroom. His is the only bathroom in our house other than the master, and Corey and I are honestly a bit embarrassed to allow guests to use it because it's so grody. I tackled it with the steamer recently though, and the results were pretty incredible. I don't have great before and after shots because the grout is brown (which means it's hard to see the difference unless you're standing in the bathroom), but as I was scrubbing the grout I could literally see the color getting lighter and the dirt coming up. It was so, so satisfying.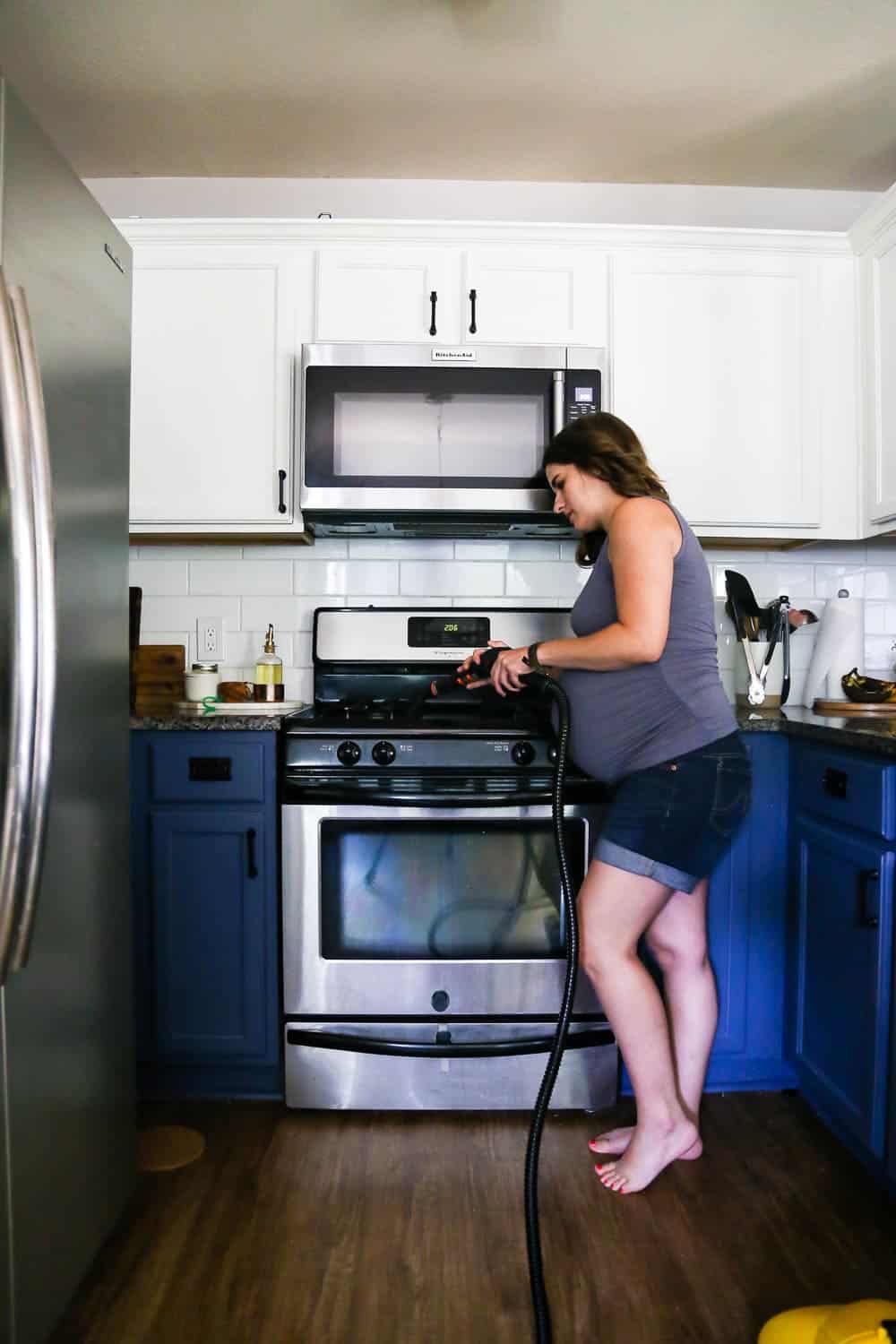 Clean the oven and stovetop. 
I think this might be my least favorite cleaning task in the entire house. I feel like our oven and stovetop are never clean no matter how hard I try, and it feels pretty futile to spend a ton of time scrubbing them because they just get gross again in a matter of days. I decided to see what kind of effect my steamer had on the oven, and I am a believer. I really didn't even have to scrub my stovetop (halleluiah!) – just a blast of steam and the grime kind of just melted right off. It was amazing, and it's officially my new favorite way to clean the stovetop. Also, side note, please ignore the cork trivet on my kitchen floor. When you're this pregnant and things fall on the ground, that's just their new home.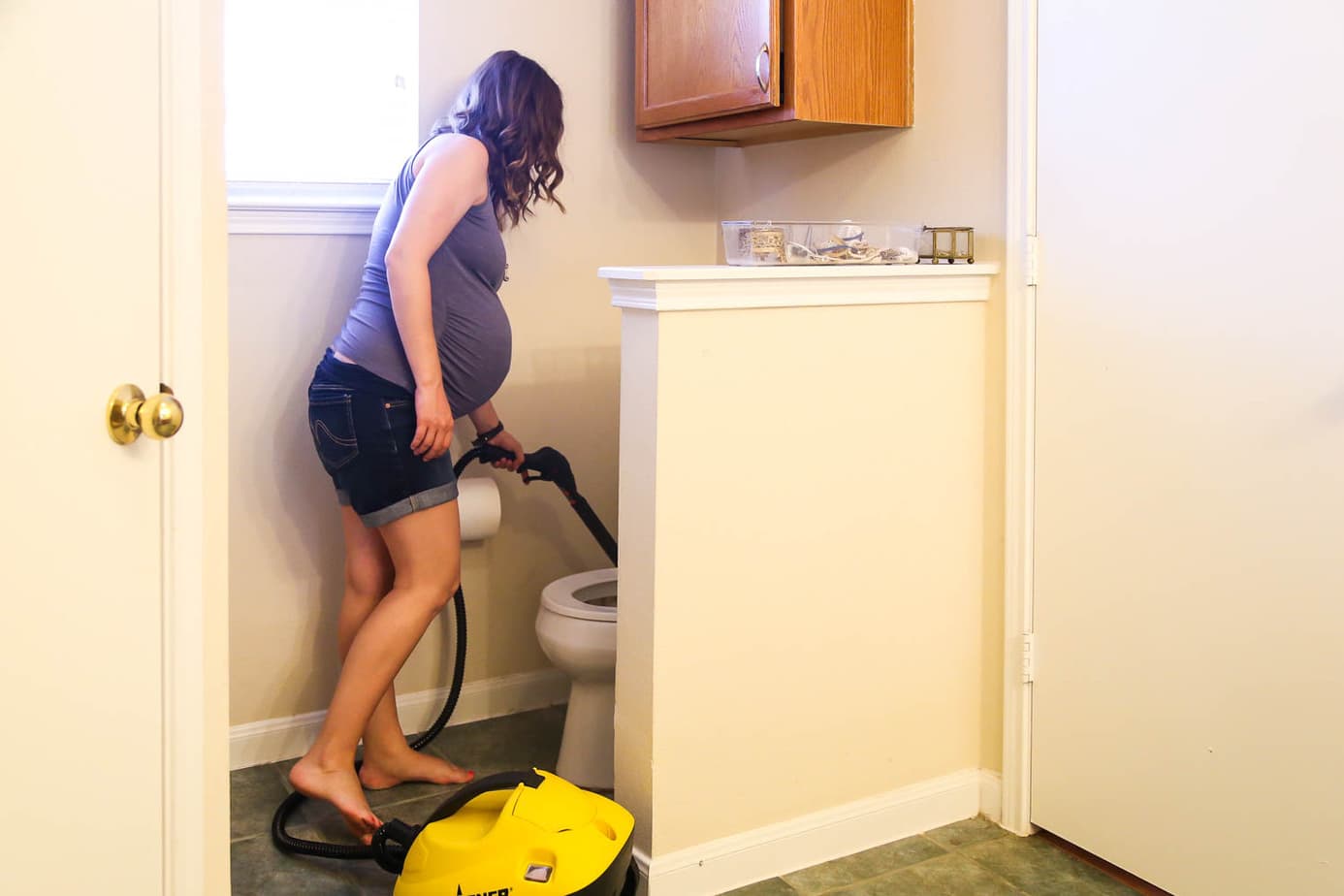 Clean the bathroom. 
I'm not gonna lie – towards the end of my pregnancy, our bathroom got seriously disgusting. I couldn't bring myself to get down on my hands and knees to scrub around the toilet, the smell of the shower cleaner made me nauseous, and I just didn't have the energy to get in there and give my bathroom the thorough cleaning it really needed. But then our steamer arrived, and I decided to see how easy it would be to clean basically the entire bathroom with just the steamer. Y'all – I don't think I'll ever clean my bathroom any other way. It was so fast, so easy, and so much less smelly than using all of the different chemicals that I'm used to using. The most satisfying part was cleaning around the base of the toilet – you know how gross that area gets, and it was so nice to not have to get close to it in order to get it clean – thanks to the extension I was able to stay standing and still get it nice and clean. Again – can I get a hallelujah?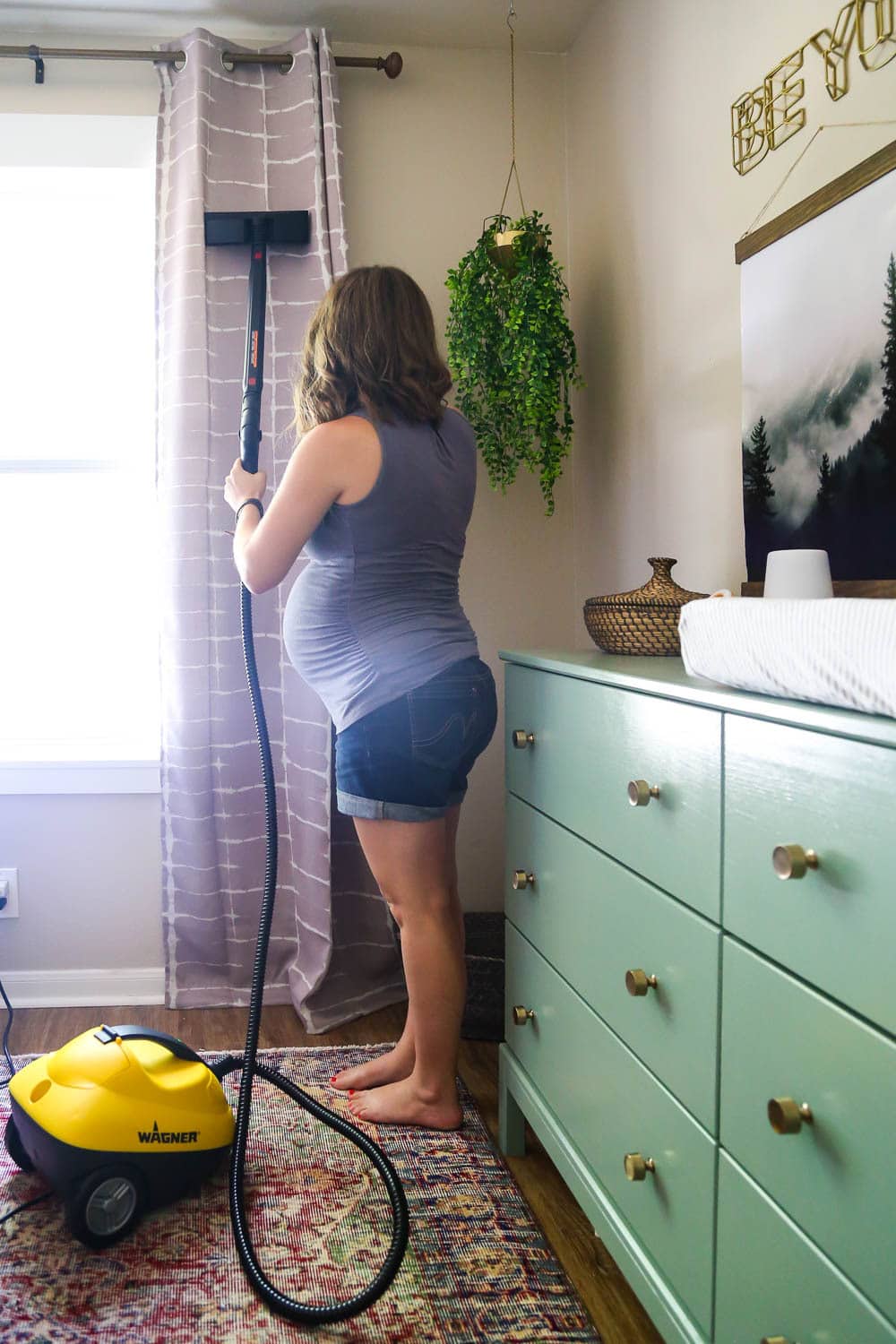 Remove wrinkles from curtains. 
I've always known you can use a steamer to get wrinkles out of clothing, and I've even seen people use them to make sheets look nice and smooth. But, I was super excited when I realized that the steamer was the perfect way to get all of the wrinkles out of our curtains with basically zero effort! I hate pulling curtains down and washing them unless it's absolutely necessary, so this is a really easy way to freshen them up and make them look brand new again without having to throw them in the washer.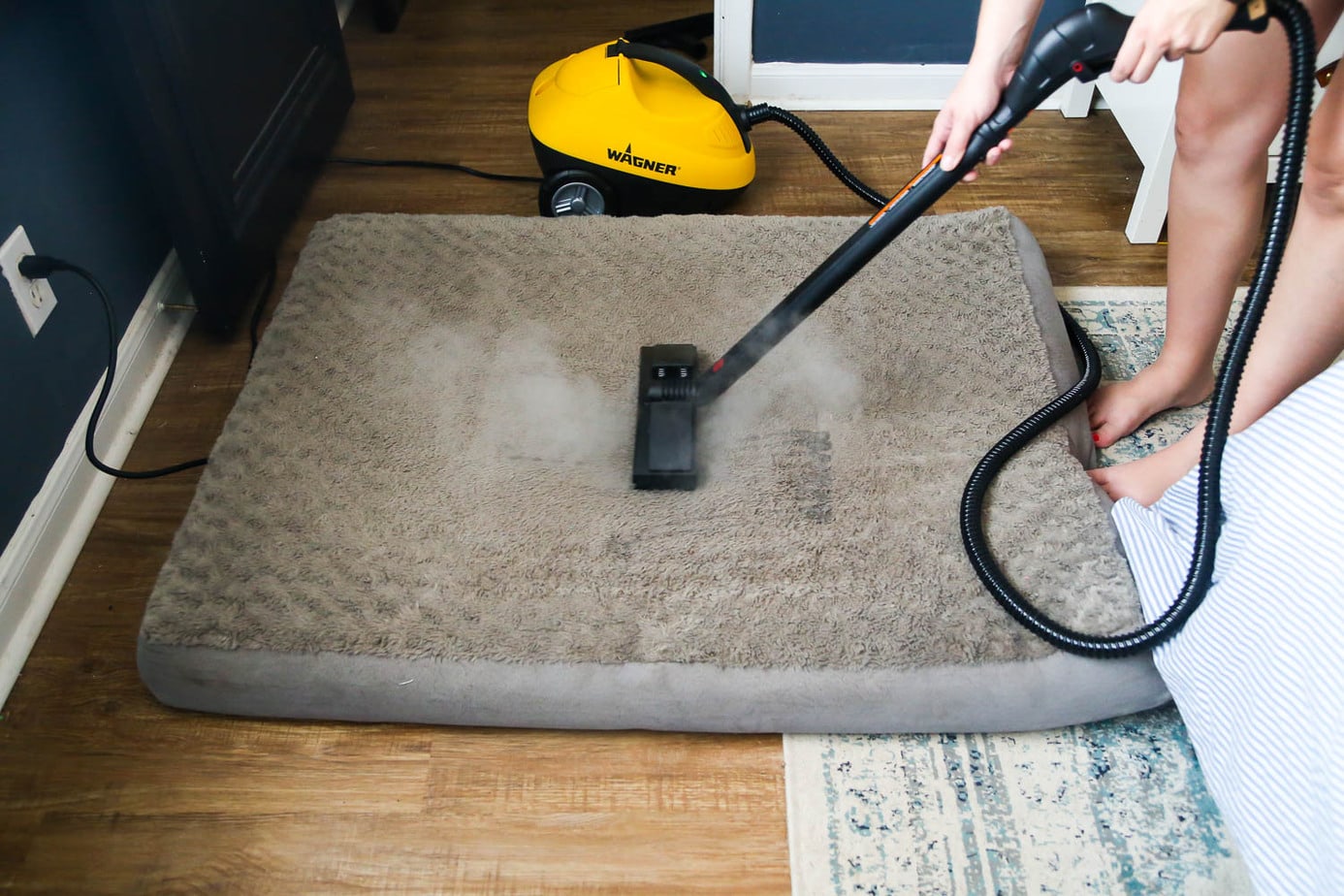 Disinfect pet beds.
And finally, my other favorite way to use our steamer is to sanitize and clean Hadley's bed. Dog beds are more or less impossible to clean (especially when they're basically the size of a toddler bed), and hers was looking pretty nasty. I was a bit skeptical about how helpful this would be, but all I needed to do was run over it with the vacuum to pull up any dog hair, then give it a pass-over with the steamer. It looked about a zillion times better and smelled noticeably better as well. I guess I know my new cleaning routine for the dog bed!
Of course, that's not nearly all you can do with a steamer.
Here are 10 more simple ideas for how to use a steamer in your home:
Wallpaper removal
Clean your fridge, washer, and dryer
Clean the grill
Disinfect just about anything!
Clean your baseboards
Clean an area rug
Disinfect baby and kid toys (and all of their other gear)
Detail the interior of your car
Clean your mattress
Clean your windows
Honestly, y'all, the list could go on and on.
All I know for sure is that this handy little steamer has become absolutely indispensable in my home, and I'm so excited to keep learning new ways to use it.
Is it sad that one of my greatest joys in life is using my steam cleaner? Why yes, it most certainly is. But if loving a super clean house is wrong, I don't wanna be right.
If you don't already have a steamer, allow me to (highly, highly) recommend you check out Wagner's On-Demand Power Steamer – it might just change your life forever in the best possible way.
What's your favorite way to use a steamer in your house?