I often get questions about baby sleep and how to ensure you're getting the most sleep possible when you have a young baby. Back when Jackson was an infant, I wrote two posts about sleep training (see the post on nighttime sleep here, and the post on naps here) and to this day they're two of the most visited posts on my site.
I think it's safe to say we all take sleep very seriously!
So, I figured with Grant it only made sense to share a bit about his sleep too, since sleeping is clearly a crowd favorite.
I don't blame you. It's my favorite, too.
Grant is a great sleeper (most of the time), and at 15 weeks, he has just started sleeping about 12 hours a night. Naps are still a total mess most days, but with Jackson we didn't get those under control until he was 5 months old, so I'm not terribly worried. I'd say that, while your baby's personality will have a lot to do with how they sleep, there are definitely some steps you can take to make things a little easier on yourself.
Sleep training shouldn't formally start until a baby is about five or six months old, but there are plenty of things you can do in the early months to lay the groundwork for great sleep later on. Today, we're going to take a look at all of the tips and tricks I have in my arsenal for baby sleep in the first three months. The "fourth trimester" can be a really difficult time for many parents thanks to the sleep deprivation, but with some effort and lots of patience, it doesn't have to be all bad!
Before we dive in, I want to share a few of the products we use and love for baby sleep. I'm not an advocate of spending tons of money on fancy baby sleep apparatuses – you can only use them for a few months, and in the end you aren't really creating good habits with them. Instead, I have a few simple tried and true favorites that help lay a foundation for great sleep later on!
Favorite Baby Sleep Products:
Baby Sleep Guide: The First 3 Months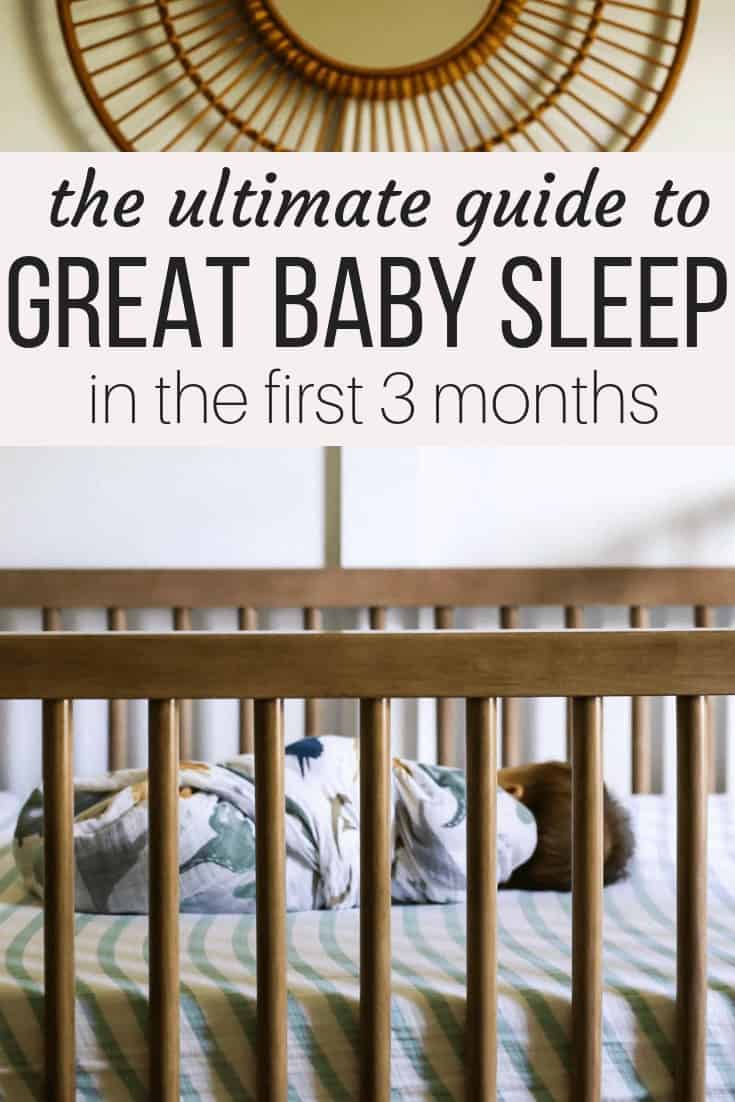 Okay, let's do this! Remember that while all of these tips worked well for us, your mileage may vary. Babies who have colic, other health issues, or just aren't great sleepers may not see the same results. But, we have two kids and have great results with these techniques with both of them, so I think it's safe to say they work!
MONTH ONE: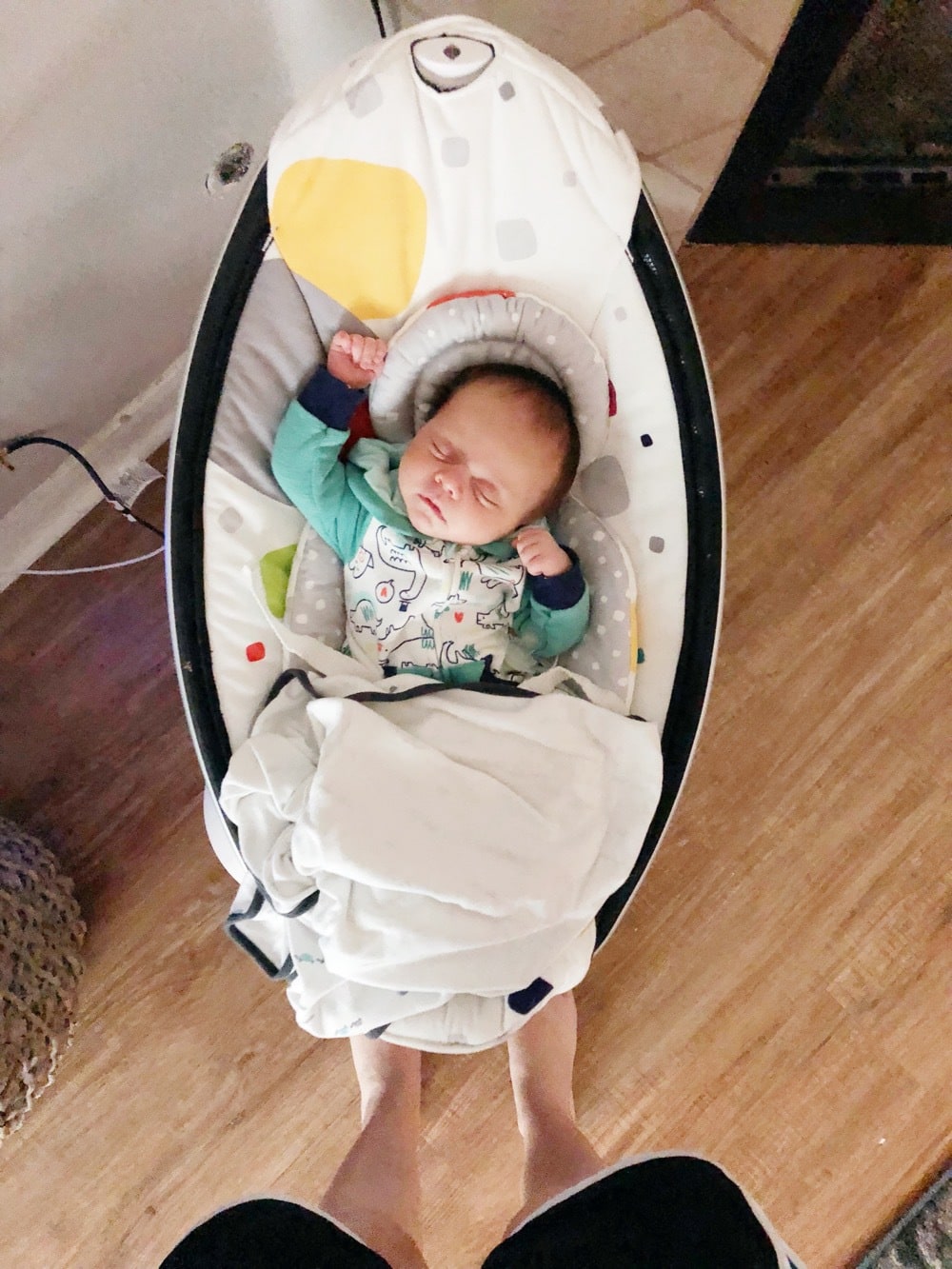 The first month is all about survival mode when it comes to baby sleep. Squeeze it in when and where you can, and don't stress about creating habits at this point. Grant slept in a bassinet in our room for nighttime sleep, and for daytime sleep we were all about the cuddles. Naps were either on our chests or in the baby carrier. Even though you really can't create any bad habits at this point, there are a few things you can do to encourage your baby to learn the difference between nighttime and daytime and to lay the groundwork for great sleep in month two.
Here are a few tips:
From day one, don't allow your baby to go more than 3 hours between feedings during the day. Yes, it's painful to wake up a sleeping baby but wouldn't you rather them save those 3+ hour stretches for the nighttime? Every three hours (remember, it's timed from the beginning of their last feeding and not the end), wake your baby up and feed them. It might be hard at first to keep them awake – I often stripped him down to a diaper so he wasn't too warm and cozy, and diaper changes are super helpful for waking babies up too!
Now is a great time to start setting up some nighttime sleep cues. Don't worry about any nap cues for daytime, but it's a good idea to have a consistent nighttime routine beginning as early as possible. Whenever you're ready to go to bed (and put the baby to bed), turn the lights off and keep noises and distractions to a minimum while the baby eats. For the first month, I did the bedtime feeding in my bed, with our lights off and our super noisy air purifier (which functions as a great noise machine) on. Corey would take Grant, put his pajamas on, and swaddle him in-between sides while he was breastfeeding, and once he was finished eating I would lay him in the bassinet next to our bed and keep interactions to a minimum.
Daytime sleep should happen whenever and wherever you can get it in the first few weeks. Don't worry about swaddling or putting the baby down unless you really want to – just soak up the sweet, squishy cuddles and don't worry about anything that isn't absolutely necessary. Right around week 3, I began to attempt crib naps on occasion – but I put zero pressure on myself to make it actually happen. If he napped in the crib, great. If he didn't, more cuddles for me!
It's hard, but try not to be too quiet while the baby is sleeping during the day! You want your baby to learn to sleep around noise from the very beginning, so keep noise to a normal level during daytime naps. If you're too precious about keeping things quiet while they sleep, you'll end up always needing a silent house for naps!
Month One Schedule:
Here's a look at what his schedule generally looked like in the first month – please note that everything is super sporadic and inconsistent in the first month. The schedule doesn't really start to form until later!
Wake up for the day around 7:00 (I slept in later if I could, but once Corey went back to work I had to get up to be with Jackson!).
Feeding every 2.5-3 hours throughout the day.
Napping pretty much anytime he wasn't eating!
Begin bedtime routine at 9:30, down for the night around 10.
Using the tips mentioned above, Grant was down to just two wake-ups a night by about 3 weeks old.
MONTH TWO: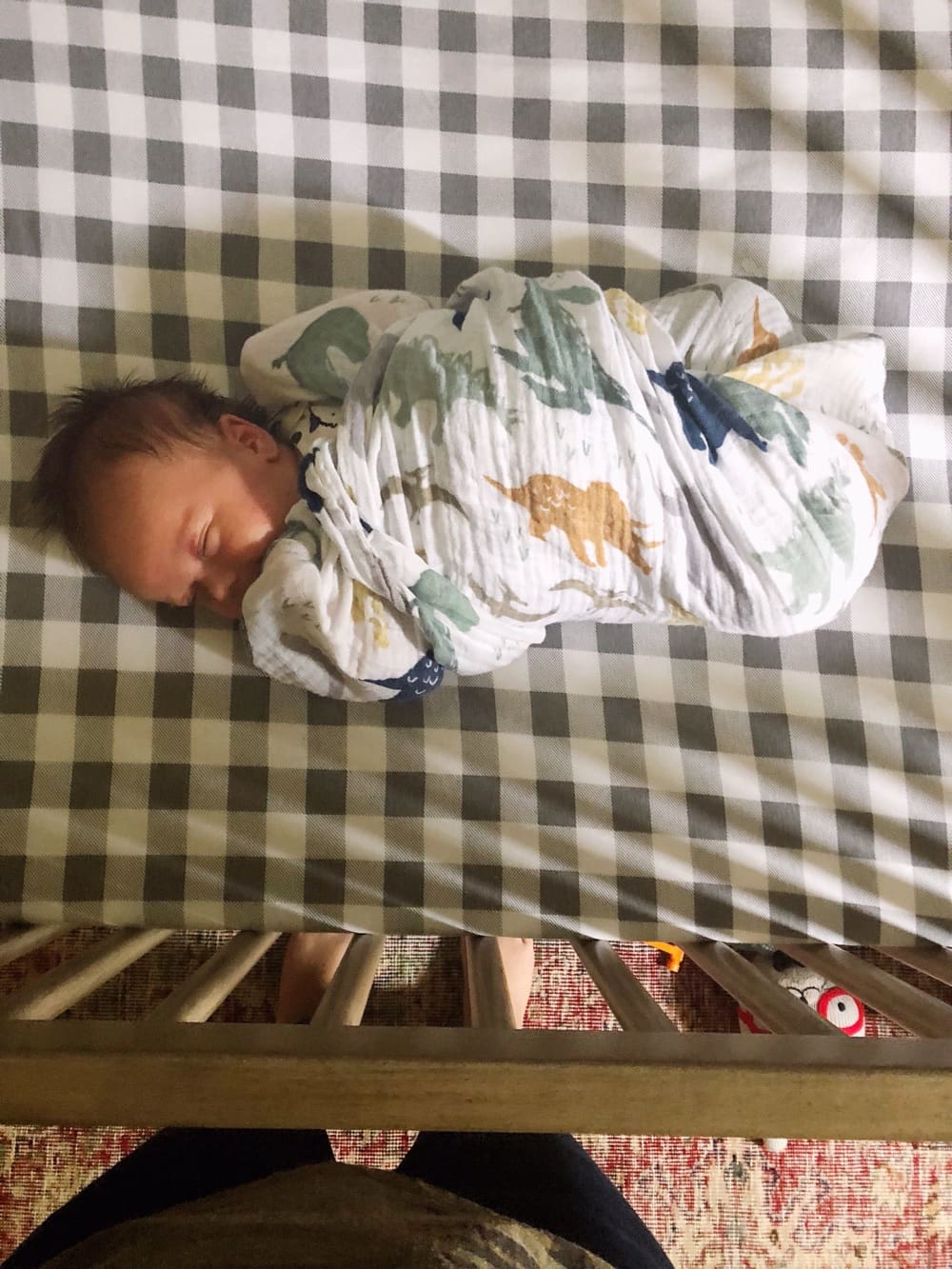 This is where I start to get a little more serious about getting good sleep. While I'm a firm believer that you can't form bad sleep habits in the first three months, I'm also a firm believer that you can form good sleep habits in the first three months. Now is a great time to start practicing some of those good habits and encouraging more independent sleeping.
Here's a look at what we did in the second month:
We paid close attention to sleep cues for nighttime sleep. Around 5 weeks, Grant started to get pretty fussy around 8:00 in the evenings (we hadn't been putting him down until I went to sleep around 10). He was whiny and cranky, and it was clear that he was tired. So, we moved bedtime up. Starting at 5 weeks, I began Grant's bedtime routine right at 8:00, and he was down for the night by about 8:30. Corey and I got some time back to ourselves in the evenings, and Grant's sleep only improved!
At about 6 weeks, we moved Grant from the bassinet in our room to his crib in his room. Note: Yes, the American Academy of Pediatrics does recommend you have your baby sleep in your room until 6 months of age. However, this is what works best for our family. We kept his bedtime the same, just shifted the entire routine to his room instead of ours. It made it a little more difficult for me (I didn't mind walking to his room for the nightly feeding, it was more when he lost the pacifier and began fussing!), but we all slept better for it. It made me less likely to intervene and give him the pacifier if he was just grunting – I waited until he was fully awake and crying, and often he would settle on his own before I had to go in there.
During the second month, I also got much more serious about nap time. I aimed for two solid naps in the crib each day, with the rest of his naps being wherever he could catch them. Babies still sleep so much at this age, I figured if we did all of his naps in the crib I'd never see him! Each day, around 9:00 and around 3:00, I would swaddle Grant, feed him if he needed it, and put him down in the crib for a nap. Often, I would have to return to his room multiple times to give him his pacifier, but I tried to just walk in, give him the pacifier, and leave. If he became inconsolable and wasn't satisfied with just getting the pacifier back, I'd take him out and rock him until he was calm, then we'd try again. Within a week or so, he was pretty consistently going to sleep in his crib without any real issues – though, on occasion I'd have to go into his room upwards of 15 times or so before he finally settled. Remember, good baby sleep takes patience and sacrifice!
Month Two Schedule:
Here's where our schedule started to solidify a bit more! It was harder to keep a good schedule on Fridays and on the weekends when Jackson wasn't at school, but on Jackson's school days we were very consistent. We tried to keep a pretty similar schedule on the non-school days, but sometimes life happens. At two months, babies still sleep for a lot of their day, and awake time is very short! The schedule below is the "perfect day" schedule – often, the afternoon nap just wouldn't happen in the crib and I'd wear Grant in the wrap while he slept. But, this is what we always worked towards!
6:00 – Up for the day, feeding
6:30-8:45 – Grant would hang out in his bassinet or in the baby wrap while I got ready and got Jackson ready for the day. He would usually take a 20-30 minute nap either in my arms or in the bassinet while I got ready. We leave at 8:45 to take Jackson to school.
9:00 – Around this time we'd get back from dropping Jackson off. I'd immediately take Grant to his room and feed him, then lay him down for a nap.
12:00 – Grant usually would nap right up until I needed to feed him again. So, I'd head in there and wake him up, then bring him out to the living room to feed him.
12:00-1:45 – I'd work on my computer on the couch and snuggle with Grant. He usually sleeps for a good chunk of this time, but has a bit of awake time right after eating.
1:45 – We leave to get Jackson.
2:15 – After we get home from dropping Jackson off, we spend a bit of time getting him settled and straightening up the house. Grant was usually awake for most of this time.
2:45 – Somewhere between 2:30 and 3:00 (depending on how hungry he is), I'd take Grant to his room, feed him, and lay him down for a nap.
5:30 – Corey gets home from work. Grant is usually still asleep – once we hit the three hour mark (which would vary depending on when I fed him last, it was usually conveniently right at dinner time), Corey would go to wake him up and hang out for a minute before I feed him.
5:30-8:00 – Grant tended to cluster feed during this time. I'd feed him right when he wakes up from his nap, then he'd hang out in the living room with the family and nap on and off. He'd usually eat at least one more time in this window, usually around 6:30 or 7:00.
8:00 – Begin bedtime routine – feed him and lay him down.
Right after Grant turned a month old, he started to consistently wake up just once at night – usually between 2:30 and 3:00.
Month Three: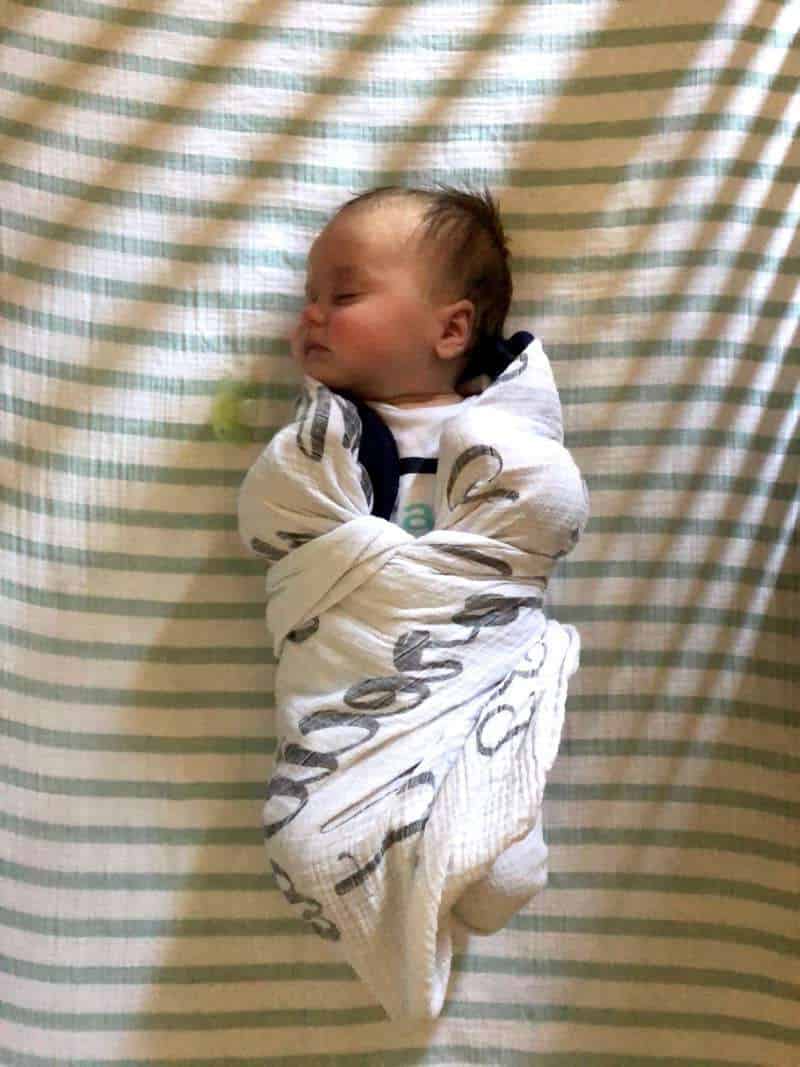 At this point, both you and your baby should be in a pretty good routine and understand each other a little better. You should be able to easily recognize your baby's sleep cues, and you should have a pretty good idea of how long they can handle being awake before a nap is needed. For us, we noticed a definitive shift in Grant's sleep during month three – the schedule became more and more important, and he started to want to nap in the crib more often versus napping on us. Of course, at three months he still struggled to stay asleep in the crib during the day. With lots of consistency and patience, though, most days we were able to get the majority of his naps in the crib (though, at this point, baby daytime sleep can still be a bit of a mess as your child figures out a schedule and learns how to self-soothe!).
Here are my tips for month three sleep: 
Your bedtime and nap time routines should be solid at this point. For us, that means before bed he gets put into pajamas and swaddled by Corey, then I feed him and lay him down. All the lights are off and his sound machine is on. We keep a similar routine for naps, minus the pajamas (and Corey, since he's usually at work).
By the end of the third month, we had shifted things so that we were laying him down for naps without eating first. Occasionally the timing would work out that I'd need to feed him right before laying him down, but for the most part I tried to shift his schedule so that he'd sleep, then eat, then play a bit before going back down for a nap.
A three-month-old can generally stay awake anywhere from 1-2 hours between naps. Grant generally was on the lower end of that spectrum and rarely lasted more than an hour or so before he got fussy, except for his first stretch of awake time in the mornings, where he was always awake for longer. Pay attention to your baby's sleep cues (yawning, drowsy eyes, staring off into space, fussiness, etc.) and try to start nap time right when you notice they're getting sleeping.
Stay persistent with crib naps even if your baby is struggling! This is a great time to start to learn some self-soothing skills, and that might mean you need to spend a good half hour going in and out of their room to help them when they cry. It's no fun, but it's 100% worth the effort. We also noticed at this time that sometimes Grant would cry out for 10-15 seconds right before falling asleep. So, if he began crying I wouldn't rush to his room right away – I waited a bit (no more than a minute!) to see if he'd settle before I went to check on him.
At this point you should have a good idea about when your baby needs to eat at night – if they wake up at a time that isn't typical, try just giving them a pacifier or soothing them instead of automatically feeding them. At three months, Grant was only eating once per night (around 3:30 or 4:00, so if he woke up before then I'd just soothe him).
Month Three Schedule:
Our schedule in month three looked pretty similar to month two, but it was much more set in stone. This was the time when I began to be able to really predict how each day would go, and Grant settled into taking four solid naps each day. Of course, you should remember that at this age everything still kind of rotates around feeding and wake times rather than the clock. For example, Grant eats every 3-ish hours, and is usually up for 60-90 minutes before needing another nap – so if he sleeps in 30 minutes later than usual in the morning, everything is pushed back a bit!
Note: This is a very rough schedule, and it's the one we followed at the end of his third month (right as he turned three months old). The schedule shifts a lot during this month, and it wasn't until right when he turned three months old that we really had a super solid schedule. Also, remember that sometimes the sleep times are longer or shorter – it just depends on his mood! Baby sleep can still be very, very unpredictable at this age! 
6:30-7:00 – Up for the day, nurses.
7:00-8:00 – I get Jack ready for school, get myself ready, and do some cleaning. Grant is usually awake for most of this time. He'll spend a chunk of it hanging out in his swing, then when he gets bored I'll transfer him to the wrap so I can keep working on things. He'll occasionally take a cat-nap (15-20 minutes) right before we leave, but this petered off towards the end of the month.
8:40-9:00 – In the car, taking Jack to school. Grant usually starts to doze right before we get home.
9:00 – I feed him and put him down for a nap.
9:20-10:30 – Grant naps in the crib.
10:30-11:30 – Awake time.
11:30-1:00 – Nap in the crib.
1:00-2:15 – I feed Grant, and we have some play time before picking Jack up from school. We pick Jack up at 2:00, then head back home.
2:15 – Time for another nap!
3:30 – Grant wakes up, and is generally ready to eat.
3:45-4:30 – Play time. I usually try to get Grant to play on his mat as much as possible during this time, while I get dinner prepped and do some cleaning around the house.
4:30-6:30 – Oh, the witching hour(s)! Grant usually gets sleepy right around 4:30, but it isn't always easy to get him to nap in the crib for this last nap of the day. We do our best, and I give up and put him in the wrap if necessary to ensure he catches a quick nap before bedtime. Typically, he'll end up falling asleep around 5:00 and sleeping for about 45-minutes. I always wake him up by 6:00 to ensure he goest to bed on time.
6:30 – Depending on what time he woke up from his nap, Grant is usually ready for bed between 6:30 and 7:00.
At three months old, Grant was waking up once per night at 3:30ish to eat. Occasionally, he'd go all the way to 5:00. At 15 weeks (which is right now!), Grant goes to bed at 6:30 and lately has been sleeping through until about 6:30 the next morning.
Newborn sleep is a tricky business, but remember that it's short-lived! Soon your baby will be sleeping 12 glorious hours a night plus naps and you won't even know what to do with yourself.
And, honestly? Once those middle-of-the-night nursing sessions are done for good, you'll probably look back on them wistfully and remember how sweet it is to spend some time cuddling with your baby in the early hours of the morning when it feels like the whole world is asleep.
Parenting is weird, y'all!
If you have any more questions about our baby sleep experience, let me know! If there's enough interest, I'm happy to do an update when Grant gets a little older, too.