I've had several requests for a post about sleep, so I figure it's about time I get to it. I've been avoiding it because we are smack dab in the middle of a big sleep regression (hello, four months!) but I figure I can share what has been working for us so far, and what we're still struggling with.
I have a lot to say about sleep, and I believe that night sleep and day sleep are two totally different beasts, so we'll talk about night sleep today and I'll tackle a post about naps soon (we're in the middle of nap training, so I want a bit of time to figure it all out first!) Update: You can see part two of this post, with details about naptime, right here!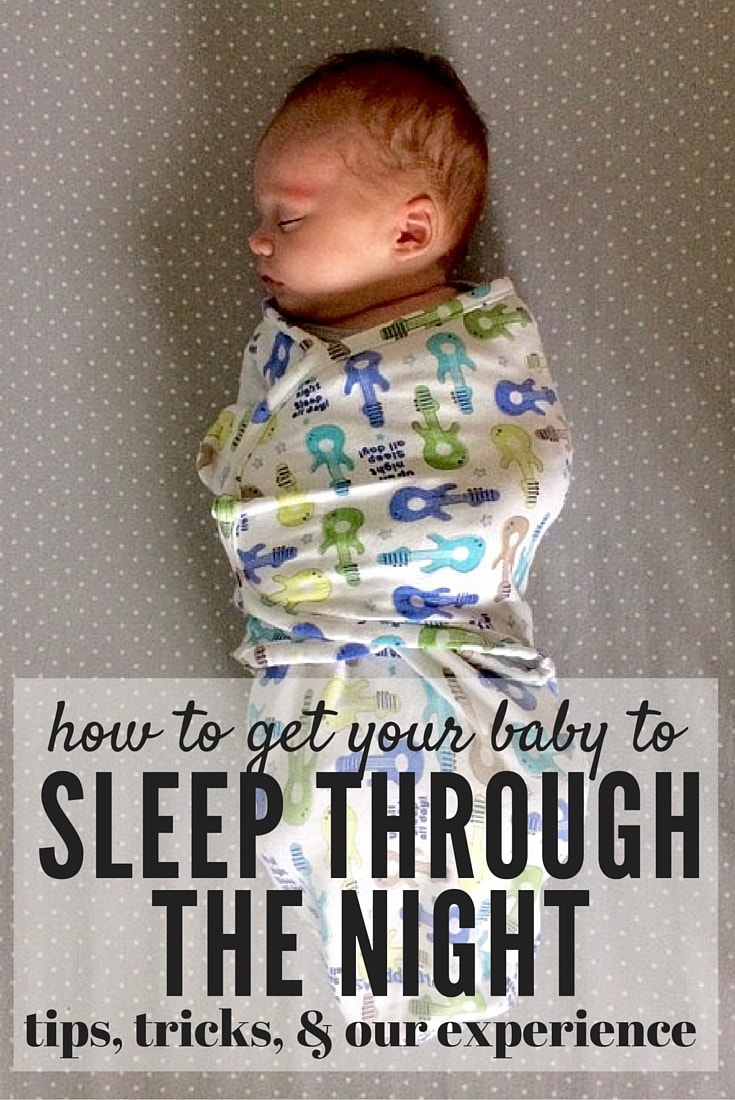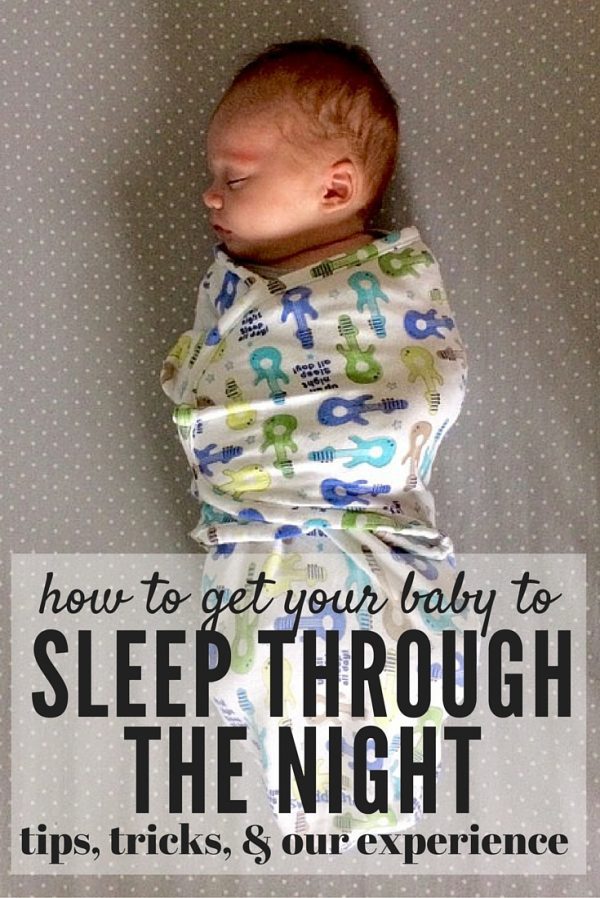 This post contains affiliate links. Click here to see my full disclosure policy.
First, let me tell you a bit about Jackson's sleep so far at night – because we lucked out with a pretty awesome sleeper. By 5 weeks he was down to one wake-up per night (usually between 2:30 and 3:30), and by 12 weeks he was consistently sleeping through the night (9:00 PM to 5:30/6:00 AM).
We slowly moved his bedtime forward as he showed us he needed it, and now most nights he sleeps from 7:00/7:30 PM to about 6:00 AM. The last couple of weeks he's been waking up a few times a night, but we usually just give him the pacifier and he goes straight back to sleep. I honestly think his nighttime wake ups lately have been due to poor sleep during the day, so I'm hoping the nap training we are doing now will help with that!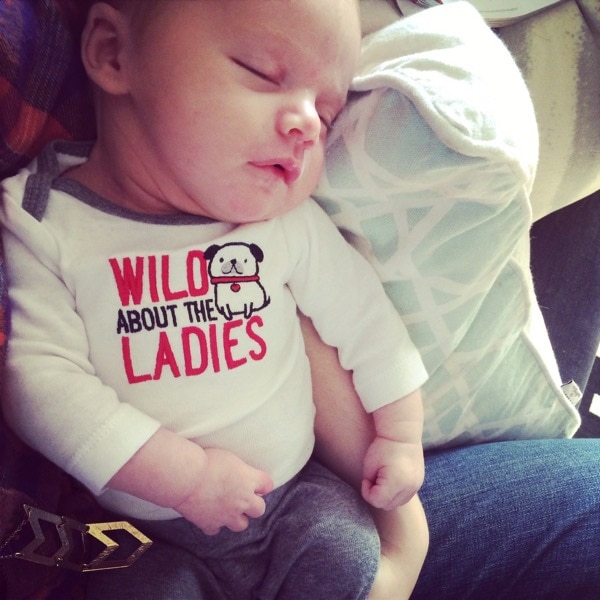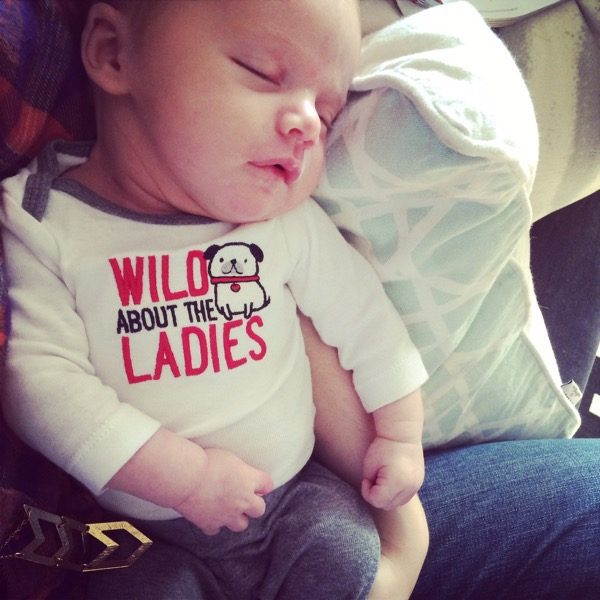 So, what did we do to get him to sleep so well from such a young age?
I have no idea. Luck?
Just kidding. Kind of.
I do believe that all babies have completely different sleeping personalities, and some babies just sleep better than others. However, there are a few steps that we took that I think contributed to Jackson's good sleeping habits.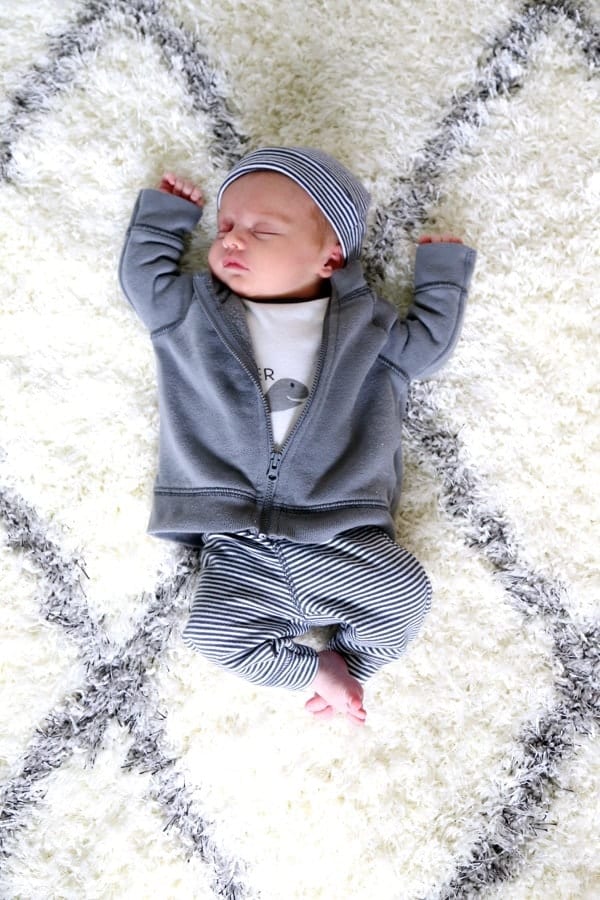 1. We have a solid, consistent night time routine. By the time Jackson was about 3 weeks old we had settled on a routine and we do the exact same thing every. single. night. I don't think it matters too much what the actual routine is, just as long as it works for you and your family and is something you can keep up with. For us, bedtime looks like this:
– Head upstairs and put pajamas on. Corey always does this, and they always play on the changing table a bit. Corey has specific little things he says and does every night that always make Jack giggle, and since they only do it at bedtime, it has become a sort of sleep cue.
– Nurse on one side. While I'm nursing, Corey always turns the fan on and turns on our music (more on that in a second).
– Corey takes him and swaddles him in the crib, and gives him some gas drops (Jackson has pretty bad reflux, and we've found these help a lot). We're in the process of ditching the swaddle, but we're doing it very slowly because he's very attached to it. We're currently swaddling with both arms out, and our next step will be to move to a sleep sack – we're waiting to do this until he has his naps sorted out (Update: We love these Aden + Anais sleep sacks, and he used them every time he slept until he was almost two)!
– Corey gives him back to me, I nurse on the other side, and when he finishes I give him his pacifier, lay him down, and leave.
It's a super simple routine and really doesn't involve a lot of the "typical" bedtime stuff (like reading a book or bath time) but we have found that this is what works for Jackson. Most nights he goes straight to sleep – sometimes we have to go in once or twice to give him his pacifier back, but that's more of a new thing in the last couple of weeks or so.
2. We found white noise that works for us. At first, we used a white noise machine with Jackson every night (we have this one). We liked it – and so did he – but it turns off after 45 minutes and we just never felt that it worked as well as it could. When he was a few weeks old, we discovered how much he loves music and how soothing it is to him. In particular, he really seemed to like Dashboard Confessional. It's probably just because that's my go-to music to sing to him when I'm trying to calm him down, but for whatever reason, we felt like it was more soothing to him than anything else. So, we loaded up an old iPod with a few hours worth of music and set his room up with a speaker (we have a few different ones, but this is what we use in his room).
Now, he listens to music every single night (and during naps) and music is a major sleep cue for him. It also can be a bit louder than the sleep sheep could, so it helps to drown out other noises (like our dogs) better than anything else.
3. We watched his cues and adjusted bedtime accordingly. We used to start bedtime around 8:00 and put him down at 9:00ish (he always takes a while to eat!) but slowly over time we realized that the 30-45 minutes leading up to bedtime were always fussy. It seemed silly to insist on waiting until 8:00 to start the bedtime routine when he was getting grumpy around 7:30, so over the course of a couple of weeks we slowly moved bedtime up in 15-minute increments until we found a sweet spot. Now, we start the bedtime routine at about 6:15 or 6:30, and he's down by 7:30 most nights – he's much happier in the evenings, and we've got some time to ourselves again!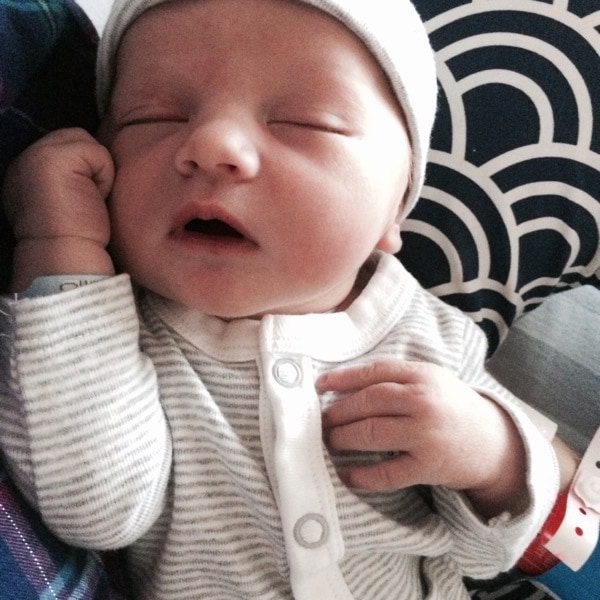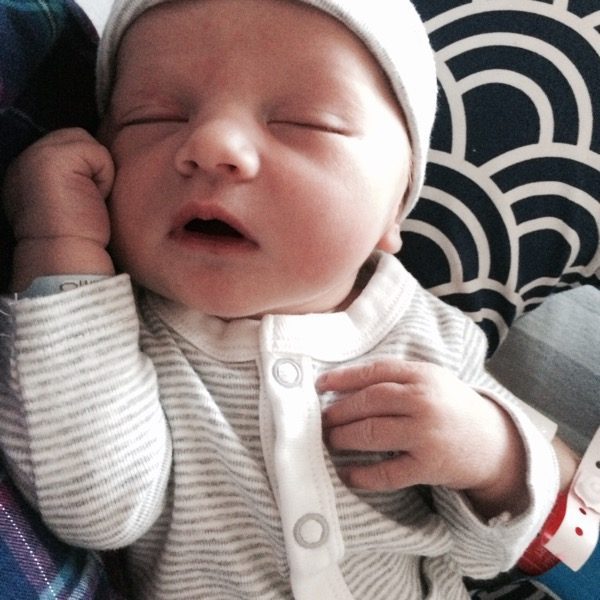 4. We made sure he was full during the day. I think one of the biggest keys for us in getting Jackson to sleep through the night was making sure he got all of his nutrition during the day, so he wasn't starving at night. Some of this he did on his own, but I take credit for at least part of it!
When he first started sleeping through the night, I was making sure that he ate every 3 hours or so, regardless of whether or not he was fussy. I also wouldn't ever let him nap more than 3 hours at a time (when he was really little he would often nap from feeding to feeding!). Now that he's a bit older, we typically do 4-hour increments, but I don't let him go any longer than that. He also naturally began to eat much more at his last feeding before bed and his first feeding after waking up in the morning – it's like he's fueling up to sleep all night!
5. I cluster feed right before bed.  Well, kind of – if two feedings really close together counts as a cluster feed. This really happened on accident, but it works well for us. Jackson seems to do best if he has 5 feedings a day, and that usually means I have to squeeze in an extra feeding right before bed. So most days his eating schedule is 6:00 AM, 10:00 AM, 1:00 PM, 5:00 PM, and 6:15 PM. Sometimes it varies a bit but generally speaking, that's when he's eating. We don't force these times on him (unless it's been 4 hours and he isn't requesting food, then I'll usually go ahead and feed him anyways), but this is the routine he's fallen into and it seems to help! The extra feeding right before bed is a great way to make sure he's full heading into the night, and I think it's played a part in helping him sleep all night.
On top of these tips, there are a few products that have been absolutely invaluable to us throughout this process – here are a few of our must-haves when it comes to sleep!
And so far, that's what we've done to help our little man sleep at night! I honestly think a lot of our sleep luck has just been because he's a sleepy baby, but I do think what we have done has been beneficial in getting him to sleep better.
As I said in the beginning of the post, we're currently in the middle of the four-month sleep regression and it's been rough, but manageable. Right now, he's still going to bed at the same time as usual but he's waking up 3-4 times during the night crying. It doesn't usually last very long (except one strange night when I had to do a middle of the night feeding and then Corey had to spend an hour in his room with him), but it's not fun to be getting out of bed multiple times a night again. I feel pretty confident that once we get his naps sorted out (he's been taking awful naps lately) he'll go back to sleeping better – but I'll keep you updated!
Love this post? Here are a few other baby and parenting posts you might like: