Ideas for Decorating Your Kitchen Counters
I have always (allllways!) struggled with how to style my kitchen counters. I want my kitchen counter decor to be beautiful and feel homey, but I also want it to feel clean and clutter-free.
It's a tricky balance to strike. Especially when you actually use your kitchen daily and really can't have it looking like a showroom all the time! Over the years, my kitchen styling game has come a really really long way. It's honestly just recently that I've reached a point where I'm really happy with how my kitchen countertops are styled on a day to day basis!
Today, I've got some kitchen counter decor ideas and inspiration for you to help elevate your countertop decor. Because any kitchen can have beautifully styled counters!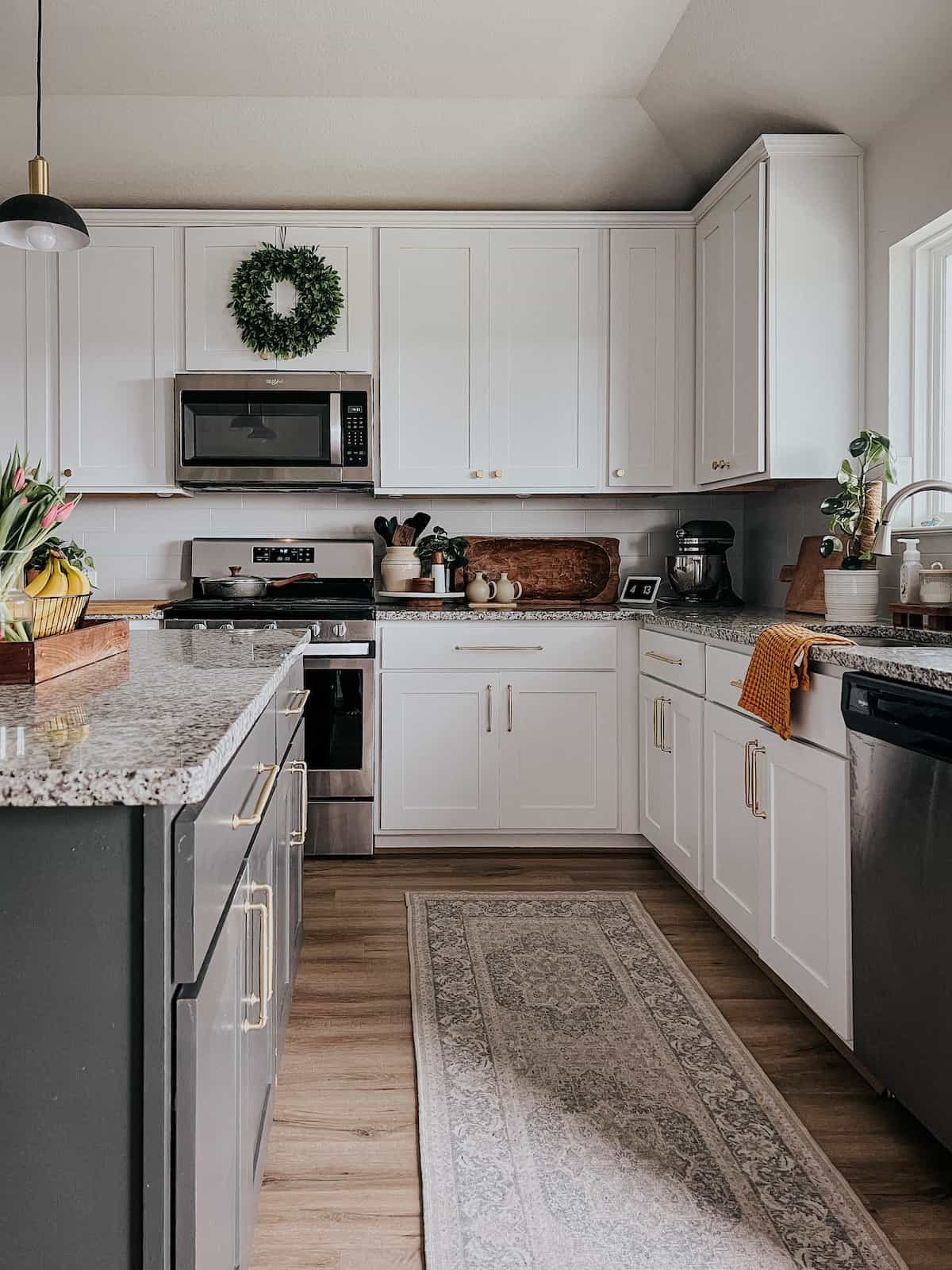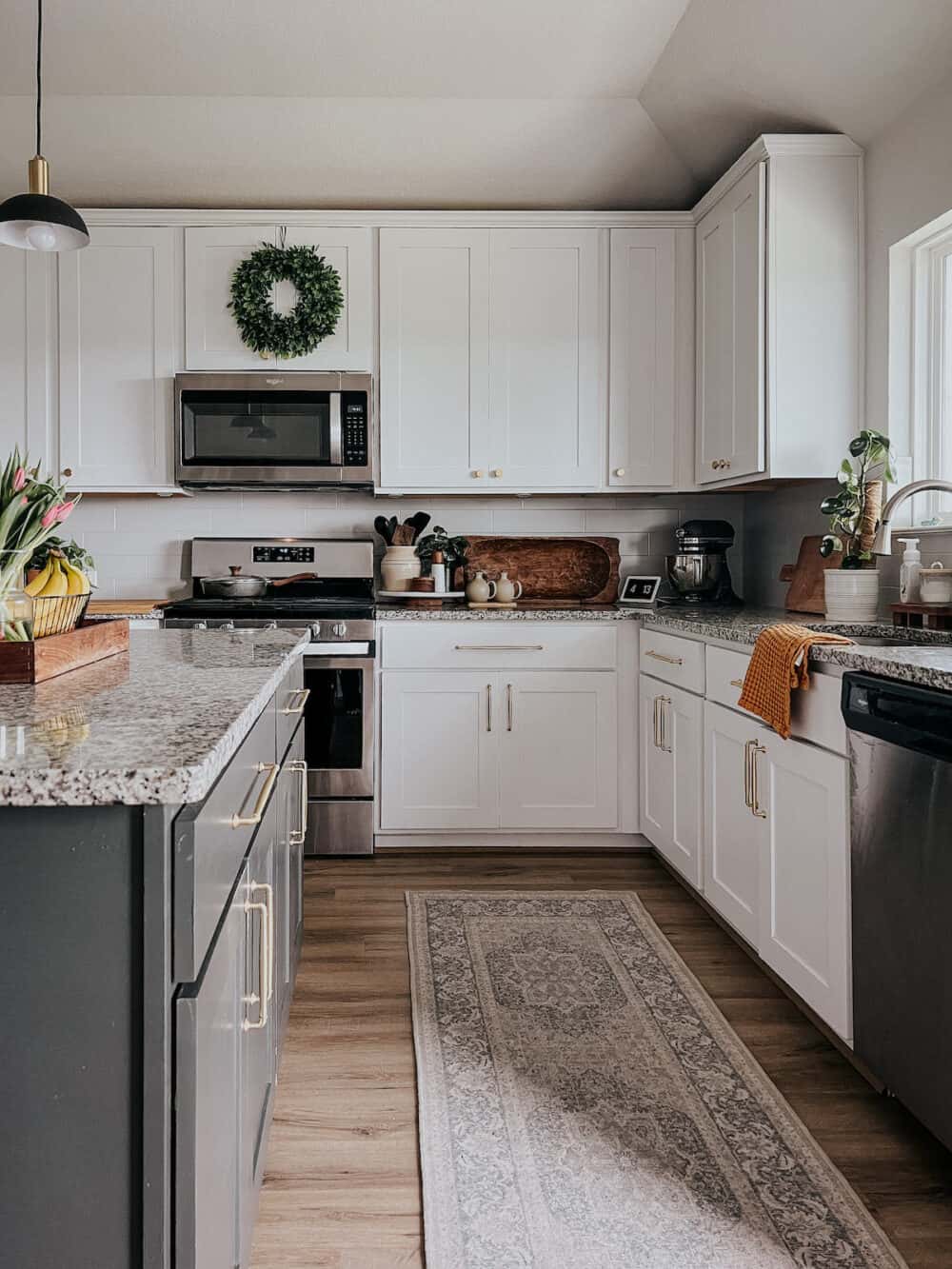 My Number One Tip: Keep it Simple!
It bears repeating: keep it simple! Sometimes we get the urge to fill every square inch of our counters with stuff, but it's going to feel cluttered and stress you out over time.
I've learned that for me, the best approach is to start by really taking stock of what's on my counters and asking myself what I can remove. For example, we used to keep a toaster on the counter but eventually realized it was super simple to just pull it out when we needed it. Only the appliances that truly get used daily and are difficult to put away get left out.
This is an especially important tip if you have limited counter space. You don't want to take it up with a mixer you only use twice a year or a toaster oven that could easily be stored in the pantry!
Start With a Blank Slate
Once you've really taken the time to figure out what can be put away and what needs to stay out, I recommend you pull it aaaaaall off and start fresh. Why? Because that's always what I recommend doing when you're restyling something.
Starting off with a blank slate by removing everything from your counters gives you a chance to really look at everything with fresh eyes. You'll be more willing to try things in new places and really play around with the styling. Trust me, it's worth the extra time.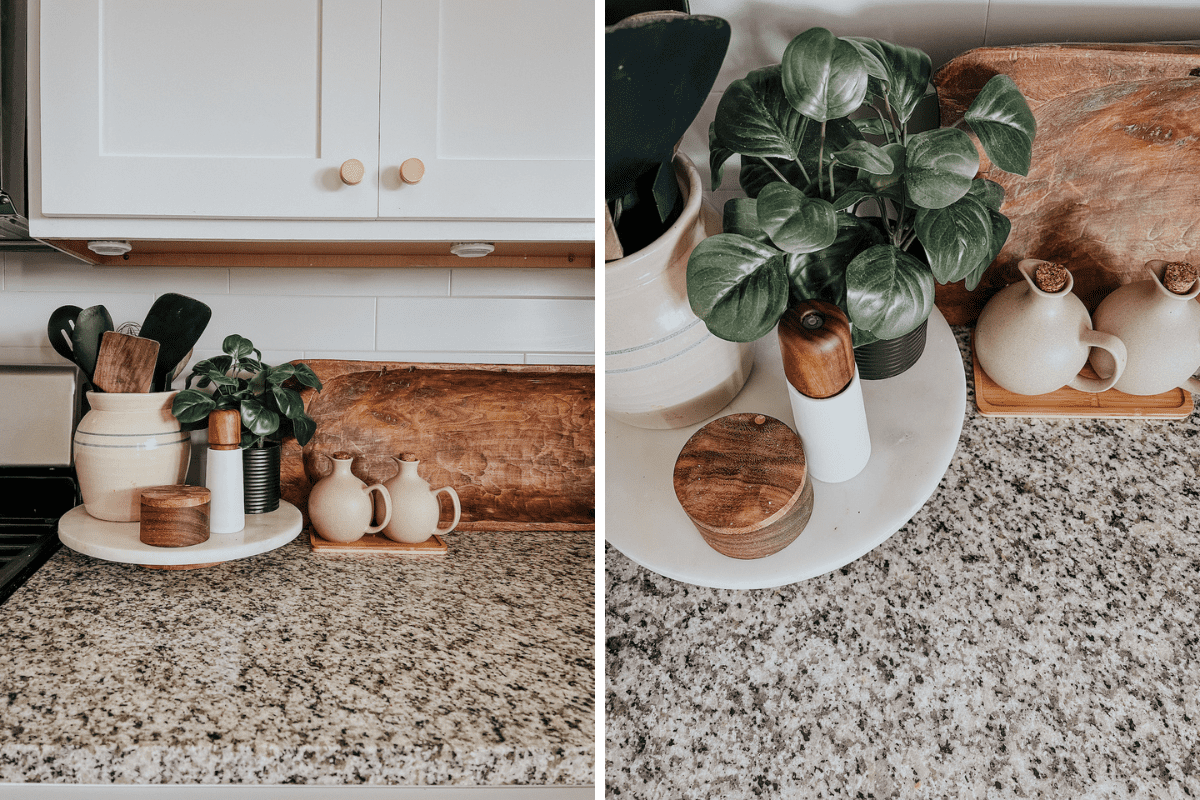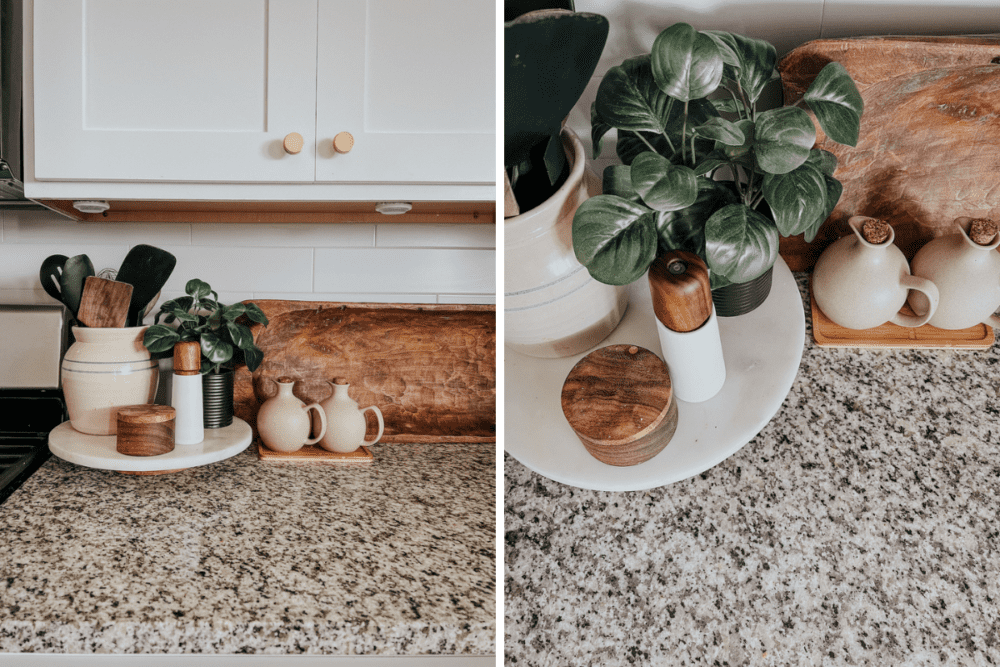 Corral With a Tray
One of my favorite ways to organize and decorate my kitchen counters is with trays! They make everything look better.
A few ideas of things you could put on trays…
Make a little coffee station with your coffee maker and other accessories.
You could also do the same with a tea station. Corral a cute tea kettle with some canisters of your favorite tea.
Use a small tray by the sink for dish soap, lotion, and your scrub brushes.
I keep a marble tray by the stove and it has a vintage crock with my cooking utensils. I love the look of a pretty canister of just wooden spoons, but that isn't practical for our day-to-day. We need the spatulas and tons within easy reach, too! It also has a salt cellar and pepper grinder.
I also have a small tray with my olive oil and vinegar jugs.
You get the idea. If you have a collection of smaller items that all need to go on the counter, corral them together in one spot!
Upgrade the Everyday Items
This is one of my very favorite ways to make a big difference in a utilitarian space like a kitchen or a bathroom. If you want to really elevate your space without a ton of effort, just try replacing your everyday kitchen tools for prettier versions.
It's that simple! Things like soap dispensers, pepper shakers, utensil holders, small appliances, and flour canisters all can be found in really gorgeous versions that will make your space feel special. Heck, I even wrote a whole blog post about it once!
Even things like your pots and pans can make your kitchen feel special. I keep this pan on my stovetop at all times because I don't mind how it looks! Someday I'd love to get a copper pot or two to display, as well!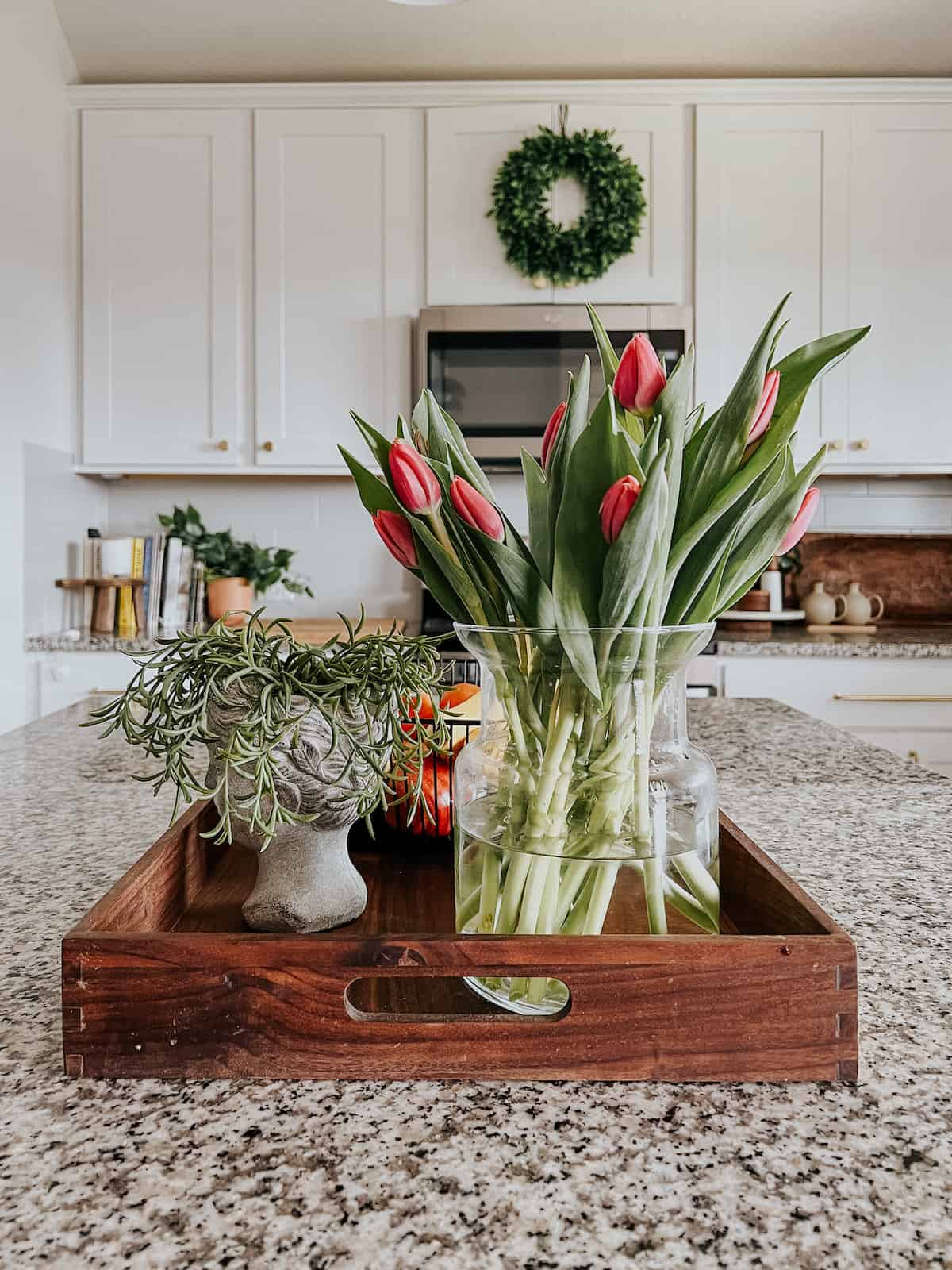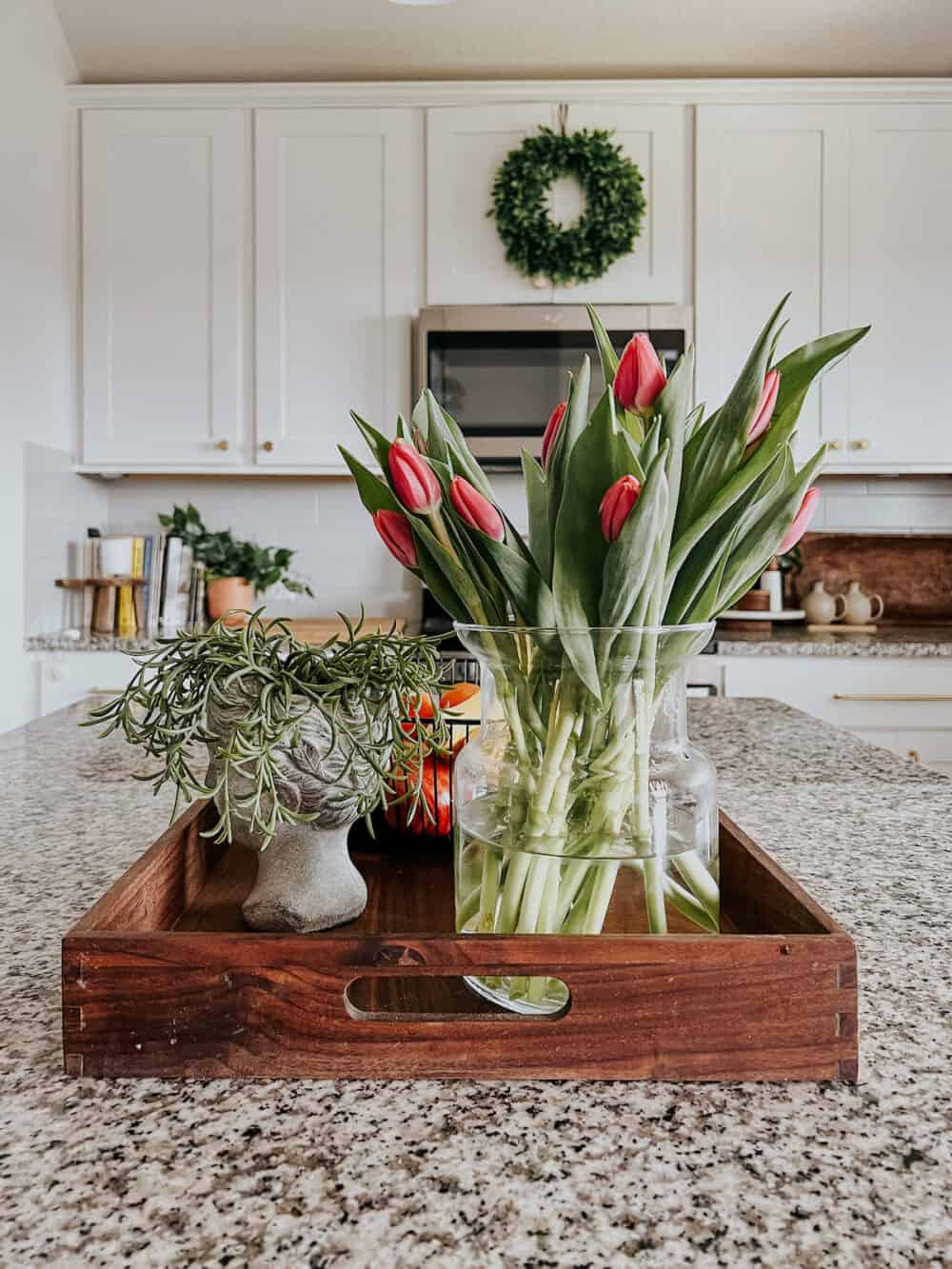 Don't Skimp on the Greenery
I know I'm always harping on things like adding fresh flowers and plants to your home, but I can't overstate exactly how big of an impact it has! Adding a vase of tulips or a clipping from the tree in your backyard adds a pop of color and texture that's hard to replicate with anything else!
In my kitchen, I currently have three real plants and four faux plants. Just in the kitchen. They're not big, but they work together to make a huge impact and make the space feel cozy.
Display that Food!
A super simple way to create a beautiful countertop display is by utilizing the food you've already got! Here are a few ideas of how to do this:
Bake a cake with your kids on Sunday afternoon? Put it on a beautiful cake tray with a glass lid!
Have a bowl of fruit on the island with fresh fruits. We almost always have apples, bananas, and oranges in ours.
A cookie jar is a great way to store your favorite cookies, and add a little character and charm to your counters!
On a similar note, you can (and should!) also display your cookbooks on your counters. Keep all of your favorite recipes close at hand, and maybe even add in a pretty cookbook stand to really up the vibe.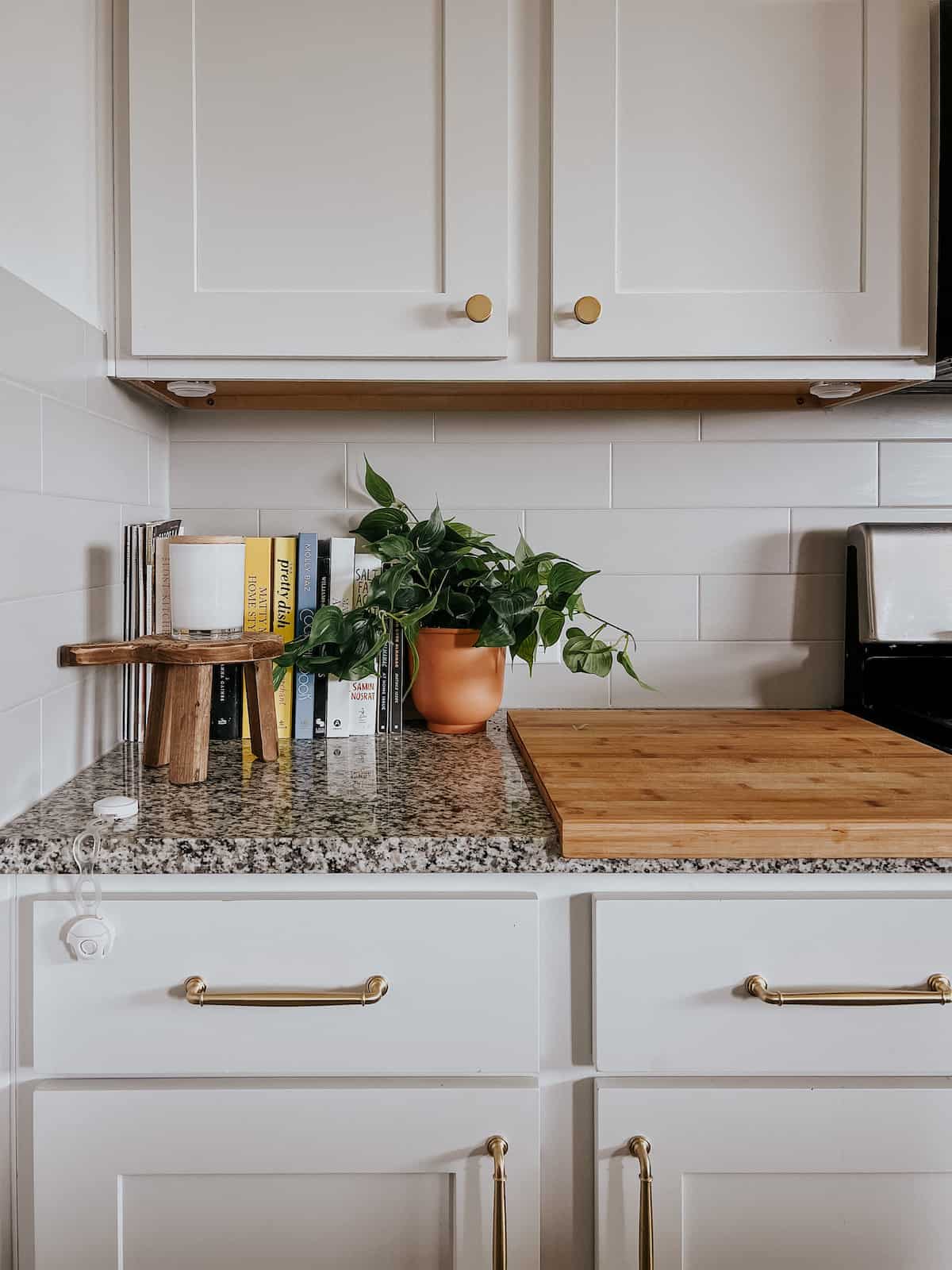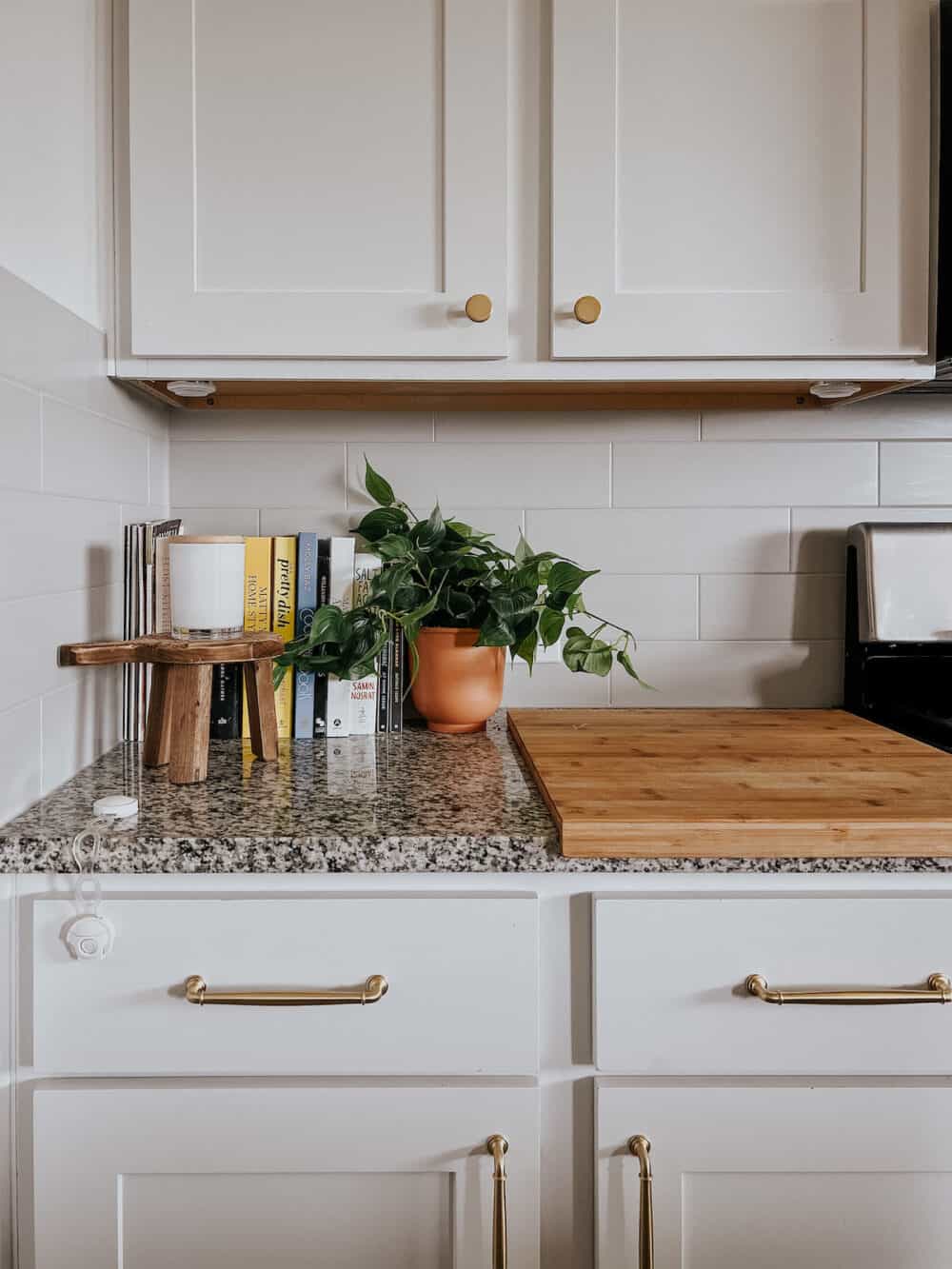 Consider Adding Art
This isn't something I've done in my kitchen yet but it's high on my to-do list, and writing this post is actually inspiring me! Adding art to your kitchen is a great way to bring in some personality and warmth. You can use command strips to hang it on the backsplash – I love a beautiful, small art piece hanging between the stove and the vent hood!
You can also utilize your cutting boards as art – we have most of ours on a wall in our kitchen and it makes me smile on the daily.
Use What You Have
On that note – using things like cutting boards, serving dishes, cake stands, bowls, trays, and mugs on your counters as kitchen counter decor is a really simple and functional way to create a beautiful kitchen! You can add mug hooks under open shelves to add a little personality and make them easy to reach, you could prop some cutting boards up against the backsplash, or you could set out a favorite serving dish as a display!
Get creative with what you already have around the house, and you'll be surprised at how much of a difference it makes! Things like a lamp, candles, vases, and more can all be brought into your kitchen for a little personality without having to buy anything.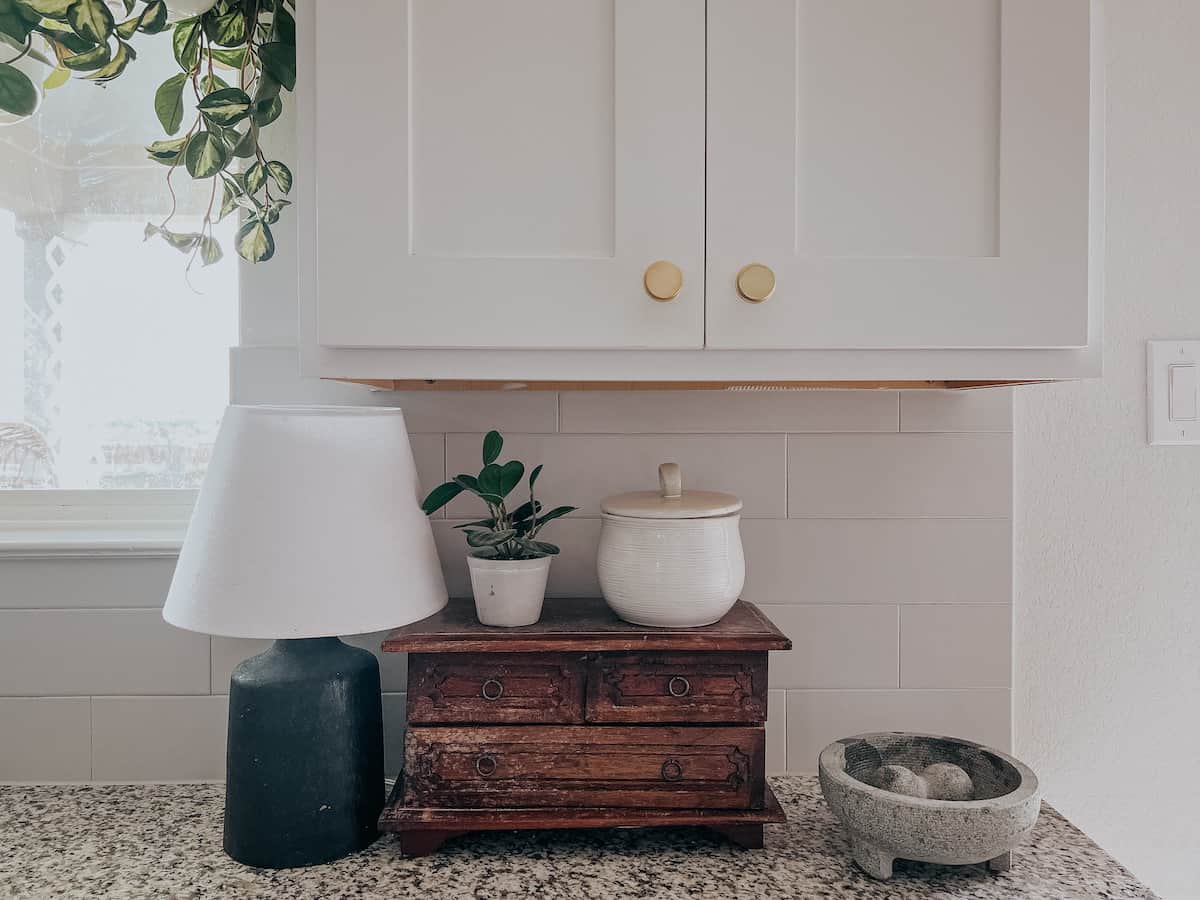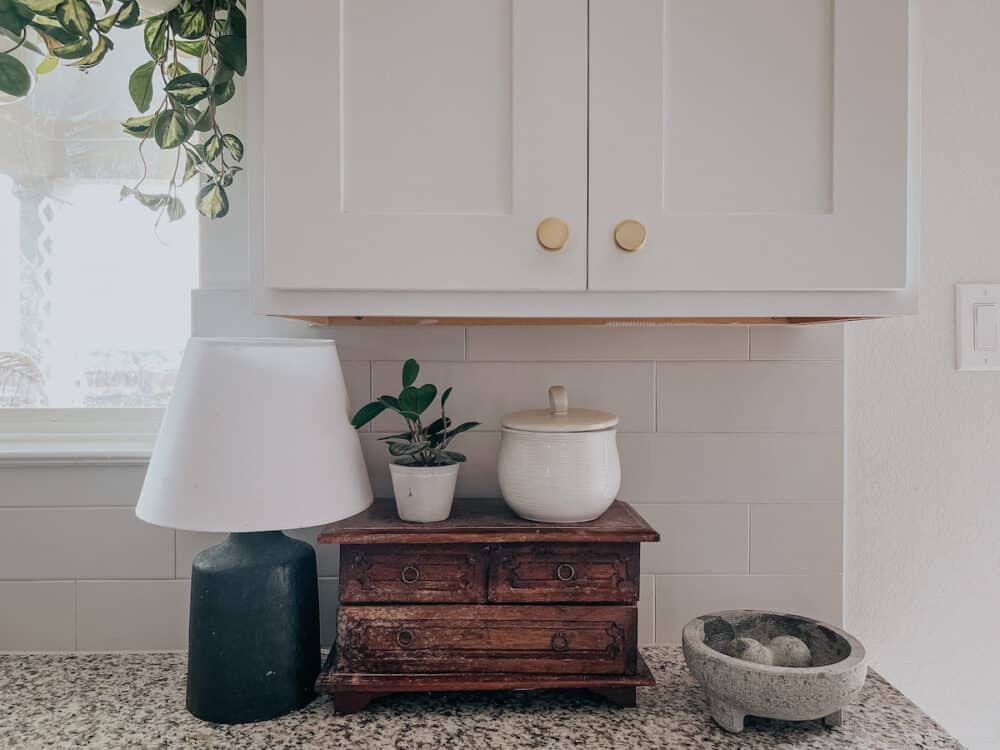 Be Sure to Consider Function
Finally – and perhaps most importantly – always be sure to consider how you use your kitchen and what will work best for your family. I can give you all the tips and tricks in the world, but if they don't align with your needs, it won't do you any good!
If you're coffee obsessed, make sure you have a coffee station! If you can't go three days without baking something, your stand mixer should definitely be out. Always take how you use the kitchen into consideration when planning your kitchen counter decor, and you'll be more likely to really fall in love!
want more styling tips?
Shelf Styling 101
If you're looking for more tips for how to style shelving or other surfaces in your home, check out this super detailed post with lots of tips!
Kitchen Counter Decor
Need some help getting started? Here are a few favorites you could add to your kitchen!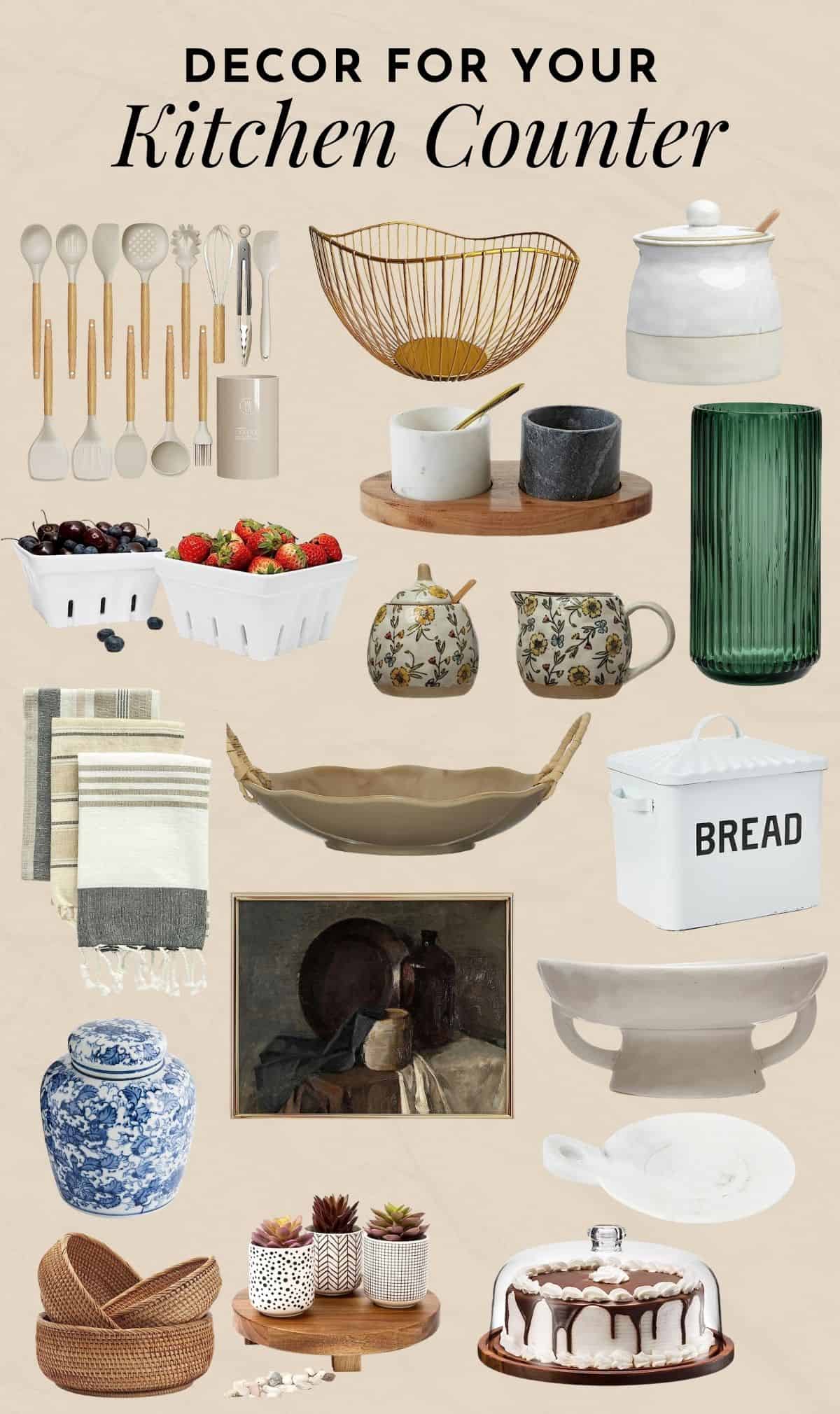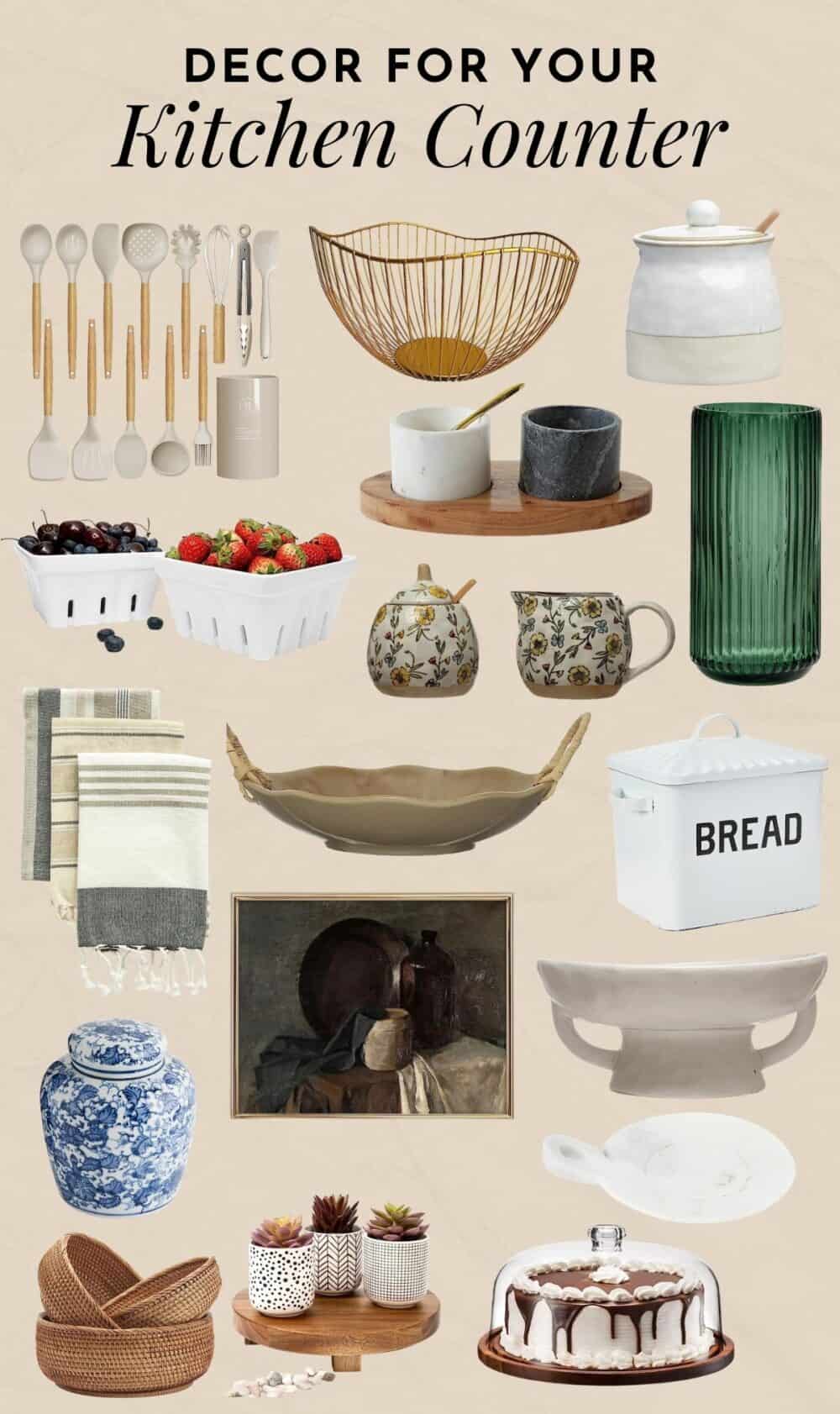 Now, go forth and restyle those kitchen counters!