I have always (allllways!) struggled with how to style my kitchen counters. I want my kitchen counter decor to be beautiful and feel homey, but I also want it to feel clean and not too cluttered.
It's a tricky balance to strike.
I've played around with a lot of different kitchen counter styling methods over the years, and since this week is all about styling with what you've got in your home, I figured it was the perfect time for me to give it another go.
I'm the learn-as-you-go type when it comes to styling, but I've really come a long way. Especially when it comes to the kitchen. So, let's start by taking a little look back at our past kitchens to see how my styling has evolved. I share this partially because it's kind of fun to look back at, but largely so you can see the progression. If you're feeling like you don't know what you're doing when it comes to styling your home, it might be encouraging to see that there was a time where I also had no idea what I was doing. And sometimes, I still don't!
Let's take it aaaall the way back to the first home Corey and I purchased…and even better, my first attempt at styling it. We'll talk about what I'd do differently today, and some lessons I've learned from each home and each kitchen!
our first house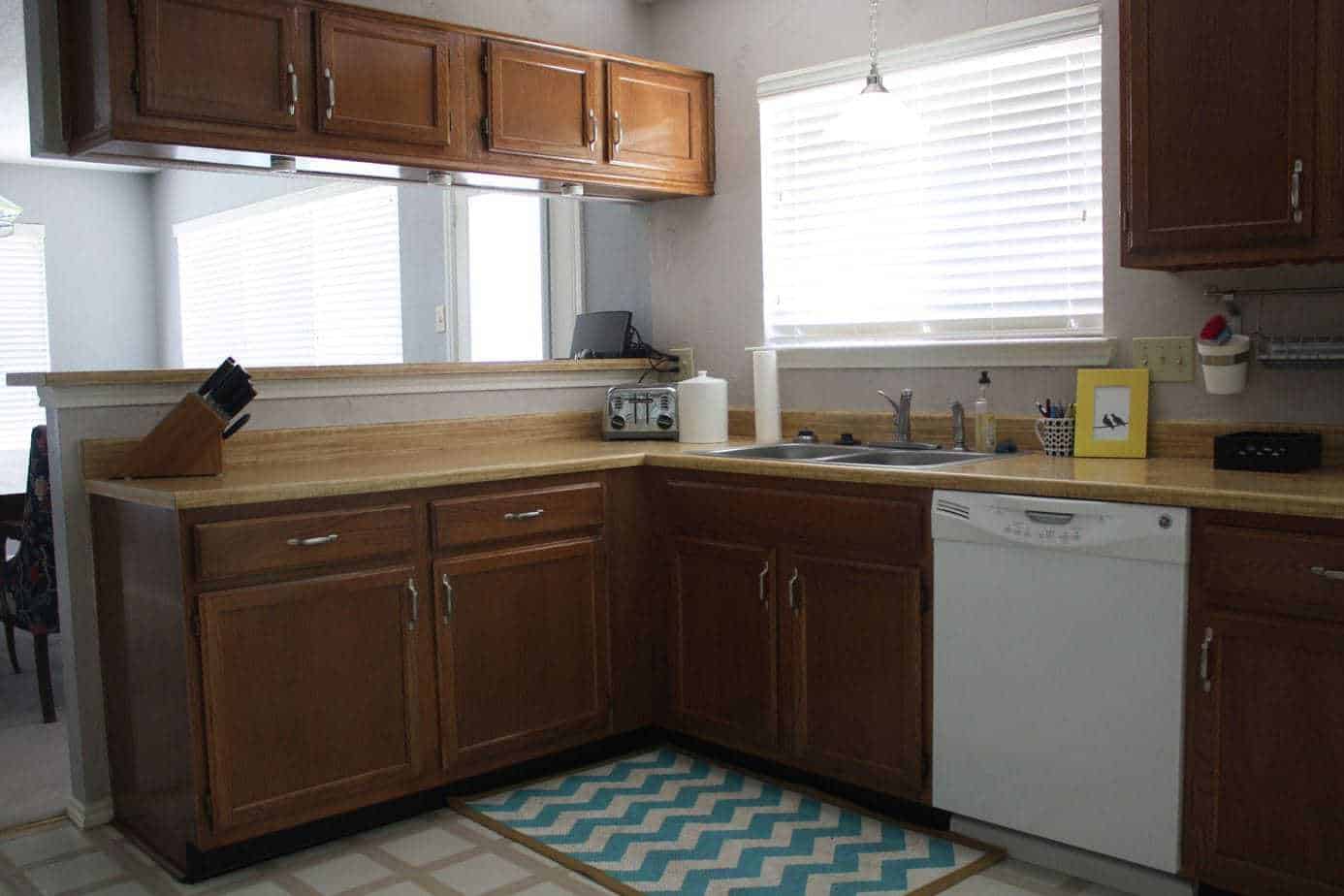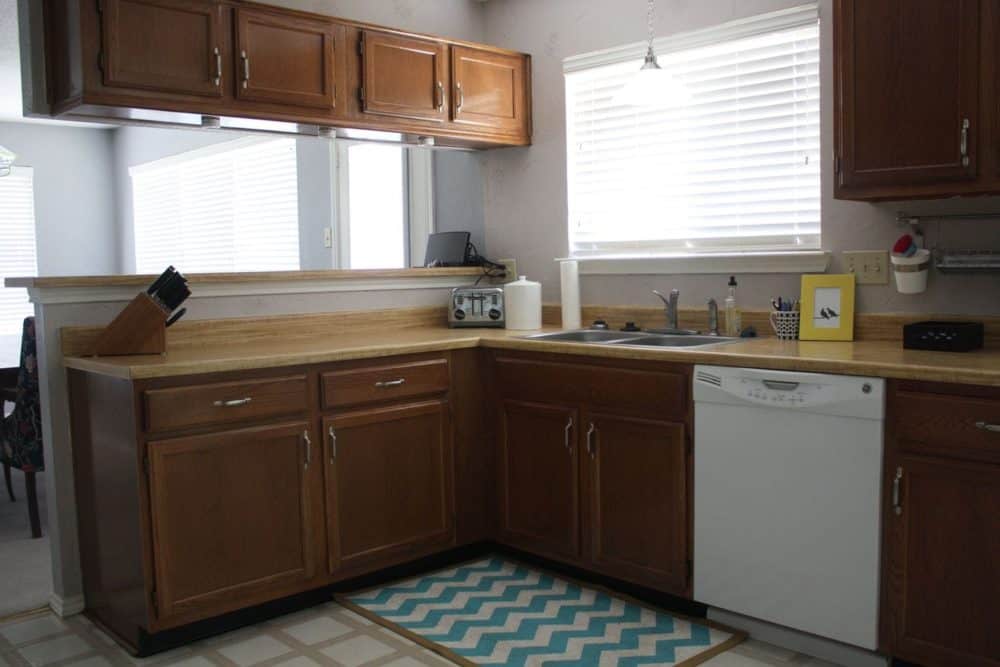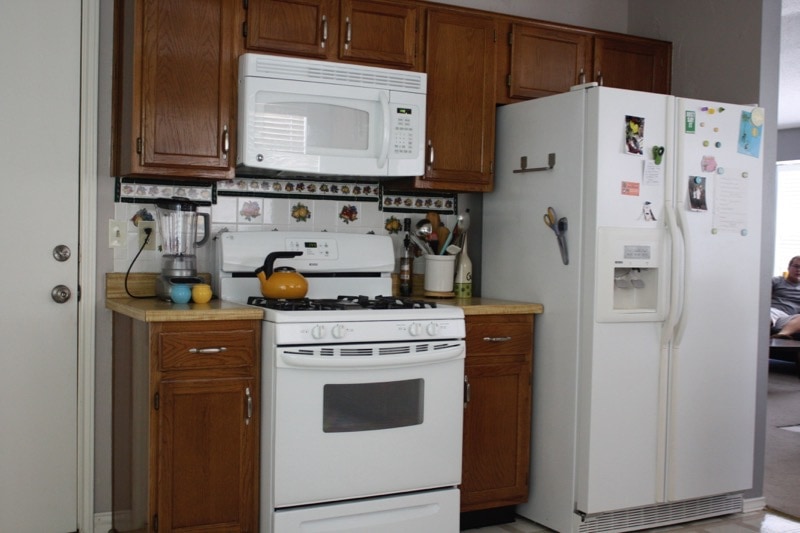 Obviously, we hadn't made any changes to this home yet. These are the first photos I took after unpacking and settling in. But, even here, you can see some attempts at styling – I have a little frame on the counter, some colorful salt and pepper cellars, and I've clearly made an attempt at making things look orderly.
Aside from the fact that my personal style has changed pretty notably since these days, there isn't much to say about this particular round of styling. I was clearly still figuring out house out and where I could put things. So, let's fast forward about 6 years and see what it looked like right before we left.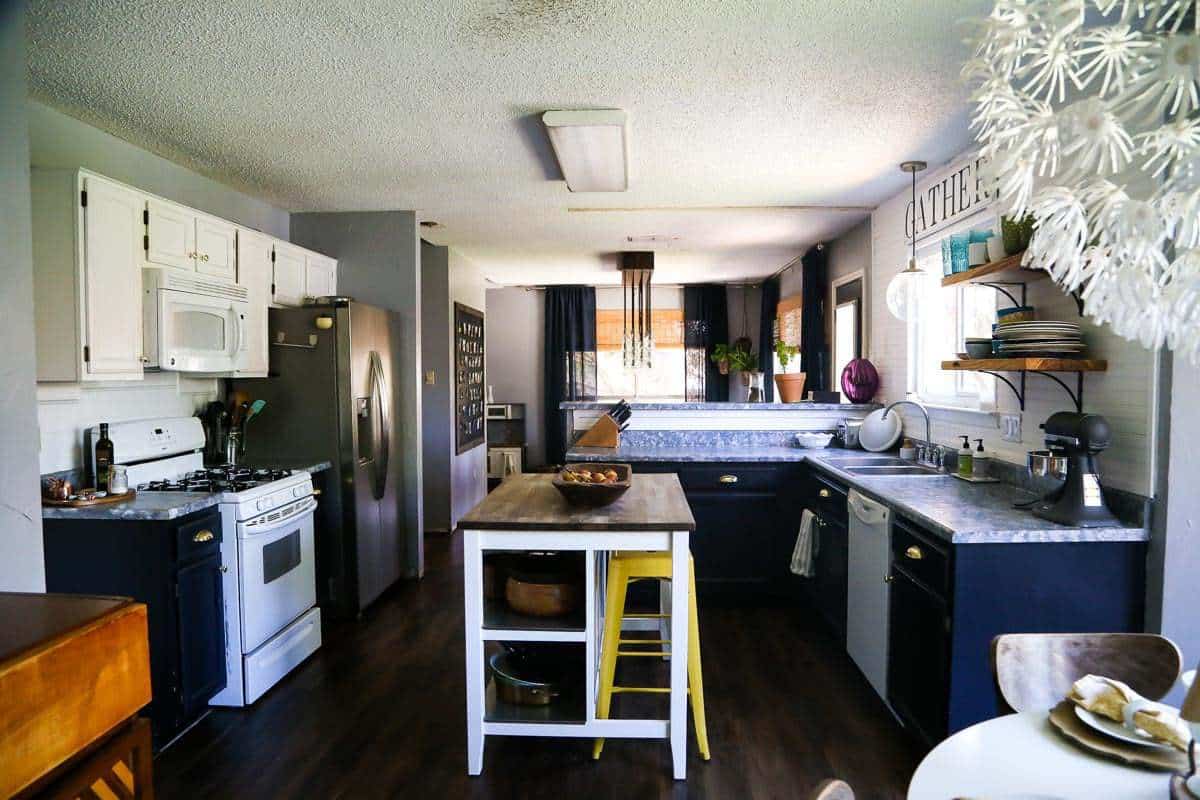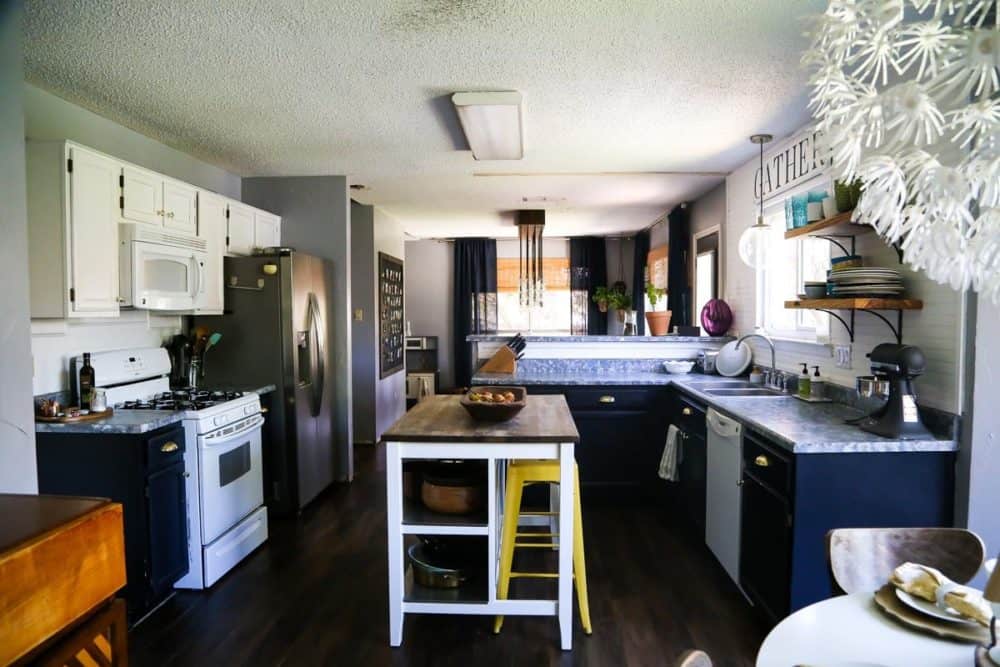 A little better, right? Aside from the obvious changes to the kitchen, it's clear that at this point I had figured things out a little more when it came to styling. I've got a wooden tray by the stove to corral the oil, salt, and pepper. The accessories are a little more neutral and blend with the kitchen better. I've added a big wooden bowl on the island.
One thing I notice about this kitchen in general, though, is I wasn't making much of an attempt at styling the counters or adding kitchen counter decor. It's mostly utilitarian – appliances, knife blocks, etc. There's 100% nothing wrong with that! But, I want more styling…so let's see what the next kitchen looked like.
our second house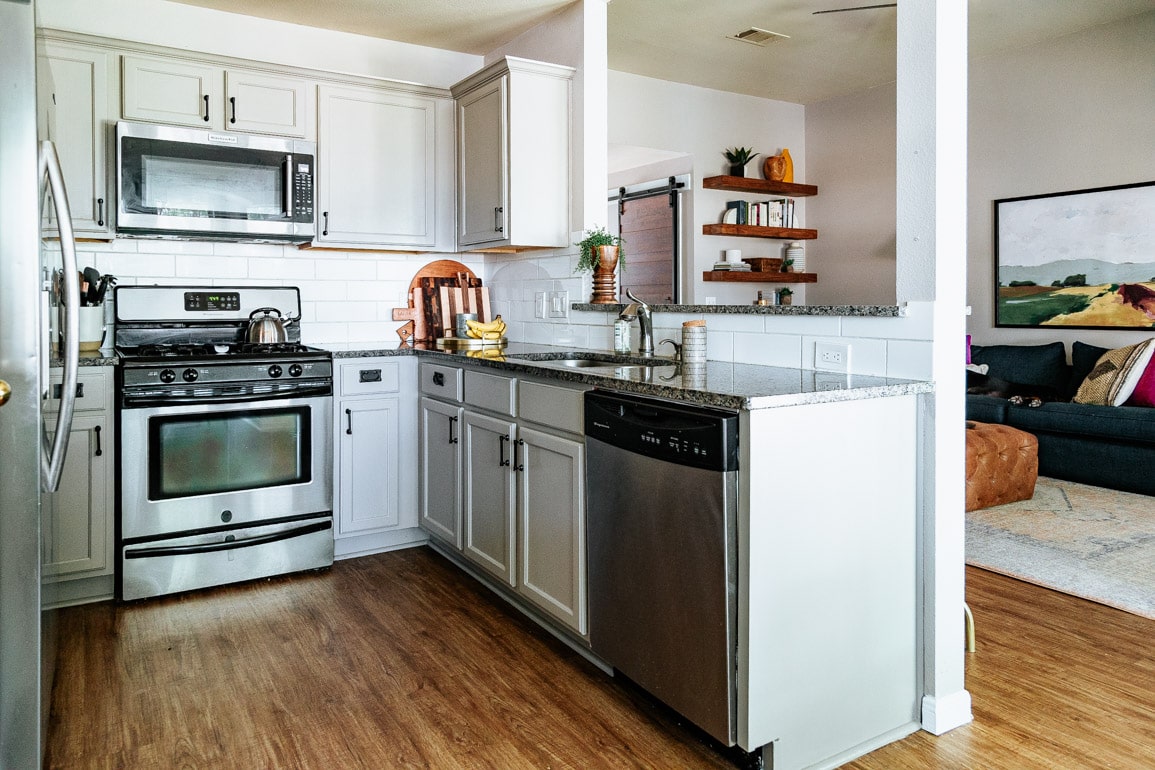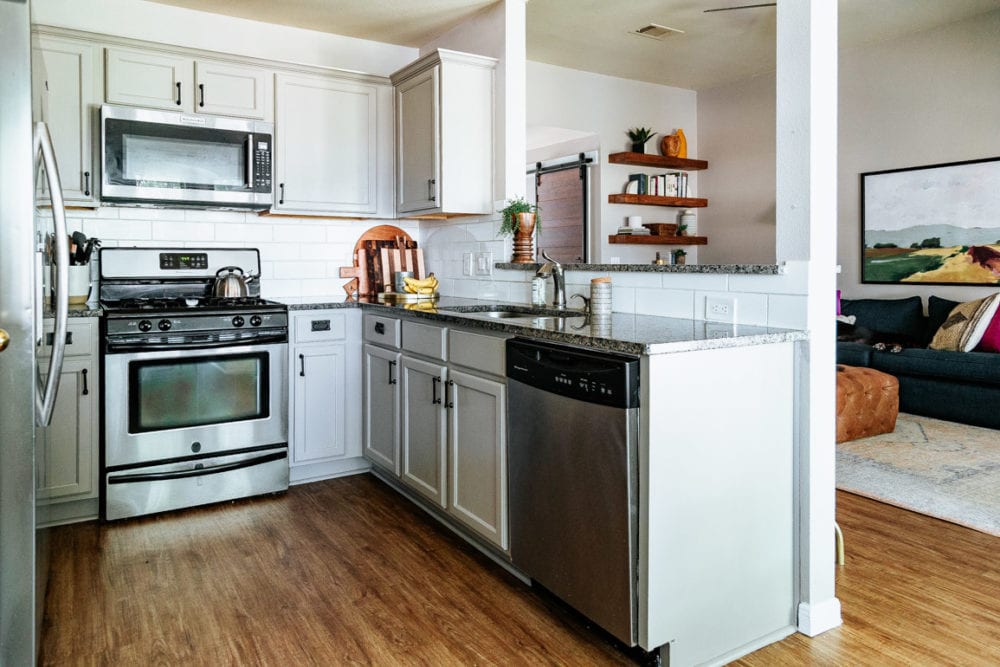 In this house, I kept the kitchen counter decor really simple and minimal because the kitchen was tiny! I didn't have much room to display anything, but where I did have room, I tried to utilize it. You can see some cutting boards leaning against the wall in the corner (they're now hanging on my wall!), and I've got a few canisters and even a faux plant.
But, again, I think there's room for improvement! Kitchen counters don't have to be styled or full of decor. But, if you're reading this I think it's safe to assume you agree with me when I say it certainly helps a kitchen feel more cozy and beautiful.
So, let's jump forward to the kitchen in our current home – the one I'm going to be playing around with today.
our current home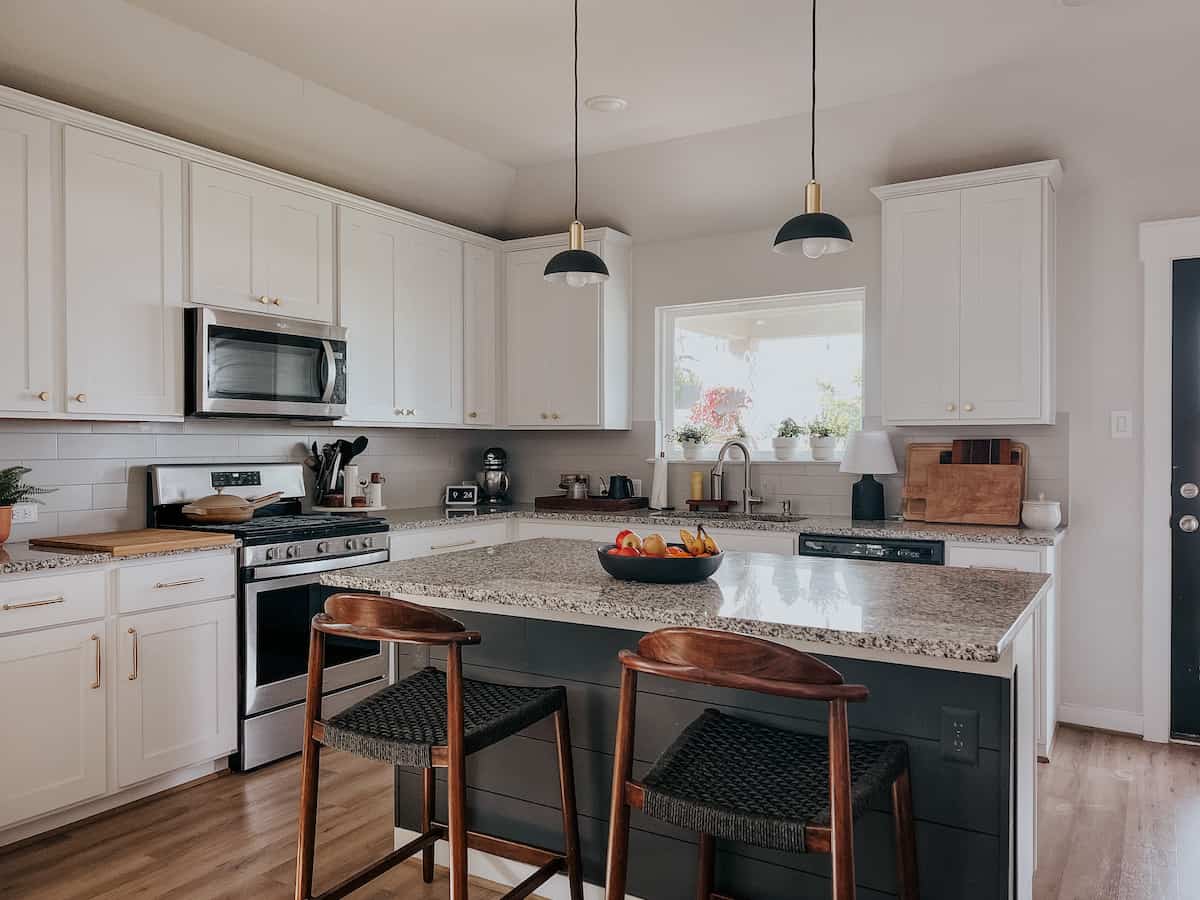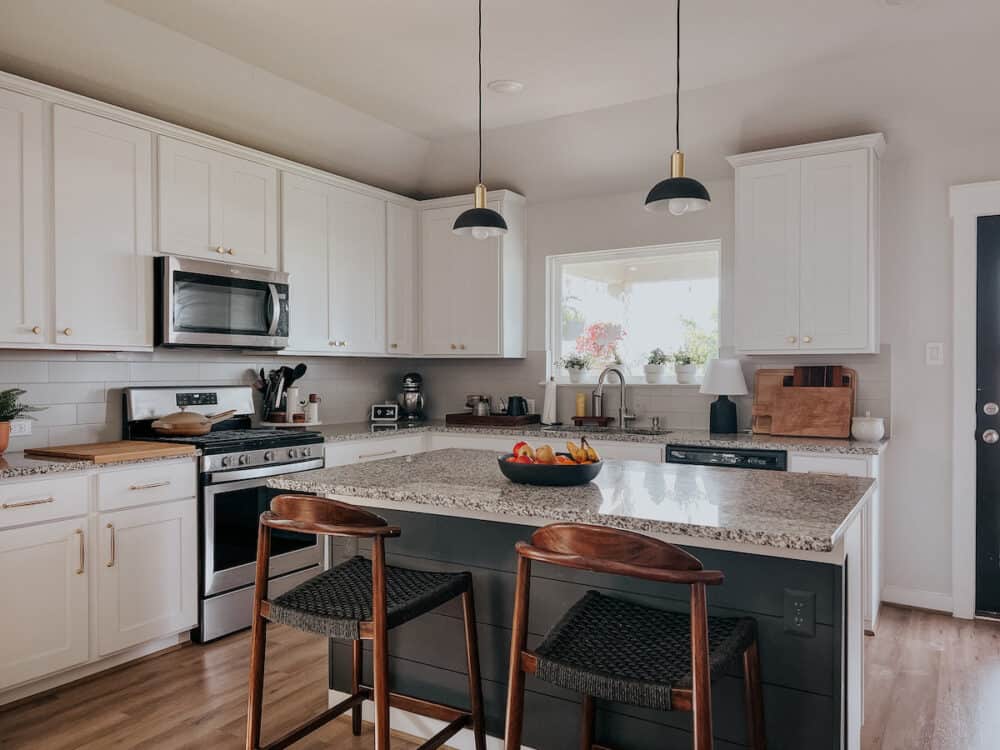 This is an image I snapped right before I started changing things up. It's fine – but I haven't been super happy with it since I hung my cutting boards on the wall. They used to be leaning on the counter, and I don't love the boards I replaced them with.
If I'm grading myself on this current setup, I'd give it a B-. There's a clear attempt at styling, there's a good variety of textures, and it's not too cluttered. But, I can do better!
Before we dive into the changes I made to the kitchen counters, let's talk about kitchen counter decor. I did a deep dive into kitchens I love on Pinterest and Instagram and I took notes. Because I'm a nerd. So, here's what I learned:
kitchen counter decor: what I learned
I don't mind seeing utilitarian items out on the counters, as long as they're beautiful. I love to see big crocks full of wooden spoons, oversized pepper mills, and other beautiful kitchen tools.
In news that will shock no one, most of my favorite kitchens had lots of greenery. Most often, I saw vases with big, fresh stems flowing out of them, along with small herb gardens.
Open shelving was a very consistent theme in my favorite kitchens. Obviously I'm not doing any sort of renovations right now, but that's something to tuck in the back of my mind for future planning!
I don't love a lot of decor on the kitchen counters. Instead, the kitchens I'm drawn to have utilized serving bowls, cake platters, and other kitchen-related tools and objects as decor on the counters. Those tend to be my favorite spaces!
Despite my love of bright colors in our first kitchen styling attempt, I really gravitate to more neutral and earthy colors in the kitchen. There's so much to look at, and I find things feel calmer and more welcoming to me when neutrals are layered in rather than lots of bold colors.
Now, it's important to note that these are just my own personal observations and preferences. I'm not giving you kitchen styling advice – yet! I'm just sharing what I learned about what I like in a kitchen. If you aren't sure what you like or where to start, click here for my ebook all about finding your style and getting started in your home. I used the process in that book to make my plans for restyling this kitchen!
So, now let's move on to the adjustments I made based on what I found. And then I'll share a few tips for you!
my attempt at re-styling the kitchen counters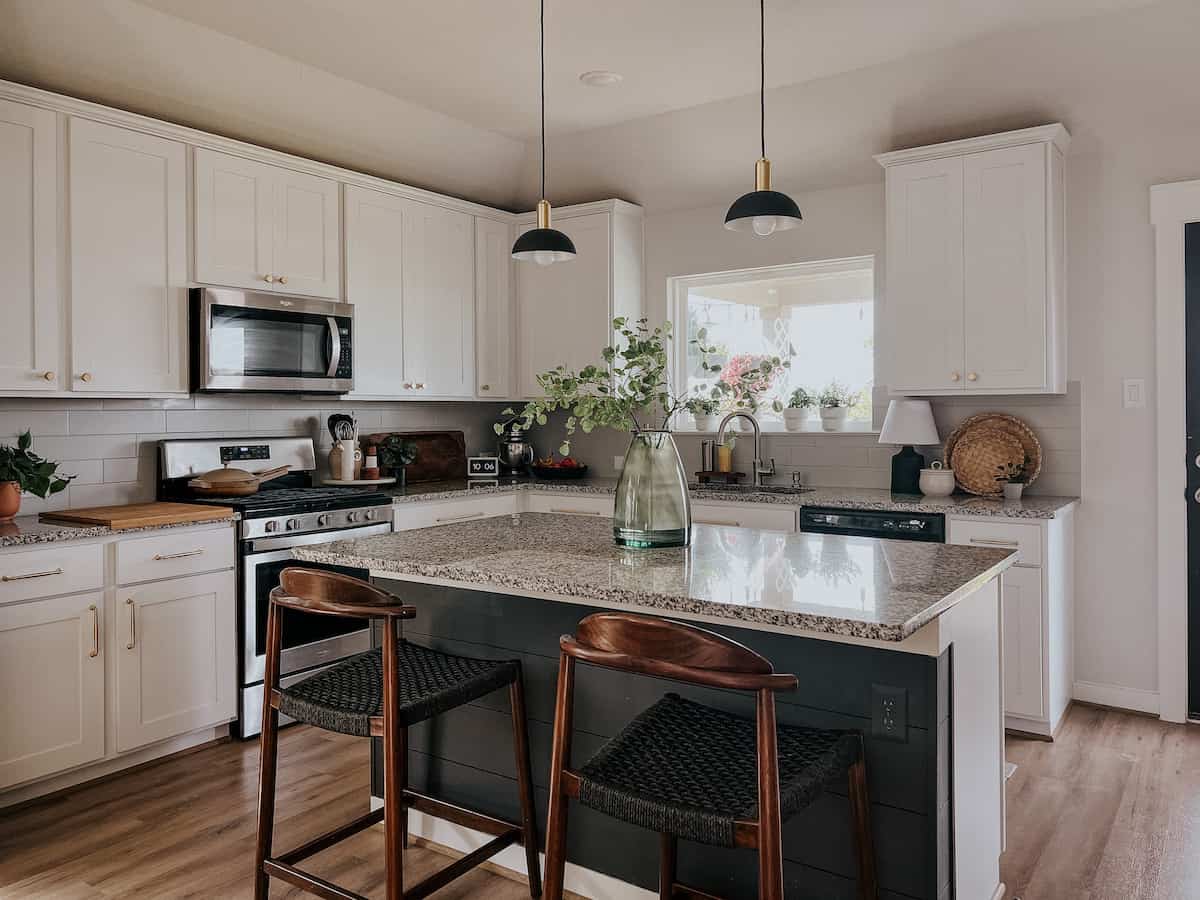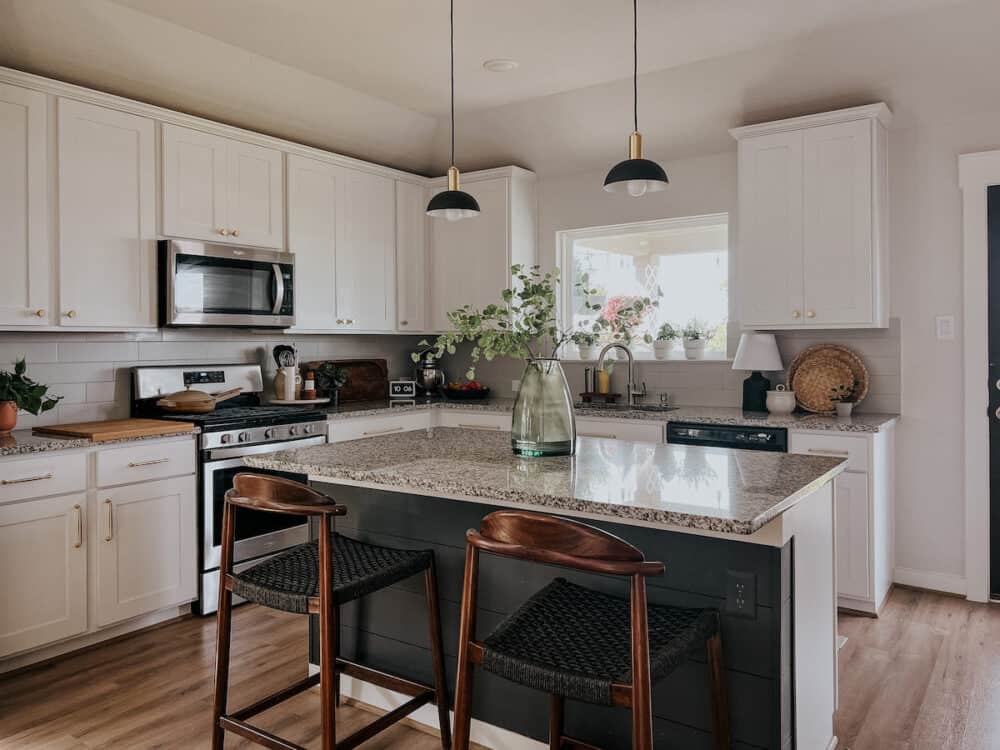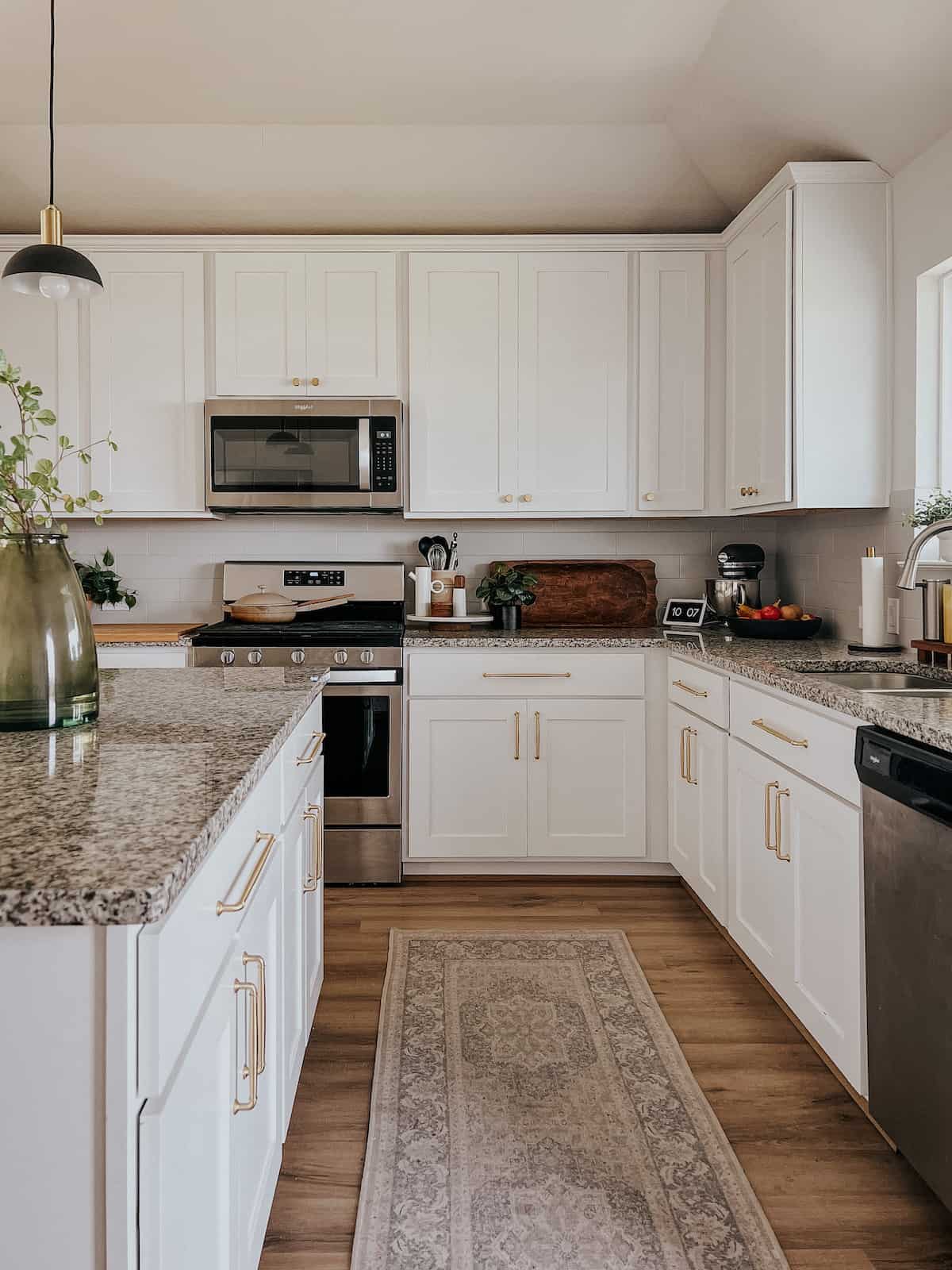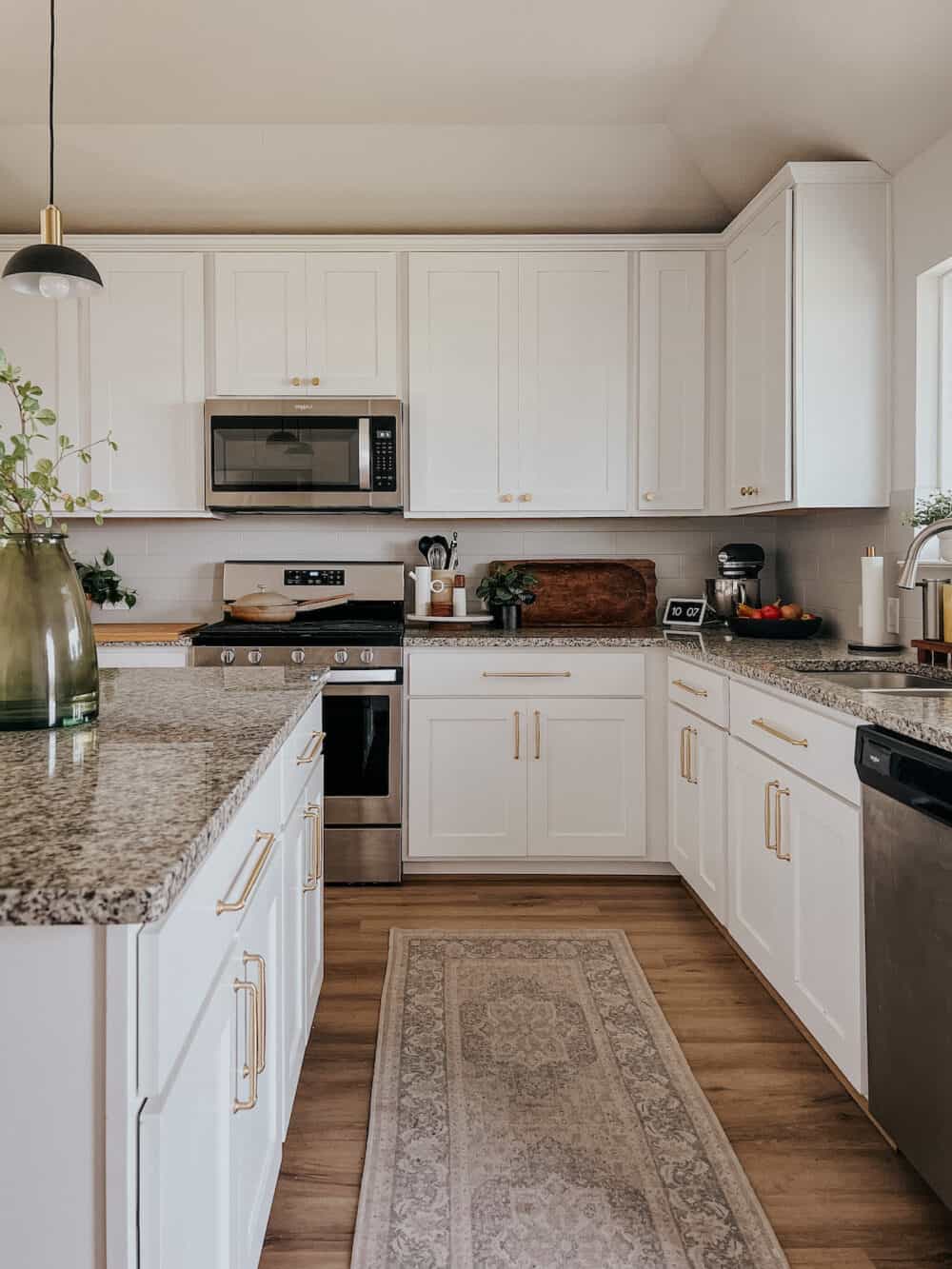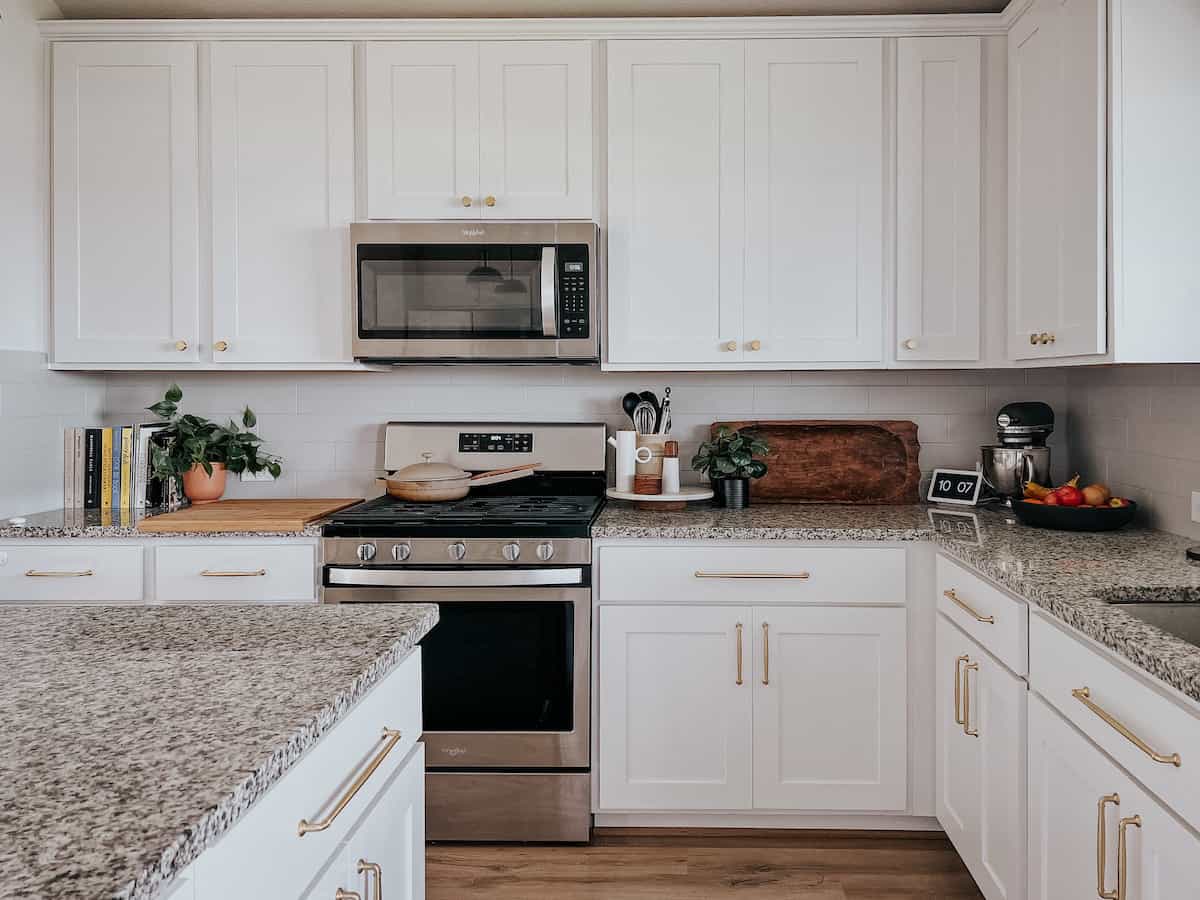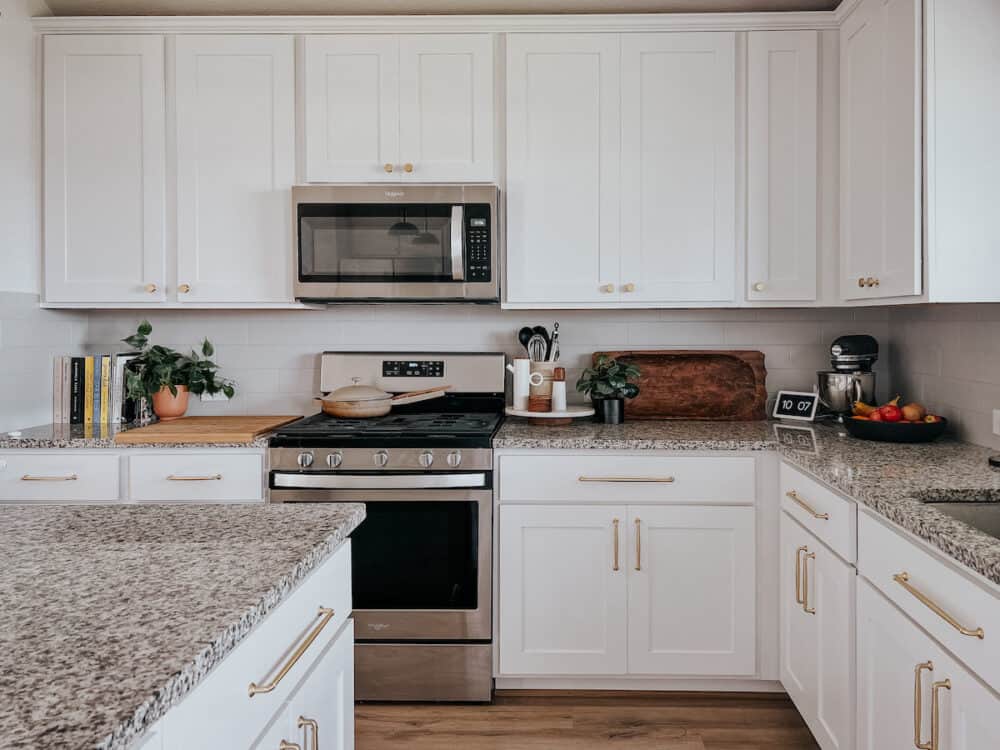 I'm honestly surprised at how much I love it! I genuinely thought it wouldn't look or feel at that different, but it feels like a whole new kitchen and I'm so happy with the change.
I didn't purchase a single thing for this little kitchen restyle – I just pulled from various places around the house. My goal was to bring in some more warmth, more aged things (everything felt so new), and just more layers. I definitely accomplished my goal and it was totally worth the half hour it took me to do it!
So now, let's wrap this with why you're really here – some tips for doing it yourself!
5 tips for kitchen counter decor and styling
Empty it out! Start by pulling everything off the counters and pulling out anything you might want to use. This gives you a blank slate, and gets everything in one place. It'll be way easier to play around this way!
Remember to play with height. If you put all smaller items on the counters, there won't be a lot of dimension. Add a leaning cutting board or tray up against the backsplash, add a lamp, or a tall vase.
Sprinkle in some plants. Listen, we all knew I was going to say this. Plants and greenery are a must-have for basically every room. They don't have to be real! I've got three fake plants tucked in with the real ones, along with some fake stems. Do what works for you, but remember that adding in a few plants will bring so much life and texture to your kitchen!
Use serving dishes. Things like cake stands, serving bowls, trays, and mugs can be a great little display in your kitchen. You can use them to hold things like fruit or other essentials in the kitchen, or you can just display your prettiest ones on the counters!
Use trays to corral things. Using small trays, lazy Susans, or other small pedestals in the kitchen can instantly turn clutter into decor! You can see a great example of this from when I added a tea tray to our kitchen over the winter months!
You can also find lots of styling tips in this post that will help as well!
I might not be spending any money on restyling my kitchen right now, but if you are, I went ahead and rounded up a few things for you!
kitchen counter decor

Now, go forth and restyle those kitchen counters!