Shelf Styling 101 + My Favorite Shelf Decor
Last week, I did a deep dive on Instagram about styling shelves. It was really fun to take a minute to really think about everything I've learned about styling over the years. I definitely don't consider myself a styling pro, but I've gathered up some good shelf decor over the years and I know a thing or two.
I thought it would be worth taking the time to write out a few tips on how to style shelves for those of you who struggle to get started. And, since it can be really overwhelming to know where to start if you don't have much to style with in your house, I'm also going to round up some bookshelf decor options so you can start your collection!
shelf decor styling essentials
Let's start by talking about what the heck you should put on your shelves. A lot of the time, we have shelves in our house that we use mostly for utilitarian purposes. Holding books, baskets of toys, or other important household objects. But, that doesn't mean they can't be pretty too!
In addition to your books, or whatever the main purpose of your shelves are, it's a great idea to sprinkle in some other details that add some visual interest.
Here are a few shelf decor ideas.
plants
We all know I'm a big fan of putting plants on shelves. In fact, it's quickly become the main purpose of the floating shelves in our living room! But, even if you don't have a ton of plants like I do, sprinkling a few in here and there is a really great way to add some life to your shelves. Literally!
And, let's be honest- picking out a really great planter for your plant is almost just as fun as getting the plant itself!
If you have a black thumb and feel really confident you absolutely can't handle real plants, try some faux ones. They're a maintenance-free alternative that accomplishes (almost) the same thing.
A few favorites: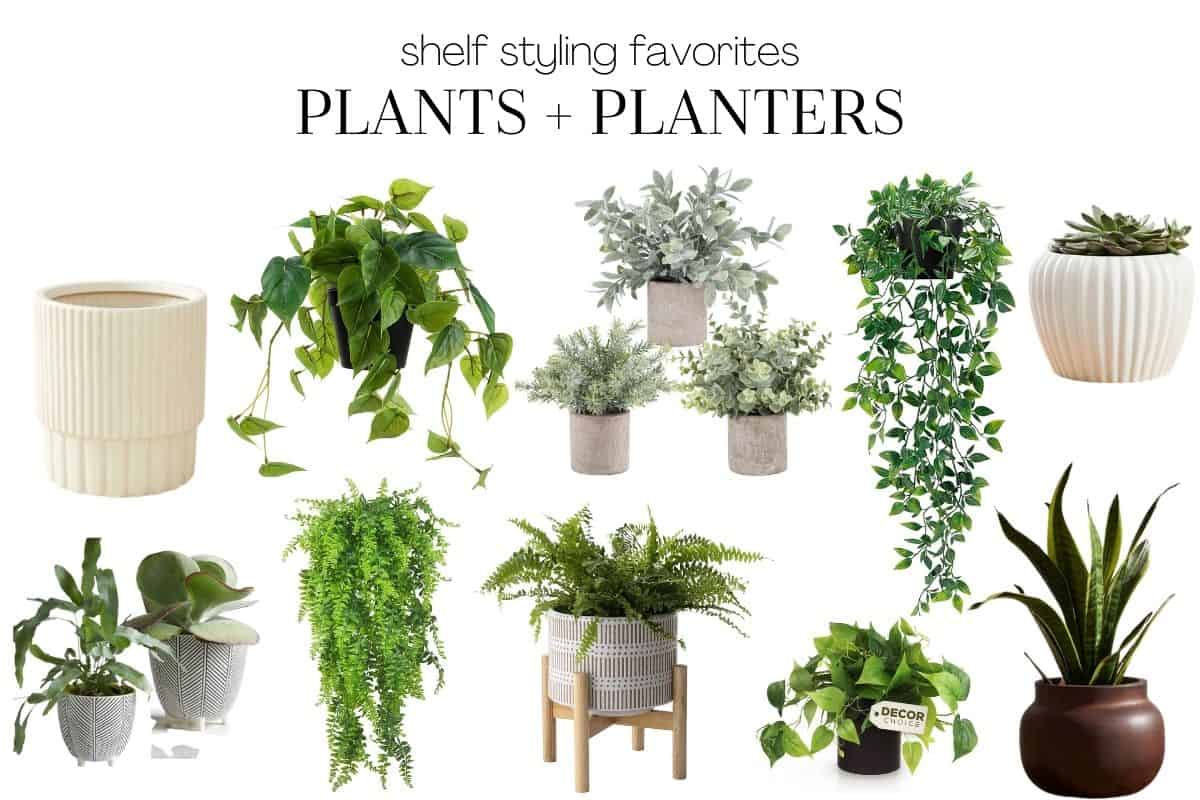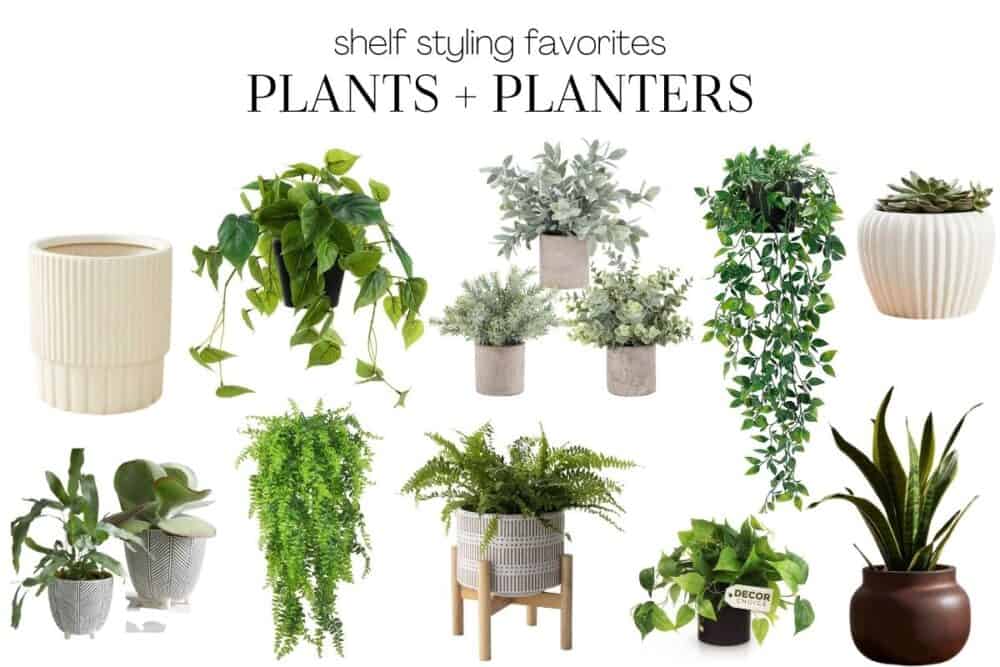 decorative objects
This is a bit of a vague category, but it's one of my favorites to play with! Things like wood rings, small figurines, bowls, and more are always a great addition to your shelves. You can get really creative with this, using found objects or things from an antique shop. You don't need to go crazy and add a ton of these sorts of pieces, but just one or two sprinkled around on your shelves will make a huge difference.
I also love using trays or pedestals to help elevate things or show them off a bit.
A few favorites: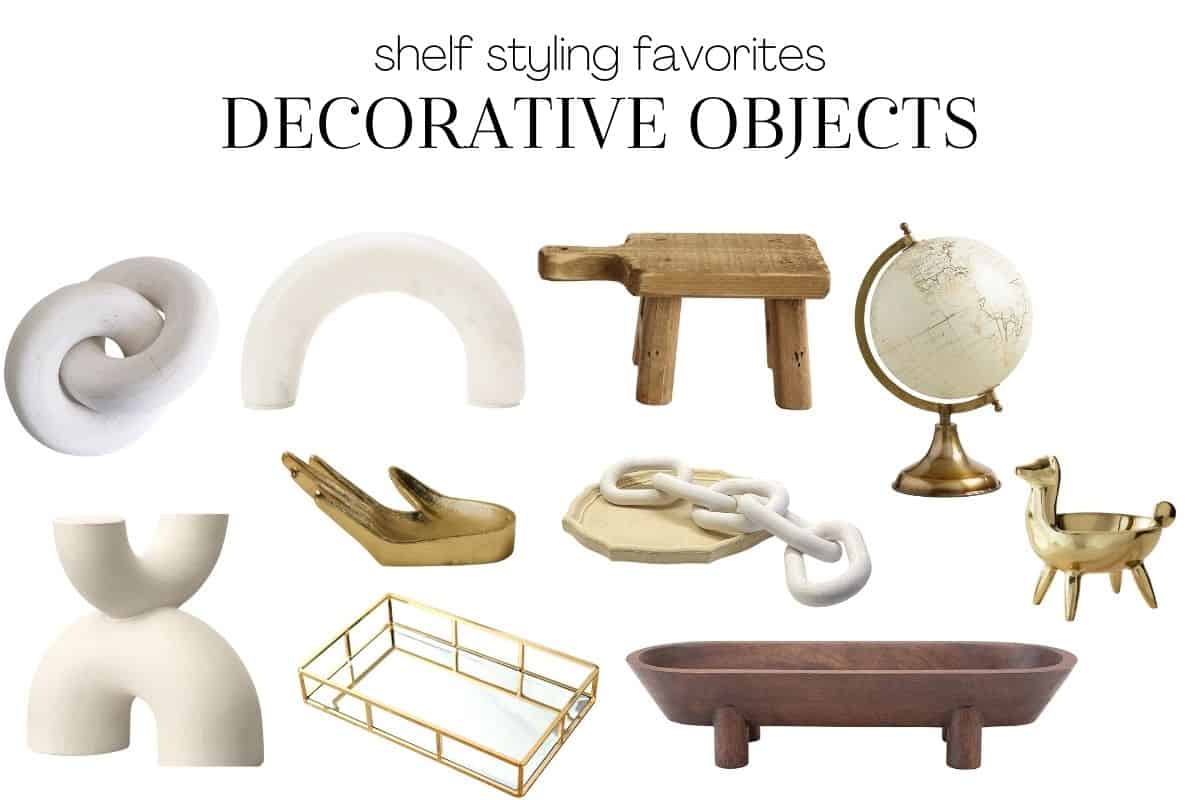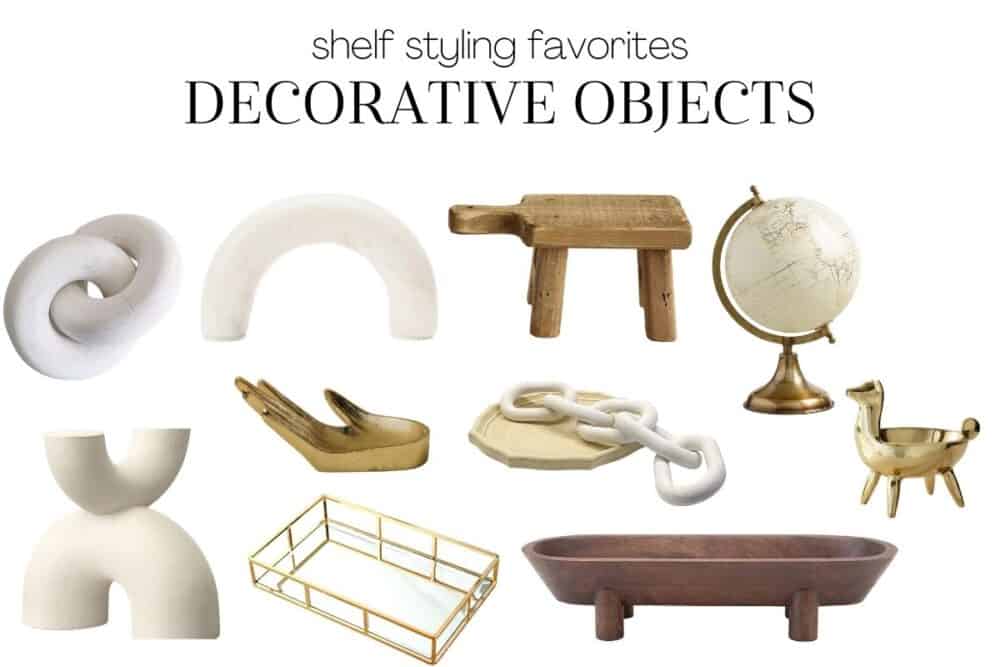 art
Art isn't just for the walls, my friends! I love adding some art to the shelves around my house. It takes up a good amount of space, adds really great height to your display, and is a beautiful way to bring in some color.
You can also get creative and thinking about hanging some art on the outside of your bookshelves. It's an unexpected touch that looks so great.
A few favorites: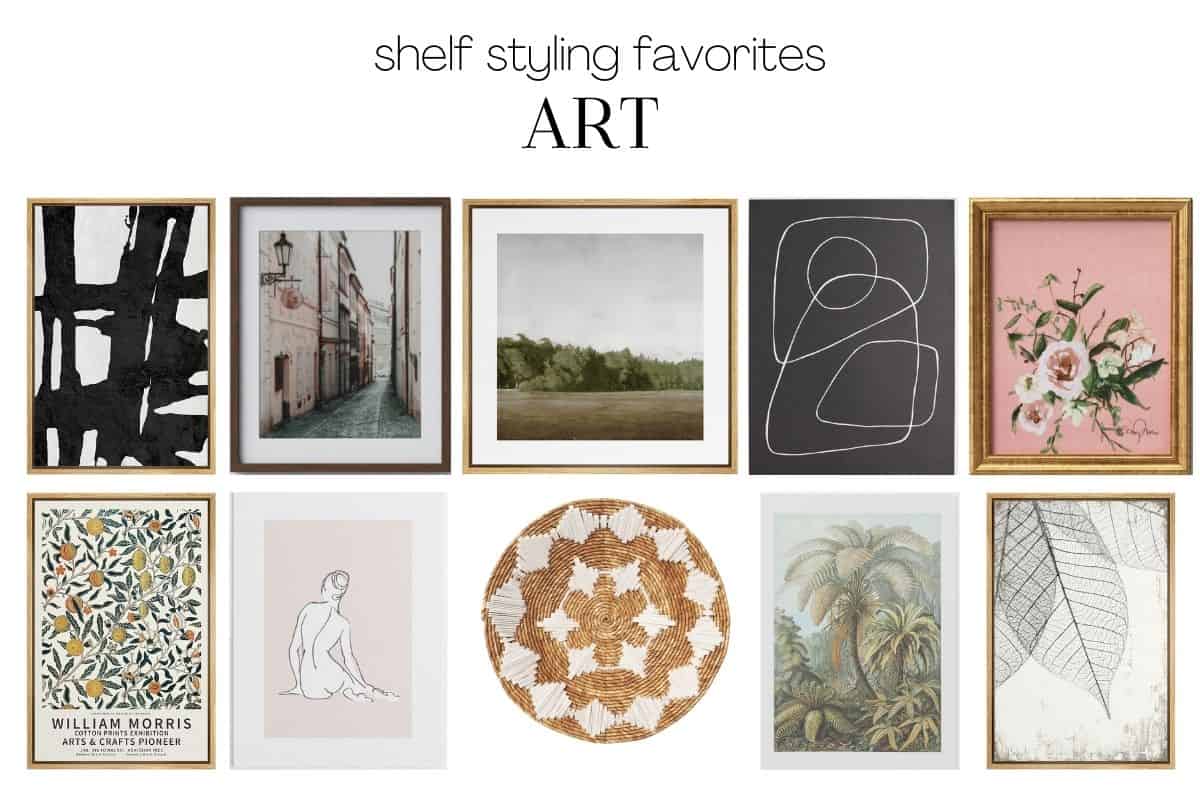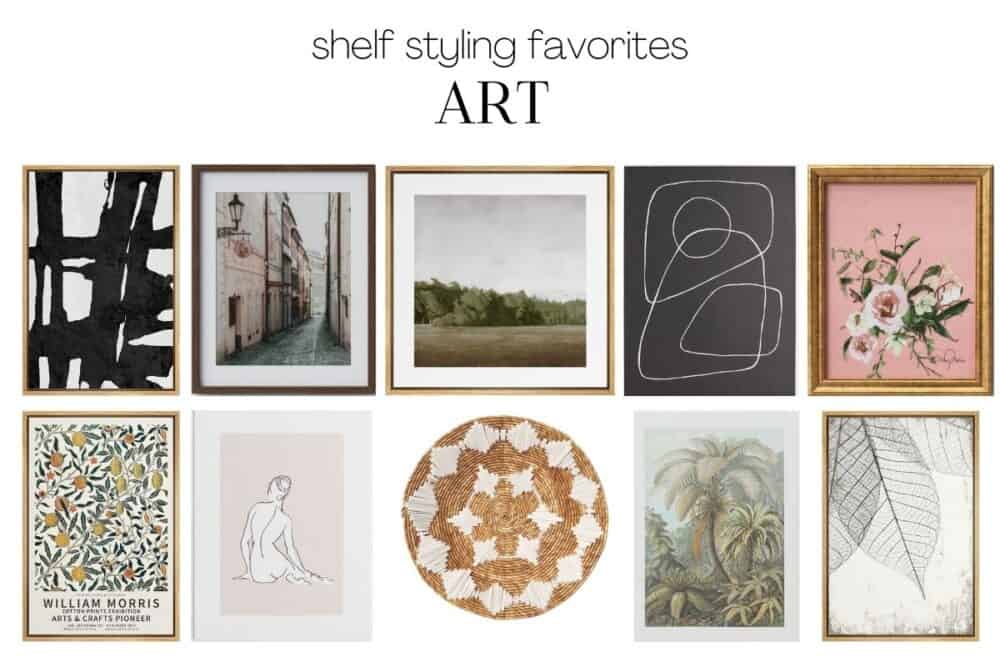 baskets + boxes
I think just about every shelf display needs a basket or two! They add so much function to your space, and they take up a lot of real estate, which can be helpful if you're struggling to fill your shelves.
The shelves in Grant's room, for example, are full of baskets and guess what? Most of them are still empty! Eventually they'll fill up, and I'll be so grateful to have them ready to go when he starts to collect more and more "treasures" that he can't let go of.
A few favorites: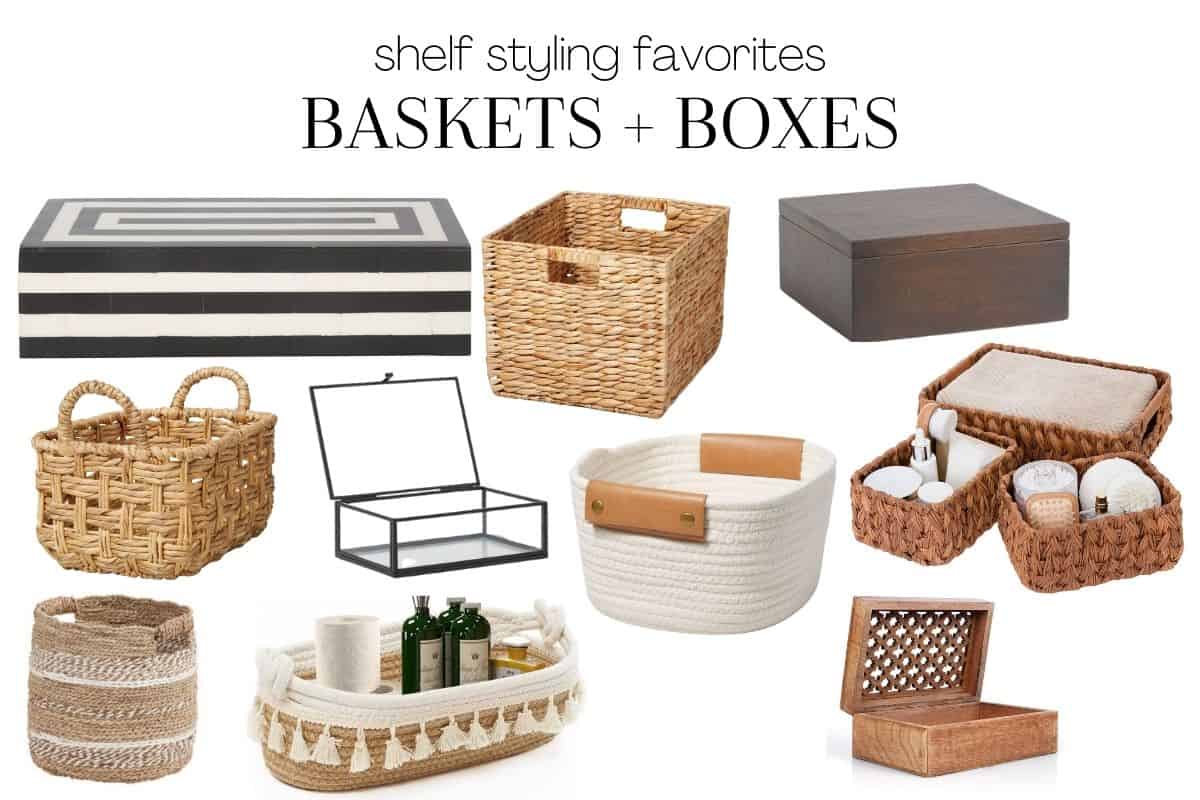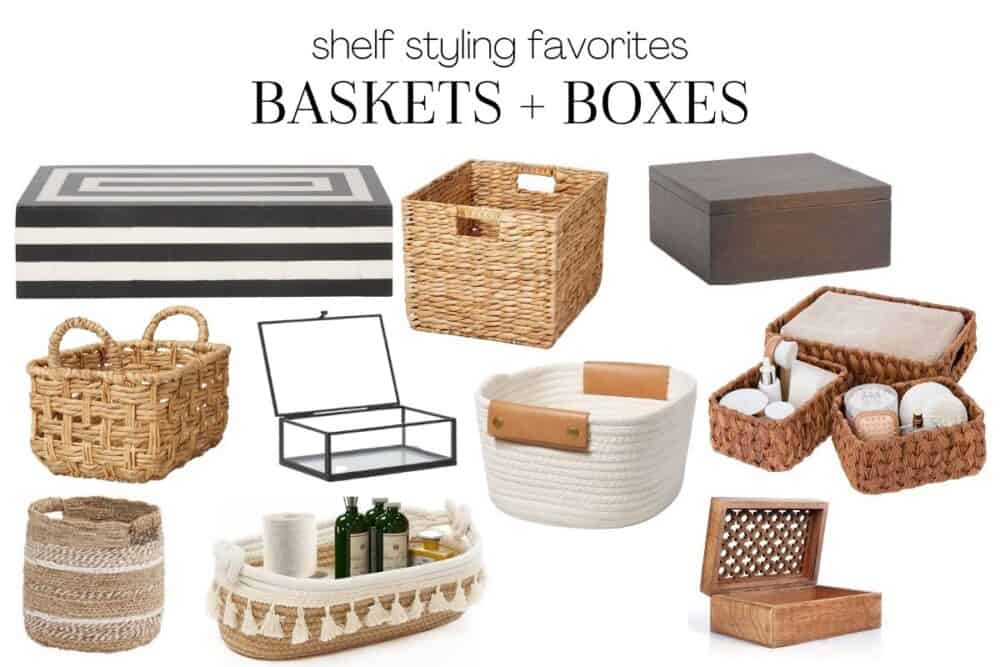 vases + bowls
Vases are so nice to have on hand for so many different places around the house. I use them on the mantel, on our shelves, on dressers and tables, and just about everywhere else. You can fill them with greenery or leave them empty, but either way a really beautiful, sculptural vase adds so much to any display.
A few favorites: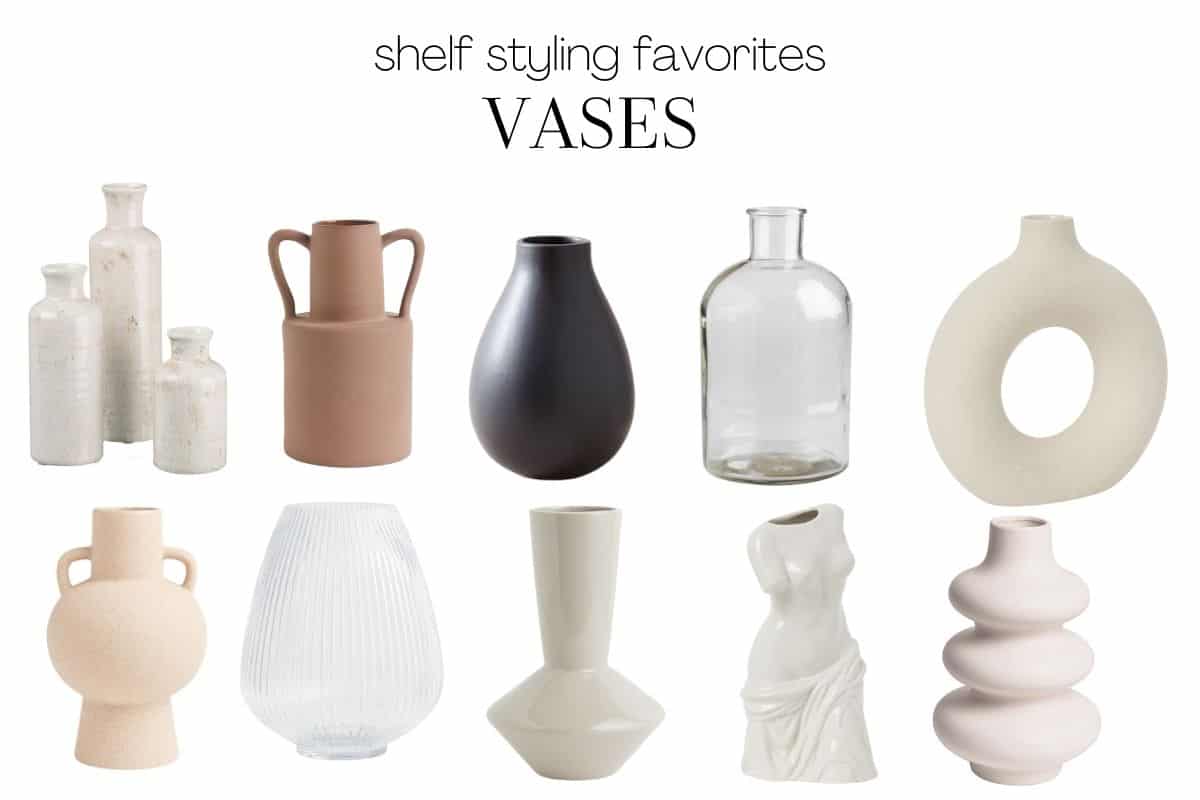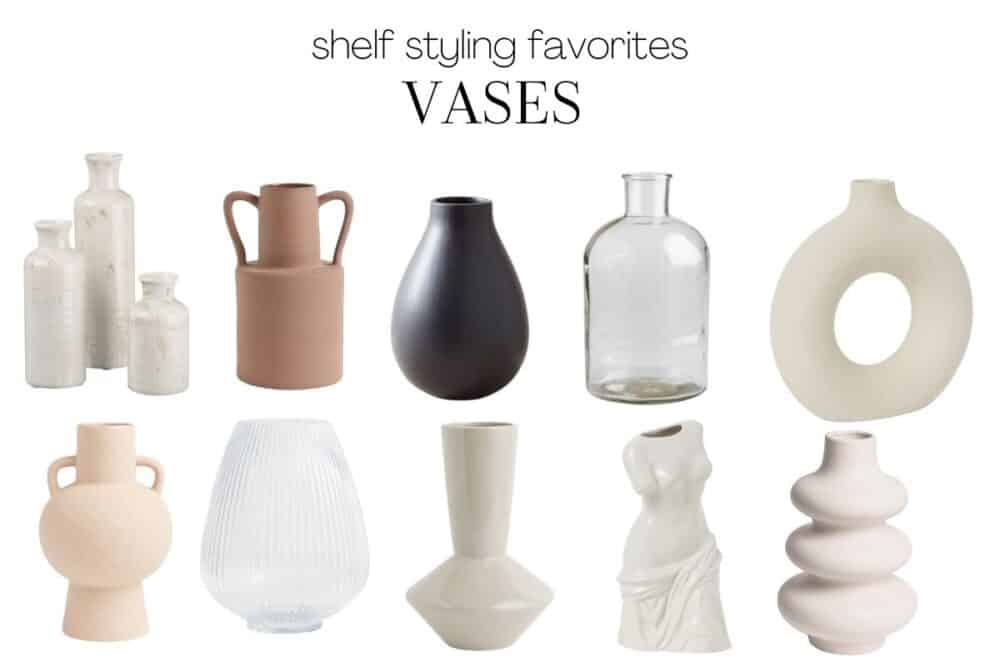 How to style shelves
Now that we've covered the basics of what you might want to have on hand as you get ready to style your shelves, let's dive into how to actually do it!
This is the part that feels most overwhelming for a lot of people, especially if you have a lot of shelves to decorate! My number one tip is to take your time, and don't be afraid to walk away for a bit and try again another day. Sometimes it's really helpful to do it in a few shorter sessions rather than all at once!
Onto the tips!
tip 1: Start with a blank slate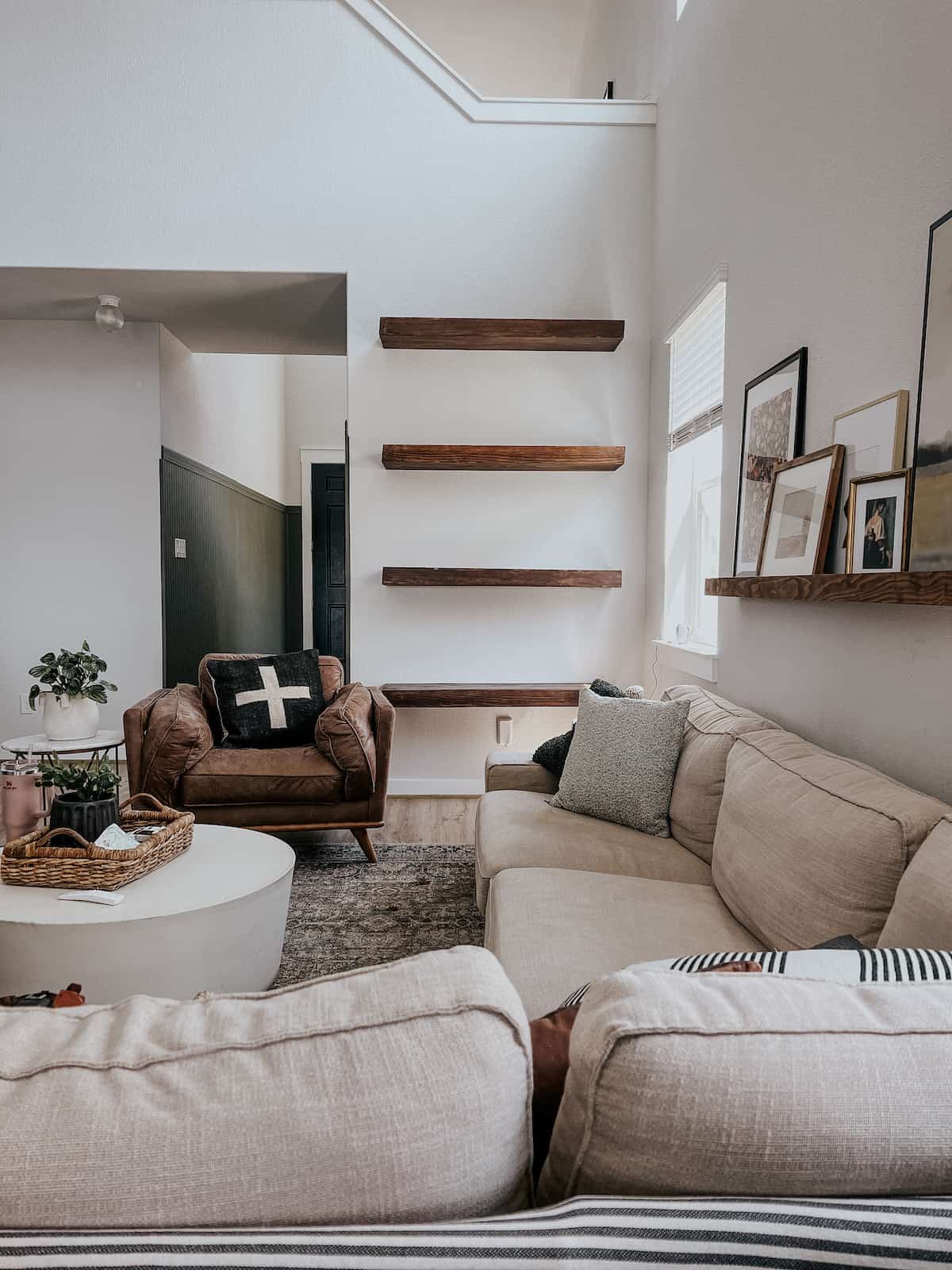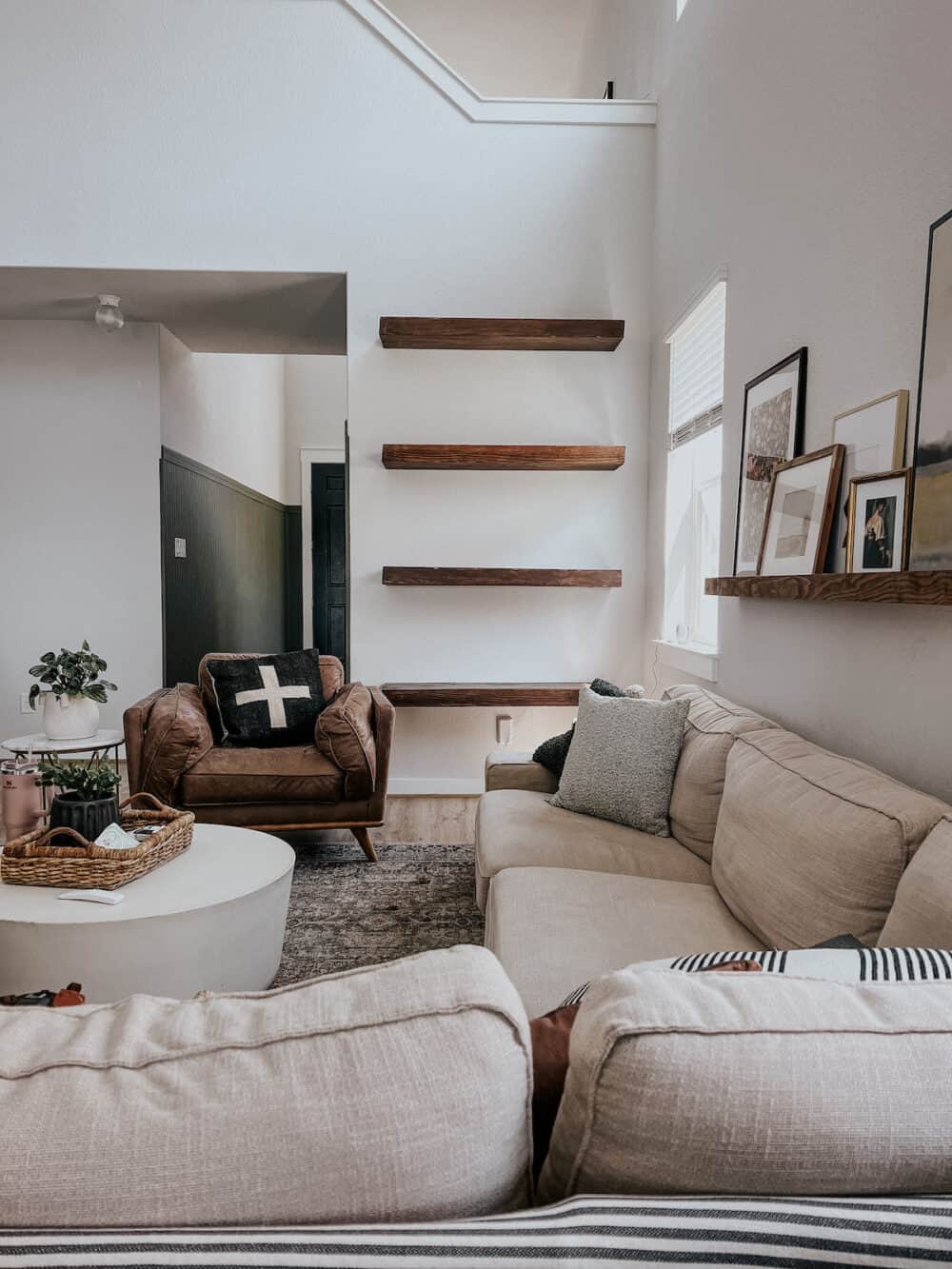 Anytime I'm styling shelves, I always try to clear everything off before I get started. It helps me remember that things don't have to go where they were before, and gives me a little more wiggle room to play around.
Spread all of your stuff out on a nearby table, or just on the floor, and loosely group it by category so it's easier to find what you need.
This is also a great time to take a moment to dust those shelves off.
Tip 2: Add bigger items first
Once you're ready to start putting things back on the shelves, I recommend starting with the larger items first. Things that can only go in one or two places – because, you don't want to run out of room for them!
For me, that means my lamp needs to get placed right away (since there's only one spot where the cord can still reach the plug), and I like to place my larger art first as well.
You'll notice I have quite a few things on here that are larger and kind of have "their spot" – that's because I've styled these shelves about a million times over the years, and I've learned what works and what doesn't! As you get practice, you'll likely find that there are certain things that just work in certain spots, and it's best to not fight that.
tip 3: place the rest of your objects on
Here's where things start to get fun, and you get to get creative. Now, you'll start putting other objects back on the shelves. As you work, there are a few important things to keep in mind.
Scale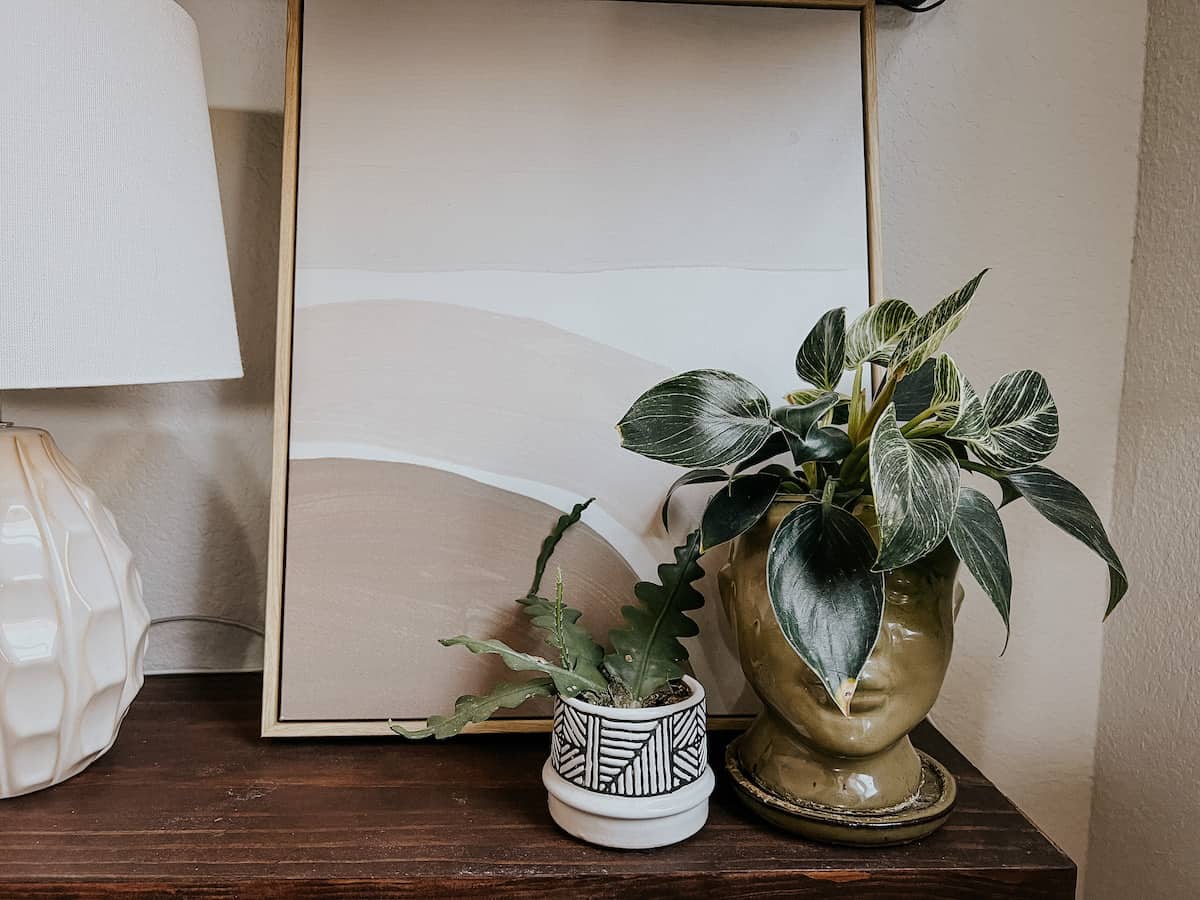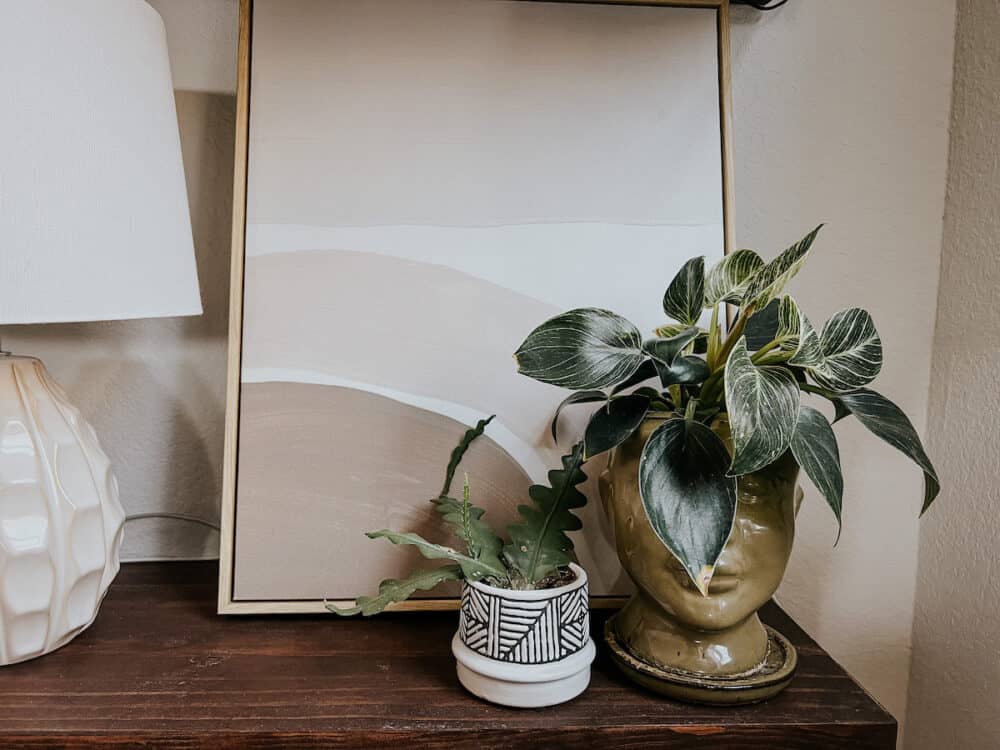 Try to consider the scale of the objects you're putting up. Some areas should be tall, and some should be short. Some should be somewhere in the middle!
Place a few things, then step back across the room and see how it looks. Does it flow well? Is there good variation in the heights of the objects on the shelves? Or, is everything at the same level?
Color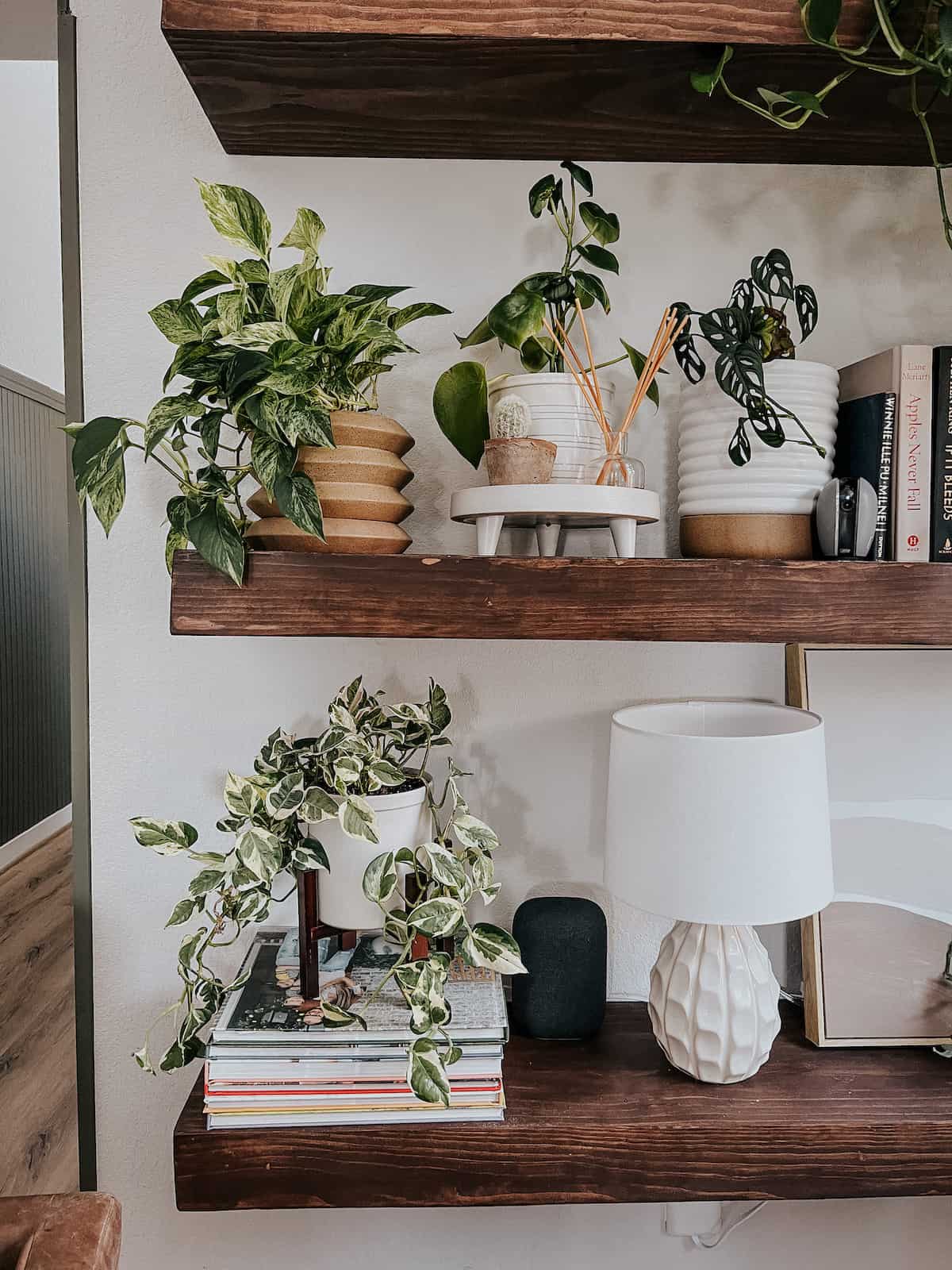 Are colors being repeated throughout the shelves, or do you have pockets of certain colors?
Or heck – maybe you want to be intentional with it and create a rainbow of color on your shelves!
My only recommendation here is to try to be intentional with the colors that you use and where you use them. Try to stagger the same color throughout the shelves, and if you use a color, it's best to use it at least 3 times throughout the display!
Weight/Shape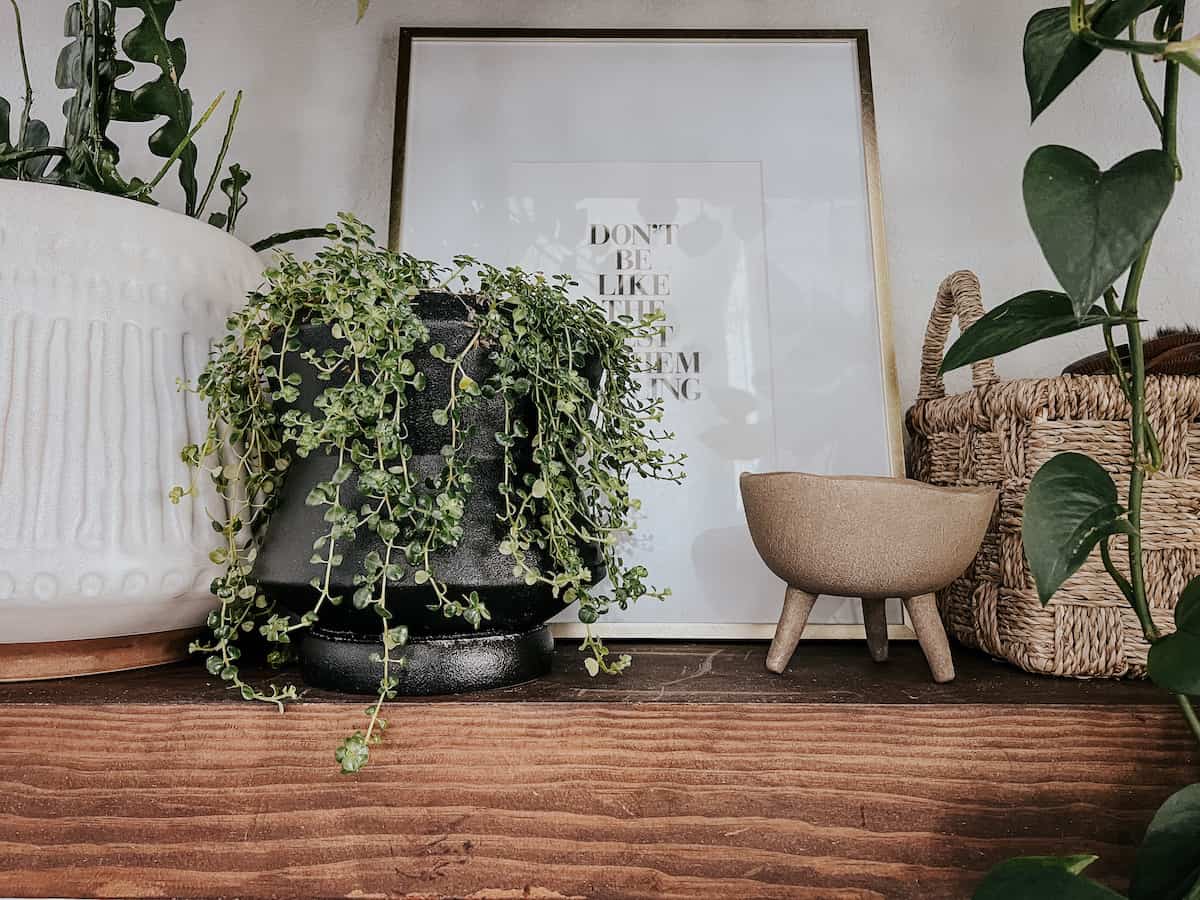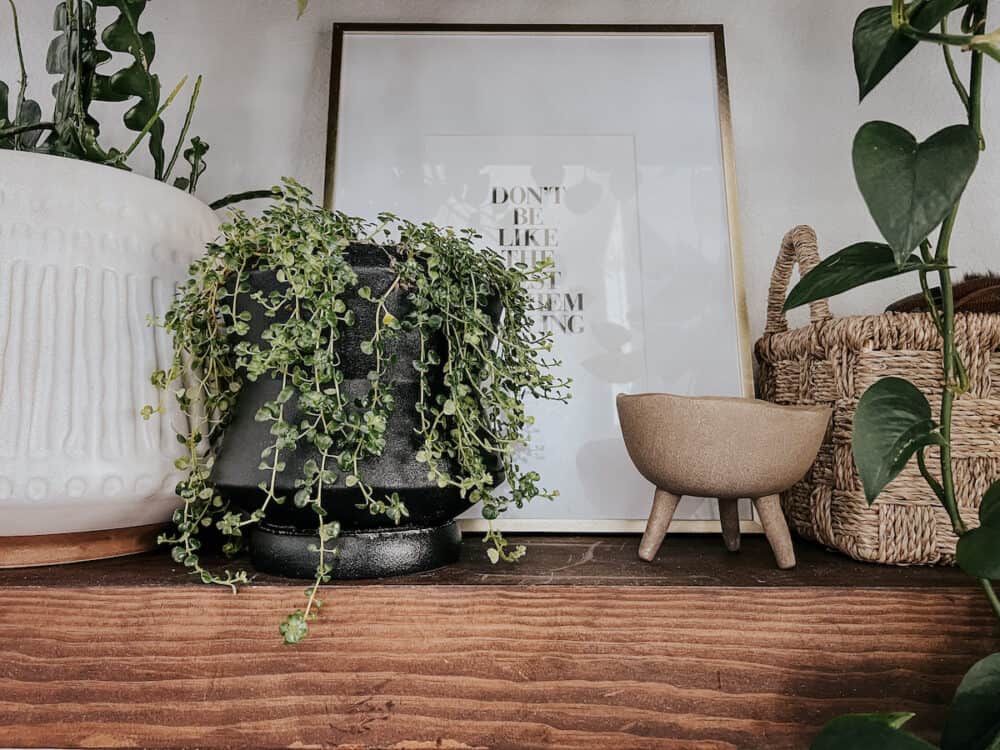 Try to balance some heftier, "heavy" feeling items with lighter ones. If you have a really big, bulky vase, place it next to something a little smaller and daintier.
Have a really small figurine you want to display but it gets lost in the shuffle of the larger items? Place it on top of a stack of books or a small box! It's important to consider how everything balances out when you're working, and it may take a lot of trial and error.
Other Tips
There are no hard and fast rules when it comes to shelf styling, but here are a few more things you might want to keep in mind:
White space is good! Don't feel like you have to fill every empty spot on your shelves. Having a few blank spots for your eye to rest is ideal, and helps prevent things from feeling chaotic.
Try odd-numbered groupings. When in doubt, placing three items together in the shape of a loose triangle almost always looks good! There's something about odd numbers that's really visually pleasing in displays, and it's an easy formula to try.
Step back often. When you're standing up close, it can be hard to tell how things really look. Every once in a while, take a bunch of steps back and look from across the room. You'll get a better idea of how everything works together, and can make adjustments from there.
Take photos! It sounds silly, but sometimes you can see adjustments that need to be made in photos better than you can in person! When you think you're done with the display, try snapping a photo of it and analyze that. You might notice a spot where things feel off balance.
Have fun and keep trying! Most of all, remember that it takes practice and patience to get the hang of shelf styling. Just try it and live with it for a few days, then give it another shot if you still aren't happy! Over time, you'll learn what you like and what you don't.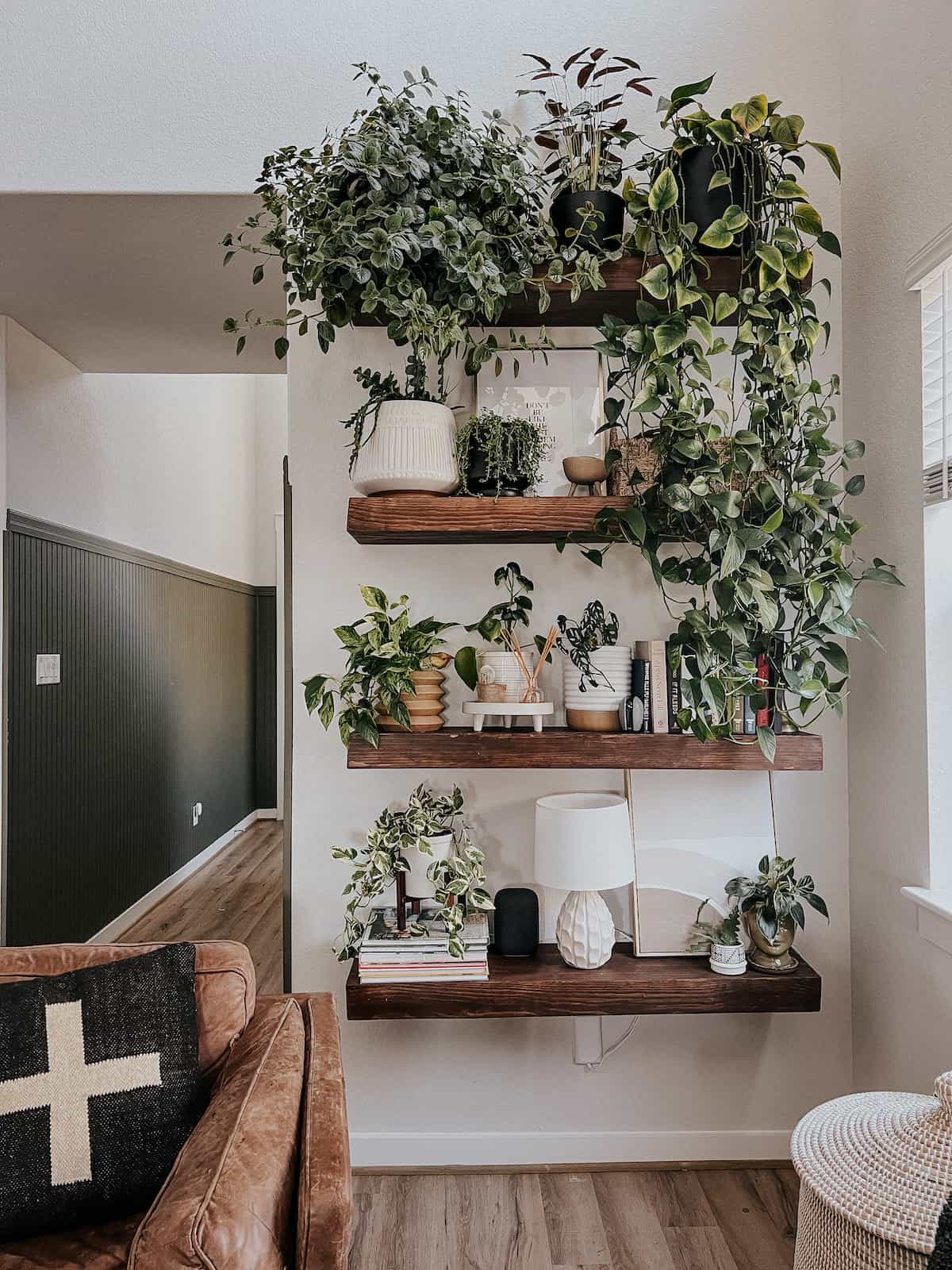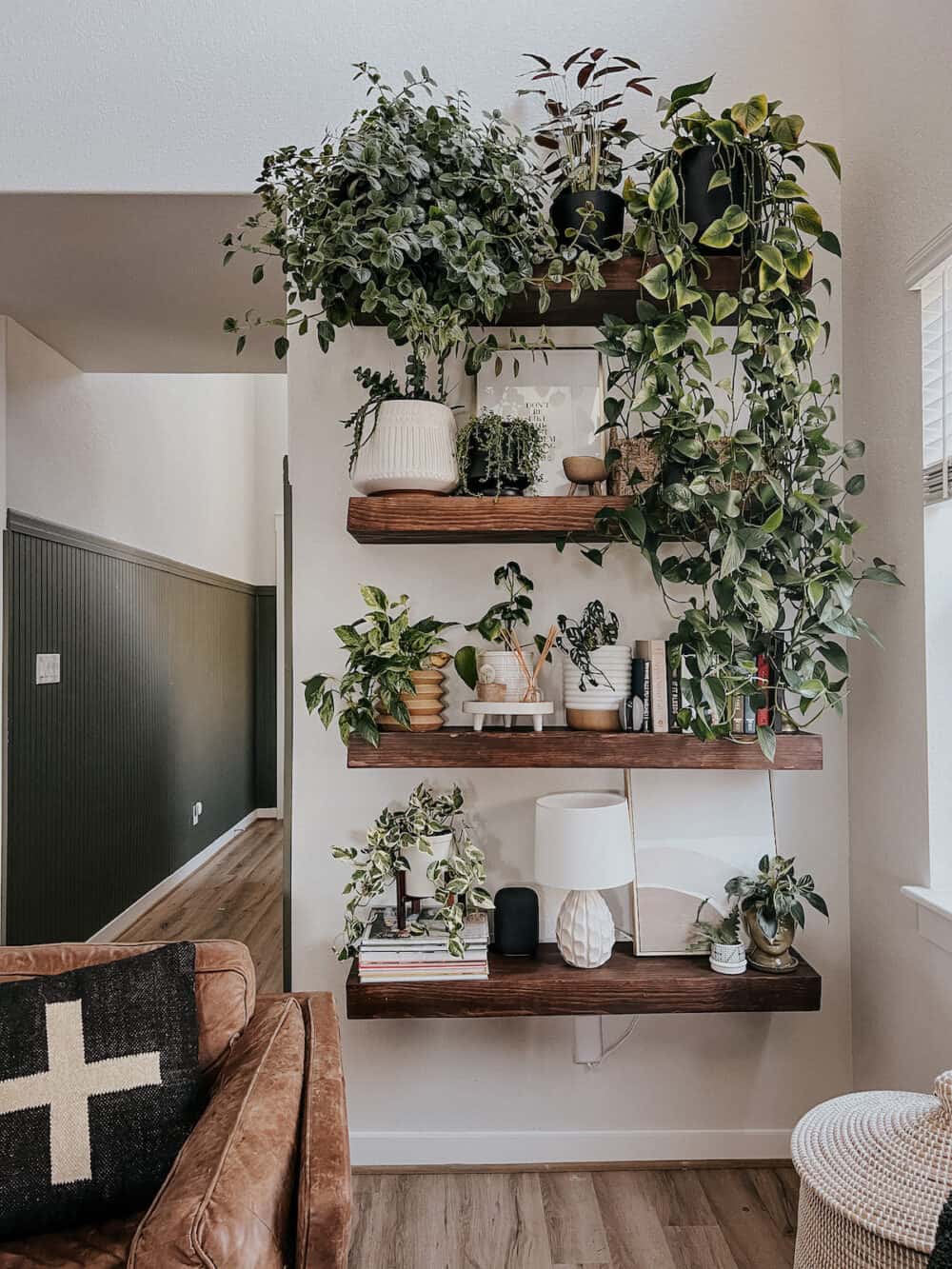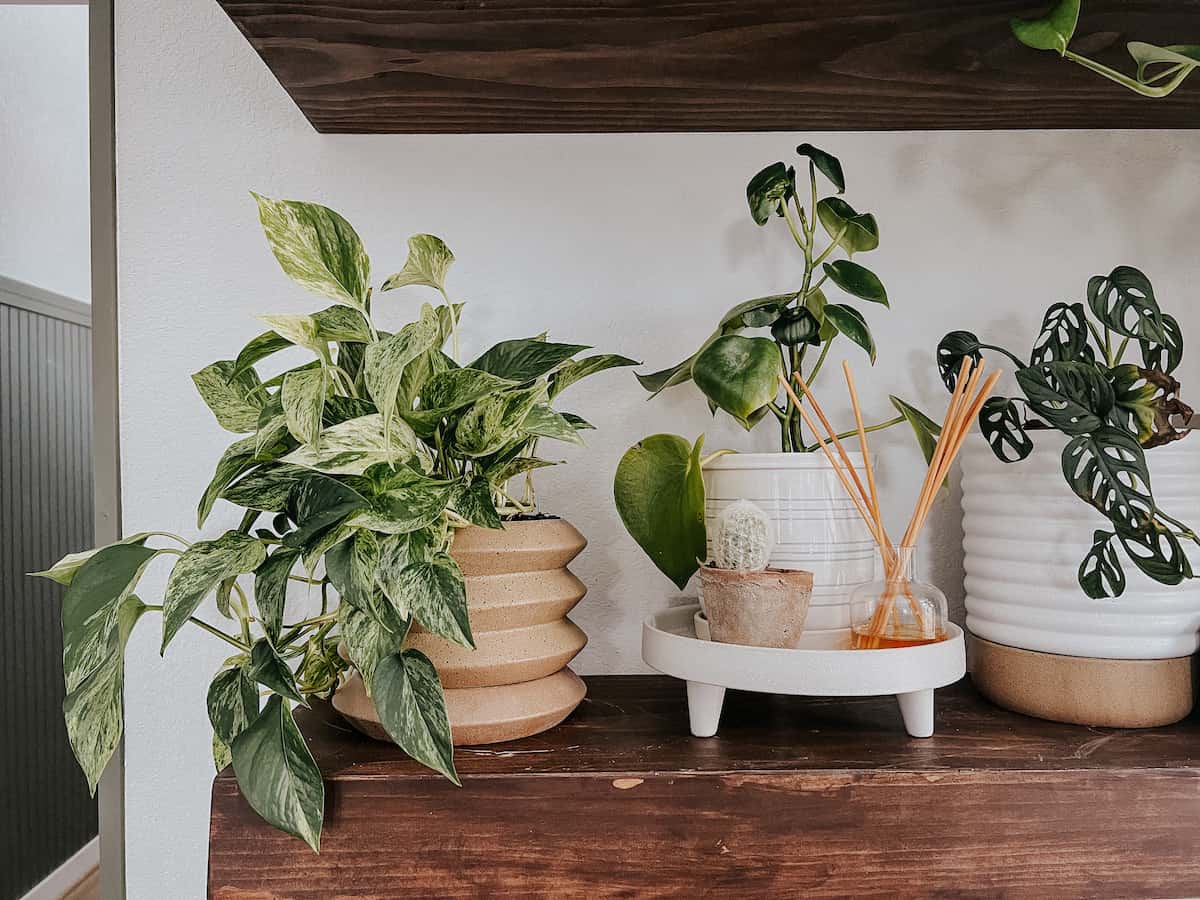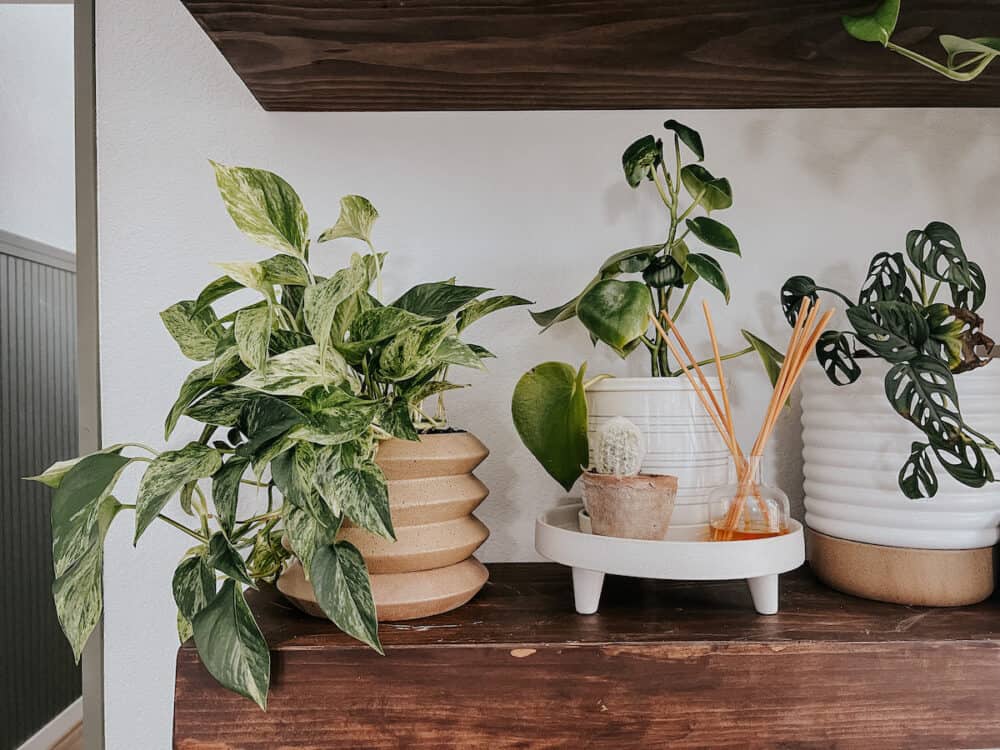 Any other genius shelf styling tips we need to know? What's your favorite shelf decor to use?! Leave 'em in the comments!
Related Posts