Need some delicious ideas for Christmas cookies to bake with your family this holiday season? Here are 10 Christmas cookies that your family is guaranteed to love – and a few tips on baking with your toddler! 
—–
There are many reasons I am not a food blogger.
One of them is that I'm not great at taking photos of food (as you'll see in this post).  A chocolate chip cookie looks ridiculously delicious in real life, but somehow when I take a photo of one, it looks more like a big brown blob (and we all know what that looks like).
Another reason I'm not a food blogger is that I'm not great at coming up with my own recipes. I'm not super adventurous or creative in the kitchen, and if dinner requires coming up with a recipe from nothing, I usually ask Corey to handle it. But what I am good at? Following a recipe. I can do that all day long. I'm great at it. I'm also really good at finding delicious recipes – especially when those recipes are for Christmas cookies.
I'm really good at finding delicious Christmas cookies. You could call it a secret superpower.
And today? I'm sharing my powers with you and spilling the details on the recipes to 10 of my very favorite Christmas cookies. You're welcome.
This post is part of the Back to Basics series that I've been doing with some of my blogging friends for the last few months – every month we get together to share a few basic tips on various home, entertaining, and DIY topics. This month is all about holiday treats and snacks – basically my favorite topic in the world. I'm focusing on Christmas cookies for my post, but there are tons of other ideas in the posts below – be sure to check them out!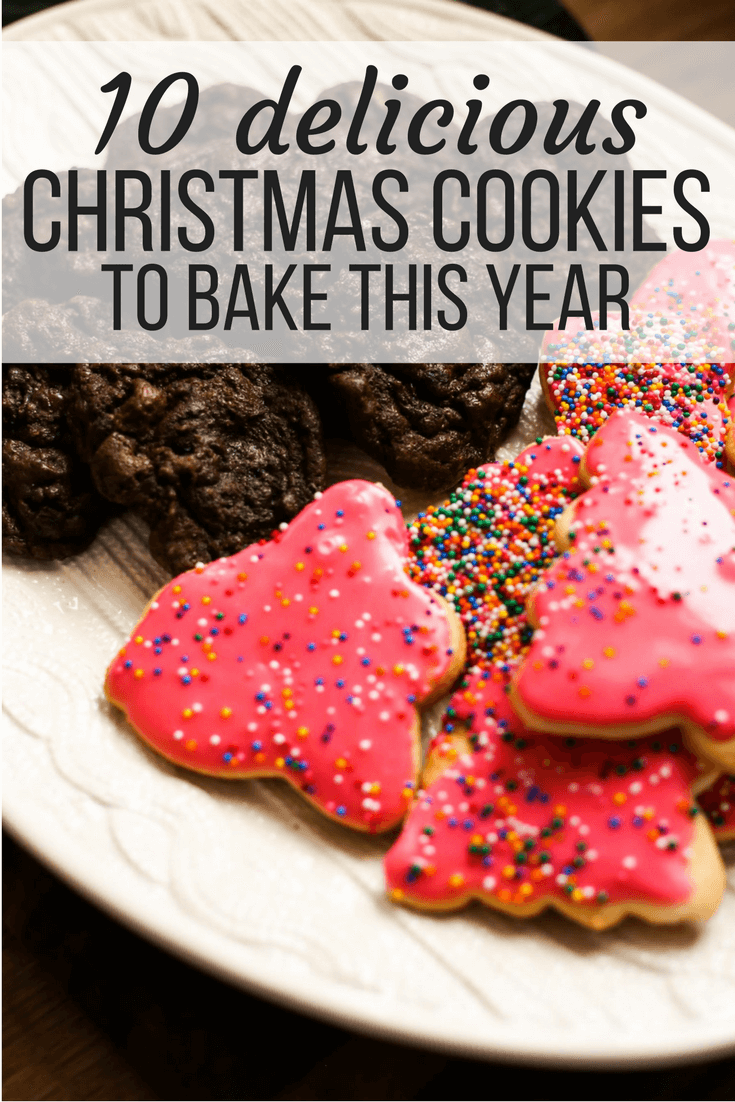 It's always been a big tradition in my family to make an absurd amount of Christmas cookies every year. We always have approximately ten times more cookies than we actually need, but we just keep making them. It's like a sickness. We can't stop. So, of course, I'm doing my best to pass the tradition on to Jackson. Our family gatherings for Christmas used to be significantly bigger than they are now, so I used to spend one full day baking cookies and bring them all to Christmas with my family. Now, however, there are fewer of us that gather every year to celebrate which means my full-day baking marathon has become a little too over the top (even for me). So now, I take two or three days throughout the Christmas season and make just a couple of different types of cookies each time – then, I do what I can to give as many of them as possible away, so we don't gain 700 pounds in the month of December.
Jackson absolutely loves to help out with baking cookies, which is sweet but also exhausting. I find that spreading the baking out into smaller batches helps make things a little less overwhelming for the both of us – if I'm only baking two different types of cookies I have way more patience to allow him to help, and there's less chaos which means that he stays (a little) calmer throughout the process. Jackson has been baking cookies with me since he was about two (he's about to be four now), so we've settled into a good routine that lets him feel involved and keeps me from losing my mind. Here are his favorite things to do when we're baking Christmas cookies:
Unwrap the butter and put it in a bowl
Crack eggs (into a separate bowl, so I can be sure to pull any stray shells out)
Stir the batter, once I've gotten it partially mixed
Use cookie cutters to cut out cookies
Operate the stand mixer (he can do it mostly independently at this point)
Pour ingredients into the bowl after I've pre-measured them
Sometimes he still gets a little overexcited and has to be reminded that he can't do every part of the cookie making, but when you've got such an exciting reward at the end of the process, it's pretty easy to keep him on track behaviorally.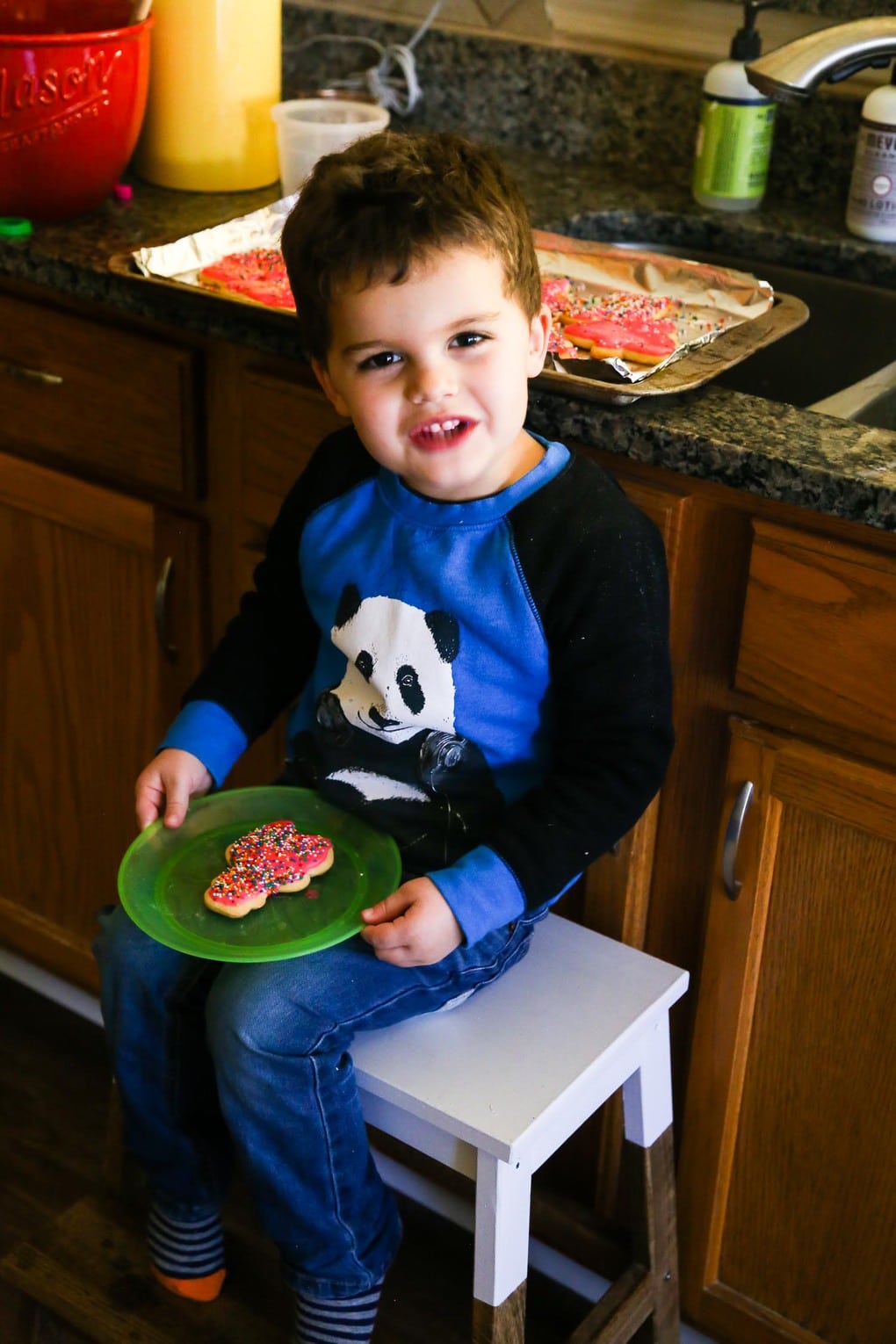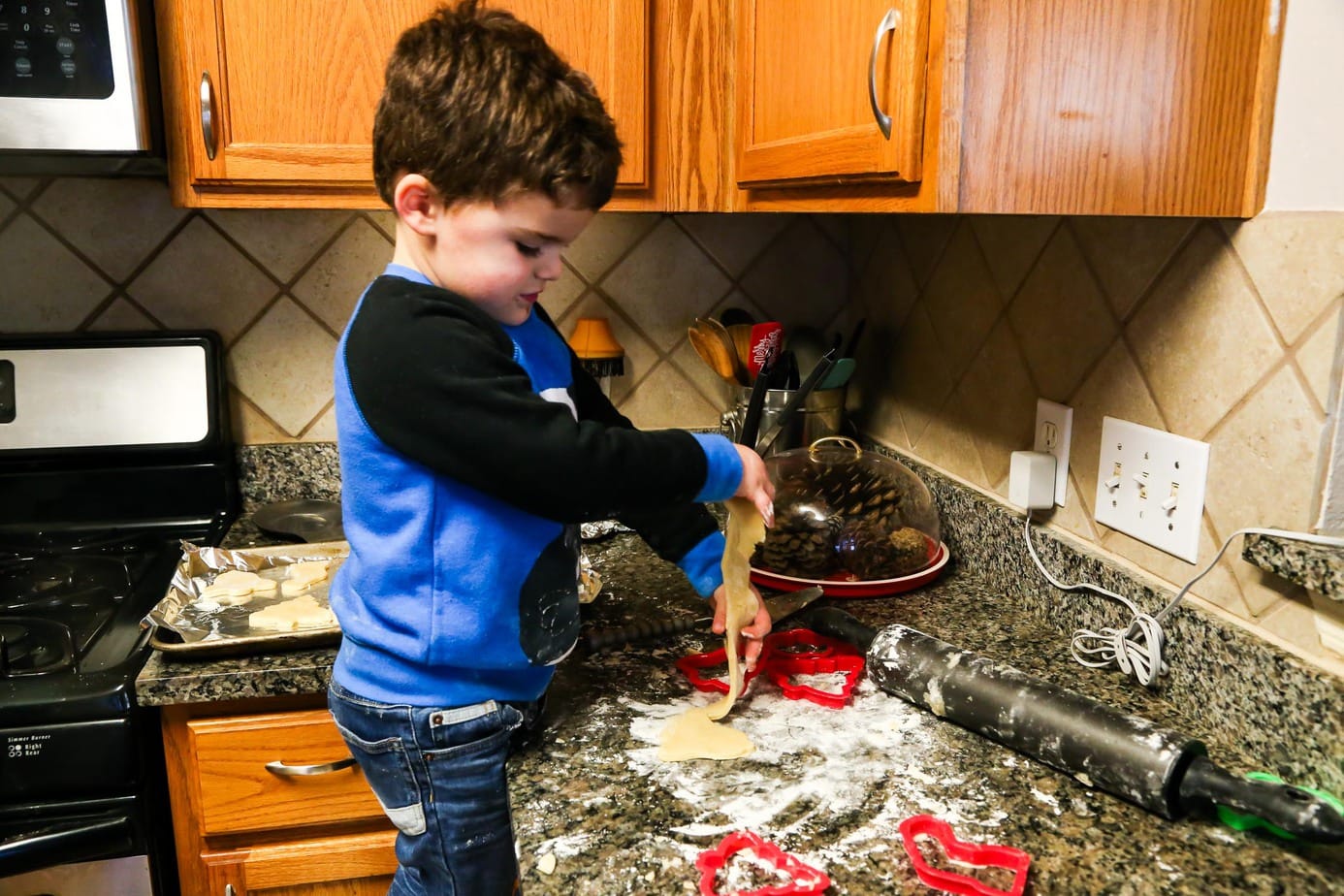 One thing to remember about baking Christmas cookies with preschoolers or toddlers is that it's always going to be a mess. A big one. There's no way around it. Just roll with it, turn the Christmas music up, and use the extra clean up time as a quiet time to decompress after the excitement of baking with a toddler.
I mean, it's a lot of fun. But it's also stressful. And exhausting. Just like every other aspect of parenting.
Anyways, let's get to what you're really here for – the Christmas cookies! Here's a quick list of my 10 favorite Christmas cookies to bake. I'm a creature of habit when it comes to my Christmas cookies, so these are the recipes that I go to year after year – you can trust me that they're delicious.
10 Christmas Cookies to Bake This Year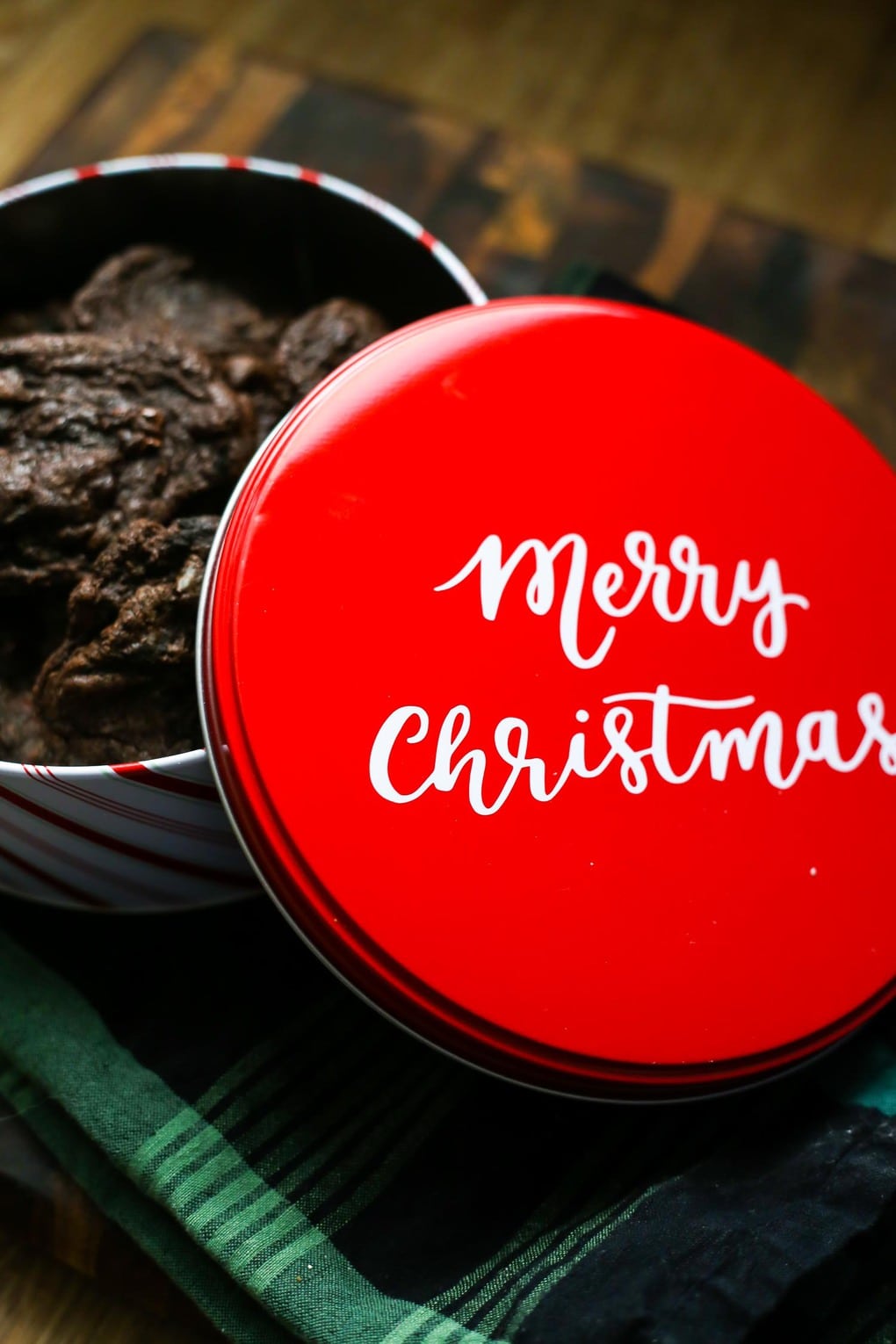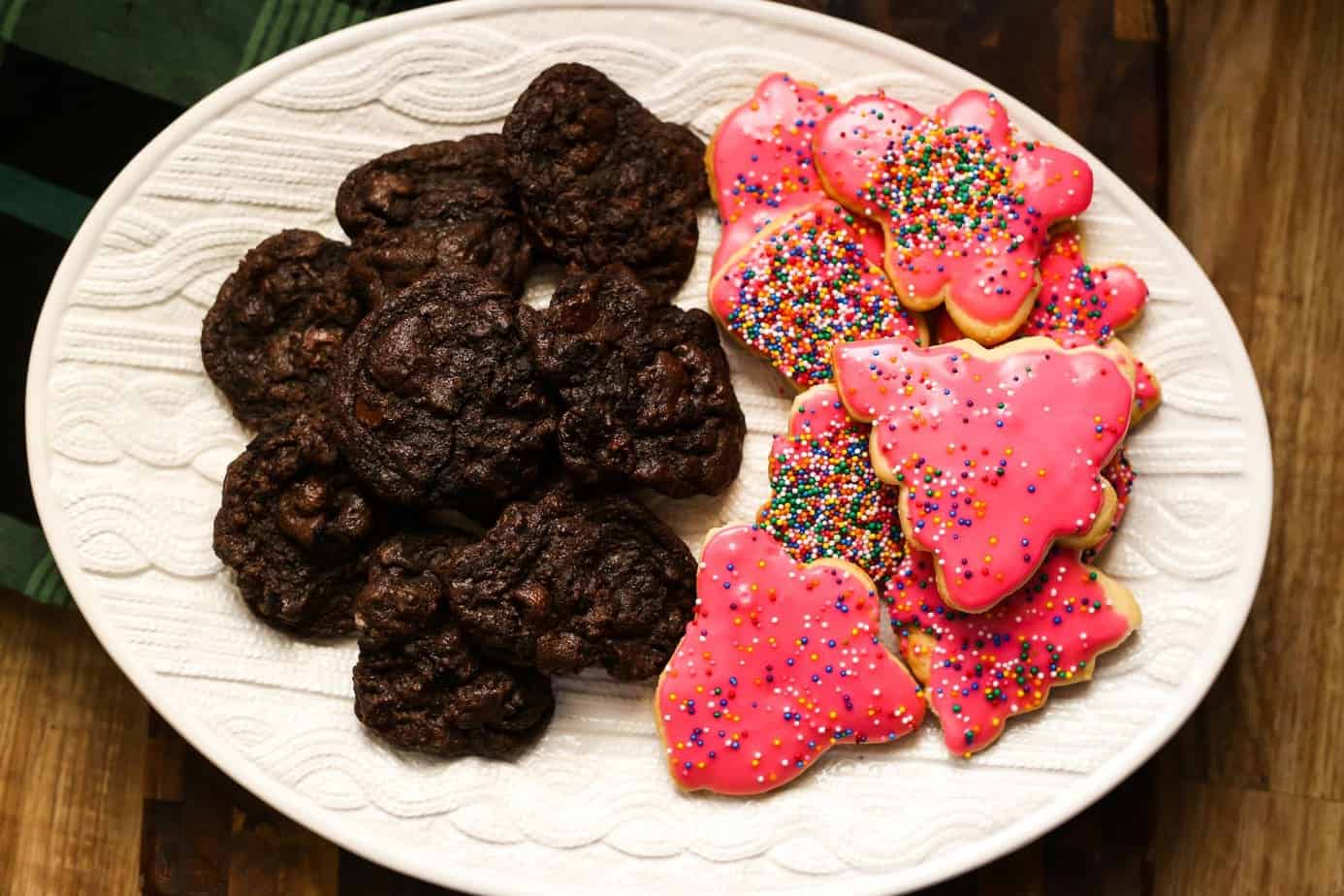 And, as a bonus, here are a few other posts I've written about our favorite Christmas recipes in the past:
What are your favorite Christmas cookies to bake with your kids? Be sure to check out the other posts in the series below!