I love to share our favorite board game recommendations! Today I'm chatting about our favorite date night games – a few of the board games we love to break out when we're looking for a quiet night at home.
I've mentioned a few times before that Corey and I love board games. We have a pretty big collection and we play on the regular. But, I'm not talking about Monopoly and Life. I'm talking about unique, creative, and strategic board games that you never dreamed of when you were a kid.
We're always trying to recruit more people into this awesome world of board gaming, and so many people have no idea that these amazing games exist, so I thought today I'd highlight 10 of our very favorite games to play on date night. It can be hard to find games that work well with just two people, but these are the best of the best!
Want more board game inspiration? Here are a few more posts: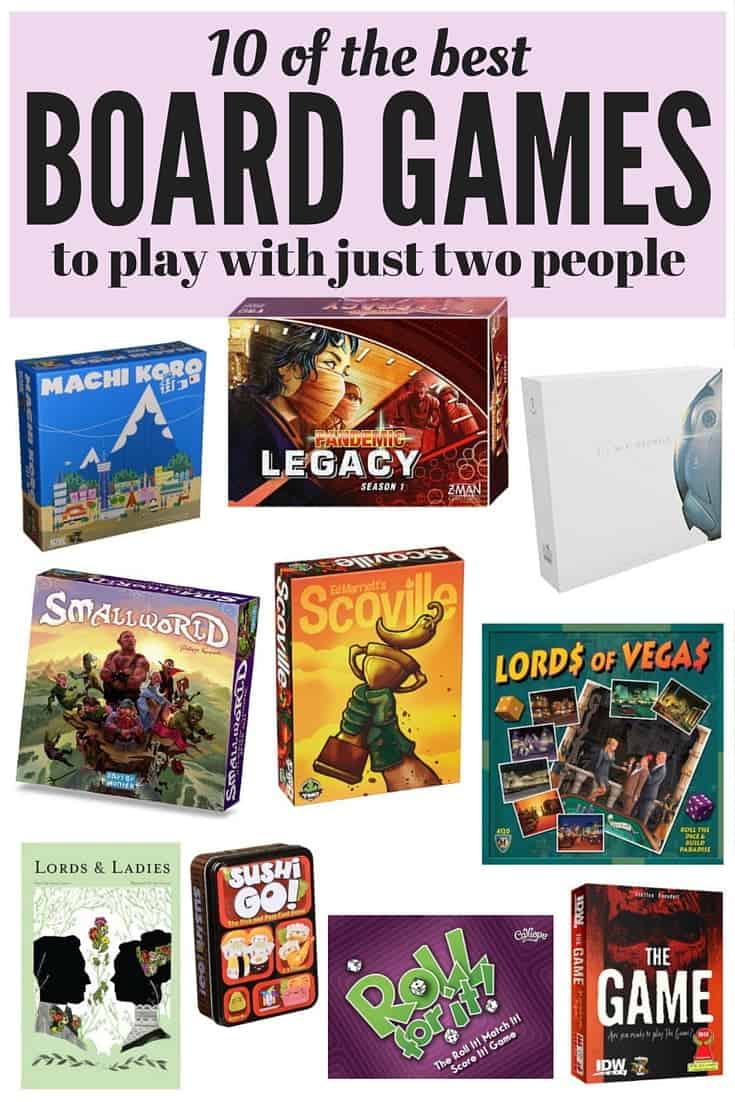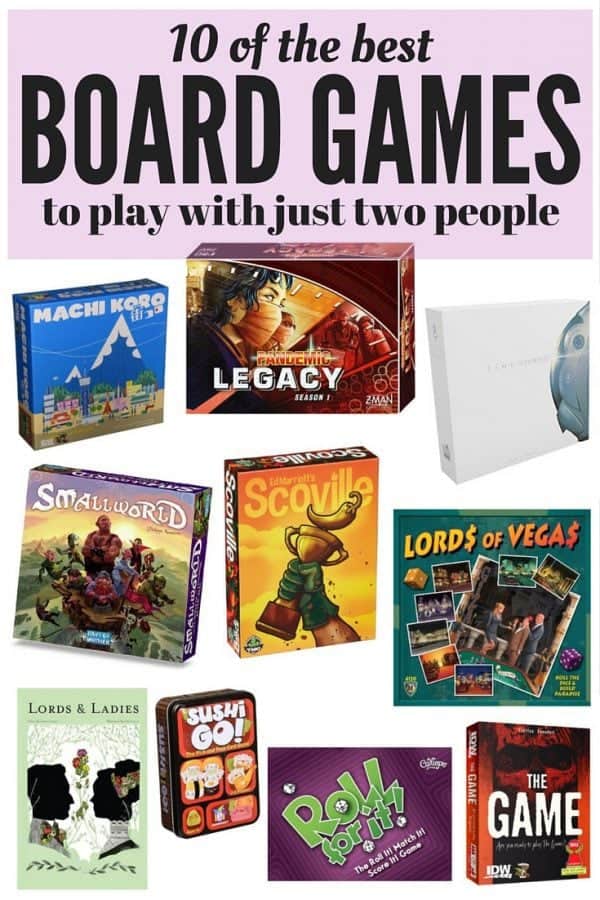 This post contains affiliate links. Click here to read my full disclosure policy. 
Date Night Games: Best Board Games for Two People 
Machi Koro – This is a fun card game where you are trying to build up a better "city" than your opponents. You buy different cards that represent buildings and earn you certain rewards, and the end goal is to finish building all of the landmarks in your city before the other person. It's fun to see how different strategies play out in this game and it's relatively low-key so we don't usually have to worry about getting too competitive (because we're both prone to that)! I highly recommend playing with the Harbor expansion if you try it and like it – it makes the game much better!
Pandemic: Legacy – I didn't think I'd like this game. Pandemic is a relatively mainstream cooperative game (meaning all players work together instead of competing) and it's fun, but not one of my favorites. This game, however, is amazing. The idea and gameplay are identical to Pandemic – you're playing a group of researchers/scientists who are trying to stop the spread of several highly contagious diseases around the globe. However, in the Legacy version, it's played over 12 games and you get to alter the game board as you go, add new rules, and things are constantly shifting and changing. It's incredibly creative and unique, and we can't get enough! The game spans over 12 "months," so we've been playing along once a month – we played the January game in January, and the February one in February, etc. This is my current favorite game!
Time Stories – This is similar to Pandemic: Legacy in that it isn't a game you can play over and over – once you beat it, it's pretty much done, but they have different "stories" that you can buy to add to the game. In this game, you're playing time travelers who are trying to solve mysteries together – you get to explore places and try to communicate and strategize together to figure out what's going on. We both love mysteries and puzzles, so this is perfect for us, and it's such an interesting game. We can't get enough!
Small World – In this game you get to choose a civilization to play (such as zombie pirates or something else equally hilarious/exciting) and you're trying to conquer the land and bring down your opponents. It's all about taking down the people you're playing with, so it can get a little intense if you're very competitive, but it's a lot of fun! It's a pretty quick game, and it plays really well with two people.
Scoville – This game makes me laugh just because of the concept – you're playing pepper farmers and you're trying to grow the best, hottest peppers and earn points by making the best chili at the pepper festival. It's silly, but requires a lot of strategy and thinking, and it's really fun to play. This is another one where our different strategies are really highlighted, and it's always fun to see how differently we each approach games like this!
Lords of Vegas – I've talked about this one a few times before here, but it is hands down one of my favorites so it bears repeating. This game is similar to Monopoly, except instead of buying railroads and electric companies, you're buying casinos and creating a mega-empire on the Vegas Strip. It's so much fun and has a lot of mechanics that you'll already be familiar with. Watch out, though – it can get competitive! Corey and I have had to take a break from this one before when it got too heated!
Lord & Ladies – Every time we play this game we end up giggling all night. It's all about creating the best and most prestigious family line, and creating rumors about all of the other families to take them down! It's silly, beautifully designed, and a lot of fun to play. It's a pretty quick game, and it's pretty unique in the way that it's played, so it's a fun one to play when we're looking for something a little different.
Sushi Go – In this game, you're trying to collect a set of sushi worth more points than your opponent. You each have a hand of cards that you pass around the table (you choose one, then pass it on, then go back and forth until the cards are all chosen), so there's a lot of strategy in what you choose and what you decide to pass on, and it's really fun to see how your strategy improves the more you play. It's another one that's really well-designed and adorable!
Roll For It! – This game is very simple, but it's very fun. You have several cards on the table with different dice combinations and each person has their own set of dice that they roll to try to match the cards. You're racing the other person to collect cards to get a certain number of points. It's an easy game to play while chatting, and it doesn't take terribly long.
The Game – I am obsessed with this game right now, and Corey and I are currently taking a break from it because I get a little, ahem, intense when we play. But it's so. much. fun. It's a cooperative card game where you have a set of cards numbered 1-100 and several piles of cards in the middle of the table where you can play them. On two of the piles, you're counting up from 1 to 100, and on the other two you're counting down from 100 to 1. You're trying to get rid of as many cards as you can without actually telling your partner what is in your hand. It's hard to beat but so much fun to play! We've beat it once and we were so excited! I could play this one all day long.
If you haven't ever checked out any of these more unique board games, I highly recommend that you think about doing so. It's honestly not a hobby I ever thought I would get into, but the more games we play the more I fall in love with the hobby as a whole. It's a great way to spend time together that's engaging, mentally stimulating, and provides a lot of opportunity for bonding and conversation! What are your favorite board games to play?