I love having a little water closet in our primary bathroom, but it has always annoyed me that there's no over the toilet storage in it at all. It seems silly to separate out this little room and add zero storage to it whatsoever!
When we started working on our bathroom makeover, I knew I'd be adding some simple storage above the toilet for things like toilet paper and pads…and some cute stuff too because why not?!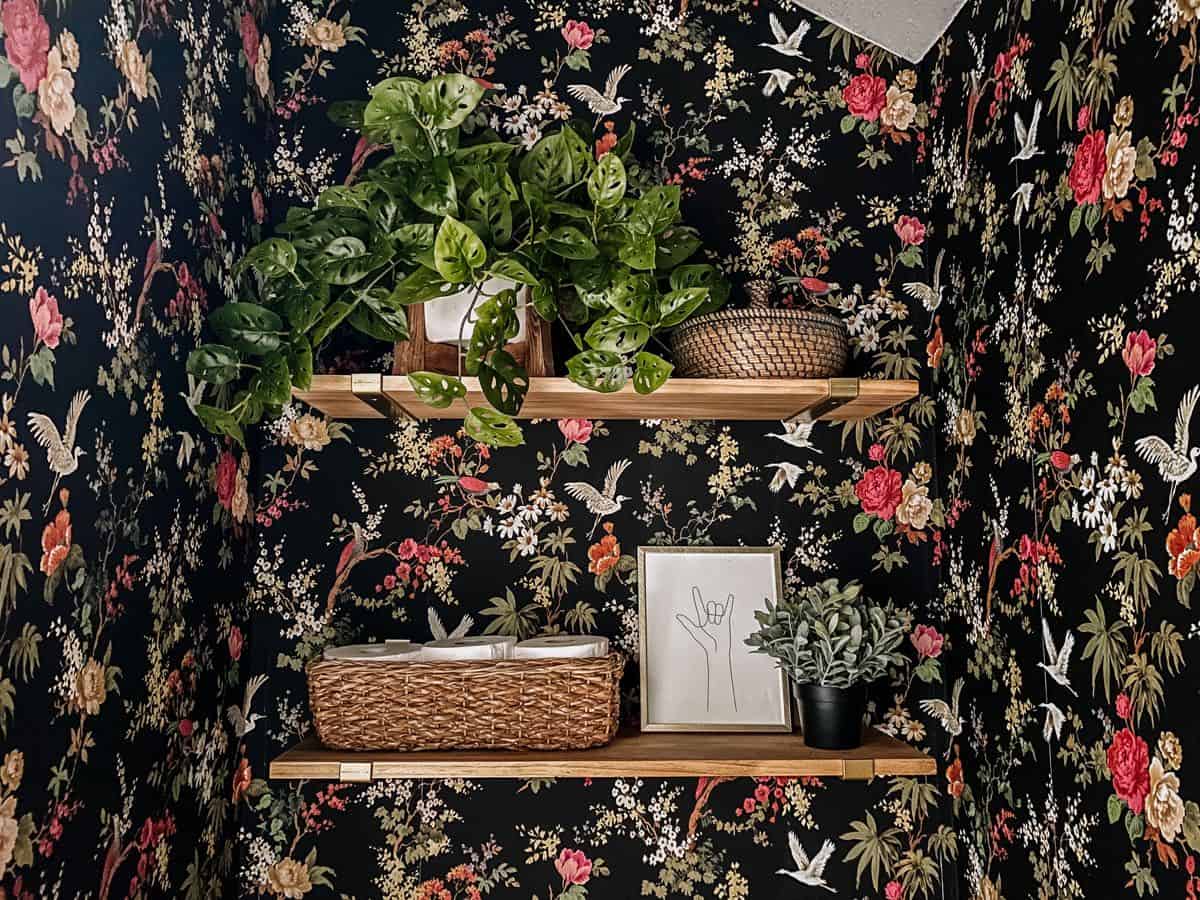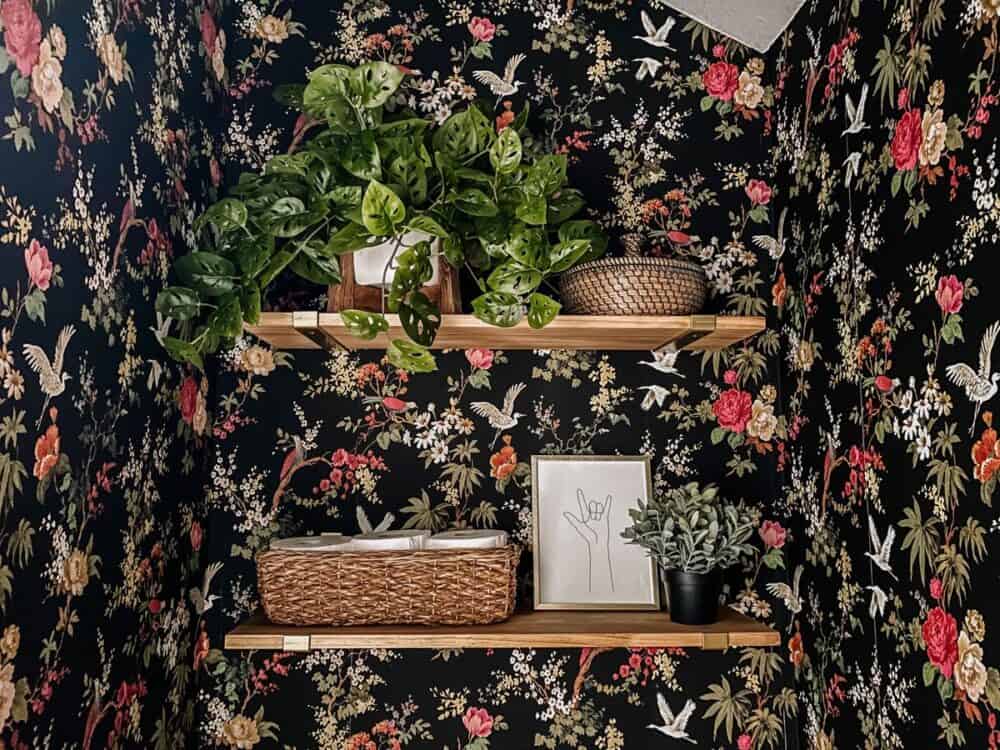 After hanging the wallpaper last week, my next step was hanging some simple shelves above the toilet to add some extra storage. It's silly, but it feels almost luxurious to have the extra toilet paper in the same room as the toilet.
It's the little things in life, you know?!
Today I'm going to show you how I added some storage over the toilet in just a couple of hours one afternoon – and, if you aren't looking for storage above your toilet, you can still read on to learn how to hang simple shelves using brackets!
how to add over the toilet storage with shelves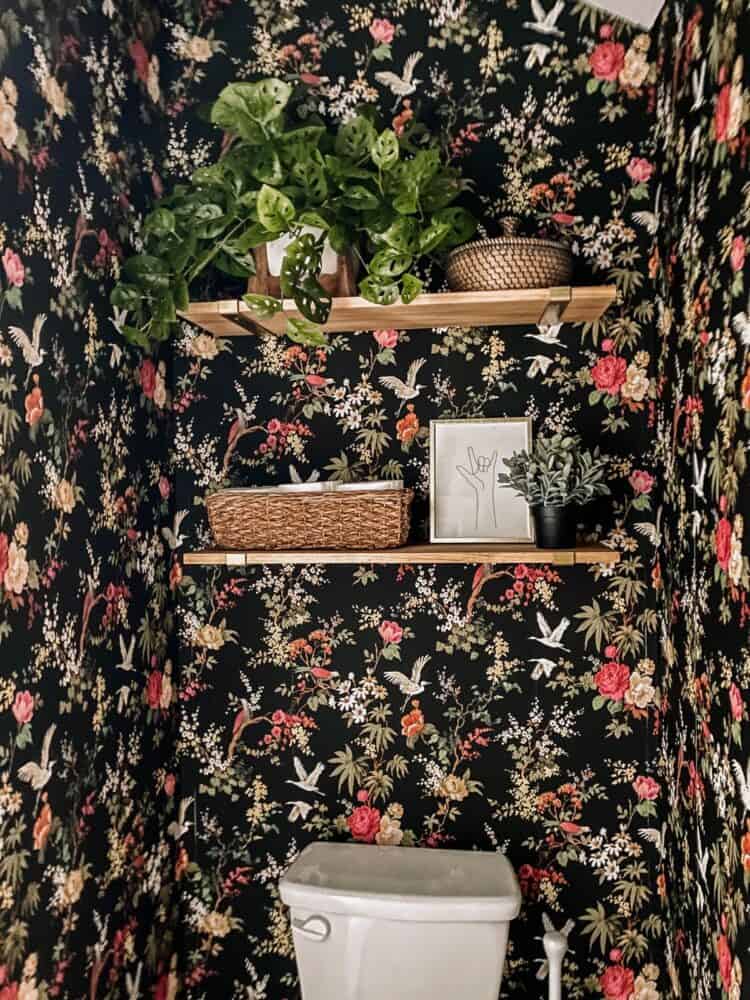 Materials Needed
1×10 piece of wood (I used pine, if it had been in any room other than the bathroom, I probably would have splurged on something nicer like oak!)
Level
Anchors (I recommend these if you'll be putting heavy stuff on the shelves)
Drill
Stain or paint
how high to hang shelves above toilet?
The firs step is obviously figuring out how high you want the shelves above your toilet to be hung. A good rule of thumb is to plan on having at least 24″ between the top of the toilet tank and the bottom of your shelf. This should give you plenty of room to not hit your head, but it won't feel awkwardly high.
If you're doing two shelves, I recommend about 18″ between the shelves – it helps fill the space up nicely and everything still looks connected!
Installing shelf brackets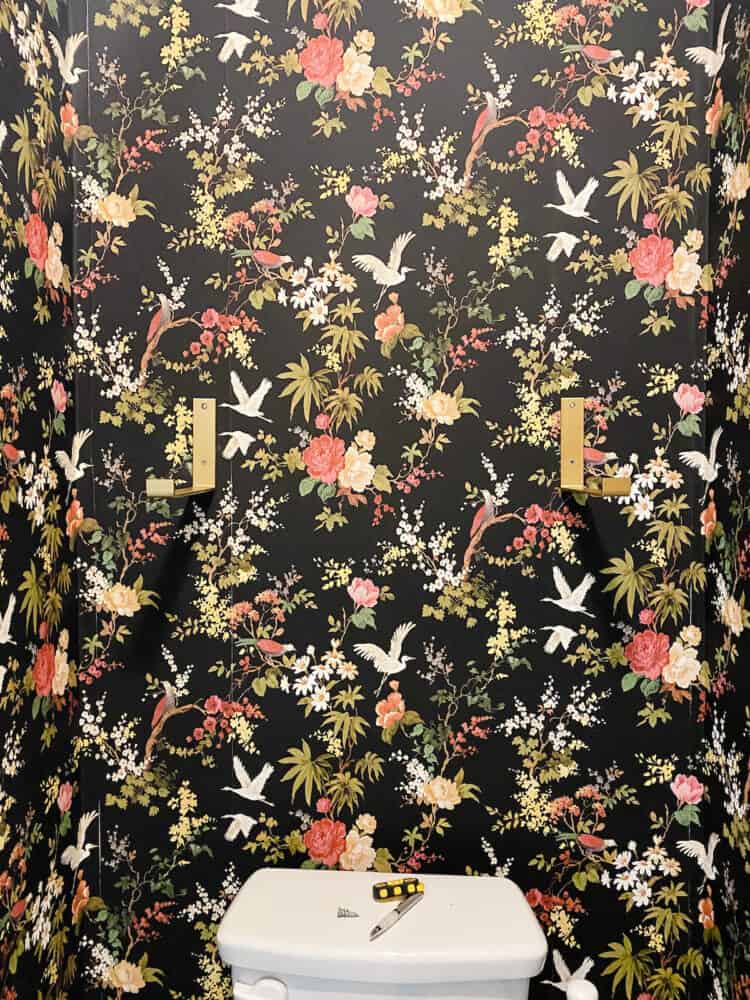 To determine where the brackets need to go, here are the steps you'll follow:
Measure the width of the toilet room (mine was 40.75″)
Subtract the length of the shelves you want (I went with 32″)
Take the remaining number and divide it by two
The number you end up with (for me, 4 and 6/16″) is how far you want the shelf to sit from each side.
The bracket will sit in on the shelf a bit – I went with 4″. So, add the two numbers together to determine exactly where you need to hang the bracket – for me, 8 and 6/16 from the wall!
Hold the bracket on the wall exactly where you want it to be hung, then use a pen to mark on the wall where you'll need to drill your holes.
Use a stud finder (I like this one!) to see if you'll hit a stud. If not, be sure to install some anchors before attaching the bracket to the wall.
Repeat the same process for the other side – but I recommend grabbing a level to make sure the brackets are level with each other before you drill anything for the second one!
Add the shelf to the bracket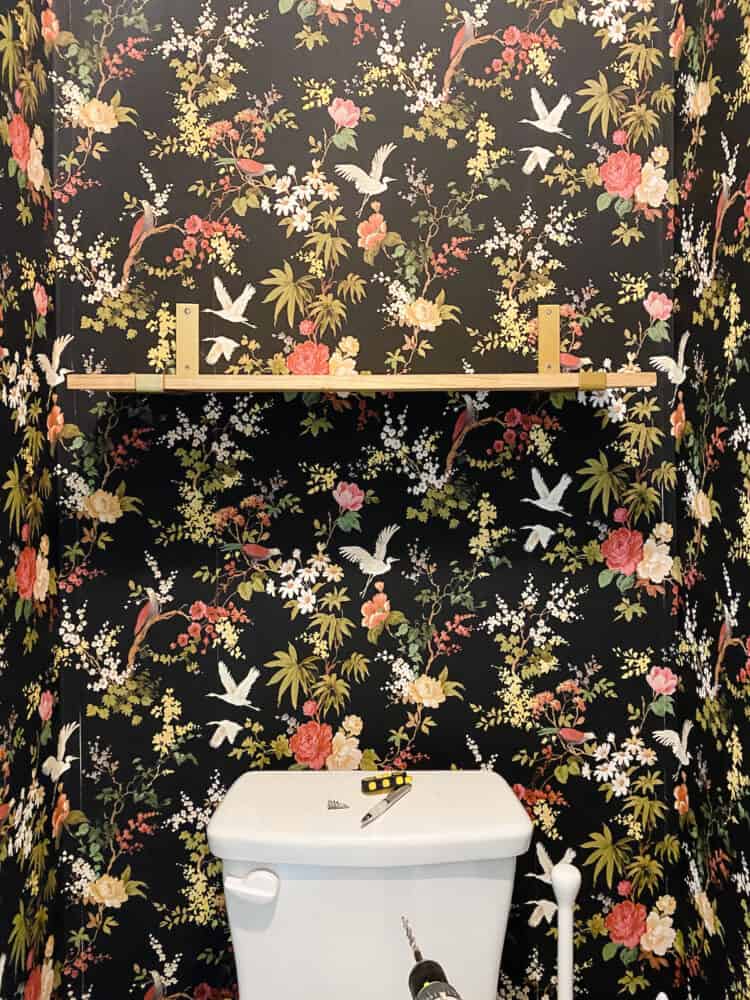 Once your brackets are in place, literally all you have to do is plop the shelf on top and attach it from underneath!
If you'll be staining or painting your wood, I recommend sanding and finishing it prior to installing it.
Then? You're ready to fill it up!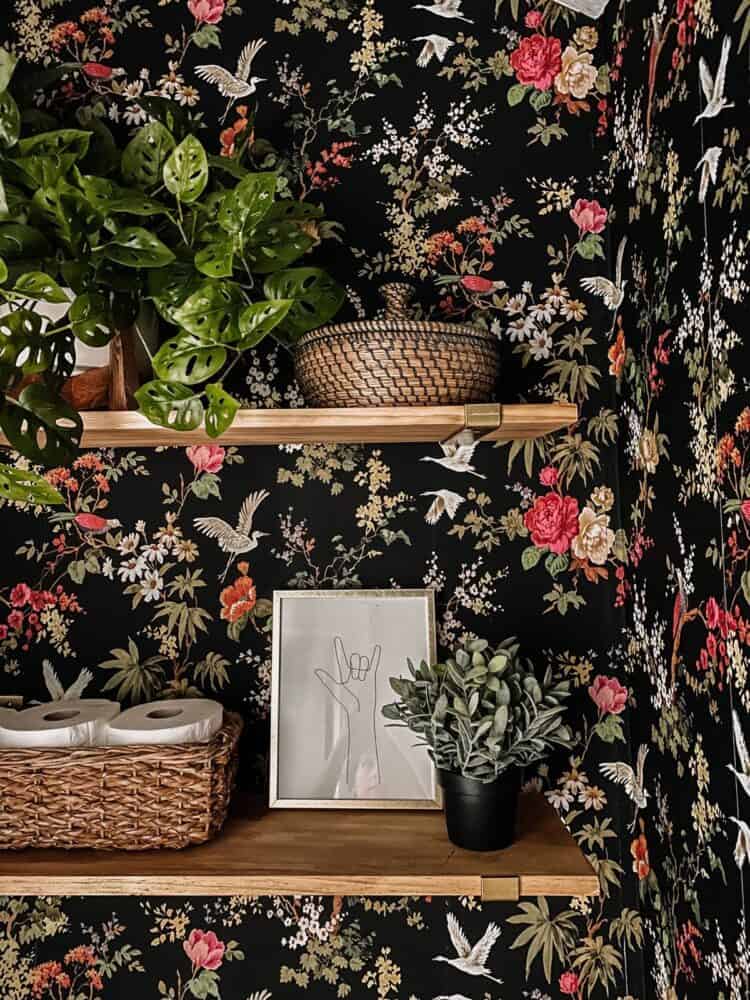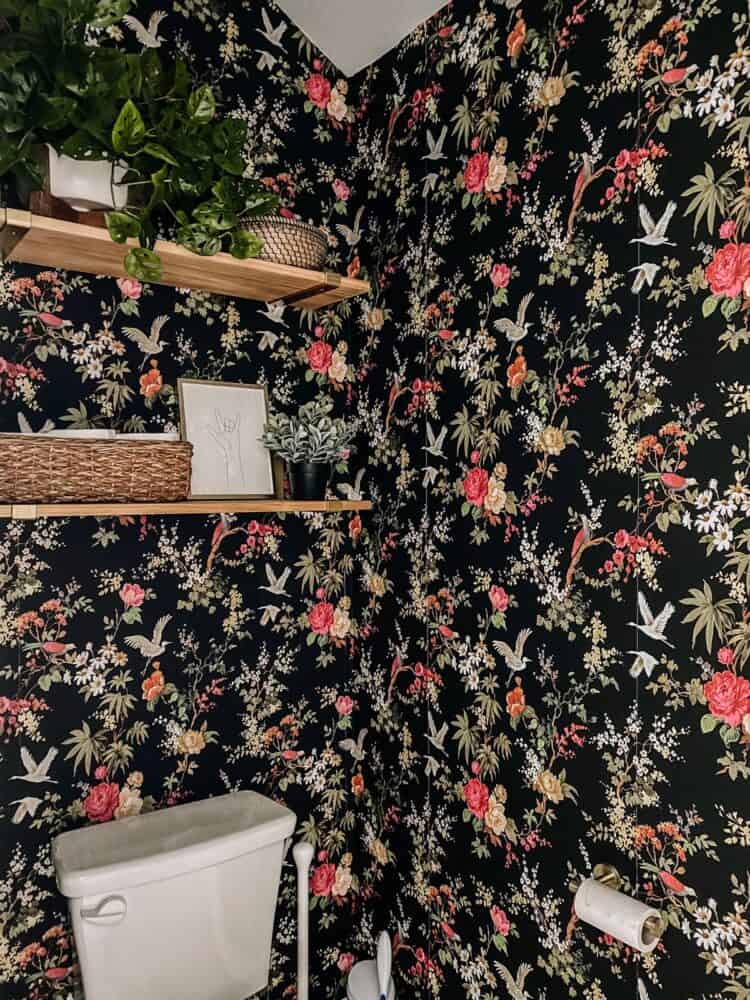 This is genuinely such an easy project and it took hardly any time to knock it out. I adore how much functionality it added to the space, and it looks pretty darn cute too, if you ask me.
With this, the little toilet room is wrapped up! I still have a few projects left in the bathroom as a whole, so stay tuned for that!
Water closet sources
Need to catch up on this bathroom renovation?