Our New Bathroom Skylight
We just had a VELUX skylight added to our primary bathroom, and today I'm spilling all of the details on how it went down, along with answering all of your questions! This post is sponsored by VELUX, thanks for supporting the brands that support Love & Renovations!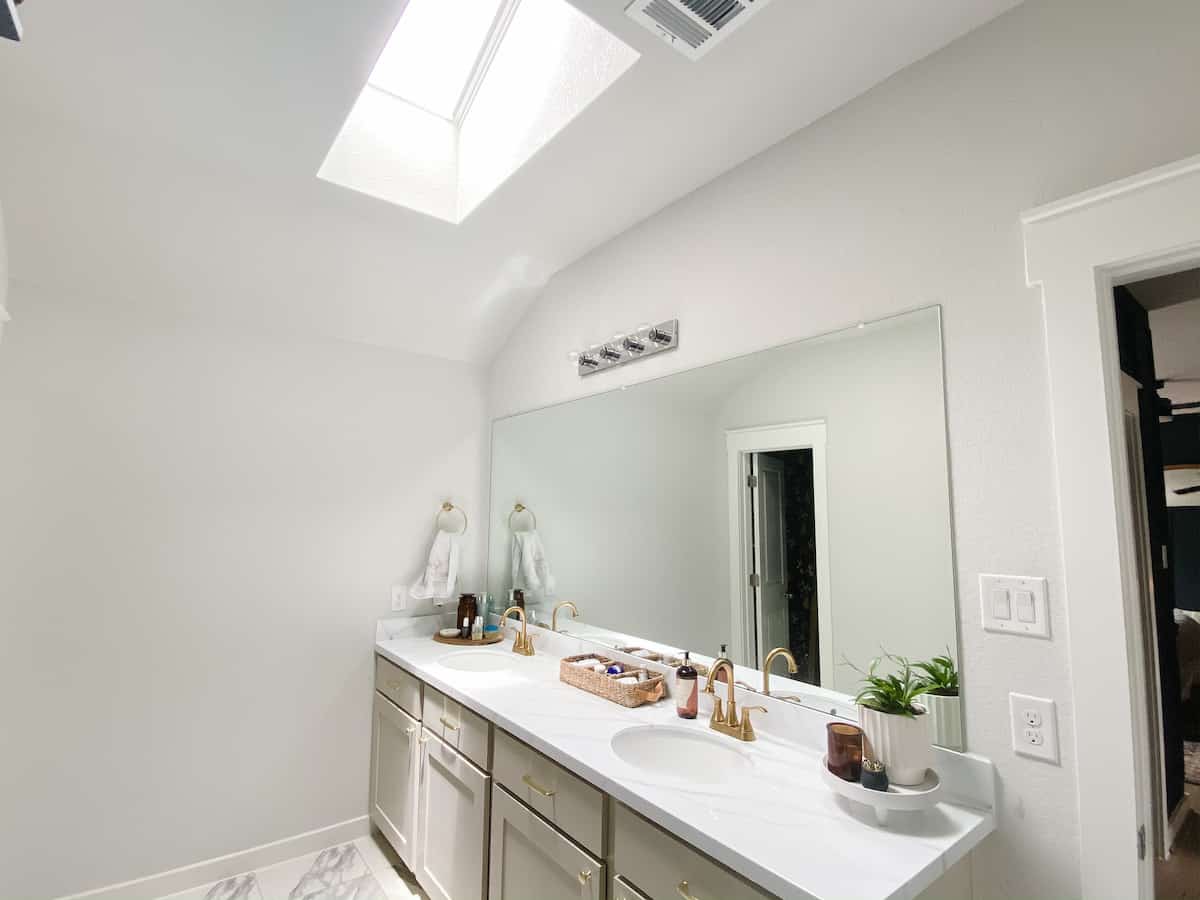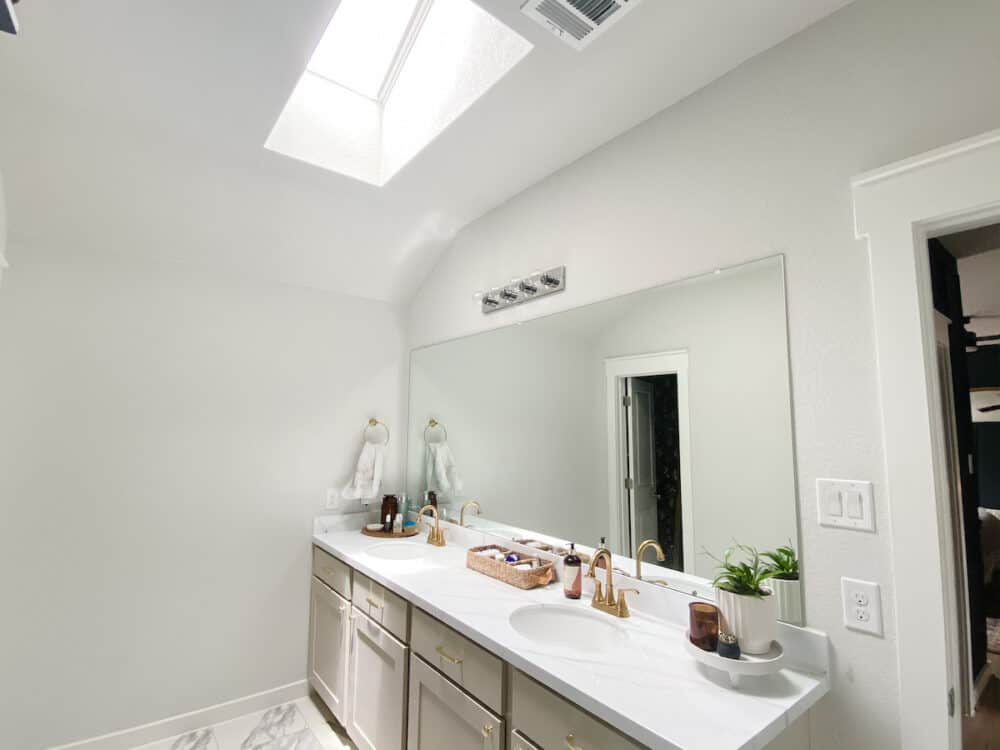 When we first moved into this house, one of the biggest frustrations for me was the lack of a window in our primary bathroom. There's an option for homes in our floor plan to have a big, gorgeous window in this space, but since our home was a spec home we didn't get to have a say in whether or not we got a window.
Needless to say, this room has felt like a cave for the last 18 months. I'm obsessed with natural light in our home and get a little cranky when any space feels too dark, so I've been absolutely itching to do something about the lack of light in here.
My dreams finally came true last week when we had our brand new VELUX No Leak Solar Powered Fresh Air Skylight installed. I've been talking about installing a skylight in our bathroom for what feels like forever, and I'm just as thrilled with it as I thought I'd be. I am absolutely beside myself with excitement over how much natural light I have in my bathroom now, and every time I walk in there I have to pause and just take it aaaaaall in because it's just so darn good.
Here's are a couple of side-by-sides to give you a good idea of what the space looked like before and after. The editing on these is exactly the same in both photos. No fancy tricks here!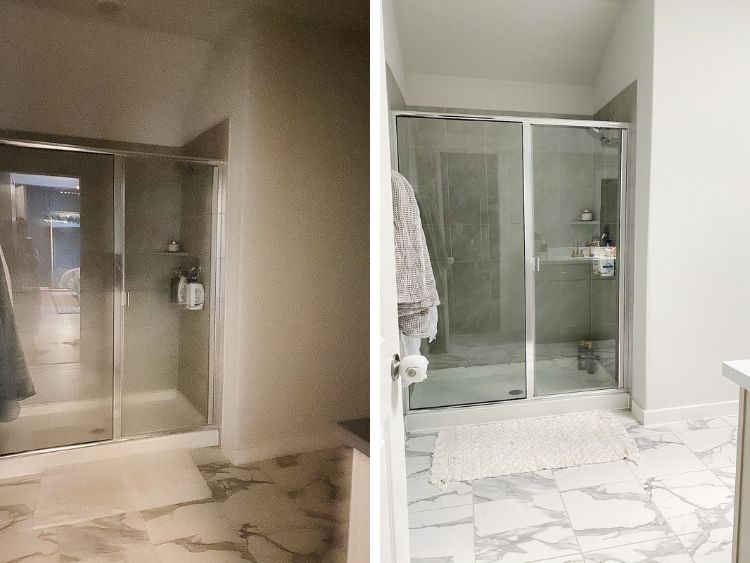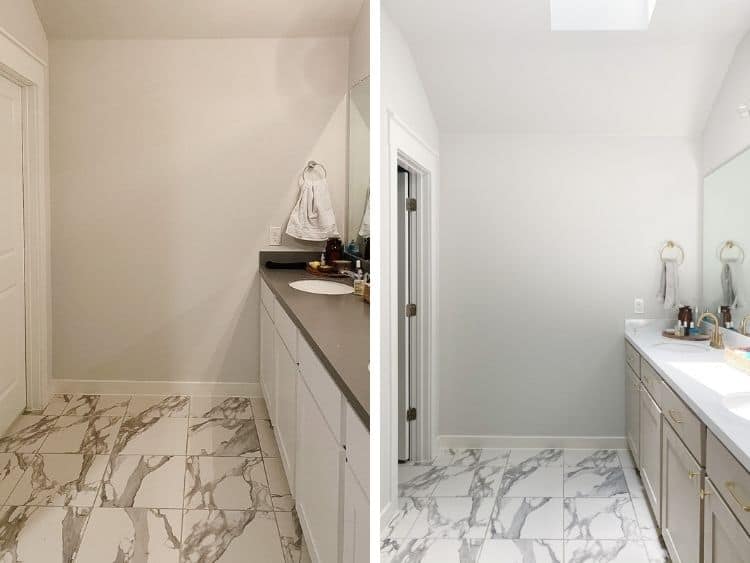 I had a lot of questions about the process, the cost, and how the whole thing came together so I wanted to walk you through what it looked like from beginning to end so you can feel informed if you decide to dive in and get a skylight or two of your own!
Installing Skylights: The Planning
The first step is planning where your skylight will be and what kind of skylight you want. We had a rep from VELUX come out and check out the bathroom to make sure a skylight was even feasible. They need to make sure they're able to access the roof easily, and that there isn't anything in the attic space that would be in the way of the skylight.
After looking around, taking some measurements, and chatting it over, we landed on a 2×4 foot Solar Powered Fresh Air Skylight – it can open and close with a remote (or using an app on your smartphone!), and it has light-filtering blinds so we can easily tone things down if the sun overhead gets to be too much.
There are several different options you can choose when it comes to your skylight – you can do room darkening blinds or light filtering, and there are more than 50 colors and patterns when it comes to the colors for your blinds. We went with white, light filtering blinds for our skylight.
Once you've confirmed that a skylight will work in your space, you're ready to move onto scheduling and installation!
Installing Skylights: The installation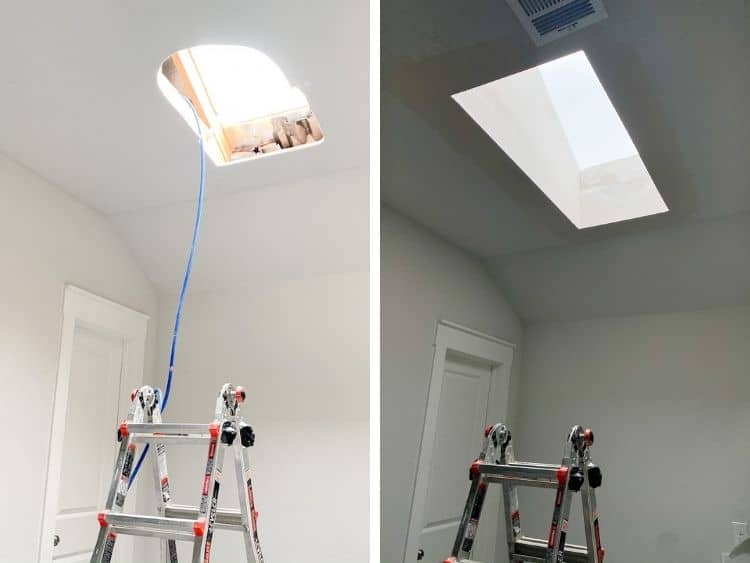 On the install day, the installers showed up bright and early and got right to work – I was amazed at how quickly things came together, and there was a huge hole in my roof with the sunshine flowing in within just a couple of hours of their arrival!
Grant was very curious about the process, and they were so kind and patient with him as he asked questions and watched, and they were also very patient with my incessant video-ing and photo-snapping while they worked!
By the time I picked Jackson up from school around 3:00, the hole was fully cut, they had added drywall in and had begun taping and mudding it, and the skylight itself was officially being installed.
They did the vast majority of the work in one day, and they came back the next morning simply to finish up the drywall work and paint the ceiling to match.
It was a surprisingly quick process and it was so fun to watch it all come together. I kept sneaking in there every few minutes just to marvel at the sun streaming into my bathroom!
Installing Skylights: Cost breakdown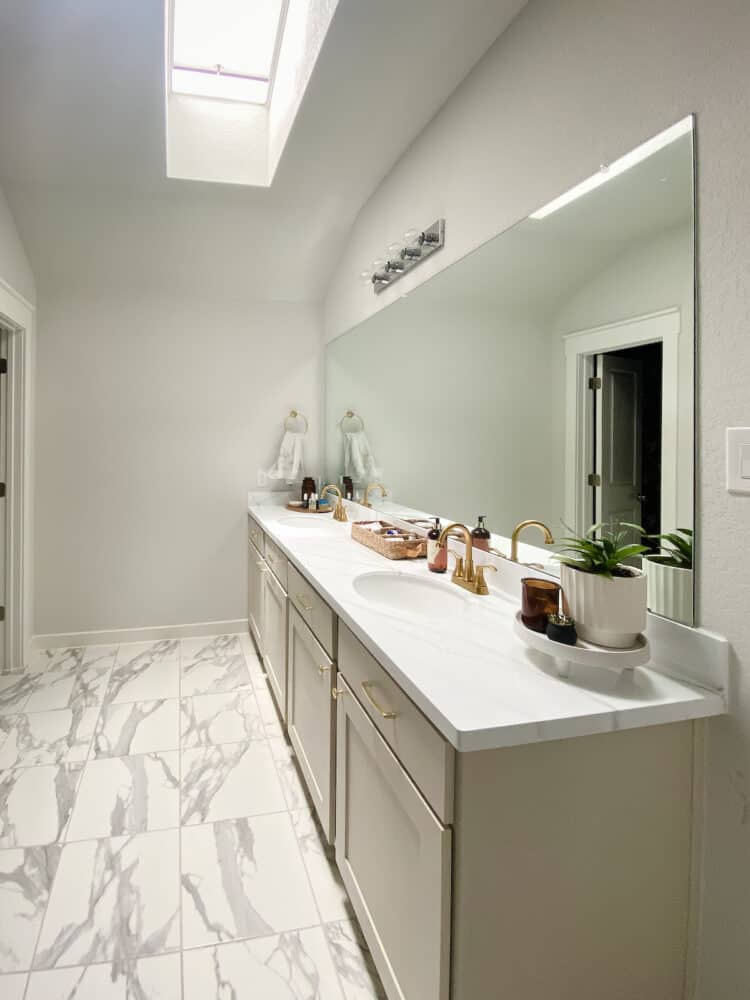 Of course, I know we're all dying to know how much the whole thing costs. Skylight installation costs will vary depending on where you live and what the local installers will charge.
Here's the cost breakdown for our particular skylight:
VELUX No Leak Solar Powered "Fresh Air" skylight with light-filtering blind: $1,736
Labor, materials, & tax: $2,369
Total cost: $4,105
Installation costs will vary based on things like region, the slant of your ceiling, the structure of your roof, etc. But, VELUX has a page with info on how much skylights cost to help you get a better idea of what it might look like for you, and you can also search for an installer by zip code if you'd like to get a quote for what it might look like to have it done in your home.
Our Skylight: All the Details
Let's talk more about our particular skylight and what all it can do. We have a VELUX No Leak Solar Powered Fresh Air Skylight. Corey had no idea that it would open and close when we first had it installed, and I wish I had thought to pull out my camera when I did the big reveal. He was shocked, and regularly says that he wants to put more skylights in our home now.
Here are a few key features and details about our new skylight:
It's solar powered, so there's no wiring or electricity involved.
It can open and close with a remote or with a smart phone. There's a screen on it so no bugs can get in when it's open, and it has a rain sensor and will quickly close at the first sign of bad weather.
The blind is also solar powered, and it can be controlled with the remote or a smart phone as well.
It comes with a 10-year No Leak warranty, which is such a comfort to know we don't have to worry about it!
Another bonus if you're considering a skylight is that this skylight currently qualifies for a 26% federal tax credit (through December 2022), because they're solar powered!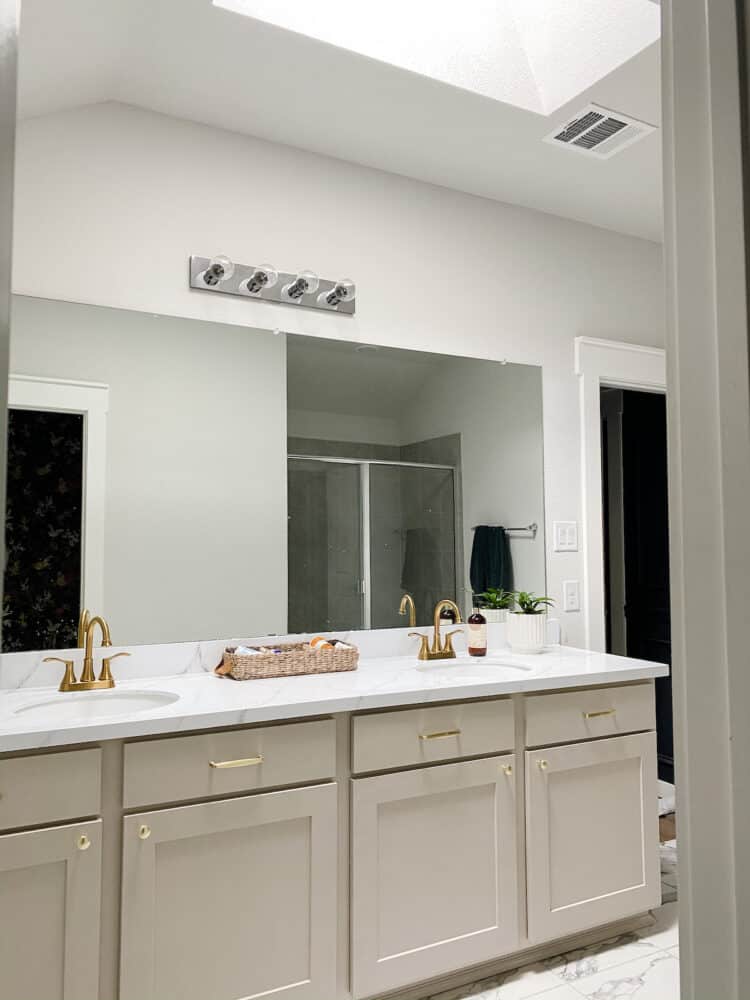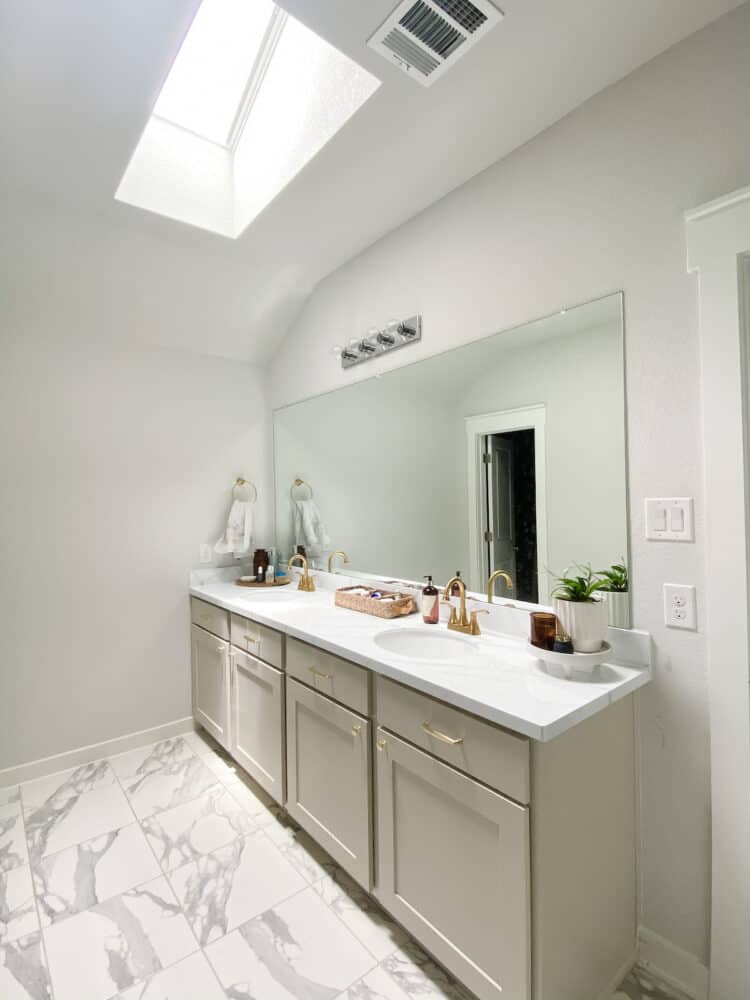 How do I know if a skylight would work in my home?
If you're really curious about having a skylight installed but you aren't sure where to start, you can reach out to VELUX and try their free virtual design consultations. They'll do a phone or video chat with you to learn more about your space and give you some tips and ideas on if a skylight would be a good fit for your space.
---
I am completely head over heels in love with our new skylight, and I'm already brainstorming where else I can have one installed in our home.
It has added so much light to my bathroom – I don't think I've turned the light on in there during the day at all since we had it installed. Which is exactly how I prefer to exist in my home – with zero artificial light until the sun goes down!
Stay tuned for more bathroom progress! And, if you've missed a post about the updates we're doing in here, catch up below: