I just finished giving our bathroom vanity a major makeover, and I'm here today with the big reveal and all of the details on how I painted my factory-finish laminate cabinets.
This is a project that I was honestly pretty intimidated by. I've painted wood cabinets quite a few times before (click here for a tutorial on that!), and it generally turns out great. But, in this home, we have painted cabinets that are not real wood – they're just a factory-finish laminate cabinet, which doesn't generally lend itself well to just painting right over.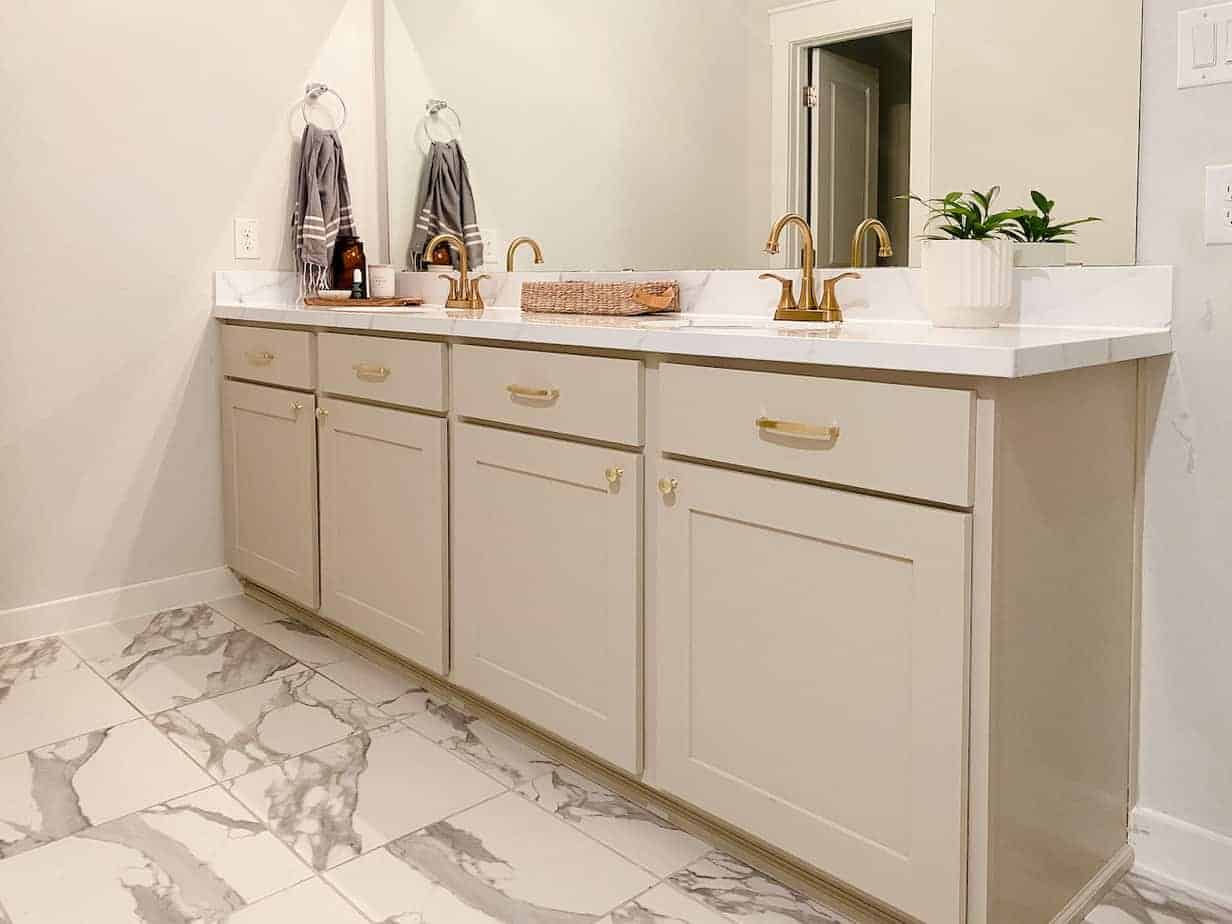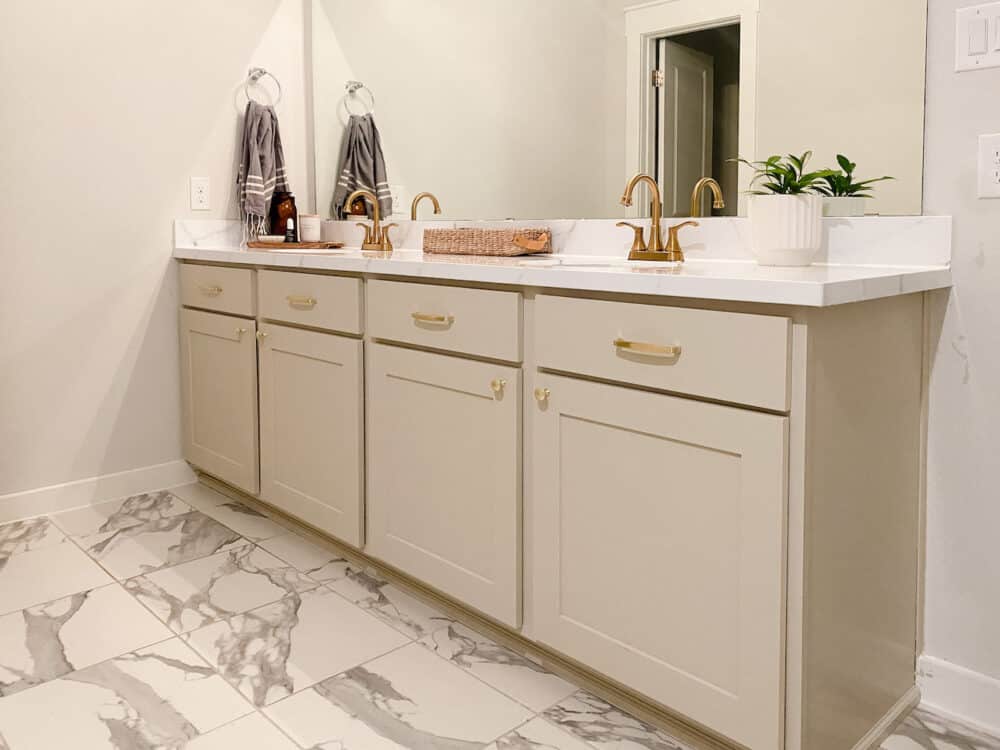 This post is sponsored by Wagner.
The key to painting laminate or factory finish wood cabinets is to prime with the right primer. The surface of these cabinets is extremely shiny and smooth and, without proper prep work, the finish will scratch right off.
Another important factor is going to be choosing a high-quality paint that's meant for cabinetry. In the past, I've painted cabinets with plain ol' latex paint. This time, I went with Cabinet and Trim enamel and it's worlds different from what I'm used to using! Latex paint never holds up as well or gives nearly as good of a finish as this does. Cabinet and trim paint is specially formulated to be self-leveling and extremely durable, and it doesn't require any sort of a top coat, which is a huge time-saver.
Are you ready for all of the details on how I painted our laminate bathroom cabinets? Let's do this!
how to paint laminate cabinets
Recommended materials
Note: You can also click here to see my Instagram highlight reel and get a closer look at how this whole project went down!
Step one: Prep and prime
Your first step is to thoroughly clean the cabinets and lightly sand them. You aren't looking to remove the finish at all, you just want to scuff it up a little bit so the primer can grip better.
Once you've done a quick sanding, you are ready to prime! The specific primer I linked above is the only primer that I'd recommend using over any sort of laminate cabinets or furniture. It's shellac-based so it's incredibly durable, and it's meant to grip to a wide variety of surfaces.
Because it's a shellac-based primer, clean-up can be messy and difficult. For this reason, I didn't use my sprayer for priming. I just brushed it on with a foam roller and my paintbrush – it was the exact same color as my cabinetry, so the visual difference is minimal.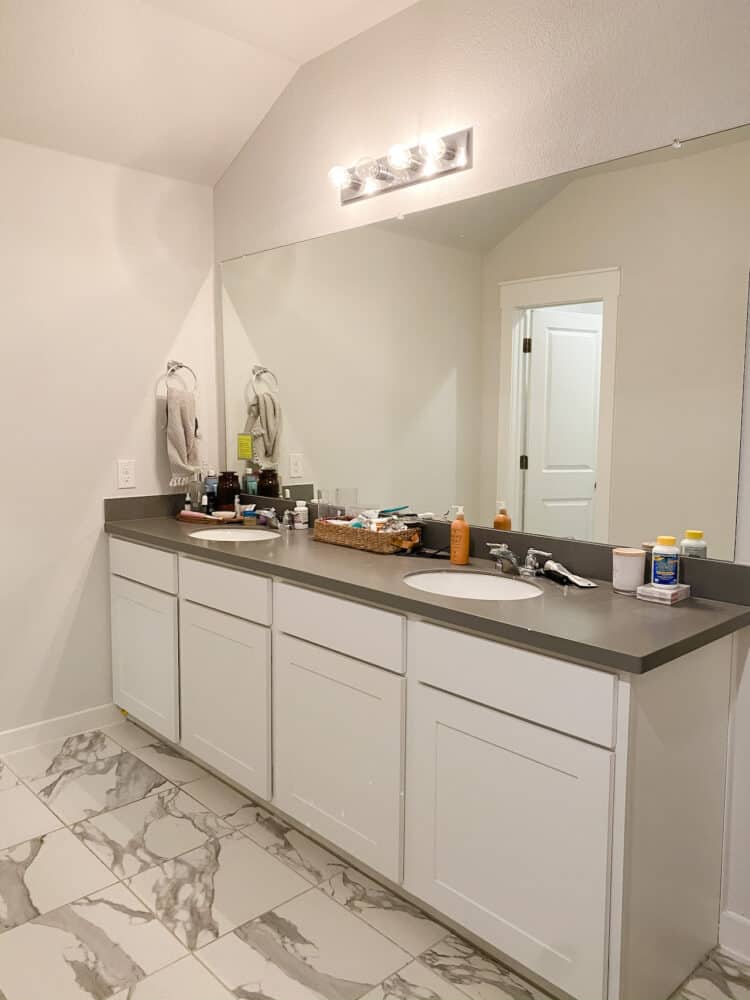 I did two coats of primer on the cabinets to ensure a really good base. Once it has dried for at least an hour, it's ready for a top coat!
step two: spray two coats of your chosen color
Once the primer is dry, it's time to paint!
For this part of the project, I busted out my secret weapon for a perfect paint finish every time – my Wagner FLEXiO 3000. I've been using it for years and years and it's so, so trustworthy and easy to use.
I've written so many posts over the years about how to use a paint sprayer, so if you're new to it and want to learn more, this post is a good starting point! For this particular project, I brought the doors and drawer fronts outside to spray, and I ended up painting the base of the cabinets by hand. The only reason I didn't also spray the base is because it's so small – I knew the prep work needed to use the sprayer would take longer than it would to just paint it!
I was really impressed with the quality of the Behr Cabinet + Trim Enamel – it does a really fantastic job of self-leveling and, especially with the paint sprayer, the finish is just about perfect.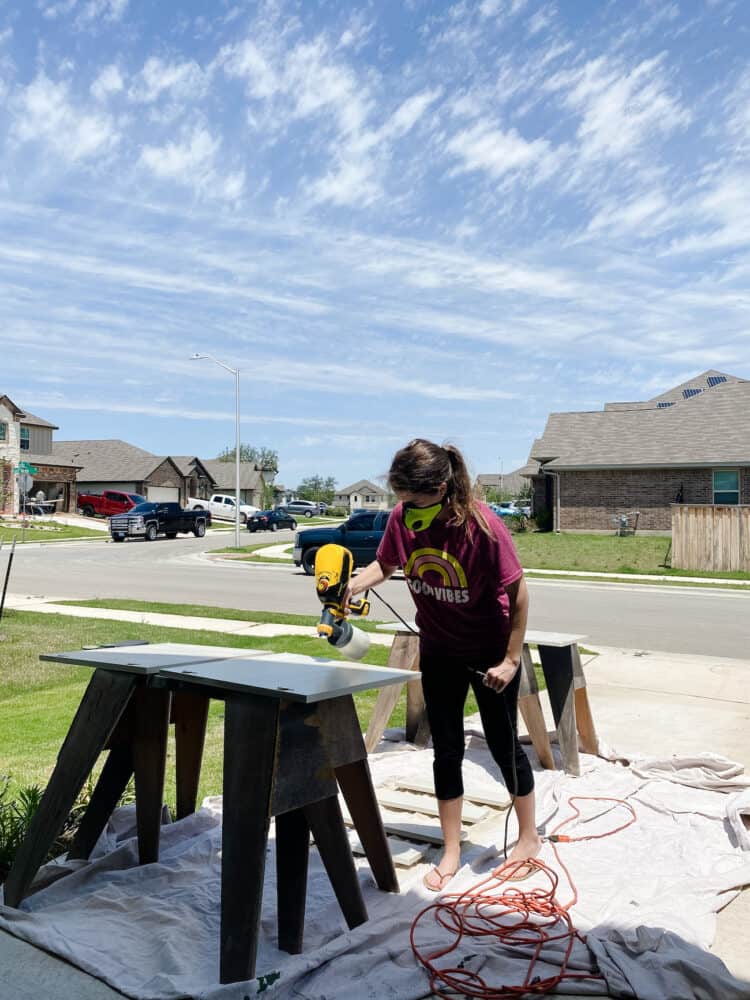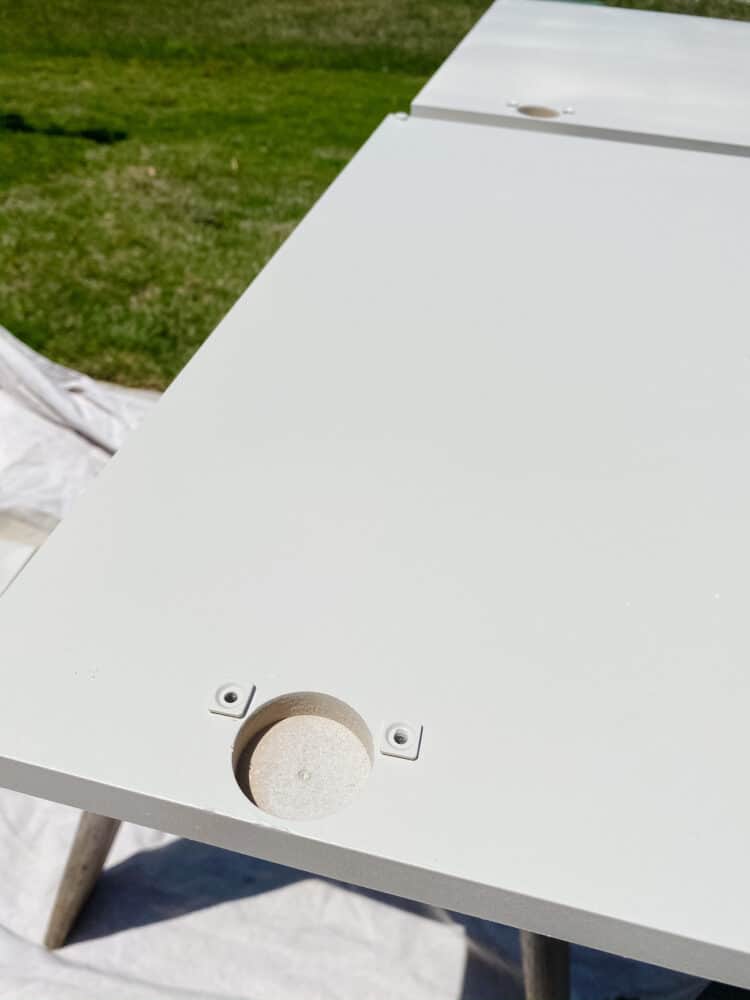 The color I chose for the vanity is Sculptor's Clay by Behr – it's a really beautiful, light-toned neutral, and it warms things up in this bathroom so much.
step three: allow to dry, then assemble!
Once everything is all dry, you're ready to put it all back together! You can re-attach and close the cabinet doors in as little as two hours and you won't have any sticking, which is a really great feature of this paint.
My cabinets didn't have any hardware on them at all, and I've been dying to add it for quite some time now. So, I grabbed some pretty gold hardware from Amazon and installed it before putting everything back together (it's linked below!).
It's really easy to add hardware to bathroom or kitchen cabinets – if you haven't tried it yet, click here for my full tutorial on how it's done!
Adding the hardware really took things up a notch and made it feel more complete. It always blows my mind how much of a difference such a small little change can make!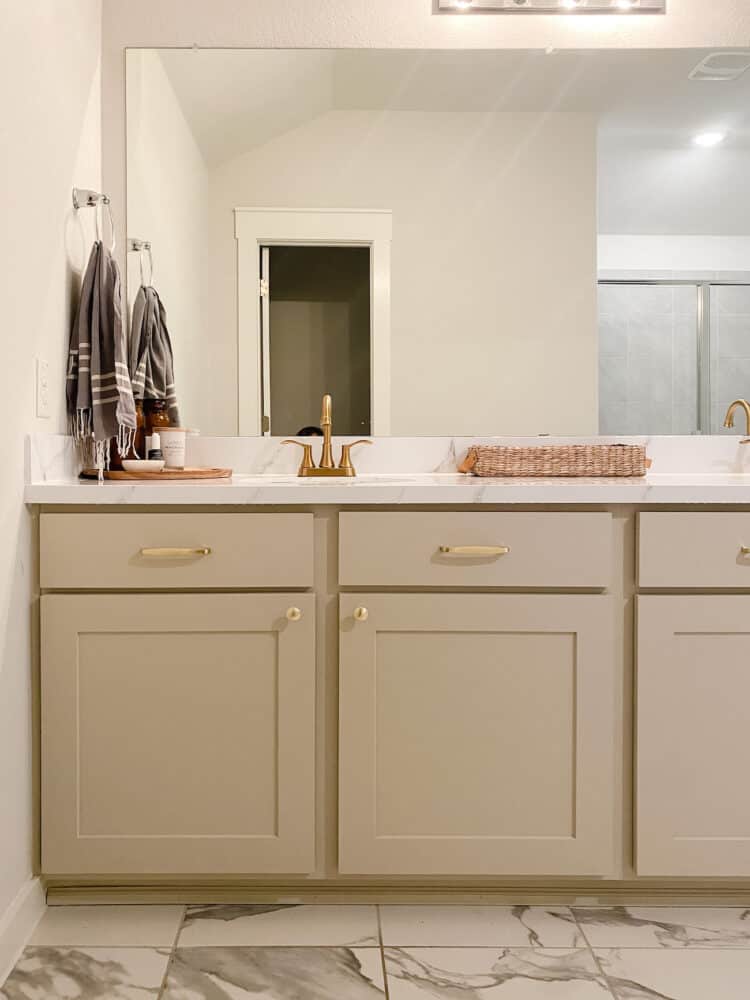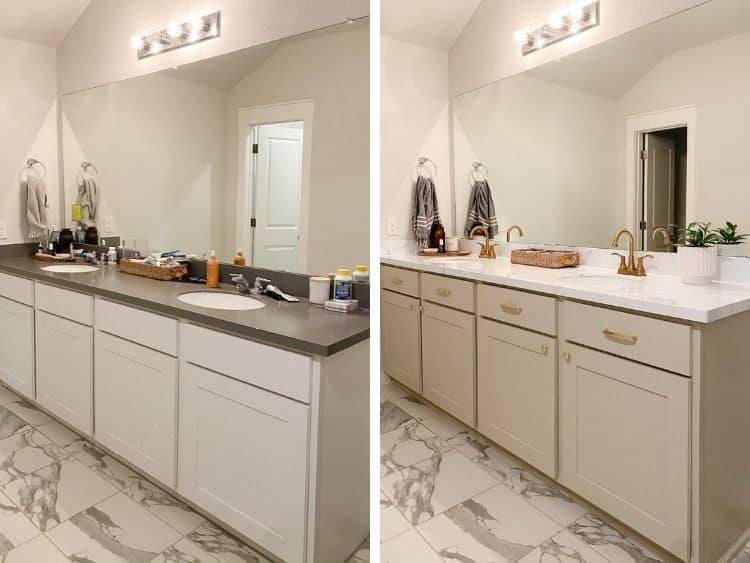 Drawer Pulls | Cabinet Knobs | Faucets
You may notice that the countertop also have a totally new look. Would you believe me if I told you they're the exact same counters as before, just with a fresh coat of epoxy?!
I'll be spilling all of the details on this huge project and how it came together in a separate post, but I'm so beyond happy with how this all turned out!
Click here to learn more about Wagner's FLEXiO 3000 sprayer and see if it's a good fit for you!