I built a super simple DIY art ledge in just an afternoon and it totally transformed our living room! Read on to see how this easy project came together.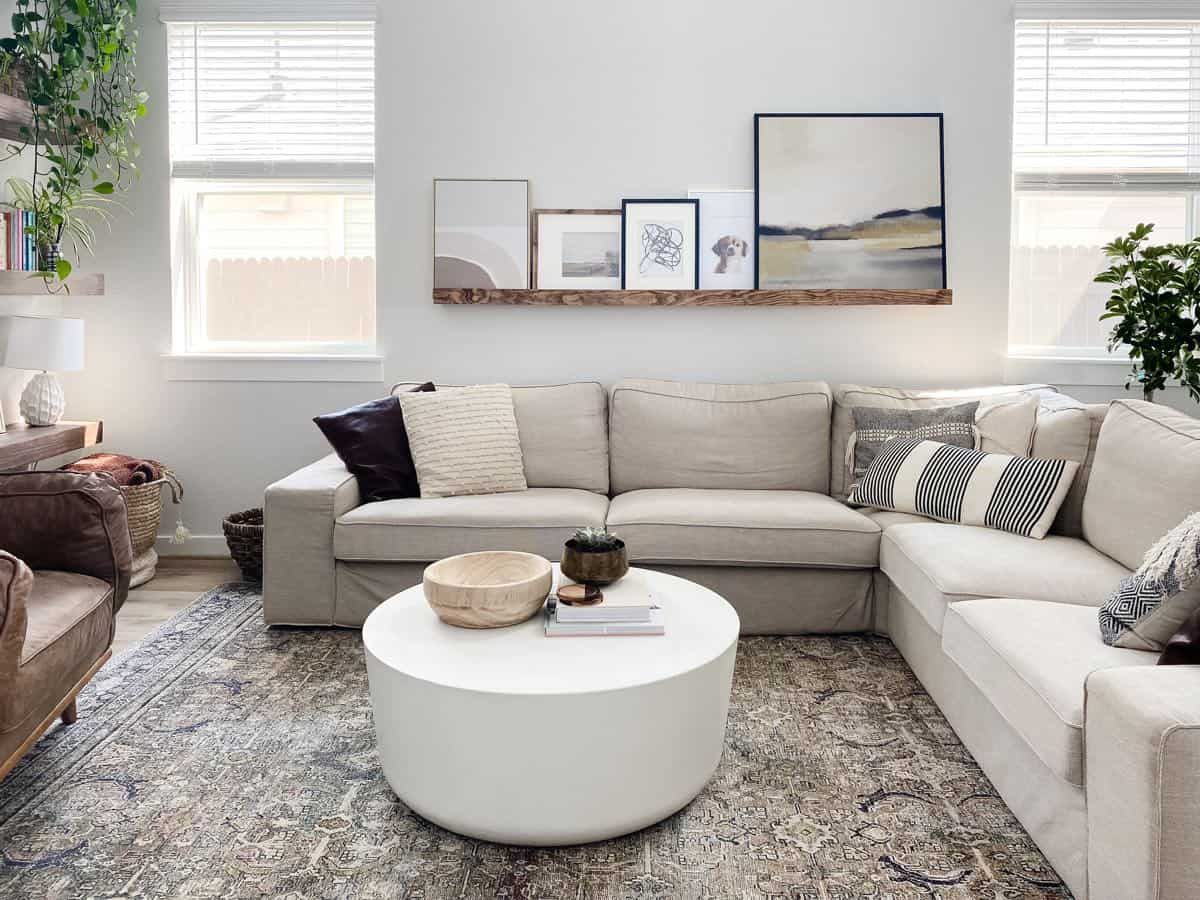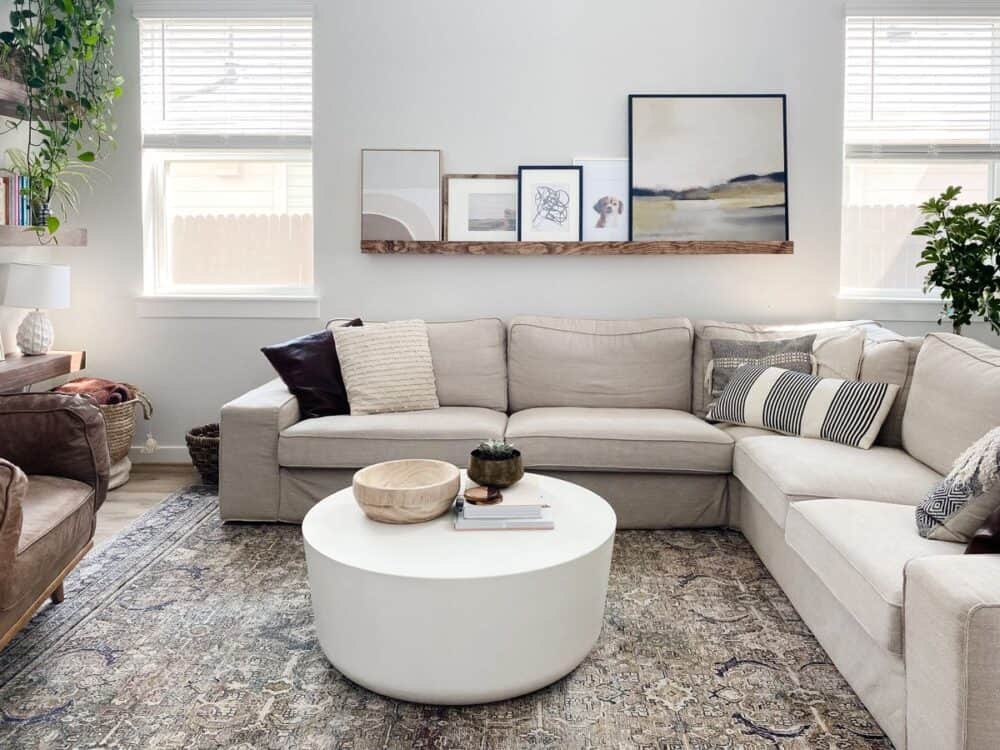 We've been in this house for just a few weeks shy of a year now, and up until this week we had absolutely nothing on the walls in our living room (other than some floating shelves I installed a couple of months back) and no coffee table.
I'll be honest – I've really appreciated taking a slow and leisurely pace to making these changes. I know for sure that the choices I've made now are ones I'm going to be happy with for a long time, and we had a chance to really soak up the space as it was before we jumped in. It's great!
But…man, does it ever feel good to have a more "finished" feeling space!
You may remember that a whopping two months ago I decided to finally order the Cap Ivory Cement Coffee Table from CB2 for the living room. I, of course, decided on the option that was backordered and would take ages to get to me…it just arrived this weekend! I was feeling really impatient but, y'all, it was worth the wait. It's so beautiful, so solid, and so right for the space. I can't imagine anything else here! It's like it was made for our living room.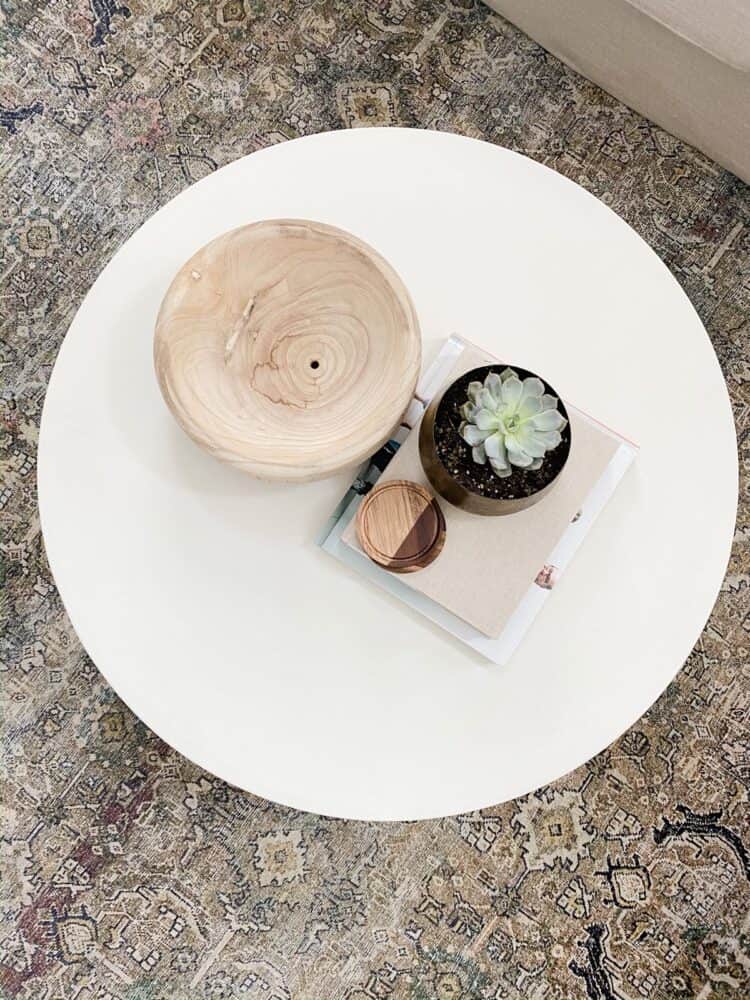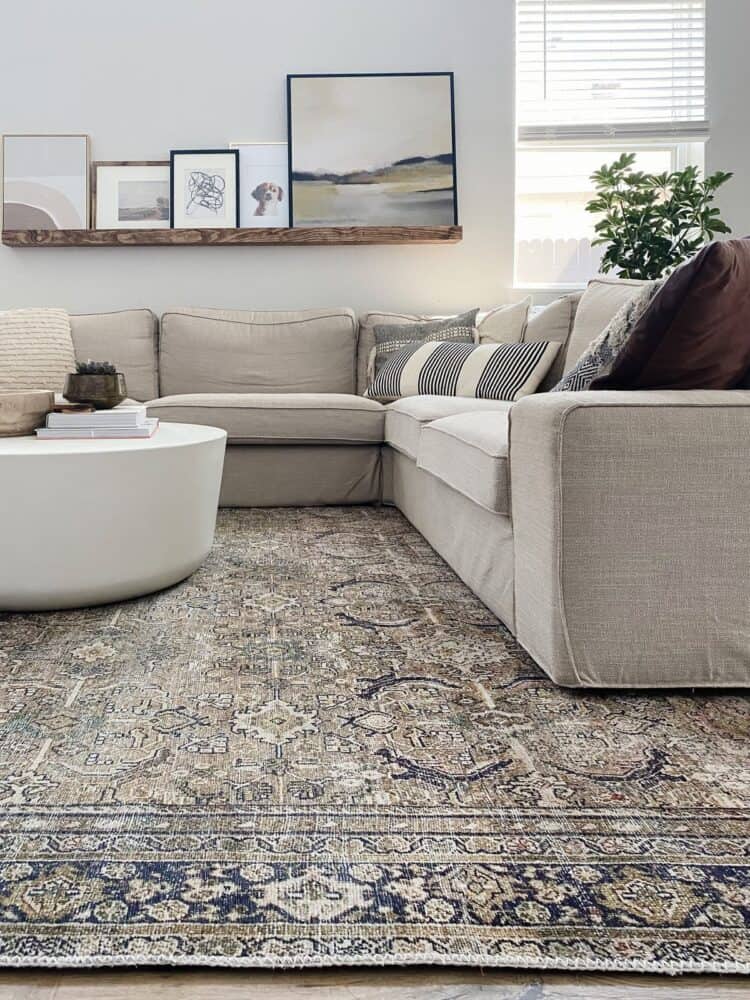 It doesn't hurt that it's made of concrete so it should be super kid-friendly and durable!
I was worried that after living with nothing in this space for so long we'd feel crowded by a coffee table, but it's actually the perfect size. The boys still have plenty of space to play, we can still comfortably sit on the floor, and they've really enjoyed having a solid place to play with their toys other than the floor.
Of course, the coffee table isn't the only big change in here. Can we pul-lease talk about the art ledge I've been dreaming of for months? Because it's done and it's another example of something that just feels so right in here!
It took me forever to decide what to hang above our couch. For months I had planned on a big gallery wall to take advantage of our tall ceilings – but once we started adding other things to the space, I worried that a gallery wall would be too busy. I didn't want to do just one large piece of art, because we have the television on the other side of the room and it felt weird to have two large boxes hanging across from each other. I felt like an art ledge was the perfect middle ground!
It took me just a couple of hours to throw together, and I really truly love how it turned out. I still want to play around with the art a bit. After waiting this long to get anything up, it feels like I need to nail it the first time around, but the beauty of an art ledge is I can change it up literally every day and it's fine.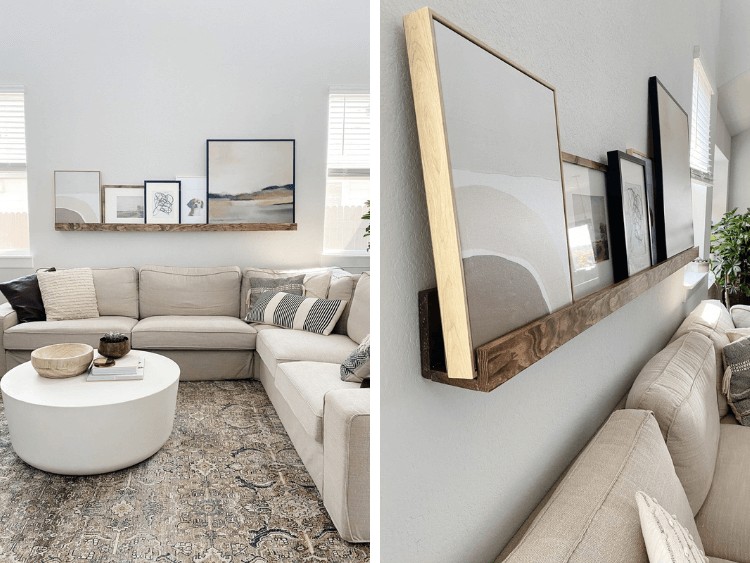 I reserve the right to change my mind at any time and switch things up for a gallery wall, or something else but…this feels like the perfect choice for right now!
Easy DIY Art Ledge
Materials
(1) 8′ 1×6 board
(1) 8′ 1×4 board
(1) 8′ 1×3 board
Wood glue
Stain (I used a combo of Golden Oak and Dark Walnut)
*Note: If you don't have a Kreg Jig, check the end of the tutorial for a couple more tips on how you can assemble this using alternate methods!
Assembly
To start, you'll need to determine how long you want your art ledge to be, and cut your boards to that size. I used my miter saw (click here to learn how to use one!), but you can also generally have the store cut the boards down for you. My art ledge is exactly 7′ long – I wanted it to fill most of the space above our couch, so we decided to go big!
Once your boards are the correct length, go ahead and fully sand them. It's worth it to take the time to get them prepped for stain prior to assembling, because once they're all together it's harder to thoroughly sand them!
Now, you're ready to assemble. I'm going to outline what I did to assemble my art ledge here, but there are plenty of other ways to do it! Read to the bottom for more ideas on how you can put it together if you don't want to take this approach.
Assembling with pocket holes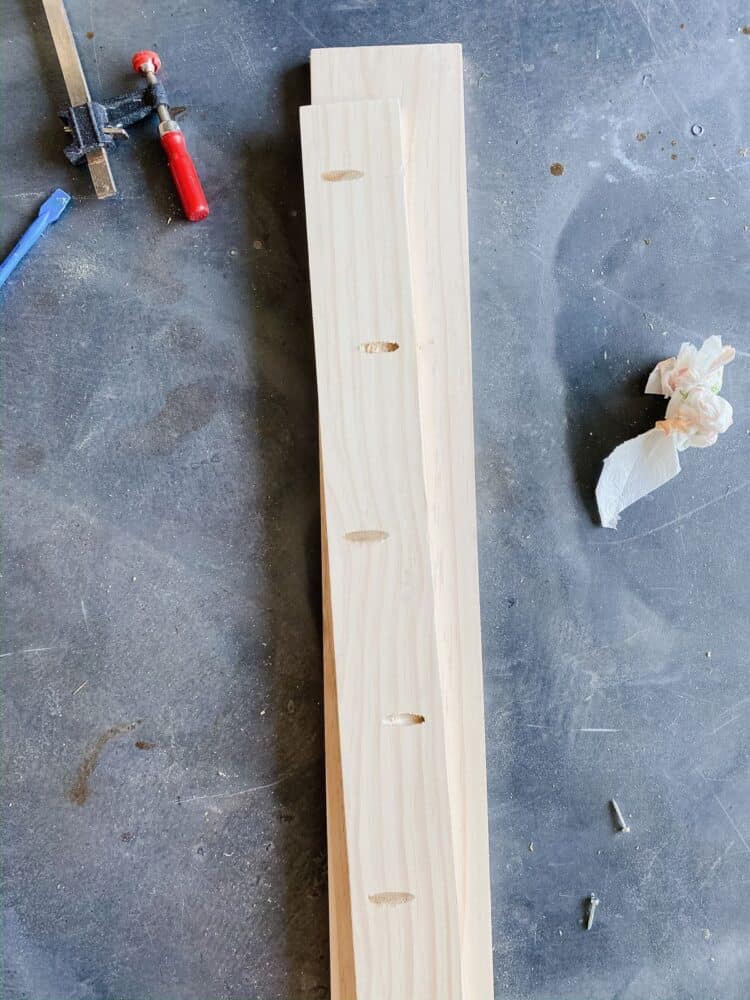 I started by drilling pocket holes in both sides of my 1×4 board – I chose to go with pocket holes because I know it's a really sturdy assembly method that will stand up to tons of abuse over time. We have two wild boys and this thing is going to need to be strong if it's going to withstand my household!
I drilled a pocket hole approximately every 12 inches all down the 1×4 board.
Once my pocket holes were drilled, I added wood glue to the bottom of one side of the 1×3 board, and attached it to the 1×4 board using pocket hole screws. I used clamps to make sure everything stayed in place while I was working and was lined up appropriately!
I chose to have my pocket holes be on the inside of the art ledge rather than on the bottom. This made it slightly more tricky to assemble (as you'll see in a second) but I felt like it was worth it to get a seamless look from the bottom. However, if you want to keep it simple, you can simply flip the 1×4 board so that the pocket holes are on the bottom. And, if you really want to get fancy, you can fill them in with these pocket hole plugs!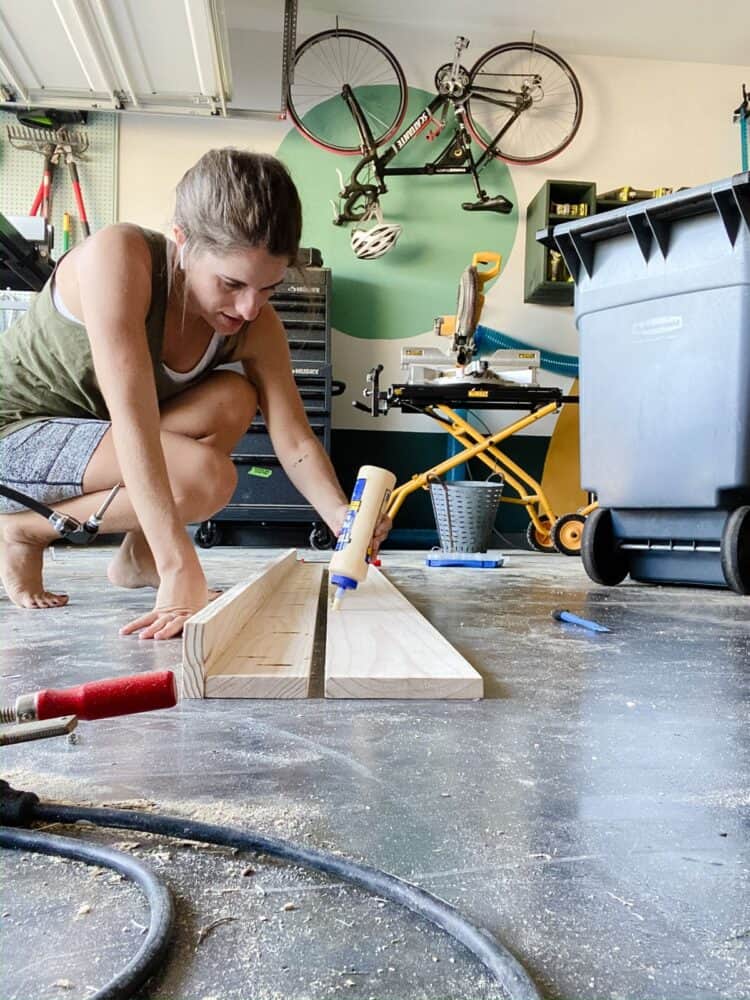 Once the front piece is fully attached, it's time to attach the 1×6 piece to the back of the art ledge. I had to use a right angle bit attachment for my drill to get these screwed in, since the front piece was already attached. We use this thing all the time and it's such a helpful tool to have when you've got a project that has some tricky angles!
Again, if you want to avoid needing to use it, I'd recommend just flipping your board so that the pocket holes are on the bottom, and then you can assemble as normal!
Once you've screwed in all of your pocket holes, it's done! Remove the clamps, wipe off the excess glue, and you're ready for stain!
Other assembly methods
While pocket holes were my method of choice for this project, it's not the only way to do it! Here are two other ideas for how you can assemble your DIY art ledge:
Use wood glue and brad nails. I use this method a lot and it honestly would have worked fine here as well, I was just impatient and didn't want to be reliant on waiting for glue to cure before I could hang it! Wood glue is incredibly strong, and would work fine alone. Just apply wood glue along each seam, then clamp the boards together and use a few brad nails (read more about nail guns here, if you don't know how to use one!) to hold it all in place while it dries.
Screw it together! Another really simple method would simply be to use your drill to screw the boards together! If you took this approach, I'd recommend screwing in the back board from the back (obviously), and for the front piece I would rest it on top of the bottom piece rather than in front of it – then you can screw it in from underneath. Be sure to pre-drill holes in your boards before assembly if this is the method you decide to use!
How to hang an art ledge
To hang the art ledge, we decided that the simplest approach was probably best. We located the studs on our wall, then we drilled holes in the back of the art ledge so that they'd line up with the studs.
From there, we just used plain ol' 3″ long screws to drill through the back of the art ledge and directly into the studs!
It's not the most glamorous technique, but the screws will literally always be covered up with art, so who cares?!
Once the art ledge was hung, I filled it up with some art that's been sitting in my closet just waiting for its debut!
Like I said in the beginning of the post, I'm still not totally sold on this art layout. But, it works for now, and I can always tweak things until I land on the perfect collection!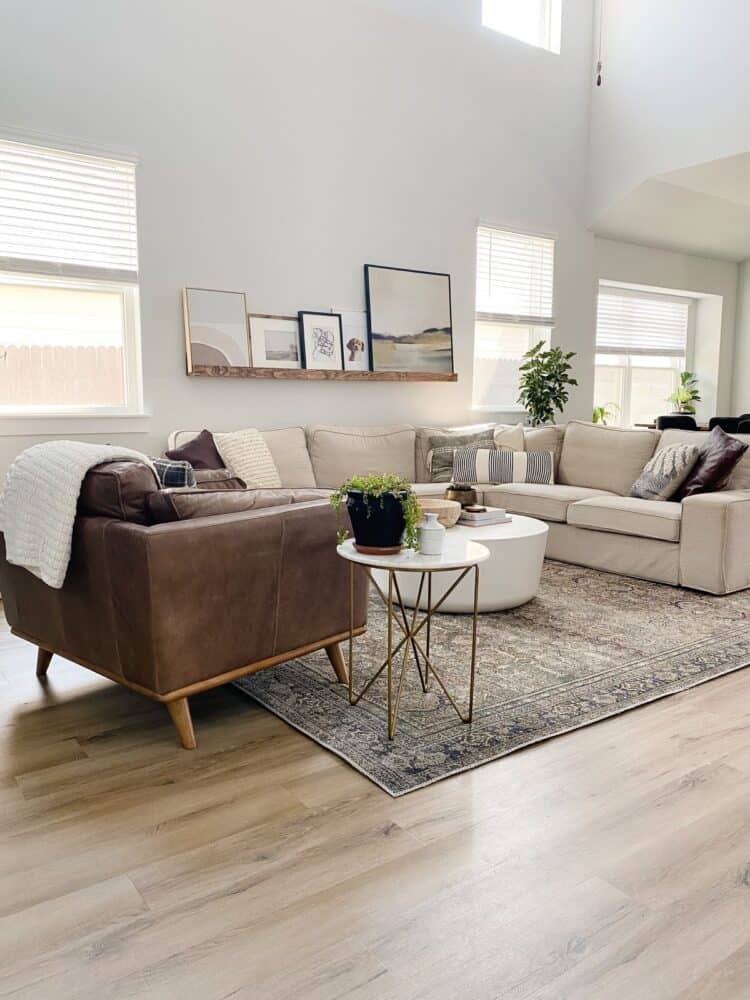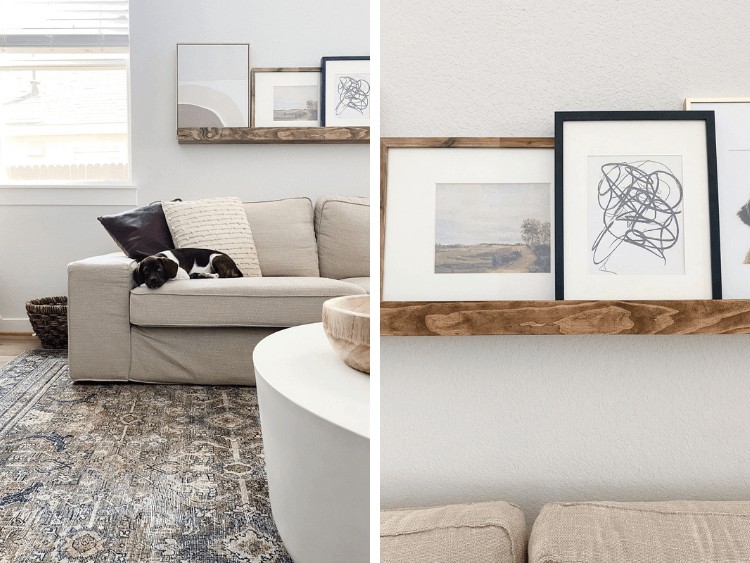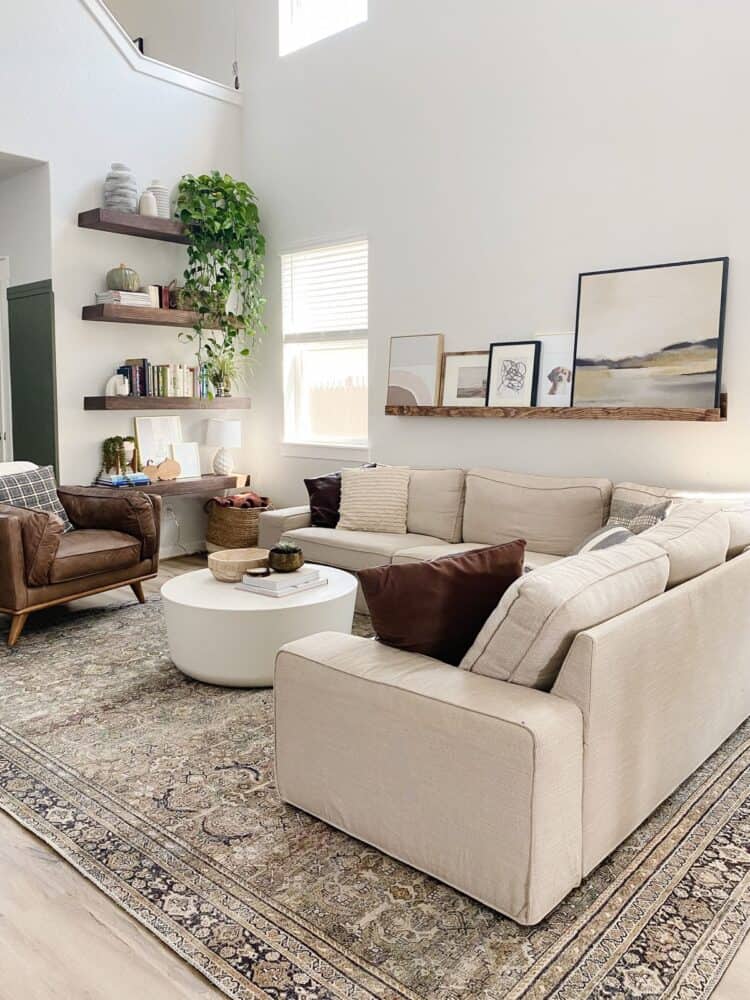 Our living room is feeling so much cozier and more welcoming now. We still have tons of plans for this entire great room, but I feel so good about the progress we've made in less than a year of living here!
Art Sources
Want more sources? Click here for all of our living room sources!