I added some gorgeous DIY floating shelves to our living room, and today I'm sharing the full tutorial! Here are all of the details on how to make floating shelves for your own space.
Earlier this week I showed you the new DIY floating shelves that we installed in our living room. I've been so excited to get these installed and share them with you, and I'm so glad the project is finally done. I had lots of questions on my Instagram stories as I was working about how we put these together, so I wanted to share a quick tutorial to show you exactly how it's done.
A project like this might look intimidating, but I promise it's actually surprisingly easy to build DIY floating shelves. Plus, they'll change the look of your entire room!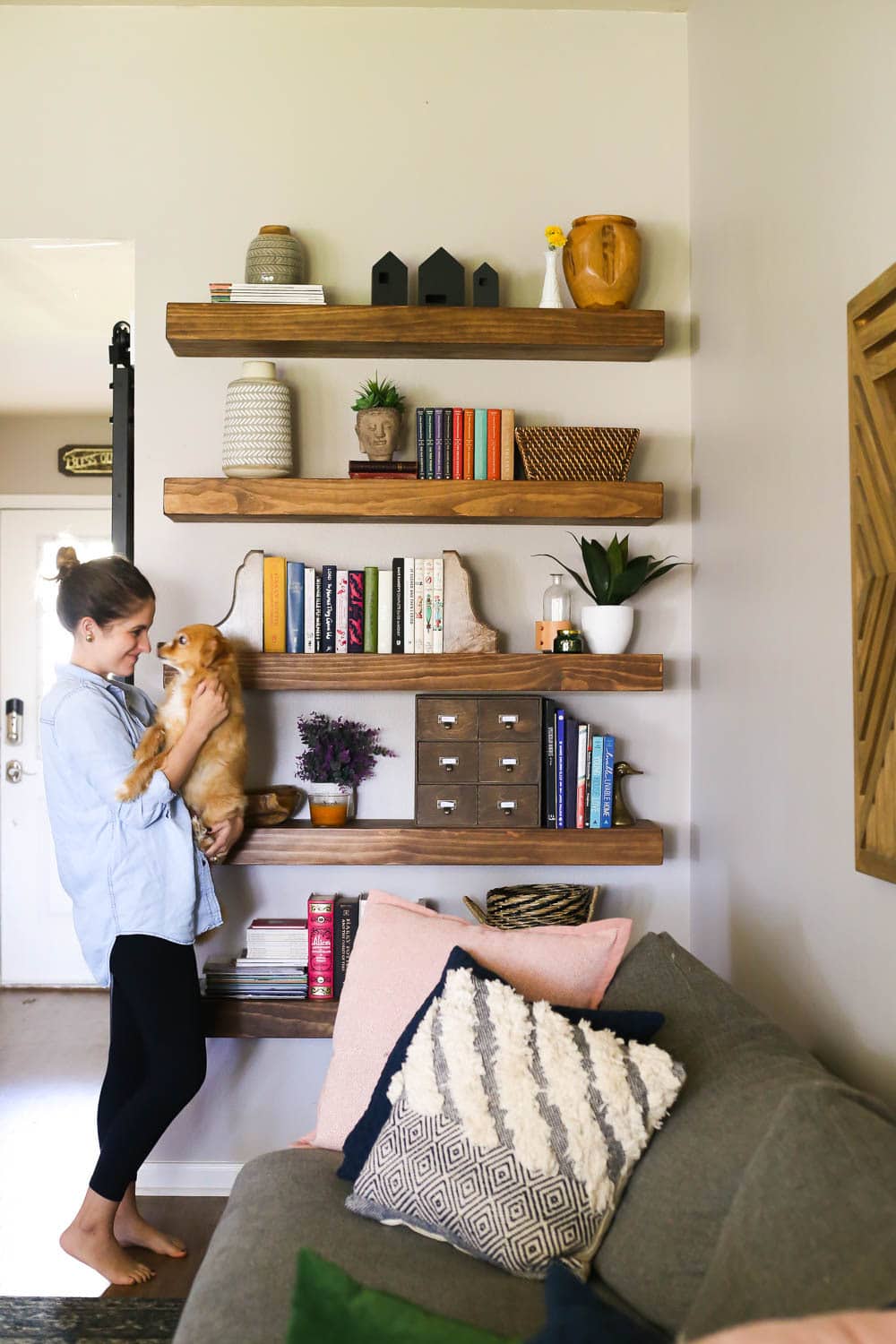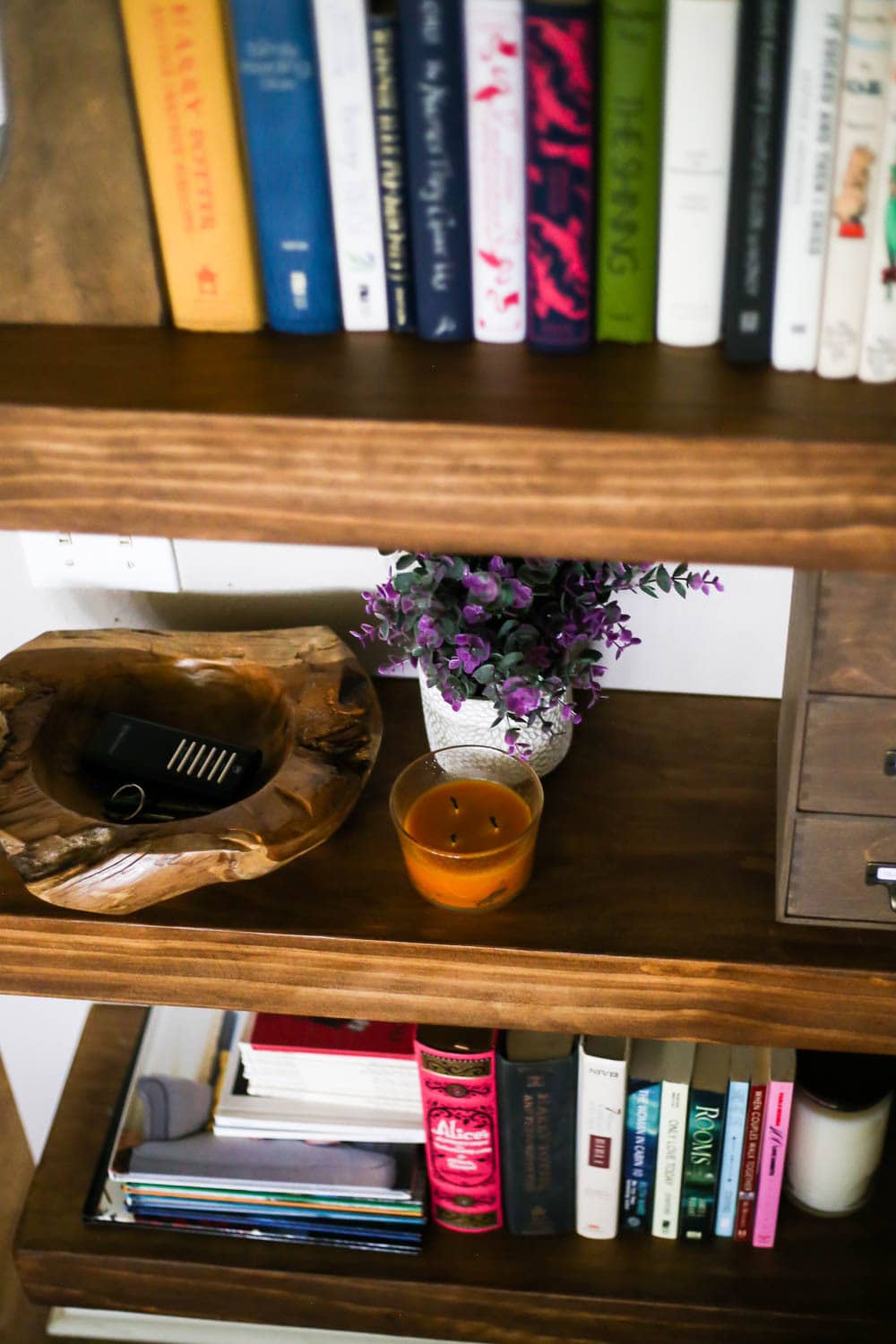 This post is sponsored by Wagner and contains affiliate links, but all opinions are 100% my own!
I mean, I can't be the only person who goes all heart-eyed every time I look at them.
If you read the tutorial for our DIY fireplace mantel, you might notice that it's basically exactly the same concept. We simply built small boxes for the shelves (with mitered edges, so you don't see the seams), then mounted them to the wall using a ledger board. The main difference between the two projects is that the shelving has support boards built into the ledger board – nobody likes a saggy shelf, so we wanted to be sure everything stayed nice and secure.
Read on to find out exactly how we built these floating shelves – plus get a look at my new favorite trick for staining wood.
How to Build DIY Floating Shelves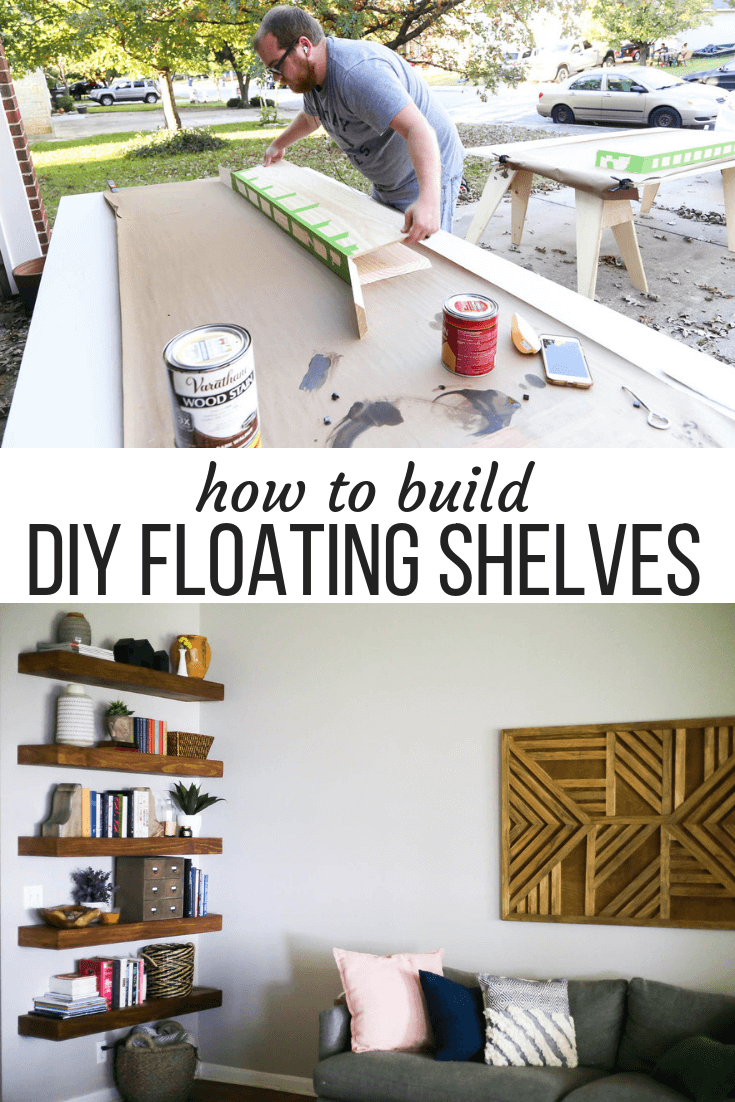 Tools & Materials:
Note: Since every space is different, I'm not including exact measurements or supply amounts for our shelving. You'll need to measure the space where you'd like your floating shelves and go from there!
Tools
Materials
1×12 pine boards (for top and bottom of shelves)
1×4 pine boards (for front and sides of shelves)
2×4 common boards (for ledger board & supports)
Wood stain
Preparation and Planning
Your first step to adding DIY floating shelves to your home is to figure out how large you want them to be. I've seen similar tutorial all over the place that use 2x4s for the supports and then build the entire shelf around them. This means that the finished shelf ends up being close to 6″ thick. I really wanted something a little less chunky, so we decided to rip 2X4 boards in half (using the table saw) for our supports, which allows the shelves to be about 4″ thick instead.
This is totally a personal preference, and not a required step – do what makes you happy, but just know that if you use full-sized 2X4 boards for your supports, you'll want to use a 1×6 for the front and side supports rather than a 1×4.
Once we decided how thick the shelves would be, we measured our space to figure out exactly how long we wanted them. And, to keep things simple we planned to just use a 1X12 board, which ends up making them approximately 11.5″ deep.
Making Your Cuts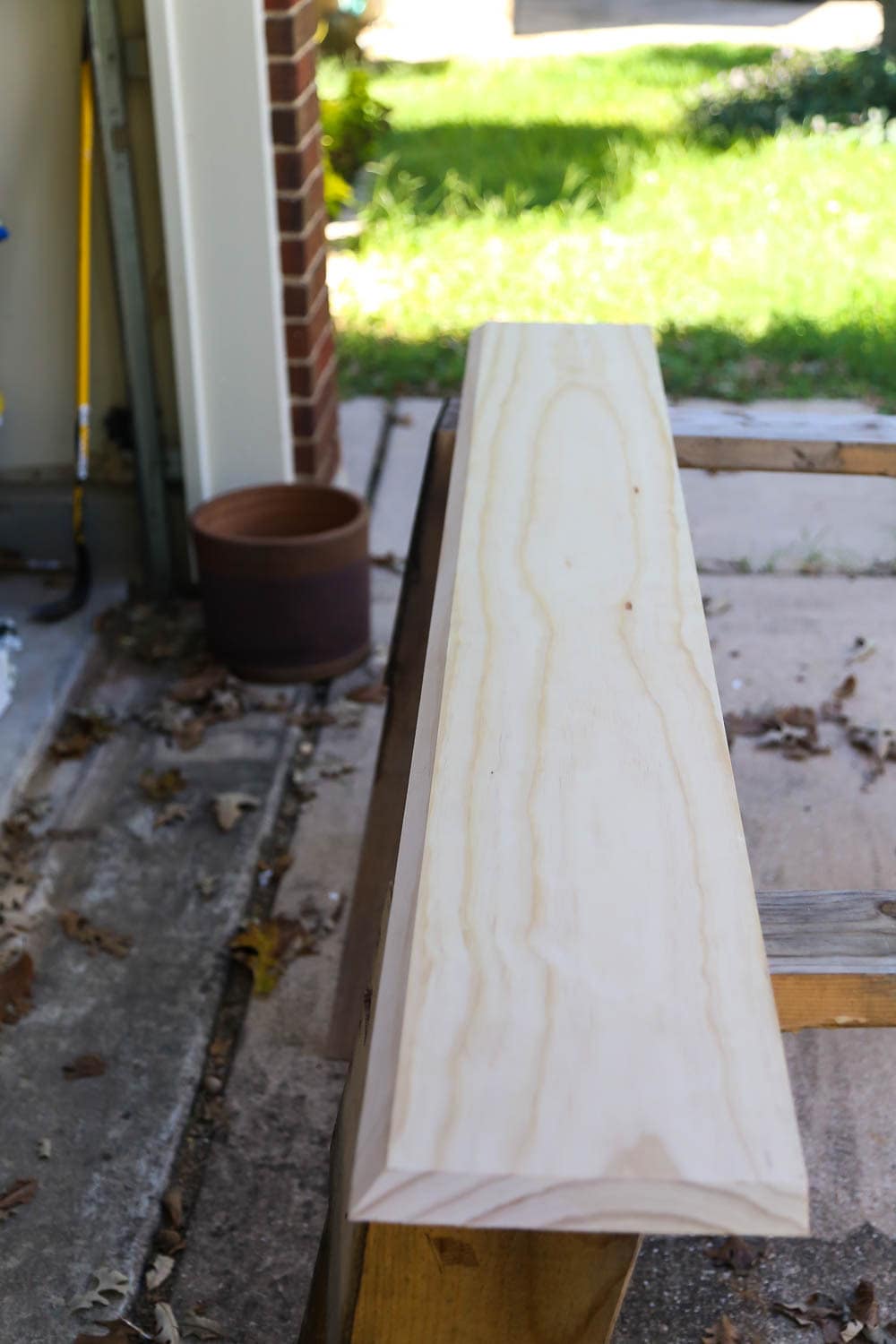 Once you have all of your measurements, cut your shelf boards to size.
For each shelf, you should cut…
Two 1×12 boards to your desired shelf length (I just cut mine in half for approximately 4′ shelves)
One 1×4 board to your desired shelf length (this will become the front of the shelf)
Two 1×4 boards to the depth of your shelf (should be about 11 1/4″, but measure your 1x12s to be sure!)
Once our boards were cut, we angled our table saw to a 45-degree angle and mitered the edges of our boards. This isn't a vital step, but it will create a much more finished look in the end! If you choose to do this, you'll miter all four sides of the front 1×4 piece, and 3 sides of the top, bottom, and sides (since one side will need to be flush against the wall). You can see what one of the top pieces looked like after being mitered in the photo above.
Assembling the Floating Shelves
To assemble the shelves, start by laying out your side and front pieces all in a row with the mitered side facing down. Take a minute to line them all up perfectly so that they'll fit together without any gaps – but don't stress too much if there are some imperfections, wood filler will help with that! Once you've lined those up, grab the top and bottom pieces and line them up with the front piece, like so: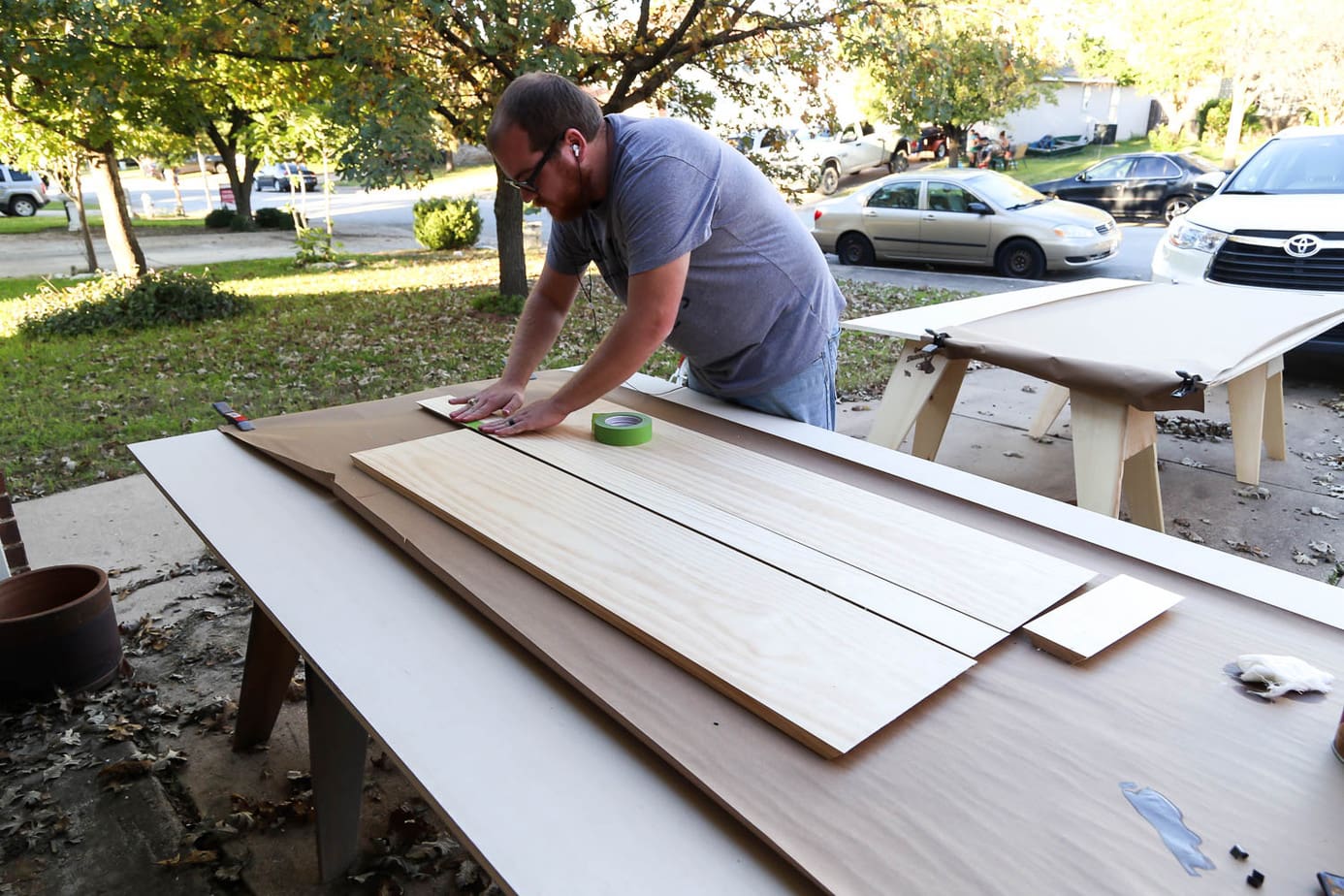 Once you've ensured everything is as lined up as it can be, you're ready to begin taping. Grab your painter's tape and tape all of the boards together. This will basically act as your clamps to hold everything together as the glue dries. It should look something like this when you're done: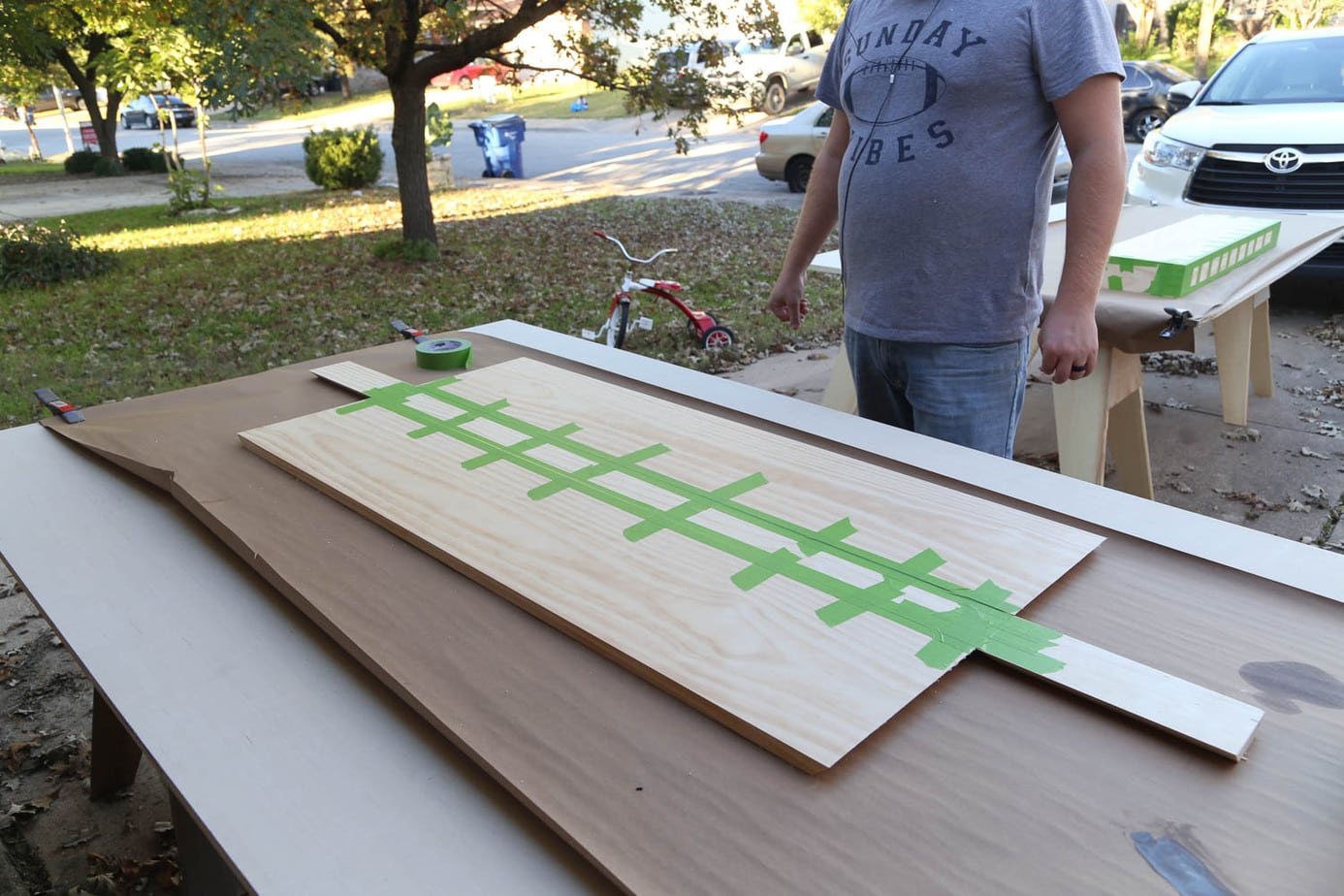 After you've got it all taped up, it's time to flip the entire thing over so you can begin gluing. Carefully grab the boards and slowly flip it so that the mitered side is facing up. Then, add your wood glue and use a small brush (like this one) to spread it to all of the seams.
Once you've applied your wood glue, you can carefully lift each of the sides and fit them together like a puzzle. Use strips of tape on each of the corners to help hold the sides and top together while it dries. Here's a quick visual of what that sequence of events looks like: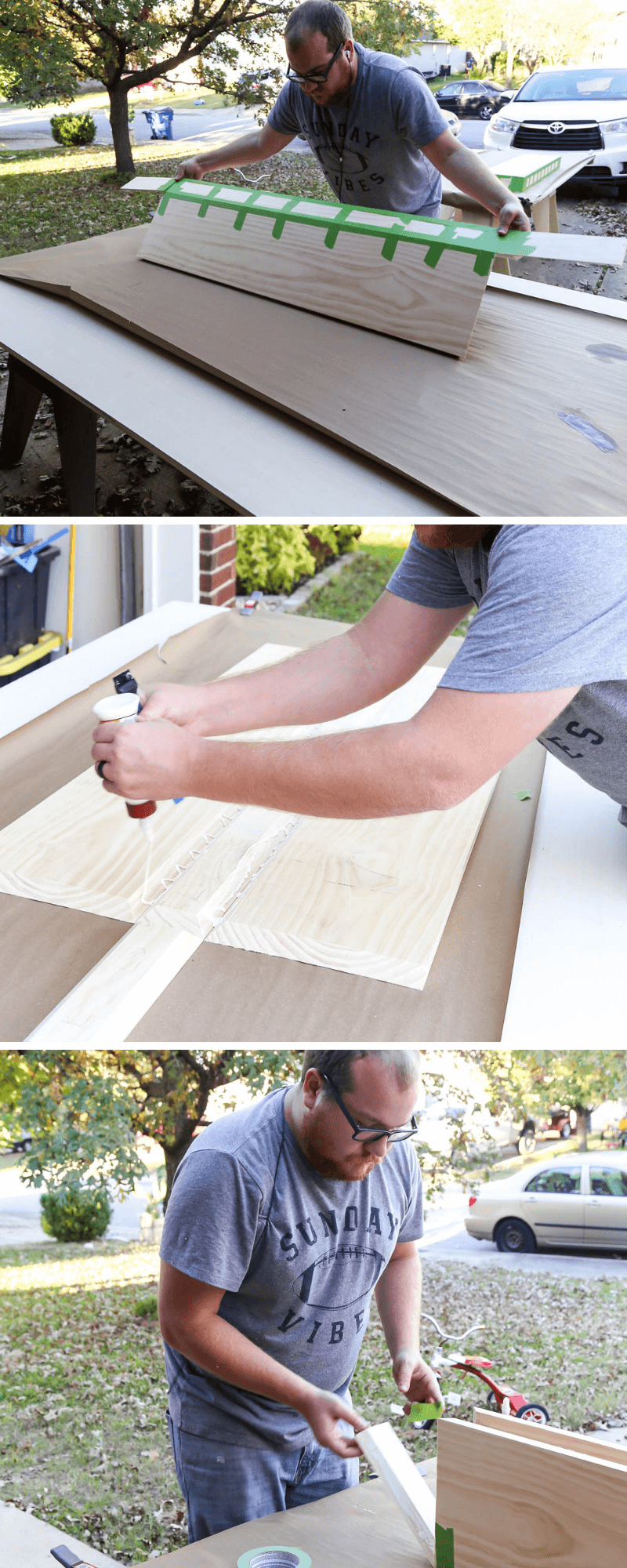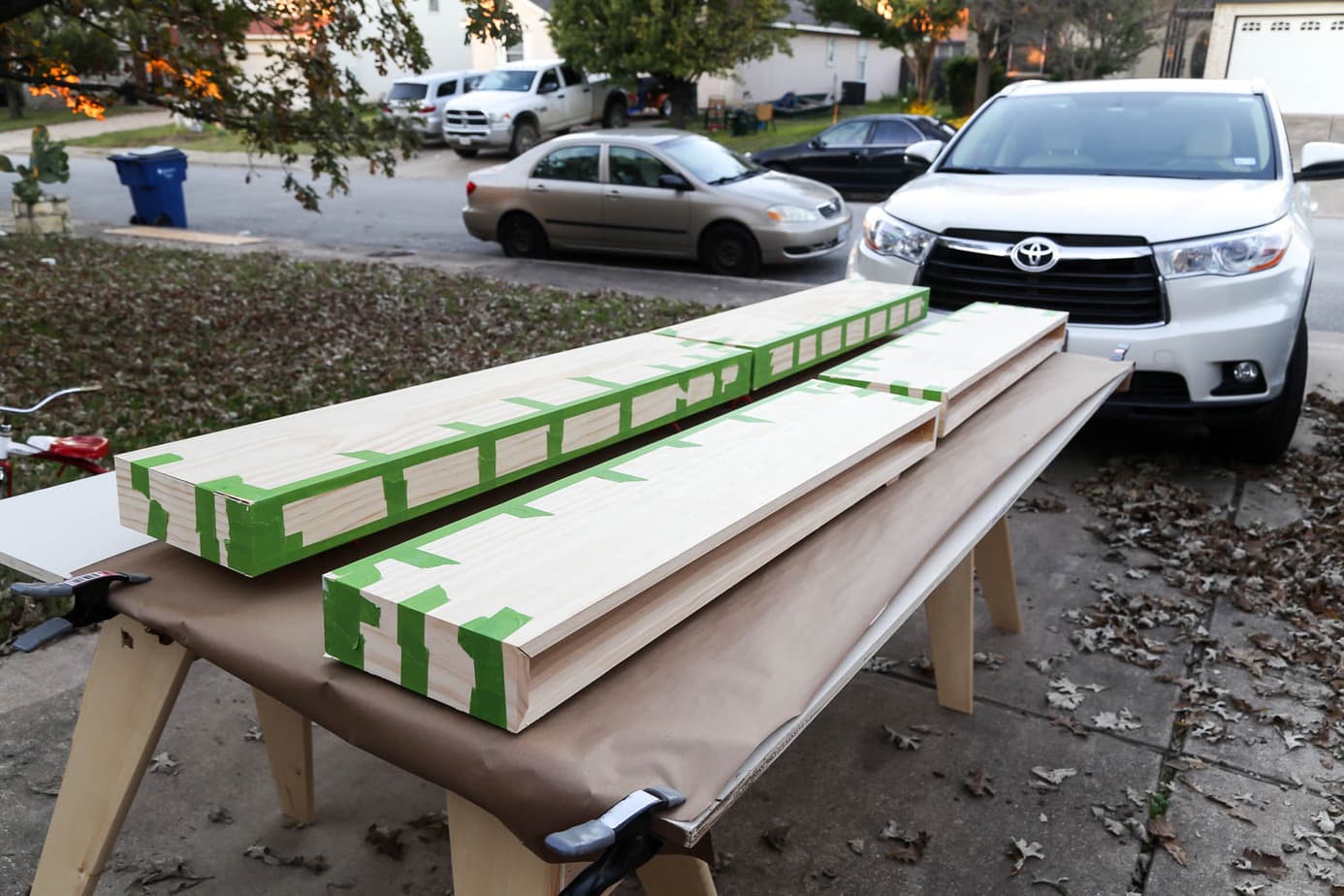 Patch, Sand, & StaiN your shelves
Once your glue has fully dried, you're ready for the final touches! Use wood putty to fill in any small gaps, sand the shelves thoroughly (be sure to pay special attention to the corners and edges!), and choose your paint or stain color. I chose to go with a mix of 1 part Golden Oak stain and 1 part Dark Walnut stain.
To stain the shelves, I decided to take a new approach that I haven't done much before – I used my paint sprayer!
Theoretically, I've always known it was possible to use your paint sprayer to apply stain or sealant. Heck, the very first time I used it was to apply the top coat on our DIY bar cart! But, I tend to only pull out my paint sprayer for actual painting projects for some reason. I decided to change that with this project, and am I ever glad I did!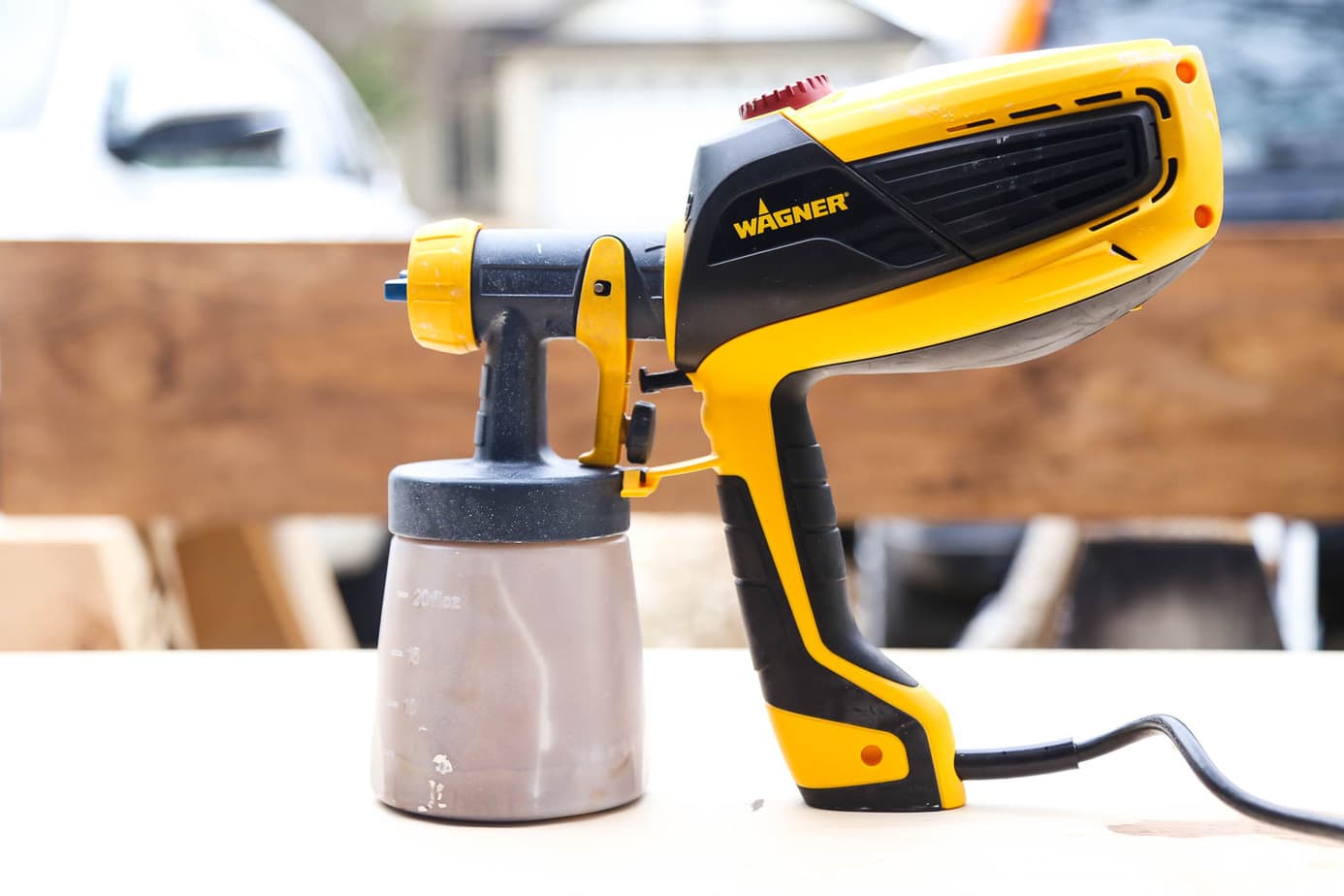 Using a Paint Sprayer to Stain Shelves
For this project, I used my FLEXiO 3000 paint sprayer. It's generally my go-to (I have a few different sprayers!) for projects like this thanks to the different nozzle options and the range of settings when it comes to the amount of material being sprayed.
When you're using your paint sprayer to apply stain, I found that it works best to have everything set to the lowest setting. I used the detail nozzle, then I shifted the power dial down to the minimum setting and I adjusted the material flow control so that it would spray less stain at a time.
First, I covered the area I was working in to keep everything safe from any overspray, then I got to work. I knew it would be faster to stain my shelves using the paint sprayer but I didn't realize how much faster. For comparison's sake, I stained a shelf by hand – it took me less than a minute to fully cover the entire shelf using the sprayer, and it took me about 7 minutes to stain it by hand.
That's a big time-saver, y'all!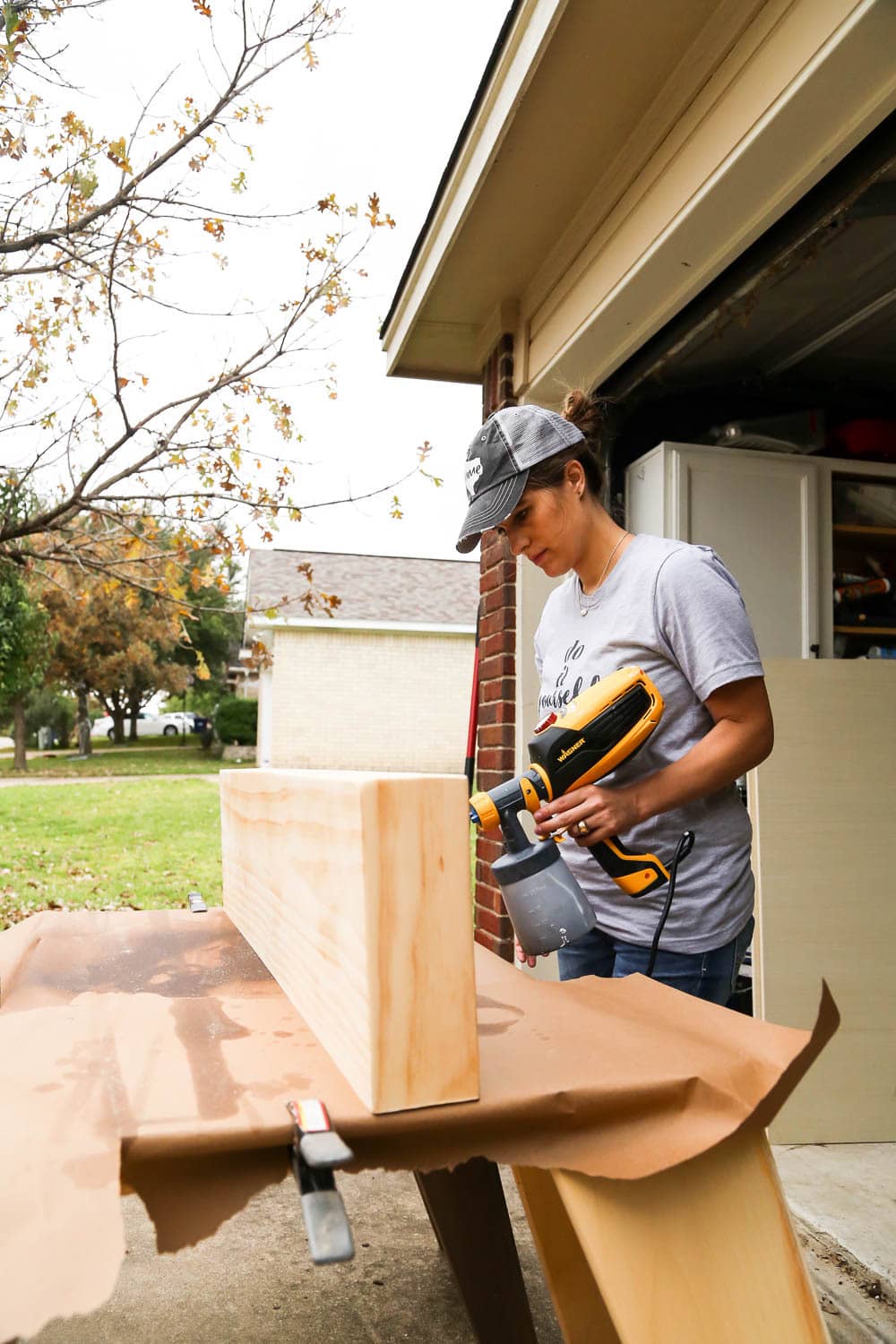 To stain the shelves with my sprayer, all I had to do was spray the shelves with one light coat of stain, allow it to soak in for 5-7 minutes like I normally would, then wipe off the excess. It was the exact same process, only minus the annoying step of wiping it all on by hand.
I may never stain anything by hand again.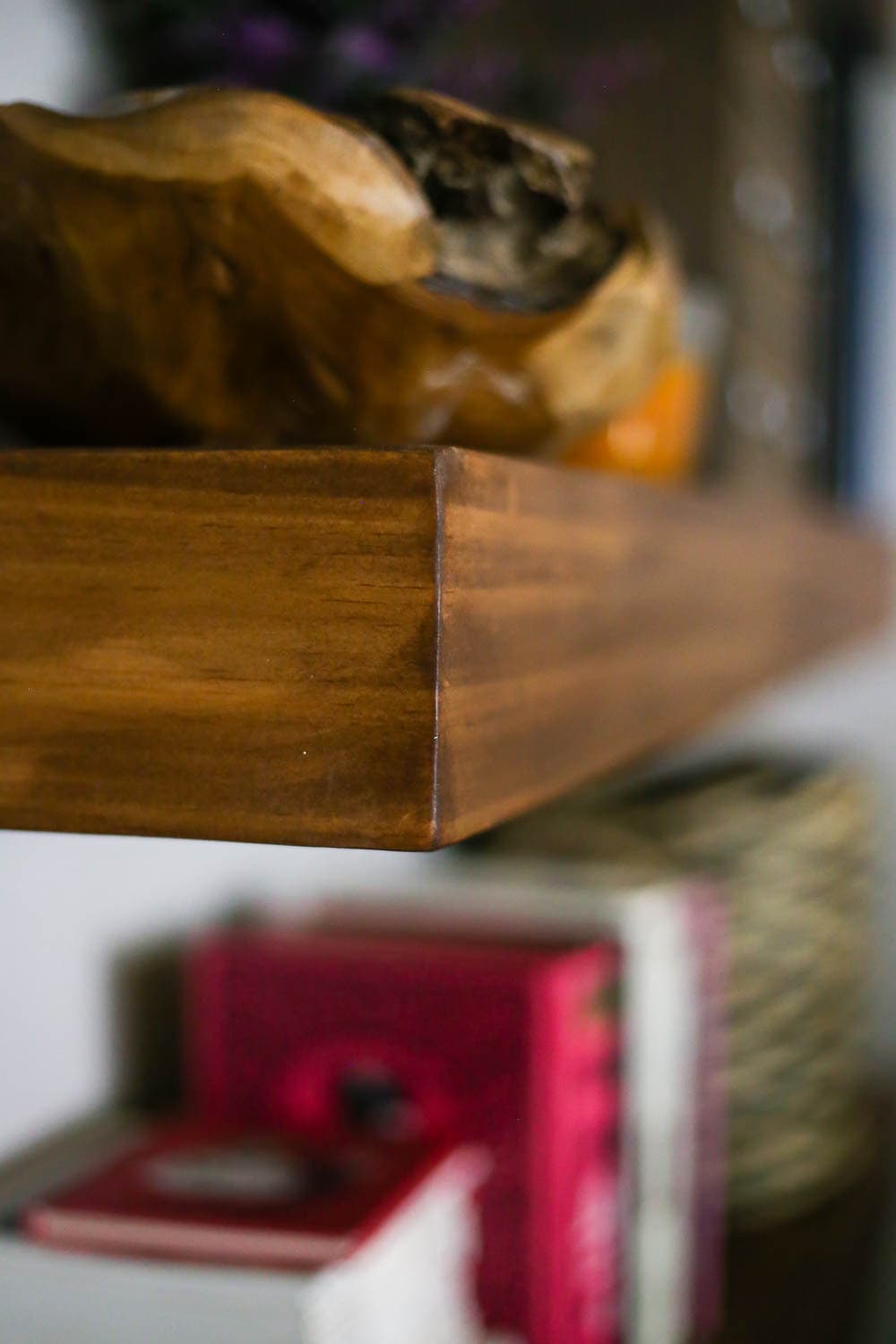 Cleaning the Paint Sprayer
One thing I know you may be curious about is how to clean a sprayer after you've stained something. When you're working with plain latex paint you can easily clean it with water, but stain is a bit different. The most effective way to clean the sprayer after using stain was with mineral spirits – I just poured it into the paint bucket, swirled it around, and then rinsed the whole thing with my hose. For the other pieces, I just soaked them for a minute or so in the mineral spirits and the stain came right off.
It was almost even easier than cleaning up after paint!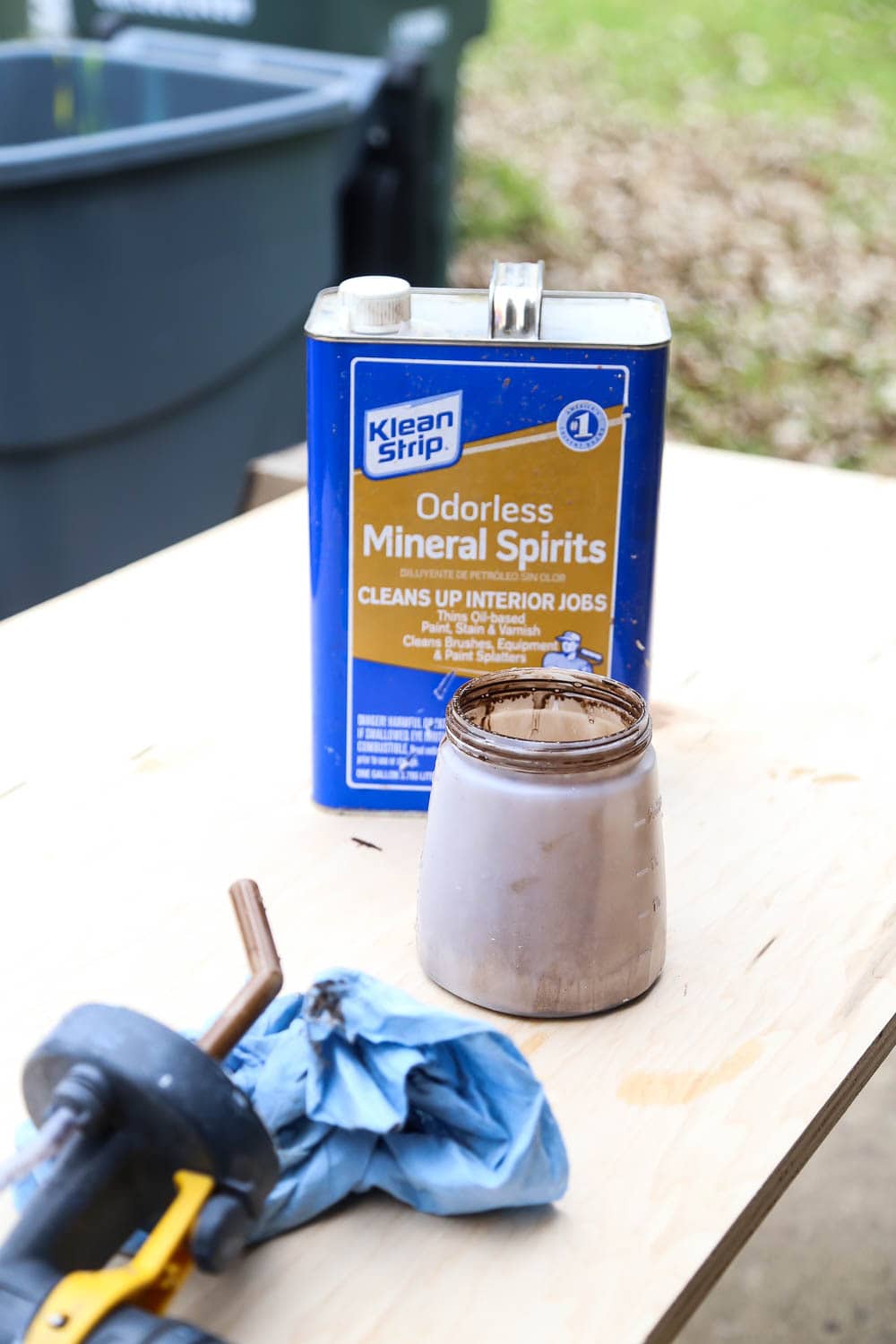 I applied polyurethane after the stain dried. I didn't use the sprayer for this part, since I like to use Varathane's Triple Thick Poly, which is much too thick to be applied via sprayer. Afterwards, I let the shelves dry overnight.
Next up? It was (finally) time to hang them!
How to Hang Floating Shelves
The basic principle of hanging the shelves is very simple: build a frame to support the shelves, then mount it to the wall.
The first time we did this project, we used a slightly different method that we weren't thrilled with. For our second go-round, we updated our technique and were much happier with the outcome! Below is how we built and installed the supports the second time around.
Build E-Shaped Frame
Remember how we talked about ripping 2x4s in half for the supports? Here's where they come into play.
Start with one long piece of 2×4 that's roughly 2-3 inches shorter than the length of your shelf. Then, cut three pieces that are 2-3 inches shorter than the depth. These four pieces will make an E shape that will act as the support for your shelf.
We used pocket holes to attach the pieces together. We just used our Kreg Jig system to drill a pocket hole in each of the shorter pieces, then used wood glue and a pocket hole screw to attach it to the longer piece.
Here's a visual of what it will look like: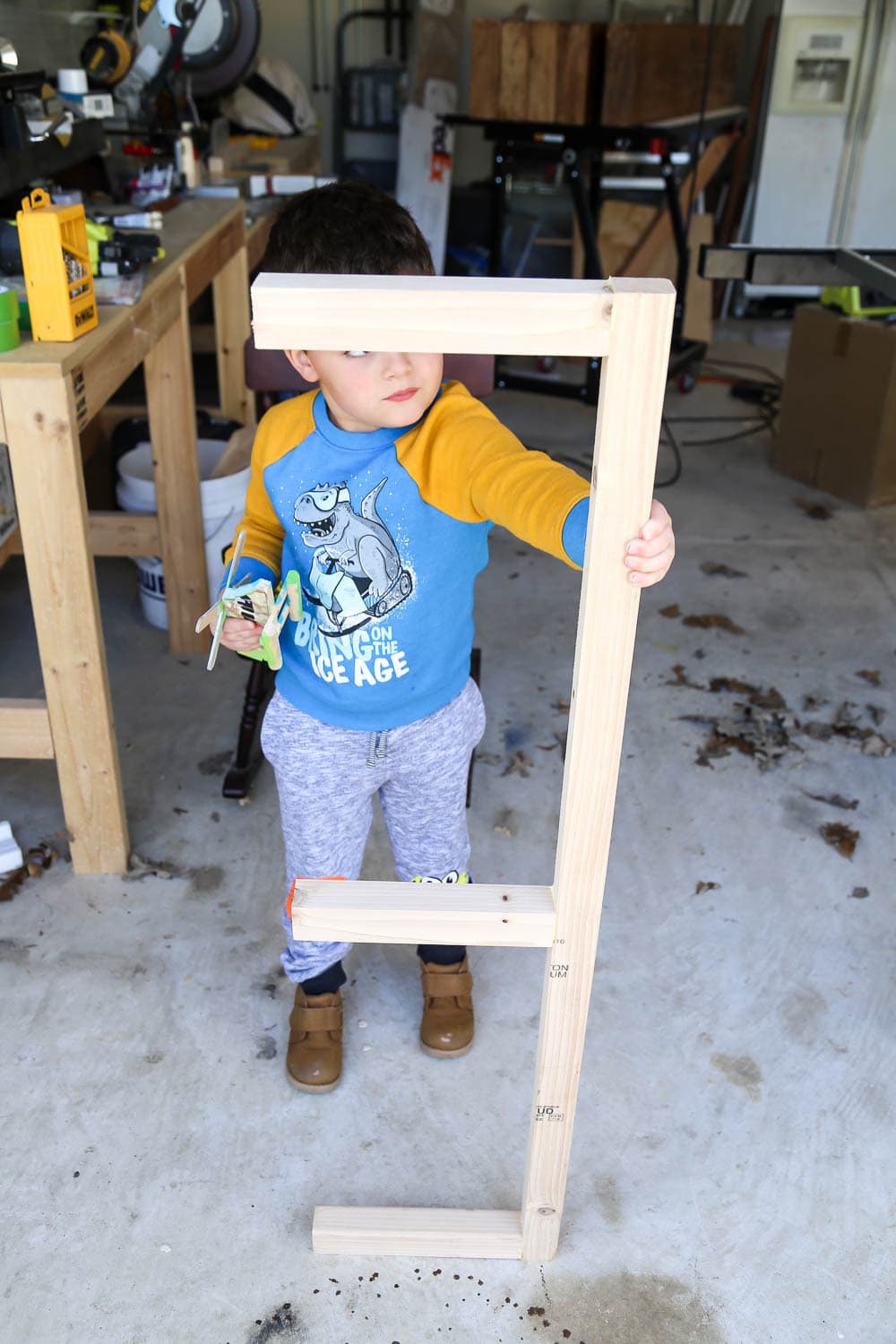 Hanging the Shelves
If you're having a hard time wrapping your brain around how this all fits together, basically, the shelves act like a sleeve that fits around the support boards. The opening in the back of the shelves is slightly larger than the supports (to allow for some wiggle room when you're installing them) and the support simply slides right into the hole.
To hang it, you just locate the studs in your wall (here's my favorite stud finder) and use extra long screws (we really like these heavy duty screws) to drill the support directly into the wall.
Note: the image below shows the original supports we made, not the ones we used the second time around (and liked better).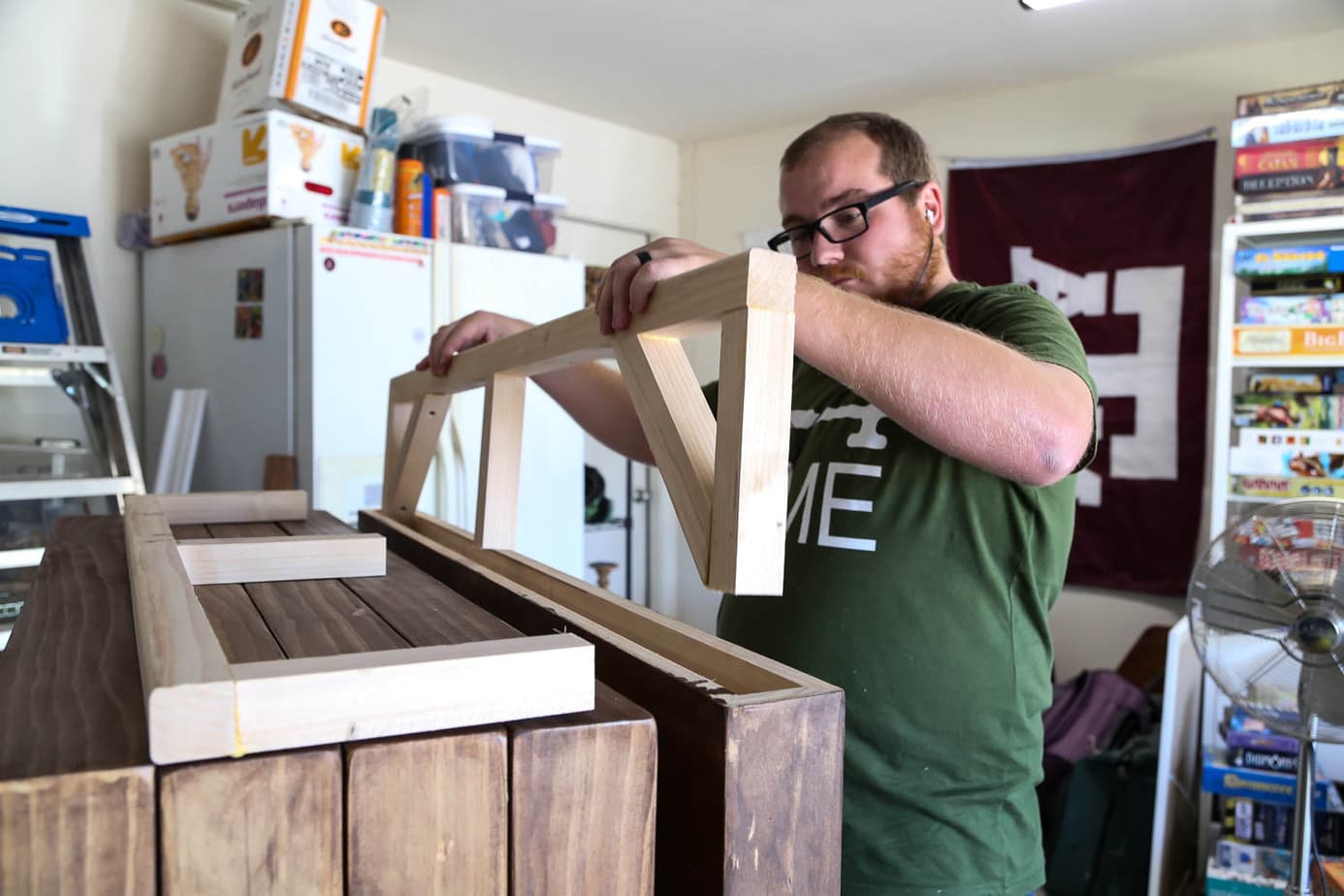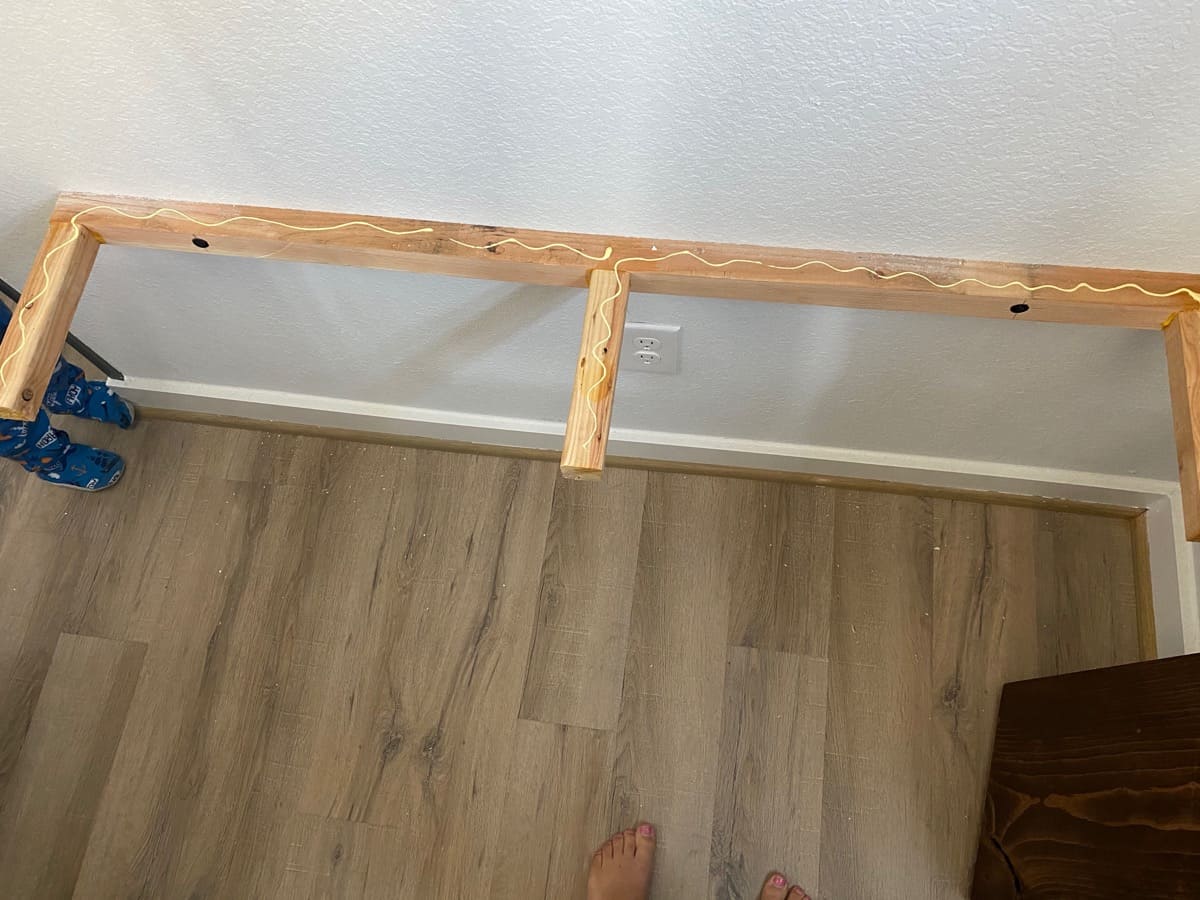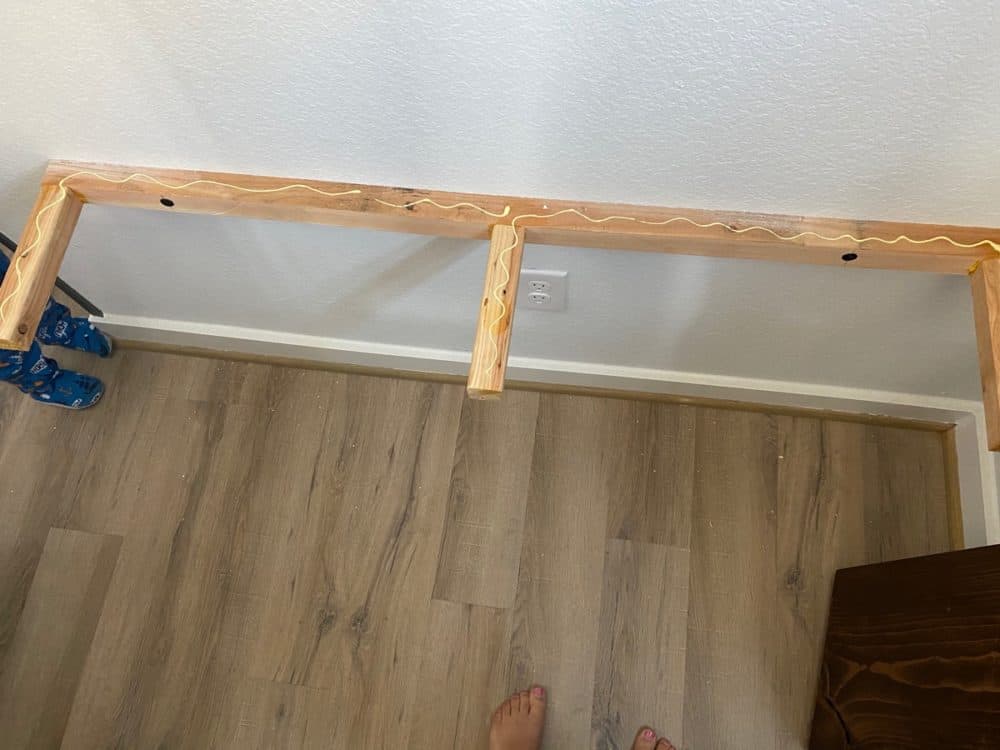 Once you have your supports on the wall, add wood glue all around the top of the support, slide your shelf into place, and use your pin nailer to add some nails along the back and sides to hold it all steady while the glue dries.
And then, you're ready to fill 'em up! If you missed my earlier post, I did share some tips for decorating shelves, so be sure to check that out if you need ideas!
I really love how these shelves fit into the room! They actually make the space feel bigger, and they add a ton of functionality as well.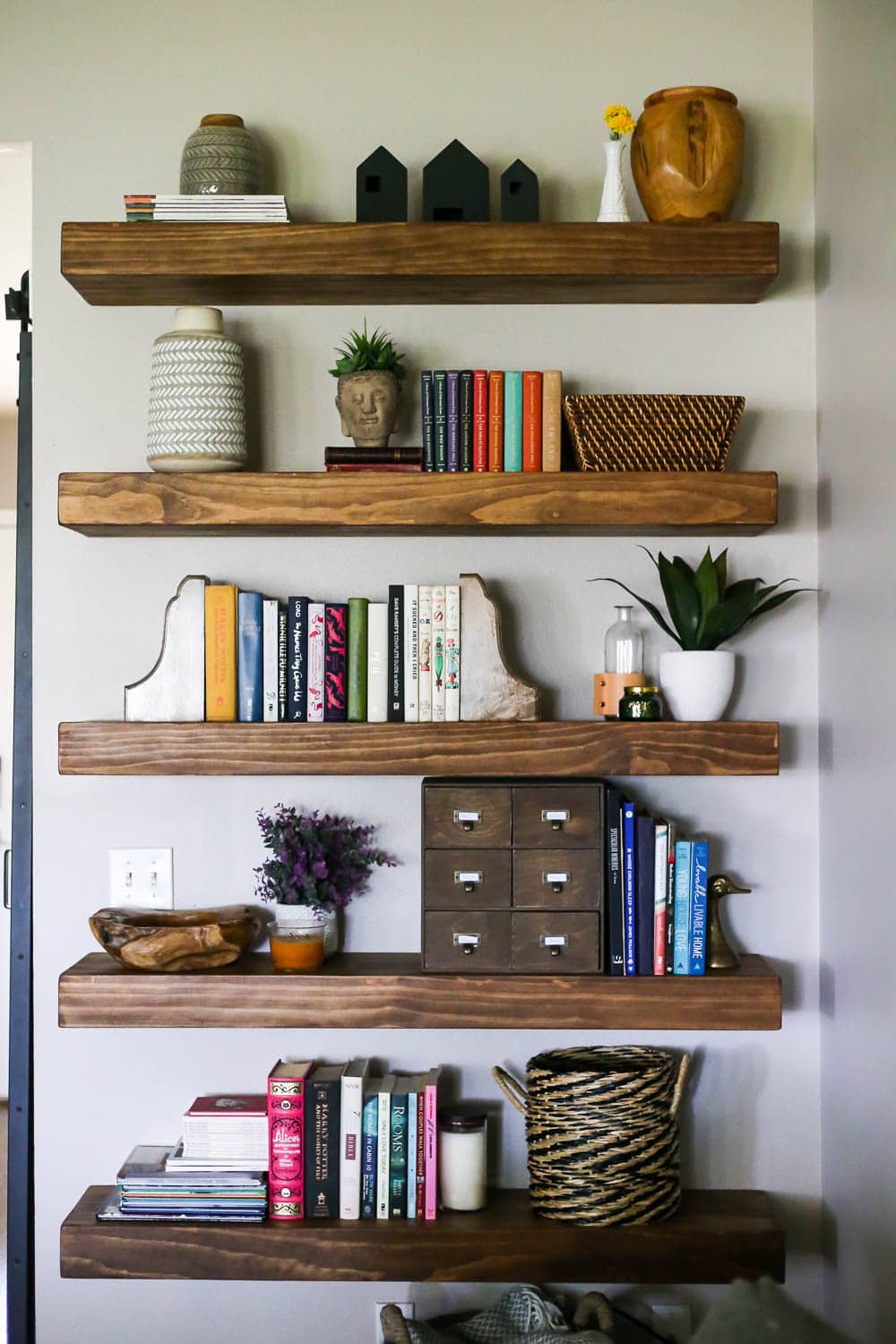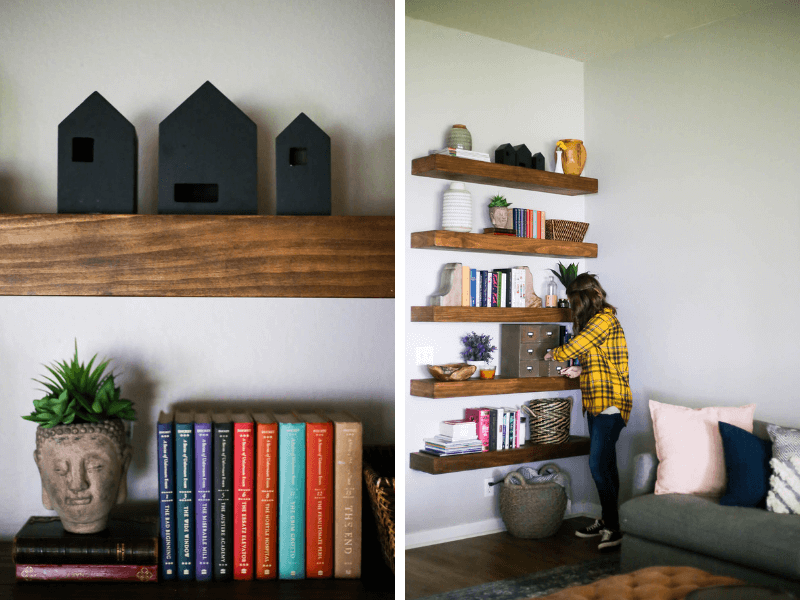 And my biggest lesson from the whole project? Staining is much faster, easier, and more fun when done with a paint sprayer. Who knew?! If you haven't gotten yourself a paint sprayer yet, be sure to check out Wagner's options. I promise if you do any painting ever, you won't regret it!