Our New Open Shelving (Plus, 6 Shelf Decorating Ideas)
This post is sponsored by Tuesday Morning.
One thing I've always struggled with is styling decor in my house. I've never had a ton of confidence when it comes to my shelf styling game, and sometimes it just feels hard. But over the years I've done a lot of practicing, and today (in addition to revealing the gorgeous floating shelves we just built for our living room), I'm sharing a few shelf decorating ideas and styling tips that I've picked up in all of my trial and error.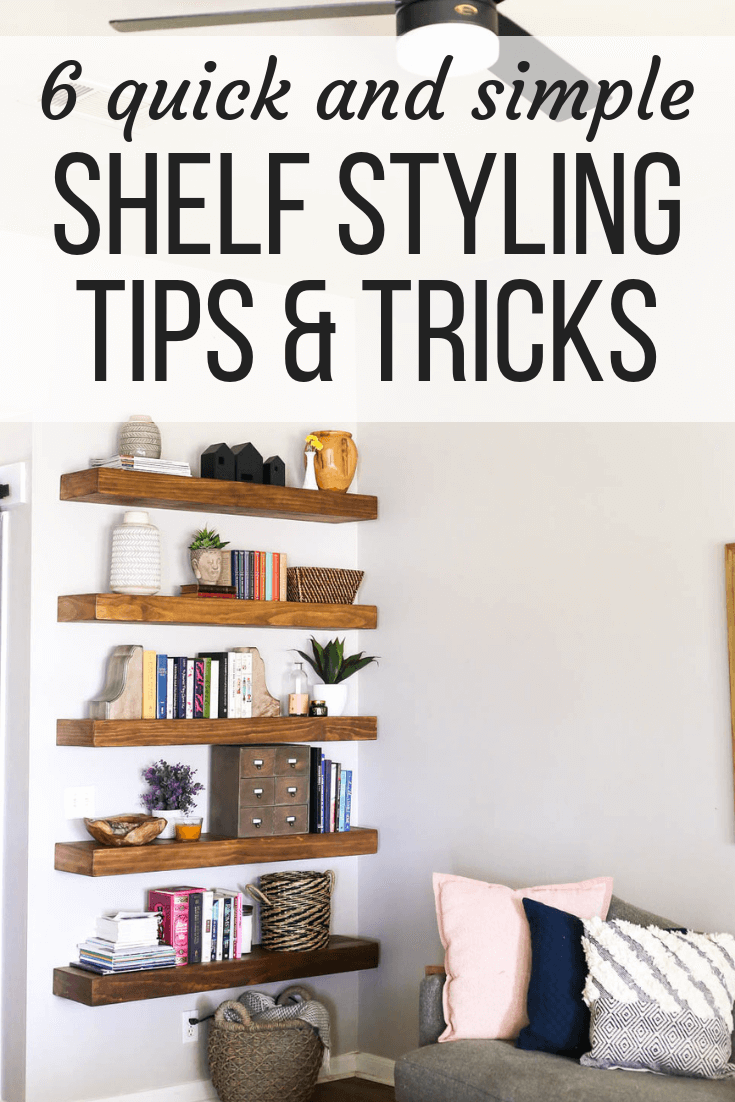 I've known we needed some floating shelves in this corner of our living room for quite some time now. We used to have a metal bookcase there and, while it looked fine, I knew if we added some more height, texture, and visual interest this little ol' corner could be a lot less boring and actually become a focal point in the room.
Up until we finished these shelves, this part of the living room has been an area that I've more or less ignored – we plopped a bookcase in place and called it a day. I rarely showed it in photographs, I cringed when I walked past it (especially once we moved the dog bowls over there and it was dirty all the time!), and I more or less just pretended there wasn't an issue.
But, of course, ignoring the spaces in your home that you don't like doesn't actually solve anything.
I know, it surprised me too.
So, we built some open shelving (full tutorial coming later this week!) and I stretched my shelf styling muscles with the help of some accessories I picked up at Tuesday Morning.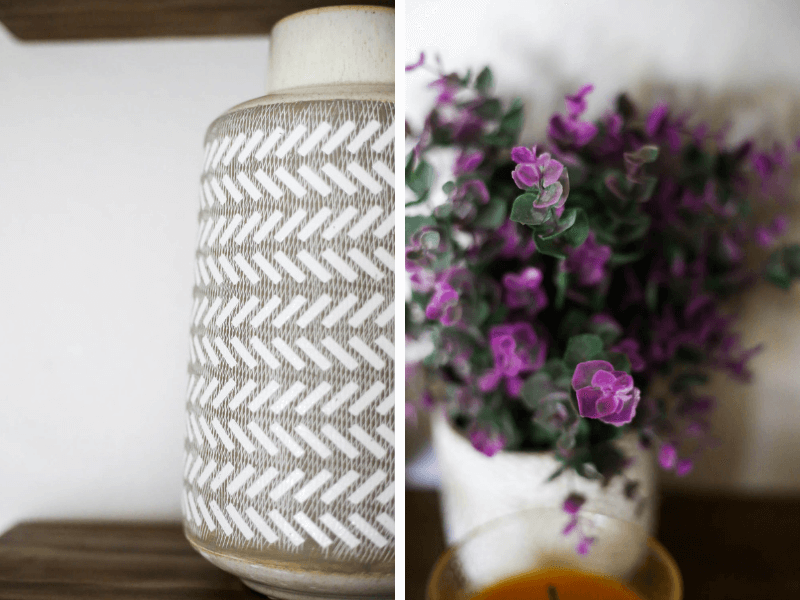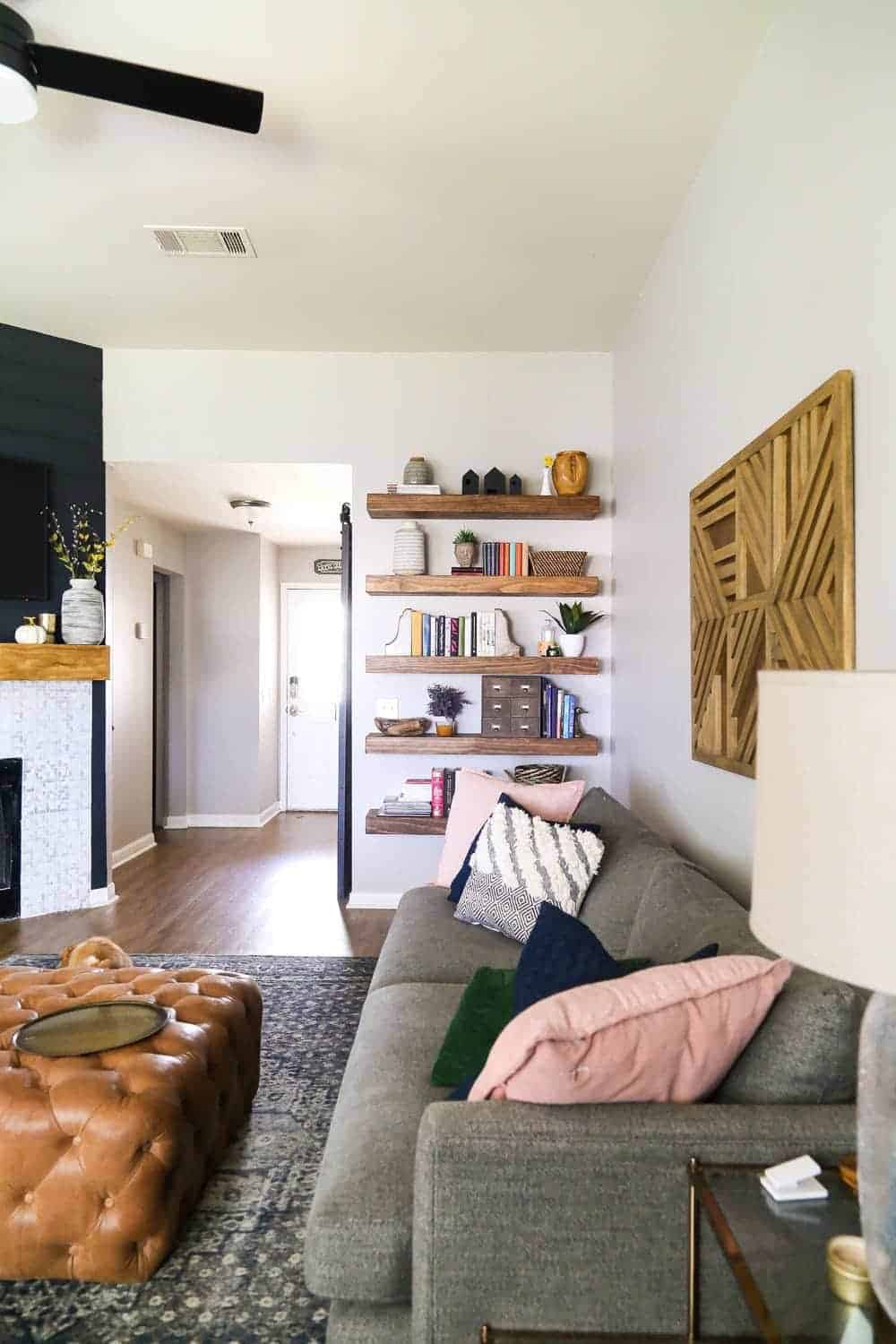 We've talked about my deep and abiding love for Tuesday Morning a few times here on the blog, but let me re-iterate to you: if you aren't shopping there, you need to change that, stat. Every time I visit the store I find a whole new collection of treasures thanks to their frequently-rotating stock, and every time I head to the checkout counter I'm pleasantly surprised by what I fantastic deal I'm getting. Corey and I always joke about how far our budget goes there, because he's always slightly amazed when I come home with multiple large bags full of goodies and tell him how little I actually spent.
And really, that's nice for a change, right?!
This time around I'm particularly excited about the fun things I picked up to help me style my shelves. The faux cement head planter gives me life, and that gorgeous organically-shaped wood bowl is the perfect spot to stash our keys and the remote for our fan. I found baskets and faux plants and vases and candles…and did I mention that Jackson always likes to come with me because they've got a pretty killer selection of toys too? In fact, we picked up a good deal of his Christmas gifts from Tuesday Morning last year (at a total steal!).
So, that's my PSA for you before we dive into the shelf decorating ideas – get yourself over to Tuesday Morning as soon as you can and bask in the goodness of that store. Right now is the perfect time, too, because our local store is all decked out for Christmas! You can find the closest Tuesday Morning to you right here.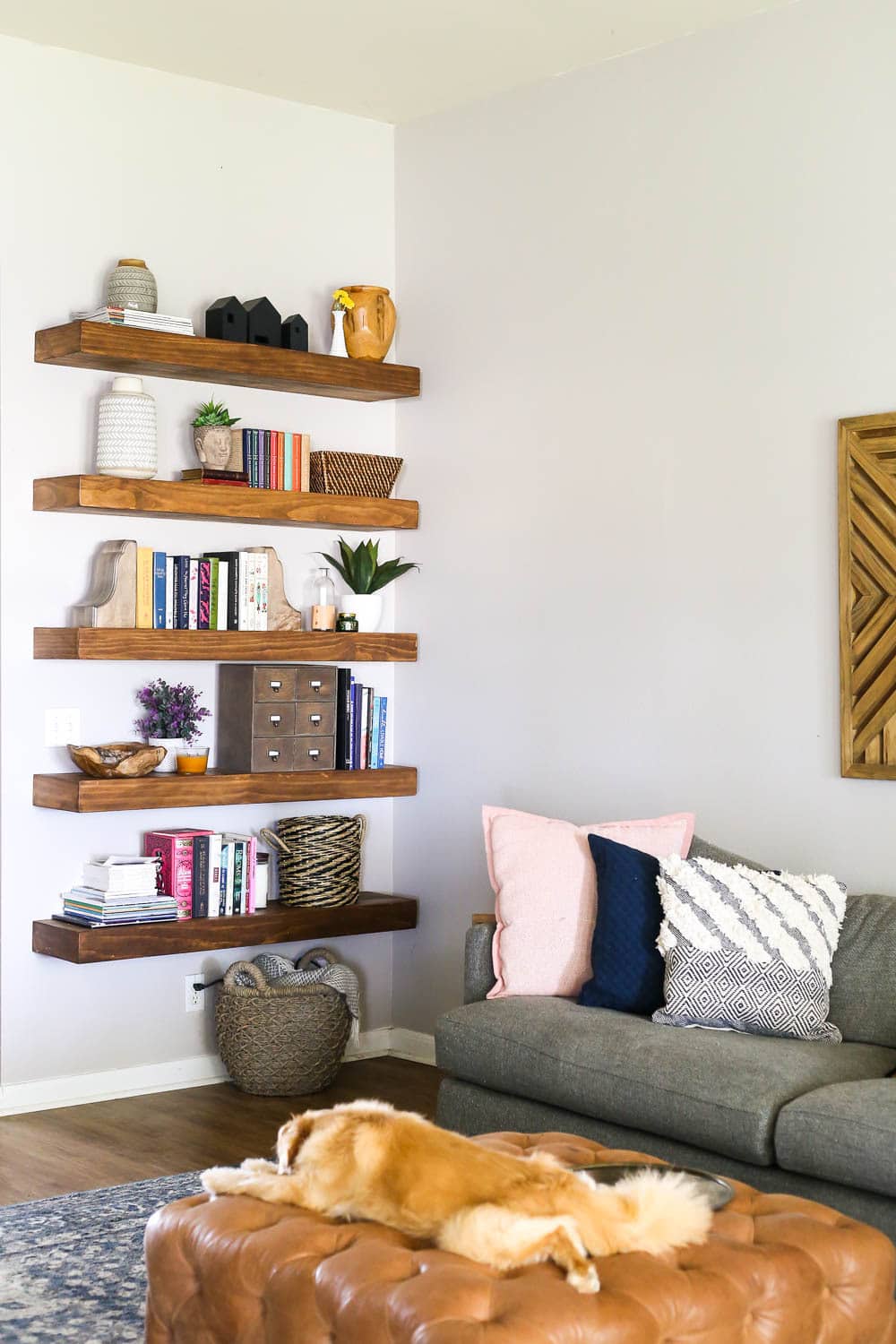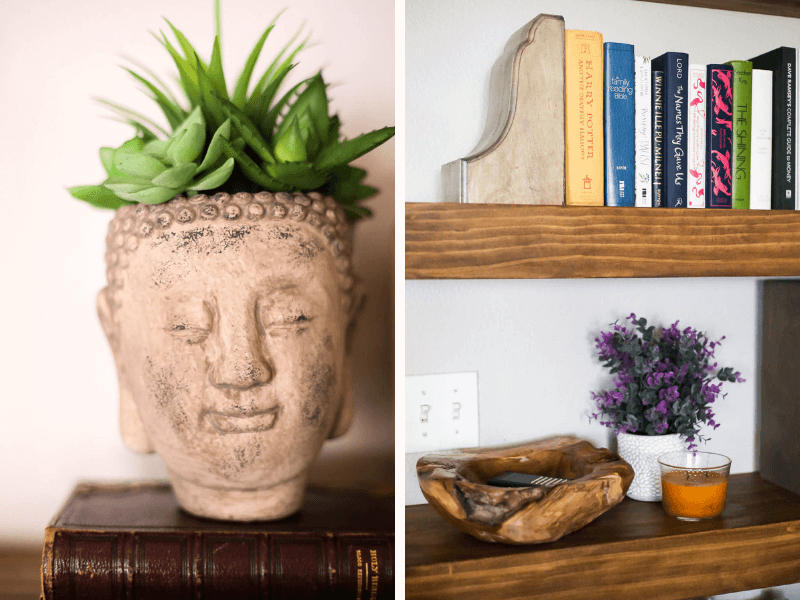 6 Simple Shelf Decorating Ideas
You can't go wrong with books. This might seem like an obvious suggestion, but my first tip is to always, always, always start with books when you're styling your shelves. This might not apply to things like open shelving in kitchens or bathrooms, but pretty much any other shelf in your home will benefit from a healthy collection of books. I've actually pared my book collection down quite a bit over the years (read more about that here), but I still have some beloved favorites that always have a home on my shelves.  I used to think my shelves would look just as good if I took the books down and displayed mostly decorative items, but I was oh so wrong. Now, my books are up year-round and the rest of the decor changes out a bit to fit the season. Oh, and here's an additional book styling tip – play around with the placement of your books. Line some up traditionally (spines out, between some bookends), but also put some laying in a stack, under a pretty vase, or even (gasp!) backwards! Play around with different textures and shapes you can create with your books, and you might be pleasantly surprised.
Shoot for something green on every shelf. I don't mean the color green – I mean a plant! When I'm styling shelves in my living room or in the kitchen, I always aim to have a plant (real or faux) on every shelf. It brings so much life (literally!) to the display, and adds a ton of texture and color as well. I found a variety of fun faux plants for our living room shelves at Tuesday Morning, and I love the different shapes and textures they have.
Concealed storage is a must! This is especially true if you're decorating living room shelves. I incorporated a few baskets, bowls, and drawers into our display to provide some hidden storage for things that aren't all that pretty. One basket holds my camera, the drawers hold a variety of small things that needed to be contained, and the big basket on the bottom holds our internet router! We've all got plenty of ugly things that need to be stored in our homes (and often in easy-to-access places), but thankfully a good basket can keep them hidden from plain sight.
Use a variety of colors, shapes, and textures. When I was shopping for these shelves, I stuck to a pretty neutral color palette but the display as a whole still feels very visually interesting. That's because there are a ton of different materials (paper from the books, a few wood pieces, some ceramics, faux concrete, brass, etc.), heights, and shapes in the pieces I chose. I'm always tempted to grab a ton of pretty vases or vessels (it's just what I'm drawn to!) but I have to remind myself that my shelves would look silly if that's all I used – instead, I got some candles, some pretty objects, and some faux plants to throw in the mix. I try to keep a mental inventory when I'm shopping to decorate shelves in my home, and if I feel like I might have too many of a certain type of object, I probably do!
Leave some room to breathe. It's tempting to stuff your shelves full of pretty objects so that they look nice and full – but what really happens is you end up with a cluttered-looking display that stresses your eyes out. Instead, try to leave a bit of white space in multiple spots on your shelves to give the eye a place to rest and keep the whole thing from looking crazy.
Always take a step back. When you're styling shelves, never make decisions based on how it looks when you're standing right up next to it – you can't get a good picture of what the display looks like until you step back and take it in as a whole. I always do a scan of my styling job to see if I've done a good job of evenly dispersing the various patterns, colors, and weights. For example, I didn't want the 6-drawer wooden box to be directly under the long line of books or the white and cream vase – they're all visually "heavy" objects and would weigh down that side of the shelf. In the same vein, I didn't want all of my plants lined up on one side, or all of the books. All of these things become very obvious when you step back (all the way across the room!) and look at the shelves – so before you call your styling job done, be sure to take a moment to do that! Better yet, snap a photo – styling mistakes become much more obvious as soon as you take a picture of them!
I could keep going all day long with different shelf decorating ideas (as much as I don't think it's my strongest talent, it sure is fun!), but I'd love to hear yours. What are your favorite tricks for a perfectly styled bookcase? Leave me your best tips in the comments – I'm always looking to up my shelf styling game!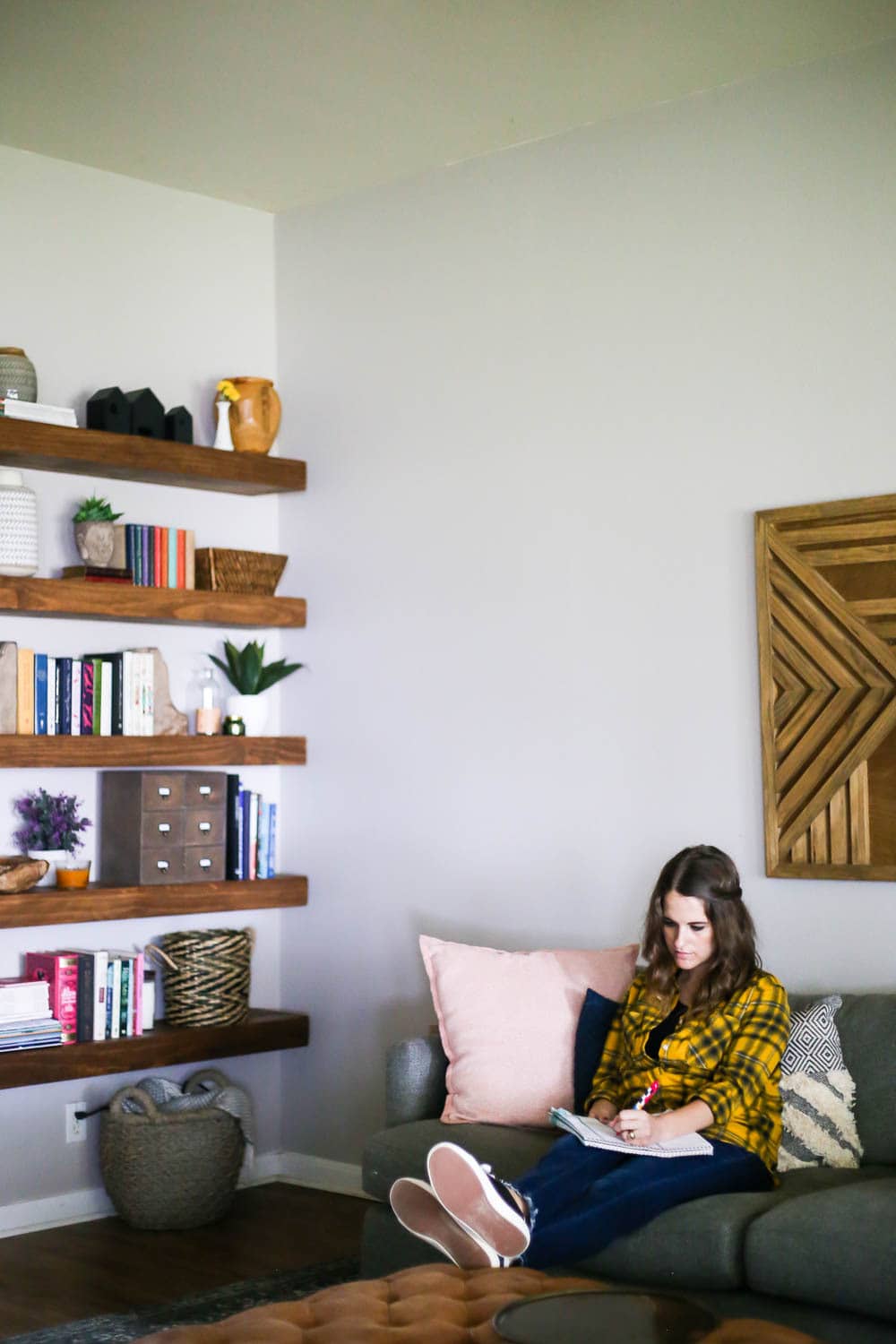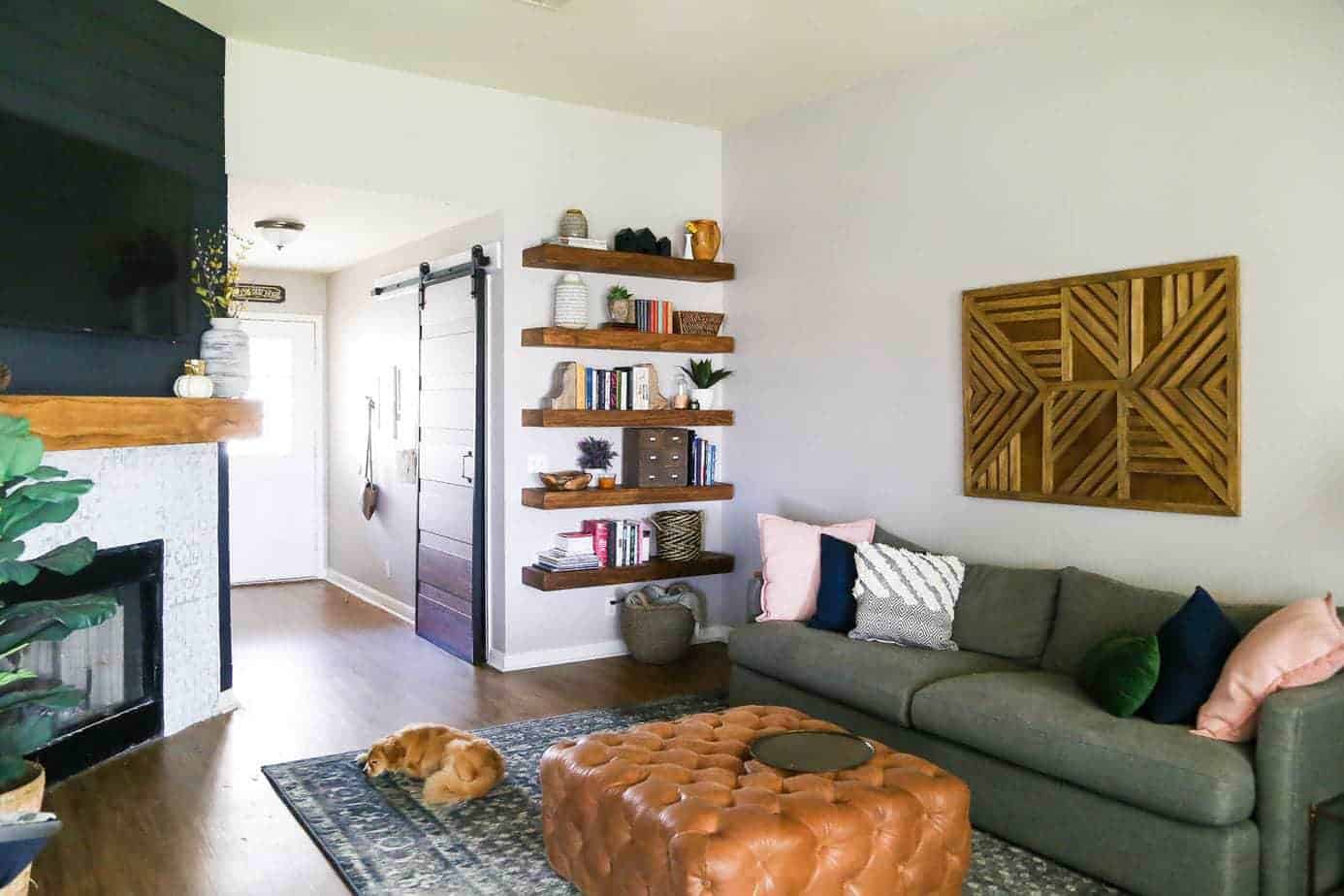 If you see something you love in this room, be sure to check our Shop Our House page for more info (and please let me know if you're curious about something I may have missed). I can't link the amazing Tuesday Morning finds because half the fun of shopping there is that each store will have unique items that change out on the regular.
Be sure to hit up your local store and let me know if you find any treasures!