Fall Touches Around Our Home
I don't even think it needs to officially be said that fall is my favorite season. Honestly, it's the only season worth being counted as a favorite if you ask me. Fall is full of magic and wonder and spooky things and anticipation and it's just the actual best.
There's something that feels almost sacred to me about the ritual of putting away my bright summer blooms and pulling out the autumn decor. It indicates that the best time of the year has arrived and I'll basically on cloud 9 from now until January. Because the only thing better than fall is the Christmas season!
Don't worry, we're not talking about Christmas yet, I promise. It's only August. I'm not that crazy.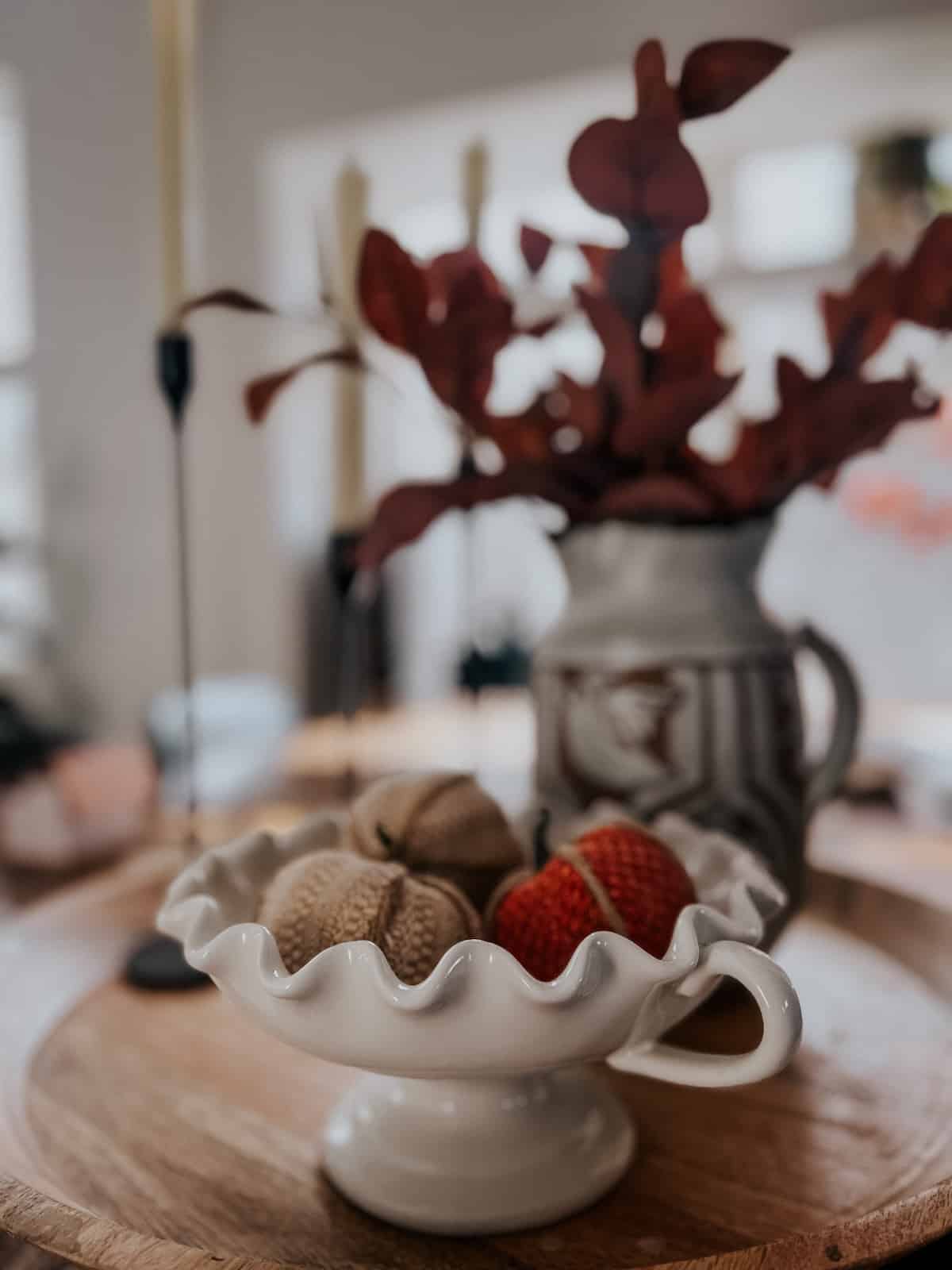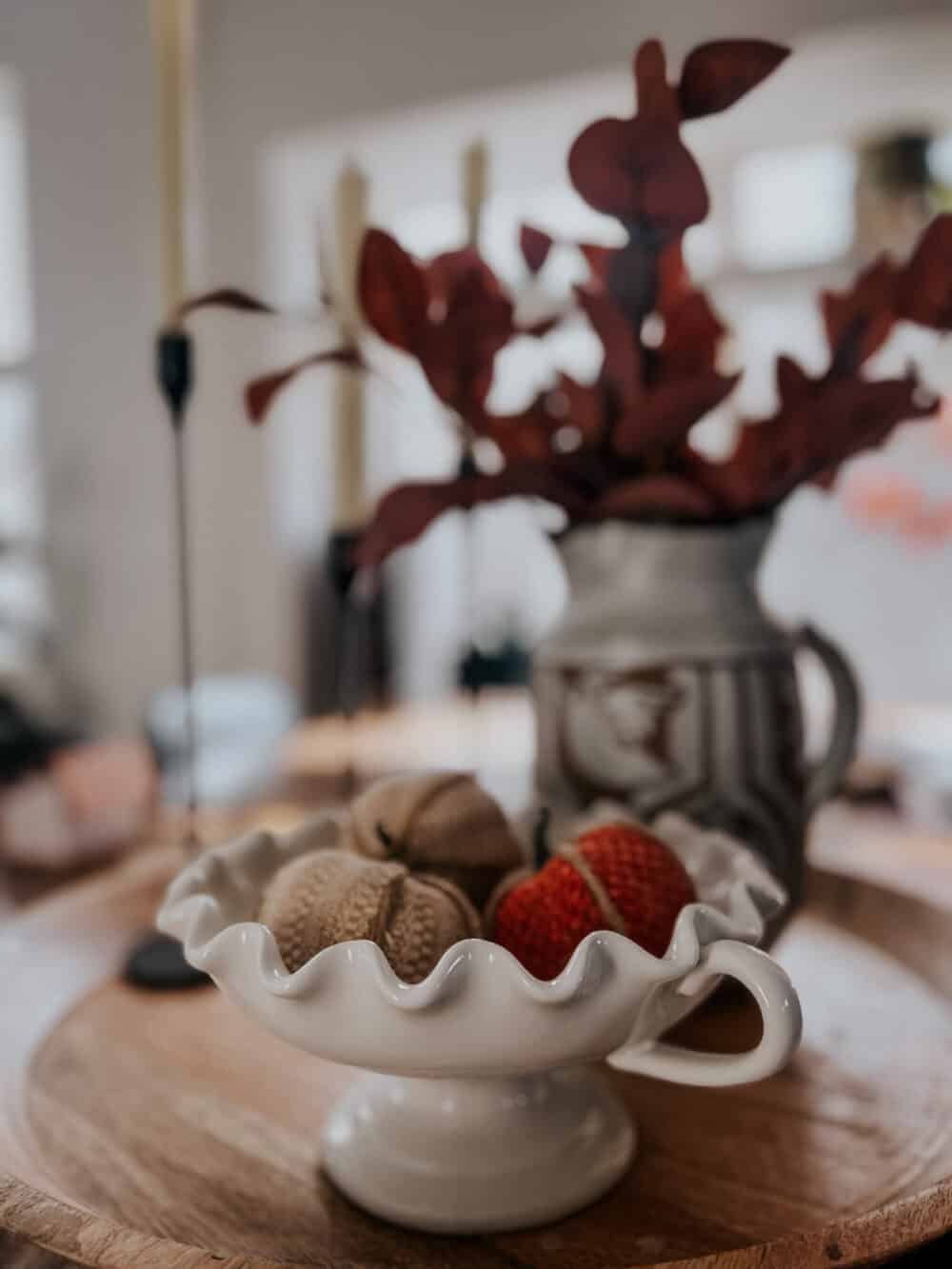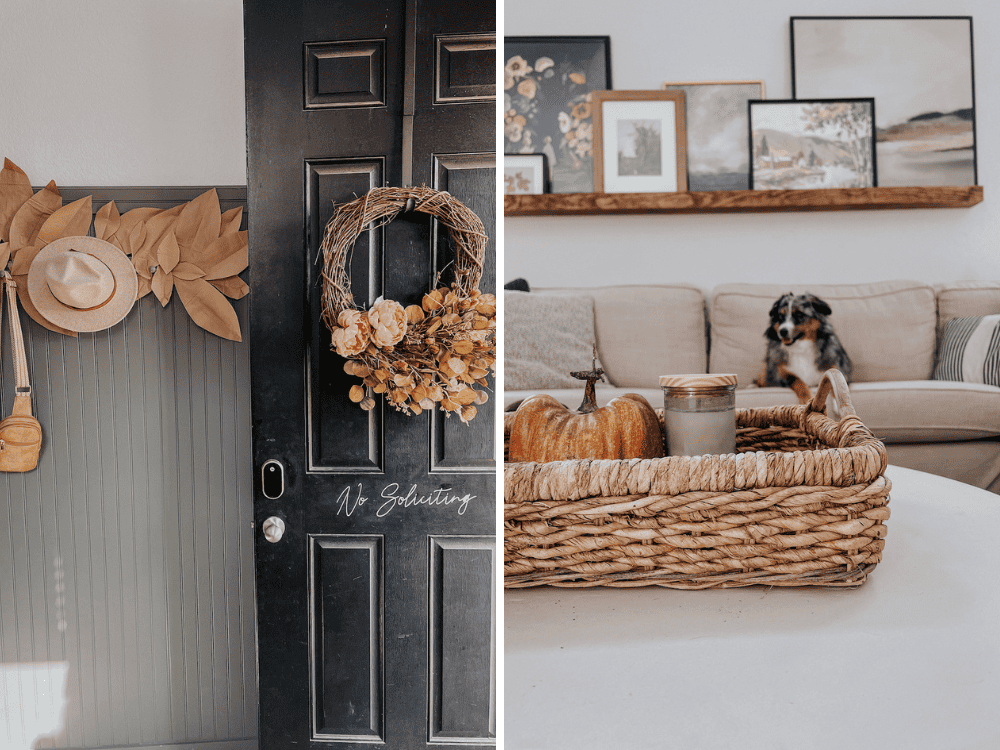 Mini Pumpkins (Similar) | White Dish (Similar) | Faux Stems | Fall Wreath | Wicker Tray
But, I am just crazy enough to have my house fully decorated and ready for fall. It might still be hitting 100+ degrees every day here in Austin, but I'm determined to manifest fall vibes in my home at the very least. Maybe the weather will get the hint eventually, maybe not. If I've learned anything being a Texan, it's that you can't wait on the weather to celebrate fall. You have to just decide it's fall and let the weather do its own thing. Otherwise, you may only get one or two days of fall.
So, let me have my joy, ok? The kids are in school, we're mere days away from the beginning of September…it's fall!
When it comes to decorating my home for fall, it honestly feels natural. I always say I feel like my home and my personal style was created for fall. The dark, moody colors. Textures all over the place. Lots of wood tones.
Basically, my house was designed around fall and it just has to deal with the rest of the seasons. Fall is when we're truly at home.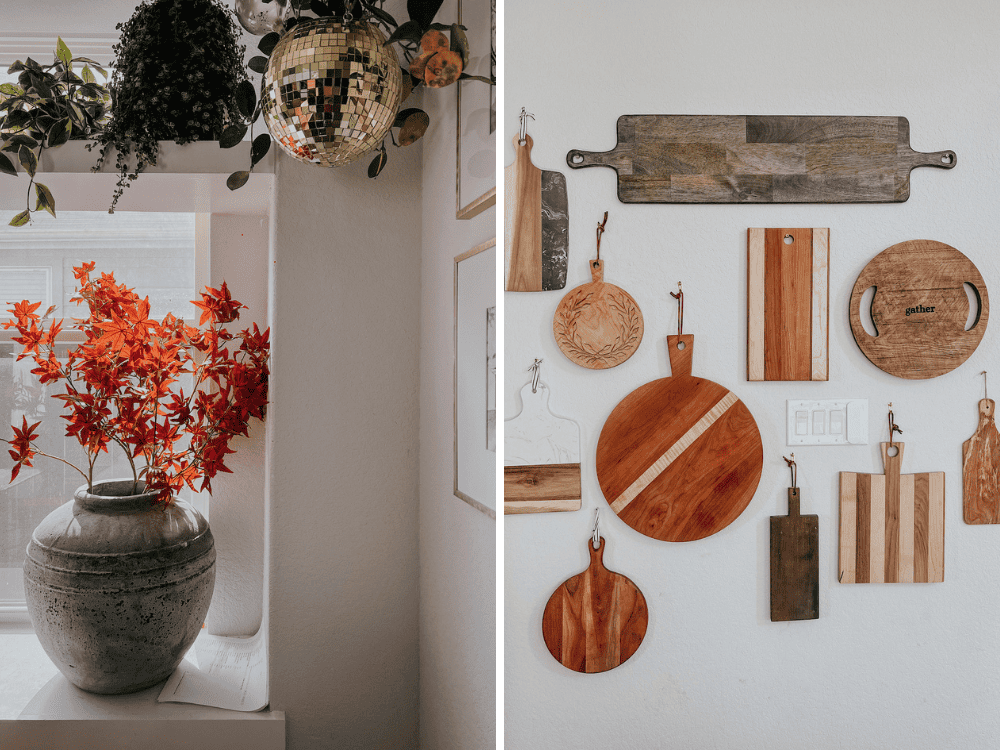 Faux Maple Leaves | Disco Ball Planter | Long Wood Cutting Board | Black Marble Board | White Marble Board | All Other Boards
Since my home feels like to me almost year-round, I find I don't need to do a ton to really amp things up when late August rolls around. Some faux stems here and there, a few pumpkins sprinkled in for good measure, and a good fall candle. That's all you really need!
This year, I added some new faux fall stems to my collection – largely because I must have packed away some of my fall stuff with some Christmas decor and I now can't find it. I'm sure it'll turn up come November, but for now? It was a great excuse to go shopping.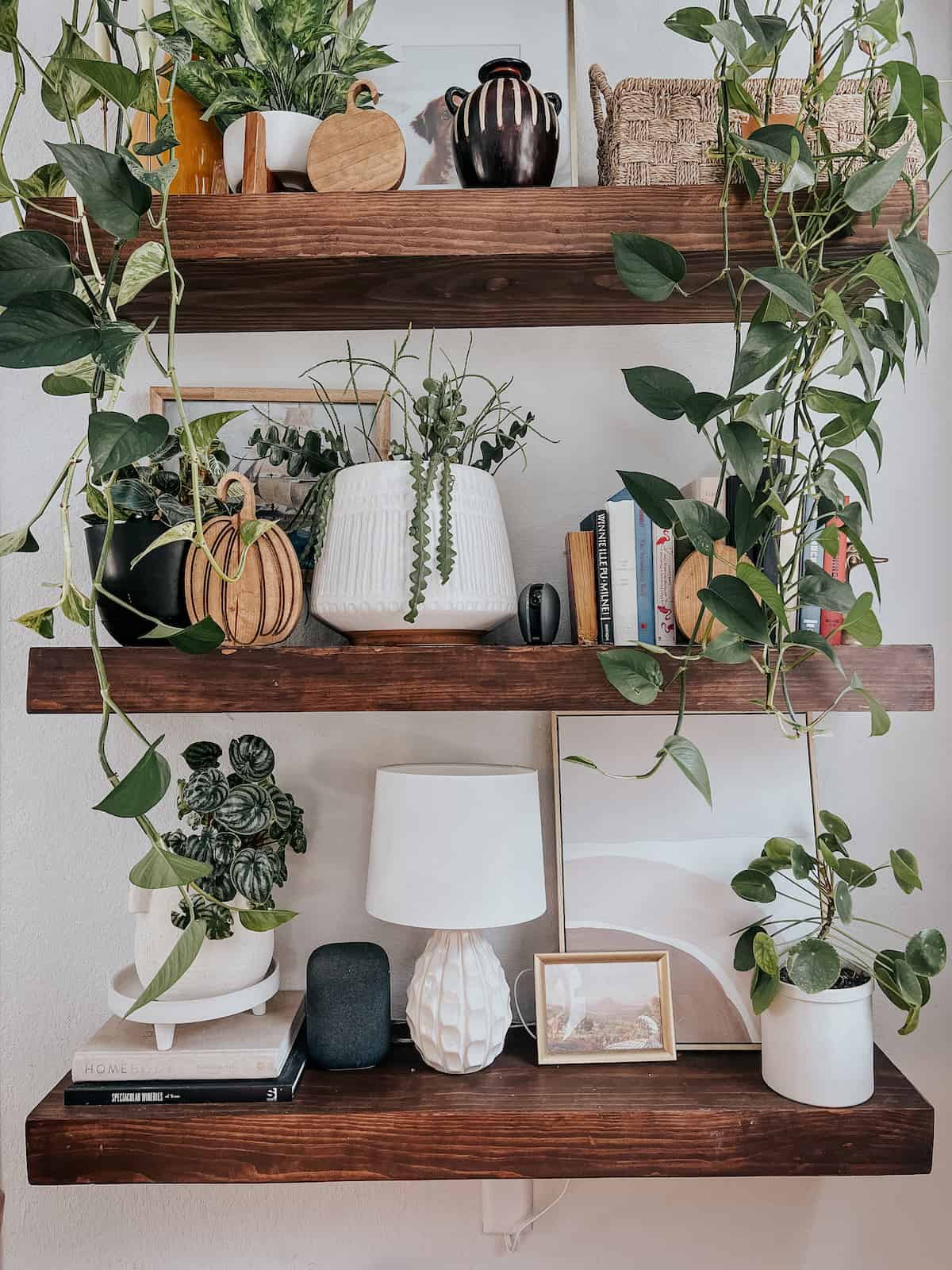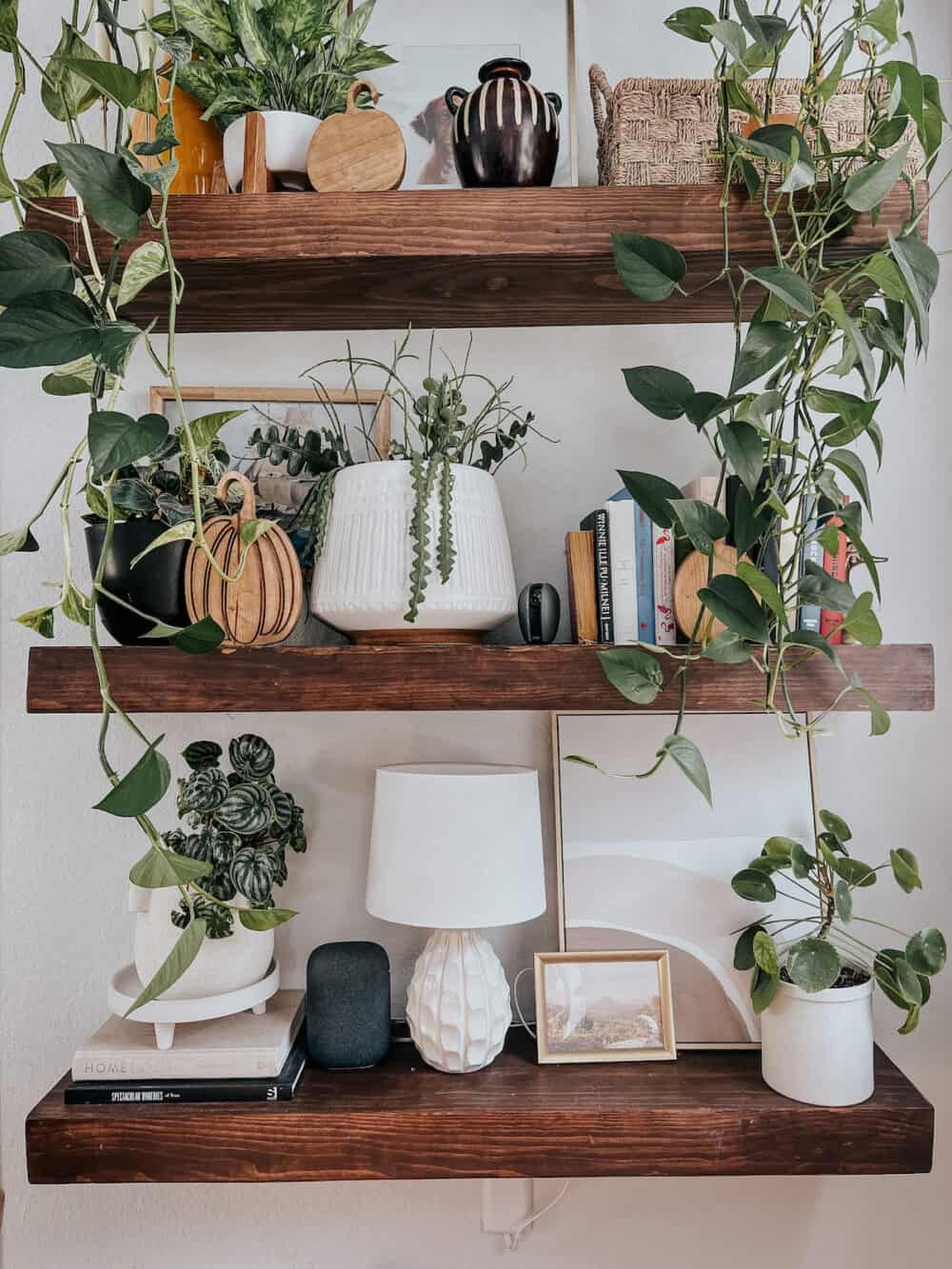 Here are my top tips when it comes to decorating your home for fall:
Utilize faux stems. They go a long way and there's nothing simpler than plopping some pretty fake leaves in a vase.
Use pumpkins – but sparingly. I always (always!) use some pumpkins in my home this time of year. But, it starts to feel a little cheesy to me if I use them too much. So, I sprinkle them around the house in small places where they don't feel too in-your-face and they add the perfect subtle touch.
Swap out textiles. Change the blanket on your bed to something a little thicker. Swap out the throw on the sofa for something a little darker with more texture. I even love to add in a new throw pillow or two! Think fall colors, thick texture, and cozy vibes. It works every time.
Don't forget the smells. I could spend all day decorating my home for fall but it doesn't really feel like it's fall until my house is filled with those cozy autumn scents. I've had this candle going in my candle warming lamp basically nonstop all week and my house has never felt cozier.
Get crafty! And, of course, have some fun with it! I added my paper bag leaf garland to the entry and it instantly took it up to a whole new level. Plus, what's more fall-like than getting cozy and crafty?! Nothing. Absolutely nothing, I tell you.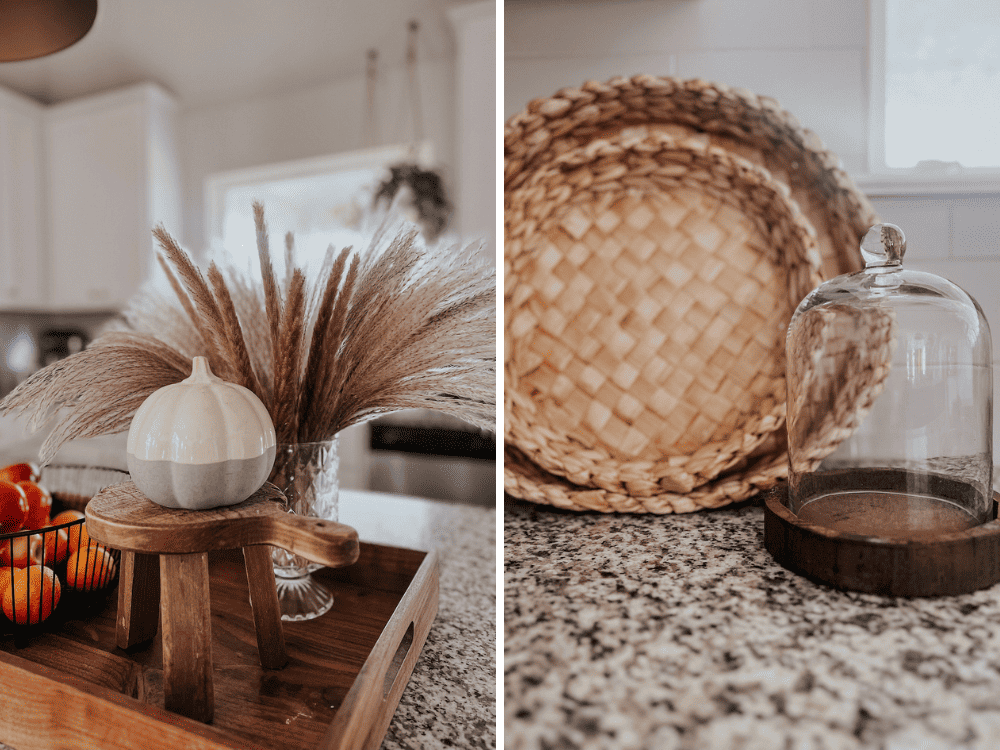 Pedestal | Faux Stems | Wood Tray | Glass Cloche
It doesn't take much to create a fall vibe in your house. I'm still going in mine (there are still quite a few fall projects up my sleeve, and I haven't even gotten started outside yet!), but things are starting to feel really great around here.