Here are some simple raised garden bed plans that will teach you exactly how to build a simple and affordable DIY raised garden bed! This post is sponsored by Arrow Fastener.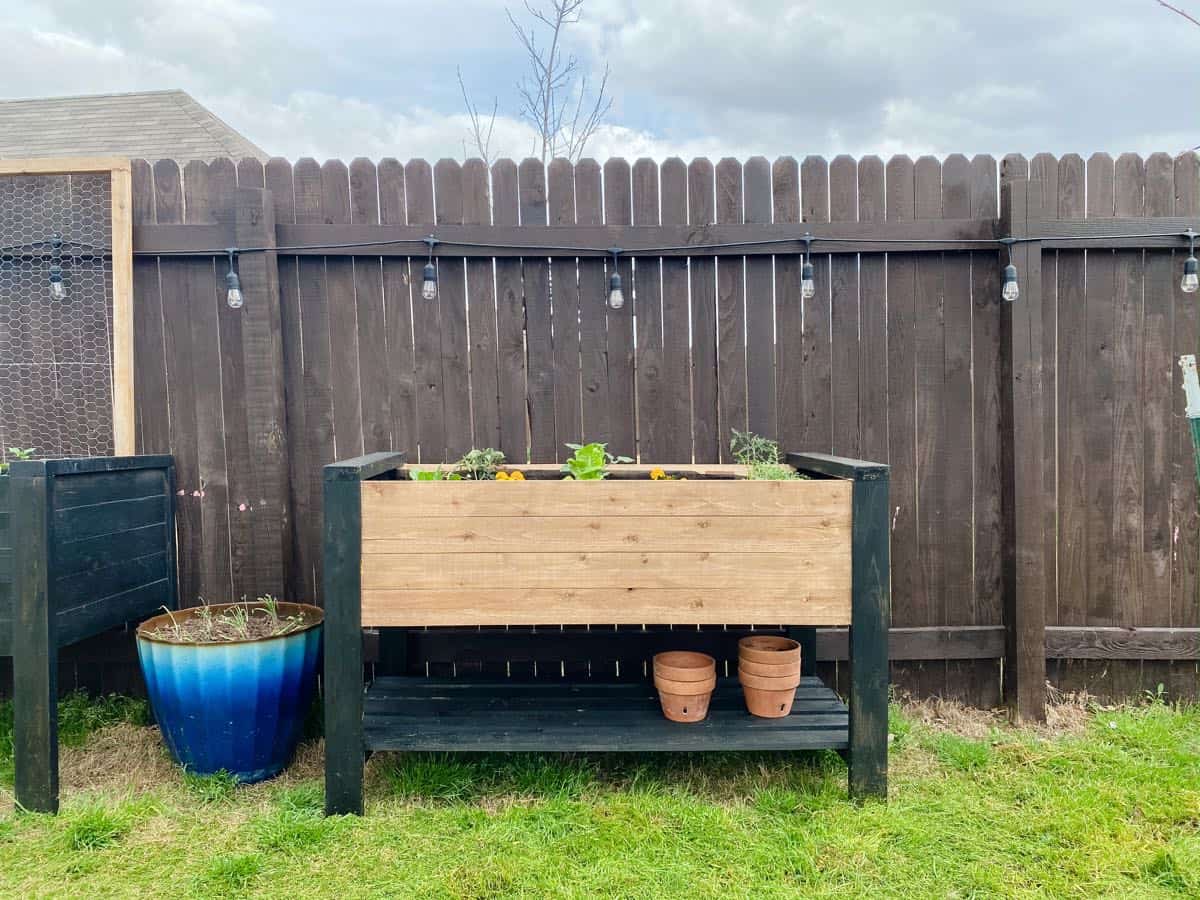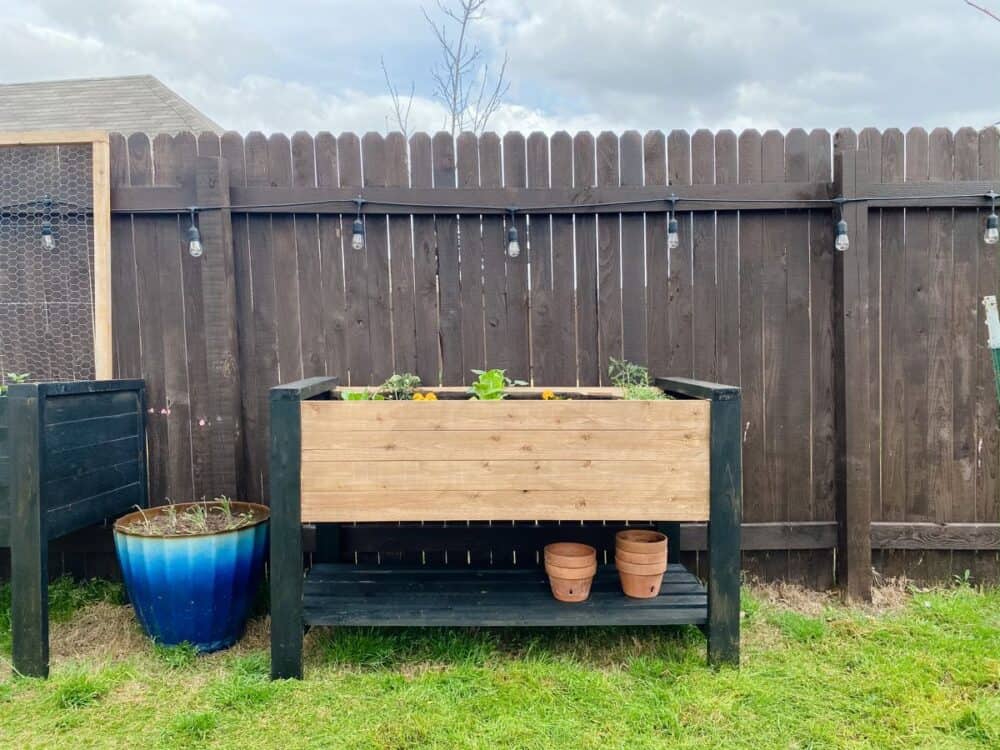 For the last few years now, I've been really interested in trying to learn how to garden. I have a lot of excitement and blind enthusiasm, but not a lot of actual knowledge or skill.
But, you know, that's just how I roll so it's totally fine.
Last year, I built a raised garden bed for Jackson to help foster his excitement about gardening as well, and it was a blast! We didn't do a great job picking out plants that we'd actually harvest and use, though, so it wasn't our most successful venture. This year, I really wanted to give it another go and expand our garden a bit, so I decided to build a brand new raised garden bed to pair with Jackson's, and we put a little more thought into what we chose to put in it so that we have a garden full of plants and veggies that we'll actually eat.
Today I'm sharing the simple raised garden bed plants that I came up with – it's really similar to last year's bed, with a few small tweaks to set it apart!
The first note I want to make before I dive in is that I got to try out a staple gun, the Arrow Fastener T50AC, for this project, and out of every tool recommended in the list below, it's the one that I'd say is a must for this project.
You can swap out the nails for screws (and vice versa), and you could use regular screws instead of pocket holes. But you really can't replace the Arrow T50AC! – you'll need staples to attach the chicken wire and landscape fabric to the bottom of the planter, and as someone who has tried a lot fo staple guns in my time, I can wholeheartedly say this one is my favorite!
Ready to learn how to build a raised garden bed? Let's jump in!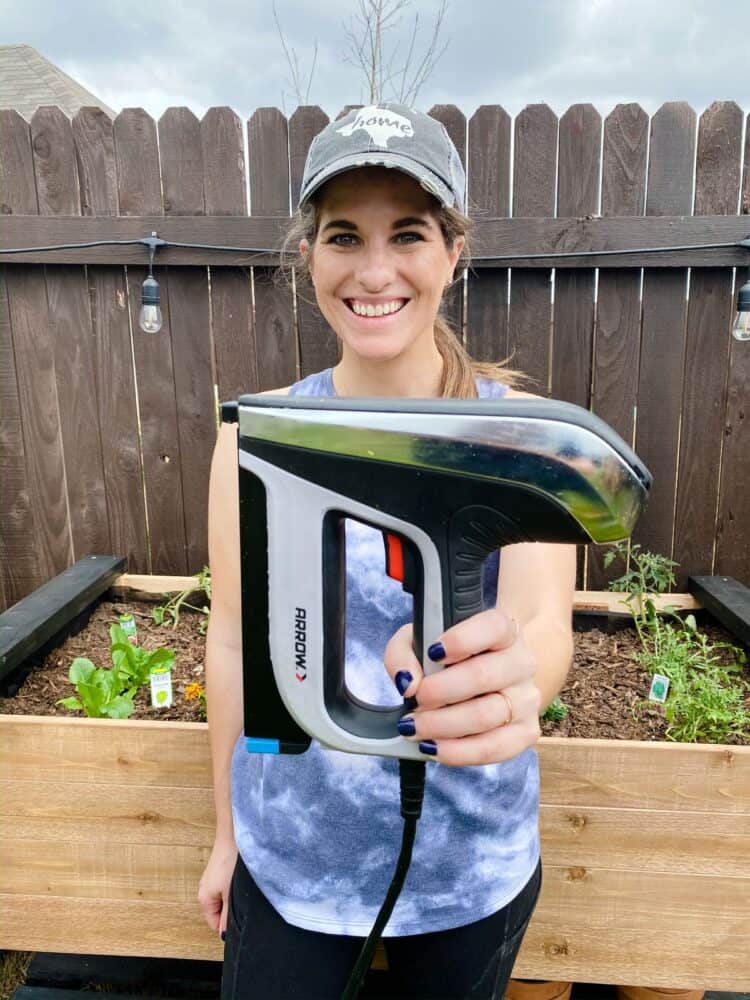 How to Build a Raised Garden Bed
Materials & Tools
Raised Garden Bed plans
Building the frame
Your first step is to cut down the wood planks for the sides. The interior of my garden bed is 4'x2′, and it's 33″ tall. You can adjust any of the sizing to fit your space, depending on how much room you have – just adjust each of the cuts to fit your backyard!
To make a 2×4 raised garden bed, you'll need to start by cutting:
(8) 1×4 cedar boards to 2′
(8) 1×4 cedar boards to 4′
(4) 2×4 cedar boards to 33″
I used my Kreg Jig to help ensure that all of the screws and holes on my garden bed are hidden – if you don't have one and don't feel like adding one to your collection right now, I'll add a note towards the end of the post to demonstrate how you can accomplish this build without one!
Drill two pocket holes in each side of all of the 1×4 side slats, then attach them to the long edge of the 2×4 using wood glue and pocket hole screws. I laid a 1×4 board underneath my slats as I was attaching them so that they weren't flush with the front of the legs – this was purely a design choice and not necessary, but I like the added detail!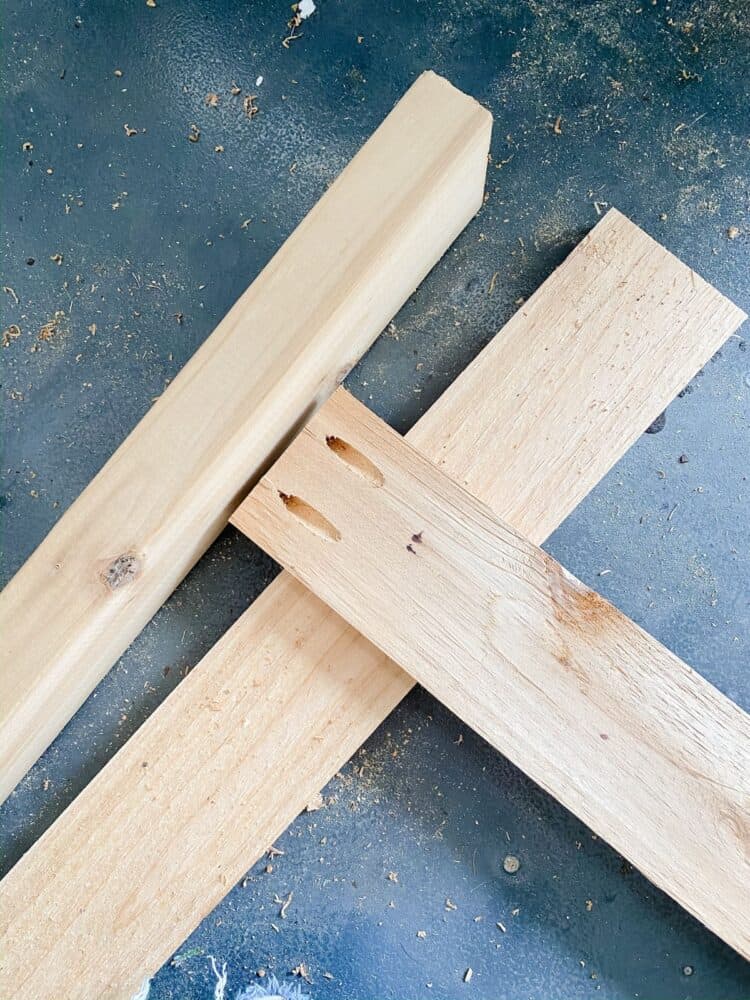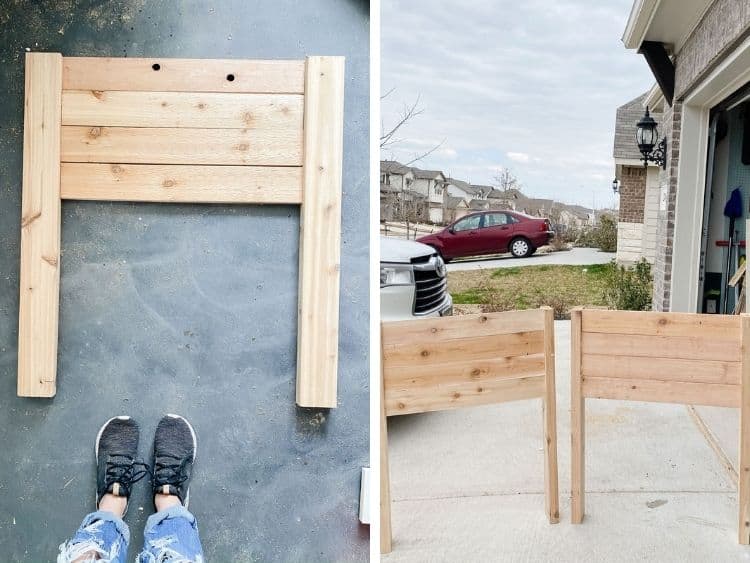 Attach four slats, pushed so that they're touching one another, between two of the leg boards to create one side for the planter. It should look like the picture above when you're done.
Once you have the two shorter side pieces done, you're ready to attach them together using the 4′ boards. Drill pocket holes into each side of the slats, then attach them to the side pieces using the same method as above.
It can get a little tricky to keep everything straight and square as you work. I just used some scrap wood to help prop everything up and assembled it on its side. You can see in the picture below how I laid the short sides so they were on their side, then I attached the long slats to the bottom half. Once those were done, I flipped it and used the other short side to hold up the top slats while I attached the other set.
To attach the other side, I simply propped up one set of slats with scrap wood while I did the bottom half, then attached one slat at a time from underneath. You can see a closer look at what I mean here in this Instagram highlight!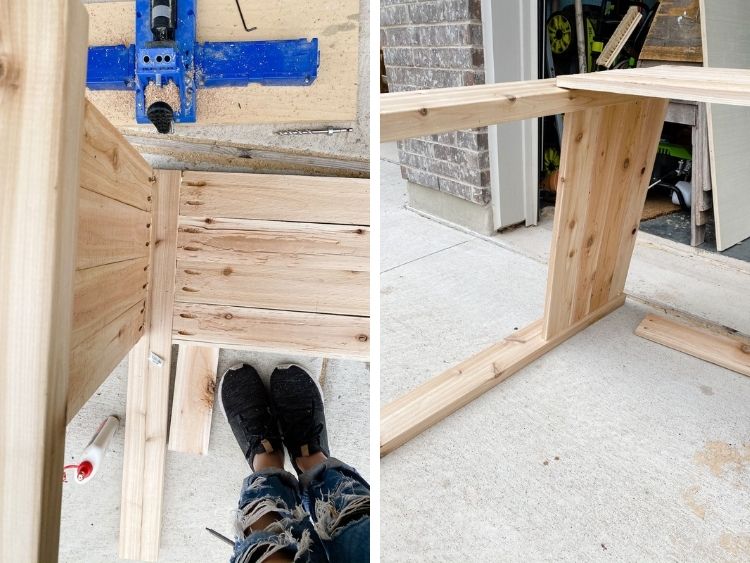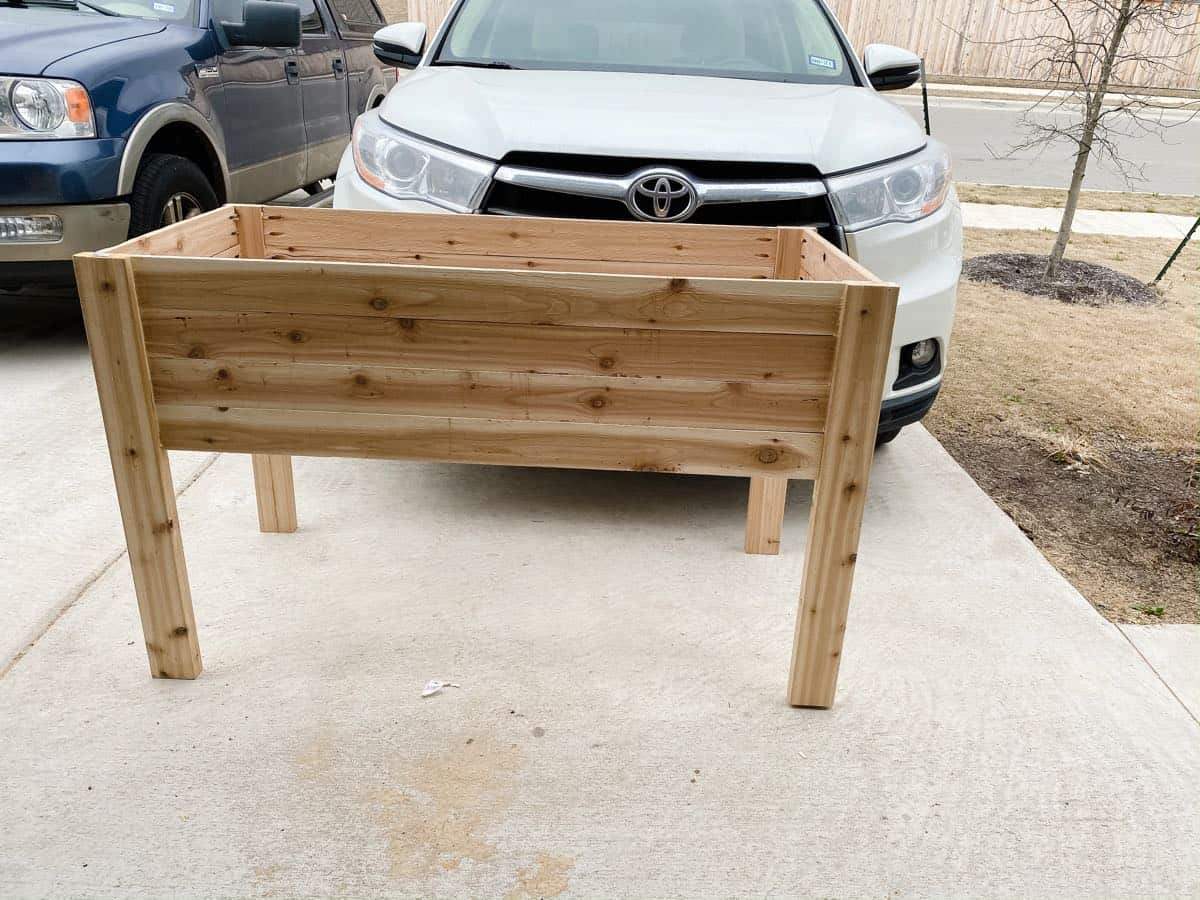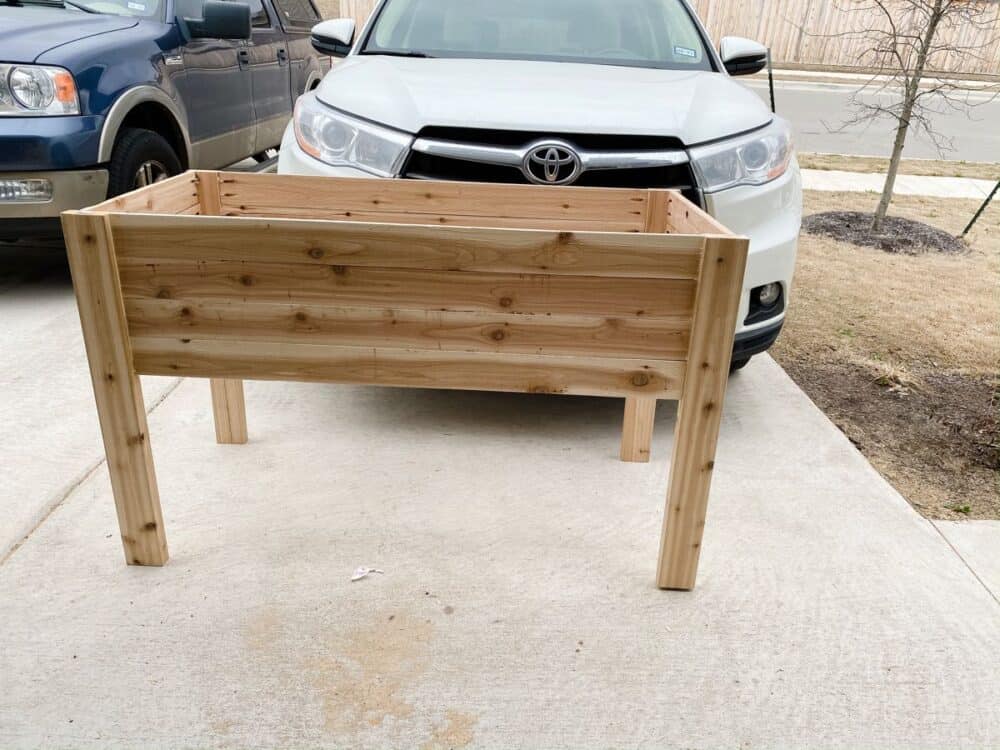 With all of the side slats done, it should be looking like a raised garden bed!
You know, just without any sort of base, supports, or way to plant anything.
Before moving on, you can also add a 2×4 piece along the top of each of the short sides to trim it out and add a nice detail – this is totally optional, but I think it looks nice!
Adding Supports & A Base
Next up, it's time for some support pieces – I cut some 1×4 scrap pieces about 3″ less than the interior height of the garden bed, and attached two on each of the long sides using screws. This helps prevent any bowing from the long sides once you add dirt into the mix, and this method works really well – our original planter from last year has zero bowing at all! Just make sure to add a screw into each slat so that they're all attached to the support boards and not just resting against them.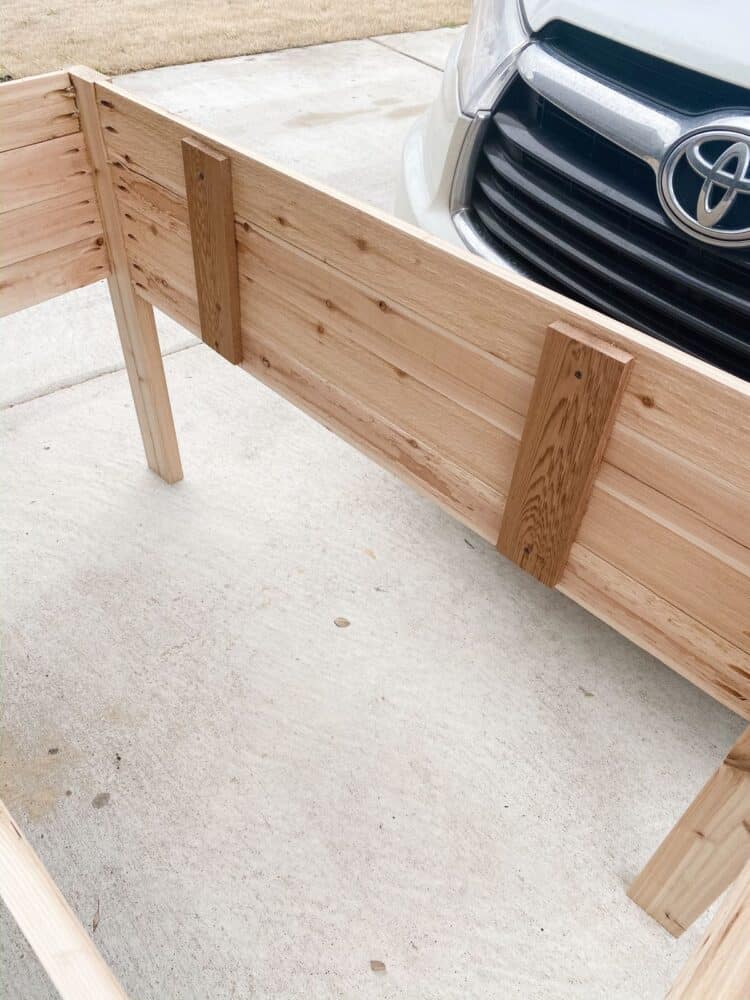 To add the bottom, I ripped a 2×4 cedar board in half to create two 2×2 cedar boards. I cut them down to fit the long interior sides of the planter, and used wood glue and screws to attach them along the bottom side of the planter.
A quick note: you should always pre-drill your holes (especially with smaller boards like these 2×2 ones) to avoid having the wood split!
With two long support pieces along each of the long sides, you're ready to add in the bottom slats, so your garden actually has a base. You'll use the scrap 1×4 pieces to cut down slats that fit in the bottom of your garden bed, and nail or screw them into the 2×2 support pieces.
You can leave a gap of a few inches between each slat – I used 11 slats in the base of mine!
Add Bottom Shelf
This is an optional step, but one I'm really glad I did this time! I wanted a little shelf on the bottom that could hold half-full bags of soil, extra planters, or other gardening tools so that they wouldn't litter my patio anymore.
I kept this shelf really simple – I used two pieces of 2×4 cedar, cut to fit between the two short sides. I attached them with wood glue and pocket holes from underneath.
Once those were attached, I cut 5 pieces of 1×4 cedar to fit the entire length of the planter, so they were flush with the ends of the support pieces I just added. Then, I placed them evenly spaced across the supports and nailed them into place!
This shelf can't hold a ton of weight (especially in the middle, since there's no middle support), but it's the perfect place to stash a few random necessities and will help my patio look a lot less cluttered on a day to day basis!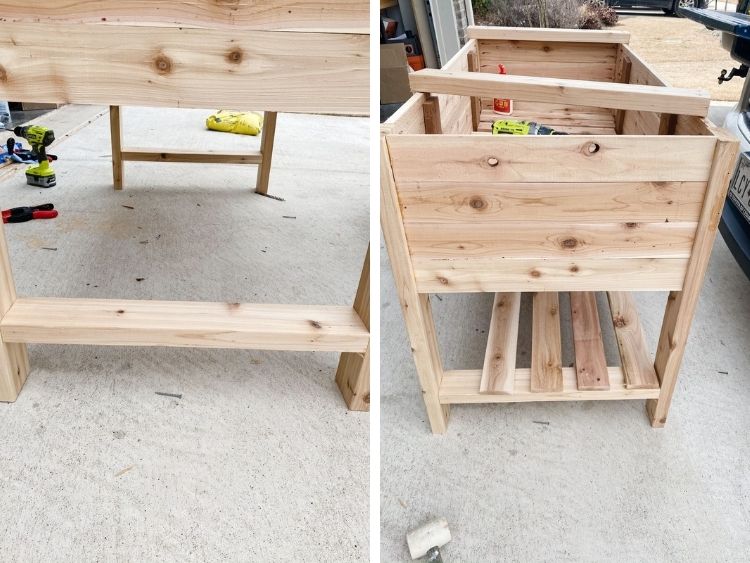 Stain or paint
You can absolutely leave your planter raw cedar if you love the look – cedar is great for outdoor garden beds and being exposed to the elements, and it should hold up just fine without any special sealing!
I wanted to make mine a little prettier, so I stained all of the 2×4 pieces (and the slats for the bottom) with the same gorgeous Ebony stain that I used on Jackson's garden bed, and I used this Aged Wood Accelerator on the side slats. (NOTE: Click here for all of my best tips and tricks for staining wood!) I love the two-toned look and I think it pairs really nicely with my other raised garden bed.
I'll admit I did ask Corey if he thought it would be ridiculous to strip the black stain off the sides of the old planter so I could replicate this look, and he said yes. Sooooo I'll leave it.
I didn't seal my planter at all (I didn't seal the other one either and it still looks as good as new!), but if you want to seal yours I'd recommend you use Spar Urethane. I also made sure not to add any stain to the interior of the garden bed – the stain probably wouldn't affect the plants through the layer of landscape fabric I added, but I'd rather be safe!
Lining the Garden Bed
And finally, you're ready for the last step – and also, the most important one that makes this an actual garden bed and not just a pretty box! It's time to line the planter!
For this part of the project, I got to try out a new (to me) tool – the Arrow Fastener T50AC Staple Gun and Brad Nailer. I love that it can handle both staples and shorter brad nails, because I'm always a fan of any tool that knows how to multitask.
I've tried quite a variety of staple guns over the years – everything from battery-powered ones to manual ones, and this one 100% takes the cake. I didn't have one single staple that didn't go all the way in, it was quick to set up and use, and it just plain worked.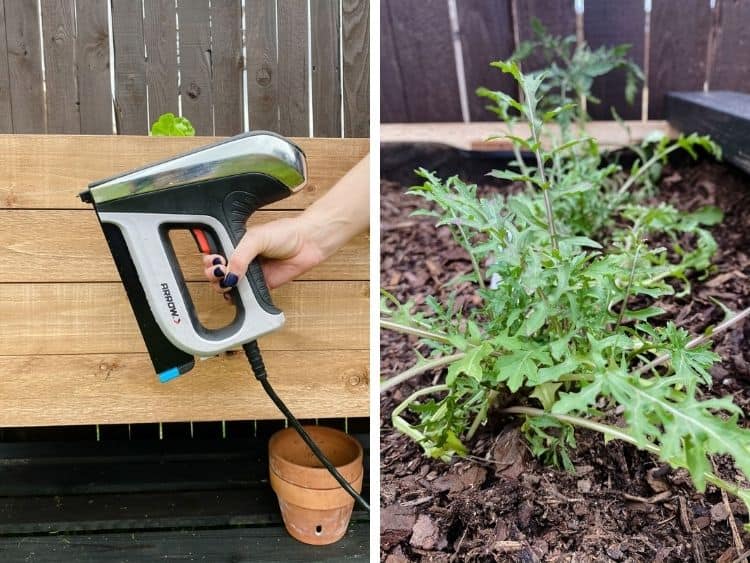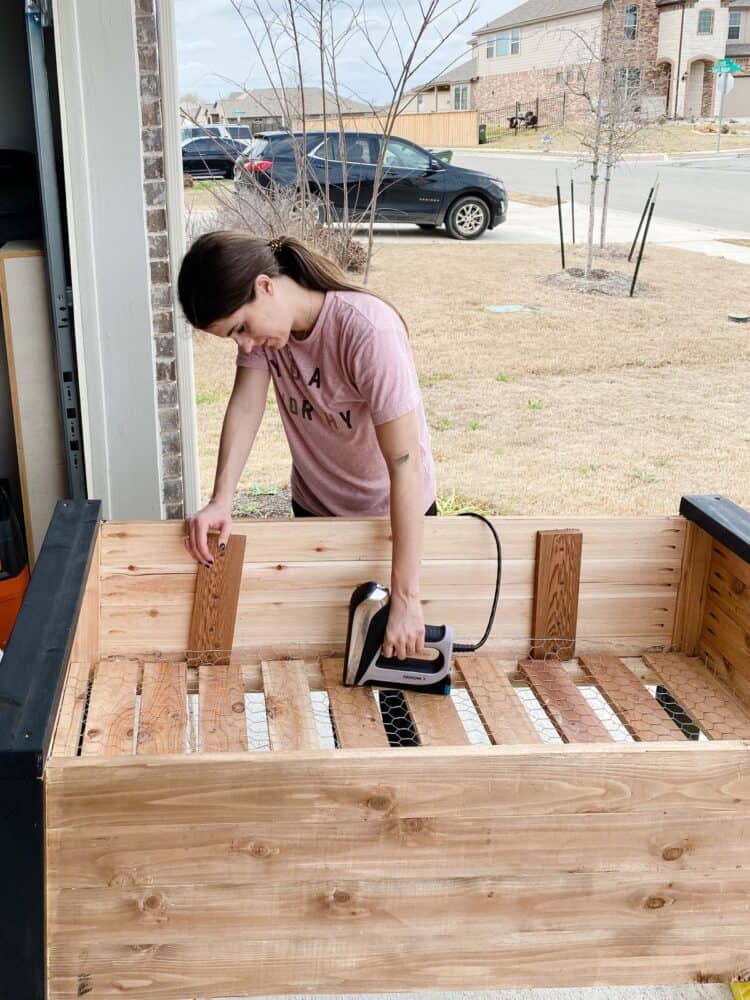 I used my new staple gun with 5/16″ staples to attach a liner of chicken wire along the bottom of the planter. Just place the chicken wire down and use the staple gun to attach. Last time I did this, I used a manual staple gun – it took forever and my hand was so sore when I was done…and I had to go back and hammer a lot of staples into place that didn't sit right.
This time around? It was so fast and easy. And every single staple did exactly what it was supposed to do.
Once the chicken wire is in place, you'll use the staple gun again to line the entire interior of the garden bed with landscape fabric. Again, the staple gun makes really quick work of this job.
Get Planting!
And finally, you're ready to fill up your raised garden bed and add your plants! It took me about 8 bags of gardening soil to fill it up.
And, I'm sure you're dying to know – what did we plant?!
In this planter, we have:
Two kinds of tomatoes
Two kinds of lettuce
Arugula
And a few flowers
In our other garden bed, we have:
Cucumbers
Jalapenos
Broccoli
Beets
And then, across the yard in our wall planter and various containers, we have a ton of herbs. This year, we planted:
Cilantro
Sage
Two kinds of basil
Oregano
Thyme
Rosemary
Chives
Spinach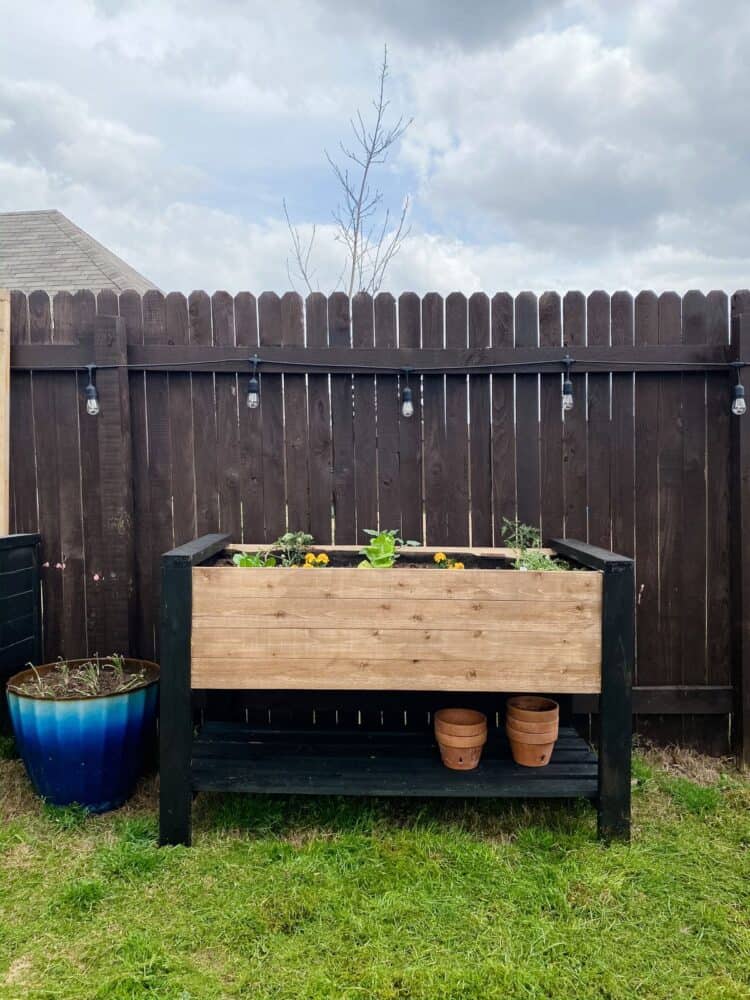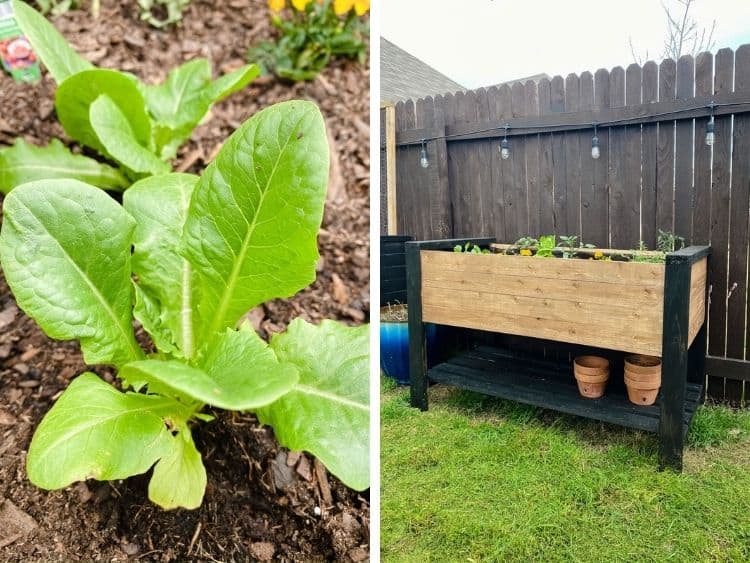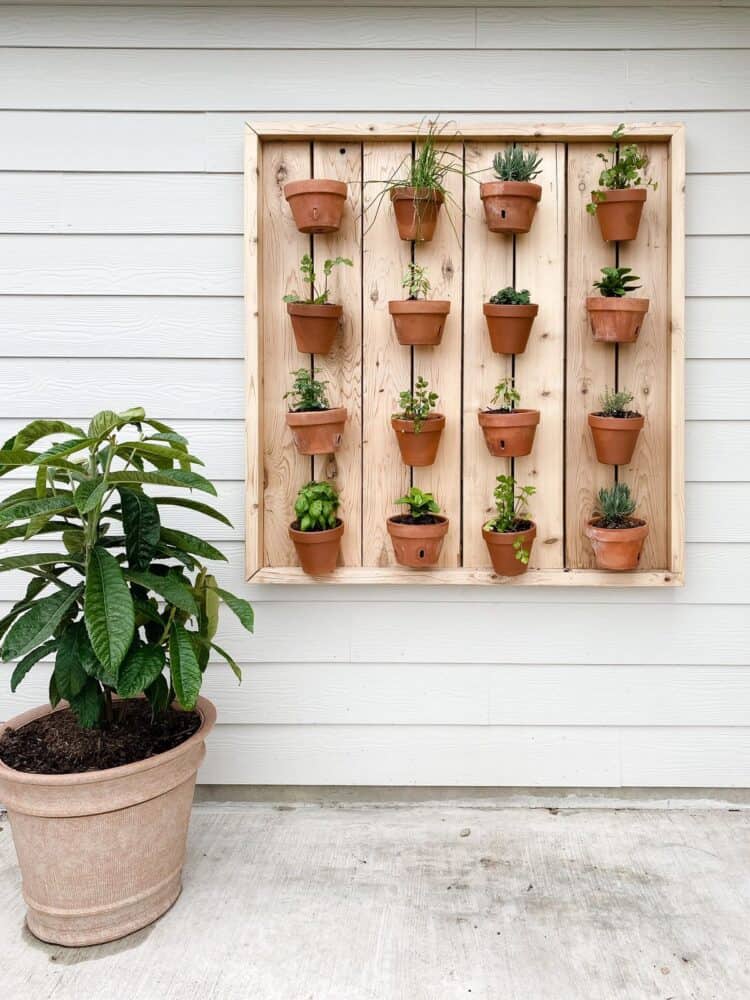 Let's see how long I can keep it all alive this year – wish me luck!
And now, for a couple of FAQs!
Frequently Asked Questions
CAn I build a raised garden bed without a Kreg Jig?
Yes!
If I were building a garden bed and I didn't have a Kreg Jig, I would probably just start with the leg pieces and screw or nail the slats to the outside, so that when it's all done the side slats meet each other at a corner and the leg pieces are on the inside!
Then, if you want to hide the corners, you can attach some 1×4 boards vertically to meet in the corner and hide the ends of the boards!
Why do I need a raised garden bed?
I had a few people wonder what the benefit is of a raised garden bed with legs – for me, there are a few reasons I chose this! First of all, having the garden bed be a bit elevated helps prevent my toddler (and the dogs) from getting into anything that they shouldn't. Squirrels and deer can wreak havoc on your garden, and having it raised off the ground a bit can help.
Secondly, I just find that it's easier to access the plants and take care of them when it's raised up! I love that these raised garden beds are totally mobile and can easily be moved around the yard, and working in the garden is easy on my back, since there's no bending over.
Any more questions? Drop them in the comments below and I'll be sure to address them!
And, if you want to learn more about Arrow Fastener and their tools, just click here! They have a full line of electric, manual, and cordless staple guns, rivet tools, nail guns, grommets, and hammer tackers, and they're a must-have for every DIYer!
A few posts you may also love…